So, now that I've created for you a grand total of 9 coffee coloring pages (so far!!!), I decided it's time to give chocolate a try. Actually, I've been meaning to offer a free printable chocolate coloring page for adults for over half a year, but never got around to doing it. So to compensate, I double dipped (no pun intended), and made a chocolate WITH chocolate coloring page!!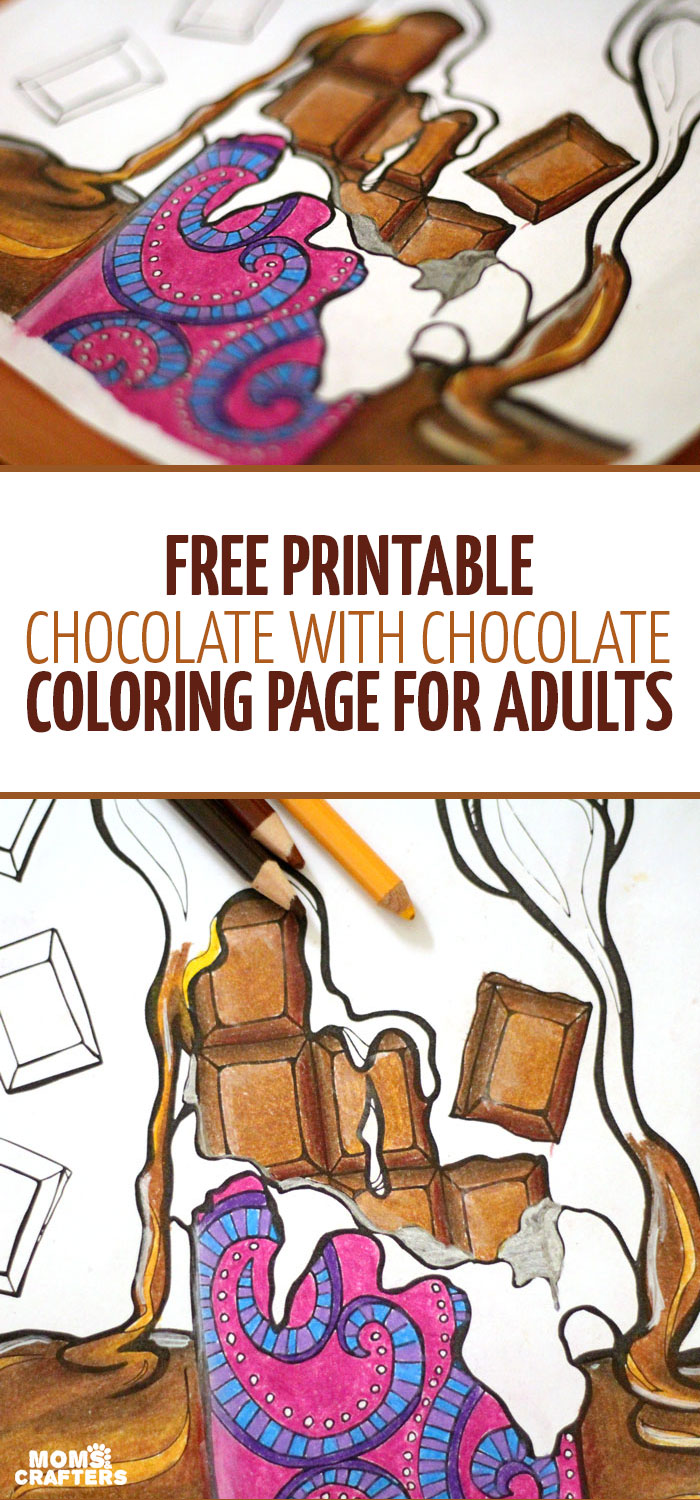 Yep, you get luscious melted chocolate (I turned it into a caramel-chocolate mix) pouring onto an open bar of chocolate.
I made sure to color in the whole bottom half of this because I noticed after drawing it that it wasn't totally clear in some spots what was wrapper, foil, and what was drip. So you can follow along with my photos here if you need that help.
[convertkit form=5124938]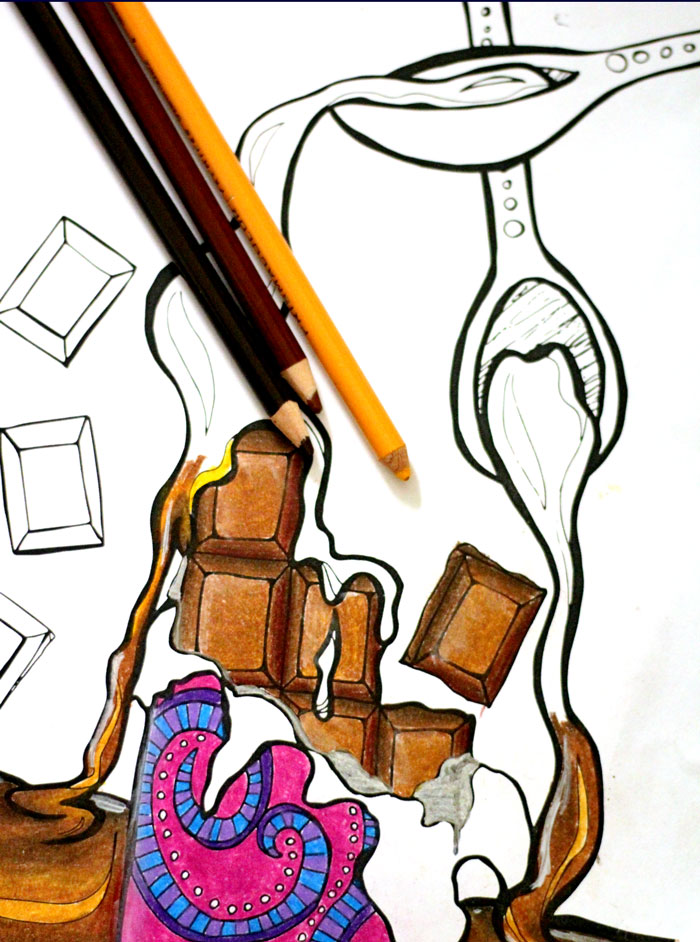 Disclosure: this post contains affiliate links.
I used mostly Prismacolor Premier colored pencils to color this. The soft core allowed me to lay down the color nice and strong on the wrapper. On the chocolate, I layered with a few shades of brown and yellow. I think I need a bigger pack for more variety (I have the 24 pack.)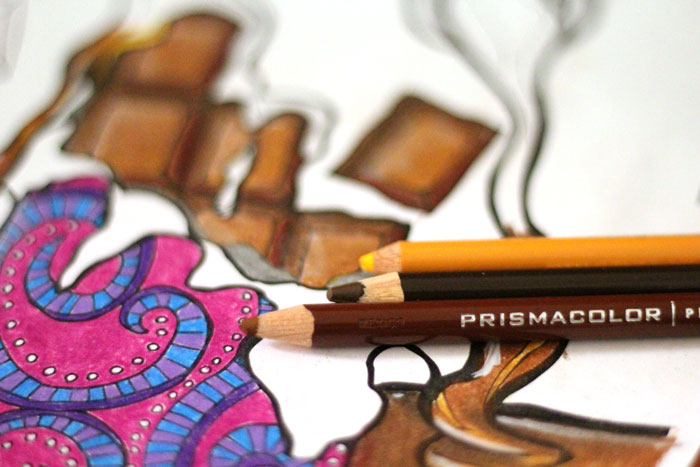 I added accents and highlights using chalk marker. In some places I just added an accent – such as on the melted chocolate – without blending it. In other places (on the left of the chocolate wrapper and on the top-left corner of the raised part of the chocolate squares) I added a highlight by making a soft mark and blending it.
Chalk markers are great for adding that "final touch" for more texture. Even though I HAVEN'T finished coloring this yet, I wanted to show you how effective that is, so I skipped ahead to that part 😉
[convertkit form=5124938]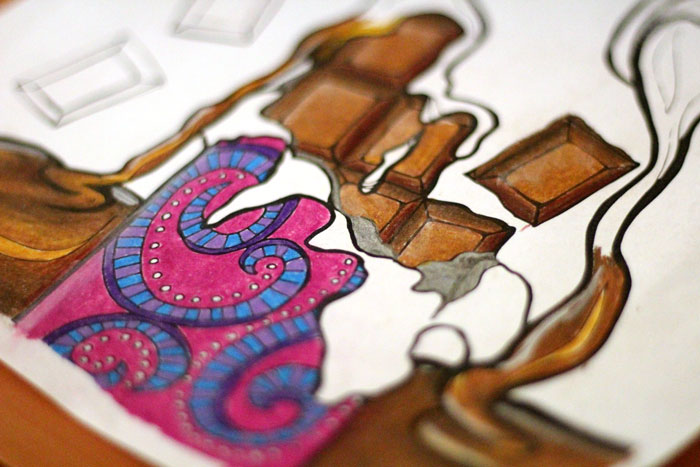 For the foil around the chocolate squares, I started off with shading using 2 shades of gray Stabilo 88 markers, but it wasn't the right fit. I was hoping to get a crumpled effect, but it didn't quite work out that way. I ended up just coloring it in using a silver paint marker. I love the bright, subtle shine it lends!
I spent a long time on coloring this chocolate with chocolate coloring page, and was a bit disappointed with the results so far. I do need to practice shading better, especially with single colors. But then I took a step back, and looked at it smaller, and I'm quite pleased with how the squares seem to pop out.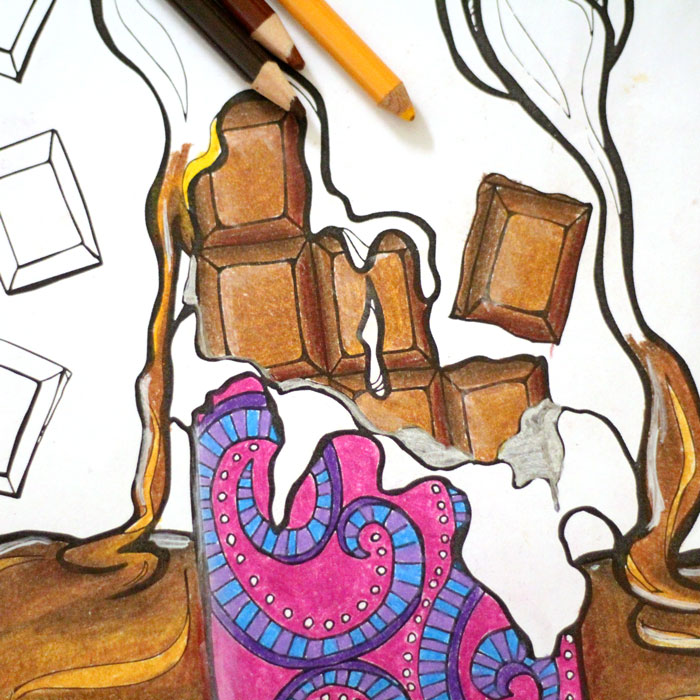 I also love the brightness that the wrapper gave it in the end – adding a fun touch to all the brown, but without taking away from the chocolate rush!
[convertkit form=5124938]
More food themed coloring pages from the Coloring Tribe: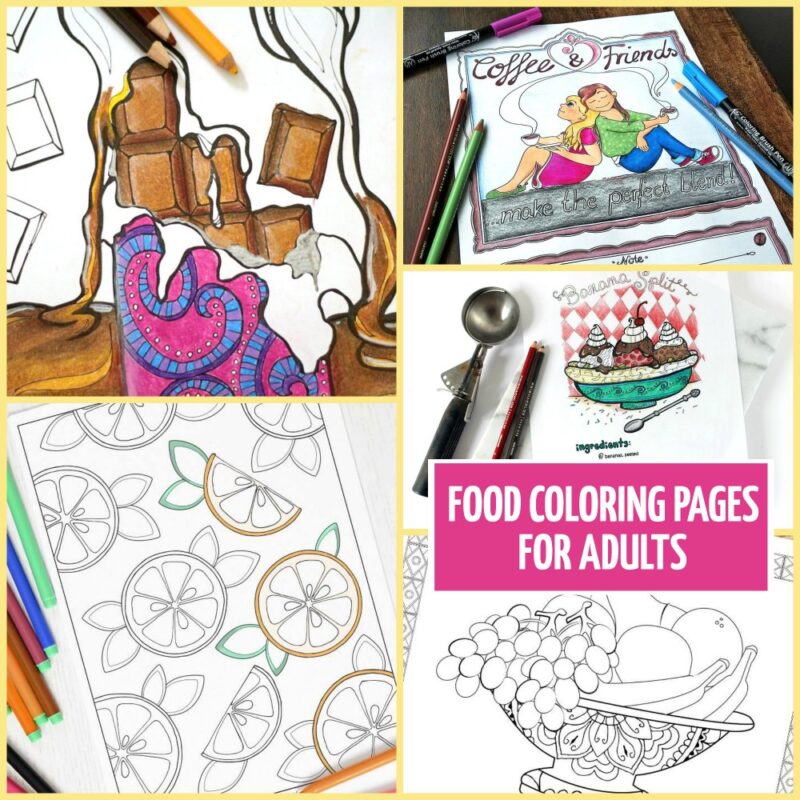 Banana Split Recipe by Arts & Crackers
Coffee and Friends By Hattifant
Oranges by Easy Peasy and Fun
Chocolate with Chocolate by Moms and Crafters (you're here!)
Bowl of Fruit by Trail of Colors
Make sure you follow along so you don't miss the following month's pages!

The Chocolate with Chocolate coloring page is a sample from the Color-in Recipe Journal -available in digital or print format: