What if gold nuggets lined the street? Well, if you're me, they do. This magnificent gold nugget jewelry is ridiculously cheap to make using…. ROCKS! It's actually "upcycled" from my pot of gold nuggets craft and is very striking, even though it's quite simple.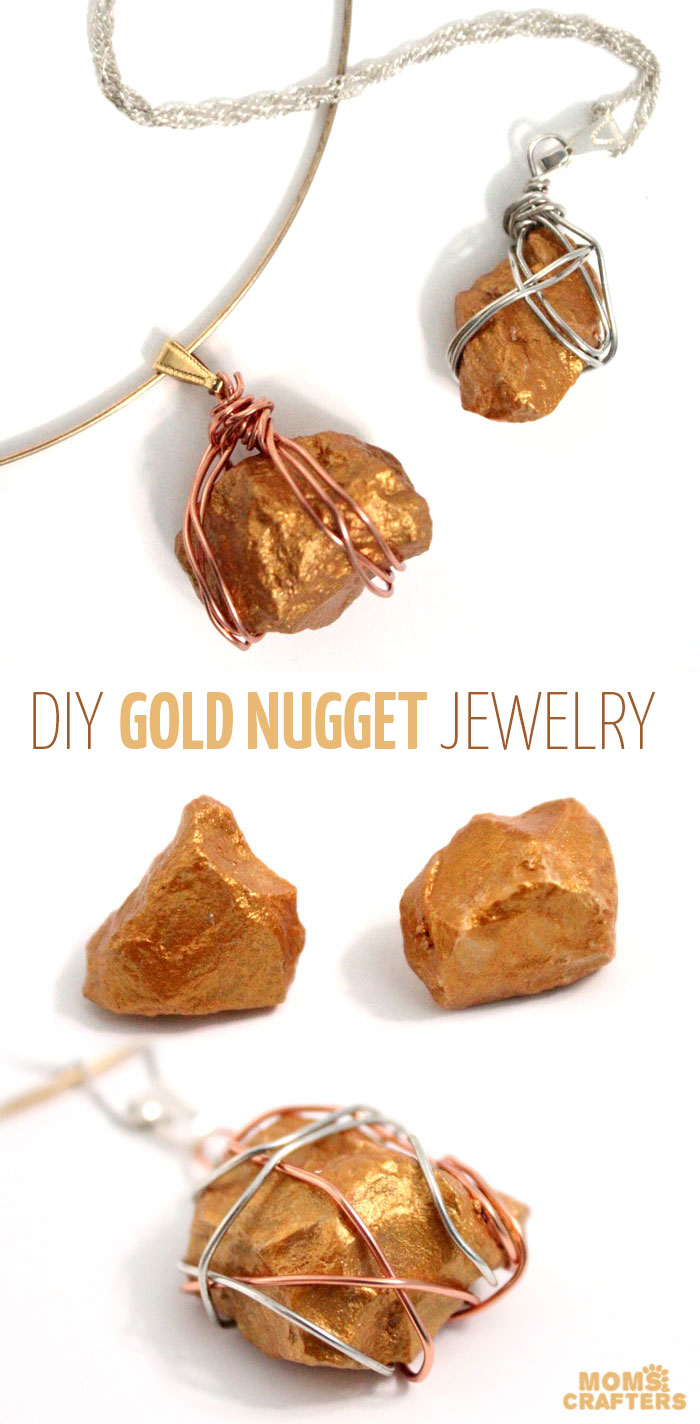 I used jagged rocks to get that amazing nugget-y feel. I simply painted them (scroll down for the supplies list), wrapped them or glued them and that's it!
I think I LOVE the earrings because they let the gold nugget really take over.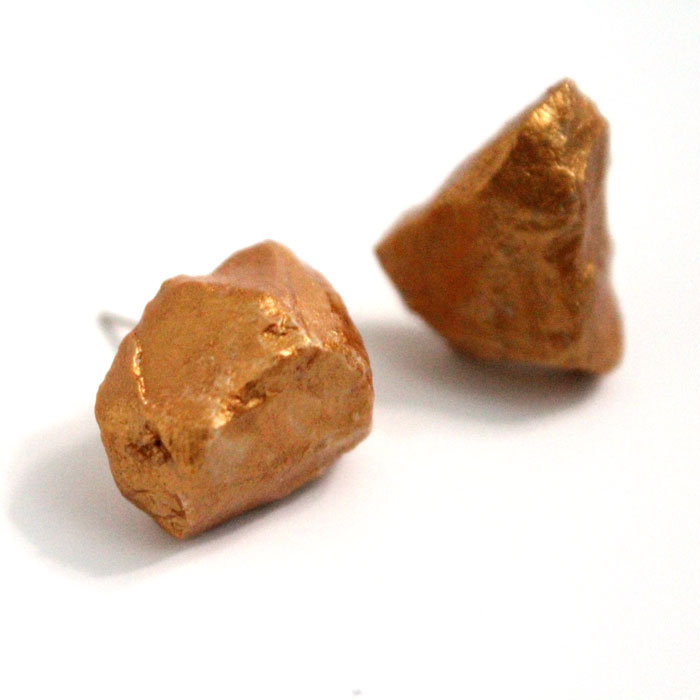 The necklaces are all wire wrapped, and I experimented with different tones. I stayed away from gold because I wanted it to contrast with the rocks nicely, so I stuck to silver and copper.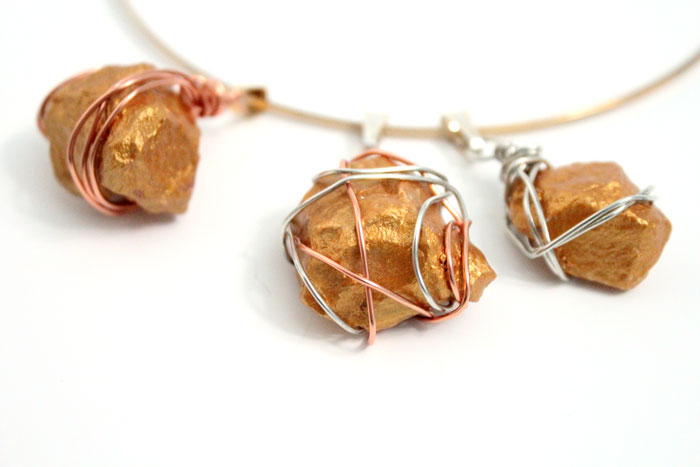 As far as ease-of-creation: the earrings are a cinch. You can make ten pairs in ten minutes. The pendants will depend on your experience level with wire wrapping. Meaning, if you've never done it before, this is the perfect craft to try with. You will find, however, that there might be a bit of a learning curve. You might need to chuck a few tries before you come up with something nice.
Since it's such a budget-friendly jewelry making project, it's a great one to learn on.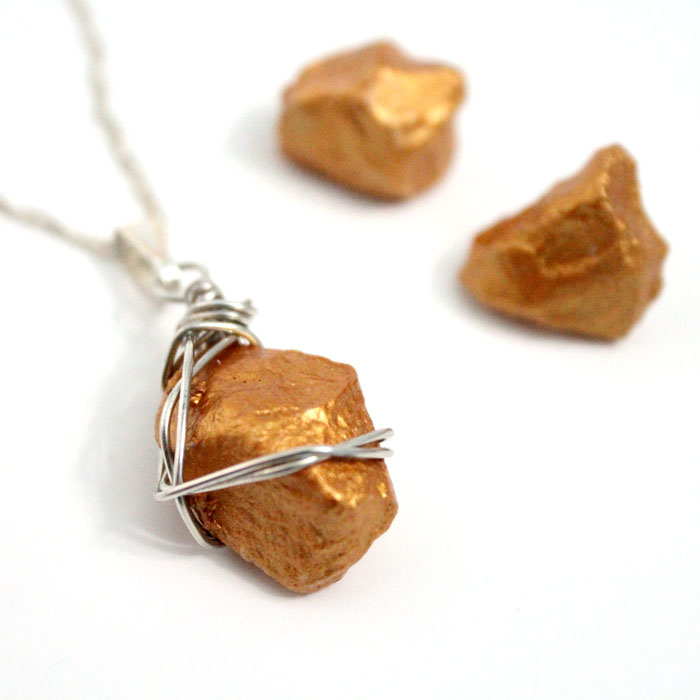 If you're a pro at wire-wrapping, you'll probably go all-out and try things I wouldn't dare to approach. Either way, this is a fun jewelry making craft to try, and you'll definitely enjoy wearing the finished product!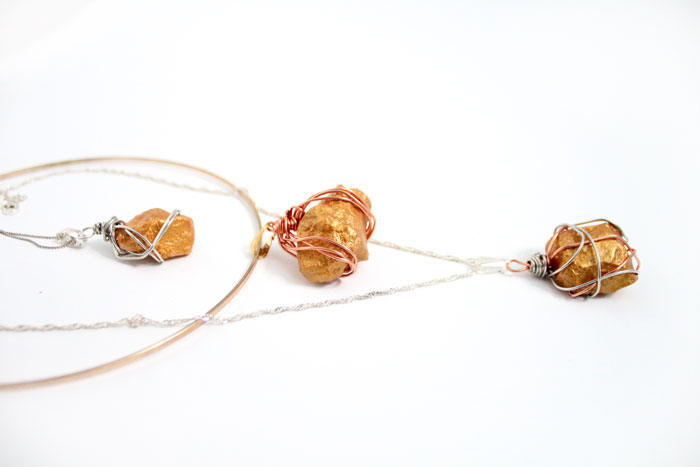 What you need to make gold nugget jewelry:
Disclosure: this post contains affiliate links.
How to make gold nugget jewelry:
1. Paint you rocks. When I made my pot of gold nuggets, I just did one ide. Here I finished painting them all around.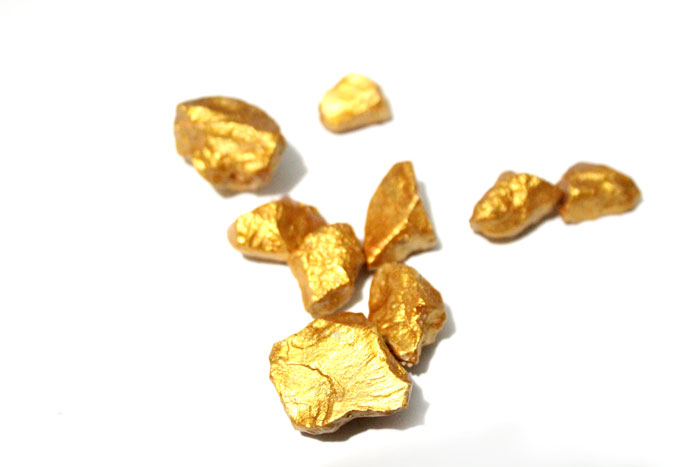 2. You now need to create a wire "cage" to hold your rock – I mean gold nugget. Lay a piece of wire over it.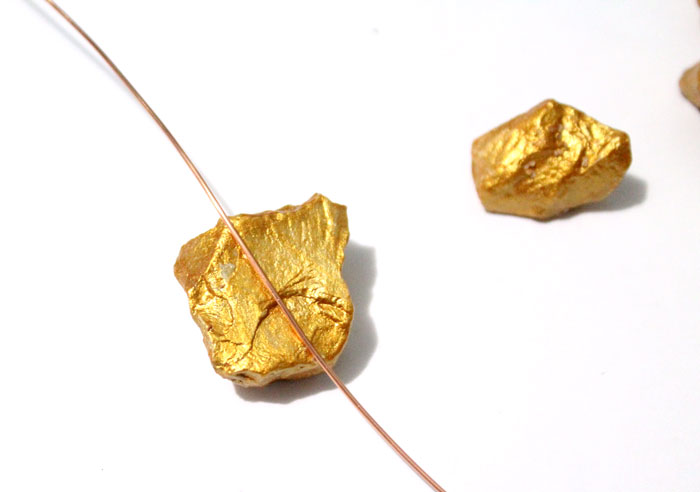 3. Wrap it around the rock, and then continue with one side at a time. Wrap it around so that it creates an aesthetically-pleasing pattern that will securely hold your nugget.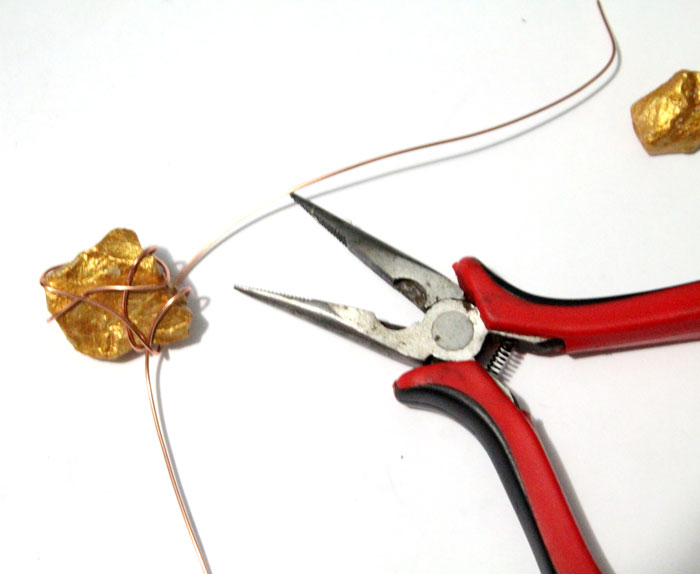 4. When you are satisfied, bring one side up to where you want the loop to be (where you want it to hang), and twist it around whichever wire is there to "cement" it into place.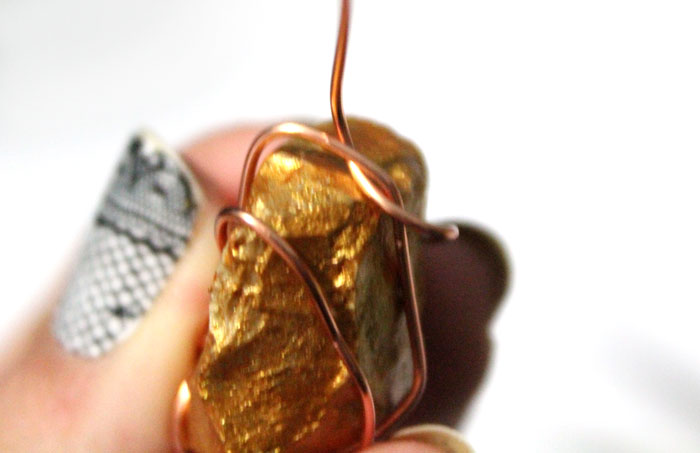 5. Form a loop, and twist what's left around the base of the loop. Do this with both sides of your wire (to finish it off) and trim.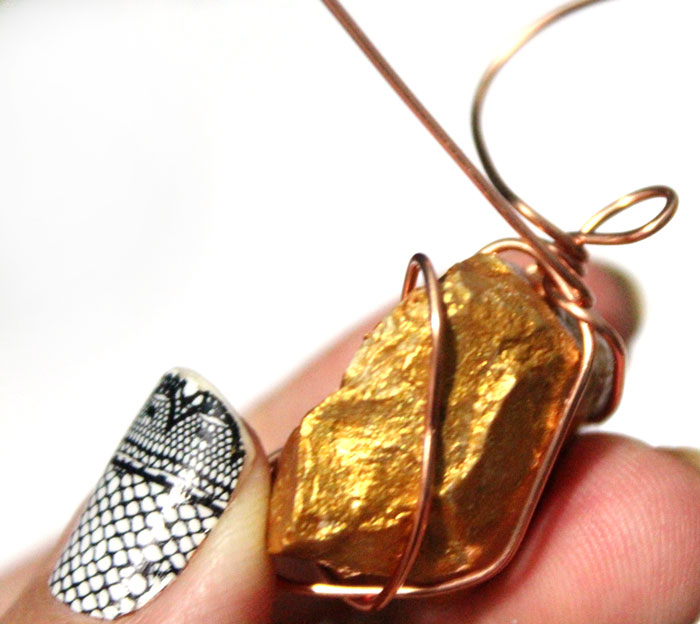 6. If you need to, use your pliers to "squish" the wire along the rock and to push in your sharp ends.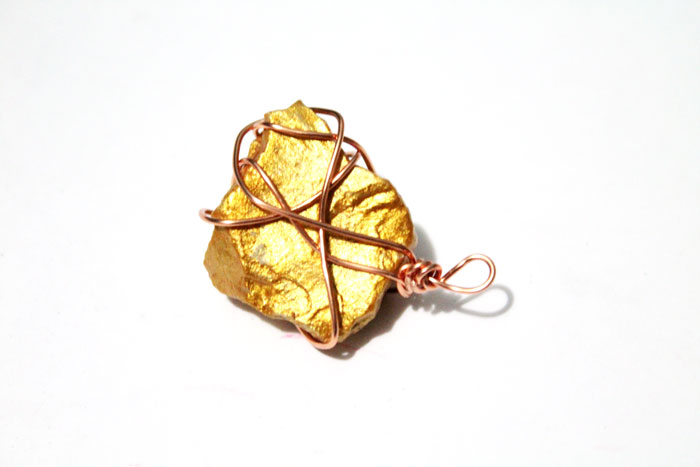 7. If you'd like to add another color, simply wrap it around the base, wrap your wrock, and finish it off around the base of your loop again.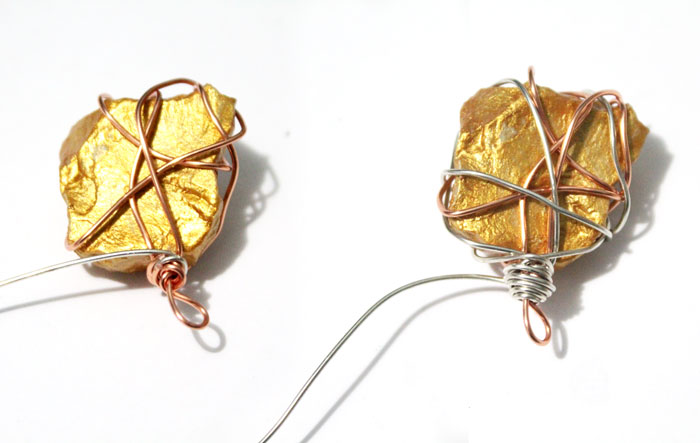 8. Alternatively, you can start with a loop and wrap only one side around the gold nugget.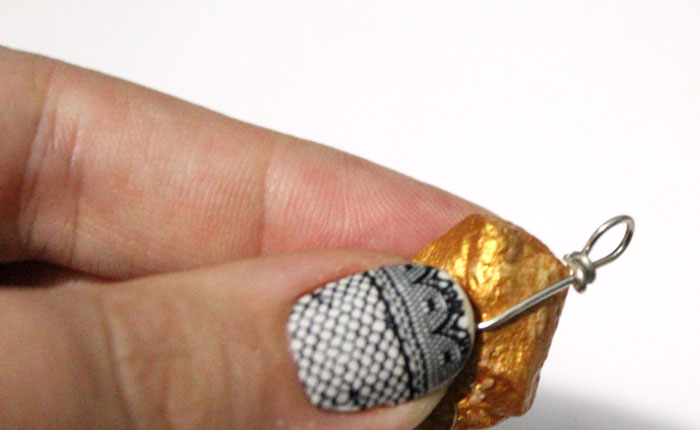 Just create your loop, wrap so that it holds the rock, and bring the wire back around the loop.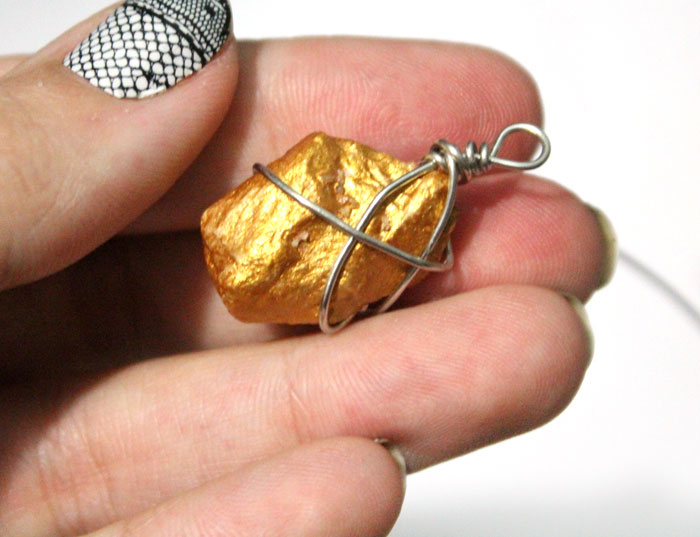 9. Snap your pendant bail onto the loop and string it onto a chain.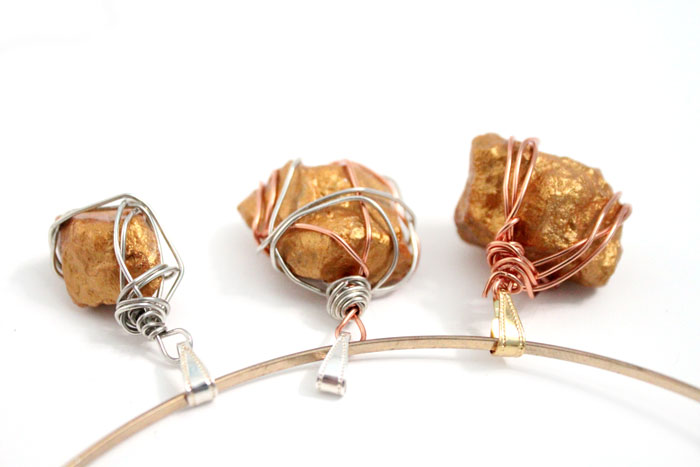 10. For the earrings: simply find two similarly sized rocks with a decent flat side on the back. Glue on a flat pad ear stud in a place that will sit comfortably on the ear. Allow it to dry completely.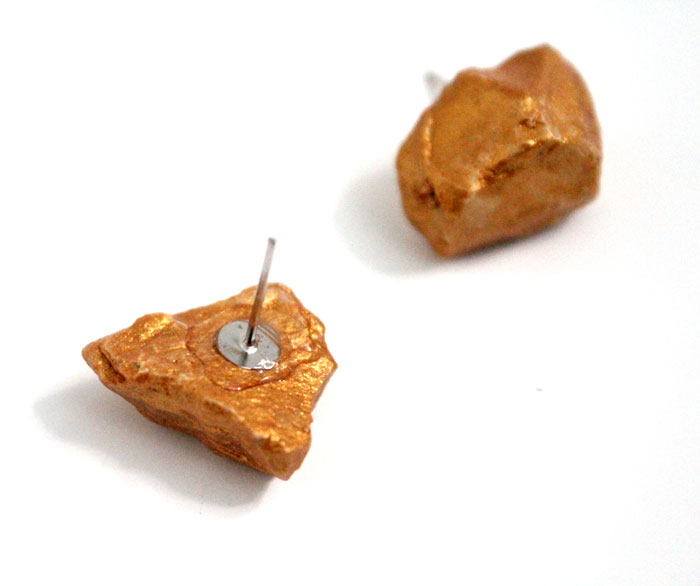 That's it! Your beautiful gold nugget jewelry set is ready to wear – or to gift!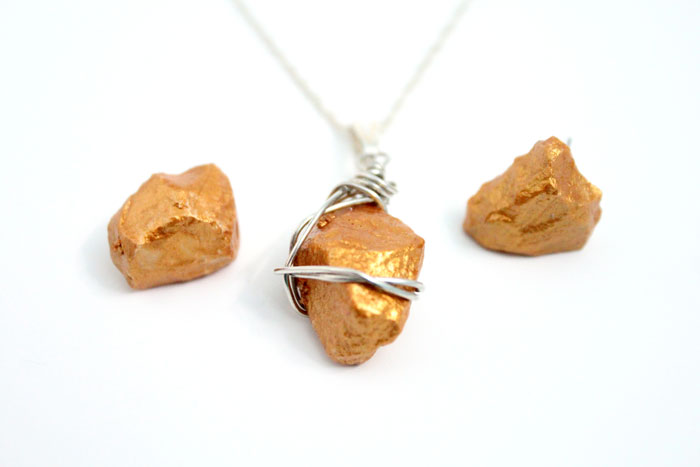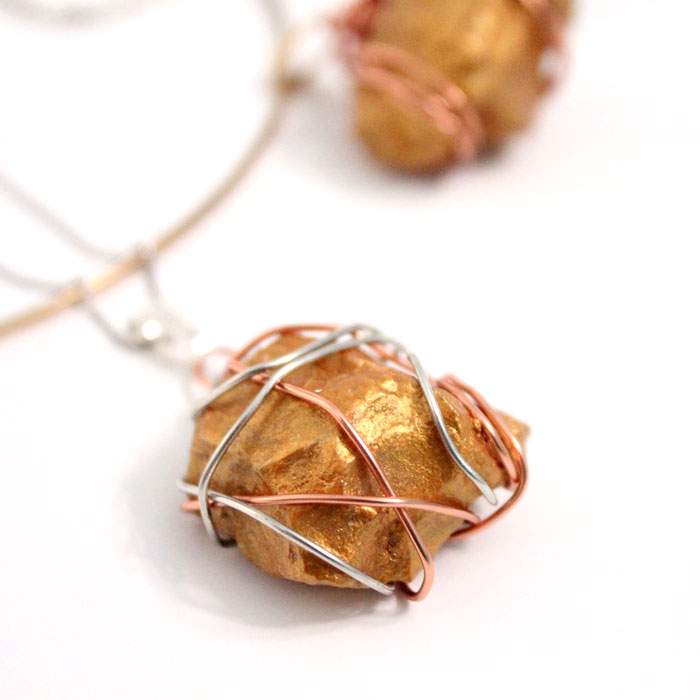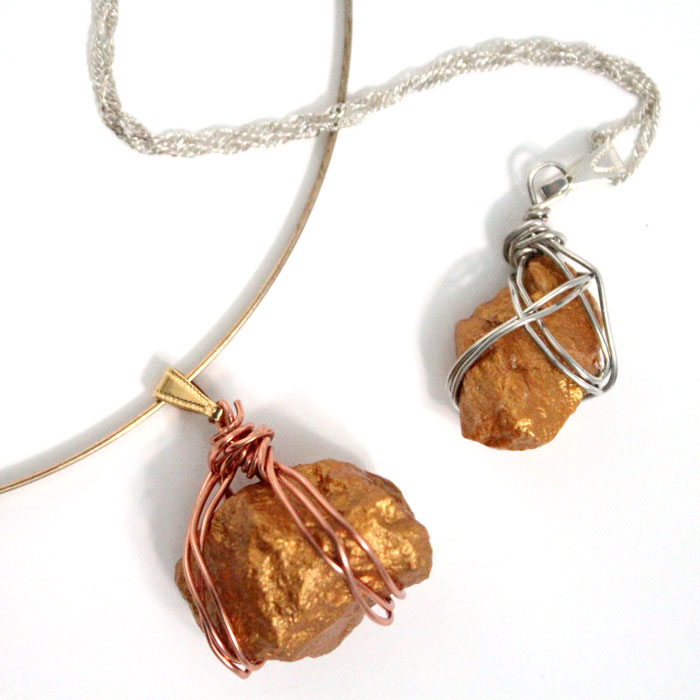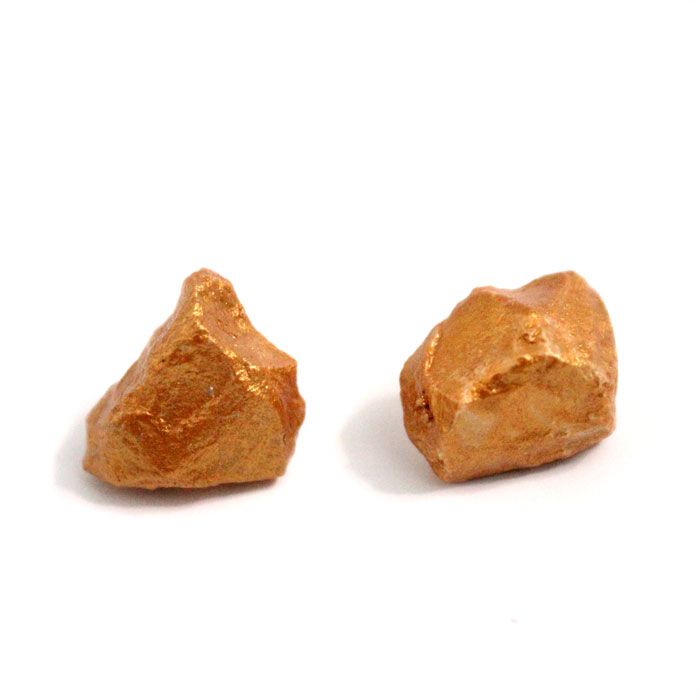 Enjoy, and don't forget to comment or visit my Facebook page with any variations, with your photos, or with any questions!