Craft this cow paper bag puppet – that can double as a party favor bag for your cow or farm themed party! When you're done, you'll want to check out more of my paper bag puppets, including this fun paper bag monkey puppet! This post contains affiliate links.
---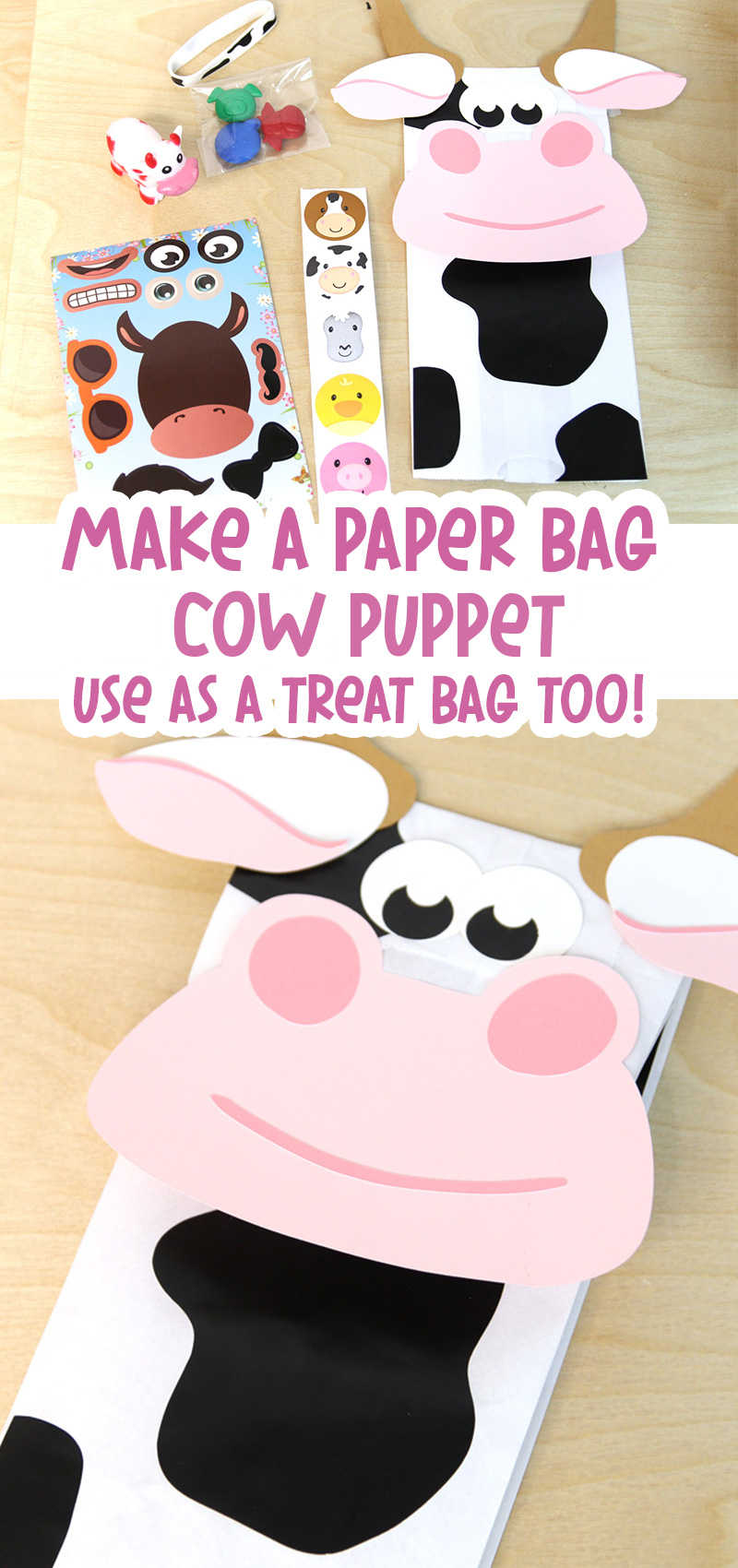 For A's second birthday the theme was all about Cows! Technically we did an "Old McDonald Had a Farm" theme but we mostly stuck to a cow aesthetic.
I went all out with this one, designing new crafts, which I'll be sharing in this space. One of my favorites was this cow paper bag puppet.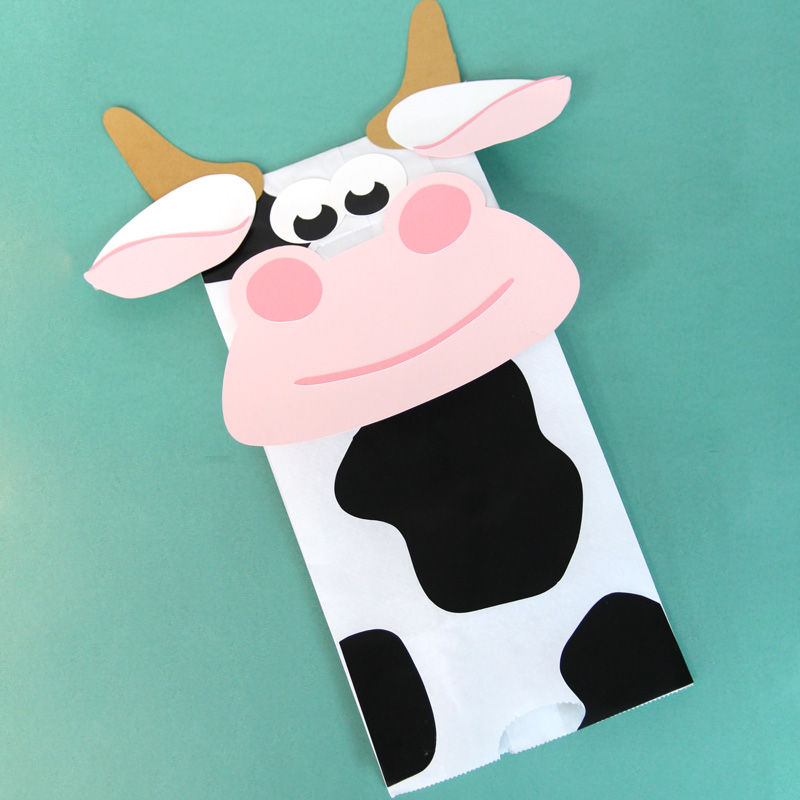 I actually made these as a favor bag for the kids. At first, I was going to use the bag right side up and add these elements just to embellish the bag.
Then I figured, why not add it to the bottom flap of the bag like I would with a paper bag puppet craft? It can still be used as a favor bag – it just won't look as cool when filled and sitting upright. But then it doubles as another party favor/toy – a puppet – when emptied.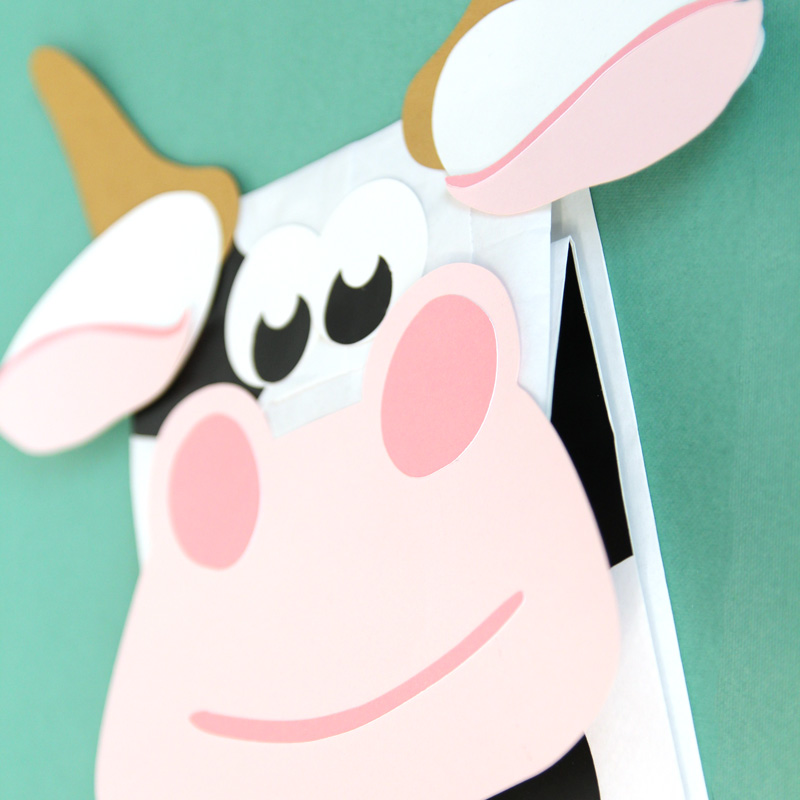 How to use your cow paper bag puppet as a goody bag
After each puppet was assembled, I opened the bag, and let the face simply sit flat on the surface and gently placed my hand inside to fully open it.
We kept things simple with the favors – and stuck to things I though A would use, and therefore her friends too. Kids who received this ranged in age, but most were toddlers and preschoolers like her.
We included: a cow print bracelet (she loves piling things around her wrist), farm animal shaped crayons, a squeezy cow bath toy (which can also be used with any animal-themed toy set), farm animal stickers, and a "build a farm animal face". The last item came in a pack big enough to put out at the party and take home.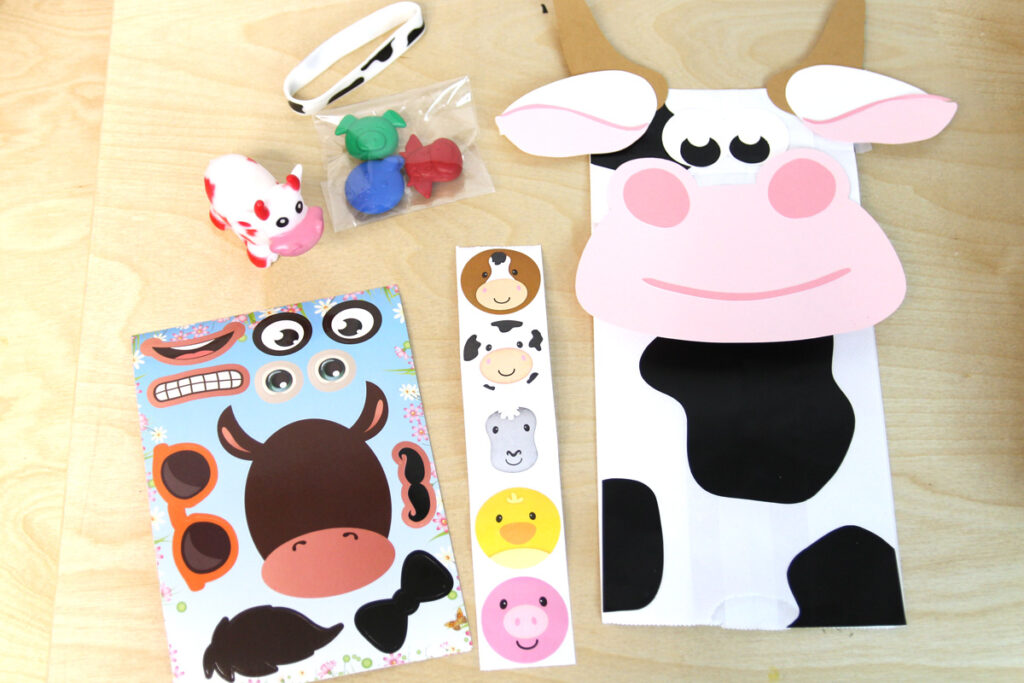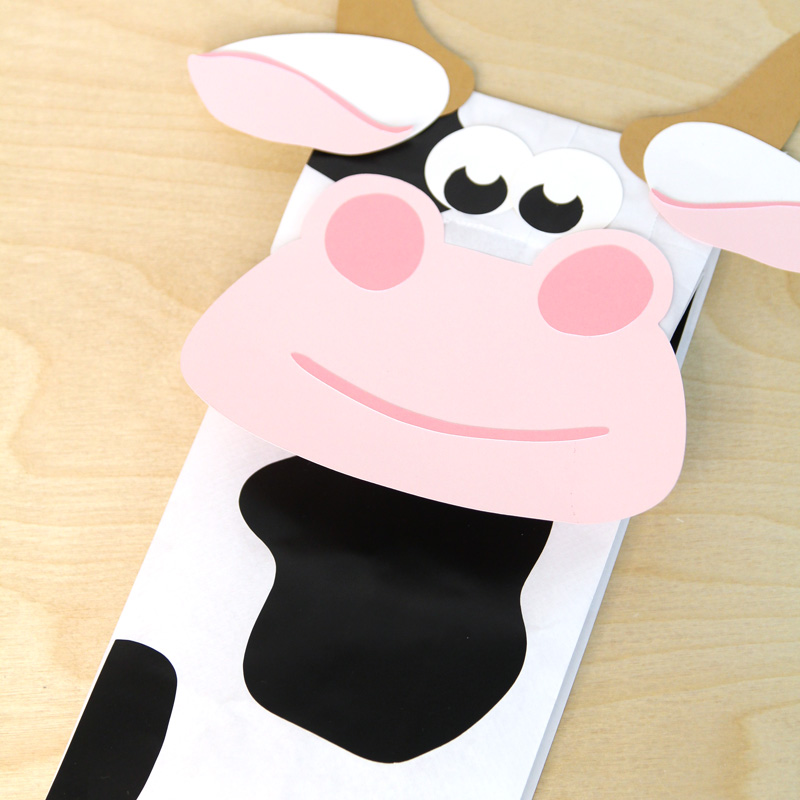 It was a parent-supervised party, not a drop off, since she's two. Guests were our friends and family, and their kids. Each bag was marked in advance with the kid's name and I spread them on the counter. I showed it to the parents so that they can be aware of it. And as they completed projects, they dropped them into the bag too.
How to make this as a cow paper bag puppet kids' craft
This also makes a fabulous craft for kids to assemble!
For younger kids, precut the parts. Older kids can do it on their own.
The template comes as a PDF and an SVG so that you can choose if you want to trace and cut the shapes on your own, or if you want to use a Cricut to do it.
The tutorial will feature Cricut instructions, since that's how I did it. But you can just as well do it by hand! Hand cutting instructions are self-explanatory and assembly instructions are pretty much the same.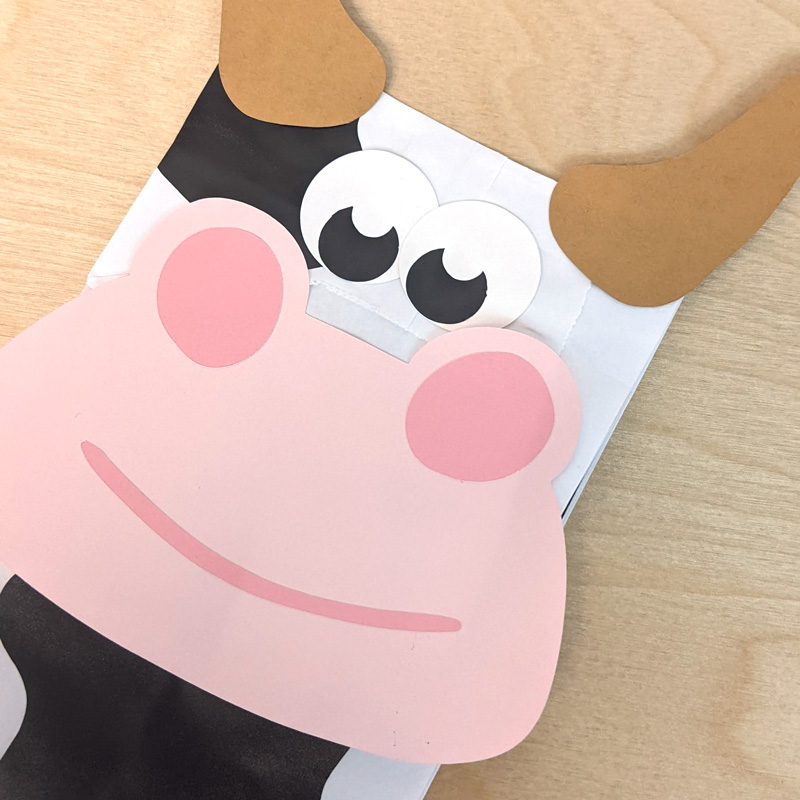 If crafting this cow paper bag puppet with kids, allow them to get creative with it, draw their own spots, add googly eyes, embellish with glitter glue – or whatever it is they enjoy using to craft!
What you need to make this
Scissors, pencil if hand cutting
Cardstock in black, white, brown, and two shades of pink. I used black smart vinyl for the black to make putting it together easier. I used Smart Paper for the dark paper (both of these are fully adhered to another surface and fully backed so it makes sense to use an adhesive material).
If machine cutting:
How to make a cow paper bag puppet
Start by either printing and cutting out the PDF template, or uploading your SVG to Design Space. When you upload to Design Space, make sure the sizing makes sense. Create project as many times as you need puppets (and a few spare in case you have a mistake or two)>
1. Cut out your shapes. I used my Cricut to do this.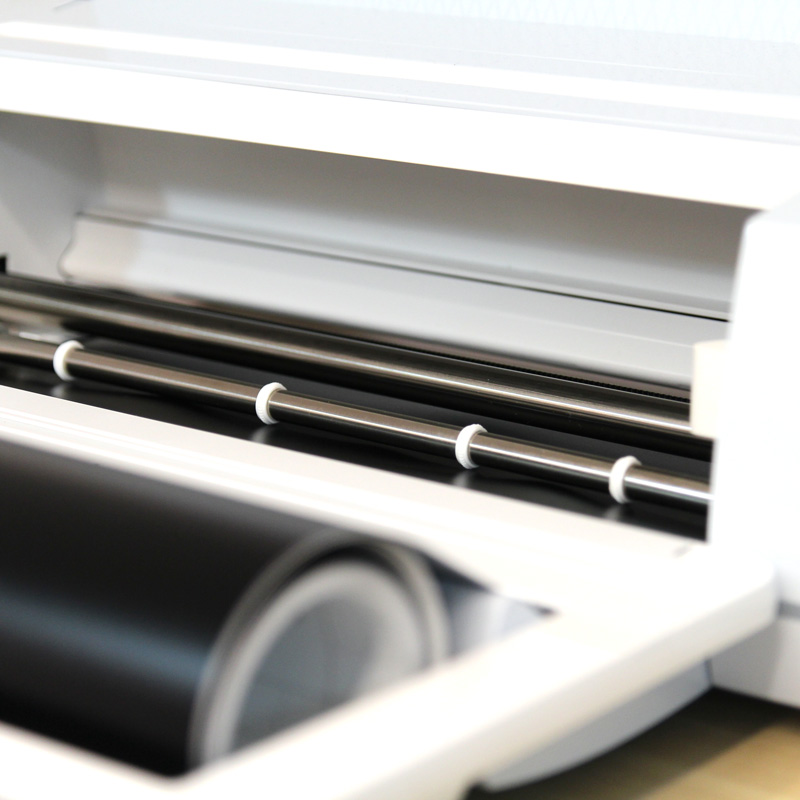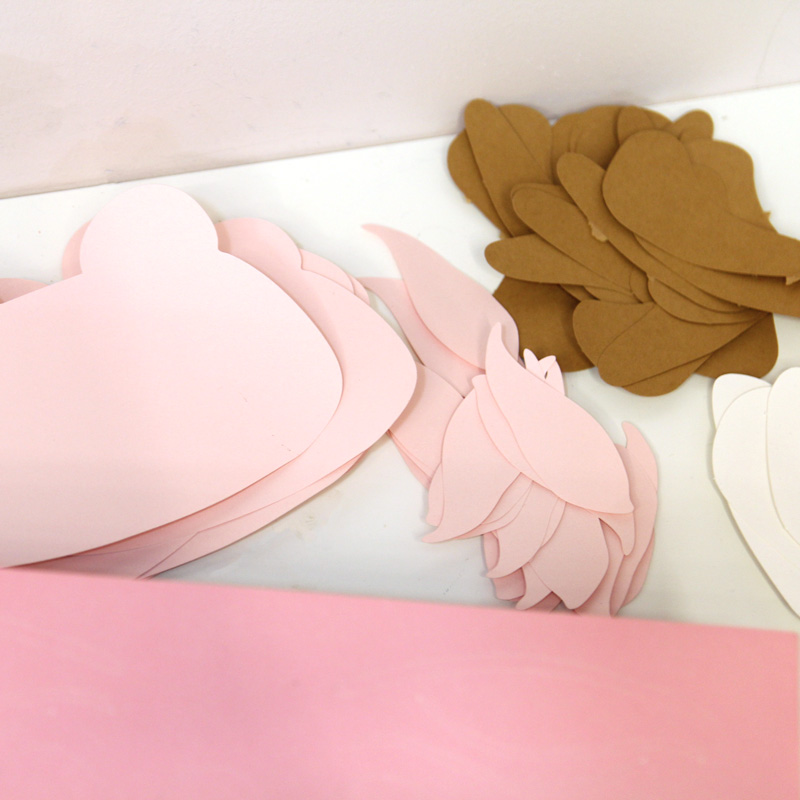 2. Weed your spots if you cut it from vinyl. Stick them on by hand as if they're stickers, arranging them as you'd like. I started with a large one in the center.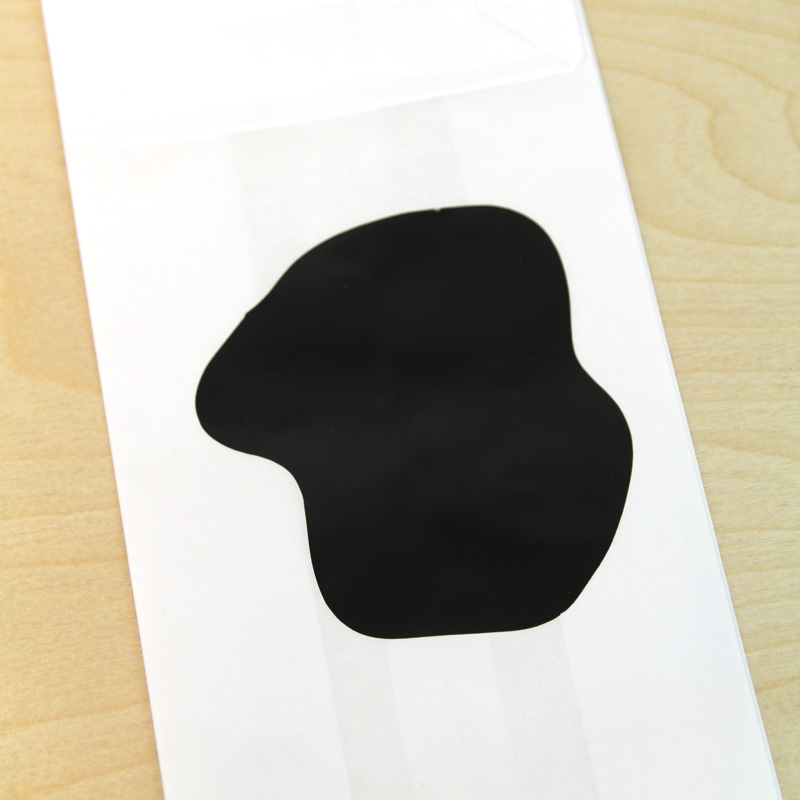 3. I built around the corners, I placed one corner spot on each head/bottom of bag. I lifted the flap up and placed another one on the flattened bag. Then I placed more around the sides/corners or to fill the larger white spaces.
4. Assemble the snout. Start with your light pink base, add the dark pink circles in the two protruding bumps. Add your mouth.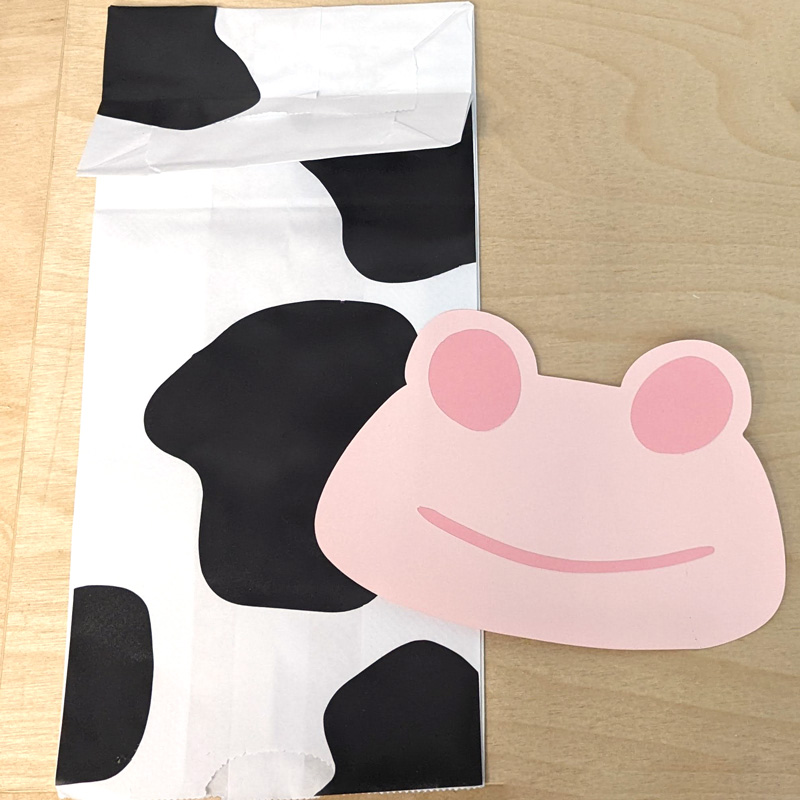 5. Your bag, like any paper bag puppet, is held upside down for this craft (unless you want to just assemble it as a normal favor bag). Glue your snout at the bottom of the bottom flap of the bag, which is now on top. Glue it to the FLAP ONLY so that it'll move with that portion of the bag. Aim for as low down as you could.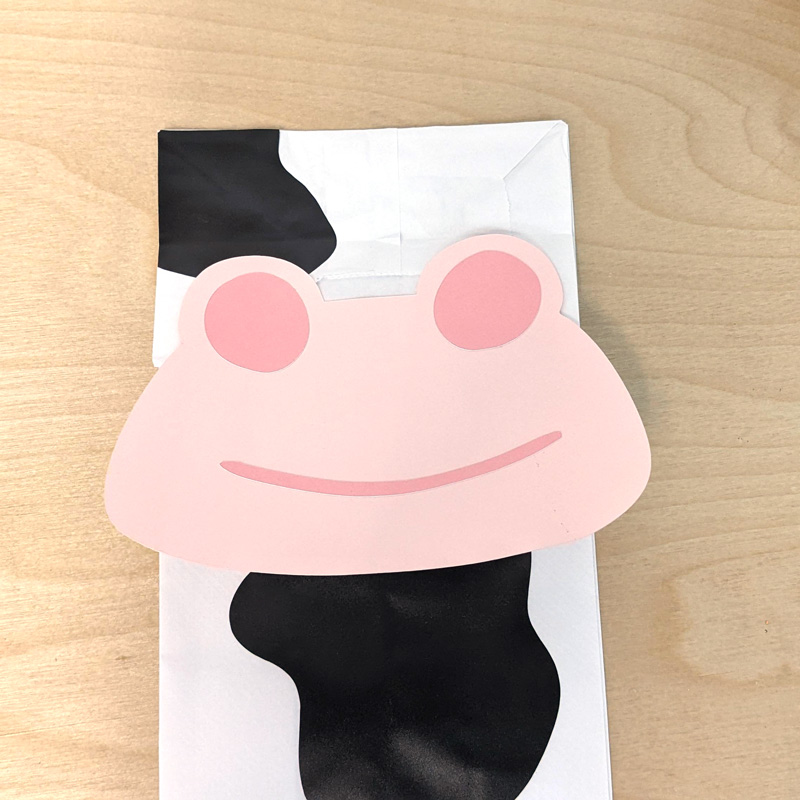 6. Assemble your eyes, with the black on the white – placed so that the side opposite the circle cutout/glare (on the black) touches the edge of the white.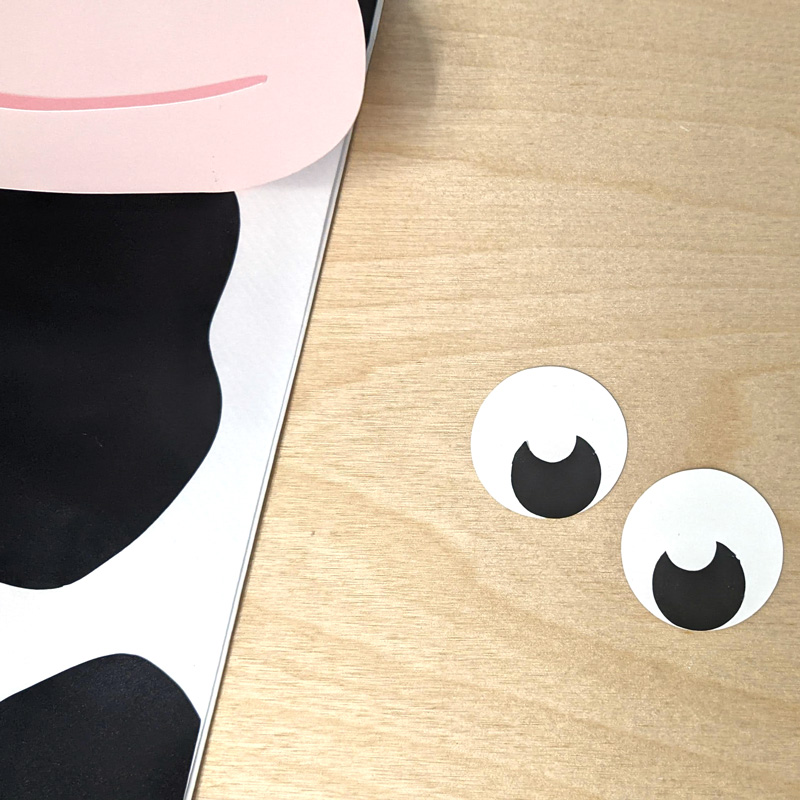 7. Glue your eyes as close as possible – even overlapping, and between the nostrils. You might want to even tuck them slightly behind the nostril.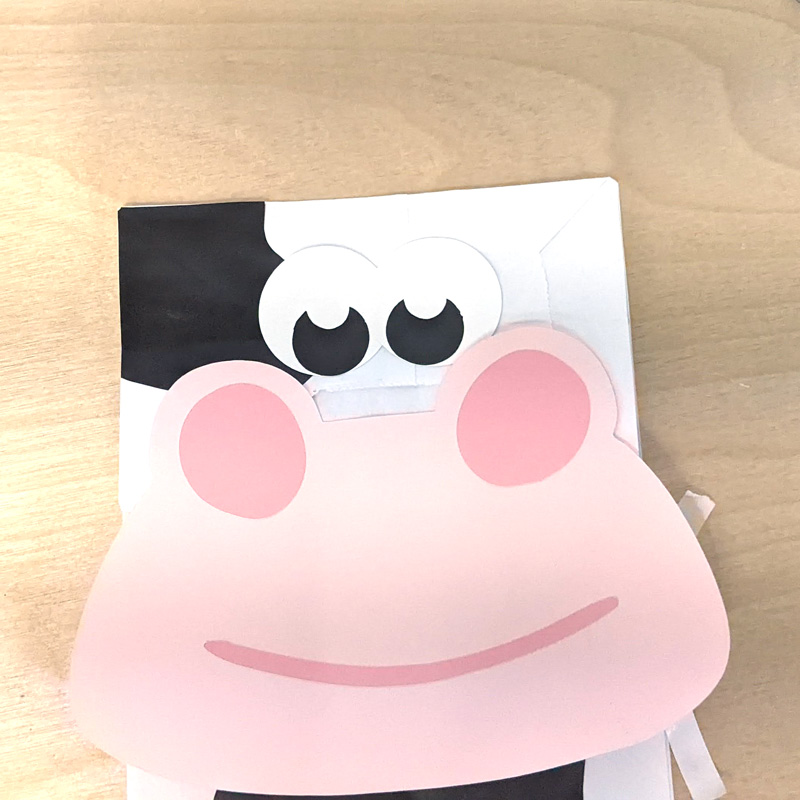 8. Glue your horns on either side of the top of the bag. They should stick out a bit on the sides.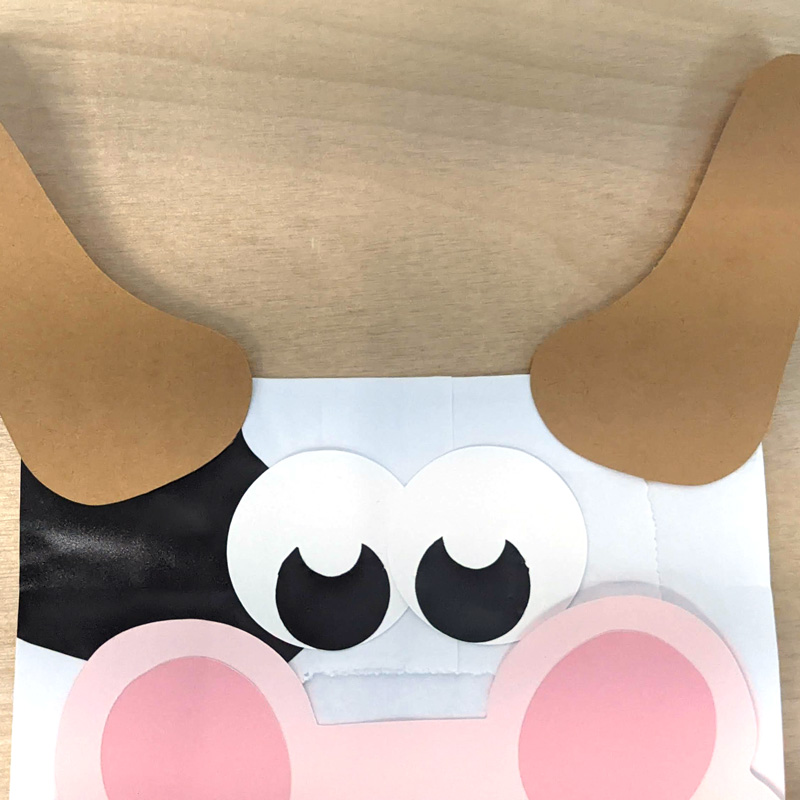 9. Assemble your ears. Glue the light pink portion so that it aligns with the bottom of the white.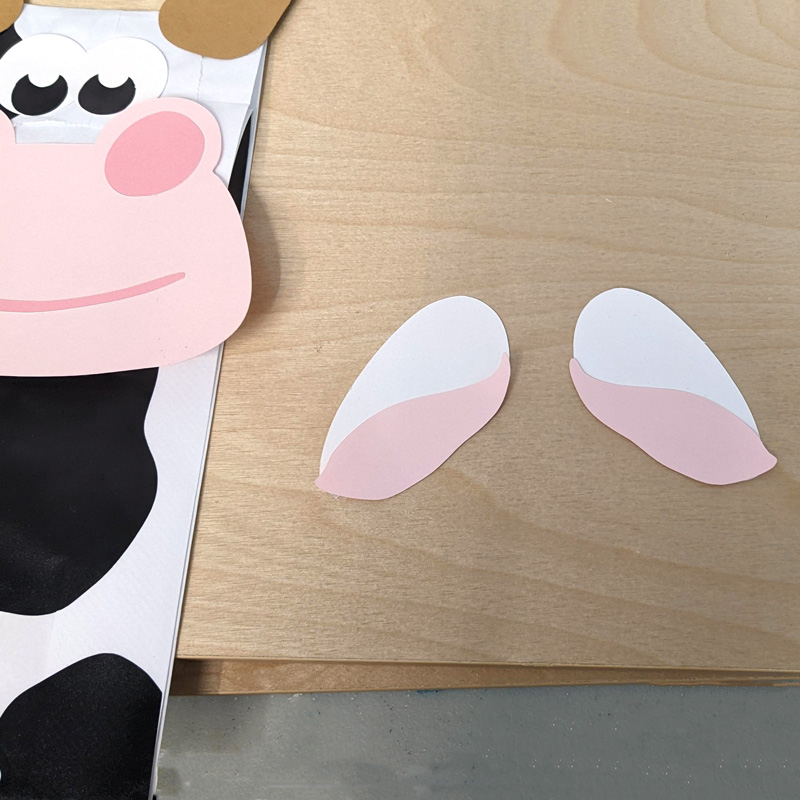 9. Glue the dark pink on top of the light so that it forms a border/stroke.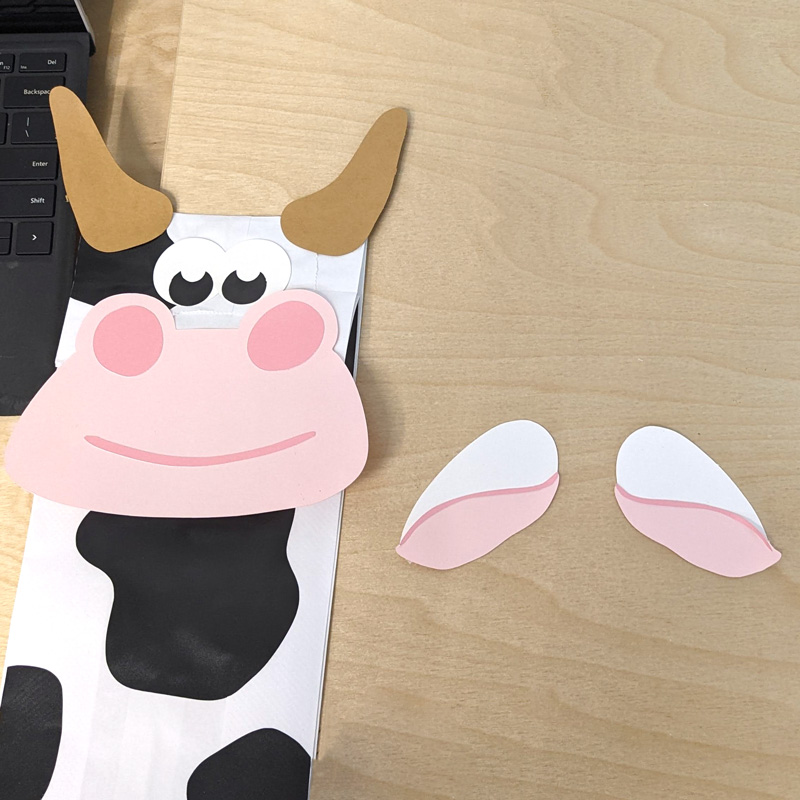 10. And then glue it on each side of the head, over the horns but not completely. They should stick out of the head.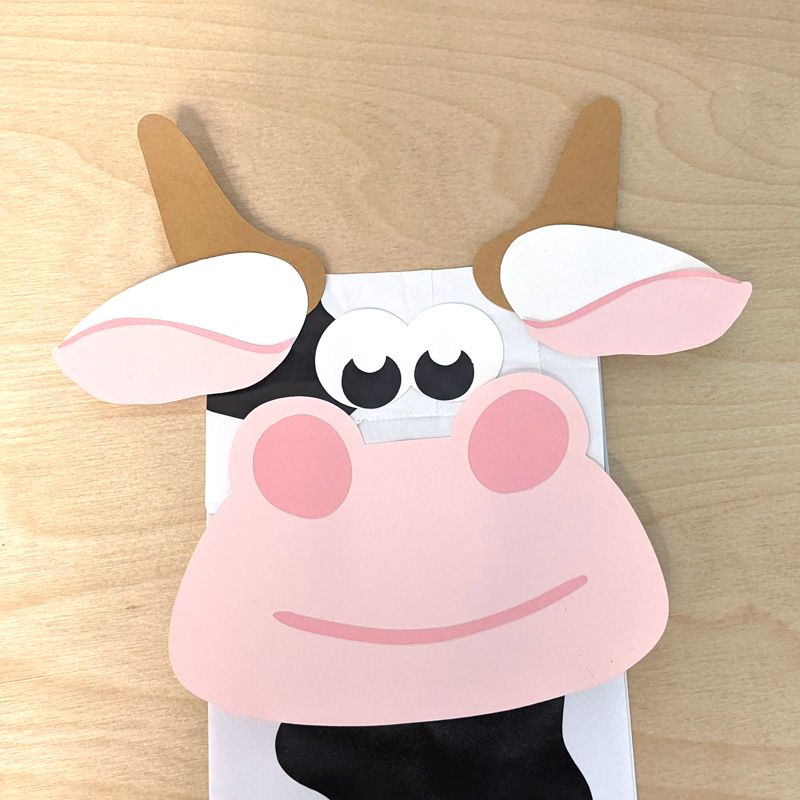 11. You should be able to fully open the bag so that it can lay flat, face-down (literally) on a surface. Fill it up, tape it closed.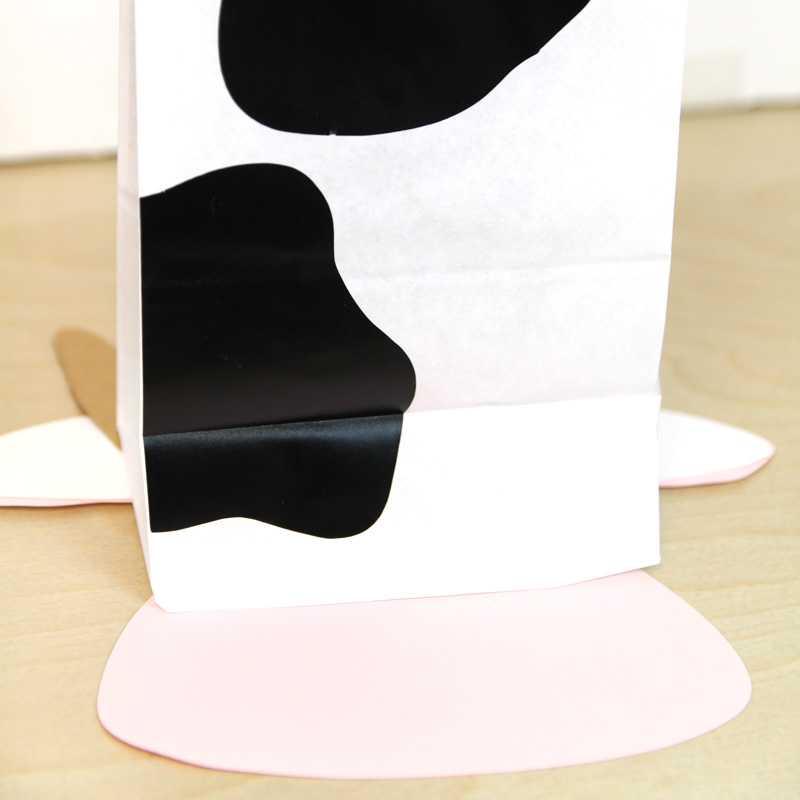 12. To use as a puppet, simply open it up, stick your hand in, and use your fingers to flap the face up and down!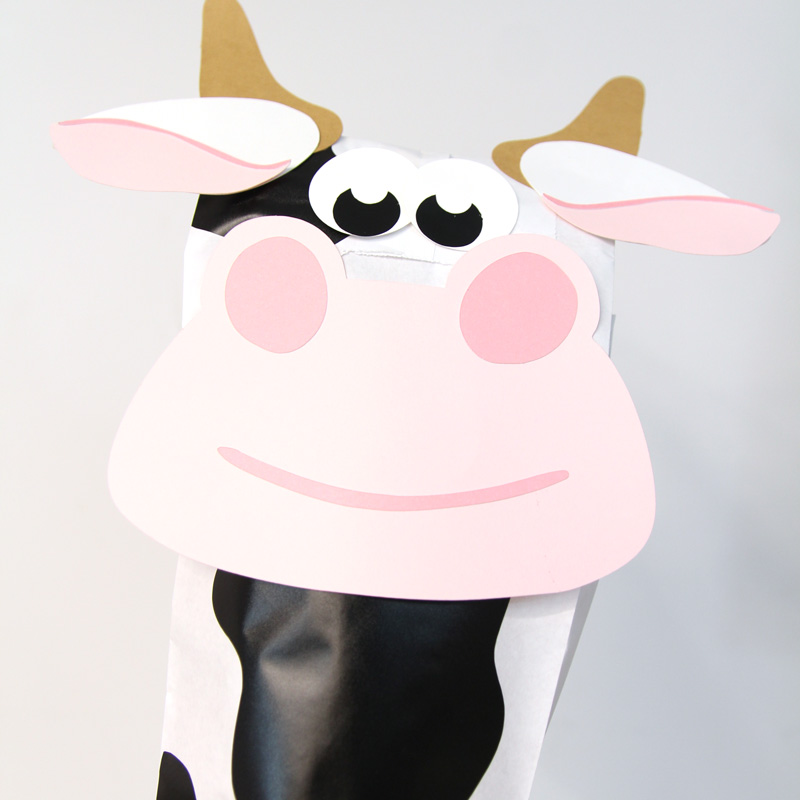 Your cow paper bag puppet is complete! What will you be using yours as? Comment below!
Download the SVG & PDF Templates
To download, fill out the form below. You'll be signed up for our free newsletter – unsubscribe at any time in the footer of the emails. I respect your privacy and the law and won't share your information with anyone.
Your file will arrive in a ZIP folder. Learn how to unzip files here.