One of my favorite ways to limit screen time with my kids is by providing regular craft activities, and one of my favorite ways to do that is with craft subscription boxes for kids! These four boxes were chosen as my favorite arts and crafts boxes for a number of reasons, and I've included reviews for each one. If you prefer toys, check out the best toy subscription boxes for kids. Disclosure: this post contains commissioned links.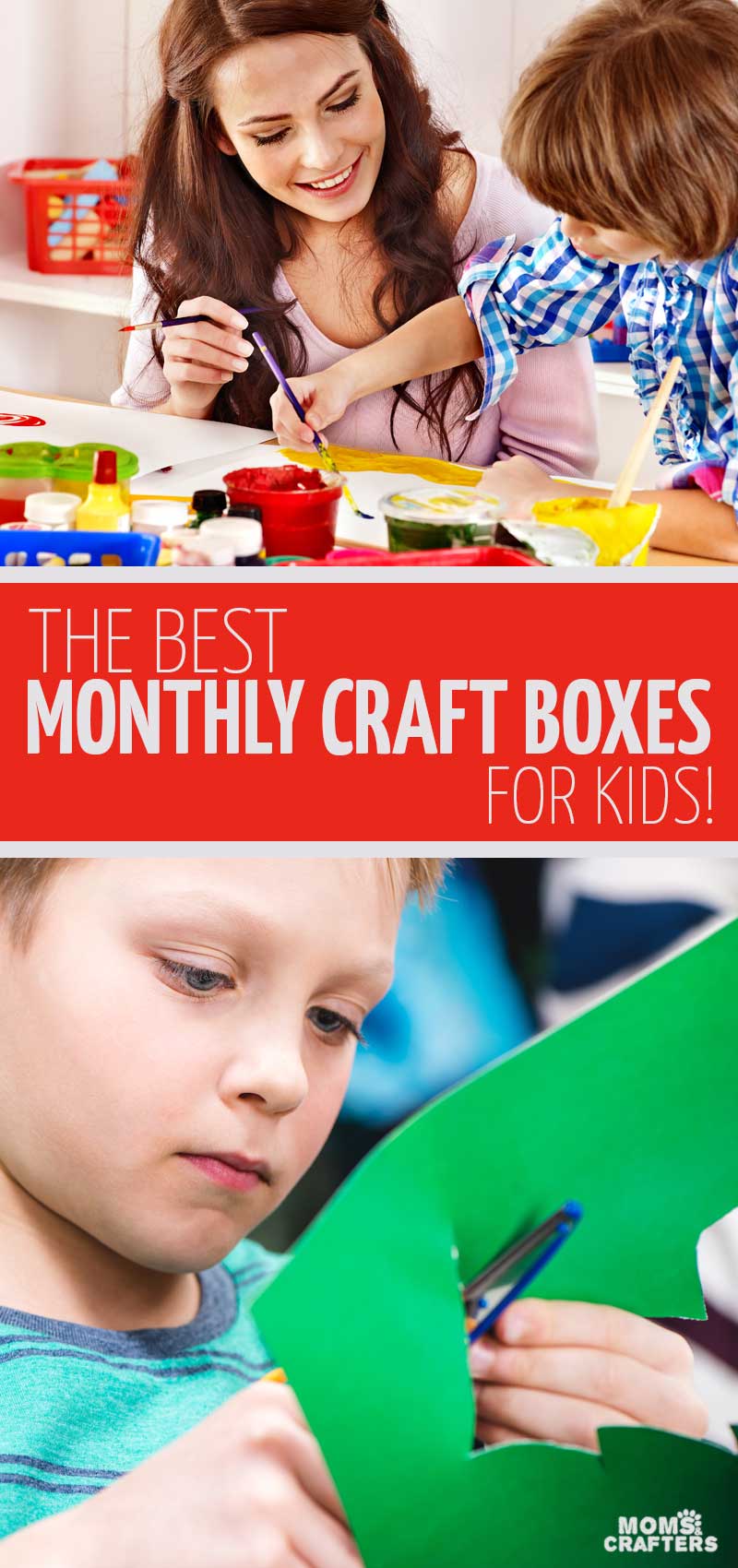 Four Best Craft Subscription boxes for kids:
When looking for my favorite craft subscription boxes for kids, I looked for a few things:
Boxes that are primarily craft focused. Many craft subscription boxes for kids have more of a science focus, which is great, but not necessarily when you're looking for more crafty ideas for a less techy kid.
Craft subscription boxes for kids that are open-ended. I love it when there is an idea with solid instruction, but that can be adapted and made your own!
Skill-building craft ideas. My favorite craft subscription boxes for kids have projects that teach a skill for the age level that it's geared towards.
A good box is age appropriate. I made sure to include the age range for each box below – because that does matter.
I love a box that's educational! You'll see that each box below has its own teaching component, its own benefits and main perks.
Please note: I've listed prices for your convenience, however, prices are subject to change at any given time! So please do check the price for each one individually before you make your decision.
Some of these boxes also offer sales occasionally – I'll try to keep updating this list with relevant coupon codes!
To learn more about each box, to see a preview of sample boxes, visit each website – they all have previews for you to check out!
I hope you enjoy this quick roundup of the best craft subscription boxes for kids! Please comment below with any questions.
---
1. Kiwi Co Family of Boxes:
Age range: 0-16+ (see individual boxes below)
Price: $16.95/month – $19.95/month depending on which subscription duration you choose

Best for: When you want something affordable, themed, and very highly targeted by age group, and developmentally-appropriate. When you value the expert curation behind each box, this is the one for you. Choose this one if you want a very specific idea and tutorial to follow.
Coupon: $15 off 3 months with code SCIENCE
Kiwi Co's family of expert-curated craft subscription boxes for kids is my favorite of all time for a few reasons:
Most of them come with a few projects
They have different options for different age groups and interests
They are highly educational but still have very crafty ideas, a hard balance to strike.
I'm going to go through each one (that's relevant to this list – leaving out the STEM box) so that you can find the age range and subject that's best for you. Some are more craft-focused than others, so pay attention!
Tadpole – Ages 0-36 months: The youngest of this age group may not be able to craft, but as soon as they are, you'll find open-ended ideas perfect for younger and older toddlers! This box grows with your child and is targeted toward his or her age.
While these aren't purely craft focused, they contain an age-appropriate theme (our neighborhood, mail delivery…) with a book, toy, activity, and a project to go along. It's probably as "crafty" as you'll get for this age group.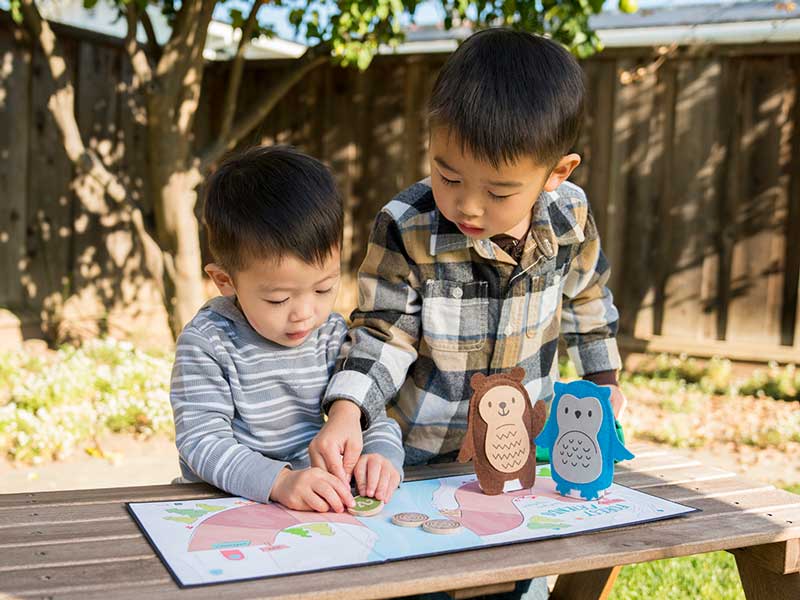 Koala – Ages 3-4 years: Give your younger preschoolers some crafty entertainment with this box! These center on an educational theme, with 2-3 craft activities in each. You also get access to online materials, an educational magazine in your box, and a parents guide for the activities.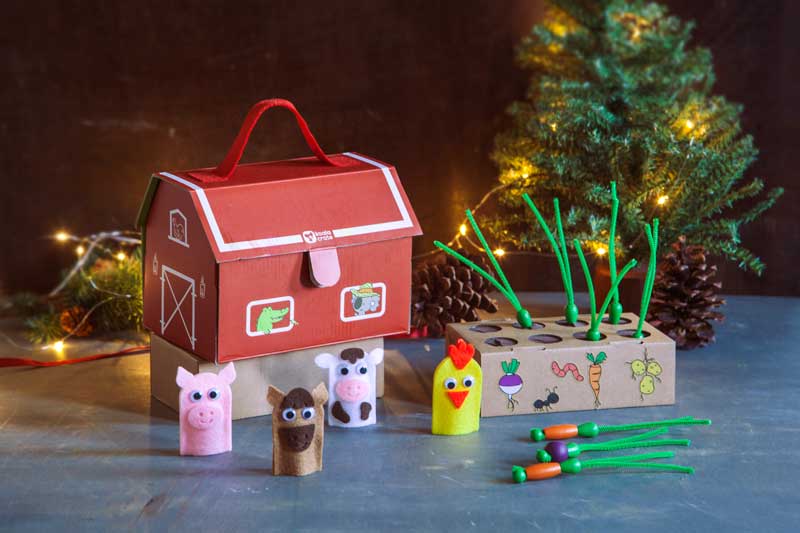 Kiwi – Ages 5-8 years: As Kiwi Co's original namesake box, this one is created for your grade-schooler to get creative! This box is slightly more STEM-focused but still has that creative, artsy aspect that your crafter will want! For example, one box included a design-you-own funny face kite that really flies! You also get the Explore! magazine, and access to online DIY ideas and tips.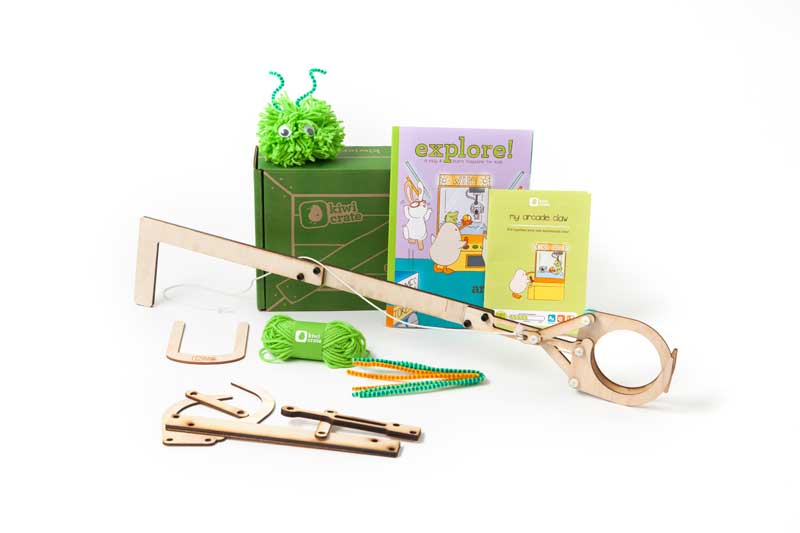 Atlas – Ages 6-11 years: Teach your grade-school age child more about the great world out there, with these location-based craft subscription boxes for kids. Some of these projects have a STEM aspect, all of them are crafty. You also get collectible cards and stickers to create a keepsake book (and have kids remembering all about the places and cultures they'll be crafting) as well as information on these cultures.
For example, in preview of Peru, you'll make a quirky alpaca, learn about weaving on a mini scale, create a DIY antara flute, make a traditional recipe, and play local games.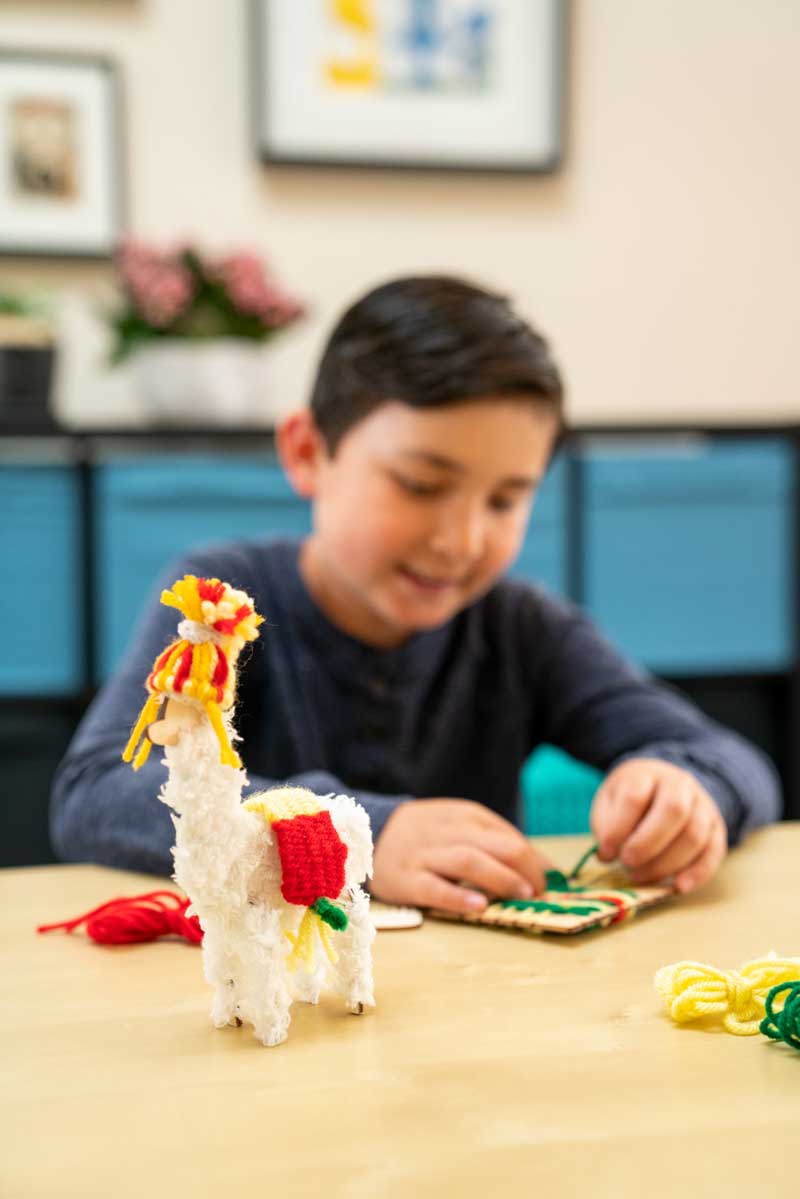 Doodle – Ages 9-16+: This tween-teen box is actually great for grown-ups too! I personally love them for myself. These boxes tend to be more purely craft focused, with projects on a basic level. I find that these boxes are a great opportunity to open kids' eyes to new types of crafts, and to teach some new basic crafting skills, such as candle-making, stamping/painting techniques, and more.
I love that Doodle Crate really comes with everything that's needed for the projects, and there's usually some left over to add to the craft room when you're done!
Learn more and sign up for Kiwi Co craft subscription boxes for kids here!
---
2. Kid Art Lit – book based craft subscription boxes for kids:
Age range: 3-8 years old
Price: $29.95-$51.95 (depending on your kit of choice, for tangible kits) and $14.95 for a digital subscription

Best for: If you want a book box and a craft box all in one, you're getting double duty here! If you want to encourage literacy in a creative way, if you want high quality book-based projects that teach new creative skills. This is perfect if you're looking for something totally open-ended as they are process-art activities, rather than specific craft tutorials. I also love this for family crafting – because each box covers a broader age range, your preschoolers can craft together with your grade-schoolers (each box comes with enough materials for two)!
KidArtLit is a unique concept in craft subscription boxes for kids. It takes the classic "book-inspired craft" and supplies a high-quality, non-cheesy craft to go with a book to read!
KidArtLit offers two different subscription options: the Spark which includes enough for two people to complete one craft, and the Deluxe, which includes enough for two people to create two crafts. They are also willing to customize boxes for your needs – so if you have more children, or a homeschool coop, just reach out and they'll help you!
So, you'll be creating open-ended art, while building up your kids' library with unique books, new releases, and boutique publishers.
While you can also get a digital-only membership, both the physical subscription boxes include a digital membership too!
If you'd like to see what the boxes look like, check out their past boxes.
Learn more and sign up for KidArtLit here!
---
3. We Craft Box – seasonal craft subscription boxes for kids:
Age range: 3-9
Price: $25-$29.99/month (depending on your choices)

Best for: Family crafting! The broader age range means it's good for siblings, and it comes with enough supplies for two children. Each box comes with 2-3 projects, meaning you have half your weekend crafting needs covered. Good for when you want classic kids' crafts using familiar materials and techniques.
Coupon code: GETCRAFTY5 at checkout for $5 off your first order
If you're looking for a good, basic craft box, We Craft Box is a great option! It features 2-3 seasonal crafts, with enough materials for two kids to make each project. The seasonal crafts can be a huge perk… or drawback. For example, if you celebrate Christmas, you'll love the holiday crafts, but if you celebrate Hanukkah, that month may be a disappointment, so be aware of that before making your decision.
Looking at past boxes, you'll see that there is really room for creativity and self-expression, and the crafts are fun and quirky – not just "anything you can find on Pinterest". They allow your child to explore different materials and techniques (modeling clay, pastels, alongside other craft supplies) while building up a craft stash too. Kits like these give ideas that can be implemented in future craft sessions that don't necessarily come with your subscription, and some of the ideas you'll want to repeat with your own twist.
See old boxes, learn more, and purchase We Craft Box here!
---
4. Green Kids Crafts – Eco-friendly craft subscription boxes for kids:
Age range: 2-10+ (two separate age groups)
Price:- $17.95 (single) – $37.95 (sibling/2 of each project) depending also on your billing options.

Coupon: Take 50% off the first month of any STEAM subscription with code ALLYEARLOVE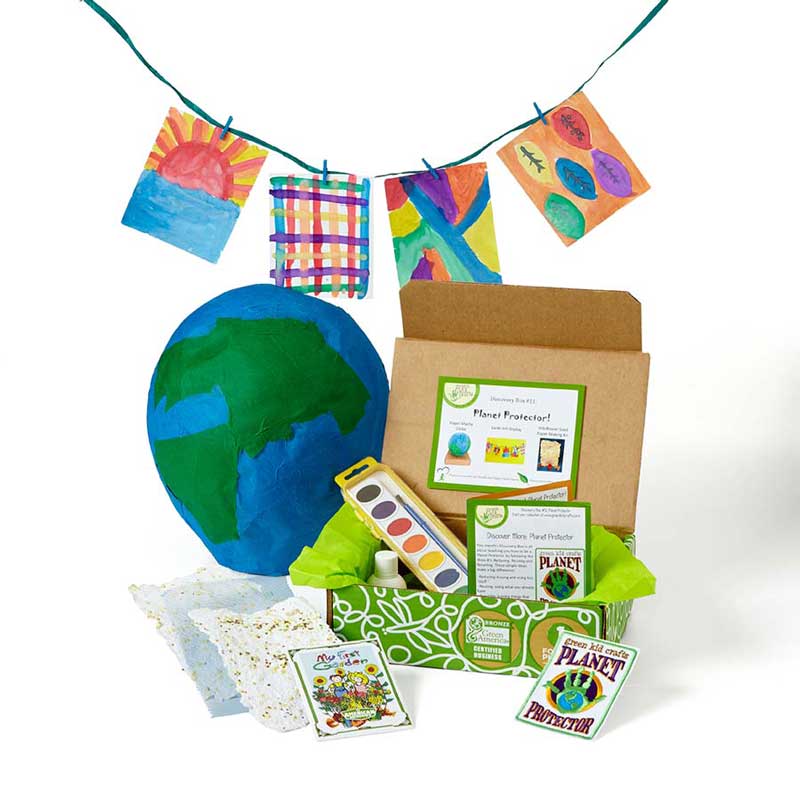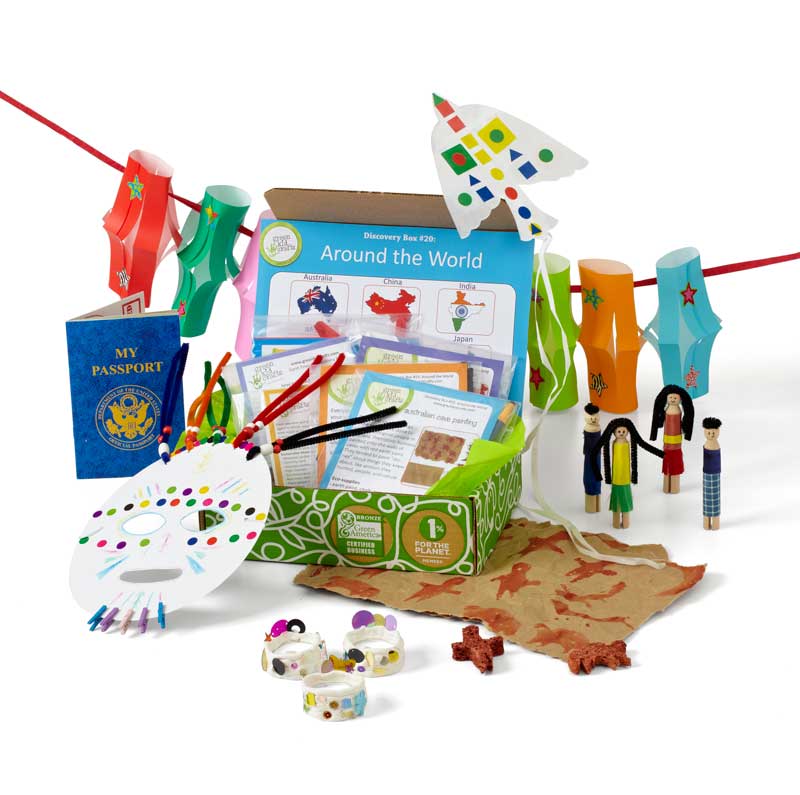 This box has options! First of all, if you're looking for higher quality, eco-friendly crafts, this box offers that unique twist – it's a "green" box, and the materials inside are made in the USA. You also have options to pay less for only one child, or pay for a sibling subscription (on the older box).
There are two box types – for ages 2-4 (toddler) and ages 5-10+. Each box comes with 4-8 crafts and activities focused on STEAM (science, technology, engineering, art, and math). I included this in my list of craft subscription boxes for kids because it definitely leans crafty.
They are centered on specific topics, and include art project, science experiments, creating new toys that work… I find that while this is a craft box, the projects are definitely less involved than other boxes.
---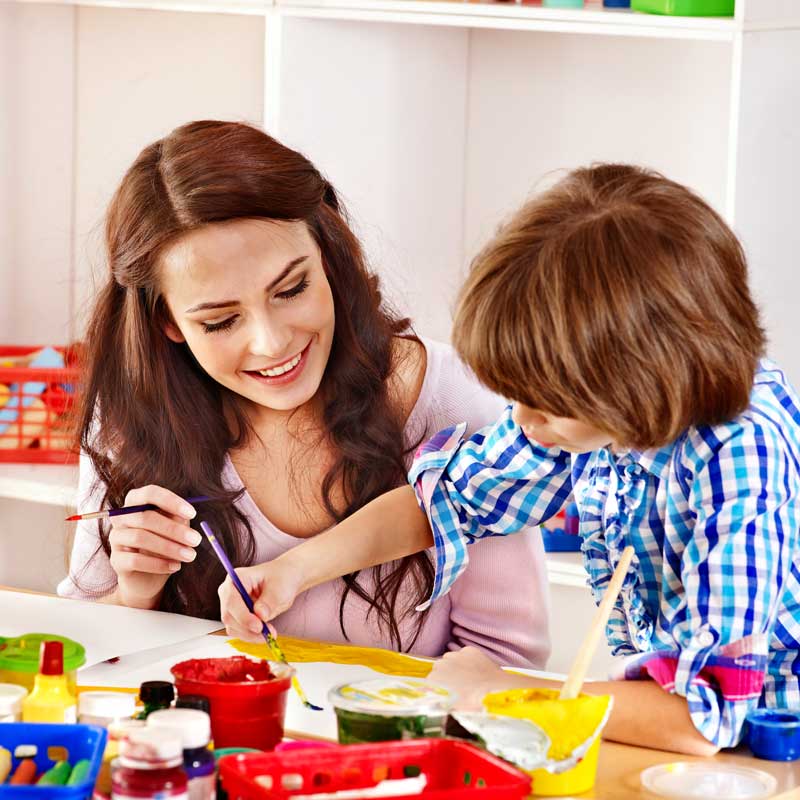 Ultimately, the best craft subscripton boxes for kids will vary from family to family!
Do you want all crafts and only crafts? Choose We Craft boxes.
Do you want process art with a literacy twist? Choose KidArtLit.
Do you prefer a crafty focus with a mix of educational topics, highly targeted by subject and age group? Choose Kiwi Co.
Do you want more of a homeschooling or home supplementary education mix of STEAM ideas? Choose Green Kids Crafts.
Is price a big factor for you? Choose the one that has the best, cheapest option for your needs, taking into account how many siblings will be crafting!
What are your favorite craft subscription boxes for kids? Comment below!