There are so many fun crafts for tweens with paper as the main "ingredient" that I decided to put together this amazing list for you! Crafts for tweens can be harder to come by than adults or young kids, so I have been creating some new resources for you to explore, including scapbook paper crafts, printable crafts for teens and tweens, and even a dedicated section for girl craft ideas. Disclosure: this post contains affiliate links.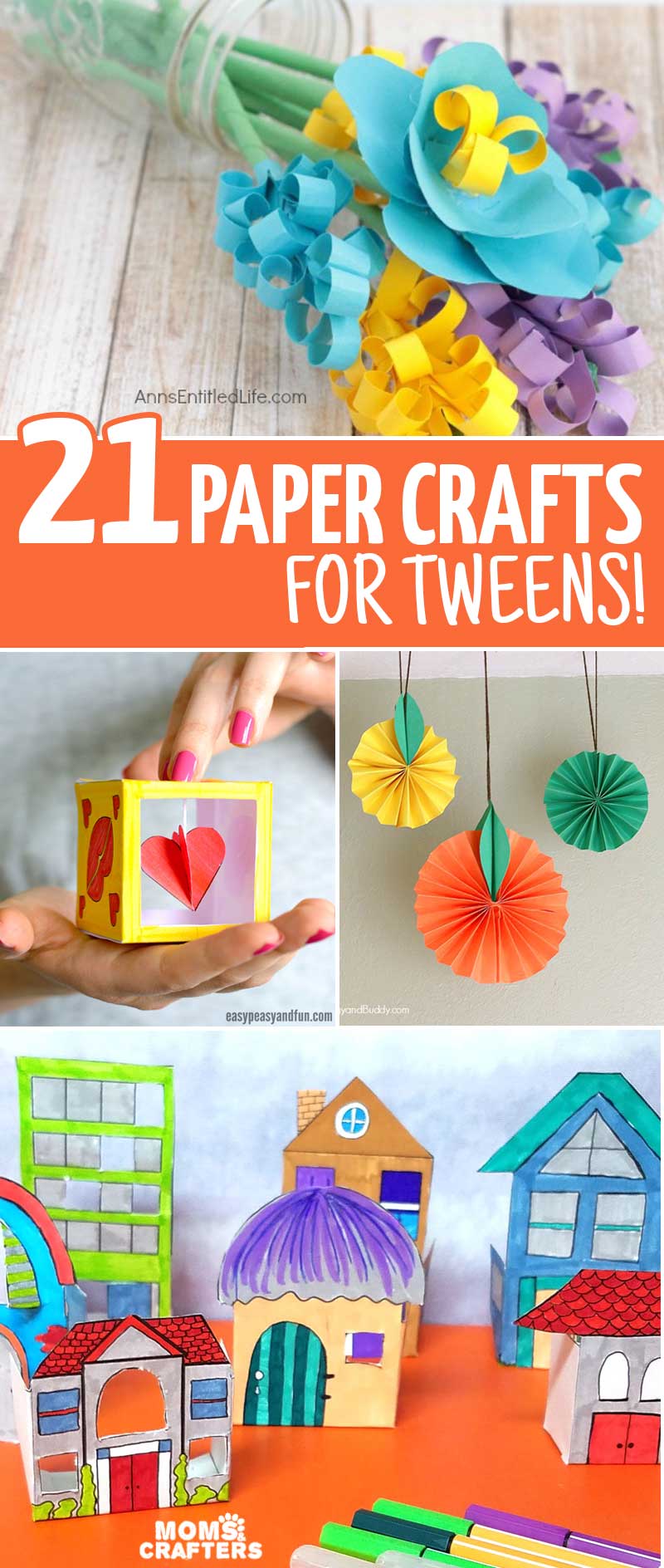 Crafting is an amazing boredom buster for tweens and tweens but crafting can get expensive.
While older kids might be able to earn some pocket money, resources are often limited – especially for heavy crafters.
For example, your teen might be able to make some crafts to sell but your tween might be too young for that.
So I put together some fun crafts for tweens with paper as the primary focus so that they can craft on a budget. The only things you'll really need are a printer – which you probably already have and is a one-time investment, some copy paper, markers, and an assortment of colored and scrapbook papers.
There are many other tools you might want but they're not 100% necessary. For example, for most of these fun crafts for tweens with paper, a pair of scissors will do the job. However, you may want a paper trimmer, paper punches, a scoring tool – you get the drift.
But the idea remains the same. There are so many fun crafts for tweens with paper as the only material that really "uses up" and needs to be maintained, so that once you have your basic materials, maintenance is cheap.
And those materials are the perfect unique gifts for crafters – tweens, teens, or anyone!
Copyright:
All of the images for these fun crafts for tweens with paper were used with the permissions of the respective bloggers for the purpose of this post. Click on the title link or image for the full tutorial.
I have created a square and vertical image for your convenience for sharing these fun crafts for tweens with paper. Please use the first or last image in this post when sharing and not one of the individual photos below, out of respect for the creators' copyrights.
10 Printable Paper Crafts for Tweens (boys + girls):
When looking around for and coming up with fun crafts for tweens with paper, my favorites are the printable ones – you can get something super cool without too much artistry! These free printable craft templates include girl craft ideas and boy crafts but they're all super fun crafts for tweens with paper.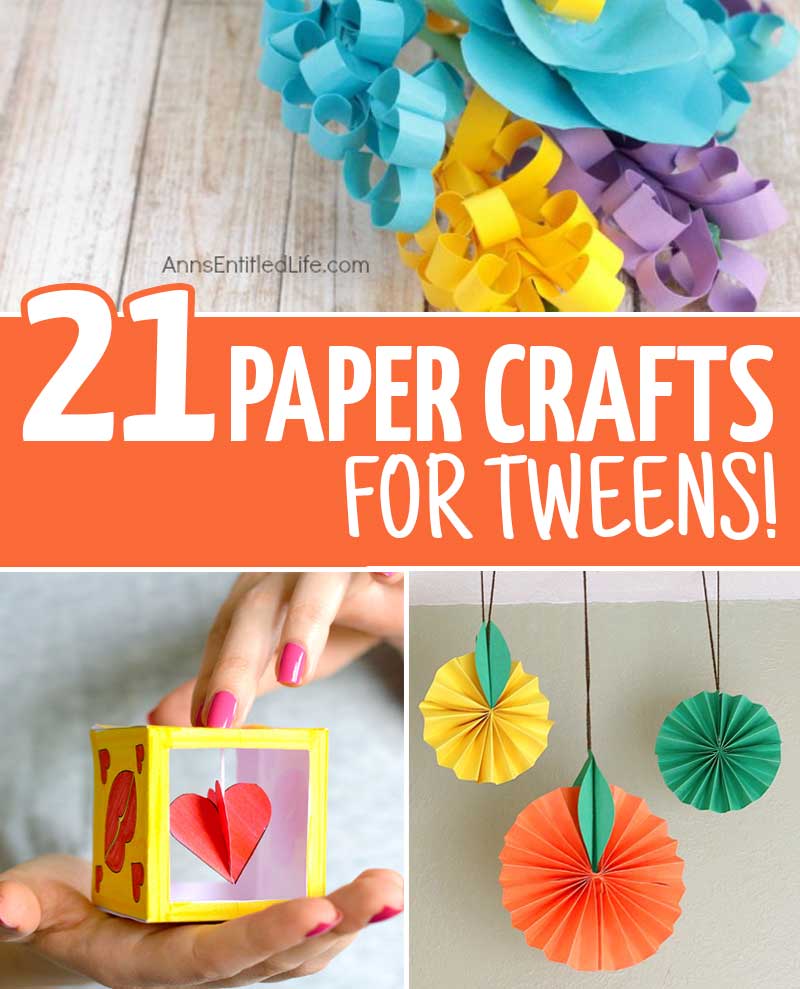 1. Dog Box (Coloring Page) by Moms & Crafters: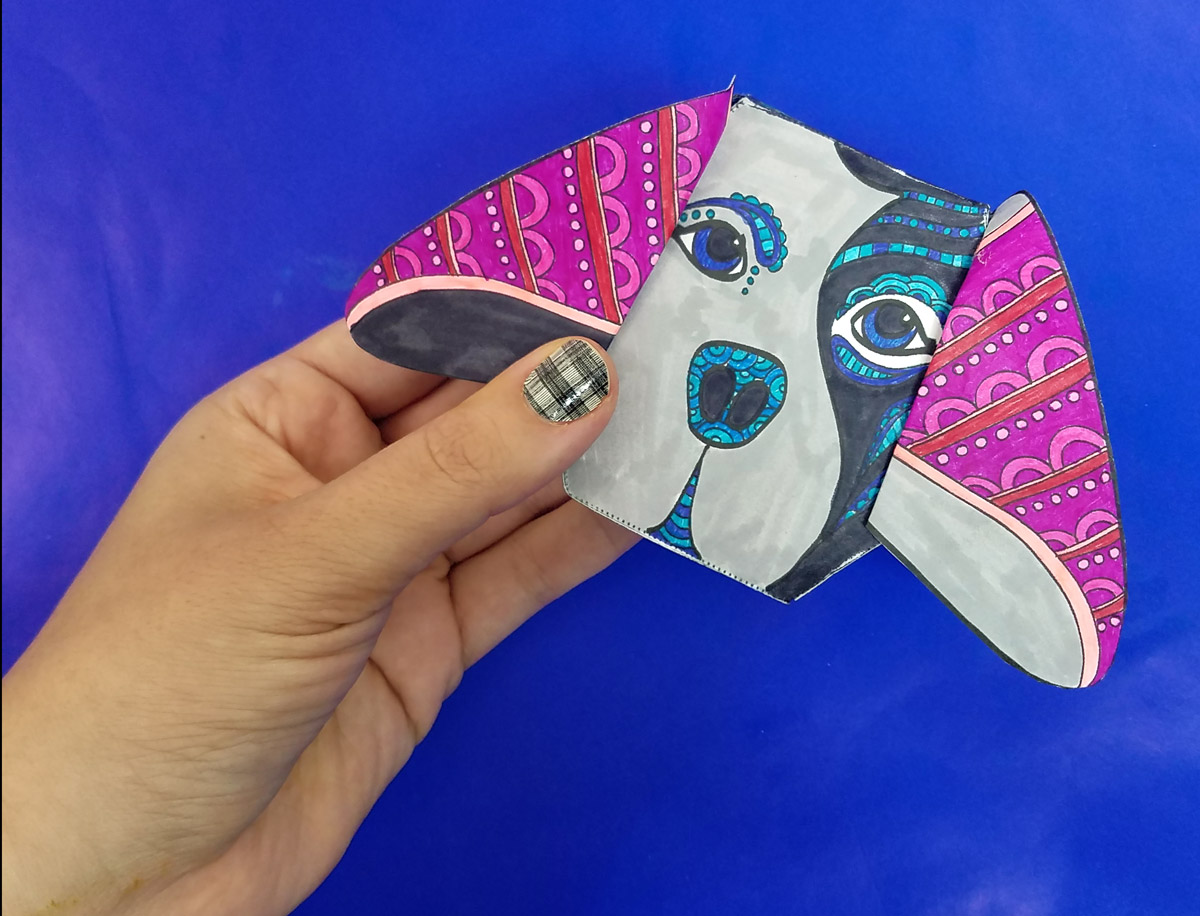 This sweet dog is actually a box that is just perfect for small gifts and (human) treats. Any dog lover will love receiving a gift in this box. You can also just make for yourself- use it to store a special keepsake or some birthday money. You can even hide your first baby teeth inside!
2. Star Wars Paper Lanterns by Adventure in a Box: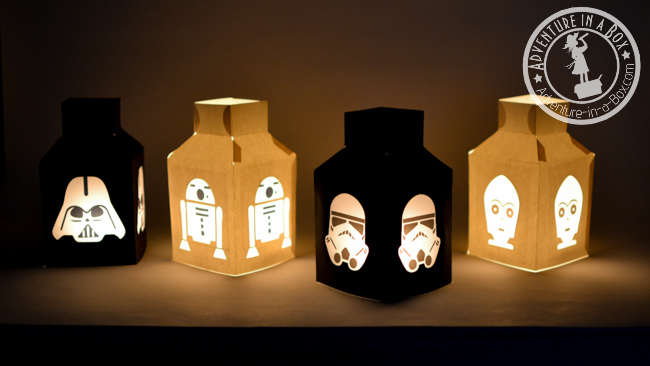 Star Wars lover? (Who isn't?) This paper craft is great for girls AND boys, and you have a beautiful craft to display when you're done. Between Darth Vader, a stormtrooper, and a couple other key Star Wars characters, this paper craft is a winner. These cool lanterns are perfect for your homework desk or to display in your bedroom window. They're fairly easy to make, and they will look awesome wherever you choose to put it.
3. Desk Jar Organizers by Moms & Crafters: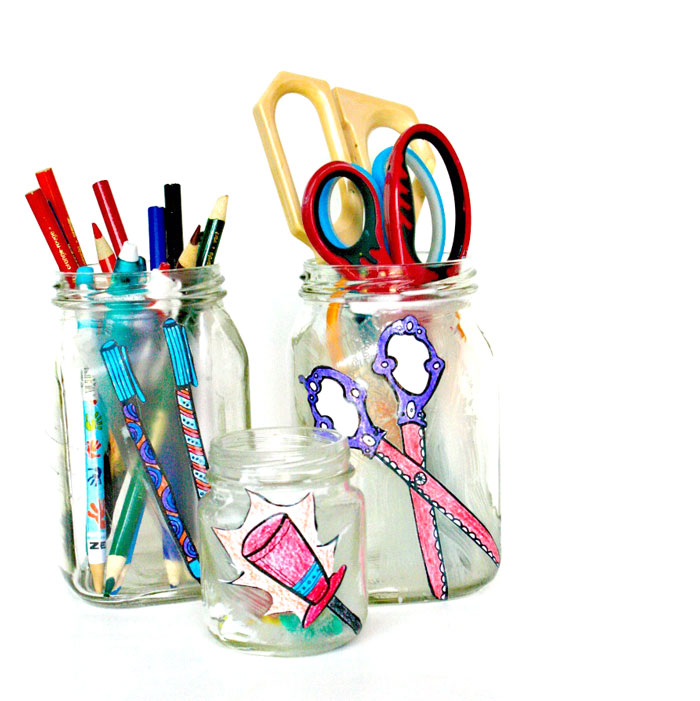 Is your homework desk a mess of pens, scissors and whatnot? Organize it with these handy jars. You'll love coloring in the template, cutting it out and applying it to upcycled baby food jars or mason jars. You'll actually LIKE cleaning up your desk with these organizers.
4. Empowering Endless Cards by Hattifant: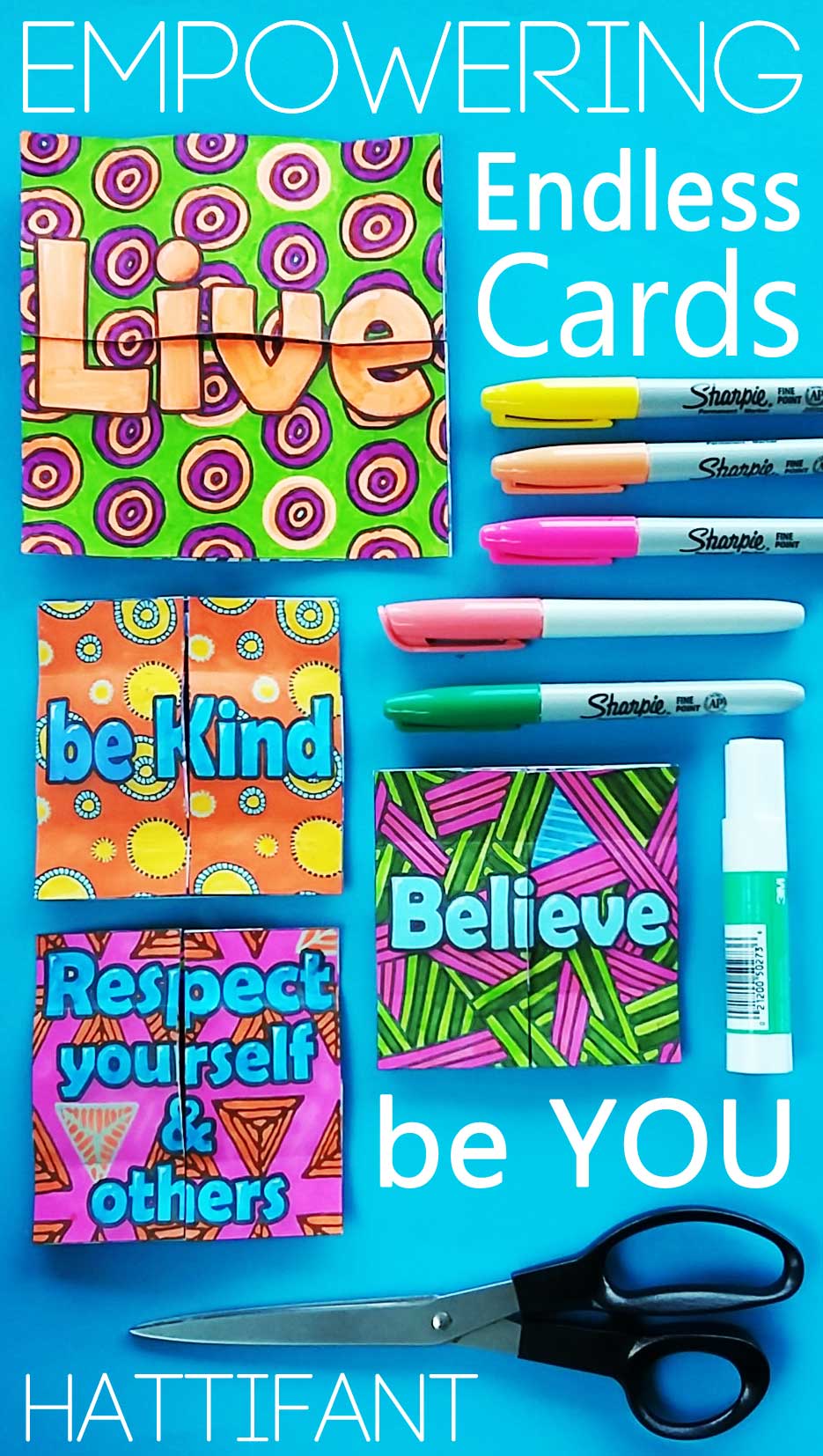 Endless cards have got to be one of the coolest paper crafts ever. They are literally endless! And with beautiful, empowering messages for you and your friends, you'll absolutely love making them, coloring them and handing them out to your BFF's.
5. Reading Glasses Coloring Bookmarks by Moms & Crafters:
I just had to include these awesome reading glasses bookmarks in this roundup. They're so much fun to color and make, and totally functional. Everyone can always use an extra bookmark, and they make for a great present for friends and family.You can even add magnets to them to make them an even sturdier bookmark.
6. Heart Box Paper Craft by Easy Peasy and Fun: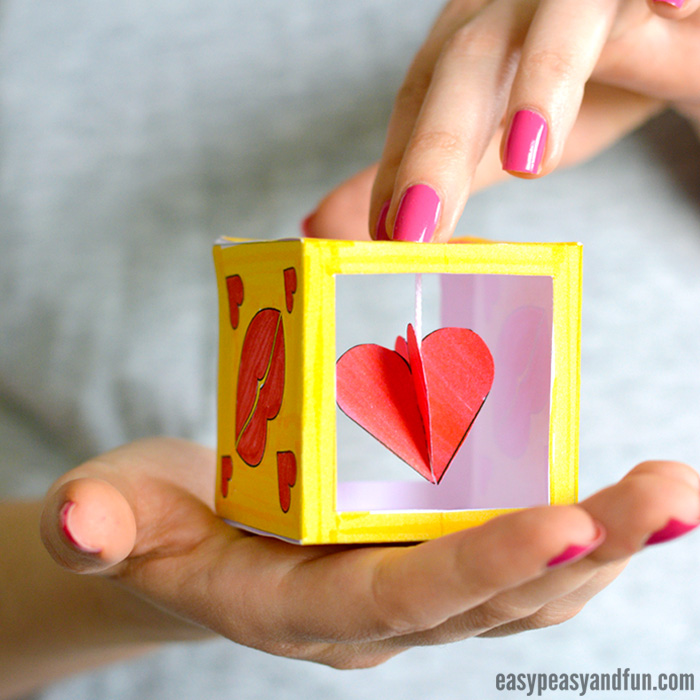 Spread the love with this sweet heart box! It actually has the cutest hanging heart inside! Perfect for Valentine's Day or for giving a gift to someone you love. The recipient will be so eager to display it somewhere special, especially because it's from you to them.
7. Paper Houses by Moms & Crafters: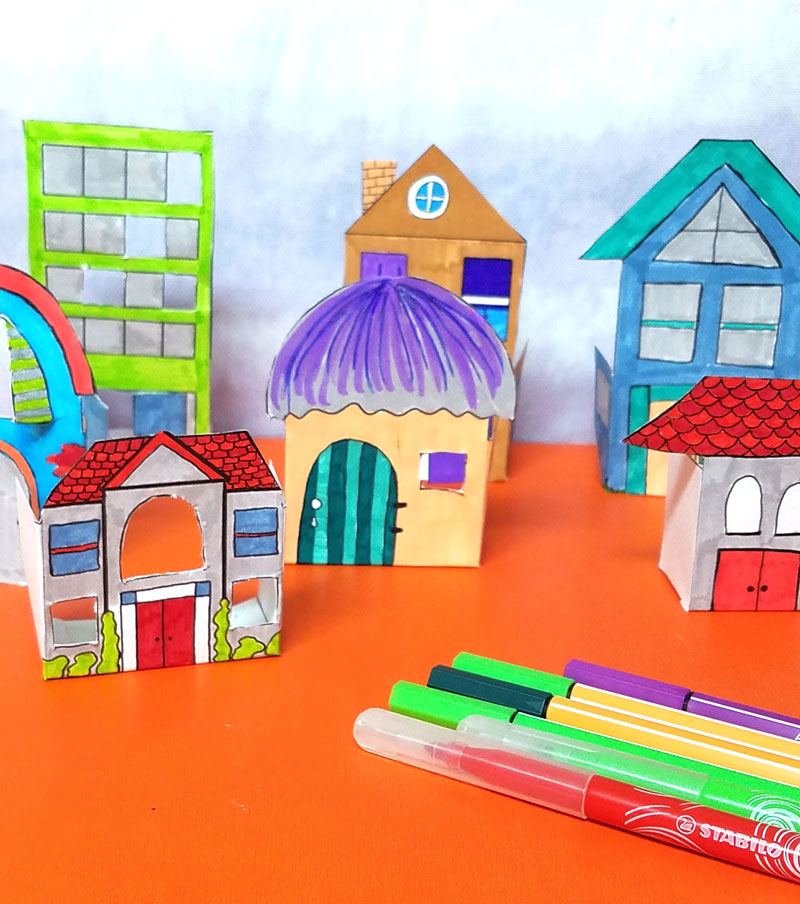 These paper houses are so much fun to make together with friends. You can make a whole city- just use your imagination! It's the perfect craft for all ages, and especially enjoyable to create with someone else. You can even color them in seasonal colors to make for a beautiful holiday display. Use good quality markers to get rich, consistent color.
8. Peacock Craft by Moms & Crafters:
Peacocks are one of my favorite animals. They are just so beautiful and majestic. So this craft is naturally one of my favorites, too! Turn your peacock into an elaborate centerpiece, or hang it with string and watch it dance in the light. Even better, use it to make a pop-up card with a sweet message!
9. Hot Air Balloon Mobile by Moms & Crafters: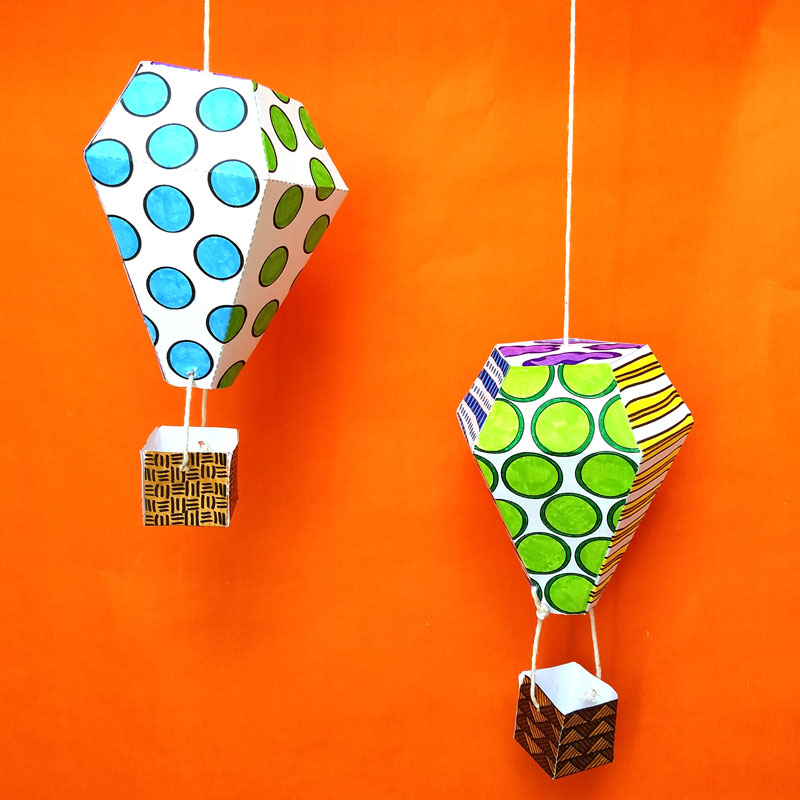 These hot air balloons are cute and fun, and easier to make than you think! They'll make for a perfect addition to a bedroom or playroom. You can even make just one and hang it in your locker! Make it rainbow colorful or use similar colors on the different patterns to match a bedroom color scheme and create a cohesive look.
10. Citrus Fruit Coloring Pages by Moms & Crafters: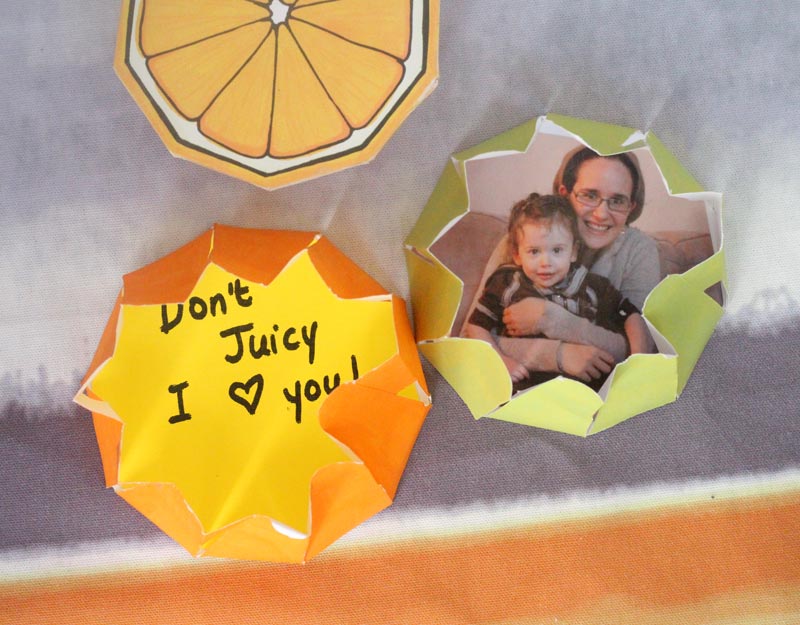 Citrus fruit are just so pretty, I had to include them again. The colors brighten up any setting! Turn it over and add a photo or cute message and stick it into a friend's locker to give them an awesome day! You can also make a bunch and arrange them in a simple wire bowl for a kitchen table centerpiece that never spoils! (If you do this, make sure to glue down the back so the fruit doesn't open.)
8 Fun Crafts for Tweens with Colored or Scrapbook Paper – or even cardboard!
I have stacks and stacks of scrapbook paper – and I don't even scrapbook! The unique prints are perfect for fun crafts for tweens with paper – your kids just won't want to stop!
11. Paper Fortune Cookies by Moms & Crafters: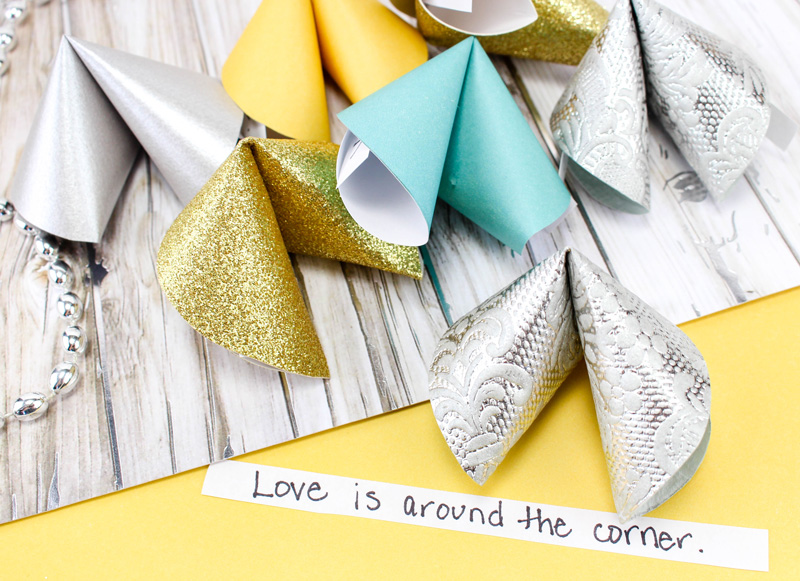 These fortune cookies, made of simple scrapbook paper, are super simple to make and are so versatile! Write messages inside for a special someone and gift them! You can also make a bunch for table decor (think place-cards!), or to handout at a party. They're quick to make, and you can use all sorts of patterns and colors to match a party scheme.
12. Handmade Paper Flower Bouquet by Ann's Entitled Life: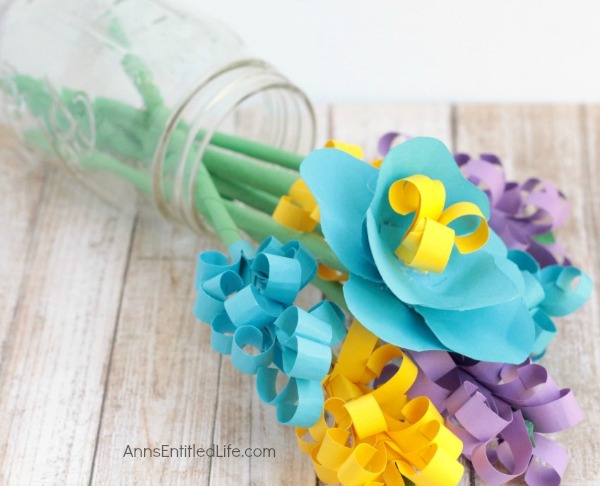 Paper flowers aren't as old school as you may think. This craft takes them to a whole new level. Make the whole bouquet and stick it on your dresser to brighten up your bedroom. You can also make a few as table centerpieces or as a perfect Mother's Day Gift. The best part about giving them as a gift? They'll never wilt!
13. Glitter Gift Tags by Moms & Crafters: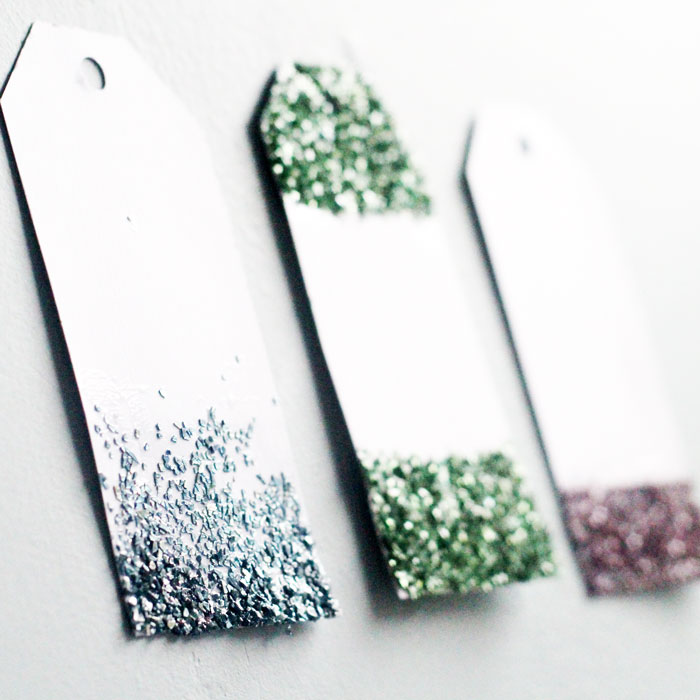 Does glitter make you as happy as it makes me? These glitter gift tags are really easy to make, especially if you have to make a bunch. They're the perfect touch of "personal" to add to any gift, be it a birthday present, a gift for your teacher or a plate of cookies for a new neighbor. The best part? Because you'll be using a decopauge medium, they won't shed all over the place!
14. Folded Paper Sunflower Craft by I Heart Crafty Things: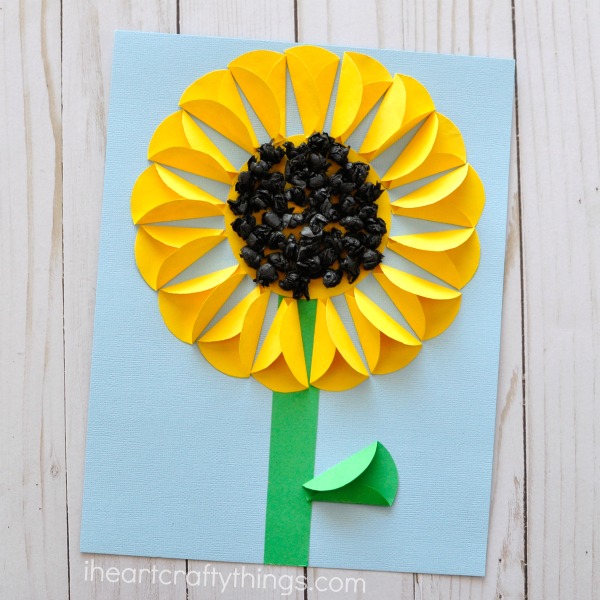 This gorgeous sunflower just screams spring! The dimensions made with different kinds of paper makes it a totally awesome craft. The flower is the perfect thing to create on a homemade card, whether for a birthday, Mother's Day or just because!
15. DIY Shadow Box Frame by Moms & Crafters: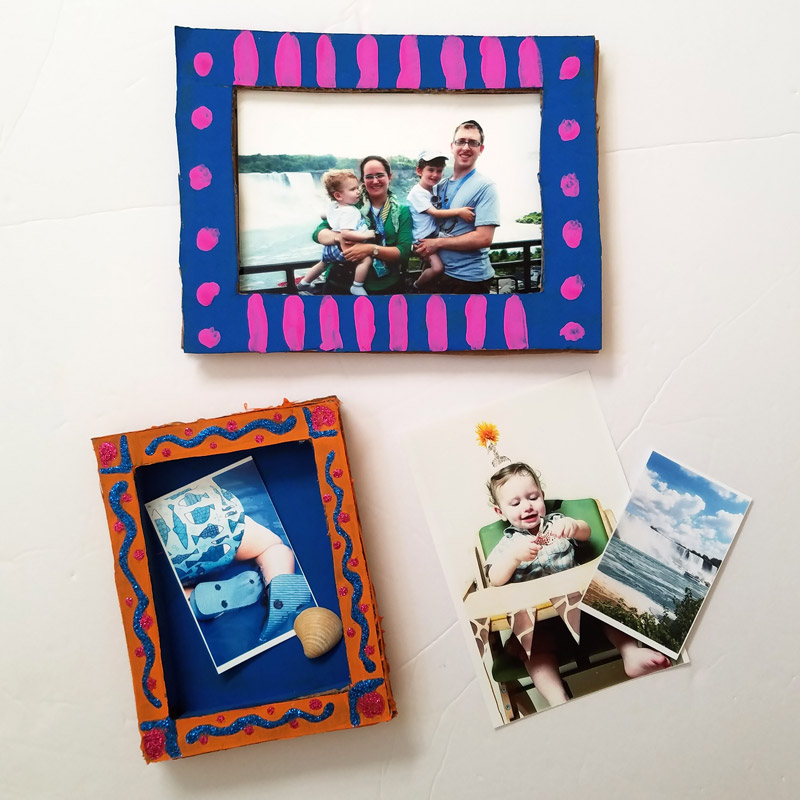 Turn extra cardboard scraps into a cool DIY photo gift. This shadow box frame is a great way to elevate any photo gift into something more personal. If you have a mini printer to print photos straight from your phone, you can design the frame in miniature as well, and make an instant gift out of it! Turn it into a nostalgic gift for Grandma, or stick a magnet on the back and hang it in your locker.
16. Mosaic Heart Card Crafts by Moms & Crafters:
These mosaic heart cards are great for Valentine's Day, or any other day! Use wooden tiles to keep the card lightweight, and have fun painting them with… nail polish! Use sparkly polish for added dimension and coolness factor. And, you don't have to limit yourself to just hearts. Arrange the tiles into your initials, or favorite emoji for a fun take on the craft., and to truly make it your own.
17. Hanging Citrus Fruit by Buggy and Buddy: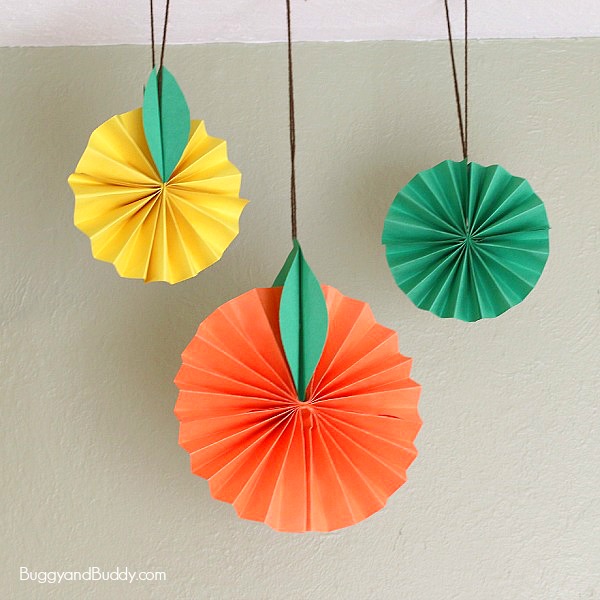 These hanging citrus fruit are a great way to decorate your bedroom or a breakfast nook. All you need is some construction paper and yarn, and you're all set to create! They're a quick craft that is easy to make and they add a bright, fun element to any room you choose to hang them in.
18. DIY Apple Paper Globe by Moms & Crafters: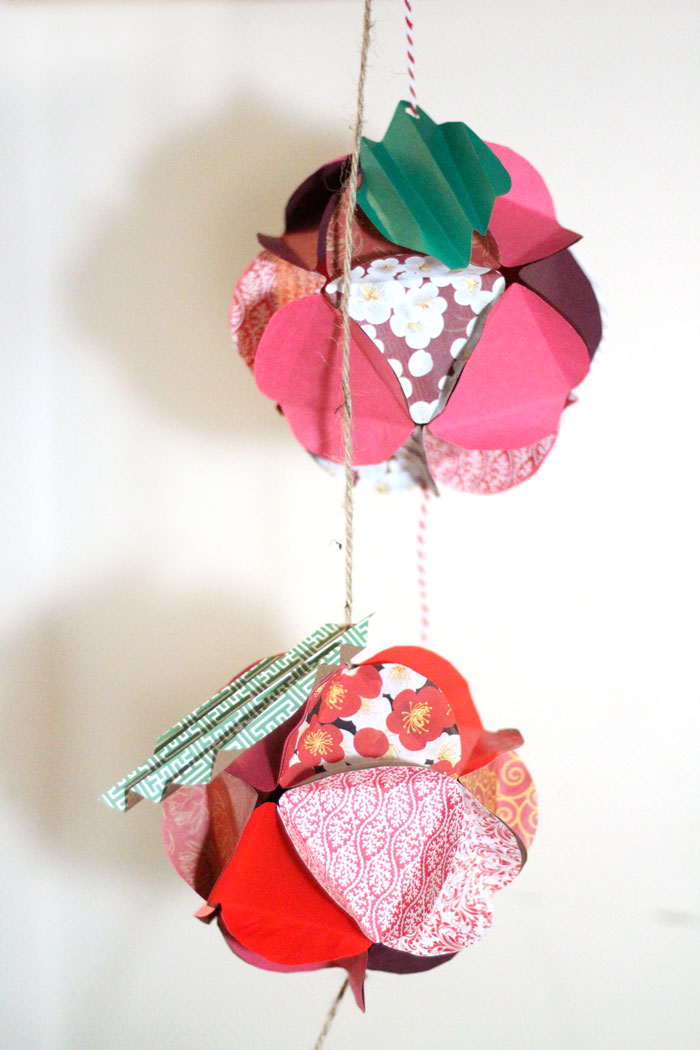 The DIY apple globes are gorgeous, and so versatile! Use them to decorate your kitchen and brighten up the space. They're perfect for celebrating Thanksgiving or for a party. They look great in pairs, so you can alternate some with patterns and some with solid reds to balance the display. Hang them with jute twine for a nice, natural look.
3 Girl Craft Ideas with Paper:
I thought this section of fun crafts for tweens with paper would be much longer – but I'm glad it isn't! There are so many things that boys can make too, but since many people are looking for girls separately, enjoy these girl craft ideas…
19. Seashell Cross Section Earrings by Mod Podge Rocks: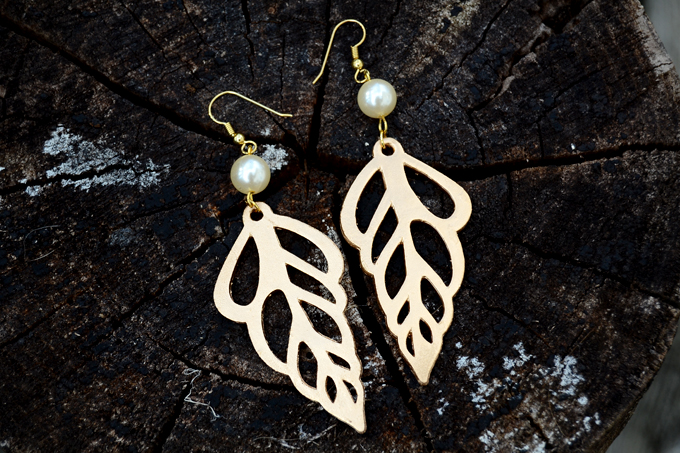 While these earrings take a bit more work, they are so worth it. No one will believe that they're actually made out of paper! They remind me of sun, beaches and all things summer. You can even get inspired and draw your own earrings and use the same method to turn them into wearable jewelry. Make them for yourself or gift them to a friend to put a big smile on her face.
20. Unicorn Paper Crafts by Moms & Crafters: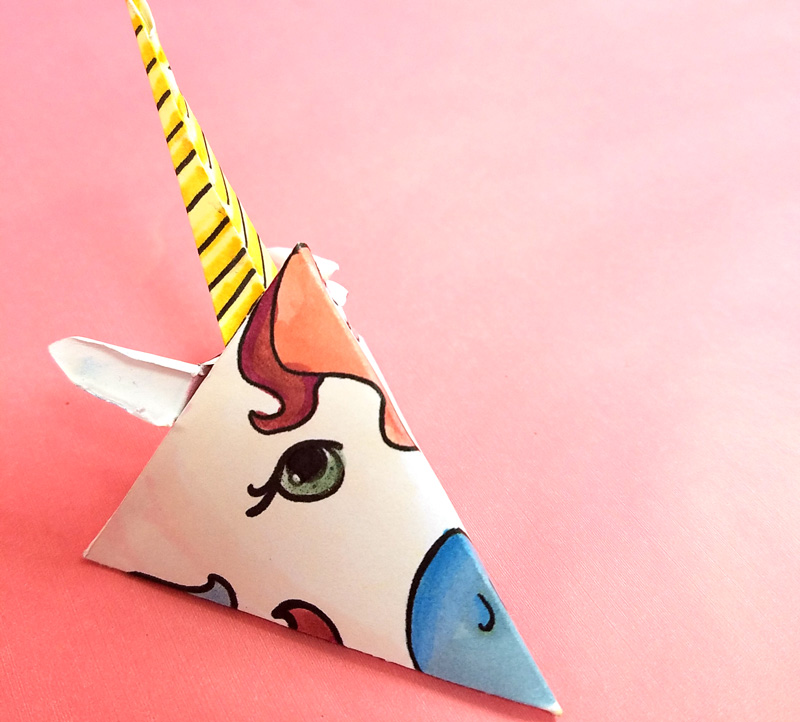 Tweens = love unicorns, am I right? The unicorn craze has sparked so many awesome crafts, and this one is no exception! The details in the ears, hair and eyes make this craft even more exciting. Print it out fully colored, or print the color-in version, and color it in yourself. Either way, you'll have so much fun with this! Take it one step further and turn it into a mobile to hang in your favorite reading nook!
21. Disney Princess Corner Bookmarks by Red Ted Art: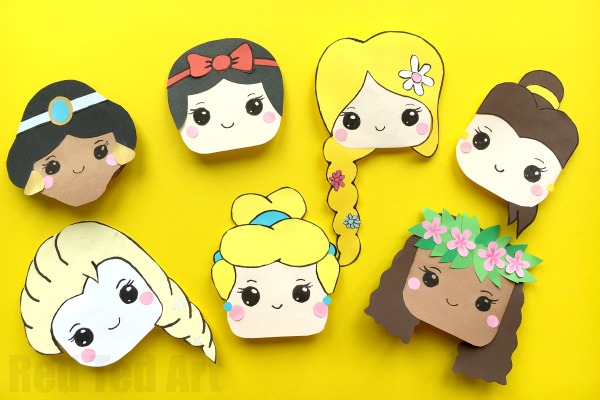 You're never too old to love a Disney princess! These adorable Disney princess corner bookmarks are made using an Origami technique, but then taking it a step further with embellishments. The materials needed are very basic things that you likely already have around the house. Make a bunch and keep them handy for all your books! They also make a great gift for friends and super fun crafts for tweens with paper.
What are your favorite and most fun crafts for tweens with paper? Are you looking more for tween coloring page printables, scrapbook paper ideas, or girl craft ideas? Comment below!