This is a sponsored conversation written by me on behalf of Cricut. The opinions and text are all mine.
If you're hunting for a Cricut Explore Air 2 review to help you figure out if it's the right machine for you, I hope you enjoy my first impressions! In this post, I share how I'm getting to know my machine and what I love best about it, how to use the Cricut Explore Air 2, what kinds of projects you can create and which materials you can cut, and more! This post contains affiliate links.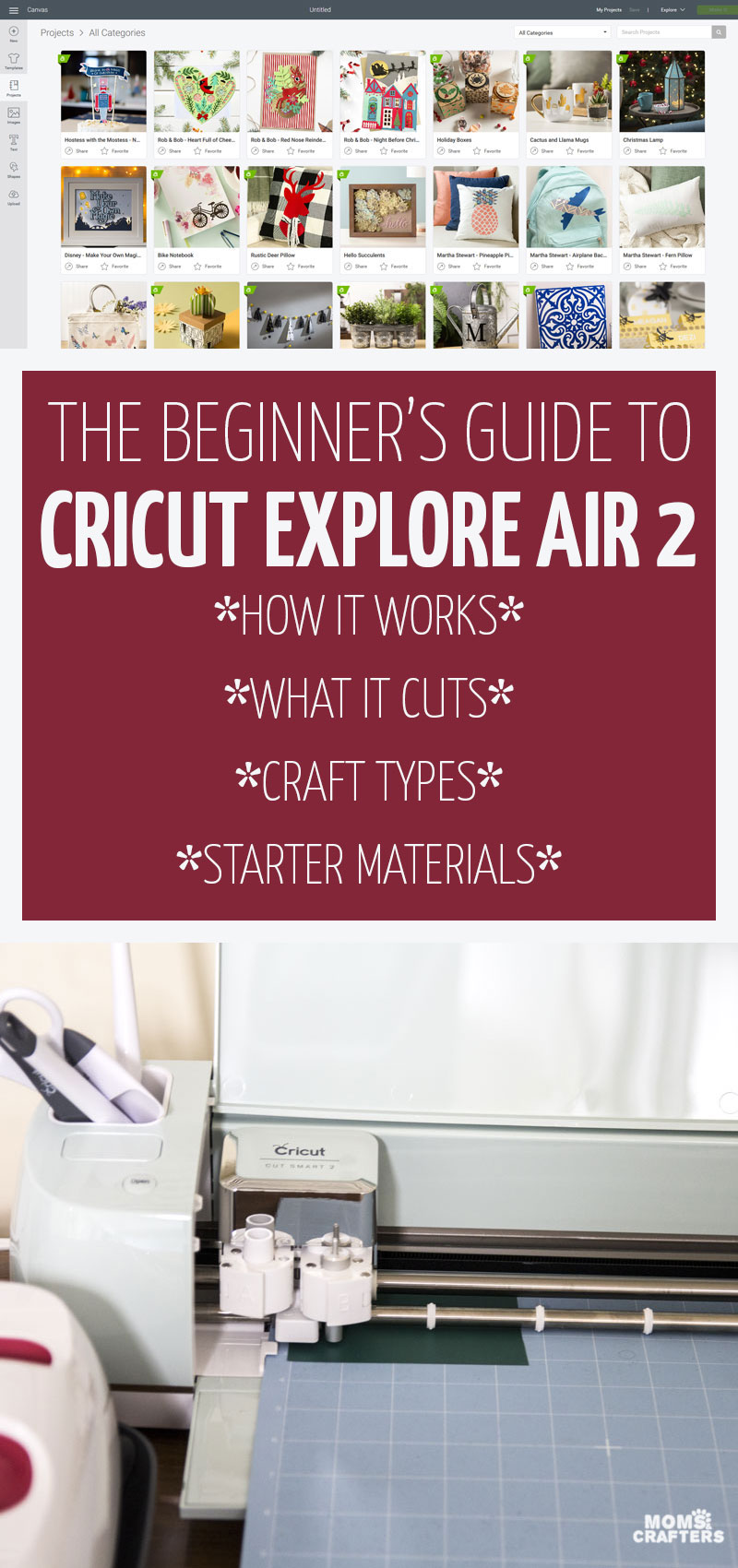 A Cricut cutting machine has always been at the top of my wish list and this year, I finally had the chance to get this machine for review.
I always wondered if the Cricut Explore Air 2 would be enough for my crafting needs. My main crafts are jewelry making and paper crafting but I craft in many niches.
I love personalizing gifts.
I do hand lettering and love making signs, mugs, and decorating anything.
I am a graphic designer and incorporate 3D design into my crafts.
And I absolutely love creating felt toys for my kids.
I have never tried the Cricut Maker so I'm not going to compare machines, but I was so thrilled to find out just how versatile the Cricut Explore Air 2 machine is. It DOES cover all of my crafting needs.
The only things it doesn't do is cut thicker materials – like wood, and it doesn't cut unbonded fabric or soft felt. So if you sew from patterns or want to create wooden toys and decor, you're better off with a Maker.
And now I'll share with you an in-depth Cricut Explore Air 2 review.
How to Use Cricut Explore Air 2:
Cricut Explore Air 2 Review – Getting Started:
The Cricut Explore Air 2 is a pretty straightforward cutting machine.
On the left, you have:
A tool cup to store your most-used tools
A place to put physical cartridges (not needed, but if you've been using older Cricut machines, you may already have some)
An "Open" button to open up your machine.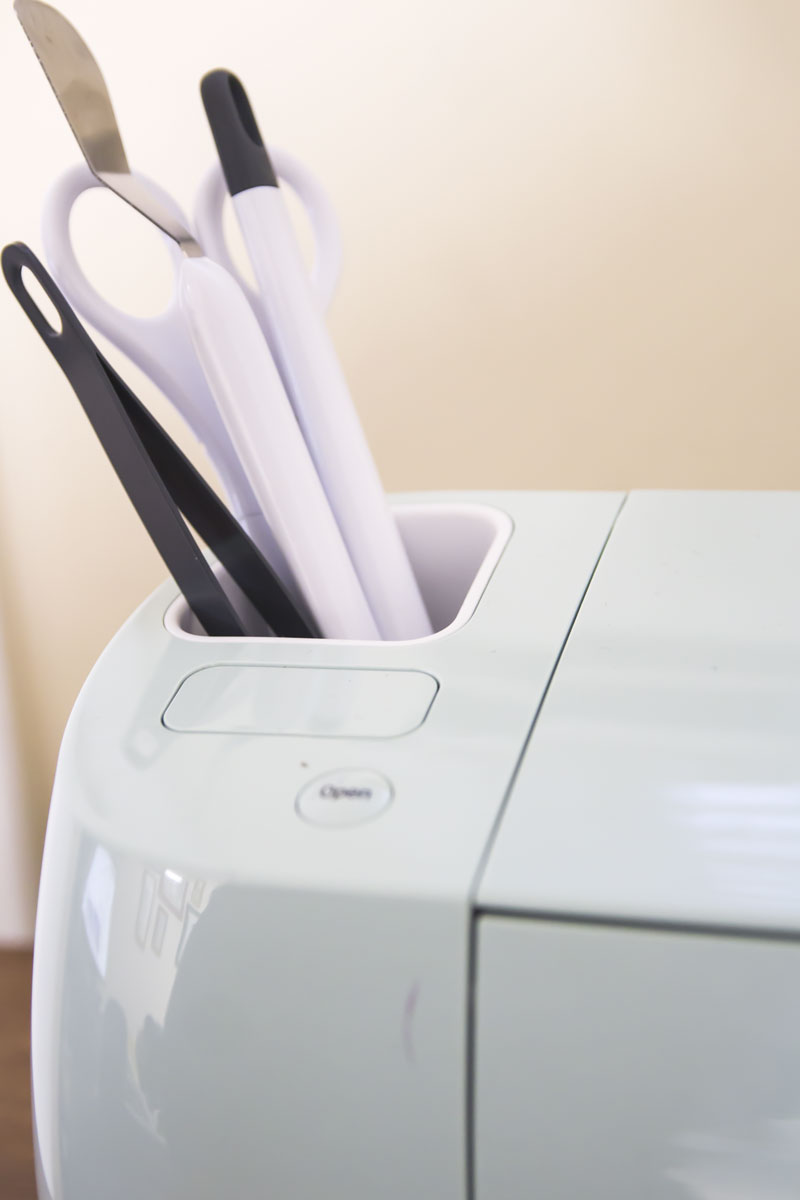 On the right you have:
The power button
The dial to set your material. You can do this on the machine, or you can leave it at "custom" and set a much wider range of materials from Design Space.
A load/unload mat button
A Cricut "C" button – that's your Cut button
A pause button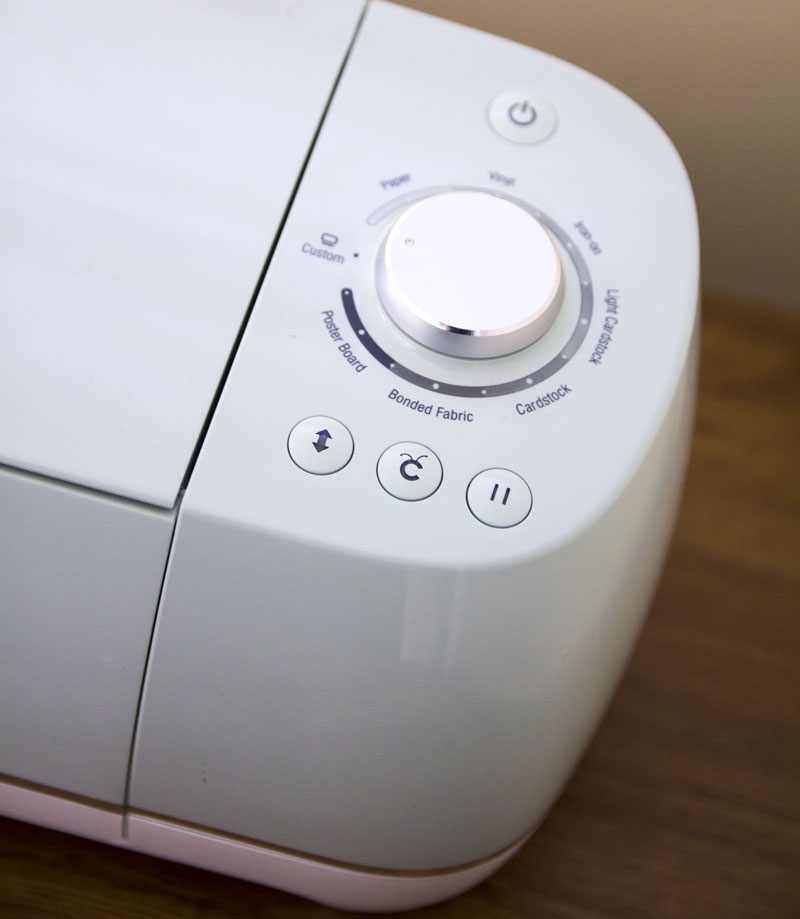 In the center, when the machine is open, you have:
Two tool holders with clamps: A is for pens and B is for your blade
The rollers and slots to load and hold your mat
Two storage compartments for tools. The left has a magnet that's perfect for spare blades.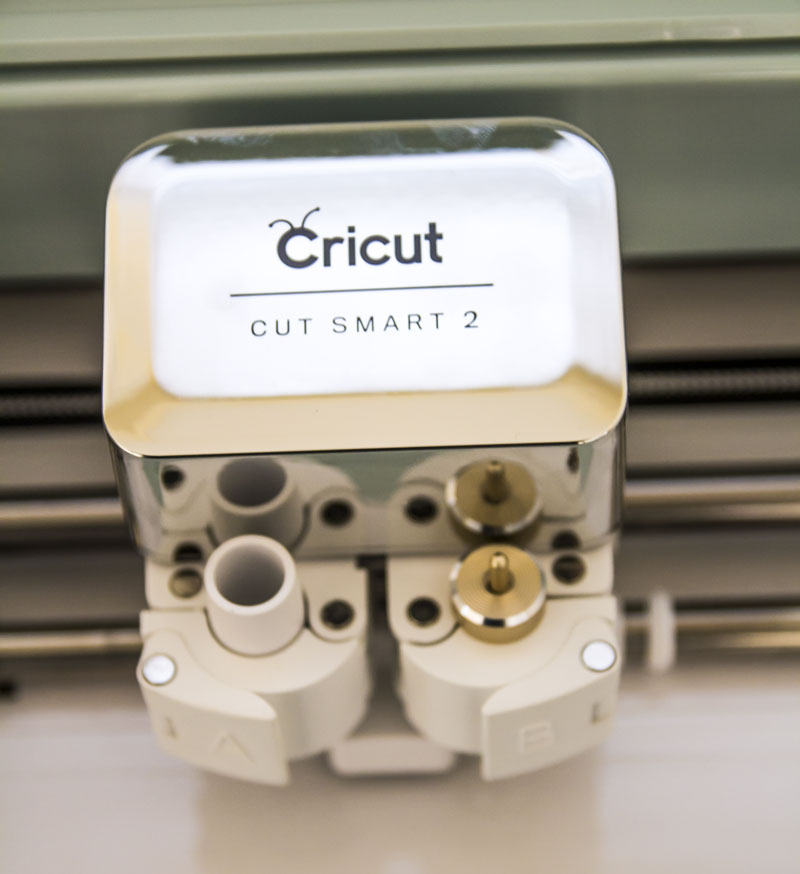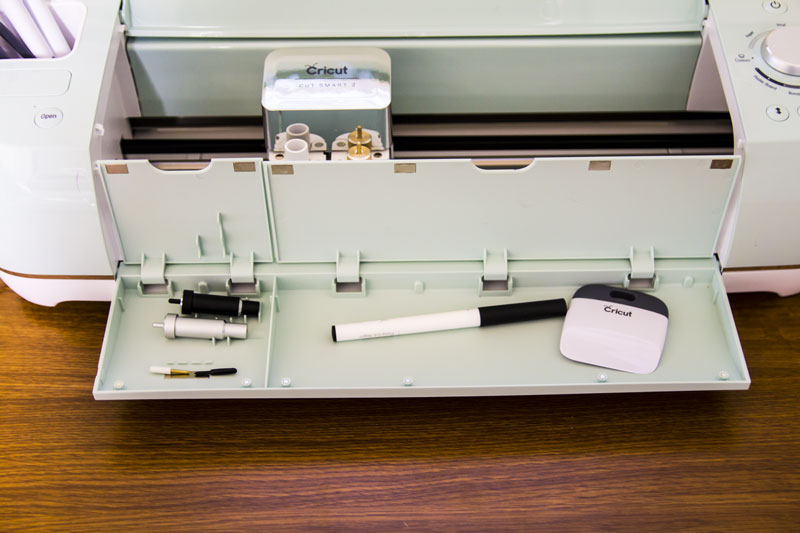 In the back you have the technical power and connectivity stuff.
Speaking of connectivity: your Cricut Explore Air 2 connects to your device using bluetooth or USB.
So how does your machine work? What is the process of creating with the Cricut Explore Air 2?
Cricut Explore Air 2 Review – Step by Step Operation:
1. Design:

The Cricut is all about design so if you're already a designer like me, you'll go crazy over the ability to take your ideas from paper to digital and then watch them become an actual object.
If you're not a designer, you'll find that it really doesn't matter. You have so many assets that other designers have created at your fingertips and you can make something insanely cool – even if you're not so crafty!
Your options for the design process include:
Upload a design: this can be an SVG file or an image that you downloaded somewhere, or something you designed yourself. I had fun designing some Hanukkah napkin rings that I'll hopefully share the files for next year.
Create a design in Cricut Design Space from scratch: You don't even need any additional software to create something new! Cricut has their own design app that works on your browser, as a separate program on your computer, or even as a phone app! Even if you upload or buy a design, Design Space is where you'll finalize it for cutting.
Cricut Access: You can purchase project elements and images directly within Design Space. There are some free designs you can use. You can pay per design for those that aren't free. Or, you can get Cricut Access – Cricut's subscription-based resource library. This includes fonts, projects, and cut files in many categories. Let's start with that Lotus flower in the top row.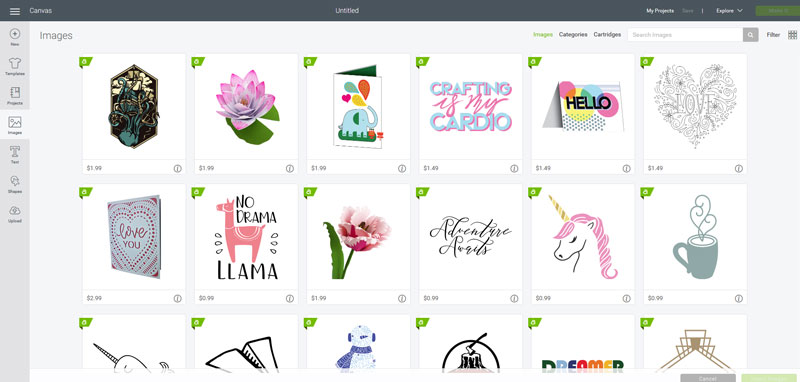 Design Space works with layers. Each layer is either a cut, score, or draw layer. This flower has the petal texture drawn on!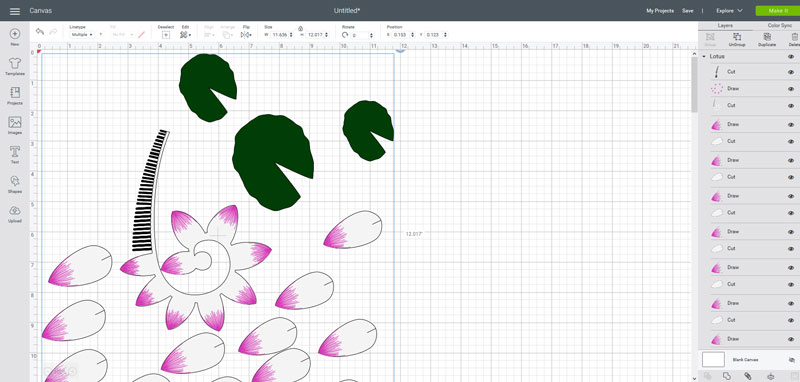 Once you have your files set on your Design Space grid, and you've made your changes, you can click "make". Design Space will then sort your designs by color onto different mats. Choose your materials and any other specifications for your project.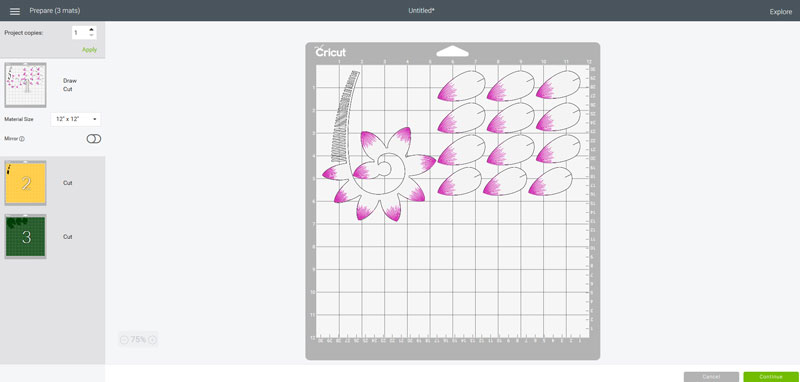 2. Prep Mats as shown and load:
You can now prepare your mats as Design Space shows you. I recommend using the scraper from the Basic Tool Set to smooth your material.
When the double arrow button is blinking and your machine tells you to, you can load your mat.
You can also load your blades now, and your pen if need be.
3. Watch the Machine Cut!
The boys love watching the Cricut Explore Air 2 cut! Okay, I do too.
How long it takes will depend on your project. With such a huge range in complexity, it's hard to give an estimate.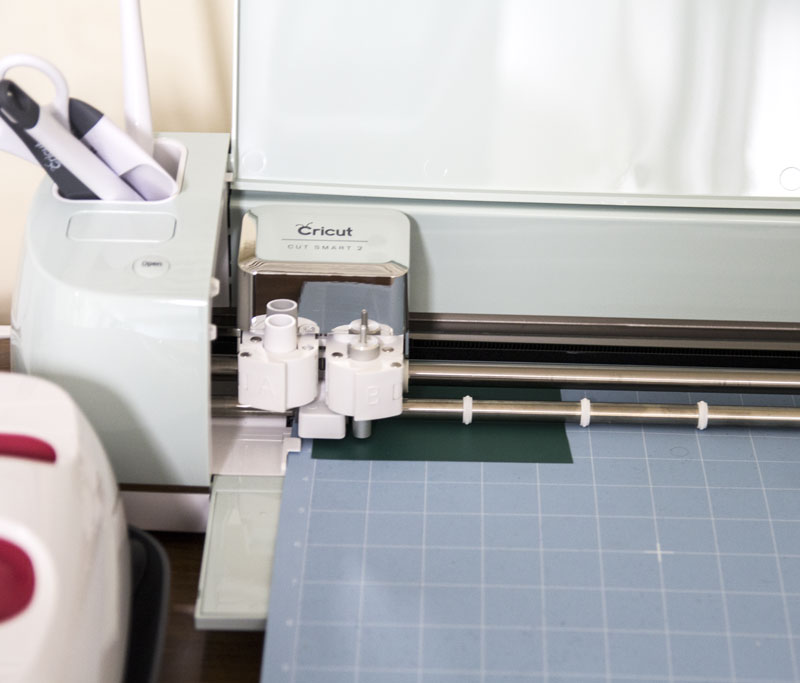 The Cricut Explore Air 2 has a fast mode for cutting if you're in a rush.
4. Remove your design carefully:
Once again, the tools in the Basic Tool Set help you remove your design slowly and carefully. Use the spatula to lift, the weeder to remove small elements, the tweezers to lift up edges…
You can then assemble your project as needed.
Things you can make with the Cricut Explore Air 2:
When making your first project, start in your comfort zone.
Your machine comes with the materials to make a free project you can find in Design Space: a basic card. It's the perfect starting point because it teaches you how to use both the pen and blade.
I started by cutting some leaf shapes I found in Design Space. I glued them onto floral wire and stuck them into mason jars as a fun Thanksgiving centerpiece.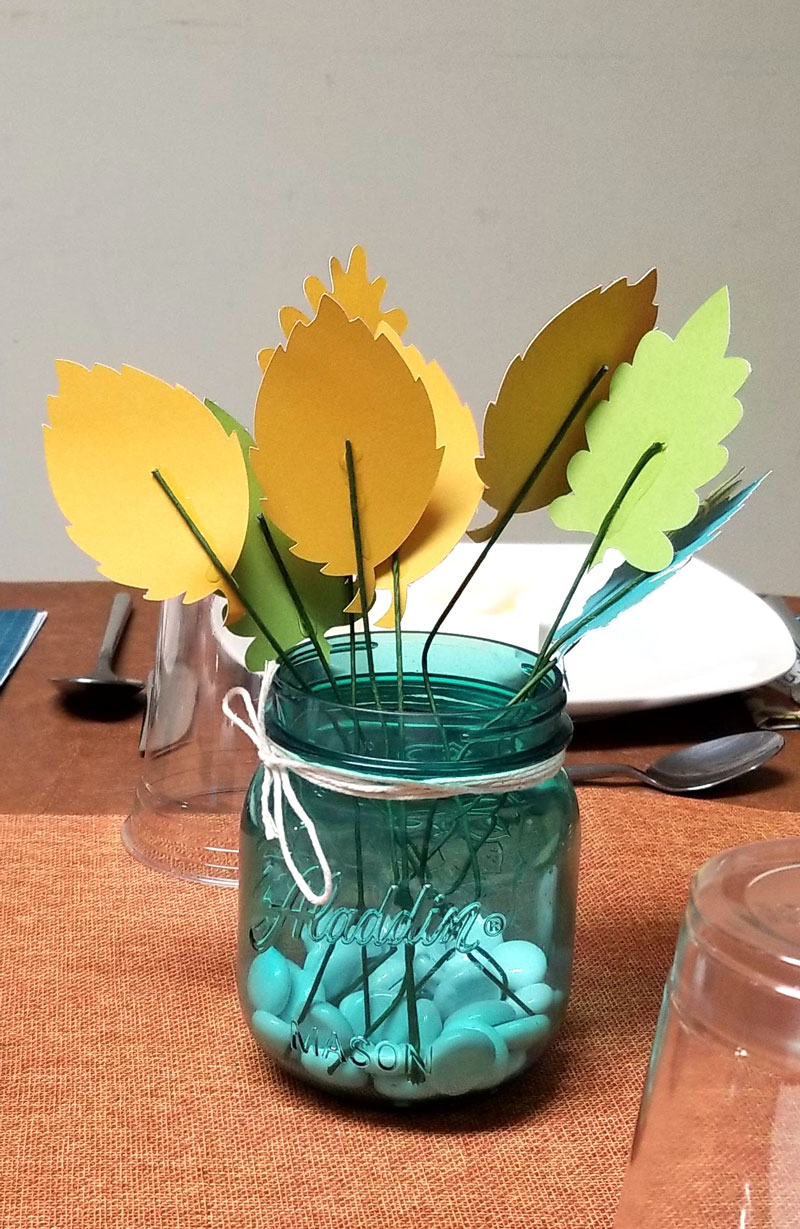 It took me minutes to put together!
Once you're comfortable with how the machine works, start exploring crafts you never thought you could make before.
So who is the Cricut Explore Air 2 for? Which crafts can you make with it?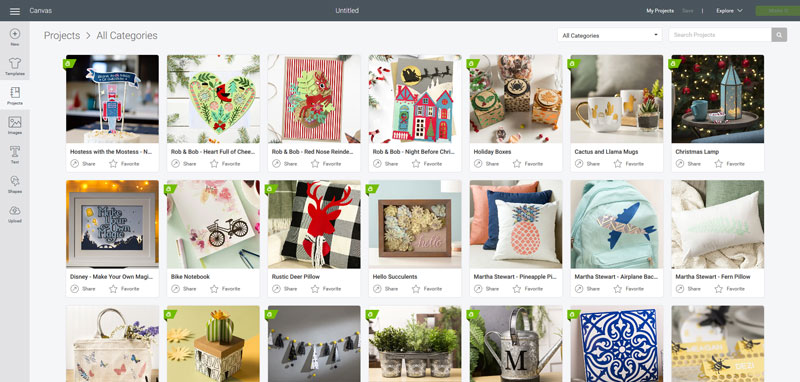 The truth is, the best way to see is to simply search for Cricut ideas online and you'll see just how far you can go. But here are a few crafting niches that the Cricut Explore Air 2 can really transform:
Cardmaking and scrapbooking – you won't need to buy embellishments anymore! You can cut letters, shapes, and more, "hand-letter" your cards, add elements like vinyl and felt.
Jewelry making – Whether you want to make faux leather drop earrings, or a layered paper pendant, the Cricut gets you an accuracy and sharpness that's hard to get otherwise.
Customized apparel – With iron-on vinyl being a huge thing for Cricut crafters, you have probably seen customized shirts, bodysuits, and more.
Home decor and housewares – Customize mugs, plates, pillow cases, and more using iron-on vinyl. Make DIY stencils to paint custom signs, or to use with fabric paint on home textiles.
Planner stickers – Cricut's "Print then cut" feature (see below) allows you to print and then cut your own planner stickers! This is a HUGE money-saver, plus you can have just the stickers you want!
Labels and decals – Label your pantry, your kids' toys, your life with vinyl. Print on vinyl and make removable car decals or wall decals.
Paper flowers – This highly popular craft can be radically transformed with a Cricut Explore Air 2. Better precision and the complete elimination of one of the most tedious aspects of paper flower making gives you more time and energy for the fun, creative part!
Paper toys – once again, you get more precision when you cut templates, allowing you to make better – and easier – paper toys.
Adult coloring – Using the pen feature, you can actually "draw" coloring pages onto 12×12 card stock or multi-media paper, and turn it into beautiful paintings by filling it in yourself with paint.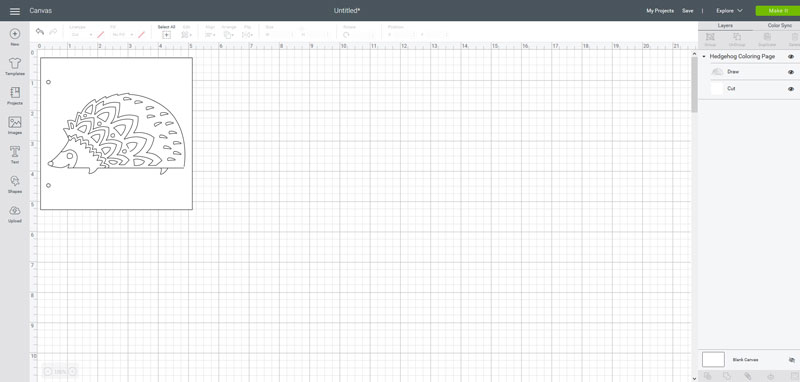 This is just a drop in the bucket of what you can make with the Cricut Explore Air 2. Want to know if it works with your craft? Drop your question in the comments.
Cricut Explore Air 2 review- What you can cut:
There are so so many things you can cut that I'm not going to list them all here. The point of this Cricut Explore Air 2 review is to help you decide if this is a machine that's worth it for you. So here are some of the more popular materials, with a few unique and obscure ones, so you can get an idea.
How you cut each one is different. You'll get guidance as to which mats and which tools to use as you create your projects, but I'll include some at the end of this Cricut Explore Air 2 review.
Paper
Cardstock
Sticker paper
Aluminum foil
Duct tape
Faux leather
Felt
Bonded fabric
Burlap
Vinyl
Iron-on and HTV (heat transfer vinyl)
Cricut Infusible Ink products
Vellum
Freezer paper
Craft Foam
Magnet sheet
How to print with the Cricut Explore Air 2:
Whenever I try to craftsplain to people what the machine can do, they always ask "is the Cricut also a printer?"
The answer is no.
But it does coordinate with your printing needs so that you can cut out printed items precisely. This feature is called "Print then cut".
Print then Cut works hand-in-hand with your home printer through the Design Space software.
Cricut Explore Air 2 Review – How Print then Cut works:
To Print then cut, you'll need to upload your design as a print then cut file. Cricut Design Space will then send your file to your printer first. It'll add "registration marks" in the form of a box around your design.
Registration marks are the Cricut machine's calibration guide to know where exactly your design will be on the paper and how to cut it.
Because of this, the size that you can "print then cut" is limited so you'll need to think smaller with your sheet size.
Print then Cut is perfect for creating your own labels, planner stickers, and more.
Is the Cricut Explore Air 2 worth it? Which tools and accessories should I start with?
Is the Cricut Explore Air 2 worth it?
I very much regret that I did not get this machine sooner.
Not only is it money-saving in that I can create personalized gifts and decor out of dollar store items, but it would have saved me so many hours of work in projects I'm creating anyway.
If you're earning money off your crafts in any way, time is money, and it may even pay for itself.
If you're not, but you like to DIY gifts, it's definitely worth it.
If you tend to spend on seasonal decor that you can easily make yourself, the Cricut Explore Air 2 is for you.
And finally, if you don't like the tedious parts of your craft but spend a lot of time on it, and want to spend more time creating, then the Cricut Explore Air 2 is perfect for you – even if you're not selling your craft.
Cricut Explore Air 2 review: What should I get with my first machine?
The accessories you'll want will depend on what you plan to make. Here are some top accessories to get with your first machine, or to bundle the Cricut Explore Air 2 with if you're gifting it:
The Basic Tool Set – a must-have for any type of craft!
Mat variety pack – your machine comes with the Lightgrip mat. I'd recommend getting the 3-pack of light, medium, and heavy, especially if you craft across niches. If you're only paper crafting, the light grip is enough, but you may want a couple of extras so that you can prepare the next color while the first is working, in case one needs cleaning, etc.
Deep point blade – if you plan to cut thicker materials like faux leather.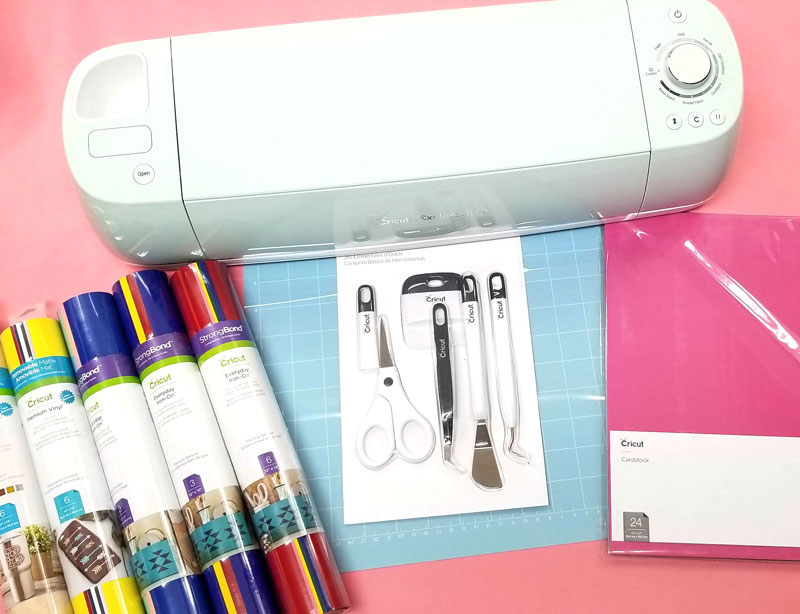 Solid color packs of your top materials – whether you plan to cut vinyl, felt, or card stock, I'd recommend starting with a couple of solid multi-packs.
Scoring Stylus – If you're a paper crafter this is a must to make your projects easy to fold!
Pens – once again, if you plan to do lots of paper crafts, card-making, or any kind of writing, you may want to toss in a pack of pens in different colors.
Stay tuned for some Cricut projects coming up and more helpful articles!
Do you have any questions or anything to add to my Cricut Explore Air 2 review? Which projects are your favorite to make? Check out the whole Cricut lineup here and comment below!