This gnome wine bottle topper pattern helps you majorly upgrade a bottle of wine with a cozy accessory! The free template can be cut by hand or using your cutting machine. You'll love making a DIY fur pillow when you're done with this. This post contains affiliate links.
---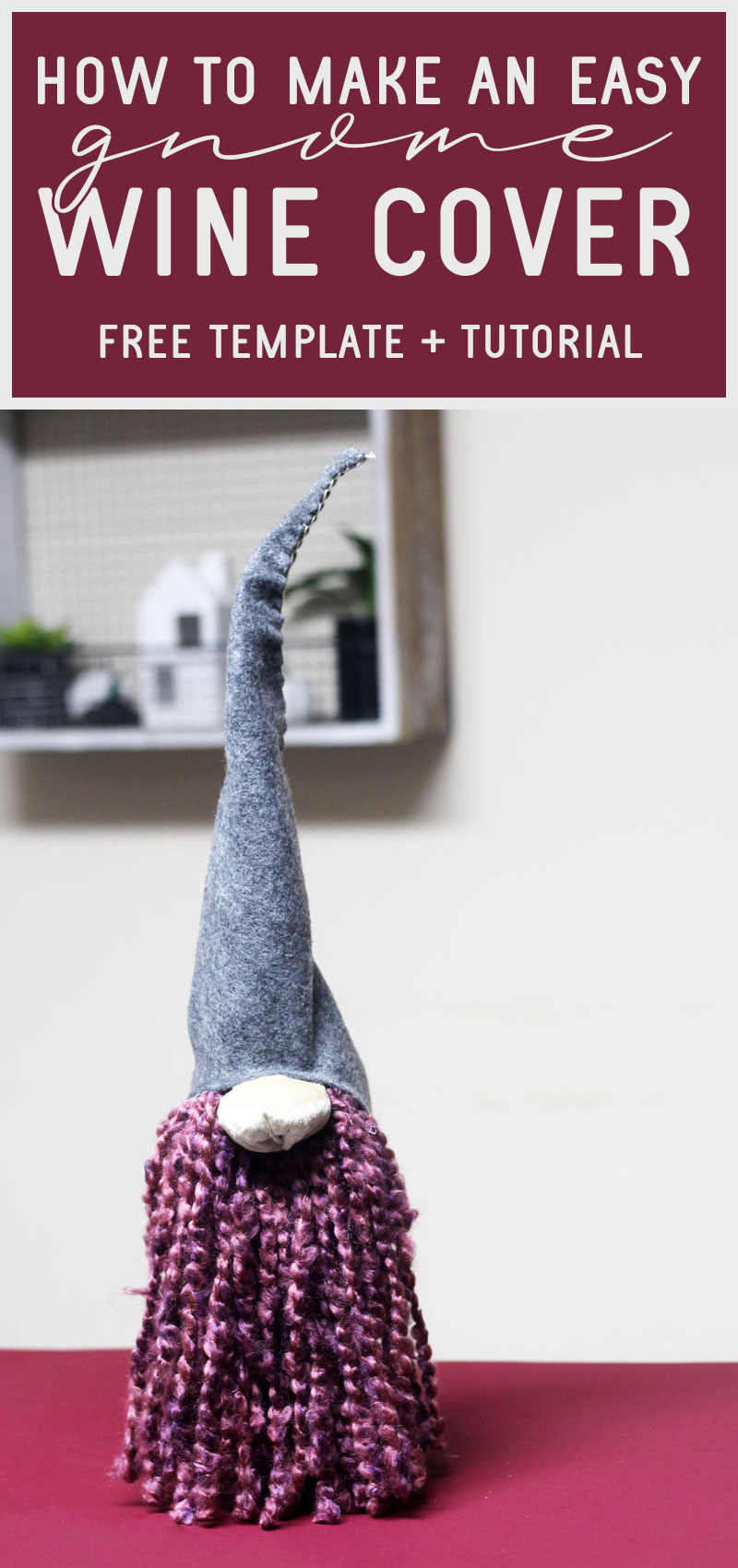 Last year, a friend of mine lost someone close and I sent her family a little care package. I really wanted to include a bottle of wine, but logistically it seemed like a bit of a challenge…
Since she loves decorating with gnomes, I decided instead to make her a gnome wine bottle cover!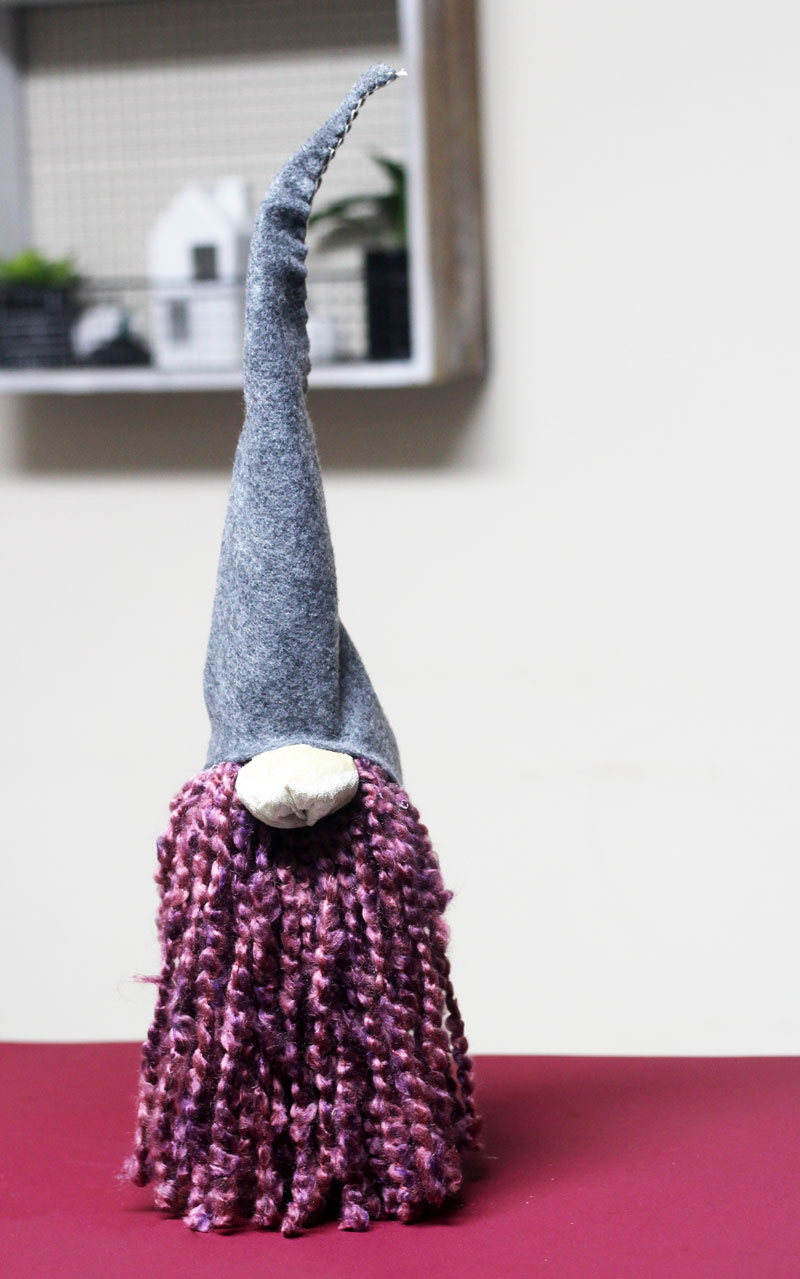 I wasn't going to share the tutorial, so I didn't even photograph the process or make a template… But it came out so cute that I realized I can't keep it to myself!
So I decided to recreate it this year, complete with a free gnome wine bottle topper pattern for you to download, to make your life easier. The photos aren't picture-perfect, but I didn't want to wait to get it perfect and then not share… The little details are incredibly cute – from the twisting top of the hat, to the pleated nose (which is so easy to make, you're gonna ditch those wooden beads).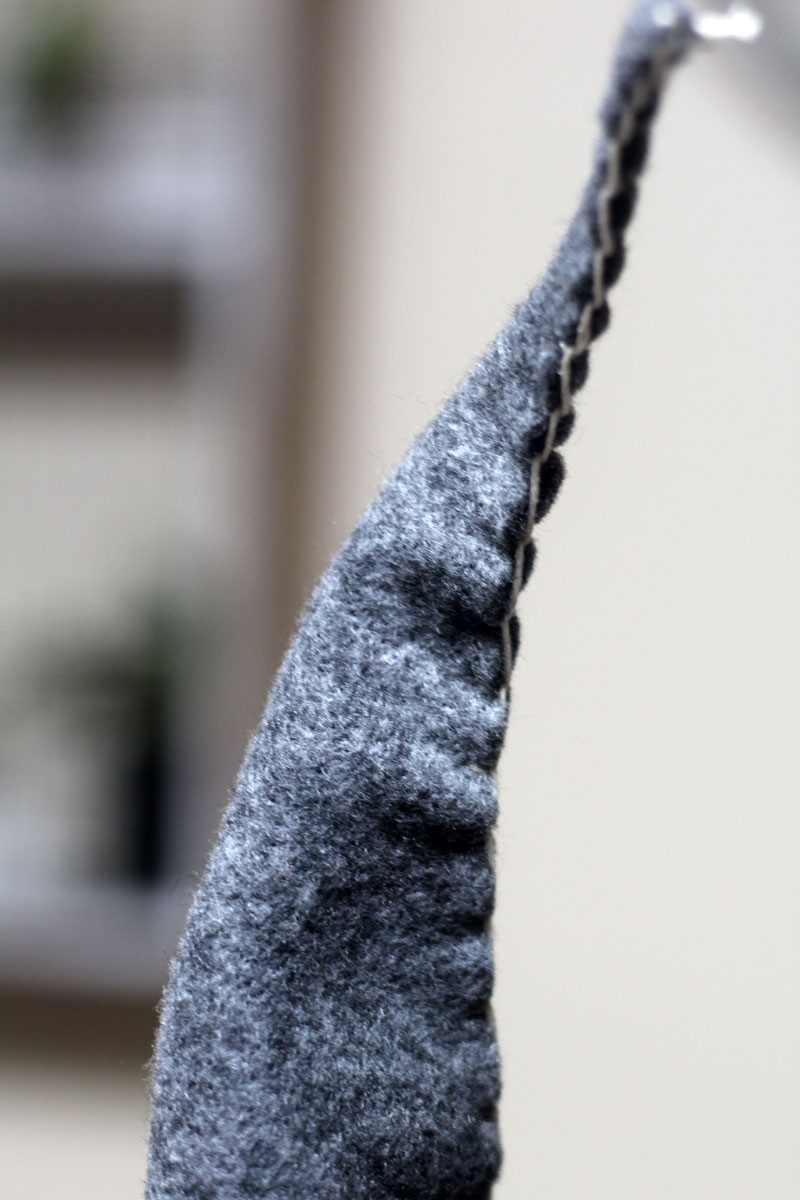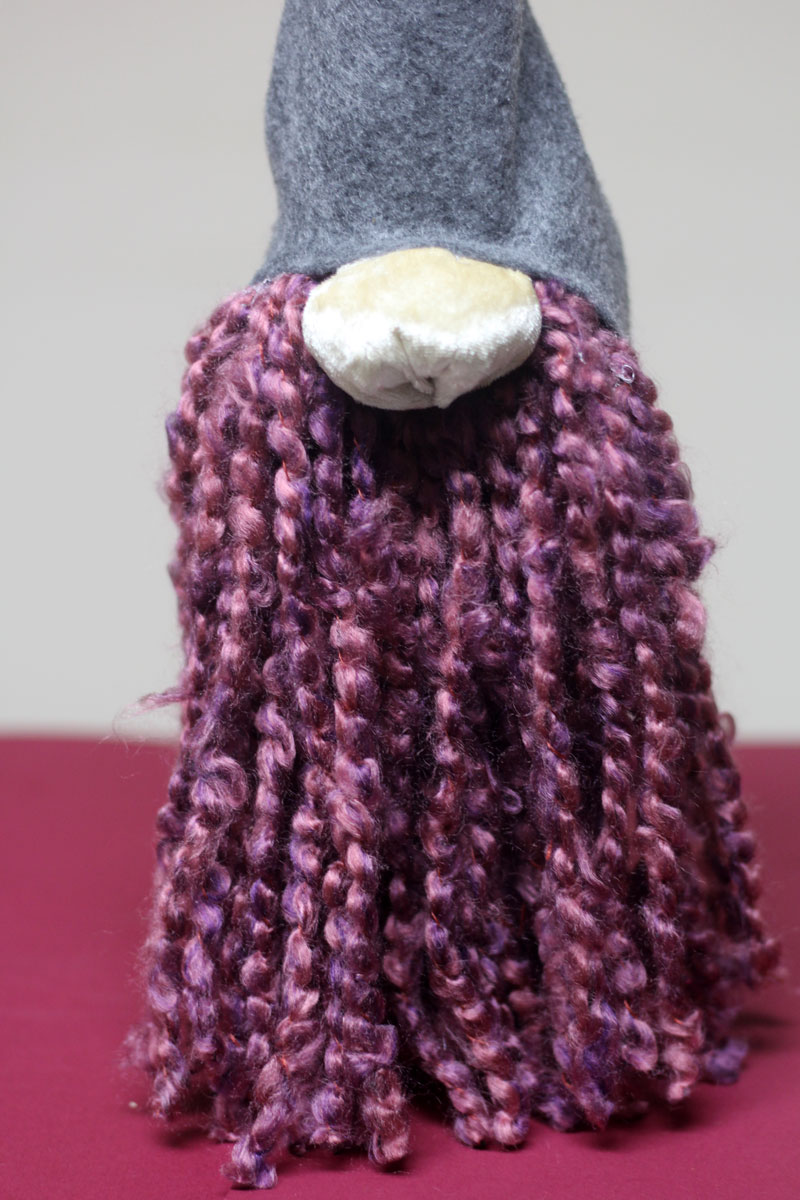 The template is for the hat only – the rest doesn't require a pattern. I hand stitched it using embroidery floss with a blanket stitch, but you can also hot glue or machine sew. For the nose, I wrapped a bit of cotton with fabric. A common alternative is to use a wooden bead, but I like the look of a fabric nose – and it's easy to make! And finally, I made the beard out of yarn, but you can use faux fur as well.
You can use this template for any gnome hat- though the sizing is specific for wine bottles.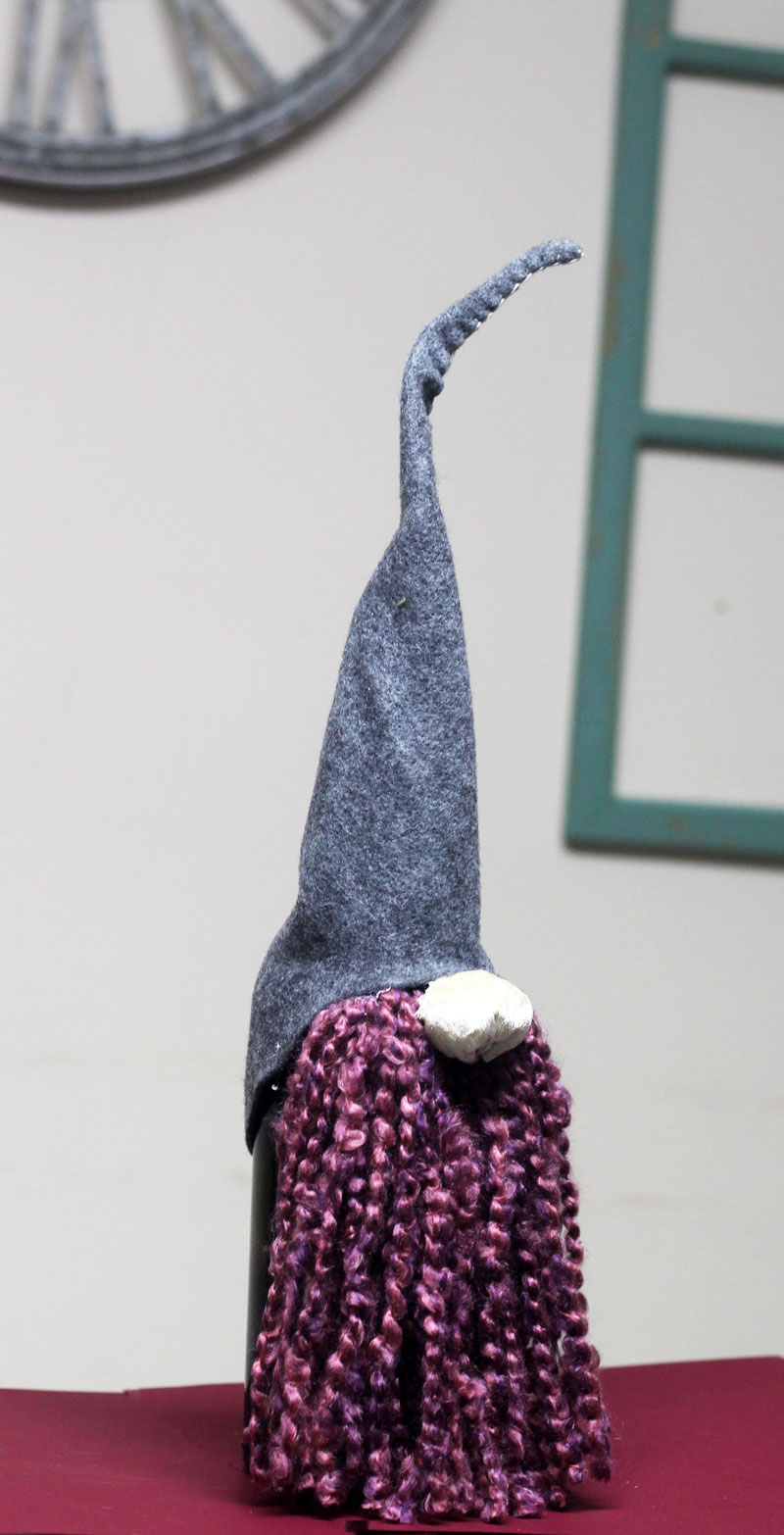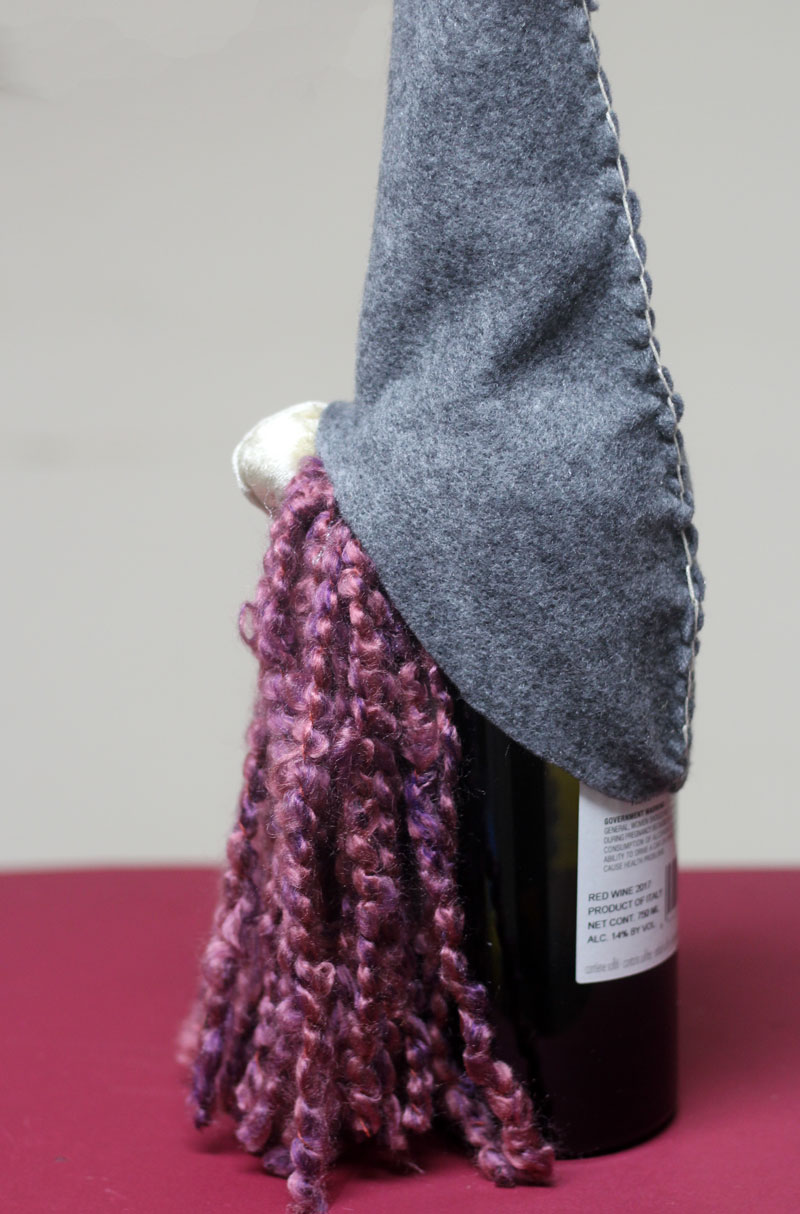 Use the gnome wine bottle topper pattern to upgrade an actual bottle of wine that you're gifting, or, do what I did, and make a "wine bottle" insert as a placeholder. Since I shipped it flat, I simply cut a wine bottle shape from card stock, and hand-lettered "insert wine here" on it.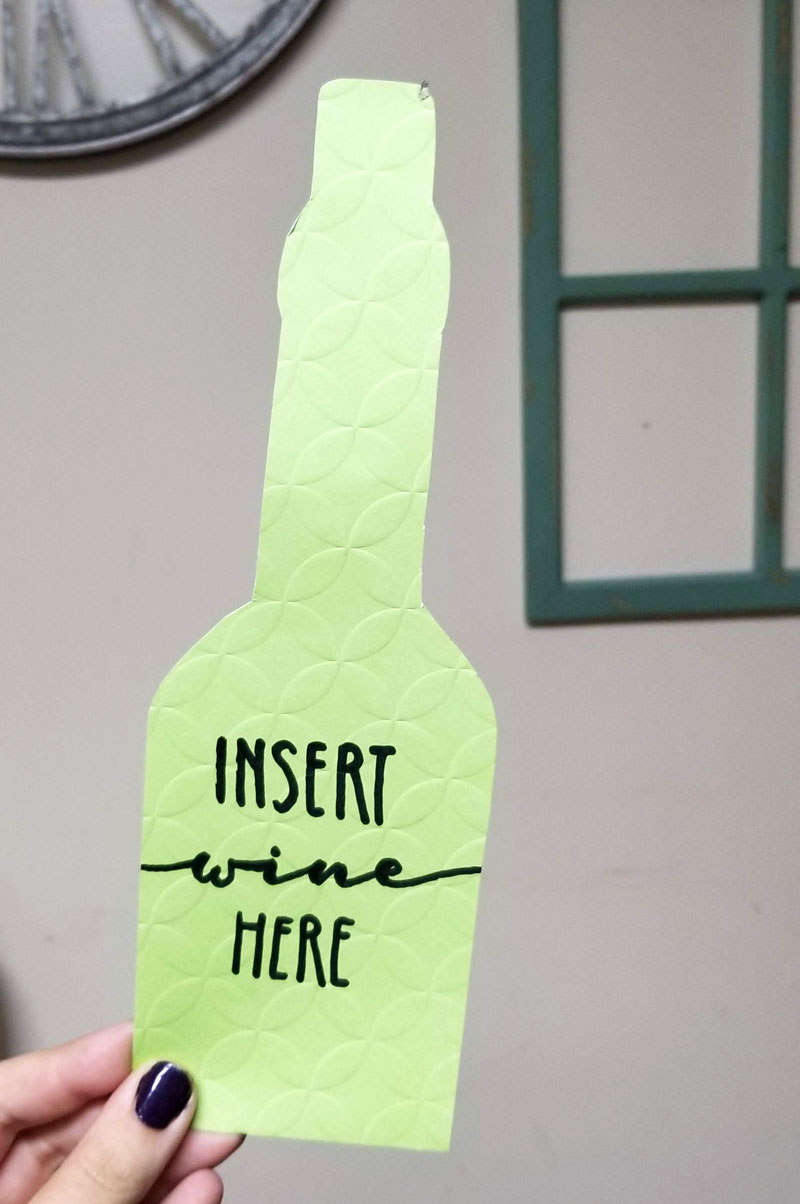 Since the pattern doesn't fit onto a single page, you'll need to first assemble the pattern. You need to do this only once for as many bottle covers as you'd like to make. The 3-page pattern is the full-sized one that fits a classic wine bottle with a 3-3.2 inch base.
The single-page pattern is much smaller and was included for reference purposes. It'll fit smaller bottles with a 2 inch base.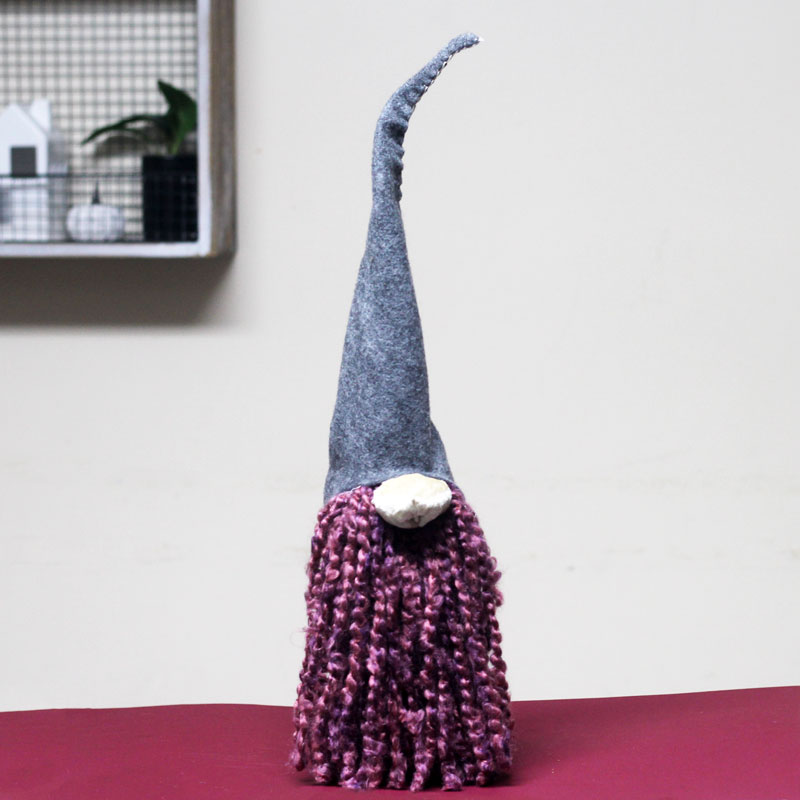 Download your free gnome wine bottle topper pattern here
You'll receive a ZIP folder with the smaller reference PDF and the 3-page full size PDF pattern. To unzip files, follow these instructions.
To download: enter your email address in the form below and submit. Your download will arrive in your inbox. By submitting your email address you're consenting to receive email updates from me and me only. I will not share your information with anyone.
If you have any issues or need help, please reach out to me at menucha@momsandcrafters.com.
What you need to make a gnome wine bottle cover
How to make wine bottle gnome covers
1. Print your pattern so that the horizontal line is the same size as the circumference of your wine bottle, plus a half inch for the seam. If you need a little more width, you can tweak the shape of the hat a little – it's not an exact science. Cut out the four parts of the pattern and tape first sides A together and then sides B. (These instructions are written on the template too)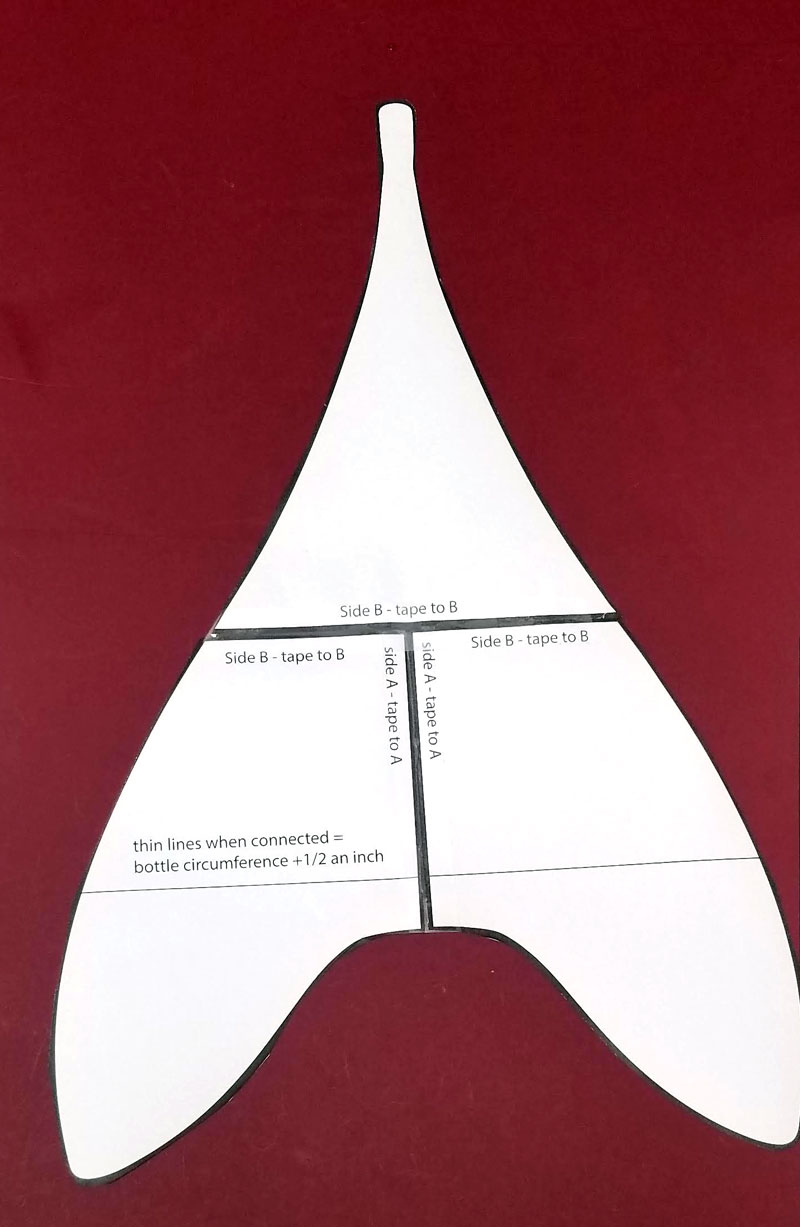 2. Cut your hat from felt using the gnome wine bottle cover pattern as your guide.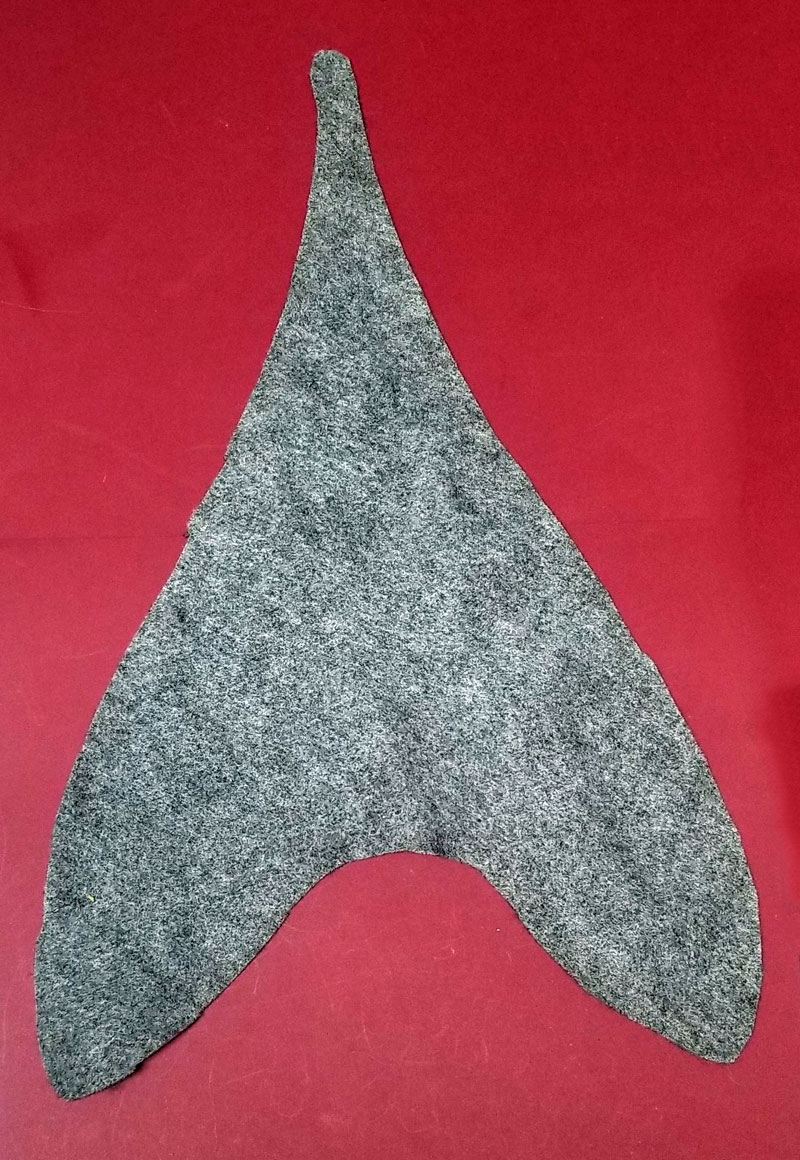 3. Stitch up the back of the hat using embroidery floss and a blanket stitch. Toward the top it gets narrow and twisty – that's intentional and makes it look really cute. The seam is the back of the hat.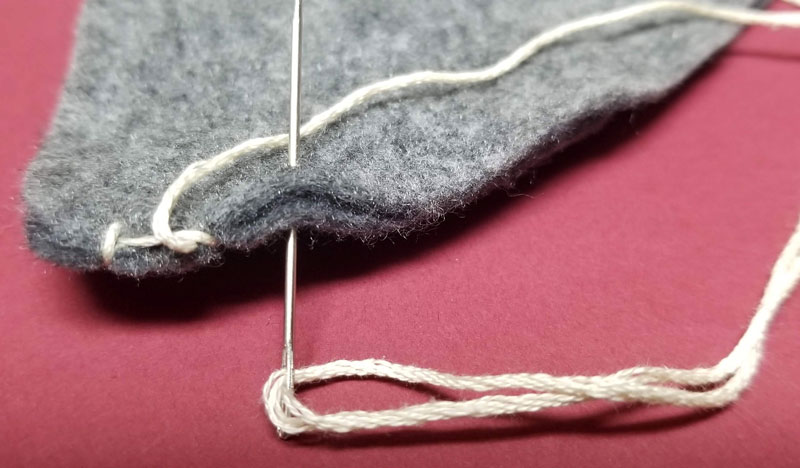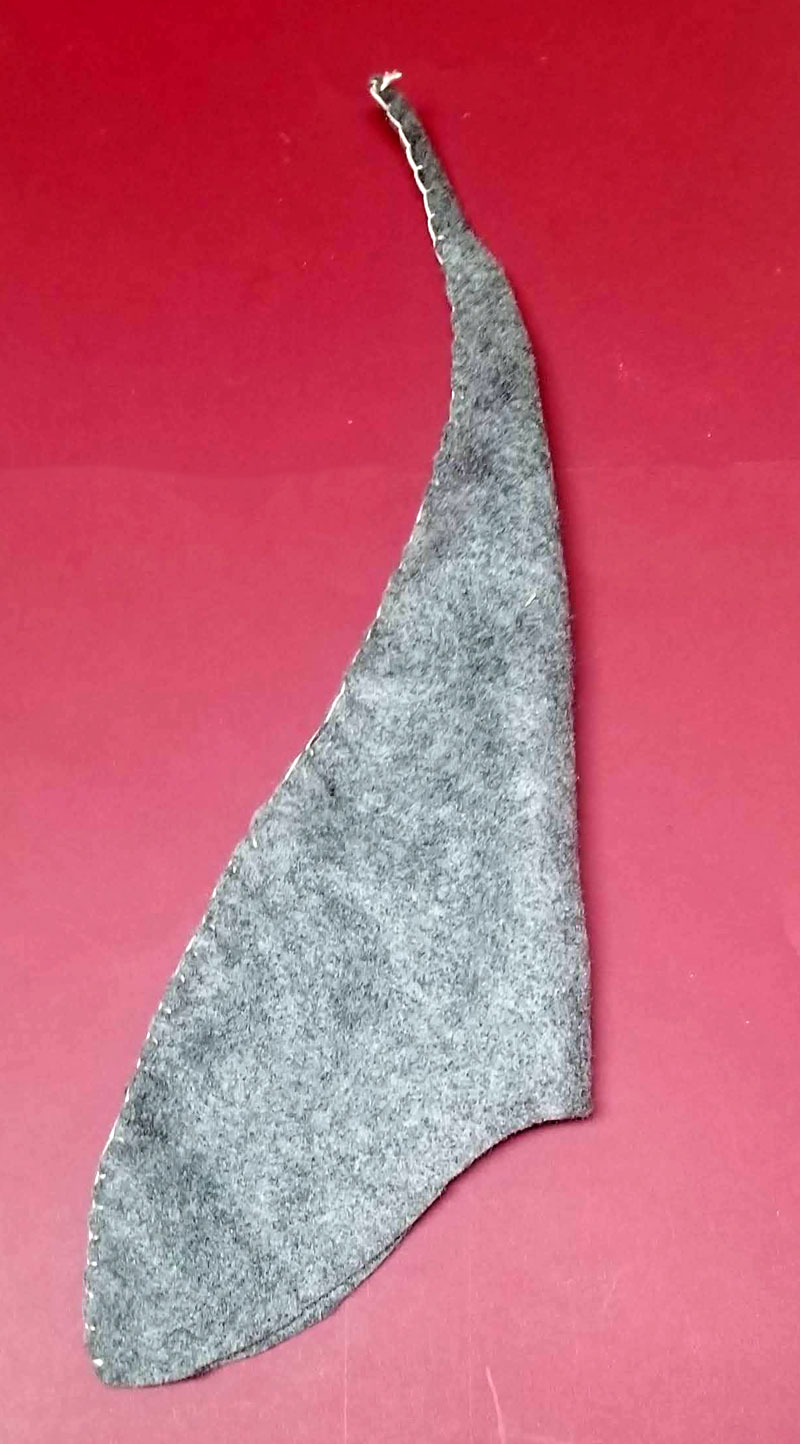 4. Cut a small oval of fabric for your nose, about double the size you want it to be.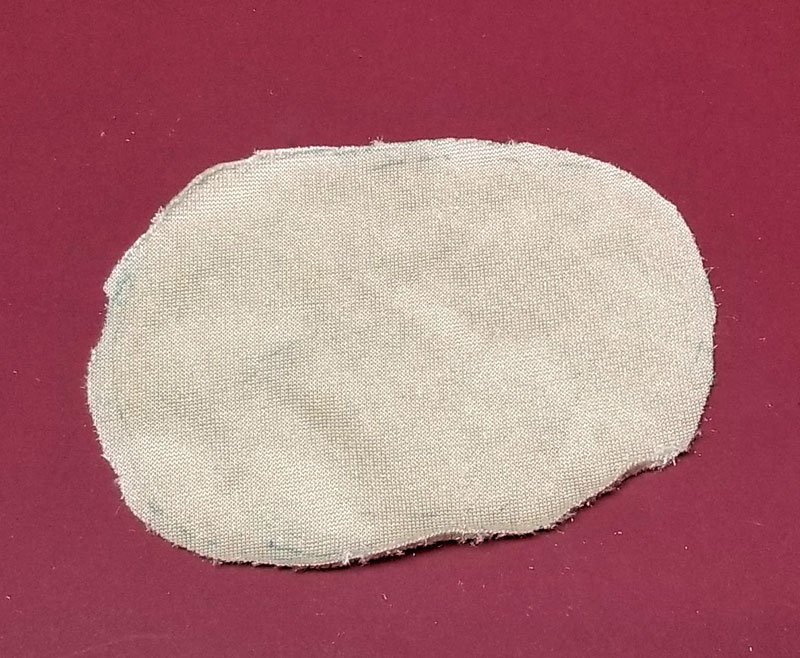 5. Run your needle in and out around the edge – it doesn't need to be neat. Add the cotton to the center and then pull the running stitch to close it like a drawstring. Knot.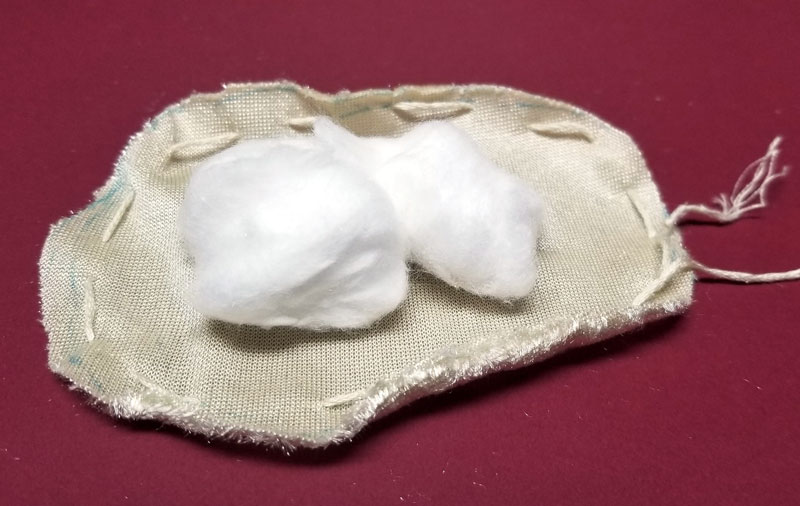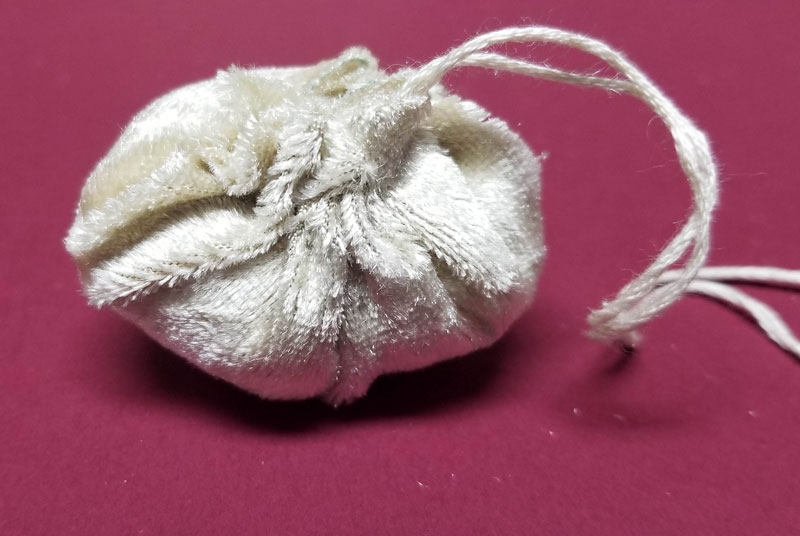 6. Glue it to the front inside of the hat so that it sticks out.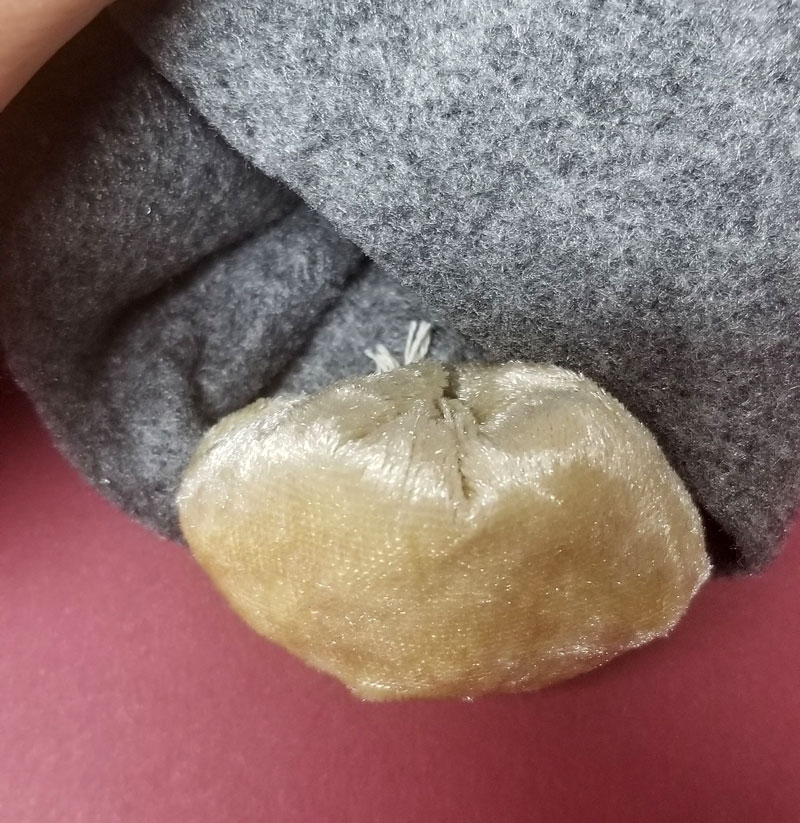 7. Make your beard! Cut a length of yarn a few inches wider than you want your beard to be (about 4 extra inches on each side). Cut about 20 lengths of yarn double as long as the longest part of your beard.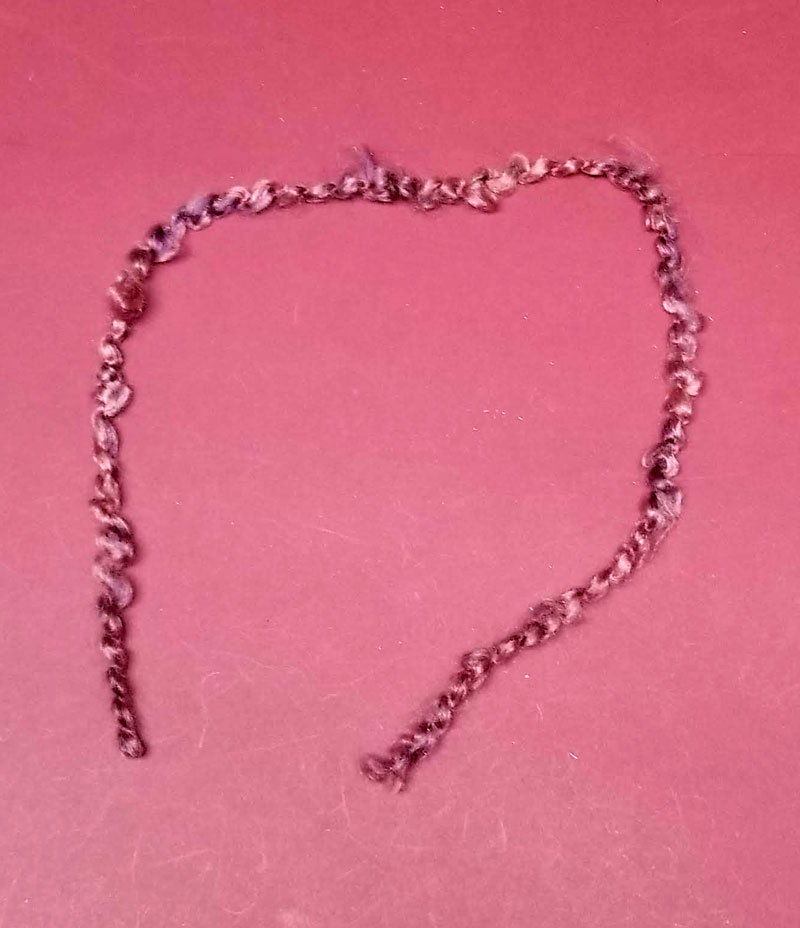 8. Lay your width yarn horizontally on a flat surface. Fold your first piece of yarn in half, placing the fold just over the center point of the horizontal yarn.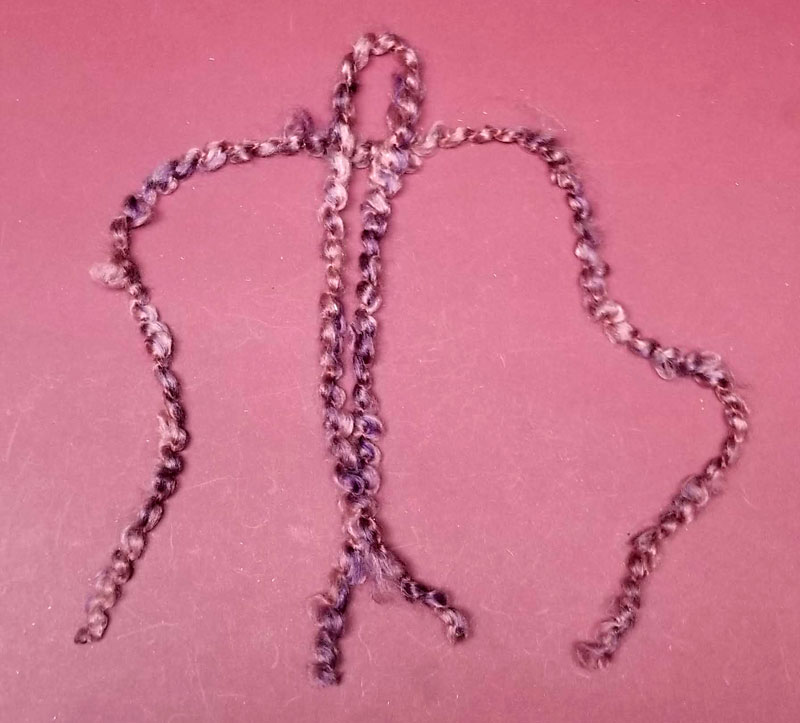 9. Pull the string ends through the loop, encircling the horizontal yarn and pull tight.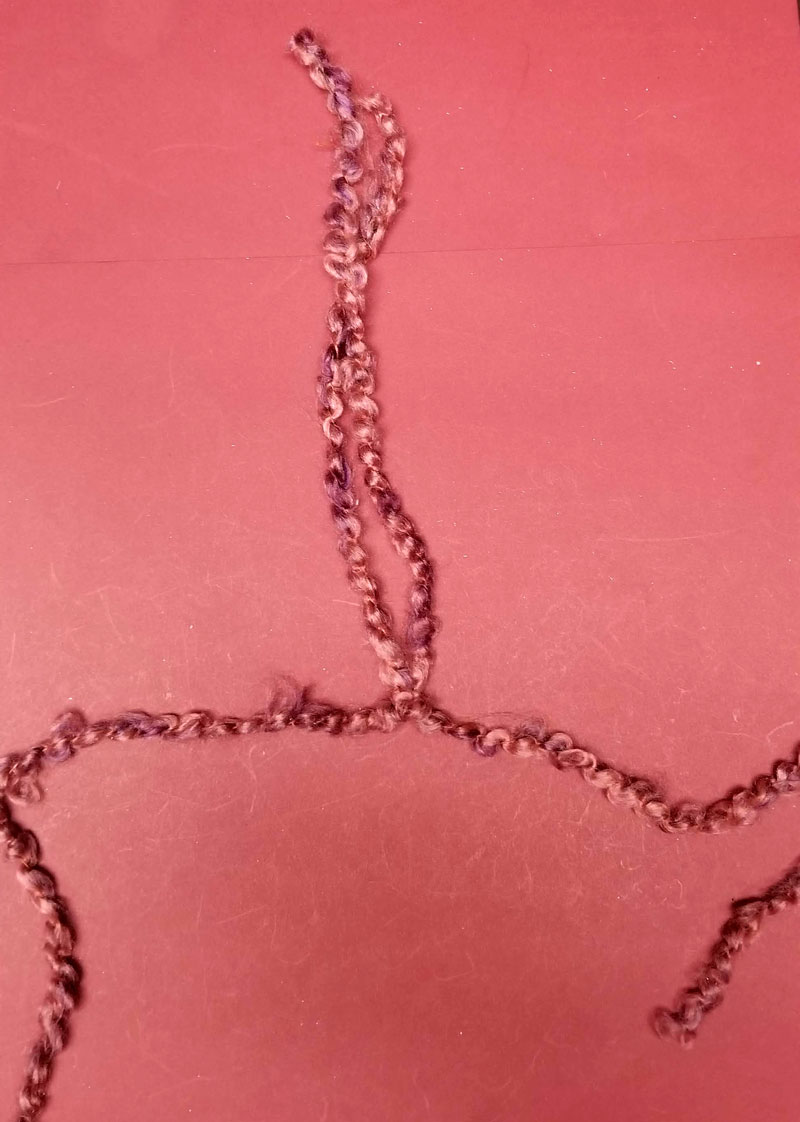 10. Continue adding strings to either side until you're satisfied with the width.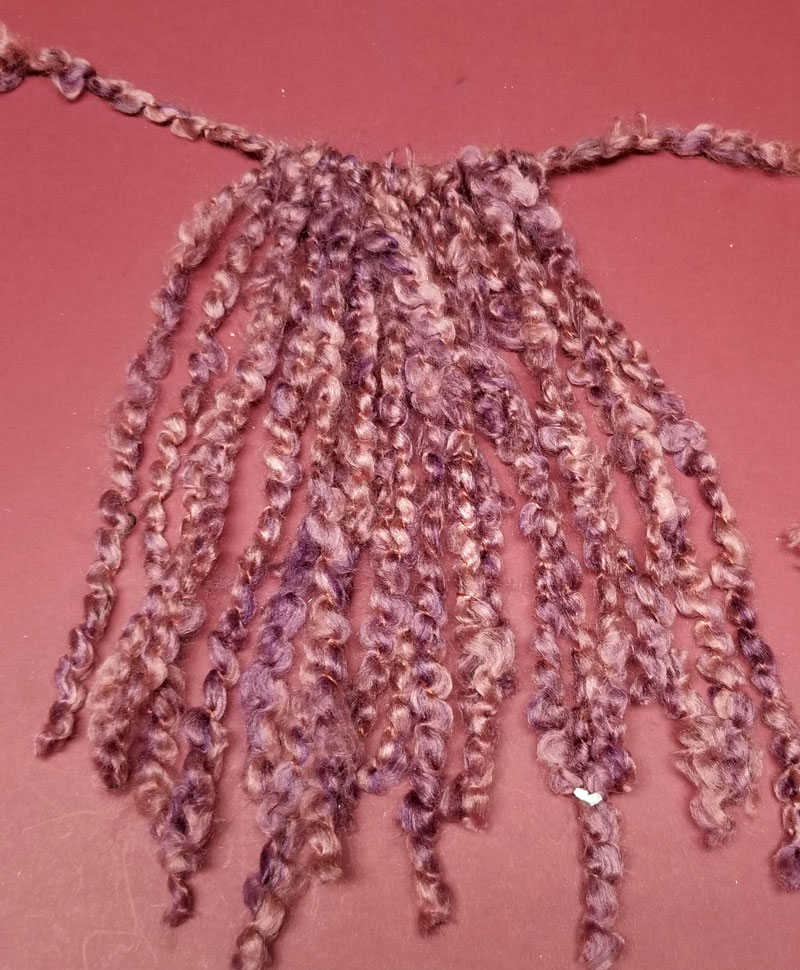 11. Hot glue your beard on the top along the front inside of your hat, behind the nose. Let the ends of the main horizontal strings hang.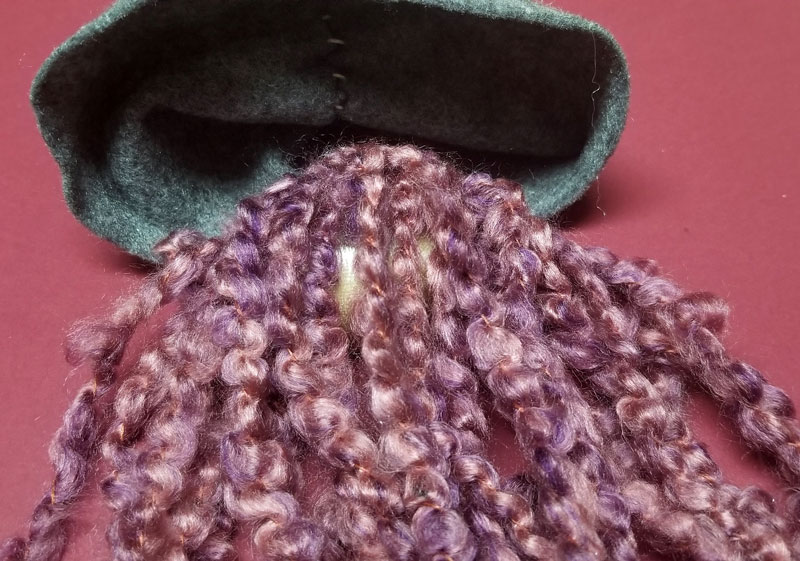 12. Trim your beard. If you want you can repeat steps 7-11 with another layer first to make the beard thicker.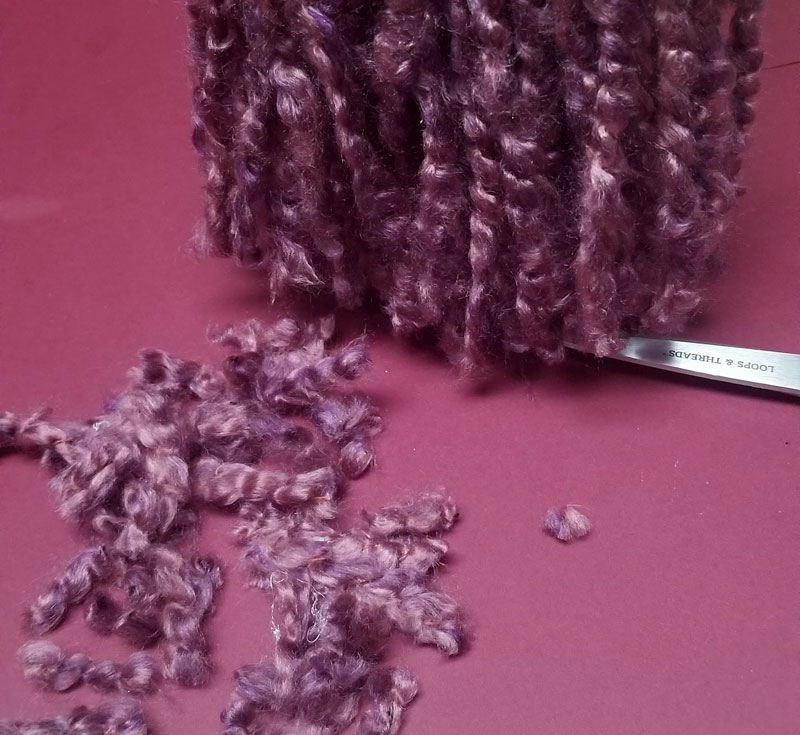 Your gnome wine bottle topper is complete, fully assembled, and ready to upgrade that bottle of red!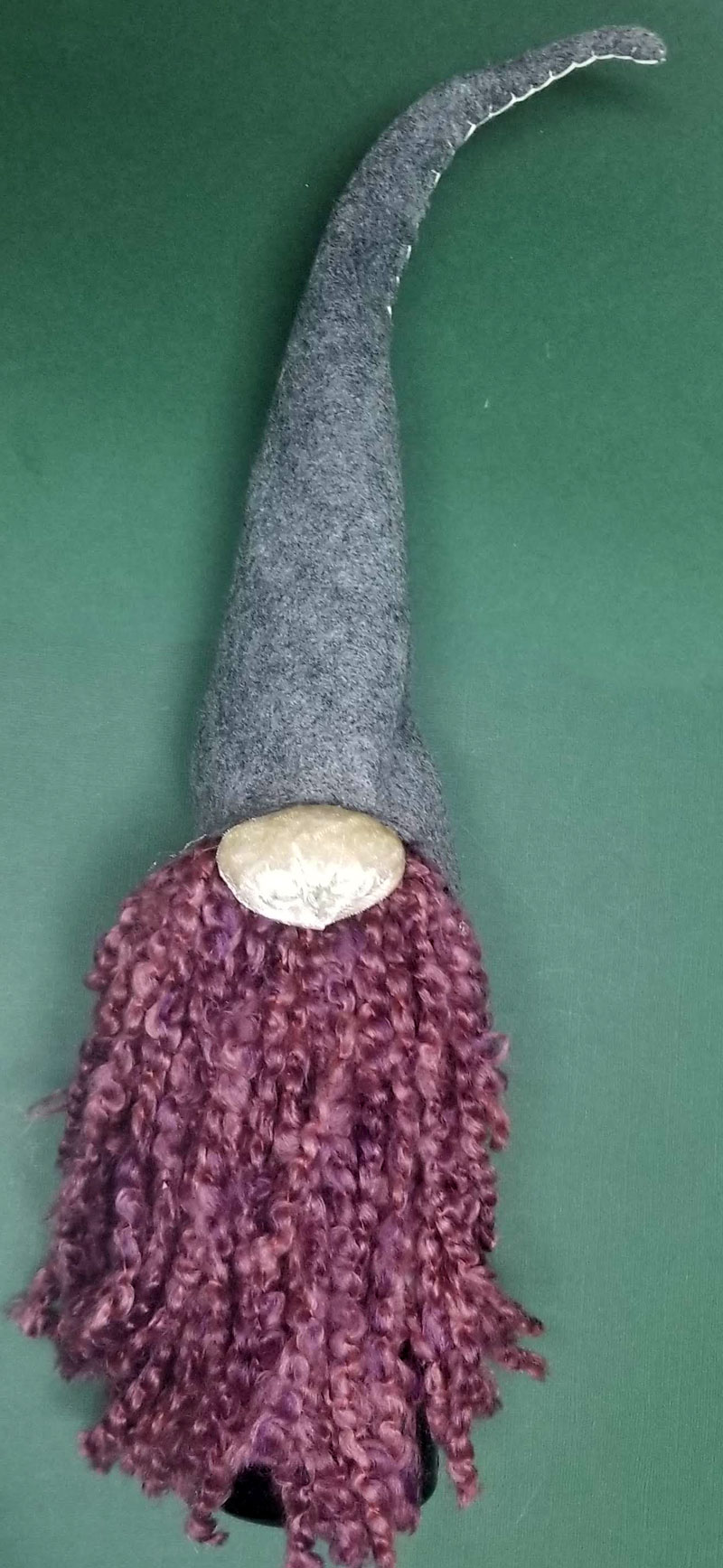 Loved this free gnome pattern? Check out more cool felt and fiber crafts below – including loads of free templates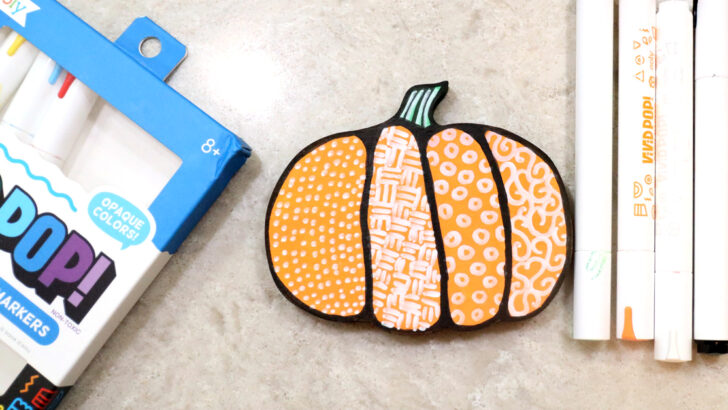 As a grown-up who loves to make stuff, I'm thrilled to share with you some of my favorite craft gift ideas for adutls! Also check …