If you're celebrating Hanukkah, or even just looking for a gift for someone who does, you may find it hard to navigate around all the Christmas-specific options out there. This list of Hanukkah gift ideas includes ideas to DIY or to buy – and something for everyone!
While Hanukkah is no different from any other holiday or event in that you can slap out any gift that the person will love (such as something from here for your Elmo fan) – it doesn't need to be related to Hanukkah specifically.
However, if you are giving a family gift, or if you are attending a themed event, there are some beautiful options that can be displayed year-round. It's especially nice to give a holiday-themed gift if you are a guest.
Another unique thing about Hanukkah is the source for gift giving. Originally, parents gave their children extra "allowances" on Hanukkah in exchange for Torah studies. That means cash allowances. So, many still follow this tradition and give "gelt" – or money. This list of Hanukkah gift ideas includes a few ideas for gifting money, or in that theme.
I've included some ideas that you can buy and some that you can create to add to the diversity. I unfortunately don't have time to do two separate lists, so I made this master list and divided into topical categories.
Menorah Hanukkah Gift Ideas
The Menorah is the 8+1 branched candelabra that's lit Hanukkah time. It's also a beautiful display piece in many Jewish homes, including ours.
1. I made this pretend menorah for toddlers so that my son can actually (safely) light along with the family. It's a fun fine motor toy that he's been playing with a lot.
2. This simple and modern DIY menorah by Simply Designing is beautiful to display. (to make it kosher, elevate or lower one of the candles.)
3. Make a recycled jar water Menorah as a statement piece on a sideboard, or for a party.
4. A felt menorah is a fun option for toddlers to "light" . You can craft it yourself using felt.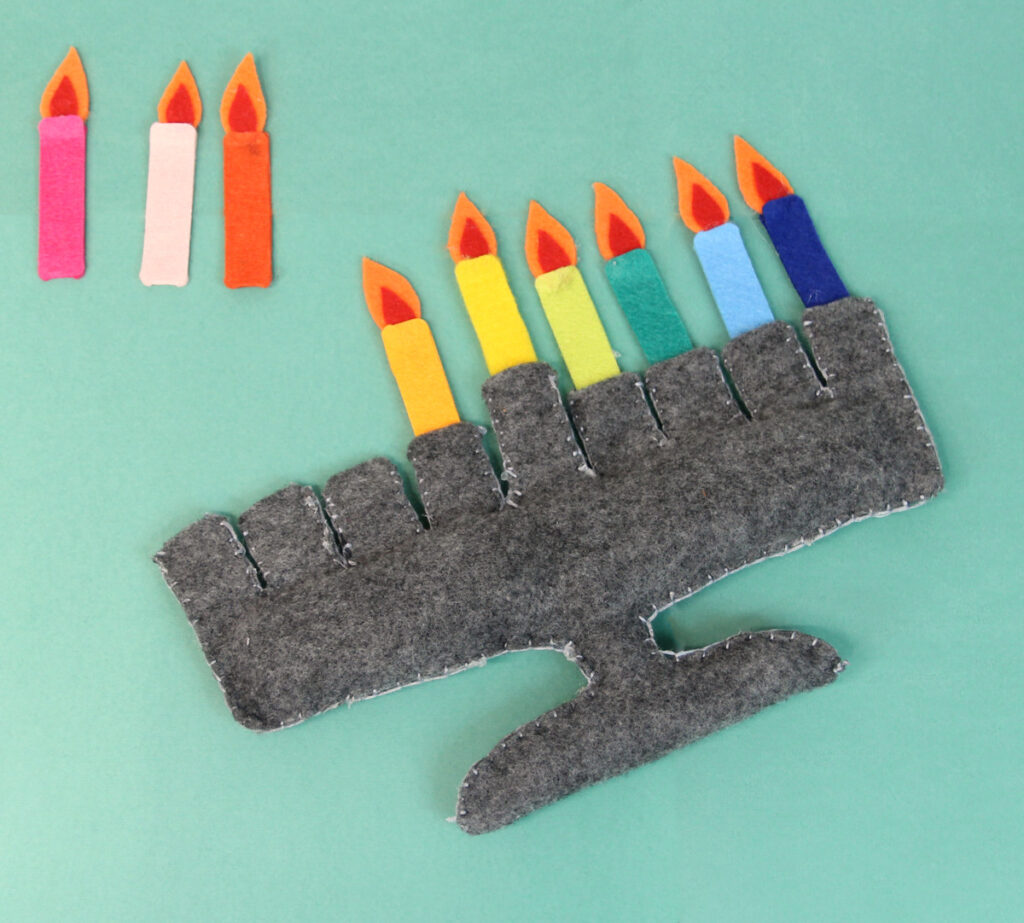 5. This painted glass menorah by Yesterday on Tuesday is another easily assembled piece. And it can be used as glasses year round too. If you want to to work as a Kosher menorah for religious families, just make sure to use eight glasses of the same height, and add a single taller glass.
6. This industrial chic concrete artisan menorah is laid out in a line for actual lighting.
7. A hand painted Jerusalem scenery menorah is a definite display piece.
Dreidels Hanukkah Gift Ideas:
These spinning tops are played on Hanukkah. They were used as a cover for Torah study when it was outlawed.
8. Hanukkah dreidel wall art by Meri Cherry is made from kids' artwork, and a perfect holiday gift for Grandma!
9. Classic plastic dreidels filled with treats and small prizes are typical Hanukkah party favors and small gifts.
10. A stunning wooden dreidel roulette game – will be played and displayed year-round!

11. Handmade dreidels are serious works of art. This one by Joy Stember is a favorite pick, though it was hard to choose.
Food
I once heard a joke that summarized all Jewish holidays – "They tried to destroy us, we won, let's eat!" Okay, there is a lot more to it than that, but who doesn't love some yummy treats? These food-related gifts are perfect as hostess gifts, or for more casual acquaintances.
12. Make microwave fudge Chanukah gelt by Chai and Home – yum!
13. I used this Crayola Hanukkah cookie mix and kit at our Hanukkah party last year. It's perfect for families with kids who love to get creative in the kitchen!
14. Hanukkah stained glass cookies by Living Sweet Moments are so beautiful, you might not want to eat them. Just kidding – you will!
15. Don't forget a pretty dish to gift the food in, to make the food last just a little longer.
Gelt (Money) Gift Ideas for Hanukkah:
Give the gift of Gelt! You know it's what everyone really wants… These cute ideas upgrade it a notch, and make it more personal. People do use the term "gelt" loosely and also give chocolate coins to represent "gelt".
16. Make crocheted gelt bags for Chanukah by Creative Jewish Mom. They can be upgraded to trinket bags or even coin purses afterward.
17. I couldn't help it with the food… Upgraded chocolate "gelt" coins take the classic cheapo coins up a notch and turn them into something worth giving to adults too.
18. A Chanukah wall hanging craft by Busy in Brooklyn includes a gelt treat for every day of Hanukkah!
19. A Hanukkah gelt tree by Yesterday on Tuesday does the same. Now the kids will have a good comeback when Daddy tells them "money doesn't grow on trees…"
20. Hanukkah Gift Envelopes by Organized 31 are super sweet and super personalized. They are perfect for slipping in a Ben (or an Abe if you're feeling stingy.)
Hanukkah Gift Ideas that are just for fun:
Yup, that's my fancy way of saying "miscellaneous". To tell you the truth, many artisan Judaica items (a kiddush cup, a talit bag) make great Hanukkah gifts too. But to start with that will take all year. So I've taken a bit of this and a bit of that here and pulled it all together.
21. These simple and modern Chanukah cards with washi tape by Creative Jewish Mom are the perfect addition to any gift. They are an especially cute way of upgrading and personalizing a "gelt" gift too.
22. Give the gift of endless family fun with Hanukkah Mad Libs!
23. Hanukkah magnets by Creative Jewish Mom are a super-sweet kid-made option.
24. There is a HUGE selection of artisan Star of David necklaces out there, each one more beautiful than the next. I happen to really like this unisex one by Diana Anton. The Artazia Collection has some pretty (and slightly more affordable) options too.
Don't forget to grab your free holiday gift wrap and gift tags – both include designs for Hanukkah too!
Got any other Hanukkah gift ideas? Comment below – I'd love to hear!
New! Get the Hanukkah coloring page packet! You can find it in my Etsy shop, or on Gumroad, or purchase it here: