You all know that I am a coffee lover – and I now that many of you are too! That's why I'm excited to present to you this iCoffee Opus review – along with a fun free printable for coffee fans!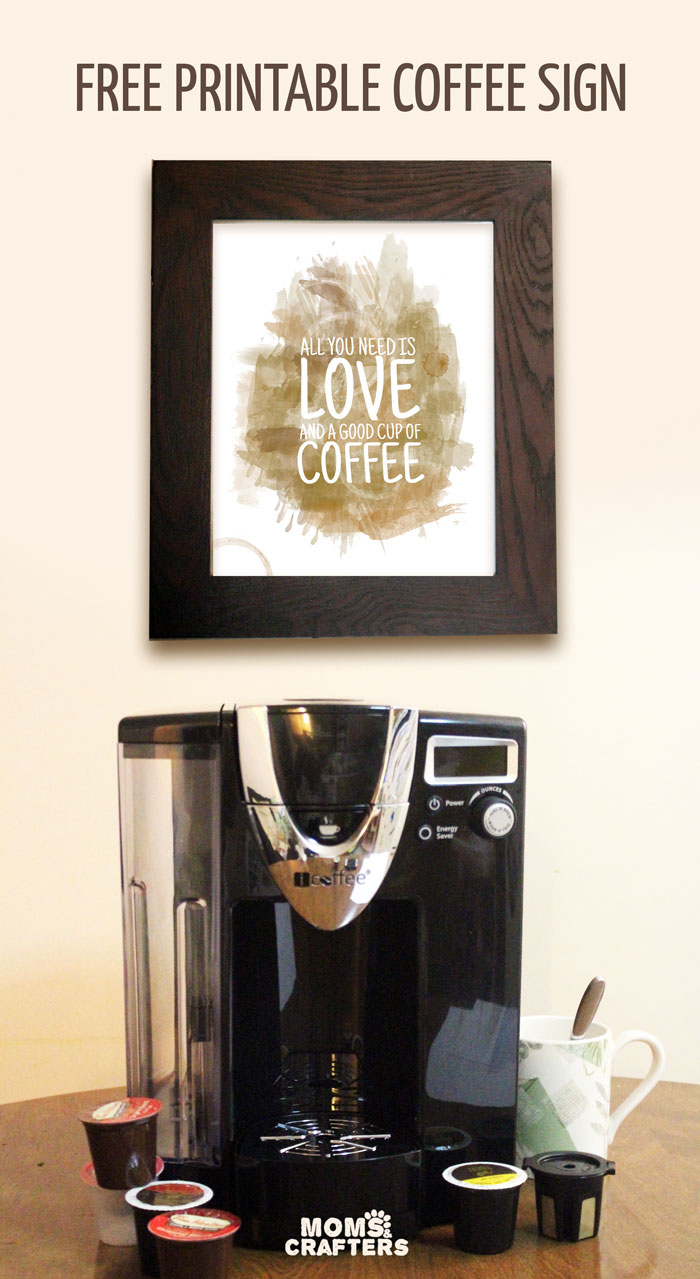 Not long ago, I was forced to throw out my old other-brand coffee maker due to infestation. Let's just say that instant coffee is okay – but just okay! I like my single serve freshly brewed cup of Joe, made just right!
Disclaimer: Before I start, I just want you to be aware that I did receive a product sample with the expectation that I'll share a review here on my site. That being said, I rarely do reviews and only do this with products that I really believe in. Even so, I give you a thorough breakdown and try to be as objective as possible, so that you can make an educated decision.
This post contains affiliate links.
The iCoffee Opus is an affordable single serve coffee maker. It has a sleek black finish and serves you just the cup you want.
First, in honor of this review, I created a free printable coffee sign for you. Click on the image below to be taken to the download page.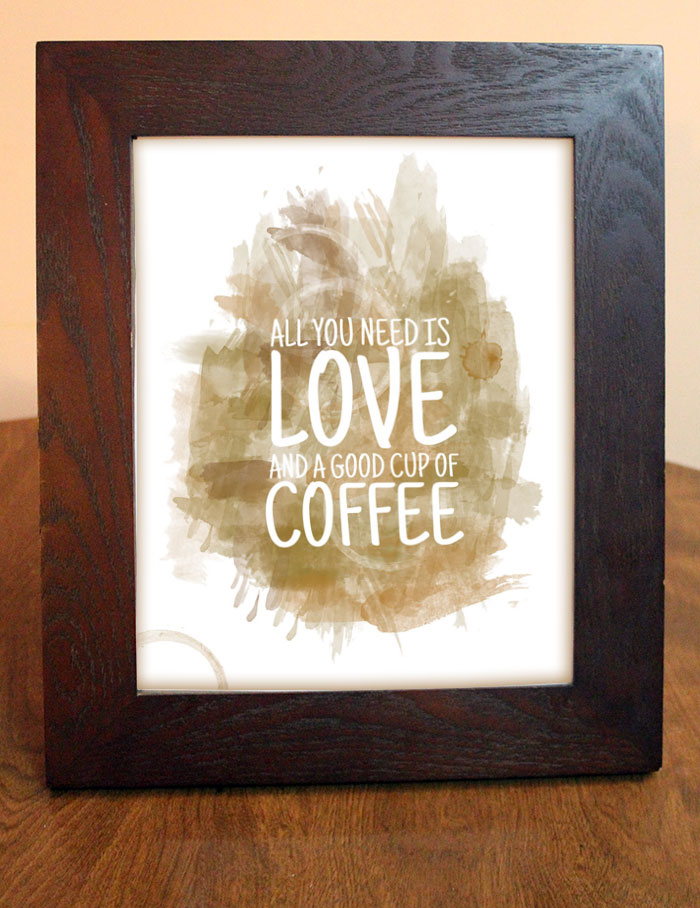 The iCoffee Opus looks great with this printable sign I made for you! Print it out, frame it, and hang it above your iCoffee Opus – it will look perfect together, and really complete your breakfast nook.
[convertkit form=5124985]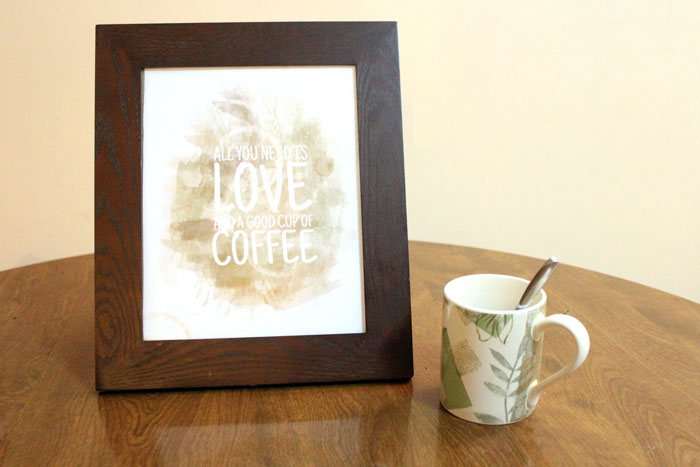 Now back to the iCoffee Opus review. Here is the rundown….
"Dial-a-brew" allows you to choose the cup size that you want in .5 oz. increments.
Choose from 4 oz. to 12 oz. cup sizes.
Large 75 oz. water reservoir.
Bonus: comes with an iCup reusable cup.
Comes with a sampler pack of cups too.
Spinbrew technology steams, spins and stirs the contents of the K-style cup to prevent an acidic aftertaste
Works with basically every brand of k-style cup, including private label brands.
Removable drip tray (so you can fit a larger mug).
Features energy saver modes, and auto-shutoff that you can control.
Alright, enough with the details!
Here is the rundown of what I thought about the iCoffee Opus…
What I loved about the iCoffee Opus:
Small footprint, sleek design: with a tiny apartment to deal with, I simply don't have the space for another huge appliance on my counter top. The iCoffee Opus measures 13 1/8 x 10 x 13 1/8 inches, Which is smaller than similar models that have large water reservoirs. I also appreciate the sleek, modern design of the machine. That's what inspired me to incorporate it into my decor with a free printable.
Spinbrew technology means better taste: this is iCoffee's specialty: a technology that spins the grounds in the cup, so that you have a smoother taste, and less bitter aftertaste. I'm not the biggest coffee expert, but I did notice that my coffee tasted great, with no acidic aftertaste.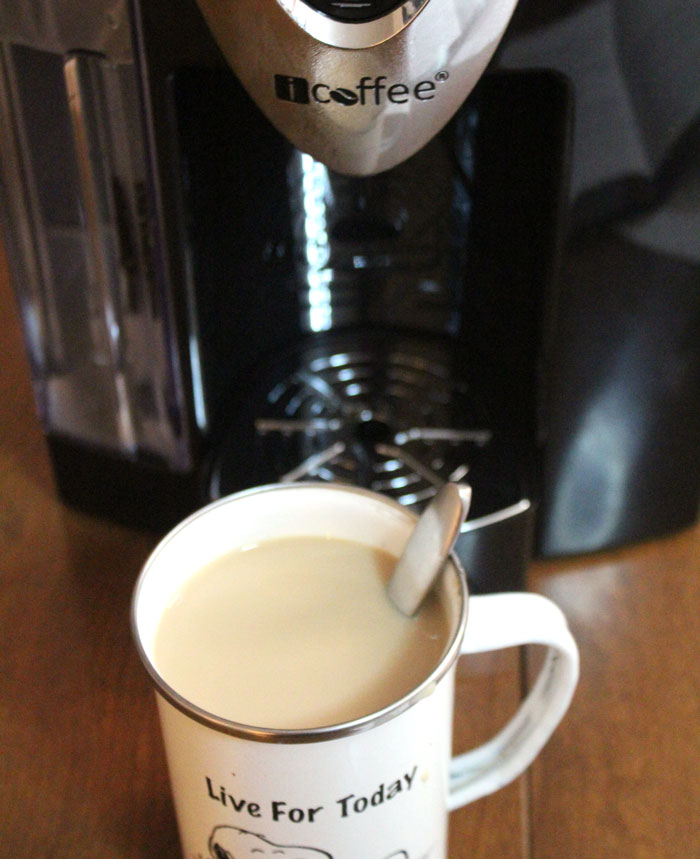 Speed of brew: Because of the large water tank, you can brew a few cups in a few minutes. My previous machine required you to put in a new cup of water, and brew the entire cup. Here, once the water in the tank was heated, it took me under a minute to brew a new cup! That means, that if a few family members are using it, they can make it one after the other without wasting too much time in between.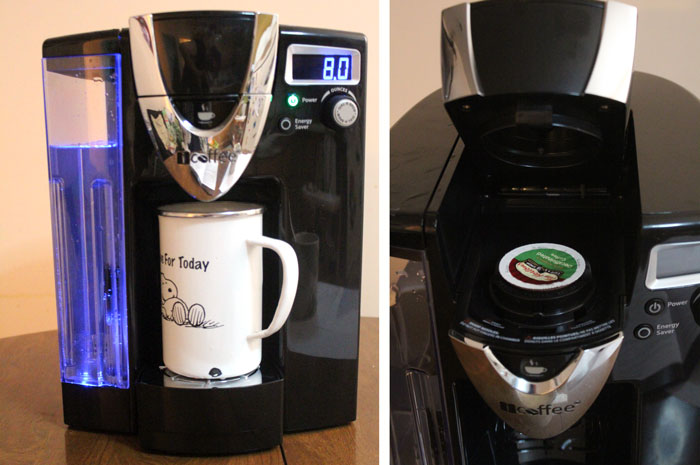 Flexible cup sizes – including the physical cup! Coffee is a very individual thing, which is the inspiration behind single-serve coffee makers. That does not just include brew strengths and flavors, but also cup sizes! The iCoffee Opus is virtually dummy-proof when it comes to cup size and operation. A simple turn of the dial changes the brew size. Also, you can fit your favorite travel mug, because the drip tray is removable! Note, that when in use, the drip tray does stay in place nicely.
Flexibility with brands: One of the key things that pulled me toward the iCoffee Opus is the flexibility it offers with which cups you use. You can use any brand – including their reusable options! I am VERY keen on reusable cups, and only use disposable ones on occasion. So, this was actually a huge drawback that prevented me from replacing my previous brewer. The iCoffee Opus allows you to use their reusable k-cup, included, which can save you lots more on the upkeep costs!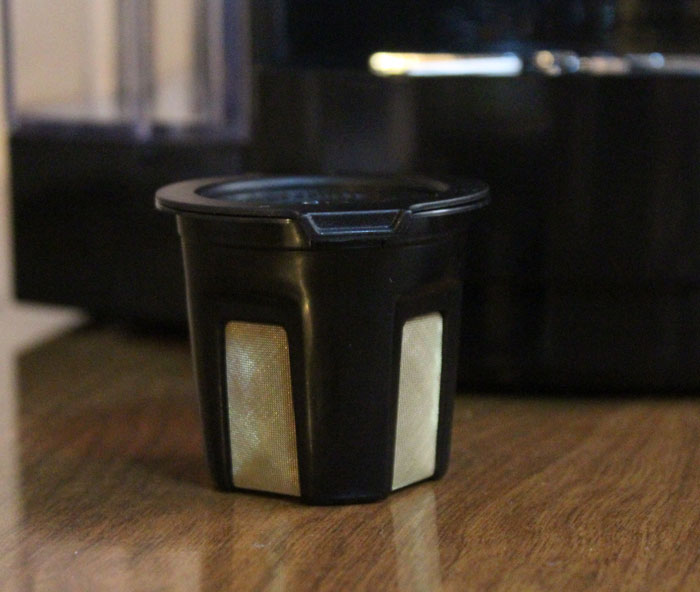 Things I didn't love as much:
In an effort to provide you with a well-rounded review, I always share my complete thoughts. However, I want to make it clear, that I would recommend this machine without hesitation. You can continue on to the section of this review titled "the bottom line about the iCoffee Opus review" to read the review round-up and why I think it's worth buying.
Meanwhile, here are a few things the educated consumer should now before buying:
Only their reusable cups work: Considering that reusable coffee pods are my favorite feature of the iCoffee Opus, it's worth mentioning that only their reusable cups work with it. And their cups aren't among the cheapest. However, a little more research taught me that this is because of the SpinBrew technology, that can't work with the way other reusable k-cups are made. For me, the consolation is that the coffee maker comes with a free one. So, you DO have instant access to this amazing feature regardless. In homes where many people make coffee consecutively, you may want to invest in another cup or two (you'll still save, as K-cups are expensive! It'll just take a few more cups to break even on the investment.)
Blue LED: Before I even start, I'll be honest and share that this is DEFINITELY a matter of taste. But I did find the blue LED lights to be a bit much. I'm sure that some of you will find that to be a cool feature, but for me, it just made my coffee look not as good while coming out…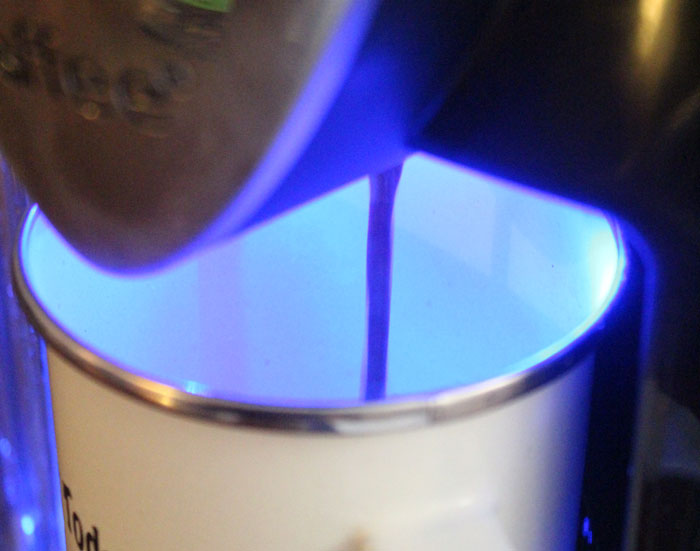 The bottom line about the iCoffee Opus review:
Would I recommend it? Absolutely!
The iCoffee Opus offers far greater usability than similarly priced models from other brands. Even if you need to invest in more reusable pods, you'll be saving in the long run, in comparison to purchasing a running supply of disposable k-cups.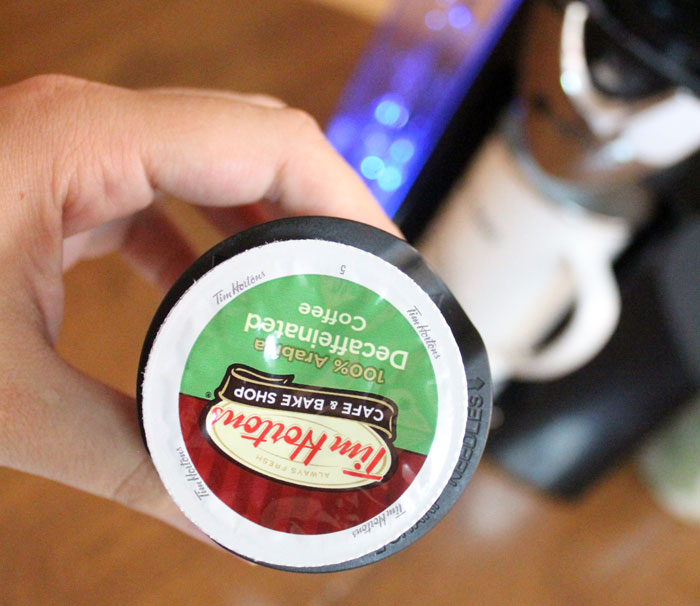 I personally will be sticking to the single cup, as I'm the only coffee drinker here. Regardless, if you don't want to invest in more, and you have a few drinkers, a quick rinse usually makes it available again for immediate reuse.
I absolutely love this machine, and I find it easy and convenient to use. You get lots of bang for your buck, and I'd definitely give it five stars on value, function, and ease-of-use.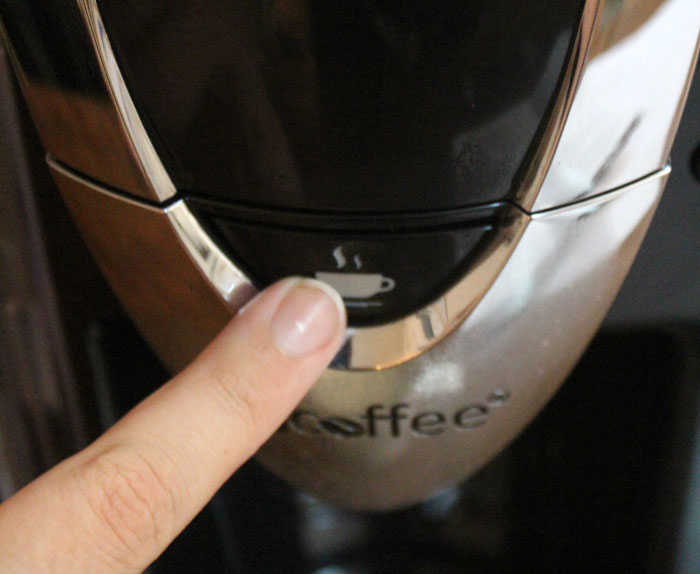 Loved this iCoffee Opus review? Connect with them on Facebook, Twitter, or Instagram, or check out their website here.
You can also purchase the iCoffee Opus on Amazon here.
Got any questions? Did I miss something in this iCoffee Opus review? Comment below and I will answer as soon as possible!