Welcome to my review of the Manito rain covers, as part of my traveling with toddlers blog series. First of all, here's a little travel tip: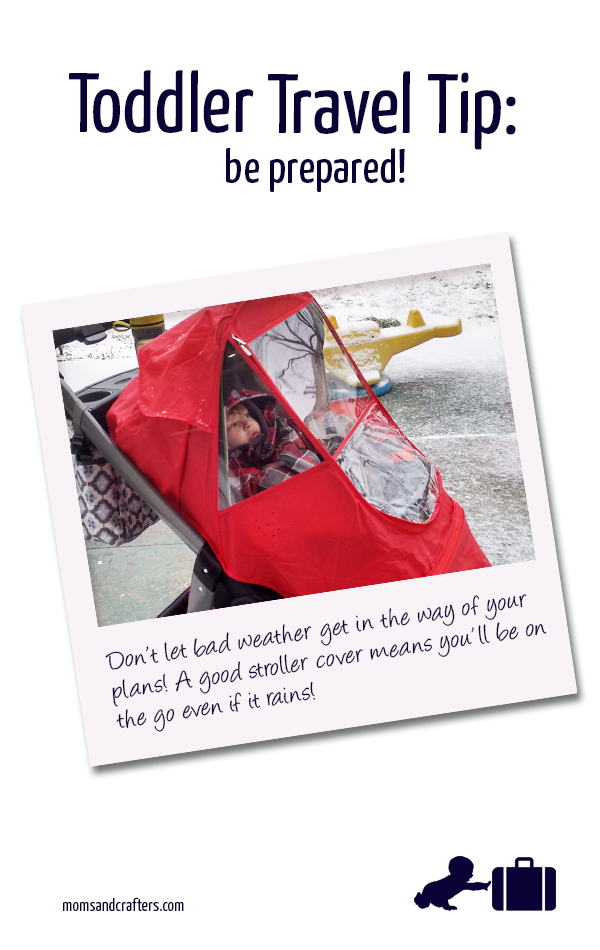 Manito is a leader in stroller covers, and it's clear why. After going through a series of cheap plastic covers that tore at the edges and were too small, I am happy to have discovered Manito.
I've been struggling to lose that baby weight, and while I don't mind going out in the rain, I do want to know that my baby is well protected. Having a proper cover is essential to keeping up with my exercise routine.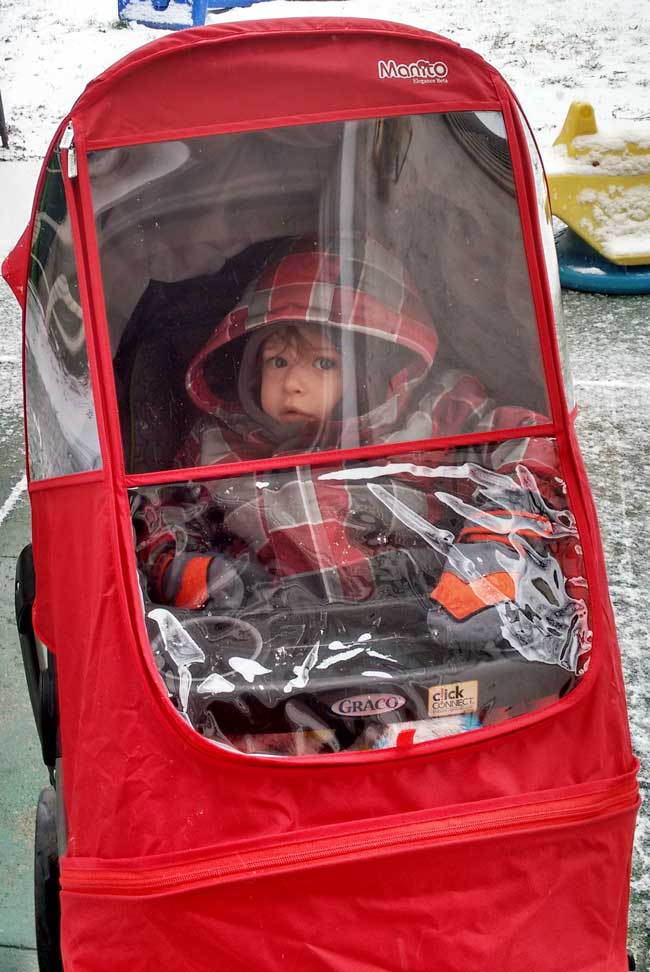 Since we'll be traveling soon, on a hard-earned vacation (to the in-laws 😉 ), we do not want to lose a single day! Once again, having a great stroller cover means that we'll be able to go out even on rainy days (as much of our time will be spent traveling by bus and by foot).
Manito covers not only cover a broad range of needs (cold, rain, sun), but they also cover various stroller types. While each one is versatile and adapts to many makes of stroller, there are so many styles, it's impossible to say that one covers all. Manito had this in mind when creating the Alpha and Beta lines, as I will soon describe.
They have also kept the various needs a mom has in mind, with the features below. From easy access to baby, to a shade that helps him sleep, convenience is built right in!
Manito Rain Cover Features:
The Manito Elegance stroller covers are jam packed with features: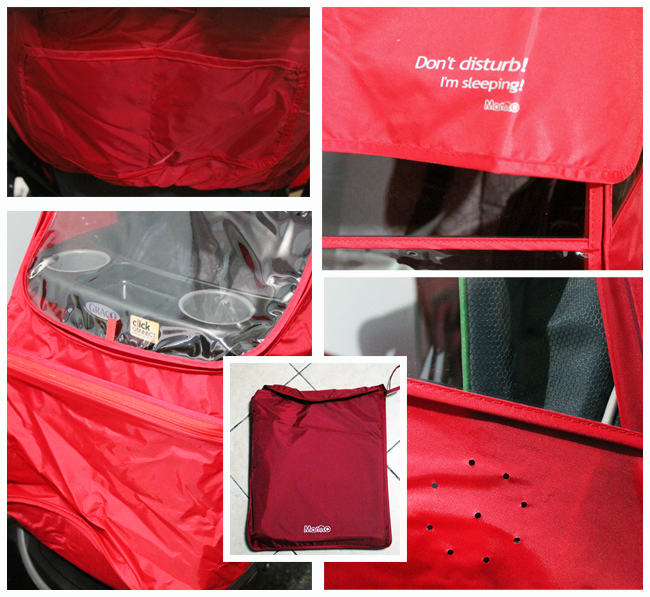 Available in five fun, bold colors.
Features a large clear multi-sided window enclosed by durable water repellent fabric.
Window effectively screens 99% of UV rays, providing adequate sun protection on rainy days (when the UV rays still penetrate).
Features a sun shade that folds down so that your baby can sleep undisturbed, and for added sun protection.
Made from eco-friendly, non-toxic materials.
A detachable foot cover means you can wash just the dirtiest part separately. It wraps the baby's feet, keeping them even warmer.
The flat, wrinkle-free windows are essential to baby's eyesight and development. Wrinkly shields often cause refraction and distortion.
A large, zipper opening means you can easily care for you baby, and put her in/take her out without removing the cover. A piece of velcro holds it in place when it's open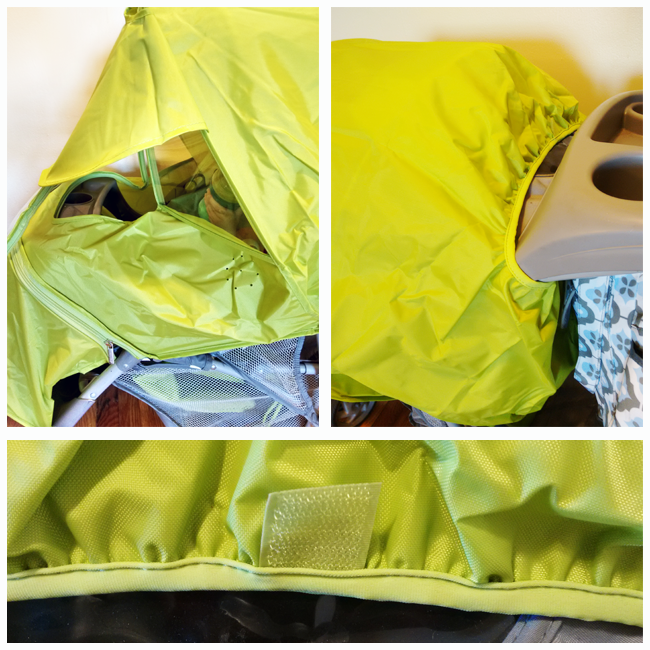 S-hooks connect in the back of the stroller to keep it on securely, despite winds and more. They also create a better seal from cold.
Comes with pockets right under your handlebar – something your stroller should have come with but likely didn't!
Comes with a matching storage pouch with a carry strap.
Holes on both sides provide cross-ventilation.
Water-repellent and windproof fabric protects your baby from rain, snow, dust and wind.
Comes in styles for single and double strollers, and in a few stroller types – alpha and beta, as described below:
Manito Elegance Alpha – The Alpha stroller cover is designed to fit regular strollers with attached seats. It's also the perfect choice for any stroller where the recline is done by tilting only the back of the seat. It fits even in the full recline position, and is perfect for when you want a single cover to fit multiple stroller types.
We used this on our Graco Literider stroller, as you can see in the photo below.
Manito Elegance Beta – This cover is designed to fit many of today's strollers that feature a removable seat that fully reclines (the entire seat tilts to recline). This design is amazing, because it attaches only to the seat, without incorporating the frame at all. This means that you can change the seat position even with the stroller attached. And yes, this situation has already come up!
Some examples of models that would fit this include: the Quinny Buzz, Baby Jogger City Select or Versa, Uppababy Cruz and Vista, and more (check the chart below to determine which one is for you).
We used this on our Graco Modes stroller, as you can see in the photo below.
How to choose your Manito rain cover:
In case the guide above wasn't enough, here is a handy chart provided by Manito to help you choose. This guide can help you with choosing any of their weather shields (including the Castle series cold weather shields). You can also contact Manito customer service with your stroller model and they will be glad to help you choose. Or comment below, and I'll help you out with it.

My thoughts, likes, and critiques:
What I love: I have never seen a stroller cover that is so protective. It's also so easy to use once it's on – no need to keep taking it on and off!
The s-hooks are strategically placed on both the models and the entire unit is securely placed on the stroller. This means that it protects even on windy days, and it adds to the ease of use.
As I've mentioned, each detail shows care and the user's best interest in mind. The pockets in the back will likely cause some people to want to use it even when it's not raining! The velcro that secures the window in place when it's open has already been put to good use.
The design is both beautiful and practical. It works as a unit with the stroller (both the alpha and beta models) and offers the utmost protection from the elements. This need not be rain. We are traveling to a dusty area, and I look forward to protecting my little passenger from that too!
Ironically, these covers arrived the day before New York's "big" blizzard. I did go for a walk after the snow started, and my child was dry, warm, and happy after walking 1.2 miles in this weather.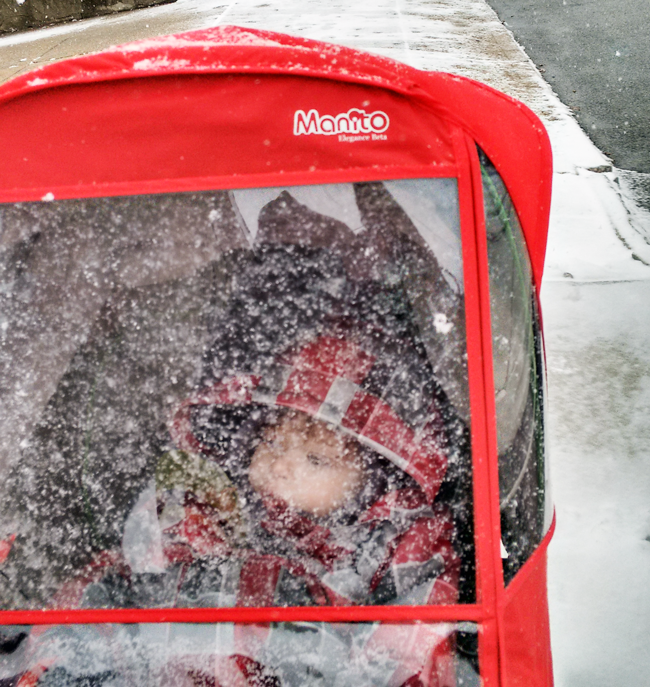 The pouch it comes with is another sign of convenience. The cover is easy to fold, and shockingly compact once it's sealed in the pouch. The carry handle was one thing I wasn't sure I'd need, but then it came in handy when I was running out quickly and just grabbed it without putting it on just yet.
The sunshade has been put to good use, enabling me to give M naptime while out and about. And I love the sweet "Don't disturb! I'm sleeping" message on it.
What I'd change: Overall I love this and have not seen a comparable piece. It's structured, and "real" – not just an accessory that's pulled out when there is no choice.
Now that my baby is a toddler, we don't need it to cover a travel system, though I'd love to see one like that in the future – even if it's a different model. I haven't tried it yet on a travel system with the car seat in place, though the company does state that it's not designed to fit that properly.
I'd also love to see more conservative color options (though I love the pops of color) to match with more strollers. A black and a beige would cover it…
Overall, this cover is so exciting! Once you've tried a Manito stroller cover, you'll find that there's no going back. The convenience, usability, and attention to detail will have you from the start, and anything else will simply fall short.
Connect with Manito:
Disclaimer: I did receive product samples from Manito® USA to facilitate the review, however all thoughts and opinions are my own. I received no monetary compensation in exchange for this review and was not paid to endorse it.
Follow along with the rest of the traveling with toddlers series by clicking on the image below!