Make your own mask lanyards so that your kids don't lose them, and they don't fall and get germy – ew! If you still need more, click here to learn how to make DIY face masks. This post contains affiliate links.
---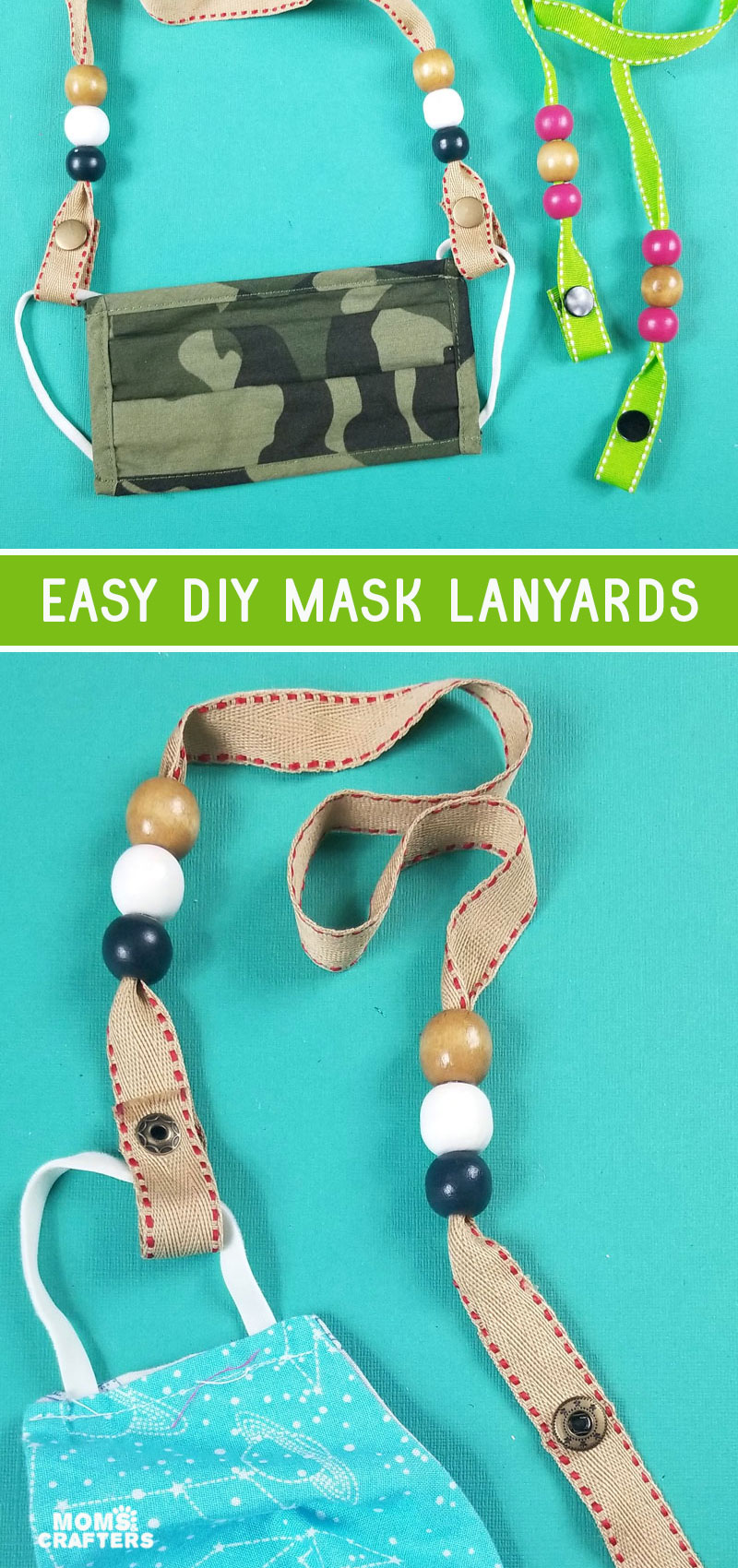 As we prep for the weirdest back-to-school ever, there are things we never though we'd need. I was aggressively sewing face masks and prepping face mask holders when I saw a few people share cool beaded face mask holders to keep the mask around the neck.
The idea is: if your child is masking up for some or all of the time in school, this mask lanyard stops it from falling to the ground when removed and getting lost. It also allows your child to keep his or her mask handy.
For example, the rules in my boys' school is as follows: they'll be wearing masks when outside of their classrooms/cohorts, but in their seats, they have plexiglass to help with social distancing. So if my son needs the bathroom, he has his mask dangling from his neck to quickly put on his face, and when he comes back, he doesn't need to pack it back up.
The truth is, mask lanyards are a brilliant solution for grown-ups too, who might remove it when they get into their car, but put it back on when leaving.
The way it works with me: I keep a few fabric masks in my handbag, and then I forget to wash them, have to rummage to find them… you get my drift.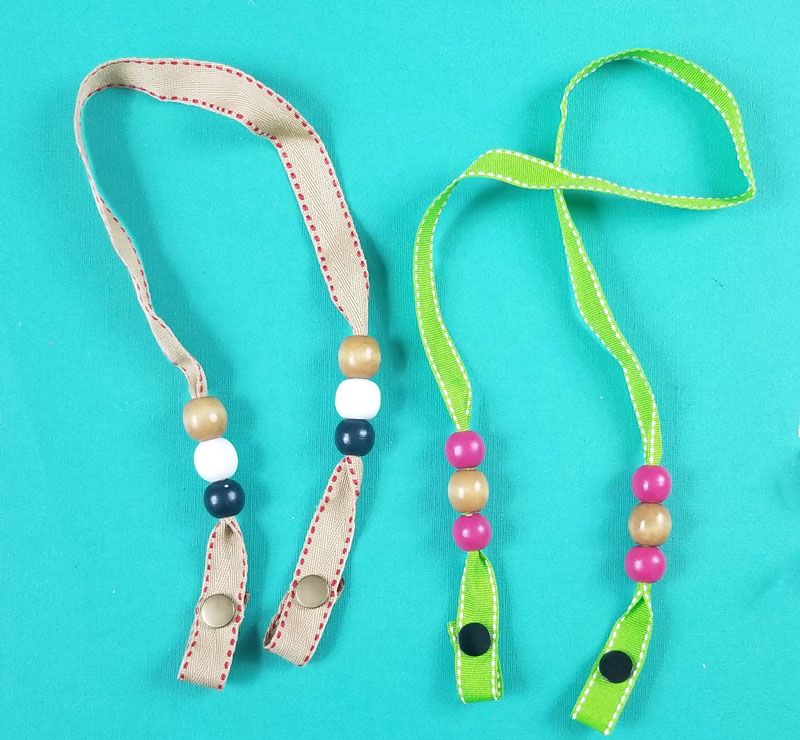 Most of the mask lanyards I saw were very blingy and not so fun for my boys. Then, I saw someone share one that had snap ends and so I decided to try some with ribbon scraps I had handy. They came out so fantastic, that I HAD to share, even though it wasn't planned.
The chunky wood beads add a touch of style but they are totally optional. M didn't want them, Y did. I let them each choose their elements. M wanted the shiny blue ribbon with silver snaps and NO BEADS!! Y wanted the shiny blue ribbon !! with "golden" snaps and "a black bead, a brown bead, and a white bead!"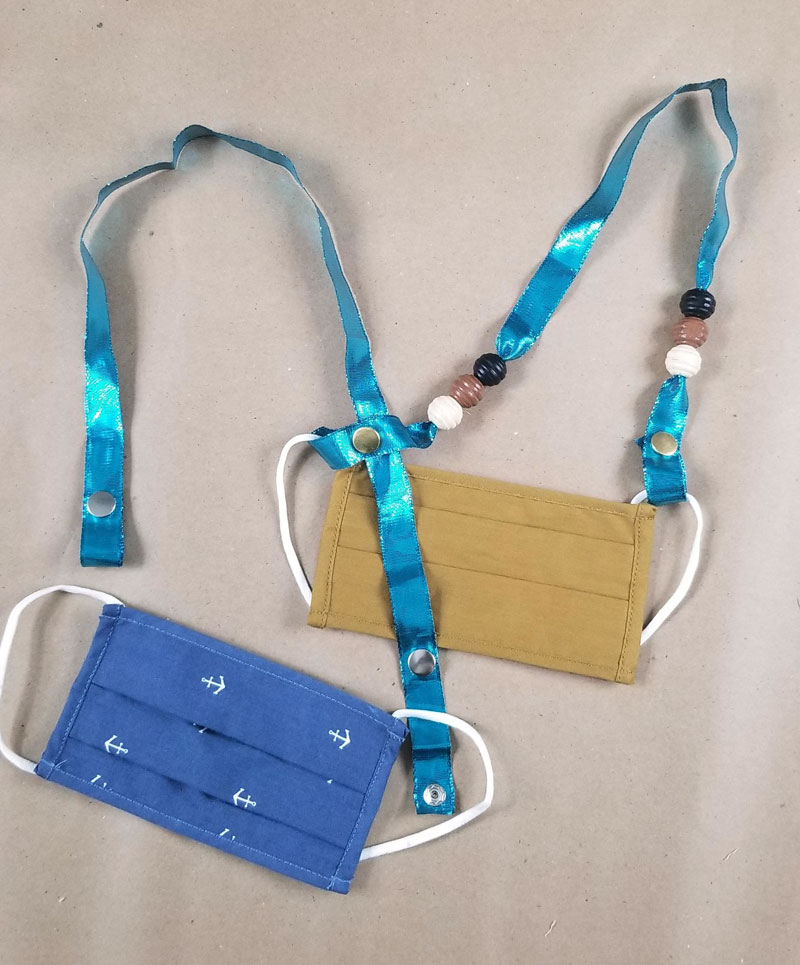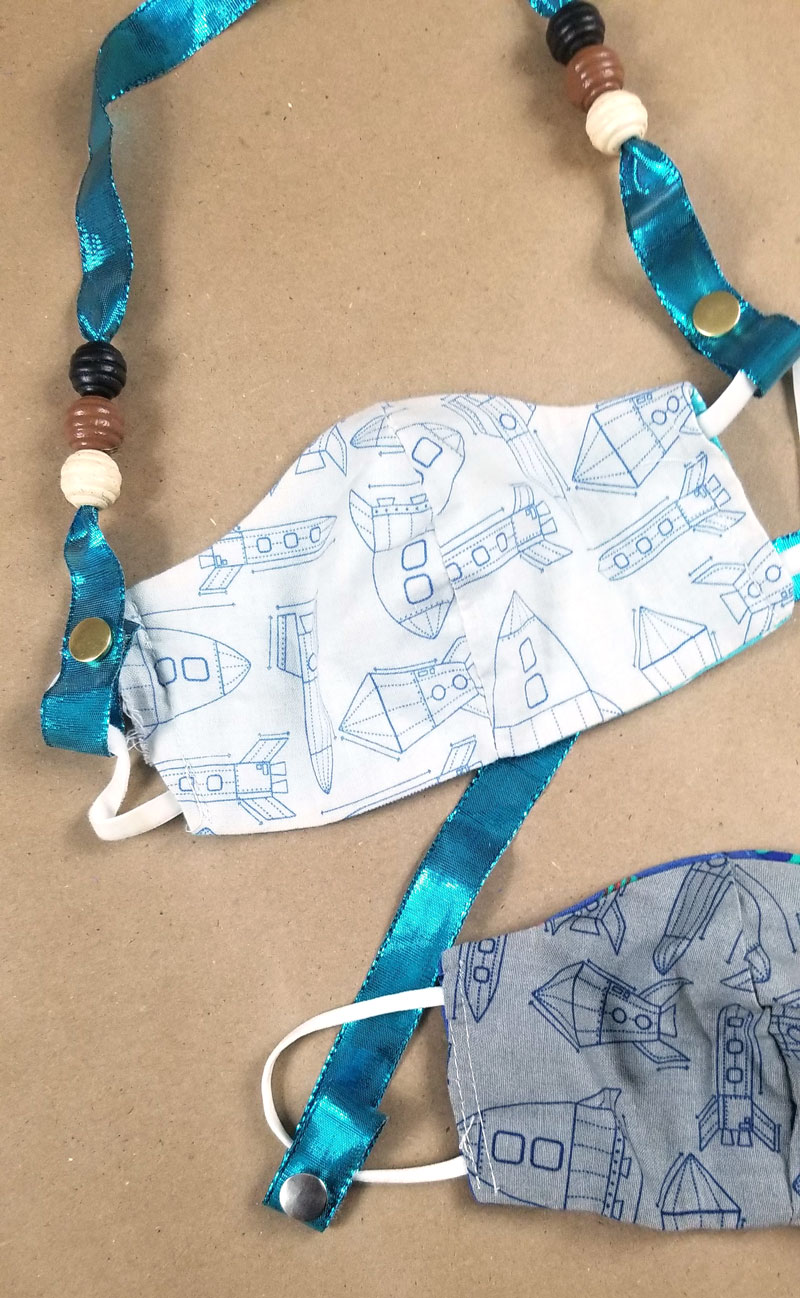 They're going into a strange school year with a fun accessory that they helped design, that they helped crowd my personal space – I mean, that they helped assemble, and that'll take a bit of the edge off of mask-wearing.
Because if there's one super-power us moms have it's to add a little fun to some of the tougher moments in life!
While M (7) can wear his mask all day, Y (4) has a harder time. Today he was asking me where his mask necklace is!
We used snaps to secure our masks on our lanyards. The cool thing about ribbon is how versatile it is! You can use ribbon crimps on the ends and attach it to oversized lobster claw clasps, or just tie the masks on. You can also the tie the ribbons onto clasps for an easier, less skilled, and less polished finish. And as someone on Facebook suggested, you can sew on hook and loop! Keep in mind: kids can open that very easily.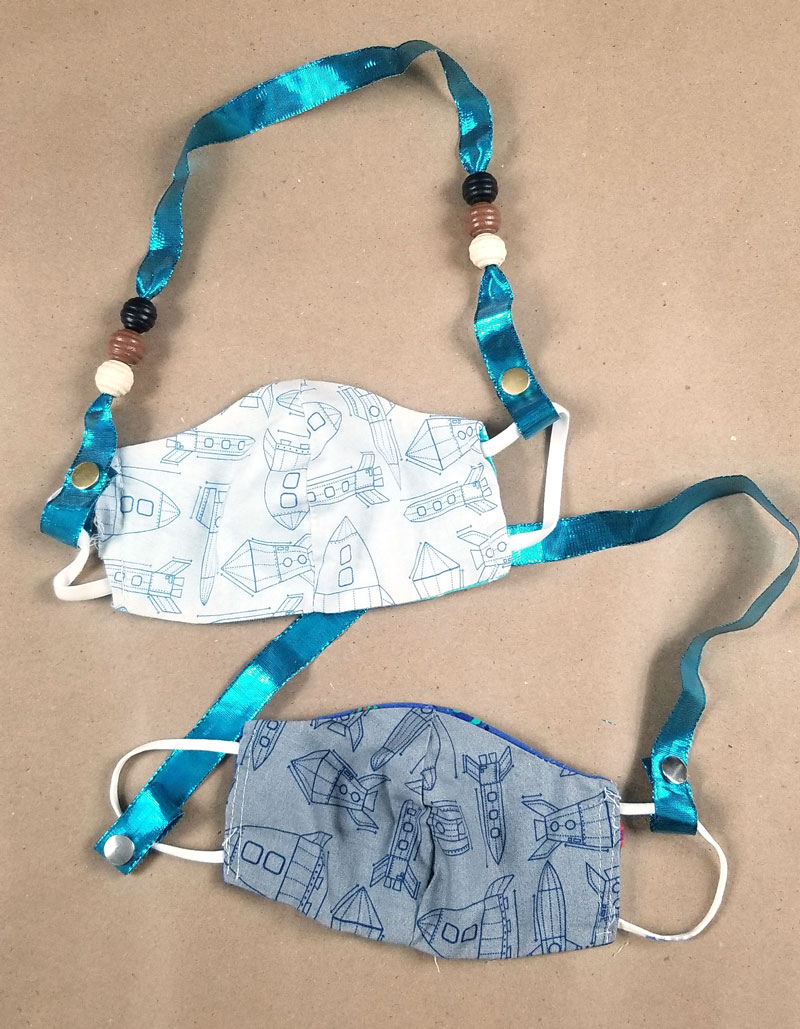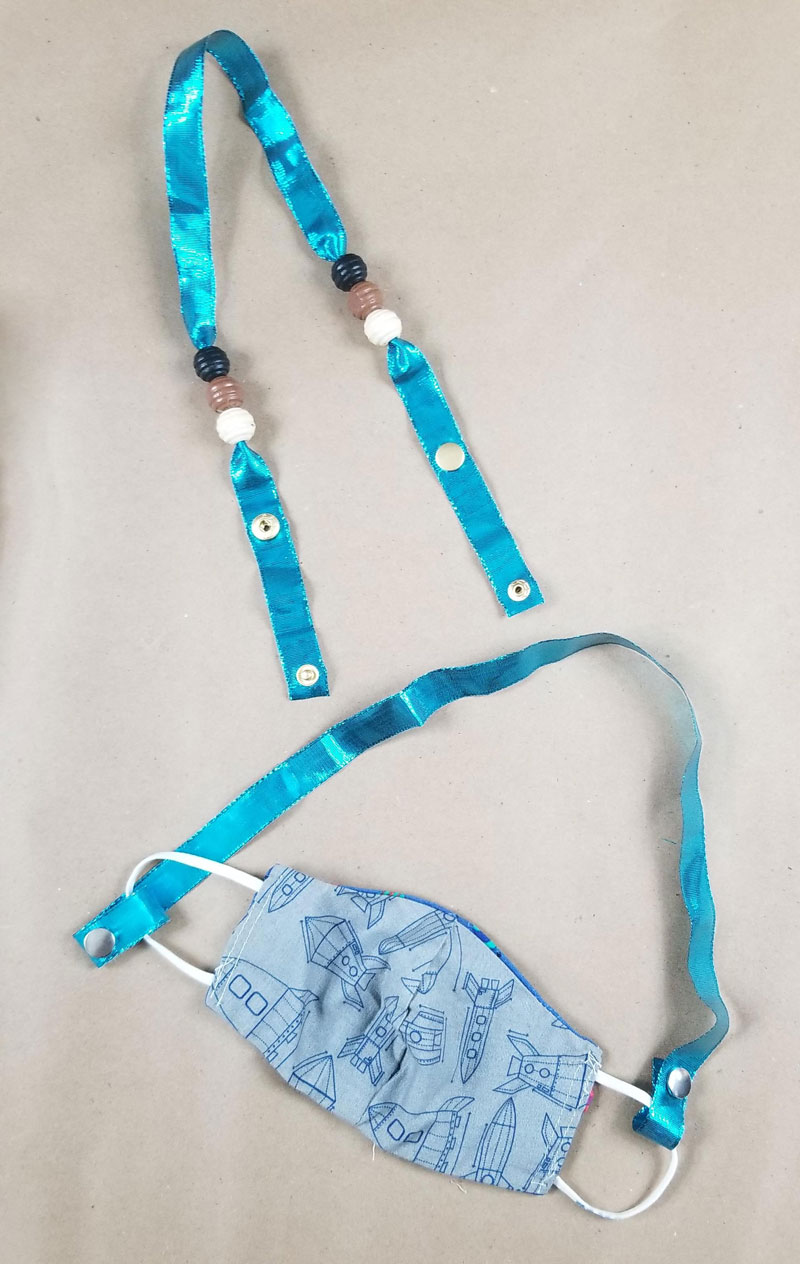 And in case you're wondering about our adorable masks, the spaceship ones are DIY using Cricut's template (but you can buy similar styles on Etsy) and the pleated ones are from Old Navy.
What you need to make DIY mask chains
Ribbon scraps: I used about eighteen inches, but get a little more so that you can measure on your kids. 1/2-3/4 inch wide ribbon is the happy medium for this project. Use something that'll feel okay on their skin (the metallic one my kids insisted on isn't the best). I got this bundle at Michaels (in-store only).
Snaps and snap-setting tool: I used what I had handy since these mask lanyards were a bit impromptu but you can also use fabric snaps. I work more with leather, so I had leather snaps handy and they worked great. This tutorial shows you how to set the leather snaps.
Scissors
Hammer
Optional: chunky wooden beads with large holes (I can't find a link for the ones I used so I linked something similar).
How to make mask lanyards
Watch the video if you prefer, or scroll down for step-by-step instructions with photos.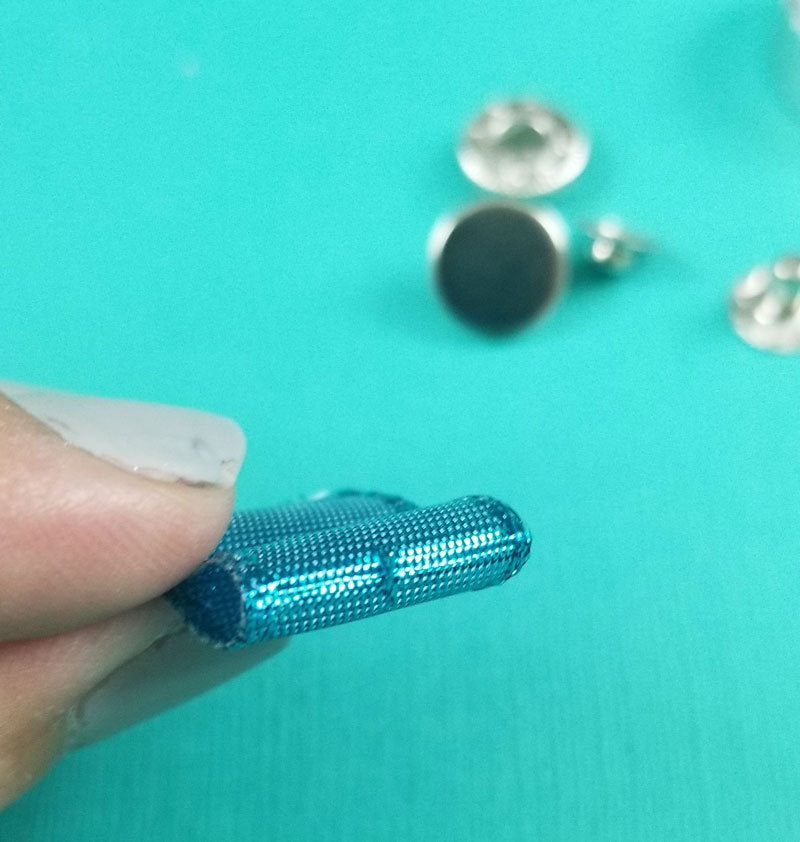 1. Snip
Cut a little hole in your ribbon, about an inch from the end, where your first snap will be.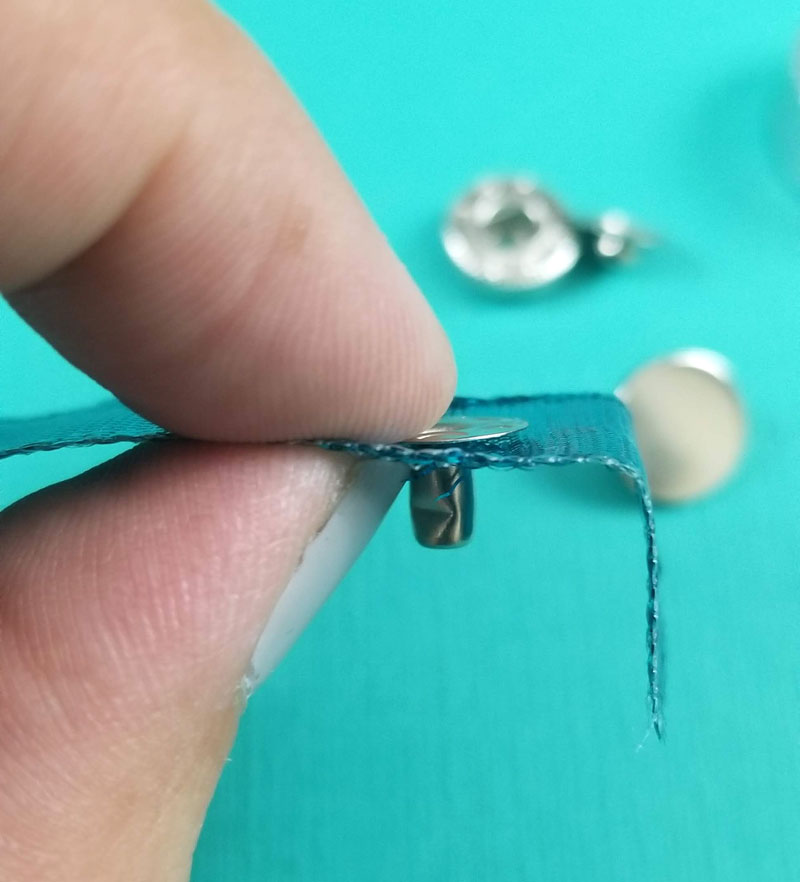 2. Assemble the male
To assemble the "male" portion of the snap, Slip the first part, the stud, as pictured, through your hole.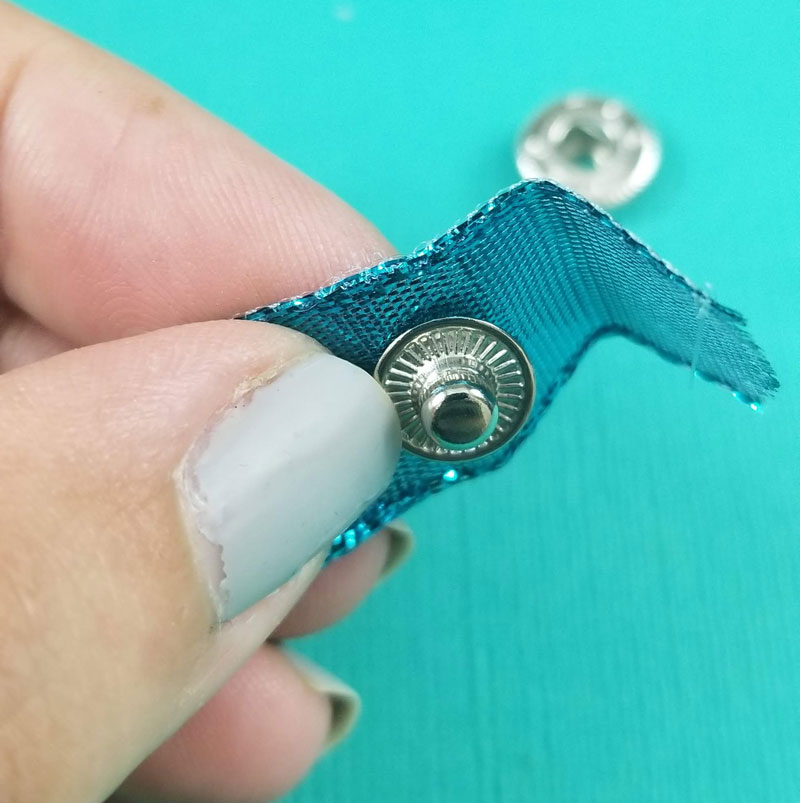 Attach the second half, the post or stud eyelet, on the other side of the ribbon.
3. Set the male
You now need to set the snap so that it's secure. The kit I linked to above, comes with a very simple, straightforward snap setting tool. To set the male side, you need the tool that has the large groove that'll fit around the post. Place your ribbon post side up on the metal base that comes with your kit.
Place the tool over the snap and hammer on the top of the tool, until both sides are tight on your ribbon. You don't need to hammer aggressively – just firm downward taps until your snap is set.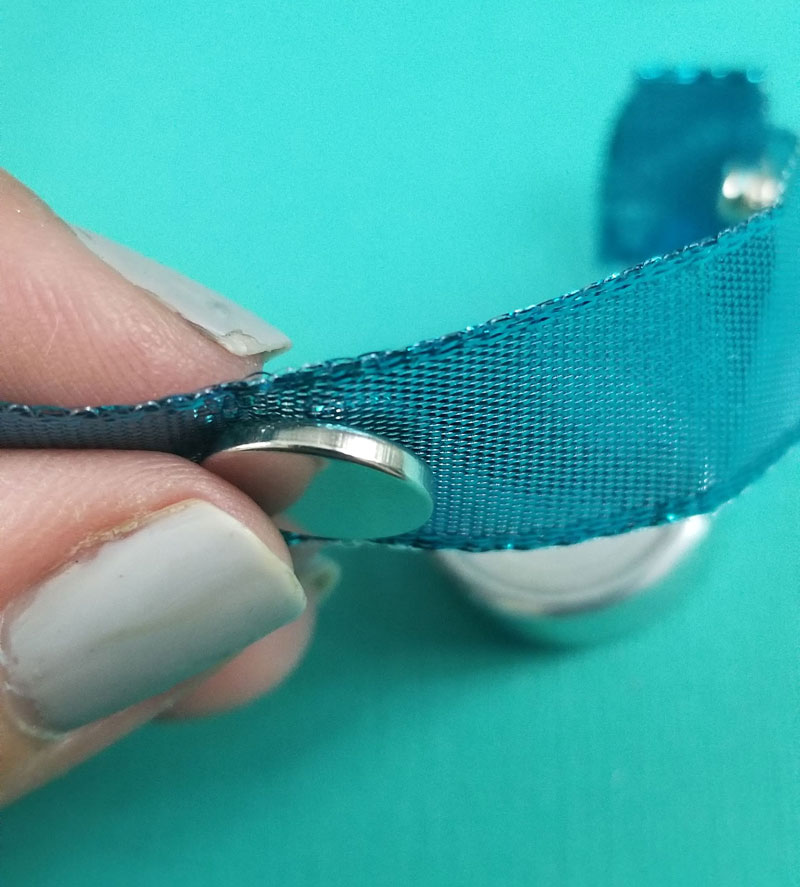 4. Assemble and set the female
You want your female side about 1.5 inches from your male – but don't take my word for it! Measure the spacing yourself, using your mask as a guide to see how you like it. Snip a tiny hole. Place the snap cap on the outside of your ribbon – the same side as you placed the stud.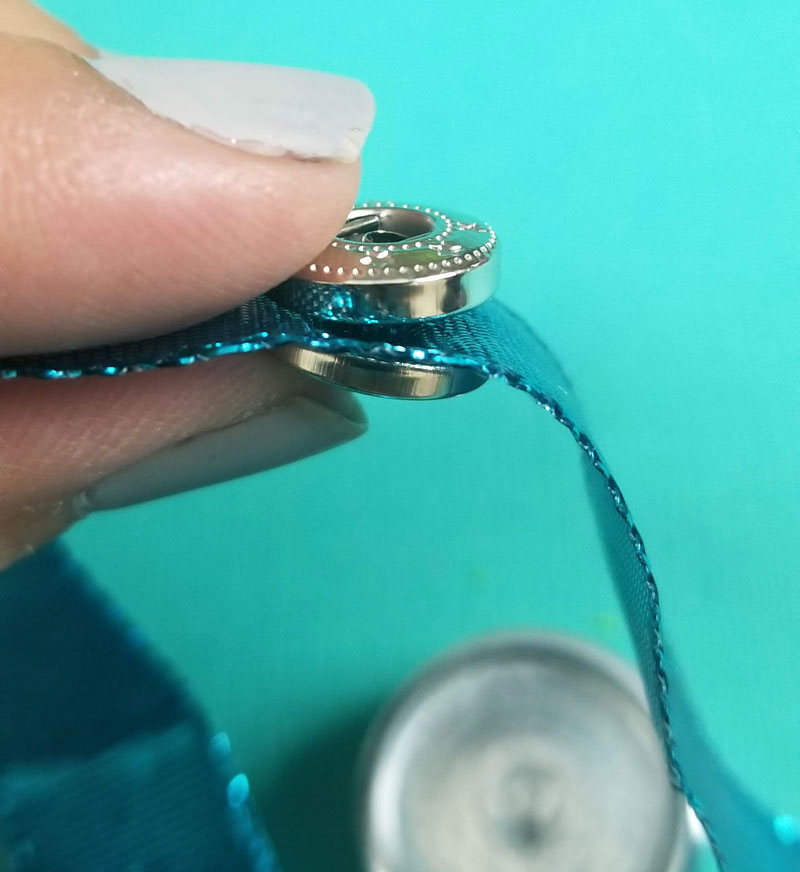 Attach it to the socket – so that the socket is on the same side as the post.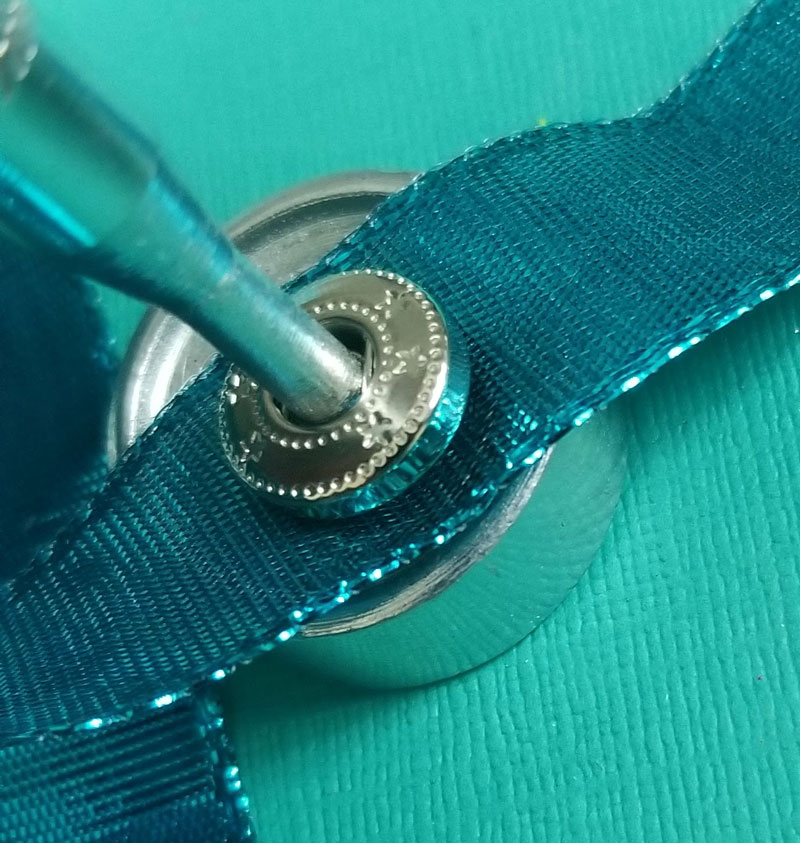 And hammer it in place, this time using the tool that fits right into your socket. Test your snap – if it doesn't close nicely, hammer a little more.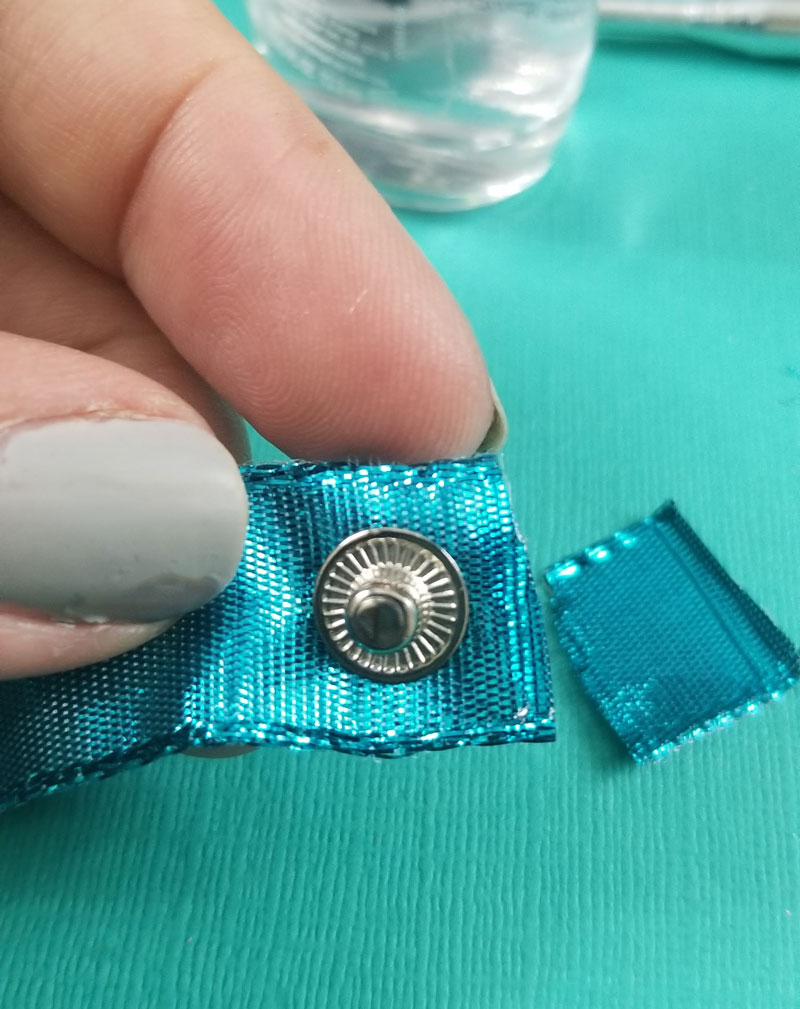 5. Finish the end
Trim your end pretty close to the snap (but not too close). I use clear nail polish to prevent the ribbon from unraveling!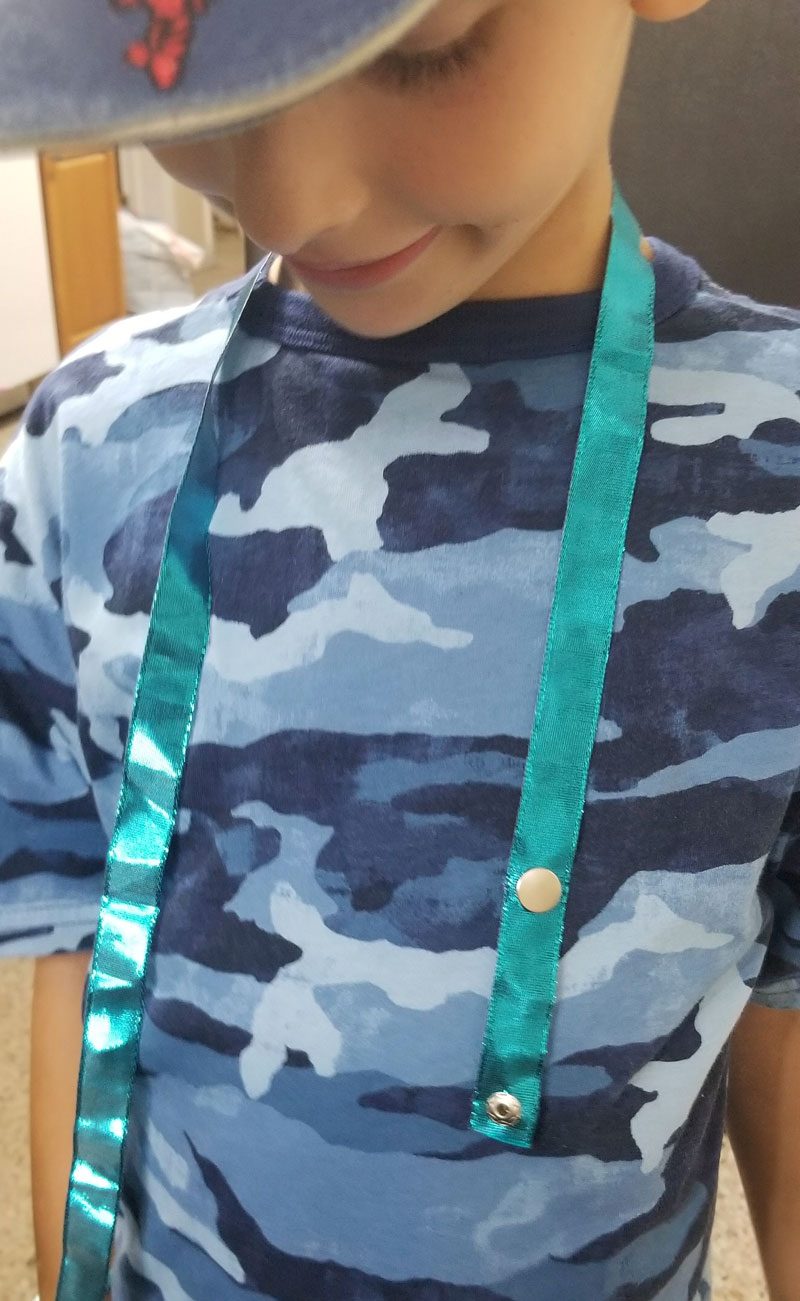 6. Cut to size
Measure your ribbon on the child you're making it for and cut to size. Take into account how low you want your mask to hang, and how much space the folded snap end takes up, as well as a bit of leeway, especially if you're adding beads (as you may need to trim a little if it unravels).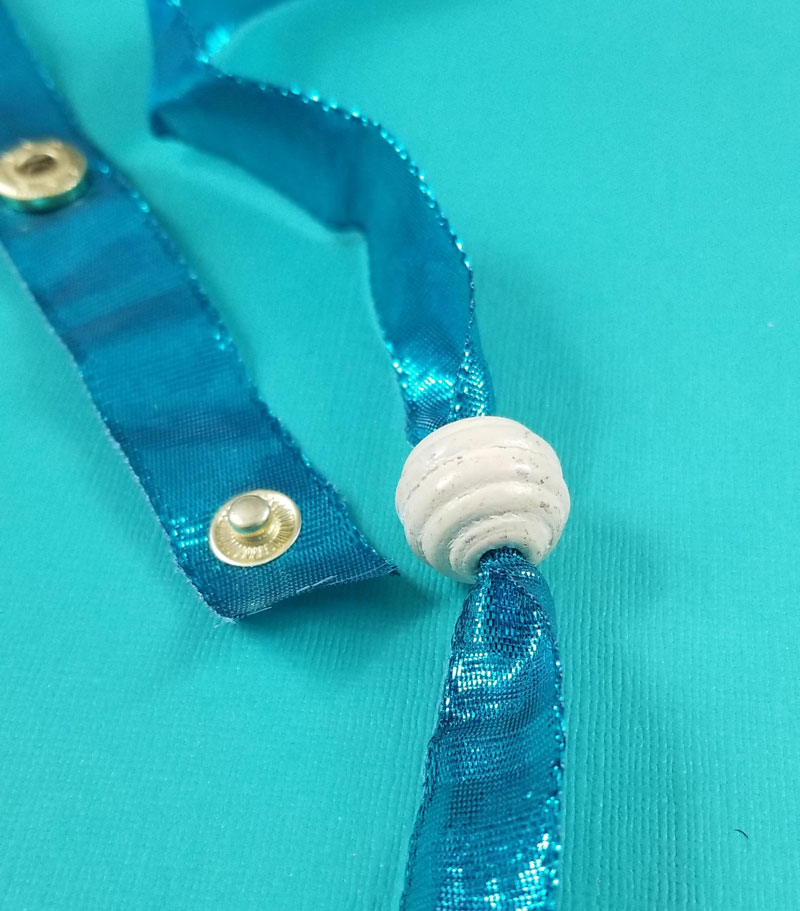 7. Add beads
If you want to add beads, just twist the end of your ribbon and work it through your beads! The ideal bead/ribbon combo isn't TOO hard to thread, but the beads stay where you put them. Thread all your beads – moving the ones you want at the finished end all the way down and keeping the ones you want at the open end where you want those.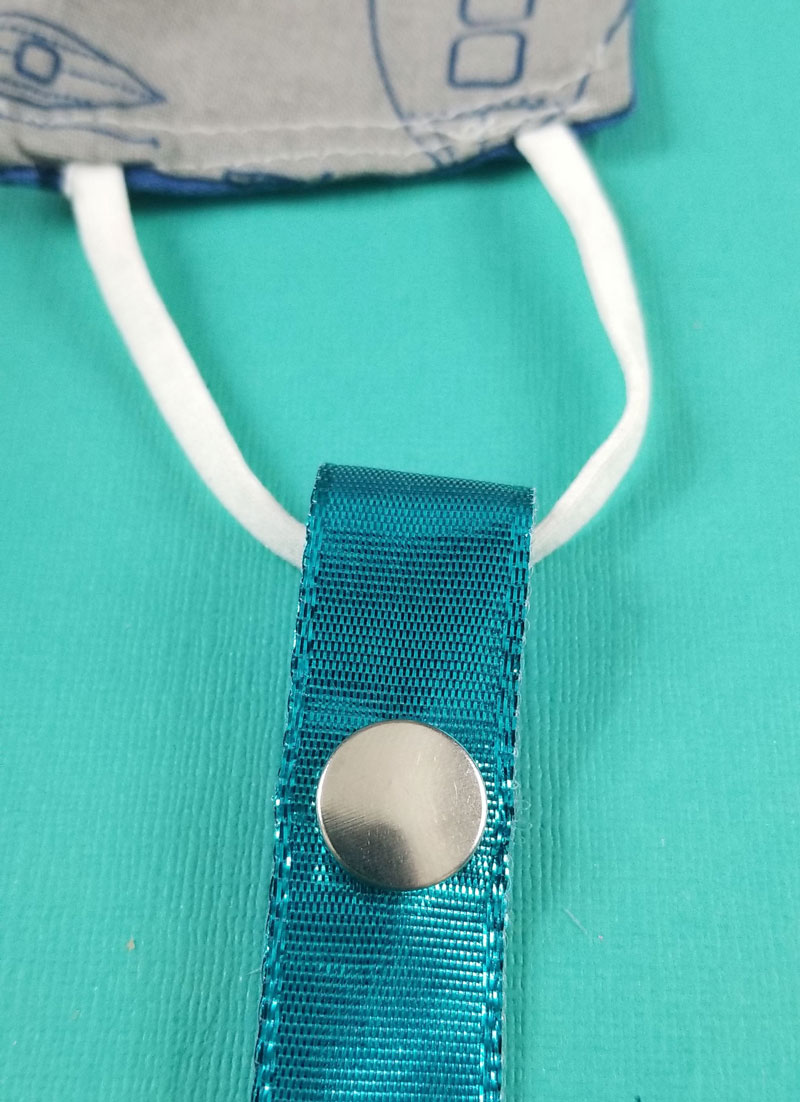 8. Finish off the other end
Add your snaps, trim, and nail polish the other side to complete your mask lanyards. To use: just snap on each end of your face masks and wear!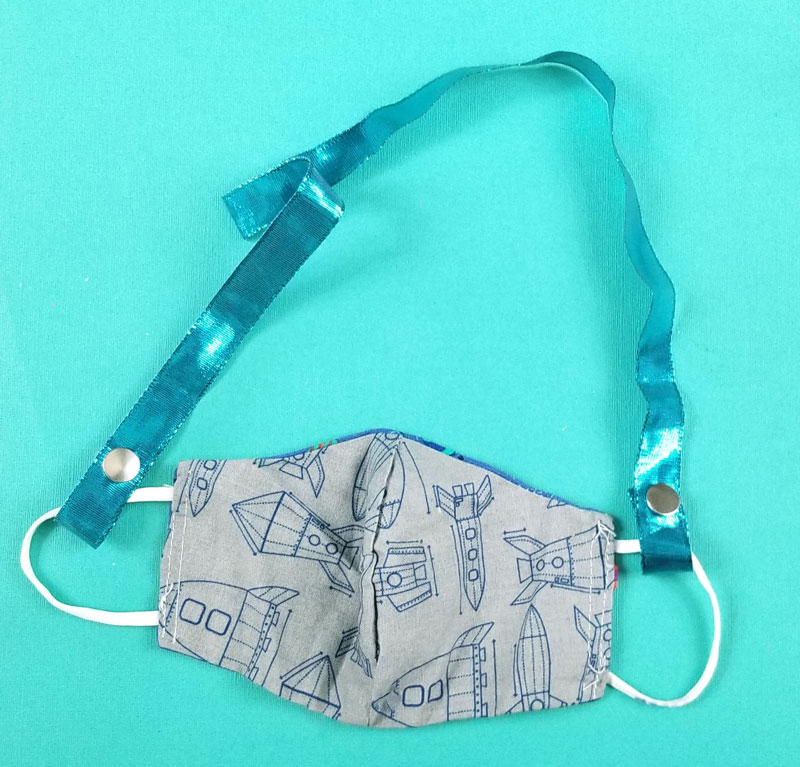 Try it in different colors and styles.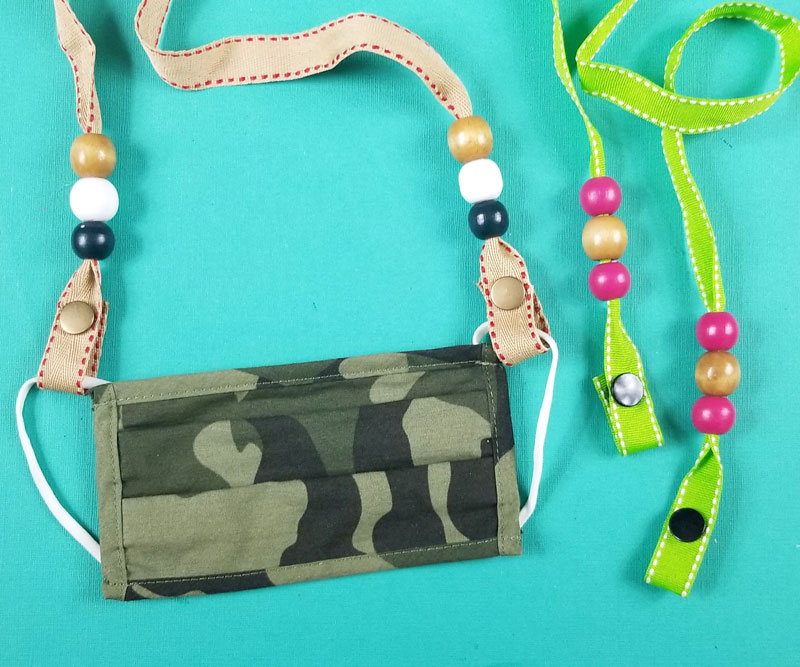 Make them to match your masks…. or not!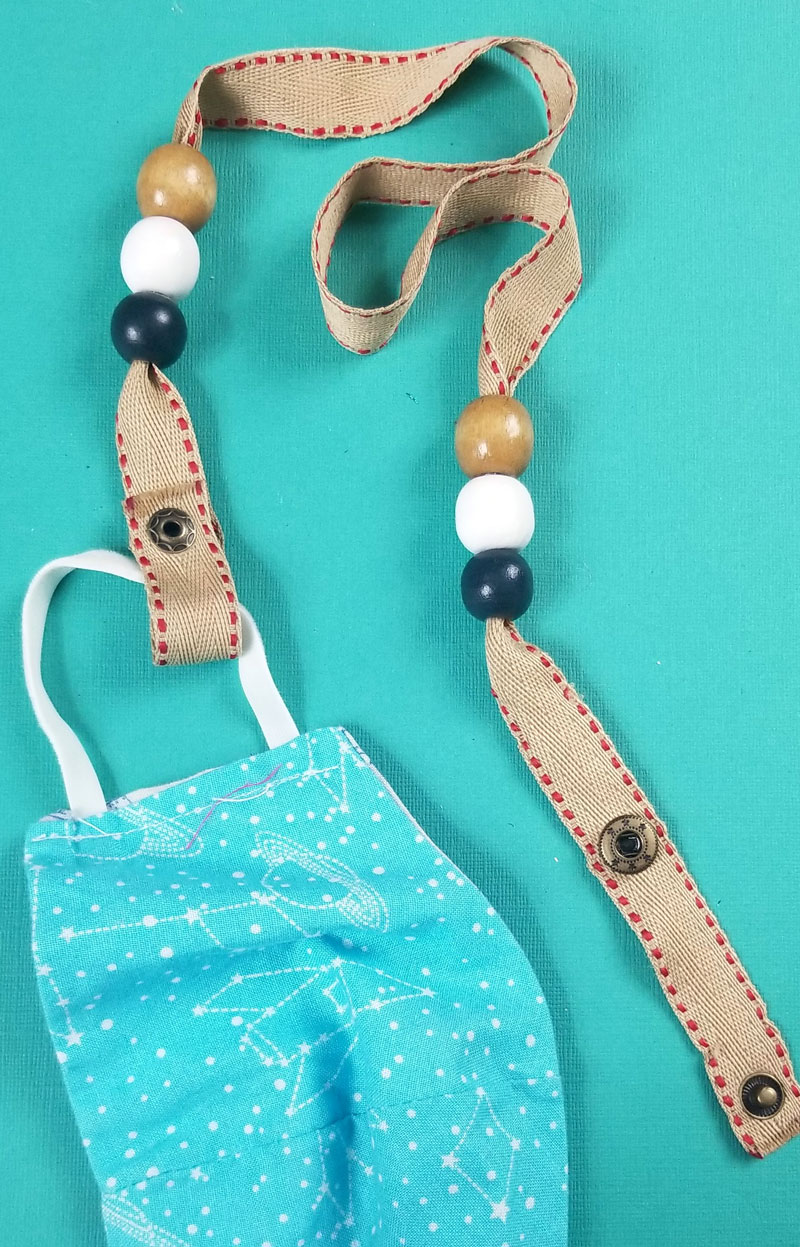 The ideal mask lanyards are long enough to slide over your kids' necks so they don't need to open and close them. They can be a bit tough (you need to grip the snap, not the ribbon) especially for young kids, which is a huge advantage for us. I don't want the kids taking the masks off the lanyards if they don't need to!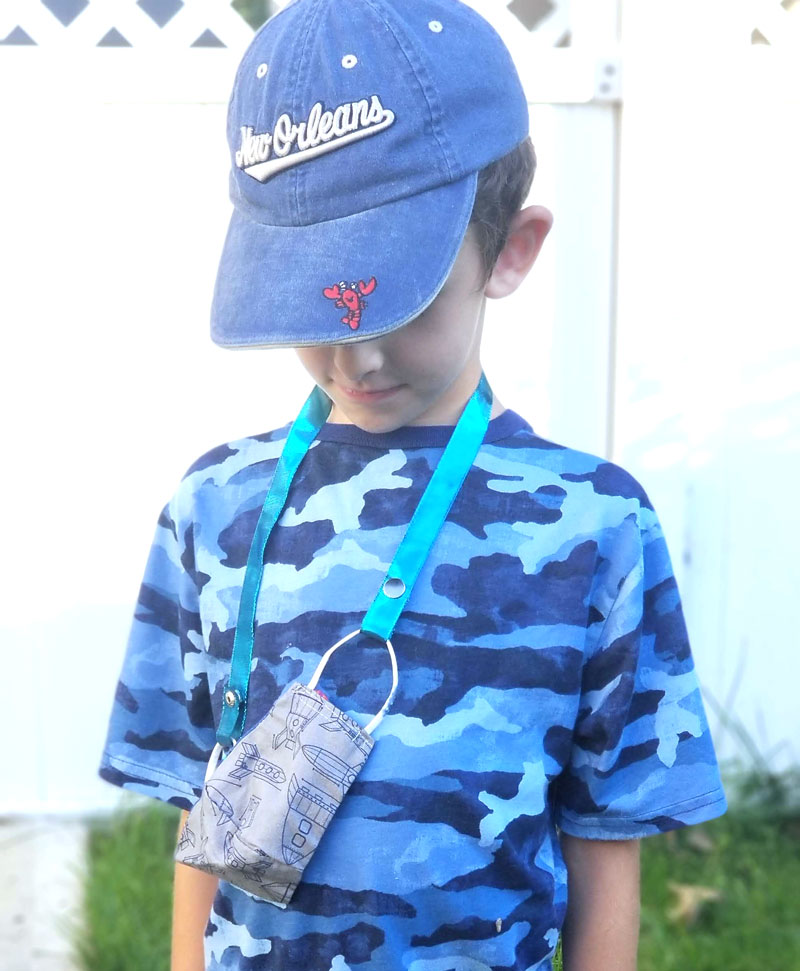 When wearing them, it's best if the snap portion sits on the bottom of the strap, in front of their ears. You can teach your kids in advance how to position it – M got the hang of it after a couple of tries. You can also teach them to move the strap down their back if it's tickling them (when it's worn loose it can do that).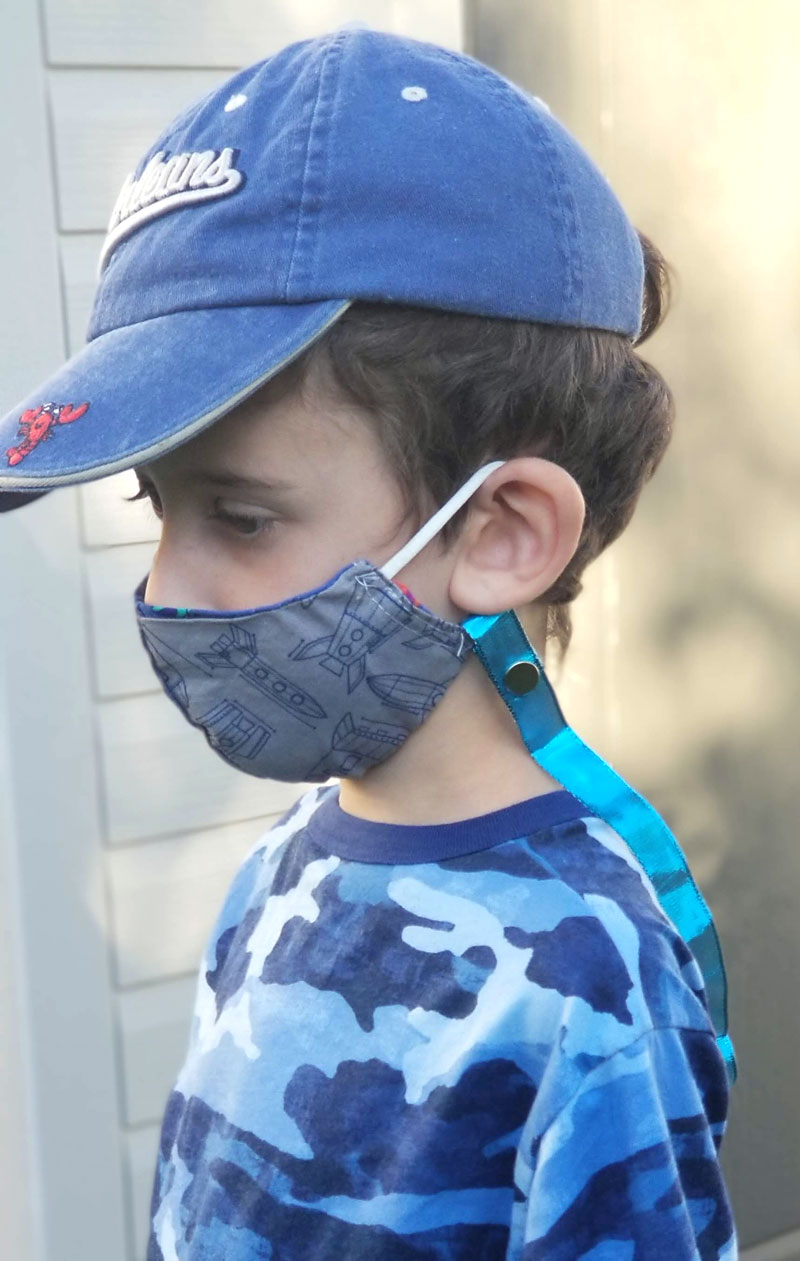 Your mask lanyards are complete and ready to wear! How will you be making yours? Any variations or other ideas? Comment below!
Want more cool craft ideas? Check these out!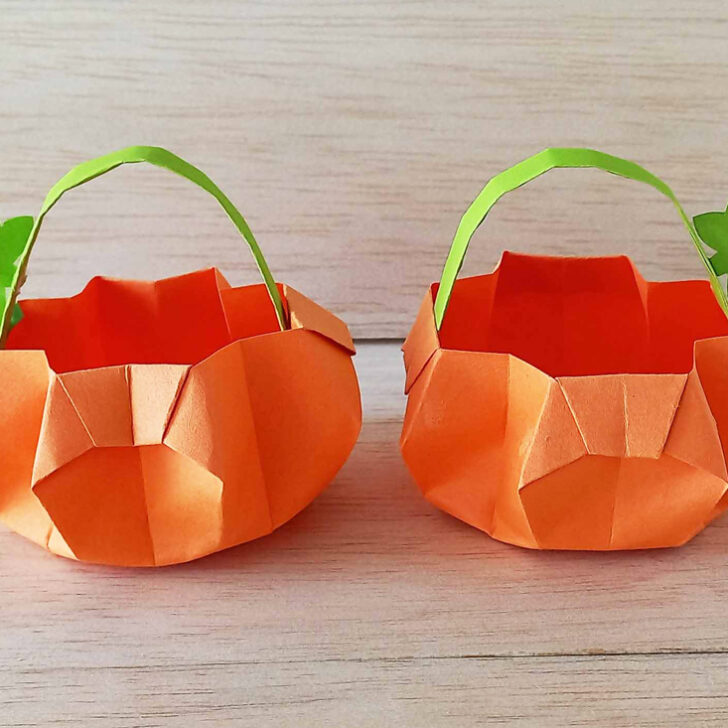 Get in the fall spirit and craft these adorable 3D Origami Pumpkin Baskets! When you're done, learn how to make Paper Pumpkin Wall Decor. This …