Ready for some ugly Christmas sweater DIY ideas? These projects range from Cricut crafts to knitting patterns, and include some fun embellished ideas – no skills required! This post contains affiliate links.
---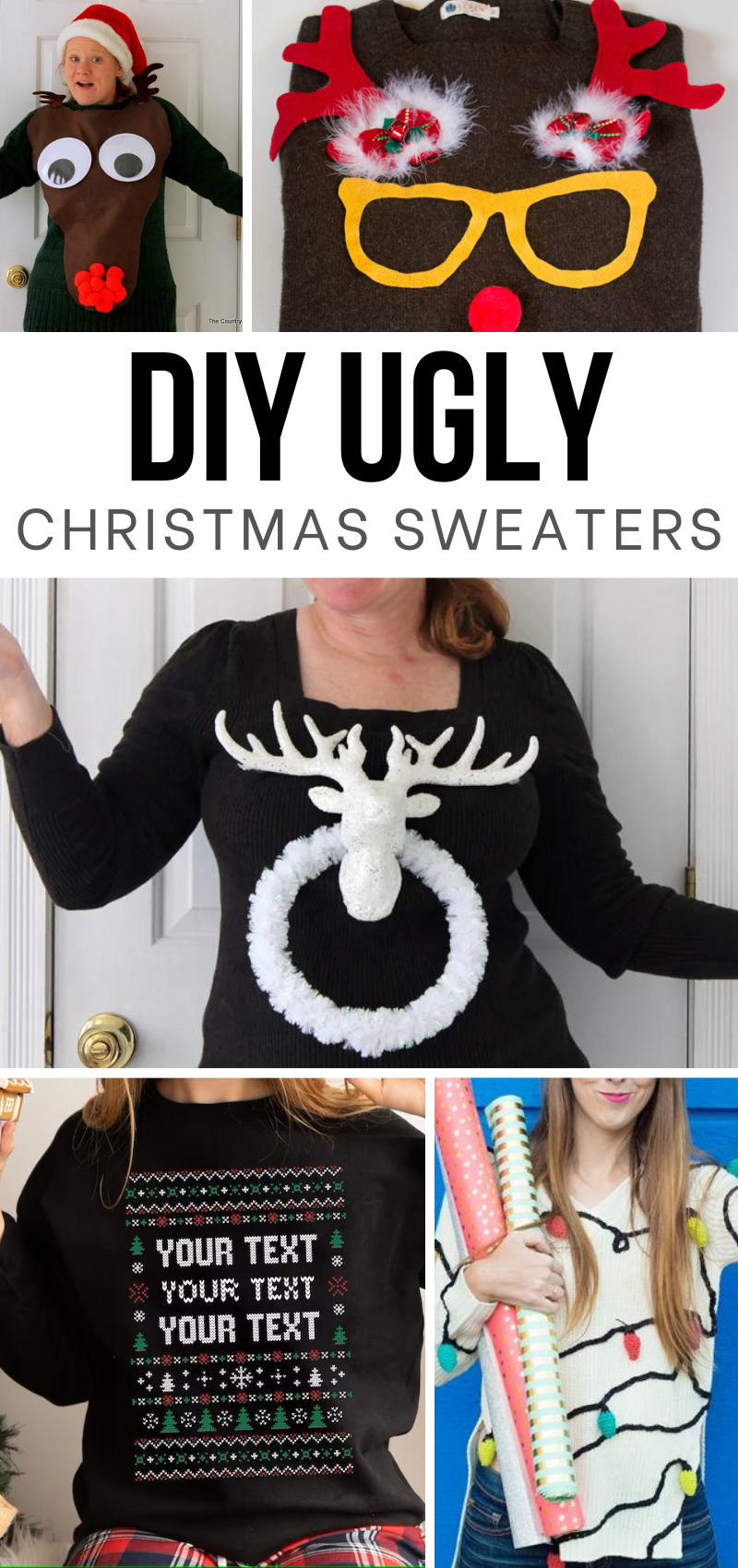 I'm not exactly sure who came up with the idea to wear ugly holiday sweaters during the Christmas season, but I am so here for it! I think it began back in the day when posing in Christmas sweaters was a thing… and then one day people realized just how ugly they are!
The ugliness was embraced and it created nostalgia.
Ugly Christmas sweaters have caught on over the years as a cultural holiday icon, and now there are even entire holiday parties devoted to them. If you are looking to help make your holidays merry and bright this year, why not make your own ugly Christmas sweater! There are so many easy to make ones and you can still have an amazing sweater on a budget. For that one of a kind sweater you can't find anywhere else, here are the best Ugly Christmas sweaters DIY ideas for you to try..
This list is split into a few categories. Many crafters prefer to use their Cricut to make ugly sweater inspired designs, as it's simpler. Start with an inexpensive sweatshirt and use HTV (or Iron-on) to craft an inexpensive ugly Christmas sweater!
You can, of course, also knit one if you have the time, patience, and skill!
And while some designs are truly inspired by knits, others simply embrace the ugly with a whole new style.
Cricut Ugly Christmas Sweaters DIY Ideas
Pull out the Circut to follow along with these tutorials!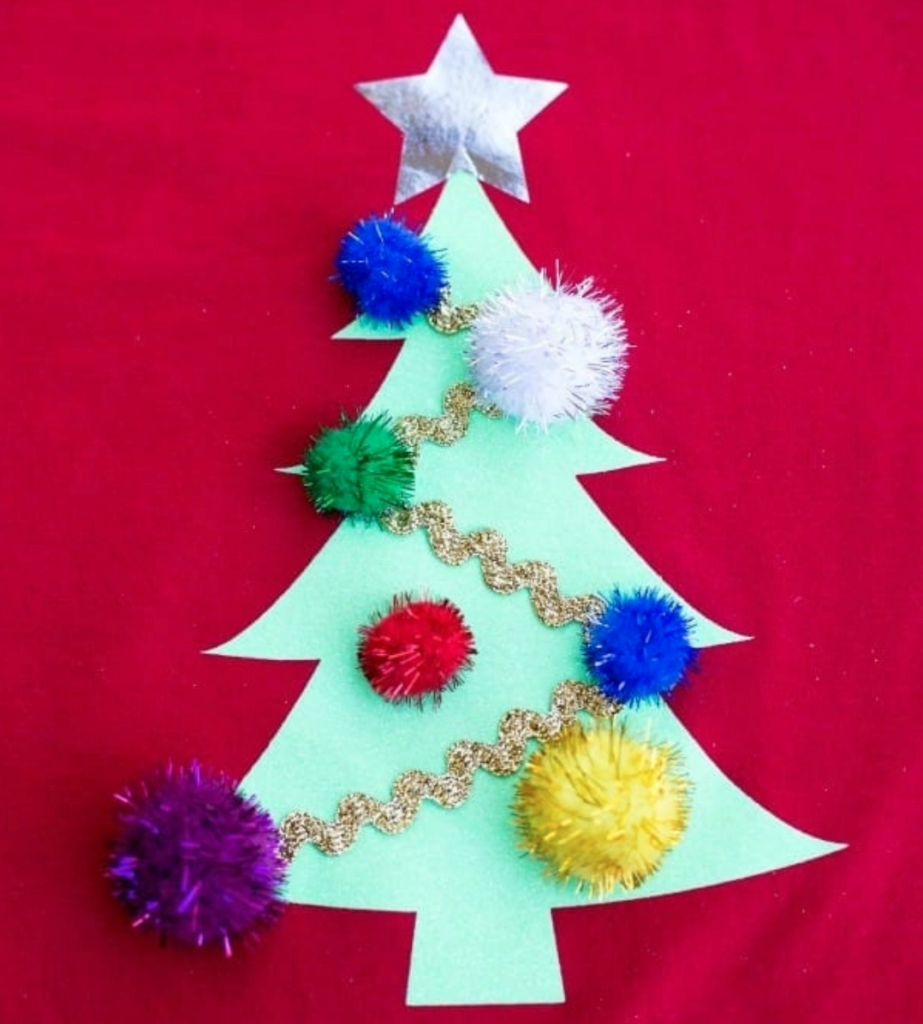 A sweater that lights up? Why not? The shapes on this one are actually simple enough to cut out without a Cricut, but if you have one, you'll want to use it. It uses Design Space images, so there's no need to download an SVG. This one is not quite inspired by knitwear but it definitely is garish and tacky enough to qualify as a top ugly Christmas sweater DIY – and the lights make it party ready.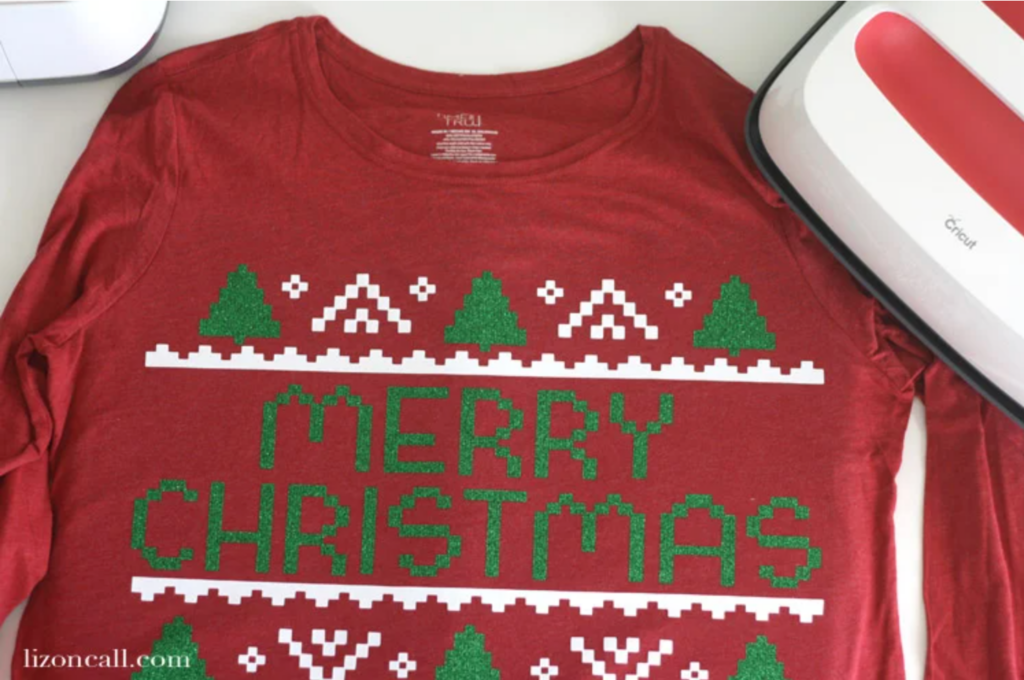 Combine different pixelated elements to create fun knitwear inspired ugly sweaters with your Cricut! You can up the ugly factor by making it full of red and green, or stick to white HTV for your design on a solid sweater to do "token ugly". Either way, these are fun and full of holiday spirit.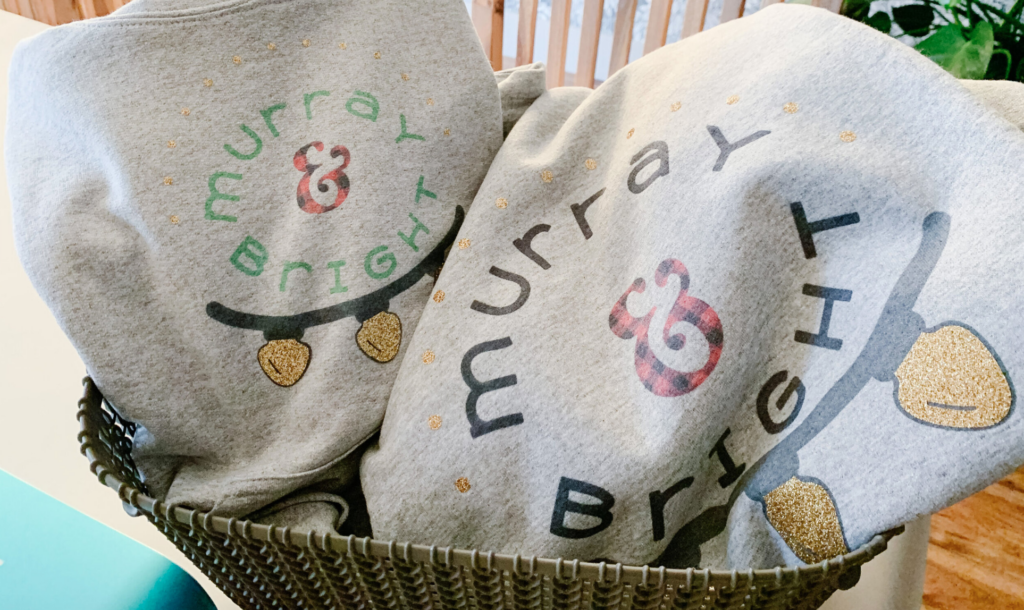 If you're sticking with your micro machine these days, fear not – you can still make ugly Christmas sweaters! While this one plays on the creator's last name, you can skip that part and just have fun crafting. It's not quite knitwear inspired and it's a bit lower on the ugly factor, but it's totally in the spirit of things! This one also uses Design Space elements.
Ugly Christmas Sweaters DIY Embellishments
Don't got a Cricut? Don't' fear! These ugly Christmas sweater DIY ideas embellish existing sweaters using various craft supplies from home. The uglier the better, right?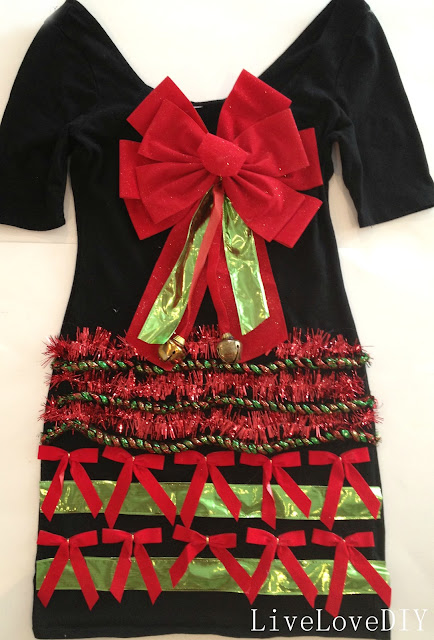 Don't just stick to a sweater – embellish a sweater dress! Because why not? This fun idea takes a "more is more" approach and makes you look ready for the gifting.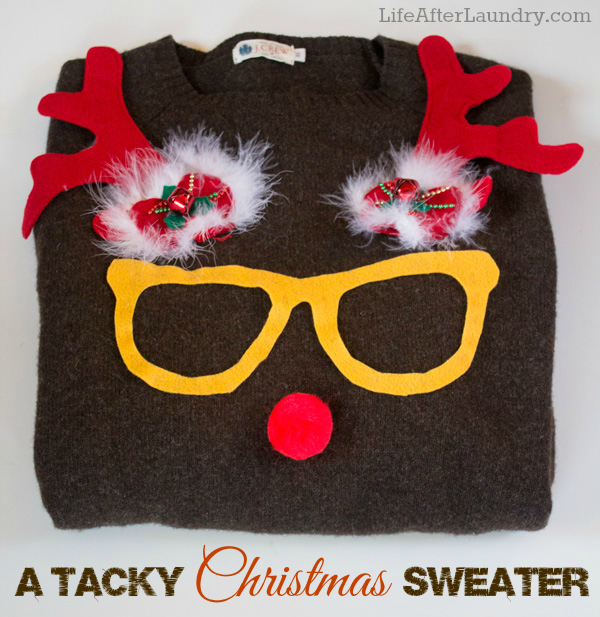 A winner in the tacky category, this reindeer sweater is purposely garish. The design in more monochromatic tones could actually be cute, but then it wouldn't be an ugly Christmas sweater, would it?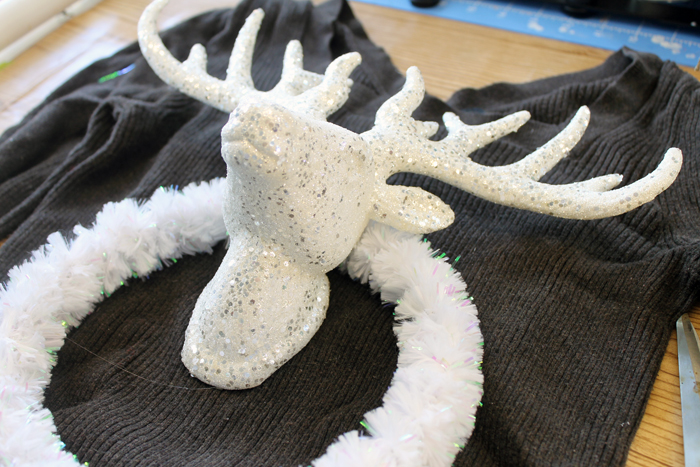 I am in absolute love with this idea. It takes a simple design but uses just the right blend of materials to create just the right amount of sparkle to make it ugly. It's not really the kind of thing you'll want to lounge around in, but it's perfect for that ugly sweater party!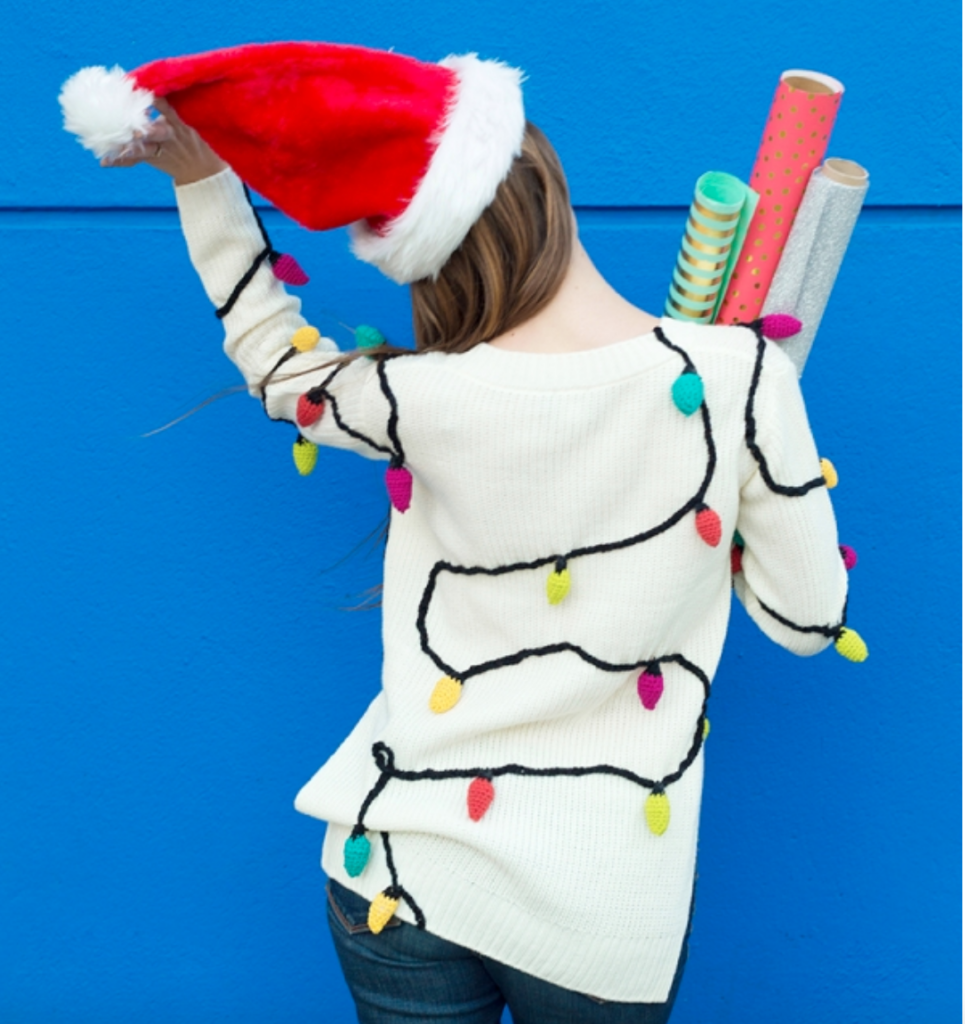 For those of you who are a bit ambivalent about the whole ugly factor and want something that's actually quite cute considering it's an "ugly sweater" this Christmas lights sweater is tops! You do need some basic crochet skills, but since the sweater itself is a purchased one, you don't need to be able to make garments.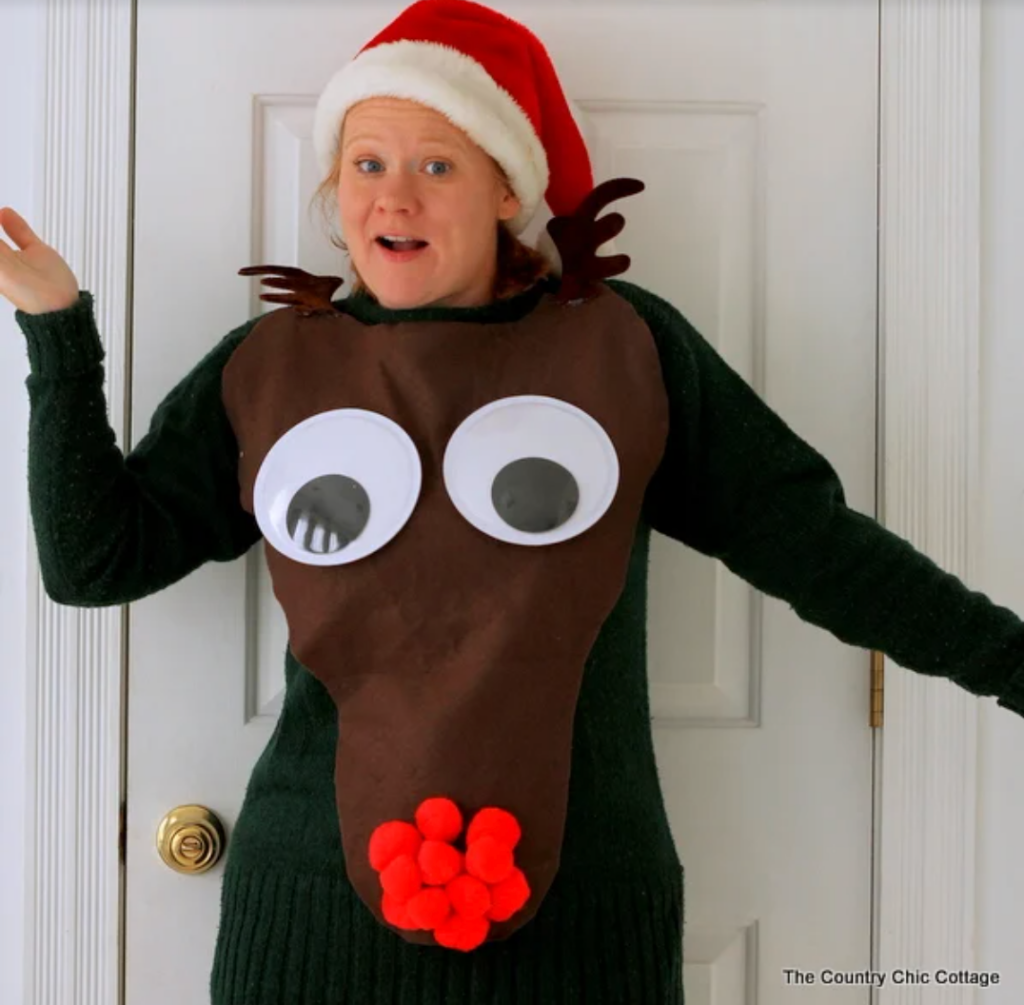 Big and garish takes the cake with this ginormous ugly sweater featuring everyone's favorite reindeer! Have you noticed a pattern here? Rudolph definitely dominates the ugly sweater category!
Ugly Christmas Sweater SVGs
Got the Cricut running and want some ugly sweater SVGs to try? Check out these SVG files and stock up on red, green, white and gold Iron-on to get your crafting on! Make these on an ugly red, green, or heather gray oversized sweatshirt to totally nail the look!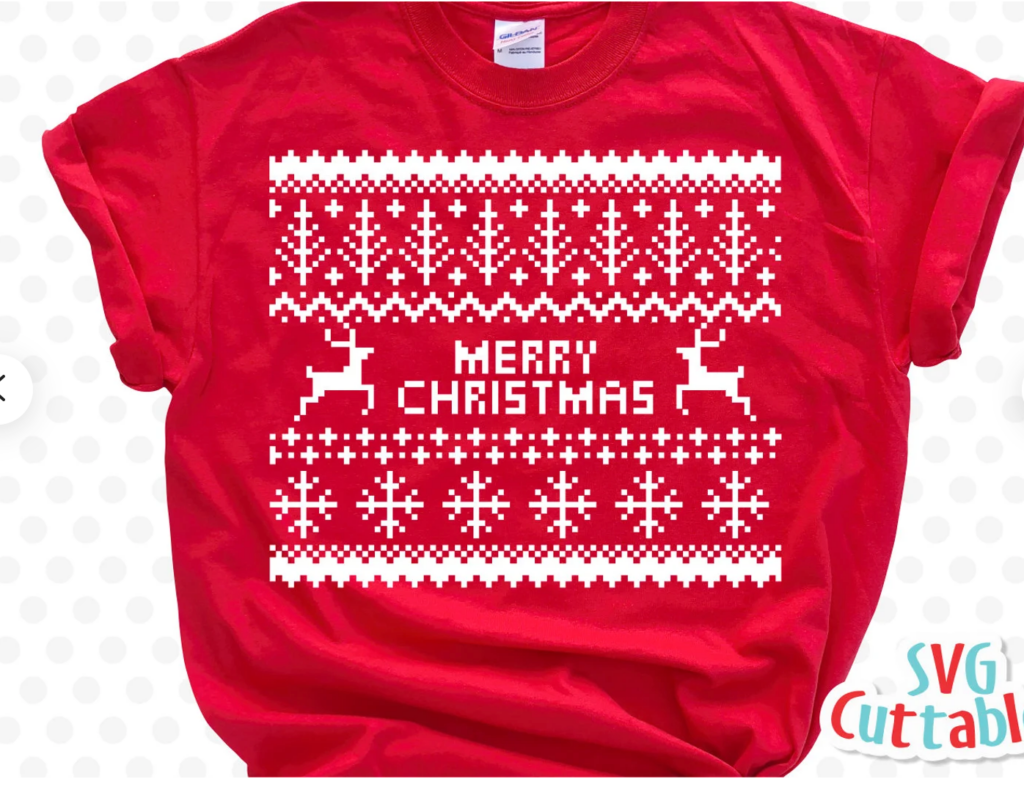 Want to put together Christmas sweater designs for your family but not sure where to start? This Ugly Christmas Sweater DIY bundle includes 10 ready-to-go Christmas sweater designs, 8 Christmas knitwear-inspired monogram frames, 1 knitwear OTF Font including uppercase and lowercase letters, and 35 individual sweater elements so that you can assemble your own style.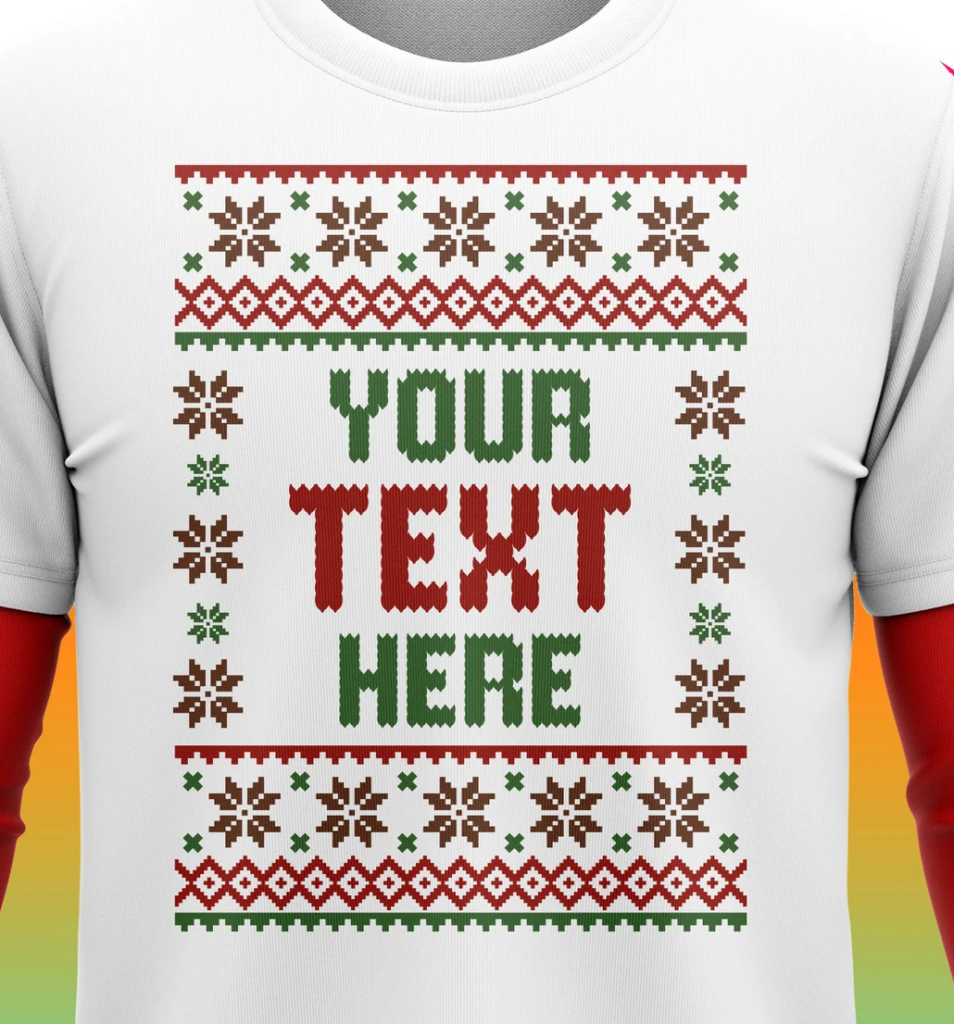 Another fun bundle with customizable text, these ugly sweater SVGs are really fun!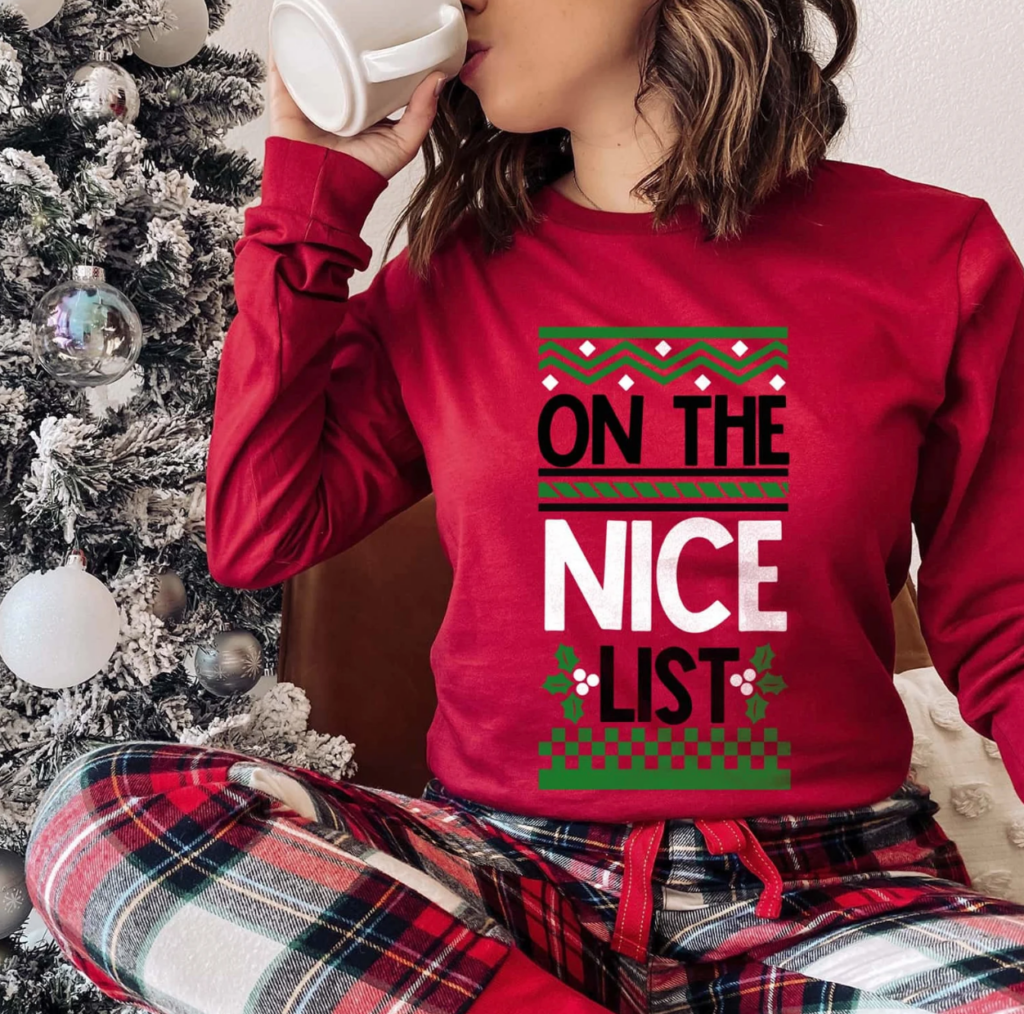 You don't need to go for a knitwear look to make a truly ugly Christmas sweater DIY! These SVGs have fun sayings ranging from snarky to sweet. The images are totally inspired by the types of images that may have been on the ugly Christmas sweaters of your childhood, but without the sweater look.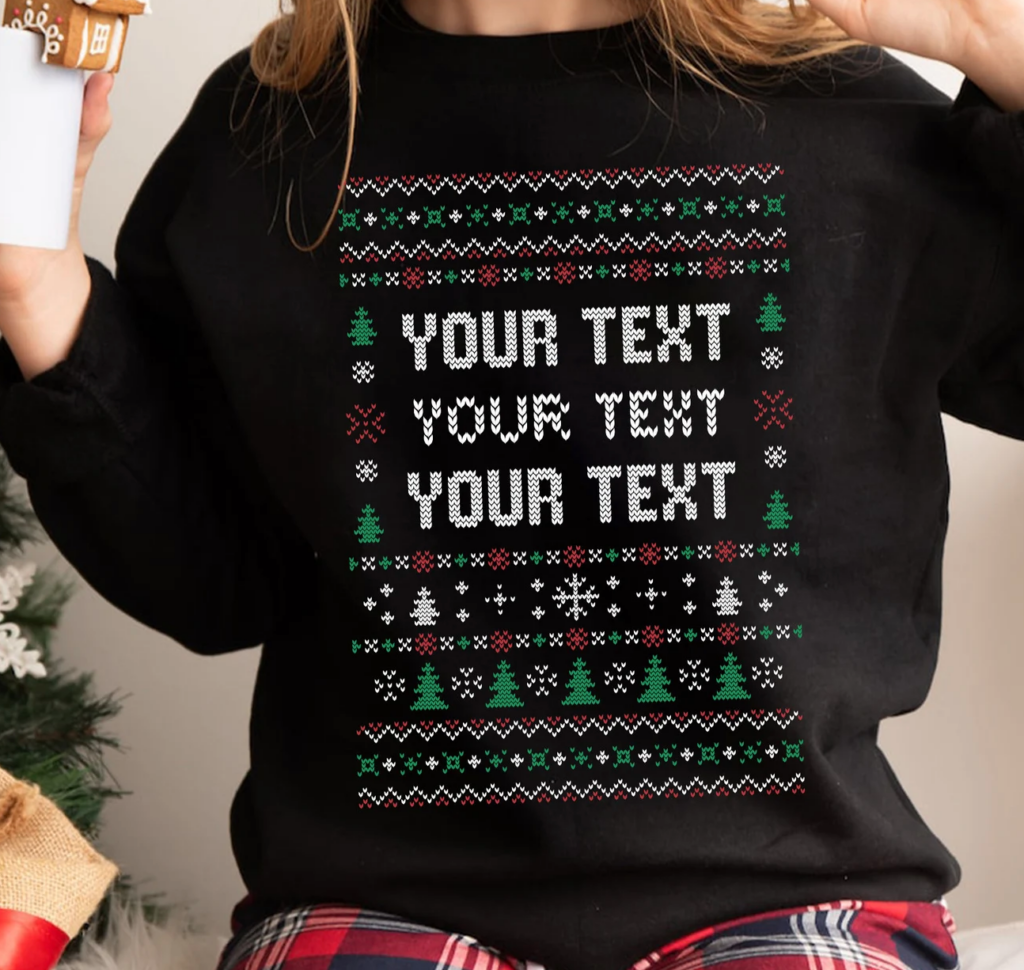 If you're ambitious and willing to weed a complex design, this SVG bundle is for you. It's full of cool designs where you customize the sayings and will look absolutely fabulous. You can also get quite a classy look if you stick to champagne iron-on for these.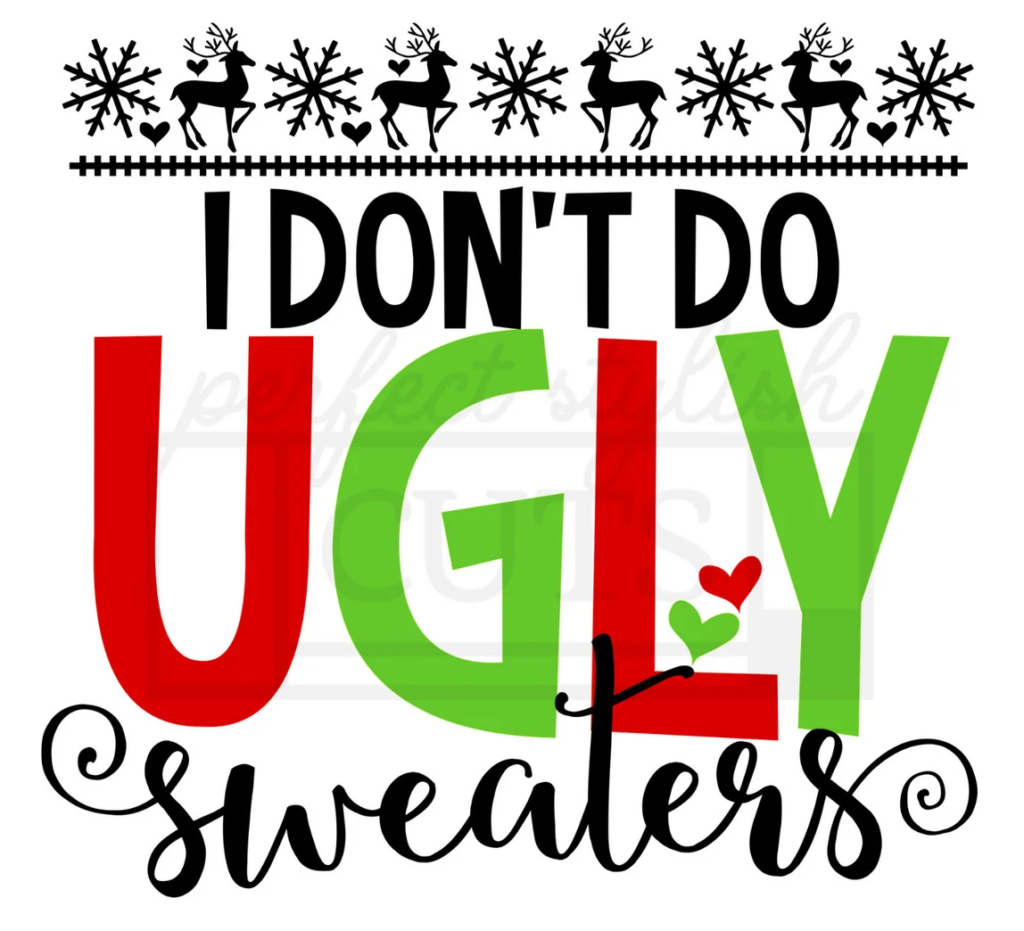 Are you really reluctant about the whole ugly sweater sitch? This "I don't do ugly sweaters" SVG was designed for you! I'd totally do this one on a snazzy tee instead of a sweatshirt.
Ugly Christmas Sweaters DIY Knitting Patterns
Are you a knitting pro and looking for the real deal? Here are a few fun ideas to knit – some of them truly the origin of ugly sweaters!
I have a hard time calling this one ugly – it's actually quite cute! But it follows the vibe! This pattern is a kid size pattern.
Probably the origin of ugly Christmas sweaters, this Santa pattern is also a kids' style and is totally a relic of childhood Christmases!
Another vintage monstrosity, this vest!!! is also a kids' size, making it a quicker, simpler knit. And oh, those tacky embellishments! Go for this one!
An assortment of 5 recently designed patterns in which Rudolph reins supreme… 'scuse the pun. If you're looking to match up your family for an Ugly Sweater photoshoot, this one is perfect!
And finally, this circa 1980's pattern is absolutely precious. It's not totally Christmas, but it'll be a fun one to wear at a holiday party – and you can always make it using red and green yarn!
Got any ugly Christmas sweater DIY ideas to add to the list? Comment below!