My latest free printable coloring page for adults features a pretty lady – but you don't get to see much of her! She's all covered up by her hair and her hat, and it's up to you to color her in! This page is brought to you by the Coloring Tribe (you can join us here). Scroll to the bottom and you'll find the rest of this month's free adult coloring pages from the Coloring Tribe!

The challenge this month was to do something with… faces!
I think all of the tribe members felt challenged by this, but it was great putting ourselves a little bit out of our comfort zones to produce something unique.
Disclosure: this post contains affiliate links.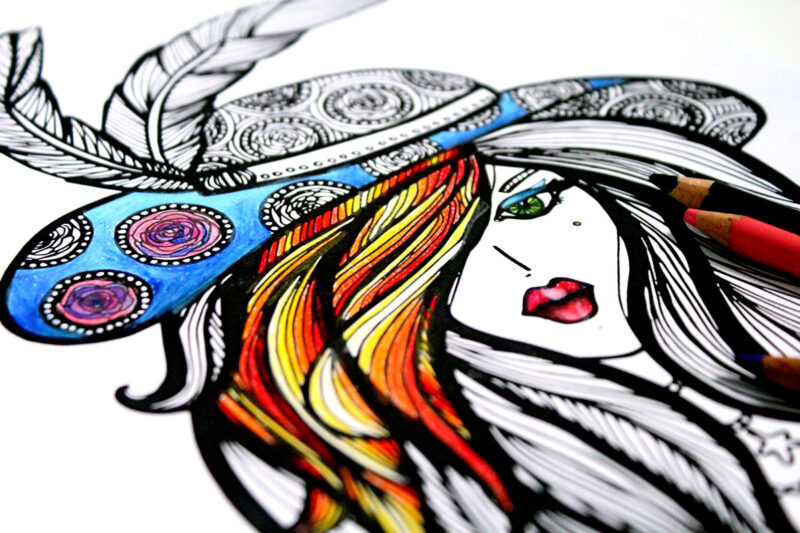 I had originally envisioned a hat that takes up most of the page, but naturally things don't always work out as imagined. A lot of the focus ends up being on the hair – which I kind of like.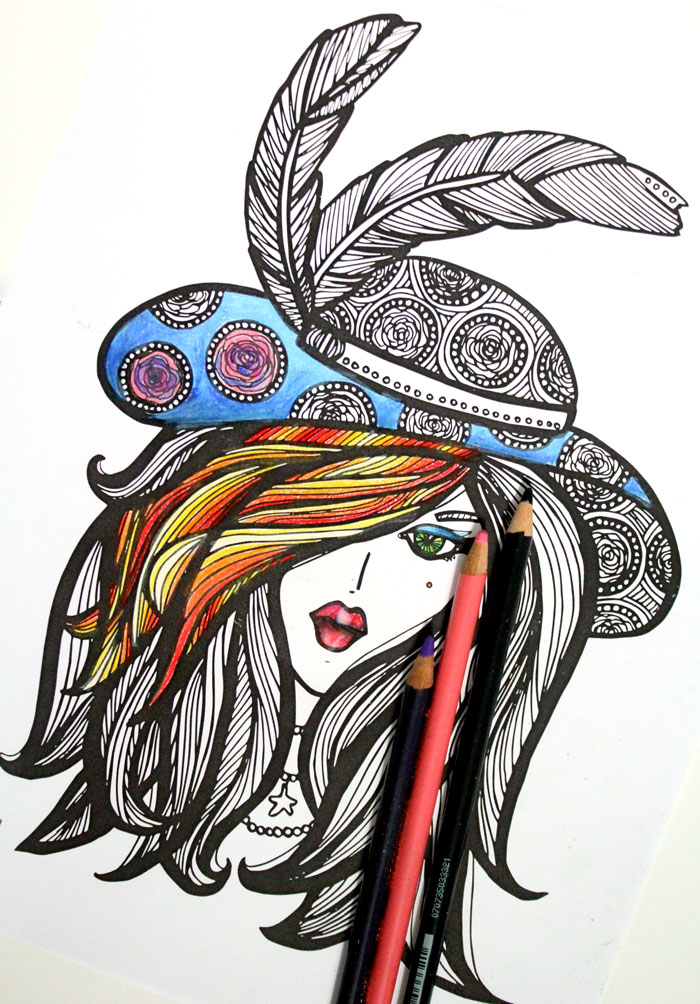 Since this is my first take of this "lady in hat" coloring page, I decided to "play it safe" – choosing a fun, spunky color, but without going too wild. I did her hair using Prismacolor pencils in warm tones ranging from cream to crimson (you can see some coloring tips here and here. ) The soft core of these pencils allow for easier blending.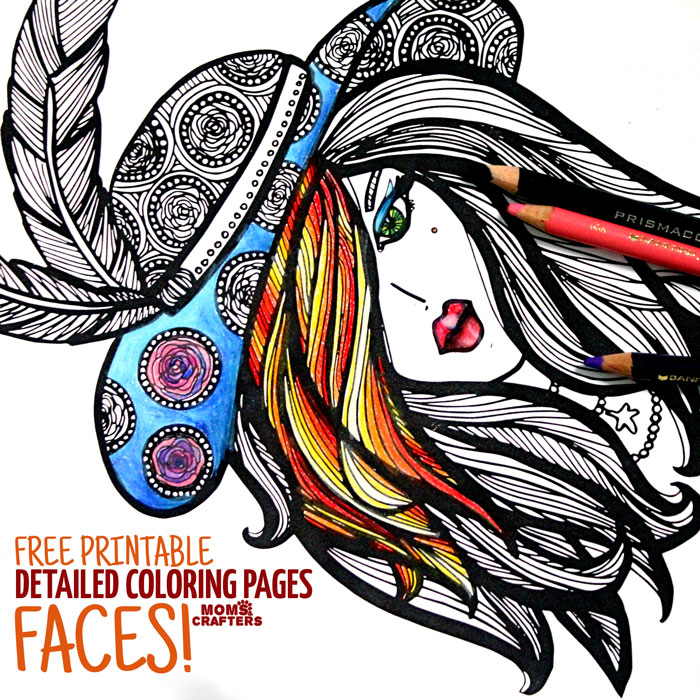 I did the hat background using shades of blue. I still did not finish coloring it (*sigh* if only I could find the time for that!!) but when/if I do I will definitely up date the post here with the final product.
I would definitely try doing something more fun with her hair – maybe rainbow tones (as in, each "clump" of hair a different color) – to give her a touch of whimsy. I do look forward to doing those feathers.
I started doing the roses on her hat with the same Prismacolors, but will be switching over to my Staedtler Noris Club markers (I think it's time for me to invest in some fineliners or gel pens – those would work much better here!)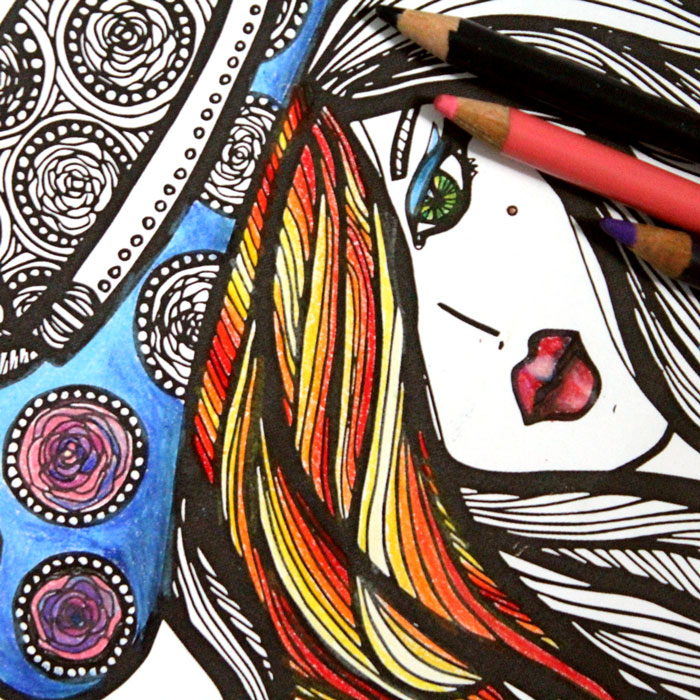 As usual, I'd love to hear feedback on this free printable coloring page! Comment here, or, if you want it to be private, you can always shoot me an email.
I'd also love to hear what your favorite media for coloring these adult coloring pages are. Feel free to comment with any coloring tips or tricks you might have to share!
4 more free FACES & PEOPLE coloring pages for adults:
March's Coloring Tribe theme is Faces & People! Here are the rest of the free pages from the participating bloggers. Don't forget to share on Instagram, Twitter, or Facebook with #coloringtribe!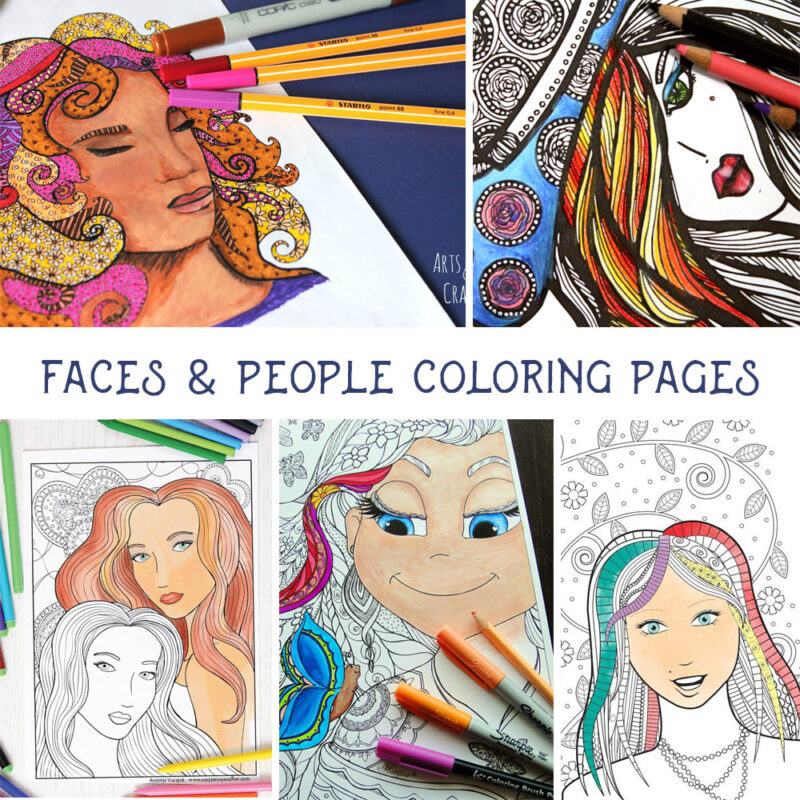 And here's the full schedule, so you can mark your calendars!
How did you enjoy this free printable coloring page for adults? Any questions, comments, or suggestions? Comment below!