As a stay at home mother, I've been looking for ways both to cut corners and to earn a little extra to help us get by. In the days before I started my blog, I did lots of surveys. I put together this list of the best survey sites, plus other ways I earned a little bit here 'n there at home. I did these while breastfeeding, while watching my son play, and in the small snippets of time I had throughout the day.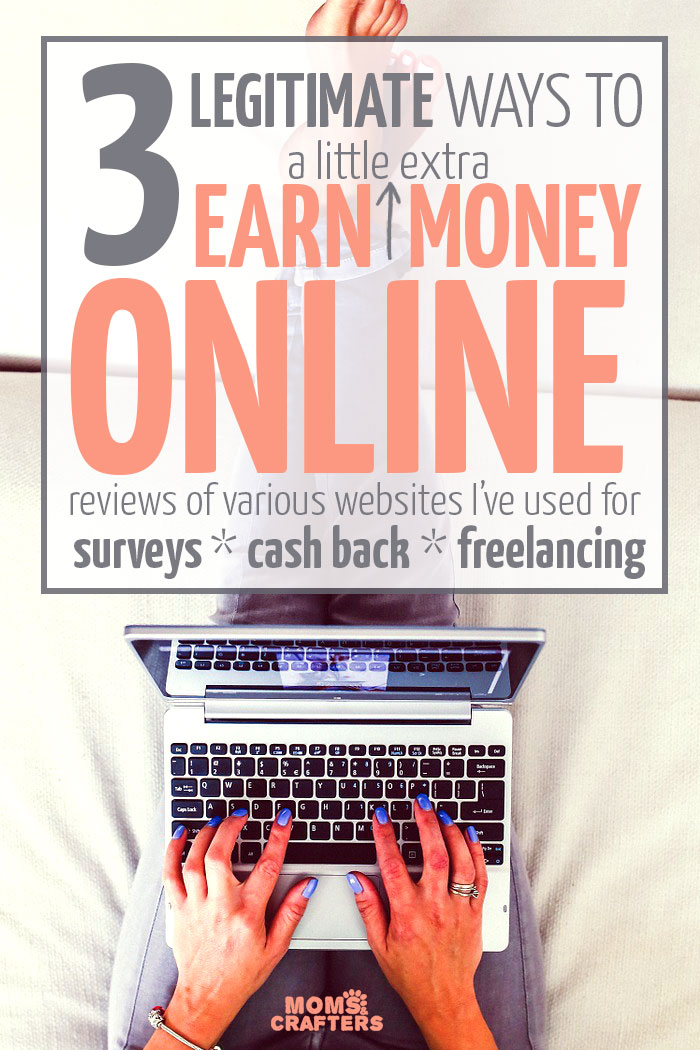 Disclosure: this post contains affiliate links.
None of these are "get rich quick" schemes – they are all ways you can use "downtime" to earn yourself an Amazon gift card to buy diapers, a Sephora gift card for that splurge, or even a check in the mail!
1. The Best Survey Sites:
The problem with surveys: the payout per hour is low. I've tried to solve this problem by sharing with you my observations on how worth your time each one is.
Worth trying because: You will usually have a survey available, you are completely on your own schedule, and the little bits DO add up. I did loads of surveys while nursing my baby… and built up quite a stash of credit in my Amazon account.
I usually choose Amazon payouts over Paypal, as Paypal takes a small fee, plus, you can buy anything on Amazon. I've purchased sippy cups, a car seat, cheese slicer, and more essentials that would have otherwise been cash out of pocket.
Another perk of doing surveys: they sometimes come along with product tests. A lot of these surveys are companies looking for feedback from certain demographics. Sometimes they are in the process of creating or perfecting a product and they will send it to you to test. You will get the normal rewards for completing the survey, plus rewards for the follow-up surveys and the item to keep. Occasionally they will pay you in addition to that (I got a $75 check for testing something once.) Some examples of items I've gotten to test include: a $150+ breast pump, deodorant, perfumes, baby wipes and diapers, body wash, household cleaners and many essentials.
Some survey sites are better than others and I've done my best to share with you the pros and cons I've experienced with each. One that I DO NOT recommend you join is Quick Rewards (I'm not even providing the link).. as when I tried to cash out, my account suddenly disappeared and they did not respond to my emails.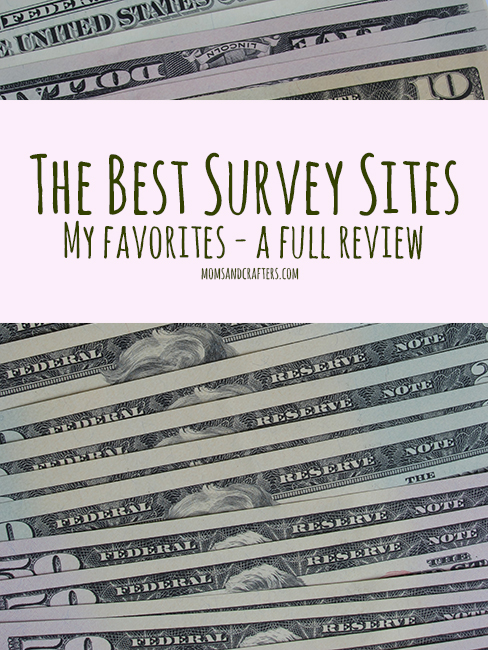 The Grand List – Best Survey Sites:
Pinecone Research: This one is my favorite. It's one of the best survey sites out there if you can get in.
Pros: Predictability: their surveys follow a common format and all have the same payout. Pay: The pay for each survey is $3 plus there's no minimum payout. Their surveys take between 10-20 minutes on average, making this one of the only survey sites with a decent pay per hour average. Bonus: they pay via check. Reliability: There's no "screening out" of surveys because you "didn't qualify". This only makes the pay per hour factor better. If you got a survey in your inbox, and you take it, you get your $3. Products: They have lots of product test opportunities.
Cons: Quantity: I only get an invite once every 2-3 weeks. This is still worth having on your list, as the pay is good. Rewards: The cash option is a little hard to find in their rewards catalog. You need to search "cash" and refine your search as "300-300 points" to find the $3.00 cash option. You can then order as many of those as you have points.
Things to know: 100 points = $1. They have a full rewards catalog, however, I find that the cash option is the best value. I find that in the catalog, the value of an item works out at about 250 points for a $1 and for the cash option, it's 100 points for $1.
Who it's best for: Anyone who can get in. Since it doesn't take too much time, it can't hurt and it's by far the best paying panel in my experience. If you only want to take surveys occasionally, it's perfect for you. The pay averages to $10-18 an hour for actual time invested. If you want to take frequently, I highly recommend you join as well, in addition to some others I'll list below. Join Here.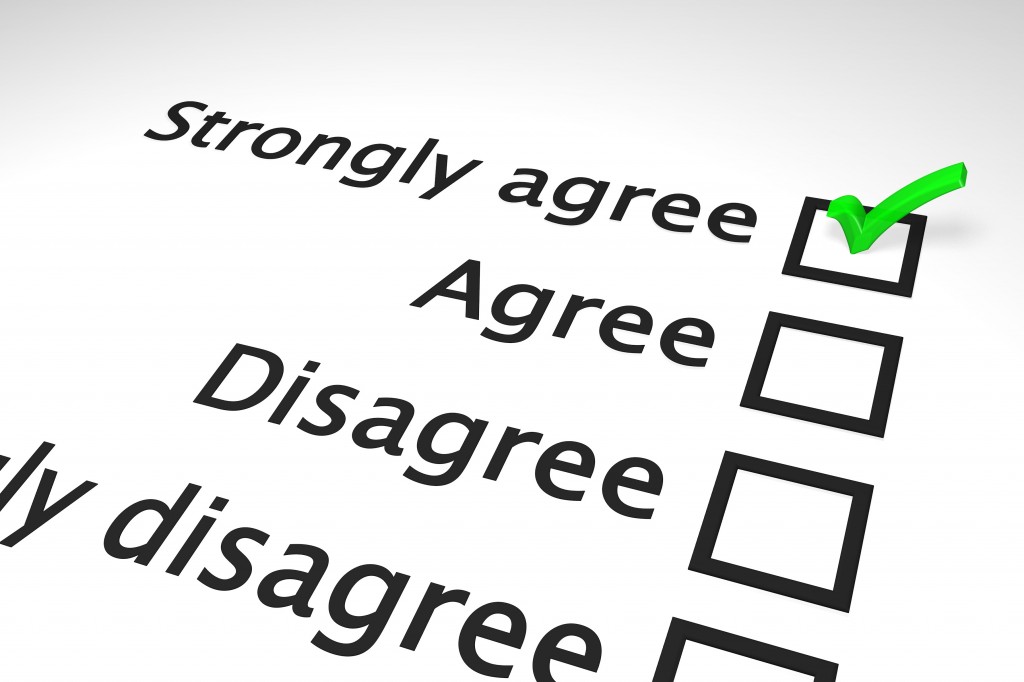 Pros: Pay: Their pay varies from survey to survey, with some as low as 50 cents for a 5 minute survey and sometimes even $5 for a 15 minute one. The perk: you only need $5 for the Amazon payout option and $10 for the Paypal (and it seems to come real fast). They have other pay options as well. Quantity: They send multiple surveys daily. Products: They have a decent amount of product test opportunities. Transparency: They'll always tell you how long a survey is about to take , both in the invitation email and when on their site. Also, they'll say how many points you get.
Cons: Pre-survey: You don't always qualify. Sometimes they ask random pre-survey questions as well, to rank you for qualification for future surveys.
Things to know: 10 points = $1.
Who it's best for: People who want to do surveys either regularly or somewhat regularly. Join Here (mobile) (Canada)
YourWord: This one is highly recommended also for everyone to join – it's among my top survey sites.
Pros: Pay: You cash out at $5 which happens REALLY fast ($10 for some of the other options). The strongest point for YourWord: you get $.25 each time you don't qualify as well. So your time is not wasted. (It takes half a minute to try and disqualify.) I've cashed out in the past without taking a single survey. When you do qualify the pay is good. Transparency: There's no math to do, as the pay is in dollars, not points. Interface: I love the usability of their site!
Cons: Quantity: varies greatly. Sometimes I won't get invites for weeks, sometimes I'll get a few a day. Products: I have yet to receive a product test from them, although I have hardly qualified for their surveys.
Who it's best for: If you don't need to rely on it, but you want to have it coming as a side thing, this is great for you! Also, if you want to do as many as possible and want something to supplement. Join Here.
Global Test Market: This should be one of your top picks if you plan on doing regular surveys. The high payout minimum was not an issue for me as their surveys pay well enough.
Pros: Pay: I find that they are consistent with pay per time. A 5 minute survey usually pays about 60 cents, a half hour one a few dollars. The average time per hour is $6-10, which is good for survey sites. Quantity: They send multiple surveys daily. Products: They have lots of product test opportunities.
Cons: Pre-survey: You don't always qualify. Sometimes they ask random pre-survey questions as well, to rank you for qualification for future surveys. Transparency: You'll only know how many points you're getting out of that survey if you enter via the email invite, or after you were redirected from disqualifying for another. You'll only know time involved if you're redirected from disqualifying (although you'll get the hang of things pretty fast, as their points are usually consistent with the time it takes.)
Things to know: 22 points = $1. It's hard to do the math sometimes, but you'll get the hang of it. They have lots of gift card payout options in addition to Amazon. Some examples: CVS, Marshalls, Kohls, Toys R Us…
Who it's best for: This is hands down the best service for those who want to do multiple surveys a day. Join Here.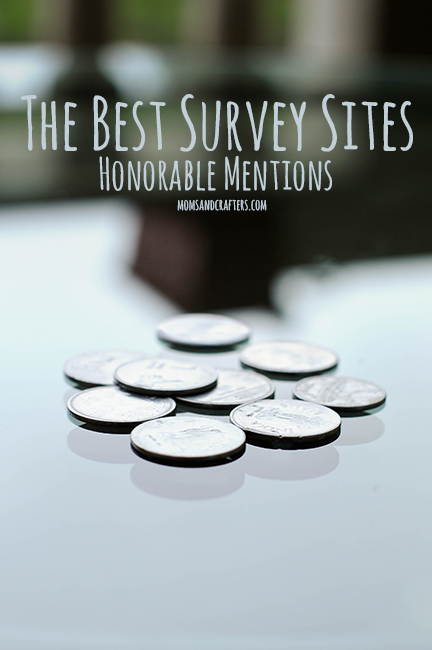 Best Survey Sites – Honorable mentions:
I-say: The problem with this site is low pay per survey. The only reasons I go on with it is because there are lots of product tests, and I always know how long a survey will take. They also have a low payout minimum so I've actually cashed out a few times despite the low pay. Their point system is easy to understand with a point equaling a penny. Join here
Toluna: Another somewhat low payout site, although there is some fluctuation here, and you'll always know how long it'll take and what compensation will be. I recently did have a high paying survey ($10 for 20 minutes) – it took a month to receive the points, but I got it… They have a low payout minimum of $10, but this is only for some gift cards. This does include Target cards – but only e-cards. For $15-25 dollars, they have some more practical options, such as checks, CVS, Groupon, Paypal, Walmart, Visa, etc. 3000 points = $1. I got my first product test via this site. DO NOT buy the gifties – they are a waste of your points. Join Here.
Vindale: I only recommend joining this site if you really plan to do lots of surveys – as they seem to have a never ending stream. Some of their surveys pay really low, while some pay better. the minimum payout is $50, They do, supposedly, have some very well paying ones ($5-$75) although I have yet to get one. They have "product evaluation" surveys, where you order a product (pay for it) and then come back to give feedback. Some cover the costs of ordering the product with extras. I did this once and was not automatically credited (I used a different email to order) but contacting customer service solved this. A lot of them are subscription services, so you do need to cancel. MAKE SURE to set an alarm to cancel and be sure you know how before doing those. I've gotten great product test opportunities from this site. They have sometimes paid emails – if you click on the ad in the email, you get paid a little. Join Here.
Best Survey Sites – If You're Looking for More:
The following sites are some I've used less but have great reputations. I will not go into each one in detail – they are simply to fill in if you want more. I am sharing my experiences here, so I do not want to give information I have not experienced. These are all legitimate, however, and are quite popular.
2. Search engine rewards
What do you do when a major search engine is willing to reward you just for using them? Use them, of course! I LOVE this concept, as I do lots of searches while researching articles, font licenses, images, and more. It takes NO extra time for busier moms.
Tip: search for a website instead of typing in the URL. For example, if you're searching for my website, instead of typing in www.momsandcrafters.com, you go to the search engine and type "Moms and Crafters" and then click on the result.
Bing – I use this all.the.time. They are easy to use, a high-end search engine, and you just need to remember to use it. Tip: set it as your howe screen/default browser! I have reached "gold" status with them with no extra effort. They have daily bonus searches as well, which helps you reach your goal faster. I've cashed in for a few Amazon gift cards already just for searching. They have lots of other reward and gift card options as well. I simply don't understand why anyone would NOT use them!! If you're a Swagbucks user, you can buy Swagbucks with your points as well. Join here.
Swagbucks – The reason I don't use them is because you don't get paid for every search – it's a bit more of a gamble. Sometimes they pay, and sometimes you miss it. When they pay, it's more per search than Bing – although I haven't really weighted the final cost of each. You do get 150 SwagBucks for joining (worth $1.50 in rewards). They have lots of reward and gift card options. Join Here.
I do believe that there are more than this, however search engines CAN be spammy and the two above are not in the least. In my mind Bing is the winner, but many like Swagbucks as well.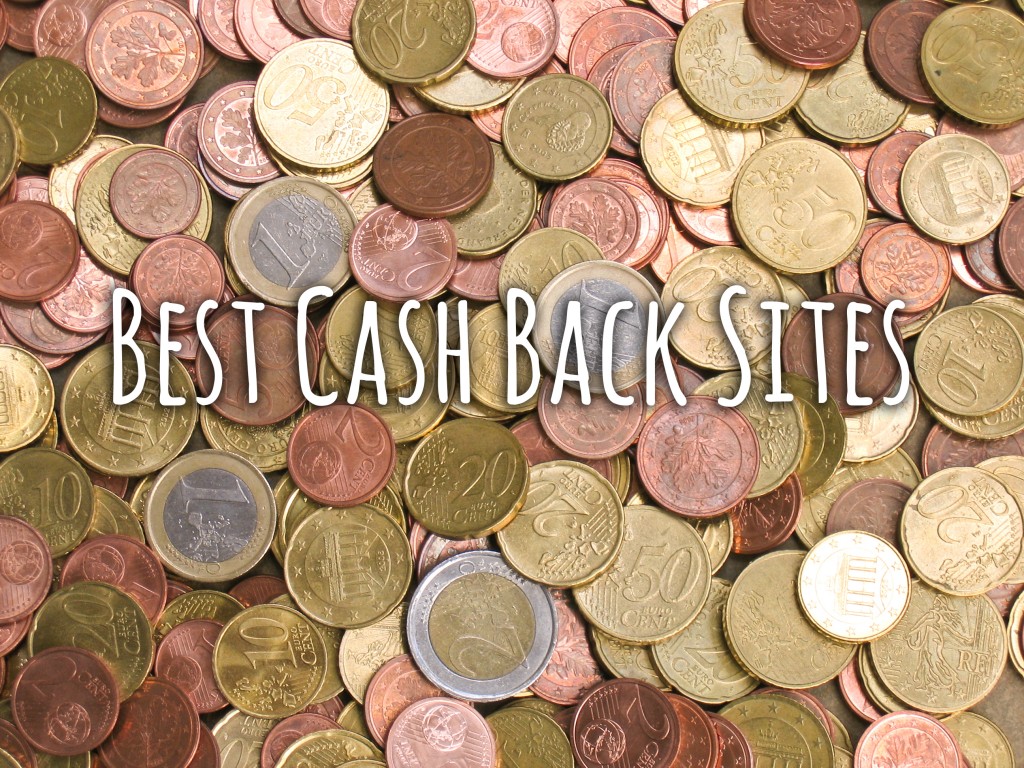 3. Cash back:
Yes, you can earn rebates when you shop online!
Okay, I admit, it's hard to consider it "earning" when you have to spend it to get it, but it sure feels like you've earned it when you receive that big fat check! This is one of my top tips for saving when buying online. They key is to buy what you'll be getting anyway via cash back sites. Then you can legitimately consider it cash in pocket. Using them is simple – you just need to remember when shopping online to enter the site via the link on the cash back website, and you'll get a small percentage refund.
Ebates – I'm a total Ebates junkie. This is the only one I've actually used. This site has taught me an important lesson: every little bit counts. That lesson hit hard when I got my first check in the mail. They have a directory of active coupon codes as well. You get a nice bonus for joining when you make your first purchase via them – I got a $10 Target gift card in the mail. Sometimes they give a $5 cash credit. Join here.
Swagbucks – it's not so much as a "cash back" feature as it is earning swagbucks for completing offers. Meaning, if you're planning on doing something anyway, sometimes Swagbucks will have an offer to do it via them and get some swagbucks. I'm assuming you've already joined at this point in the article, but if now, you can join here.
4. Offering Your Skills:
Sometimes, a mom decides to stay at home with the real goal being to work from home. Yet, legitimate work at home opportunities are hard to come by. The best solution: make your own. I've done this myself, via Etsy, offering graphic design services, and this blog. These are a few work from home opportunities I've created for myself. Here are some sites that can help you:
Etsy: *Sigh*. Etsy seems to be the story of my life. As a veteran Etsy seller, I've learned the ins, the outs, the ups, and the downs of being an Etsy seller. You can learn all you need to know about selling on Etsy in my Etsy Seller Tips series – a lesson from the bottom up… Selling on Etsy is a part-time to full time job – the more you put into it, the more successful you'll be. It is NOT get rich quick scheme, but can be valuable earned income. You do get a boost with 40 free listings by signing up via my affiliate link. Join here.
Fiverr – the idea: people offer $5 services. This is a great way to make small side income (or to buy services you'd otherwise pay more for.) I recommend this for smaller jobs – translating 100 words, fixing up photos, or creating business cards and such from templates. DON'T UNDERSELL YOURSELF!
Whatever it is you choose to do, be sure to understand one thing: You are awesome! You want to know why? Because you are doing the BEST thing you can for your child! It is not easy to be a stay at home mom, with the judgement that comes along, less social interaction and other downfalls. Not everyone should do it. But if you can and are doing it, you are doing one of the most amazing things a person can do – dedicating your life to raising a happy human being!
What are your best survey sites? How do you earn a little extra when you need it?