Last week, I made a kitchen sensory bin with my baby and we loved it! I decided to share with you here how we played.
I'm so excited that we finally did our first sensory bin with my little boy! He loves "helping" me in the kitchen, playing with my pots, and imitating me by mixing spoons inside the empty pots. I thought I'd build on that and try making him a kitchen sensory bin with all his favorite things to play with.
This takes his normal role play and expands on it, giving him a little more to do while somewhat containing it (for my sanity.) It's also a great way to spend some one-on-one time with him, as he is very restless normally for and it's hard to find activities that work for that with him.
For those of you who have not yet done a sensory bin, Learning 2 Walk has a great series going on called "Sensory Bin 101" where she teaches the basics of creating a sensory bin.
I can't believe I didn't try this sooner! My baby is hard to entertain, and this did the job, engaging him for a full half hour!
What I put into the Kitchen Sensory Bin
I did this bin twice, removing and replacing some items. This list includes most of the second bin, with a bit of what I missed with the first. Some of the photos in this post are from round one, and some from round two. I based it on my baby's favorite items to play with – those that are toys, and those that aren't.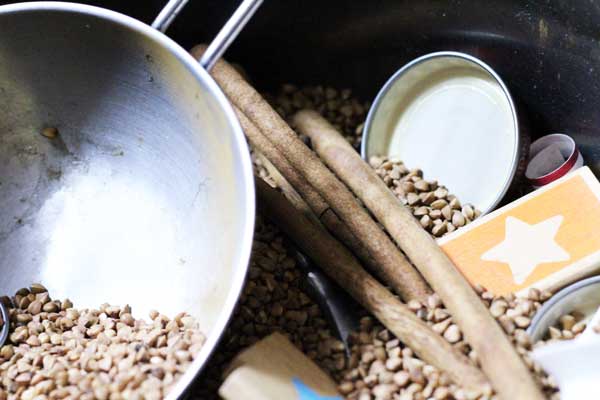 Pot as a base
Some metal teaspoons from my kitchen.
An ice cream scoop
Metal jar lids
Wooden square parts from a broken toy
I used a large, wide stockpot as my base. I included the lid, as he loves to cover it.
I did not have enough rice handy as a filler, so I used buckwheat. It has an interesting smell that reminds me of a kitchen. Make sure you're okay with that smell before using it.
I put in a few cinnamon sticks to give a nice, taste safe scent that reminds me of a kitchen.
I decided to put lots of metal things for him to bang. I put in some teaspoons from my kitchen, and lots of jar lids. The pot cover also provided some noisy play.
The wooden parts, the buckwheat, and the metal items offered lots of touchy-feely play. He also loved the shiny metal and the colorful stars on the wooden toy parts.
How he played with the kitchen sensory bin:
He was fascinated by the buckwheat. He used the jar lids, spoons, ice cream scoop, and cup to scoop them up and pour them all over. He transferred it from one item to the next and mixed it as he sees me do when cooking. It was NOT the neat play I had in mind, but I had spread out a cheap fleece throw beforehand which contained much of the mess.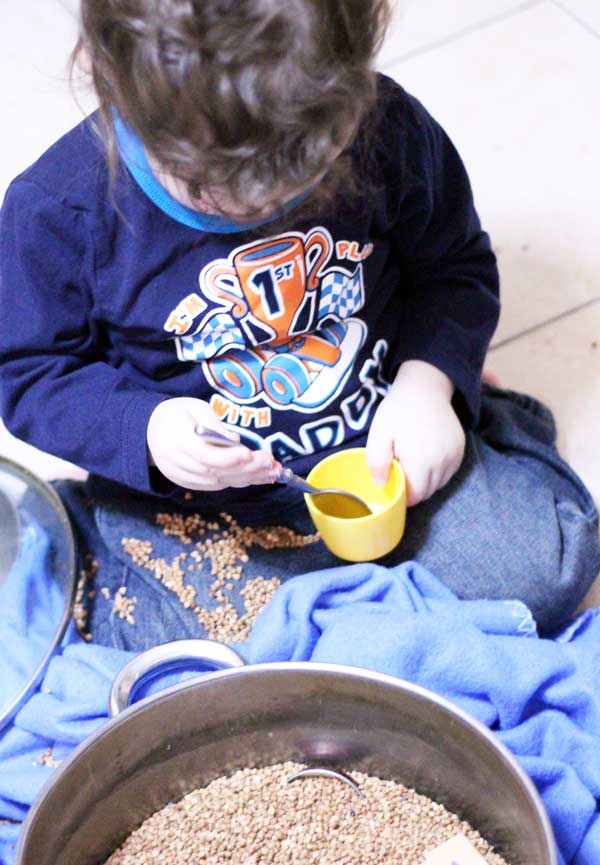 He also stacked together the jar lids and covered the pot many times over. He did taste the cinnamon sticks. I was surprised as he does not usually eat things he sees, and I did not think he knew that was "edible". Needless to say, he did not like it.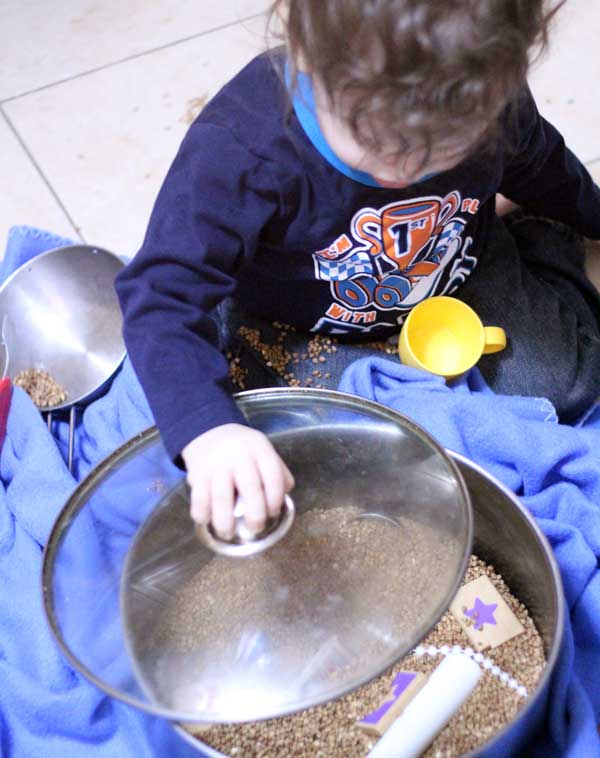 He really enjoyed finding the wood toys and putting them into the pan and cups. He used the tongs to pick at the items inside too.
The second time around I allowed him to play with a couple of containers as well. It wasn't as contained (no pun intended), but he enjoyed transferring the buckwheat and other items to those as well.
It was a great sensory play experience for him – we'll definitely be doing this again! I've even stored the filler contents (buckwheat, wooden toys, cinnamon, and jar lids) in a plastic ziploc bag so that we can easily re-assemble it without wasting the food items.
If you give it a try, please share with me how it went and which items you've added as well in the comments below!
Disclaimer: This post contains affiliate links. This is intended for supervised play only. I am not a doctor or early childhood professional of any sort – please don't take anything in this post as expert advice over what an expert has given.
If you liked this, you'll love: