I know you all love saving, so I thought I'd share with you how to save money by shopping online. These are my tried and true methods!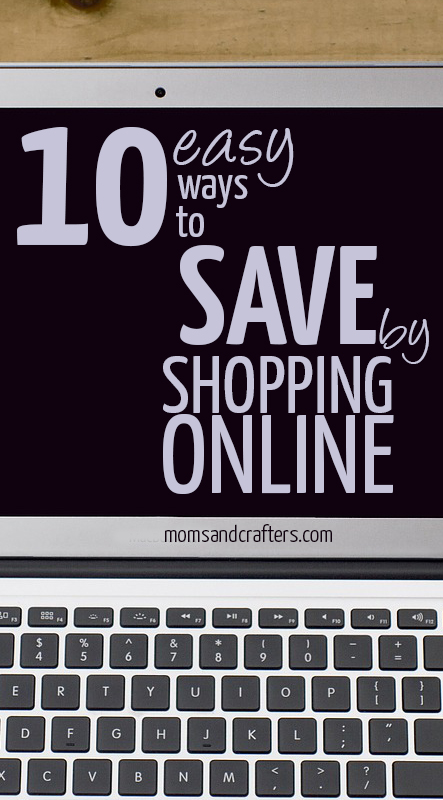 Online shopping has revolutionized the way we purchase things. I have saved lots by using the correct tools and techniques, and it's about time I've shared them with you. These are all personal experiences as usual and tried and true for me.
How to Save Money by Shopping Online:
1. Sign up for emails:
Do: Open a separate free account for this and sign up for the brands you love. Most of them will offer regular coupon codes for subscribers, shipping offers, and updates on sales.
Don't: Don't be tricked into buying something you need just because it's on sale. Only buy what you would buy in store.
Tip: Open an extra free email account for this and any other brand updates, so you don't find your regular inbox clogged.
2. Shop via a rebate site:
Do: Online shopping has brought with it the birth of affiliate programs. This means that brands will give the referring site a bonus for customers it brings. This has brought about cash back sites, which give back a percentage of that commission. The only one I've tried and can definitely endorse is Ebates. It's a BBB accredited business and I've personally received my rebates from them. They are easy to use: when you are ready to shop, find the retailer on their website and click on it to shop through them. Sign up here.
I've heard lots of -good things from Swagbucks as well.
Don't: Don't sign up for a company that you did not hear lots of good feedback from. You don't want to fall prey to a scam.
Tip: The percentages may be small but all those dollars add up. I received a $25 check recently from all my little Children's Place orders of a few dollars each. Bookmark your site that you choose and keep it on your toolbar so it's easily accessible. And once you sign up, don't forget to shop through them! If you have an ad blocker, you may need to whitelist Ebates.
3. Know which stores to shop online or in-store:
Do: Get to know which stores offer great online deals for your needs. I stopped even looking at Old Navy's site because I do much better with their in-store clearance racks.Children's Place, however is my most shopped at online site because of their great online coupon codes, ease of use, etc.
Don't: completely rule out a site just because you once saw something expensive. Keep your mind open, as sites continuously change.
Tip: Ask your friends what they got where. They can provide valuable feedback.
4. Shop Daily/Flash Deal Sites First:
Do: Sign up for daily email updates to daily deal sites. These sites feature flash deals that are expected to be sold in larger quantities, enabling them to offer lower prices. Check in on these regularly.
Don't: Be swayed by the impulse to buy because it's "only today". You'll most likely see a similar price on another daily deal site sometime. Avoid those that are full of cheap, no-name items. You can often get those cheaper by ordering direct from China.
Tip: Use this for something you need. When I was on the lookout for a new laptop, I checked in on all my favorite sites daily until I found one I liked. Same with my luggage, tablet, and many others I need. Here are some favorites which I've personally used:
5. Know which site is best for what:
Do: Remember what's worked in the past. You may need to shop around for this to work. I don't mind if my phone cases are cheap no-names, so I'll go to AliExpress or Ebay and have them shipped from China. But for actual electronics, I'd prefer to use daily deal sites or Amazon
.
Don't: forget to shop around for the best deal. It's so easy to compare online!
Tip: Shop around and compare a few sites before you buy anything online. I helped you out a little with the list above (#4- tip).
6. Read Reviews:
Do: Check out review sites. This has been my biggest asset with online shopping. Never before has customer feedback been so readily available. By reading reviews, you can know what's worth getting on the cheap, and what will be a waste of money and ultimately cost you more. Also, read seller reviews, for sites such as Etsy, Amazon, and Ebay that feature individual retailers.
Don't: Don't just look at the review on a small retailer's website. Read product reviews on sites that provide hundreds of reviews per product. My favorites are Amazon
and Influenster.
Tips: Google your item by model number to get in on blog and other site reviews. Read through all reviews thoroughly so you know why they gave that score. For example, when I purchased my tablet
, I read many people complaining about the item weight and bulk. I ended up liking it as it made it less fragile in my clumsy hands. It also lent itself to benefits (full size ports, for example). What might have caused someone else to give a slightly negative review might be a benefit for you, and therefore, the text itself is your gold. The same applies for seller reviews. Sometimes a star or two will be taken off for an issue that was resolved. Read why negative feedback was given – I've even seen someone give one star thinking that was like an "A" – meaning positive.
7. Consider Shipping vs. Gas costs:
Do: Take advantage of free shipping offers. Many sites offer this with a minimum and some offer with no minimum. Keep in mind what it would cost you in gas to drive to the store (or if they don't have a storefront how much you're saving by buying it online) to determine how much shipping is worth paying.
Don't: overspend just to meet shipping costs – that's a big no-no! Only get what you would have also bought had you been in store – or an item that costs exactly what shipping would that you can use anyway. It disappoints me to see many "deal" blogs recommend padding an order. Sometimes you ARE better off paying for shipping.
Tip: When you need to pad an order, see if a friend or family member needs something as well. Then you can both benefit from combined shipping. Some stores offer ship to store options for free. This is great when the store is close and convenient and you just want to make sure to secure that deal.
8. Find Coupon Codes Online:
Do: Use sites you are familiar with that come highly recommended.
Don't: Google it. While I see many people recommending this, when I try it I come up with many expired coupons and a huge waste of time.
Tips: Ebates again! They have the most up to date coupon codes. Once, when I was purchasing from the Children's Place with a 15% off coupon in mind, I went to shop through Ebates for my rebate and I saw they had a newer 40% off coupon posted. It's easy to use – when you click on it, they automatically add the code to your clipboard. Retailmenot is also a good source.
9. Consider swapping or buying second hand
Do: Know what's worth buying second hand. You can get some great deals on books, for example online. Also, there are some great swapping sites where you can swap your unwanted items for things that you need. My favorite is Swapmamas – a small community of swapping mamas with a great system in place. I've done very well there with children's clothing.
Don't: Buy electronics second hand. It's too complicated – and hard to know what the condition really is.
Tip: Sell off your own used items as well! Your junk can be someone's treasure. Keep in mind shipping costs when swapping (flat rate boxes are often the best way to go). And read how to price used baby clothing before selling that.
10. Keep track
Do: This is a great exercise for all your expenses, but especially when shopping online with your credit cards.
Don't: Lose track of how much you spend! Keep in mind that virtual spending is spending real money as well.
Tip: Keep a notebook and write it down. Use Paypal or something similar to pay and only allow yourself a certain amount per month.
Bonus: Customer Service
Do: Shop sites that have a reputation for good customer service! And if you have a problem, send an email with as many details as you can. This ultimately can save you money in case there's an issue with your order.
Don't: Take advantage of their generosity. Always be honest.
Tip: Ask your friends about their experiences. I've had great experiences when dealing with Target, Amazon, and Fisher Price customer service, and awful experiences with Ebay and Carters.
Which of these do you do? Do you have any other tips how to save money by shopping online?
Disclaimer: This post contains affiliate links. All goods and services are those that I would use or have personally used.