Traveling with toddlers presents the massive challenge of boredom and restlessness. A DIY Crayola busy bag can keep toddlers busy, while practicing new skills they have just learned.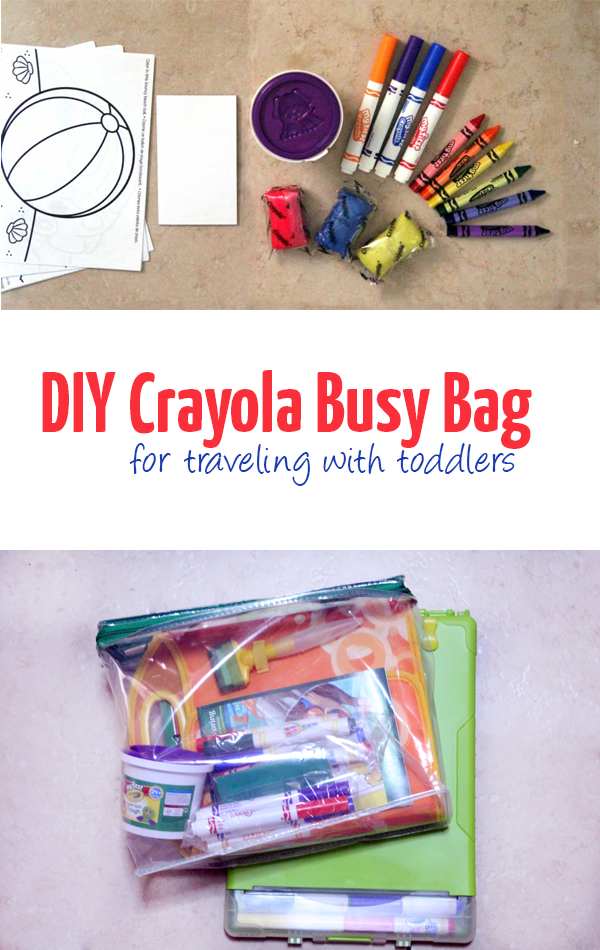 Toddlers have a short attention span, and do NOT like sitting still. Positive entertainment is the solution, and I am thrilled that Crayola provided us with entertainment. We hope this DIY Crayola busy bag will teach our child to color during the many hours we will be on the plane and in the various airports.
It is challenging to find age-appropriate art supplies for little ones, and many of these items fill that need. Since my baby will be closely supervised and right next to us while using these, I am allowing him to use items I might be worried as a choking hazard. He does not place things (other than food) into his mouth anymore. It is critical to know your child in such cases, and to be careful. These items are great for older toddlers (age 3) and preschoolers in any case.
Inside our DIY Crayola Busy Bag:
Busy Bag Art Kit –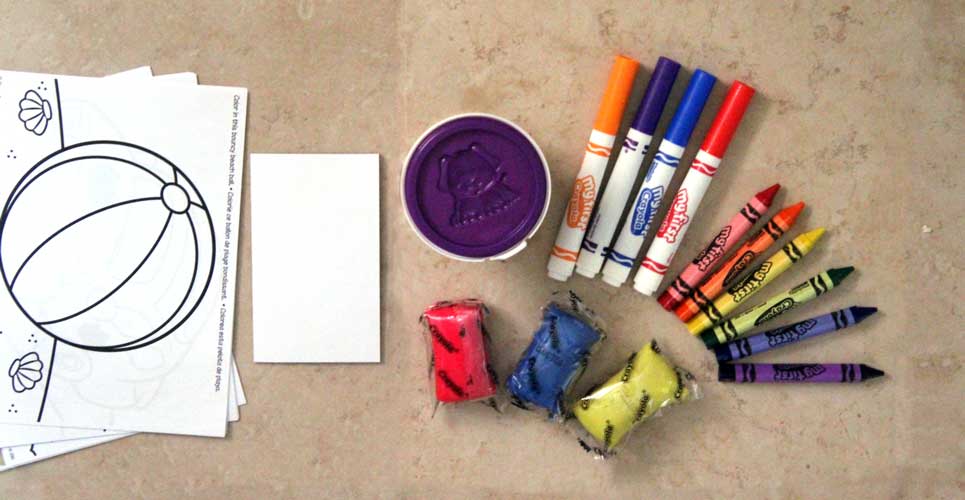 This is a busy bag on its own! It has everything we need to start our Shmunchkin on a creative lifestyle. It's from the "My First Crayola" line, and is intended for toddlers and preschoolers to learn to be creative.
It includes: triangular shaped crayons (for an easier grip), markers, super soft dough, a storage tub for the dough, 20 sheet mini pad, and 24 coloring and activity sheets.
My thoughts: This is the "base" of our busy bag as it has all the starter items. We'll probably use the crayons and papers mostly. Dough and markers can be messy, so we'll limit those, but they'll be great entertainment at our destination too.
My favorite features: This has a re-usable package with a carry handle, which is the container for our entire busy bag. Since it's larger than the contents, we can stick more items inside. The dough container has shapes to mold on the tub and the lid. Everything is washable in case of mess and the dough is wheat-free.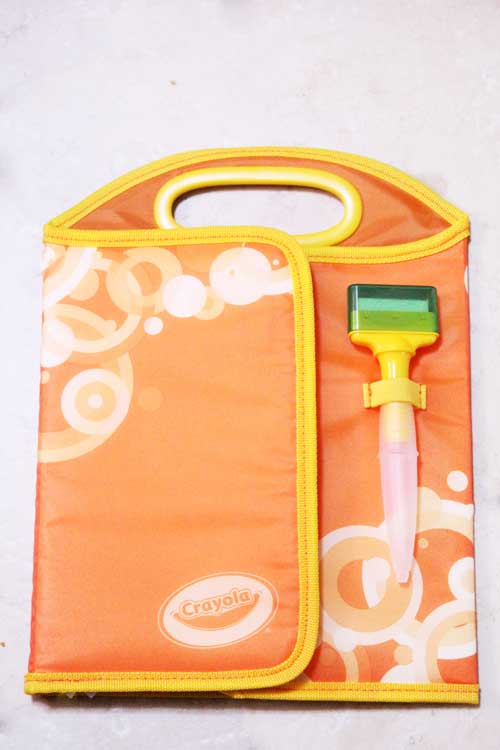 It's so self-contained – it's perfect for travel! children color on a washable mat using special markers, and then wipe clean to draw again
It includes: 3 special Doodle Magic markers, an eraser that gets filled with soapy water, a wipe cloth, a stencil sheet (good for older children), and a drawing mat. The mat is attached to a carry case that has a handle, and pockets for all the parts.
My thoughts: While I love the concept, and will definitely take this along, I find that the colors are too light. This is so that they should be washable, however with children who are just learning to color it can be frustrating. Since it's a great travel item, and the darker colors do show enough to provide entertainment, it's definitely still a travel win.
My favorite features: It's self-contained, and everything stows so easily, making it take no more space than a book in your hand luggage. Since the colors are so light, there's no need to worry about your toddler decorating the plane, train, or car. The scrubbing brush is small enough that you can fill it before a flight and still include it in your carry on. It cleans mess-free and is refillable.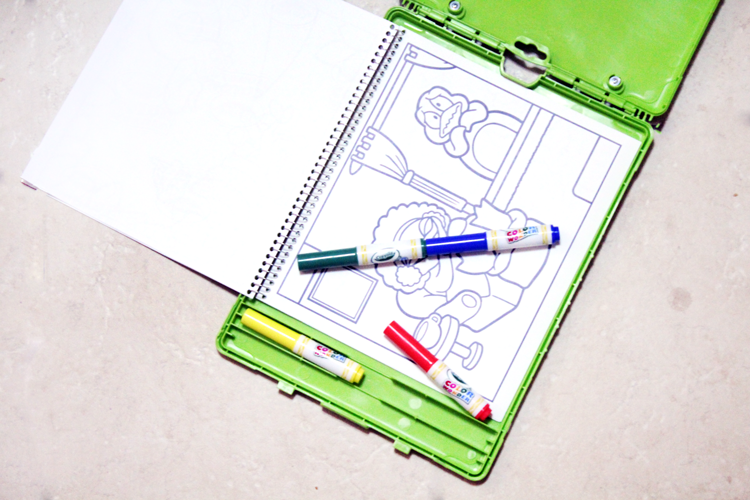 This is a large item and does not fit into my case from the "Busy Bag Art Kit", however it's self-contained so it'll come along too. The markers show color only on the special Color Wonder papers.
It includes: A case that is a clip-on writing surface too, a 12 page activity pad, and four mini color wonder markers.
My thoughts: There is a small delay in the color showing up, so it's not the best for babies who do not yet color. It is great, however, for older toddlers and preschoolers who love to color all over the place.
My favorite features: The carry case is amazing! It works as a "lean-on" surface for the other coloring activities as well. It keeps the markers contained even while coloring, as that compartment can open on its own. Since the markers don't show up on other surfaces, it's perfect for that mischievous toddler! The markers can stack together, making it even harder to lose them. The pad is spiral bound, making this set even more contained for travel.
Add in: Include even more color wonder fun by adding in an extra coloring pad and markers set. This is definitely going to be the first thing you grab to entertain, so it's worth it!
My First Crayola Sticker Books –
It works great as extra coloring pages, plus provides another form of entertainment in the form of imaginative storytelling. It also includes some great fine motor exercise for your little one! The stickers are re-usable so you won't run out. This pulls together the perfect DIY Crayola busy bag.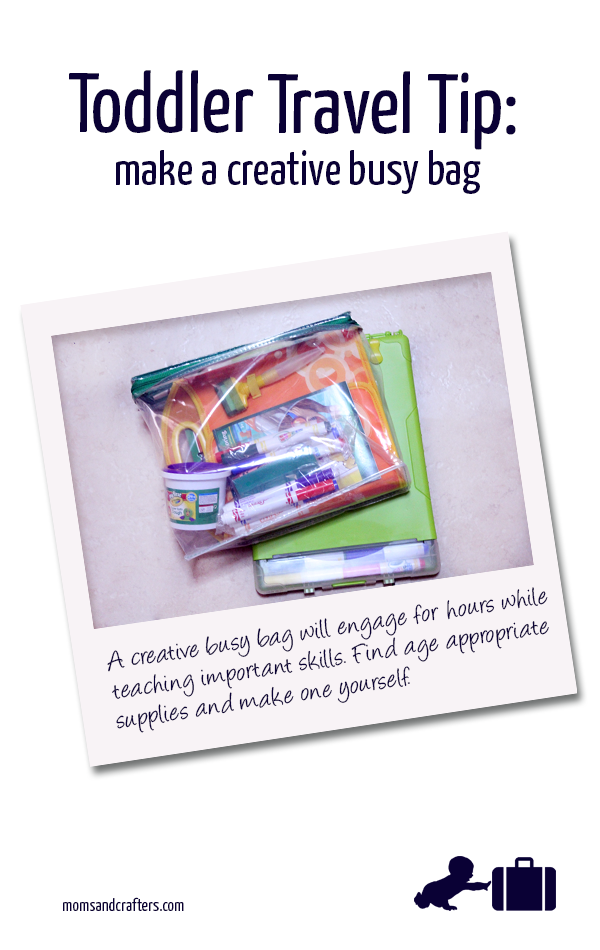 What are your must-have busy bag items for traveling with toddlers?
Connect with Crayola: Website | Facebook | Twitter
Disclaimer: Review items have been provided by Crayola free of charge to facilitate this post. All thoughts and opinions are my own.
Follow along for more tips and tricks for traveling with toddlers: