How many of your were ready to skip this post the moment you saw the word "eggplant"? Believe it or not, this is the recipe that convinced my husband to reconsider his attitude toward the vegetable. The eggplant taste does not come through strong and therefore many who would not otherwise eat it, will enjoy this dip immensely.
Every Friday night and Saturday afternoon we sit down to a Sabbath (Shabbat) meal that starts off with Challah bread and an assortment of middle-eastern inspired dips. These dips include hummus, matbucha and very often eggplant dips such as caponata and roasted eggplant. These are quite expensive, and therefore, as a newly married homemaker I decided to put together my own.
This can be eaten with bread, as we eat it, or with chips or crackers.It freezes nicely, which is crucial for me as I would not have the time to do it every week. It is a weekend staple in our house and is a big hit with my guests and family.
This is not a scientific recipe, and therefore you can put less or more of the various ingredients according to your taste.
Ingredients:
2 T olive oil
4 cloves garlic (or 1 T garlic powder) crushed
2 large onions chopped
1 medium eggplant cubed
1 can diced tomato OR five fresh tomatoes diced
1 T paprika
1 t salt (or to taste)
1 T garlic powder
Instructions:
Chop onions, eggplant and if using fresh, tomatoes into half inch cubes (approx.)
Fry onions (and garlic) in olive oil until translucent.
Add eggplant and let it fry along with the onions, stirring every few minutes, until it starts sticking. It should be somewhat tender by then (if it's not, you many need to add a bit more oil. This depends on the eggplant you have).
Add the tomato and seasoning and cook on a medium flame for about half an hour (or until desired consistency), still stirring occasionally. Serve chilled.
Hint: Open your cans of crushed tomato using this can opener
– it does not leave sharp edges and then you can upcycle your can!
See an example here.
Repin the following image (hover and click on the red P symbol) to share the love!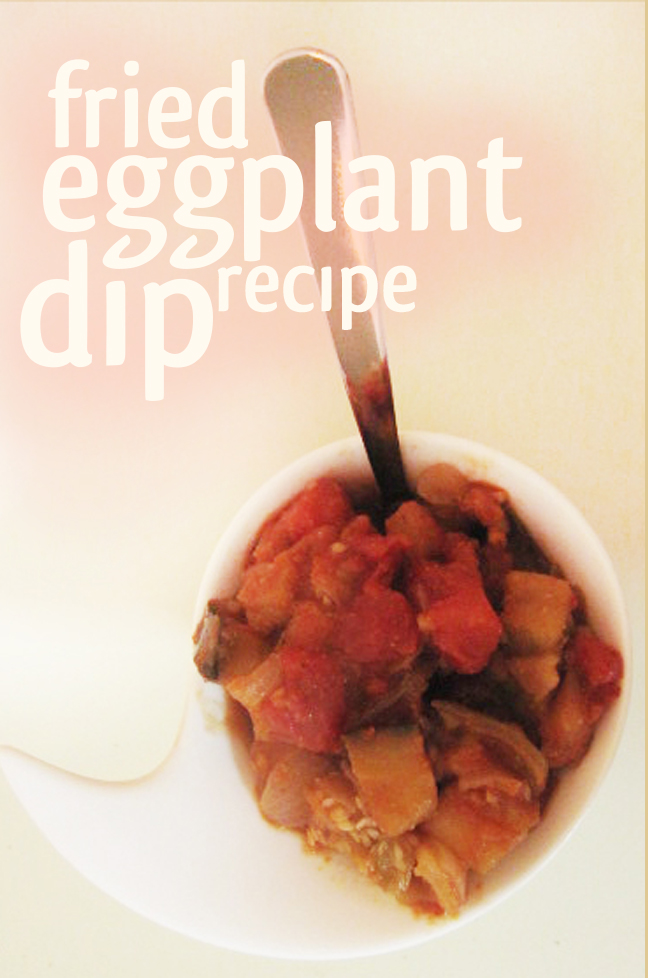 What other types of recipes would you like to see me post about?? Comment below!