Craft an absolutely gorgeous felt dove ornament using this free pattern. When you're done, check out my big list of Christmas ornament DIY ideas! This post contains affiliate links.
---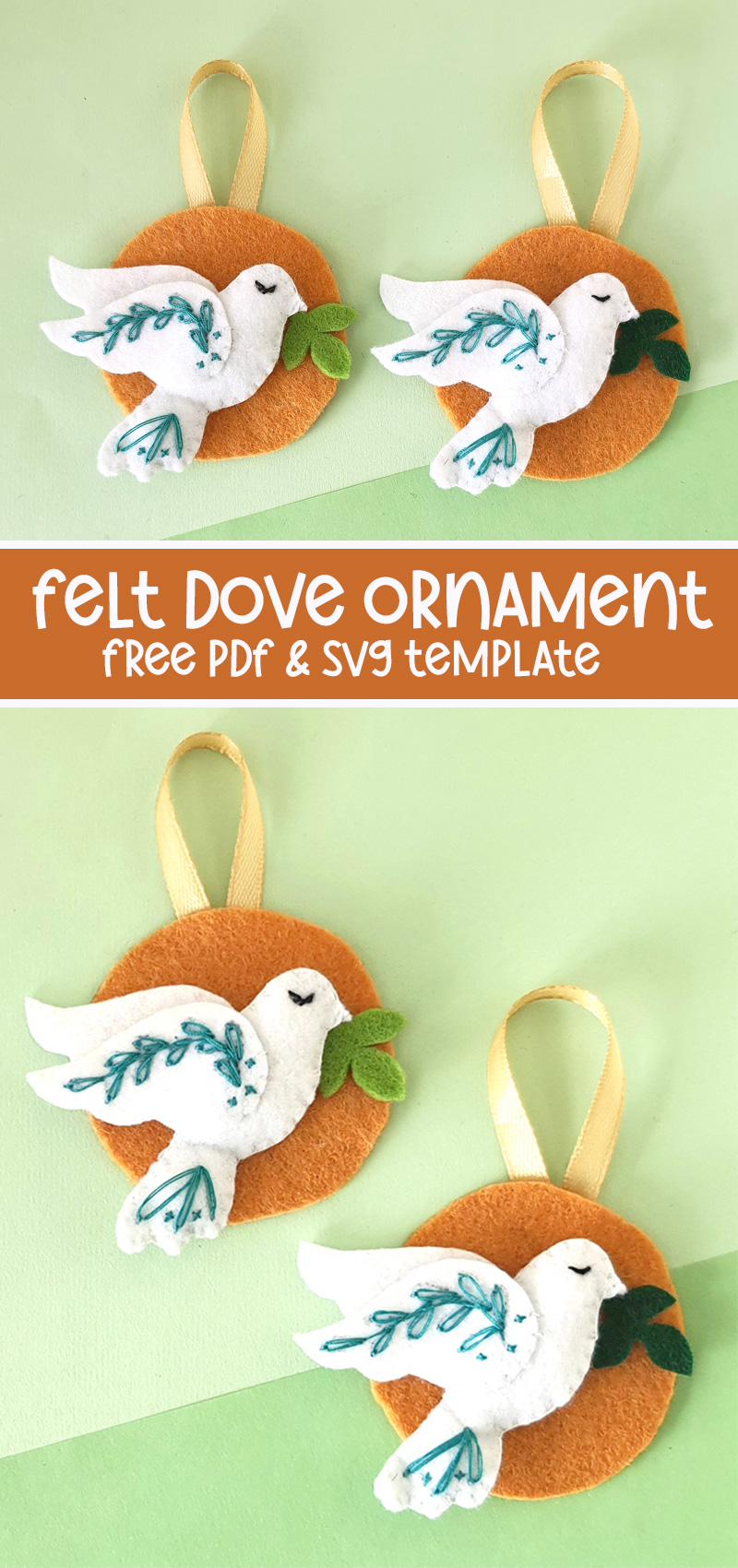 One of the coolest things about ornament crafts is the size. I say that because when you have something small, you can add cool detail without too big of a commitment. Since ornaments are small in scale, you can treat them like mini pieces of art, adding details like beautiful embroidery while just spending a short amount of time on each.
Case in point: this felt dove ornament.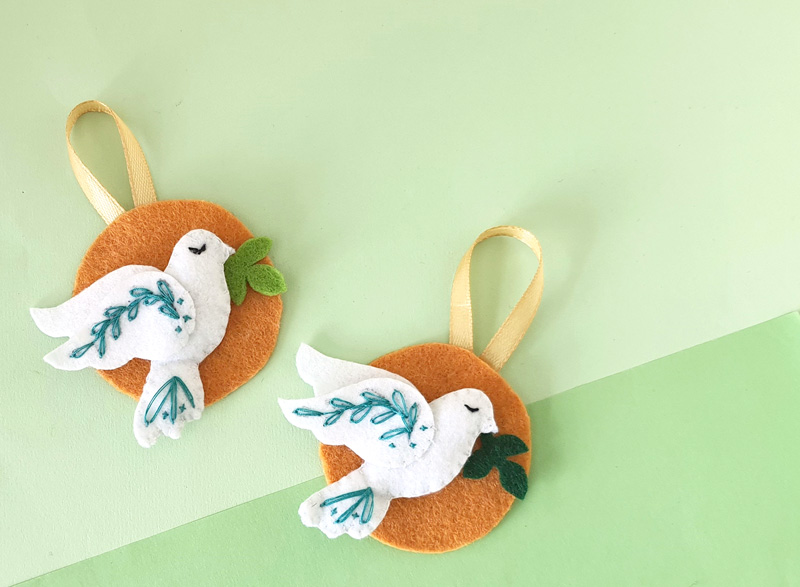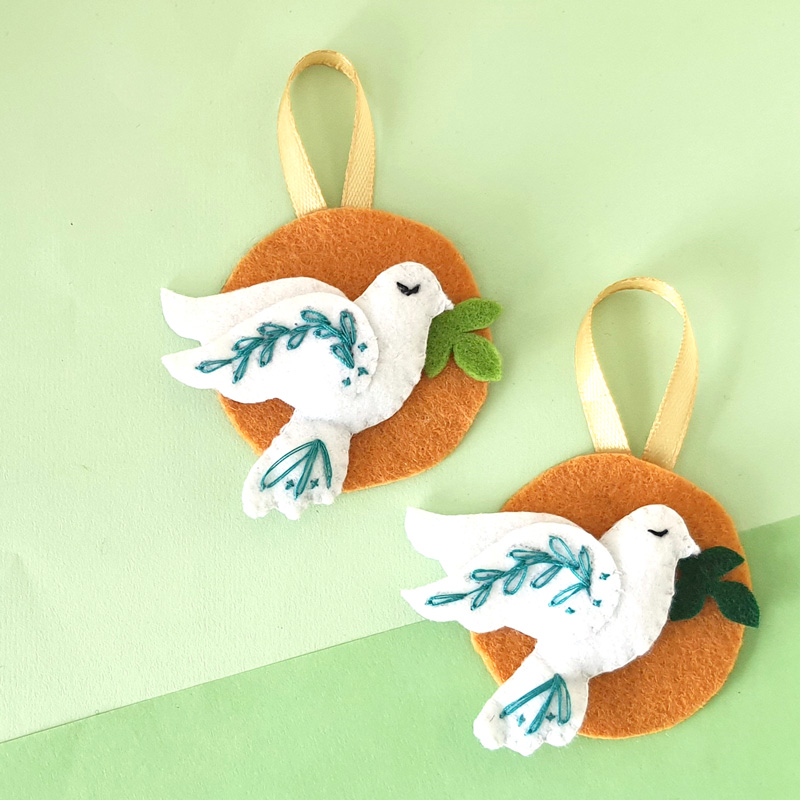 As someone who celebrates Hanukkah at this time of year (if you do too, check out my Jewish blog) I truly appreciate the dove as a symbol of peace. This one carries an olive branch too.
We are living in a beautiful time of unity, and even when it seems like political strife doesn't allow for harmony, hate today is not tolerated and is the exception. We're living in a time when people celebreate and appreciate that not everyone does things or lives the same way.
And that's what really makes this felt dove ornament such a beautiful craft for this time of year.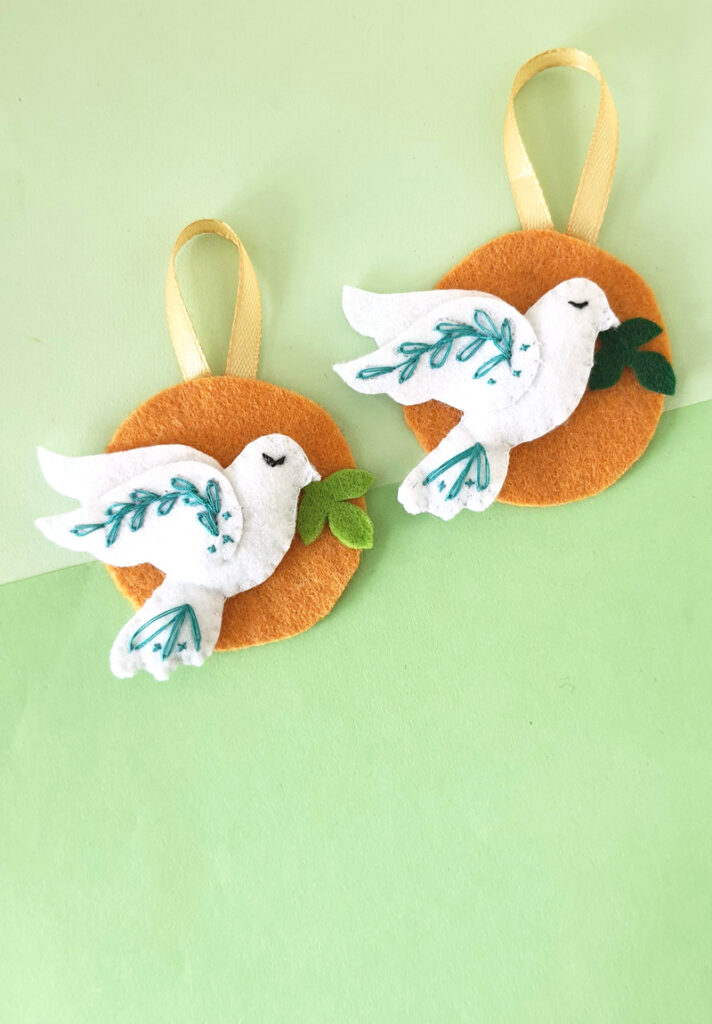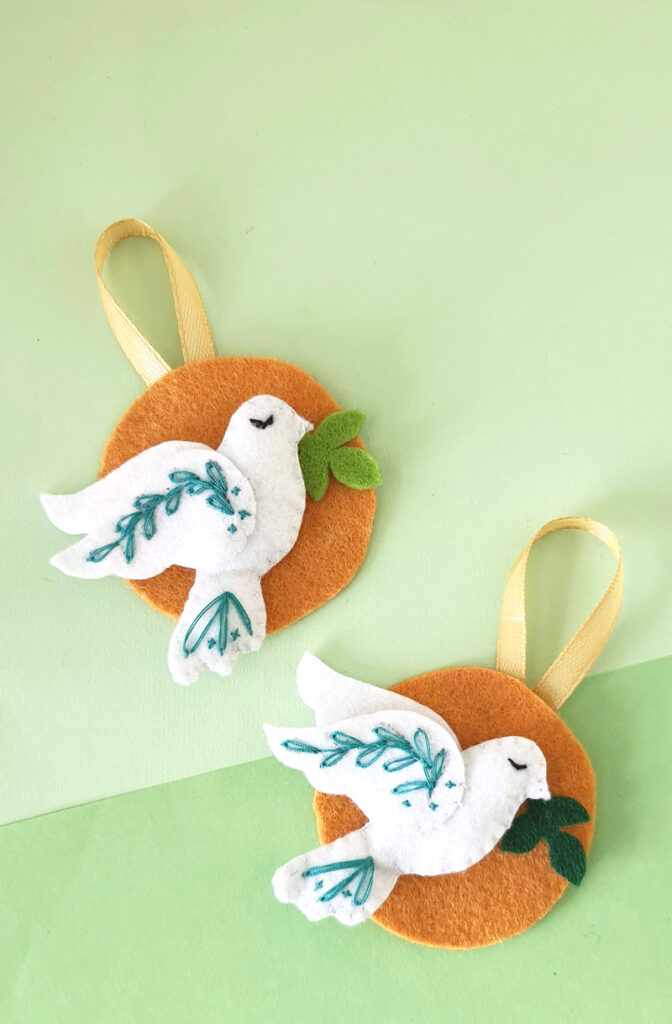 Felt makes a fabulous material for an ornament. It'll withstand the test of time, and is an easy material to work with. I recommend having handy a good pair of detail scissors, dedicated to fabric crafts only to maintain its sharpness. That way, you can get good, clean cuts.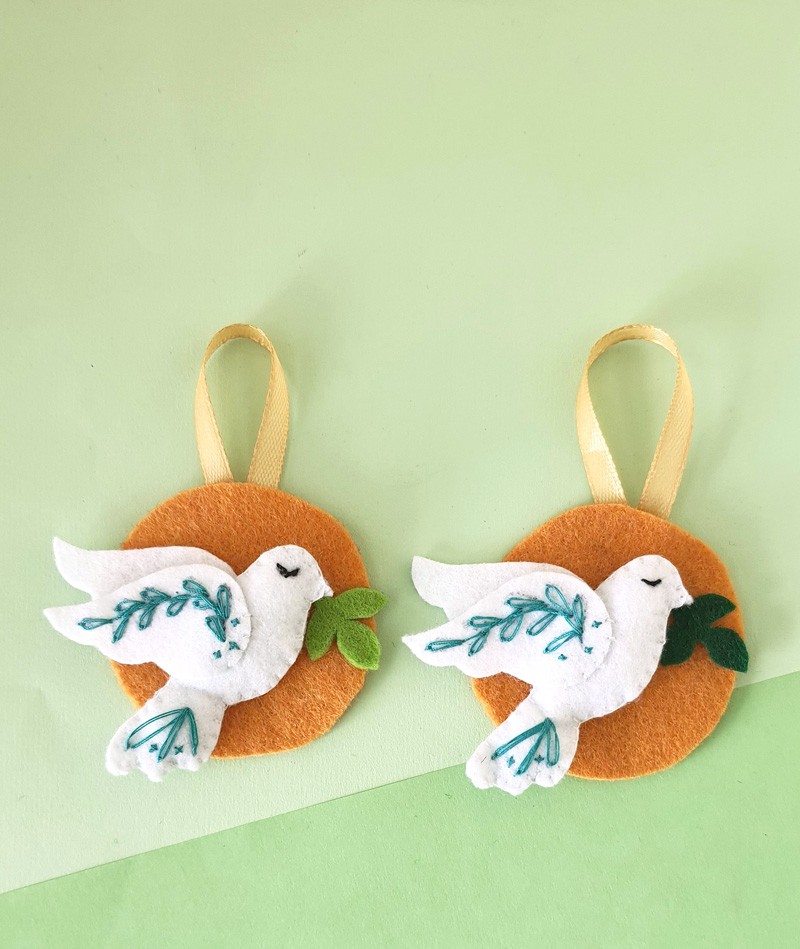 Knowing which felt you'd like to use can also help. You can use thinner felt scraps for this, or opt for something thicker and more fabric-like. You can even use 3mm thick stiff felt if you want a cardboard-like strength in felt material.
Download the felt dove ornament template
To download, fill out the form below. You'll be signed up for our free newsletter – unsubscribe at any time in the footer of the emails. I respect your privacy and the law and won't share your information with anyone.
Your file will arrive in a ZIP folder. Learn how to unzip files here.
How to make a DIY felt dove ornament
Materials
Instructions:
1. Trace and cut out your templates for your bird, wings, and olive branch.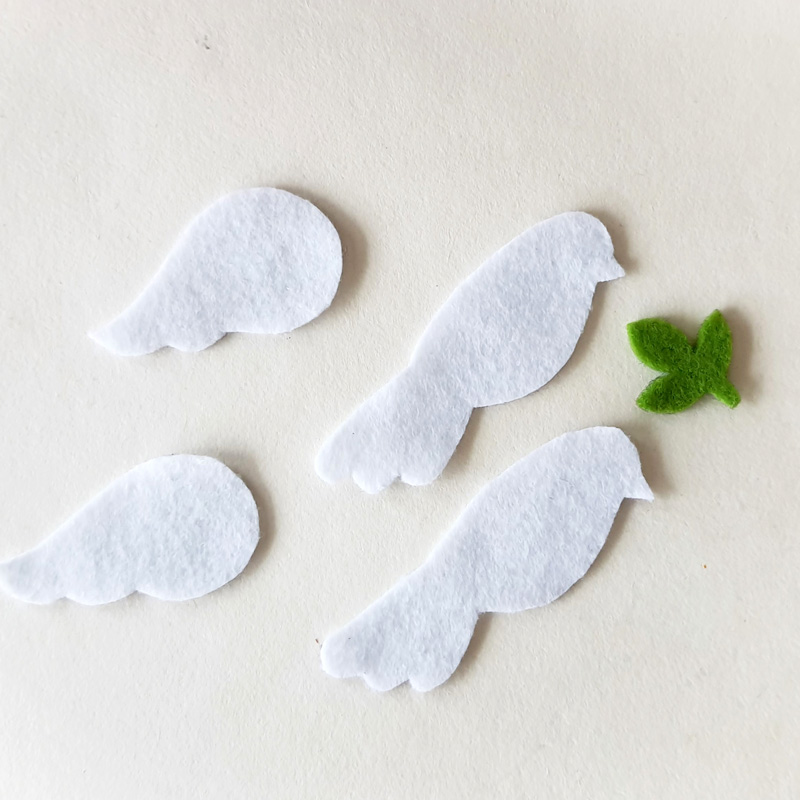 2. Trace a floral or vine pattern on your top wing and draw an eye on the bird body.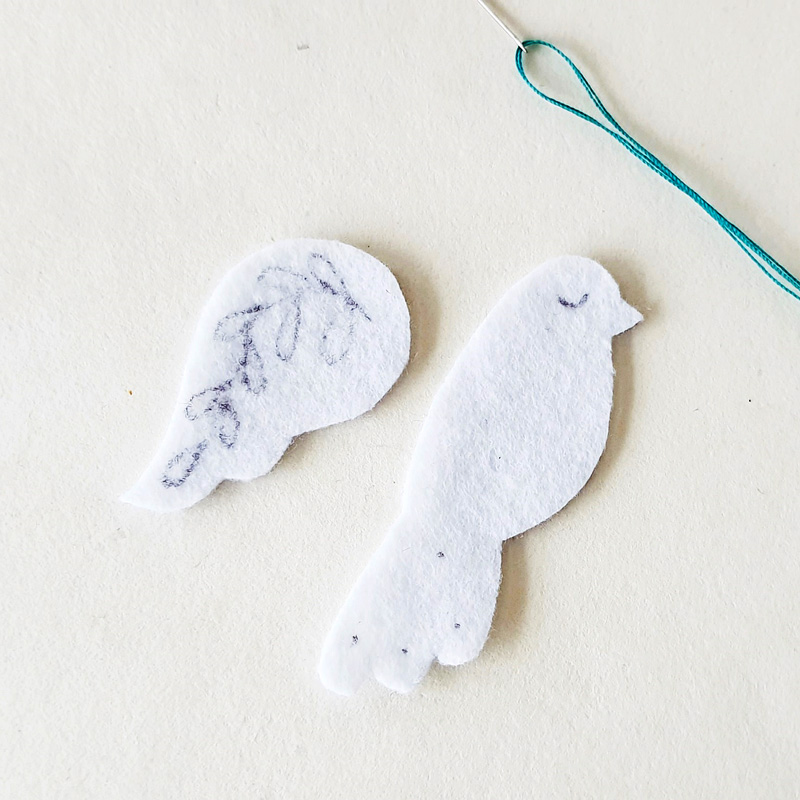 3. Prepare a needle with thread. Start embroidering! I recommend sticking to what you know. Or check out some basic embroidery stitches here.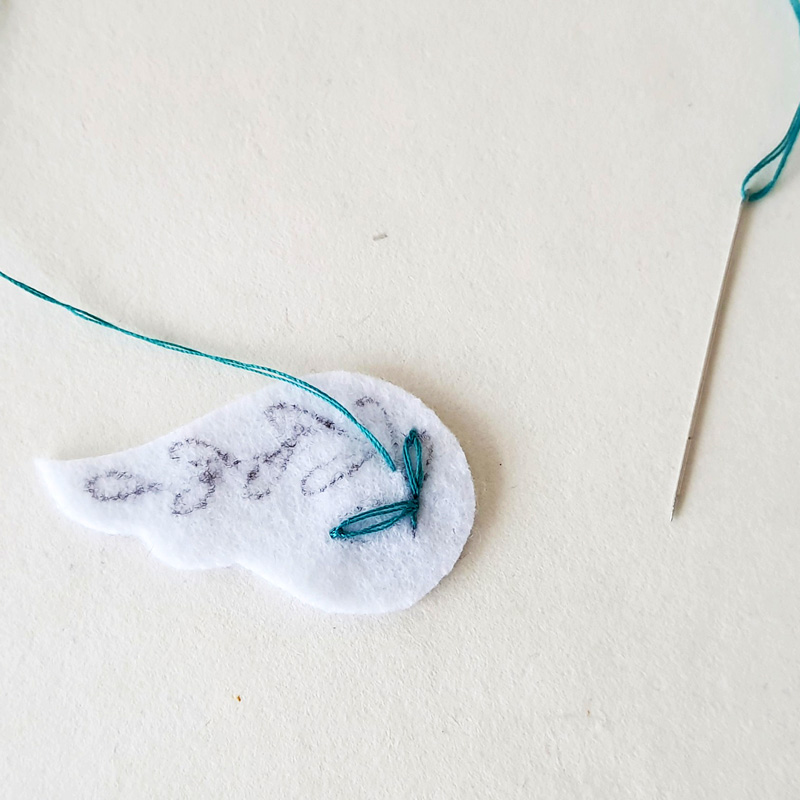 4. I recommend embroidering the leaves first. Stitch a loose loop and then tack down the end with a small stitch.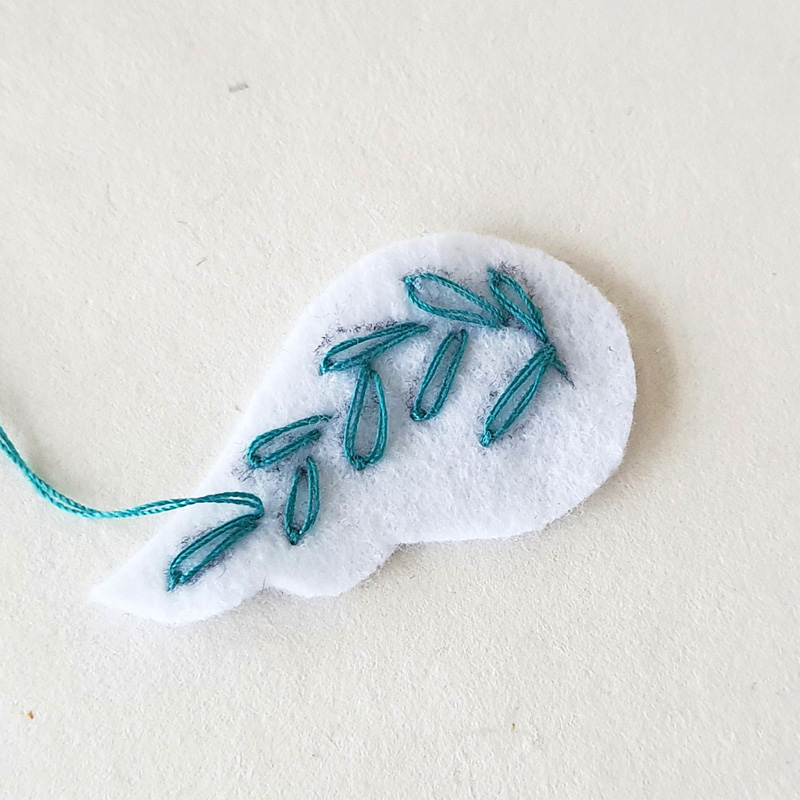 5. Then, simply stitch along the vine. Add more details to the wing if you want to, such as little sparkles.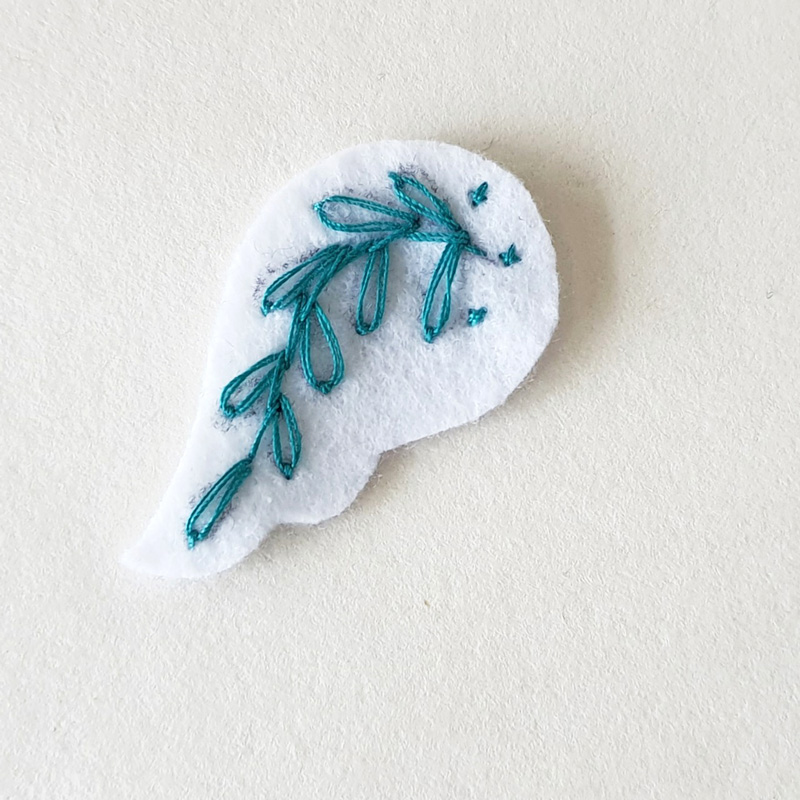 6. Stitch the eye with black thread. You can also add some embroidery to the dove's tail if you'd like.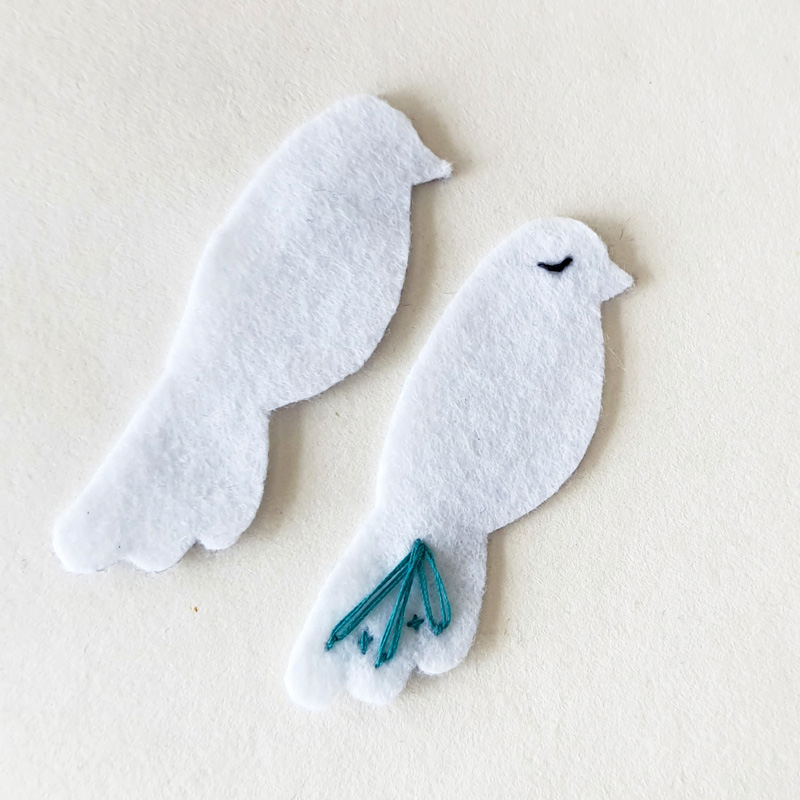 7. Place both bird base cutouts back to back, and stitch along the perimeter, leaving a small opening. You can use a simple whip stitch or a blanket stitch.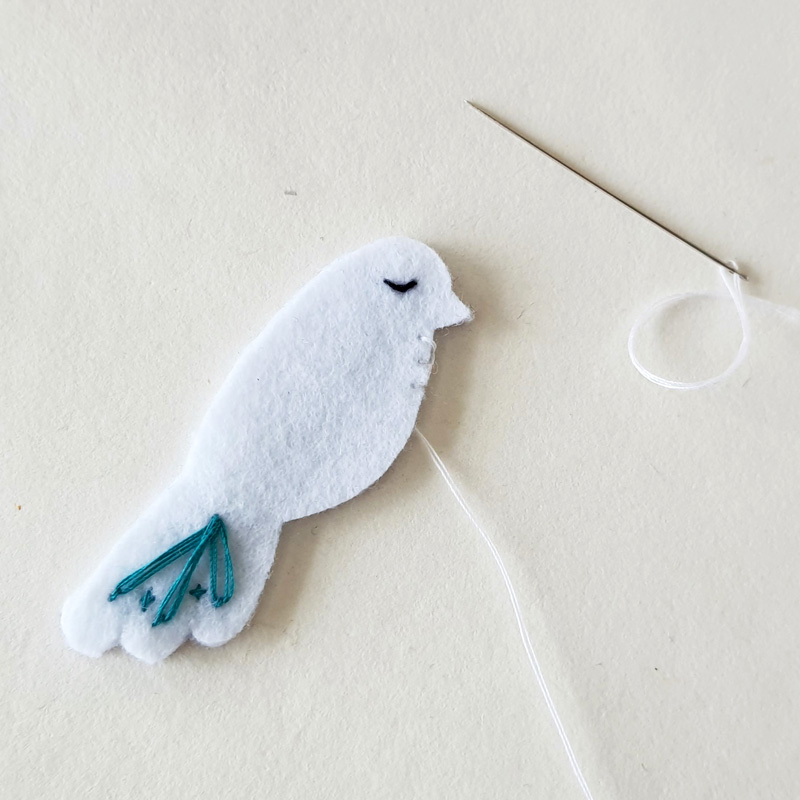 8. Stuff your felt dove ornament.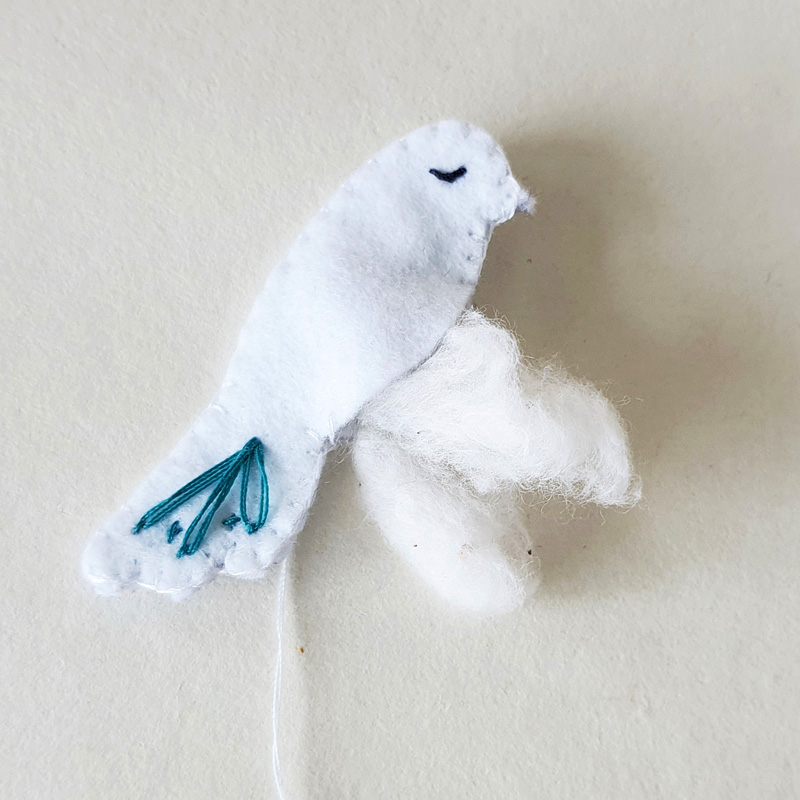 9. Close the opening.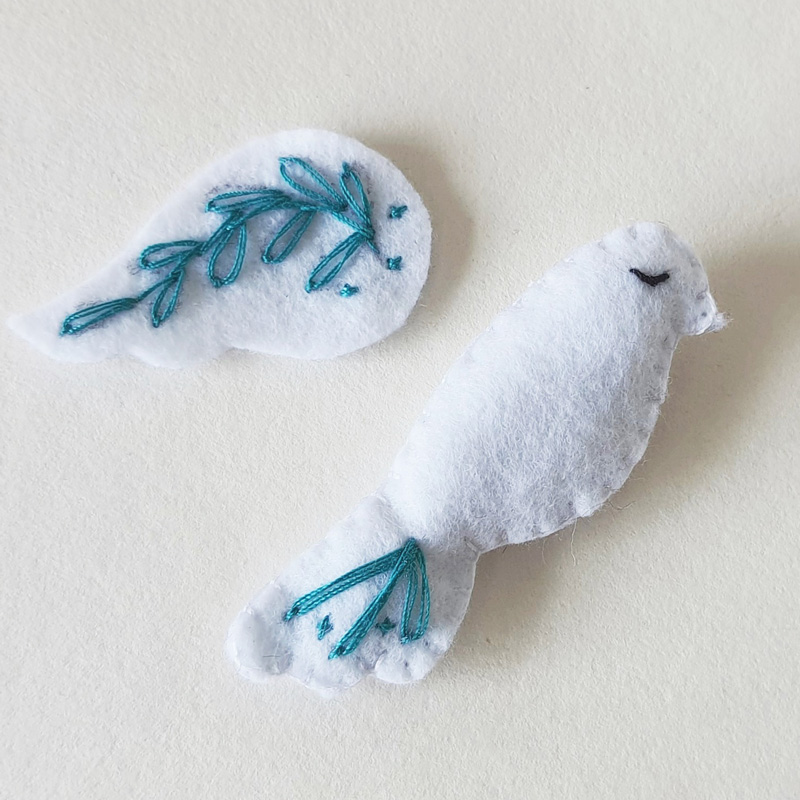 10. Stitch the top (embroidered) wing to the front of the felt bird.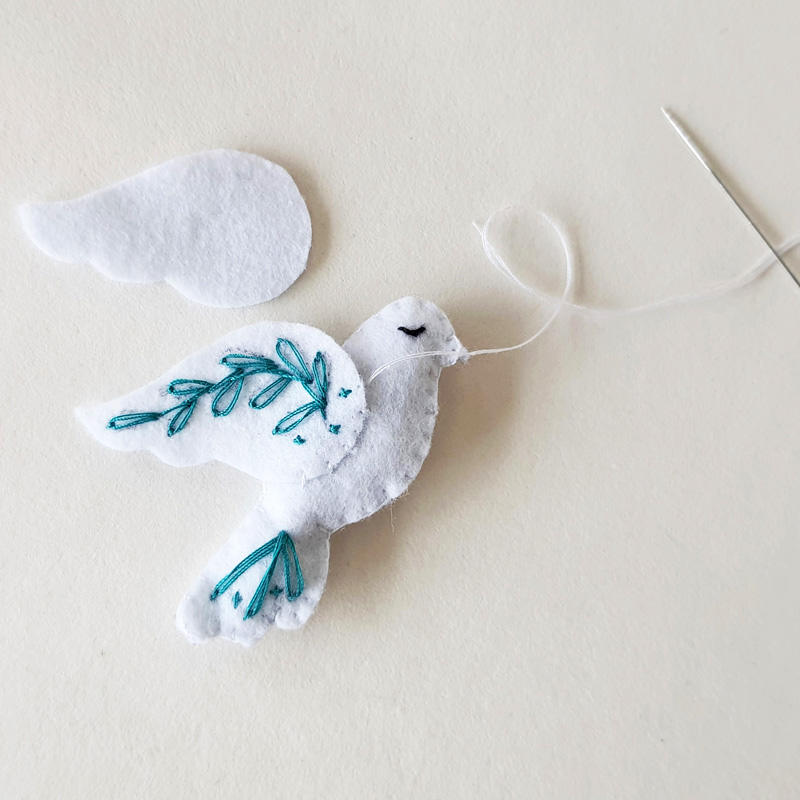 11. Stitch the back wing next, angling it slightly so that it sticks out above the front one.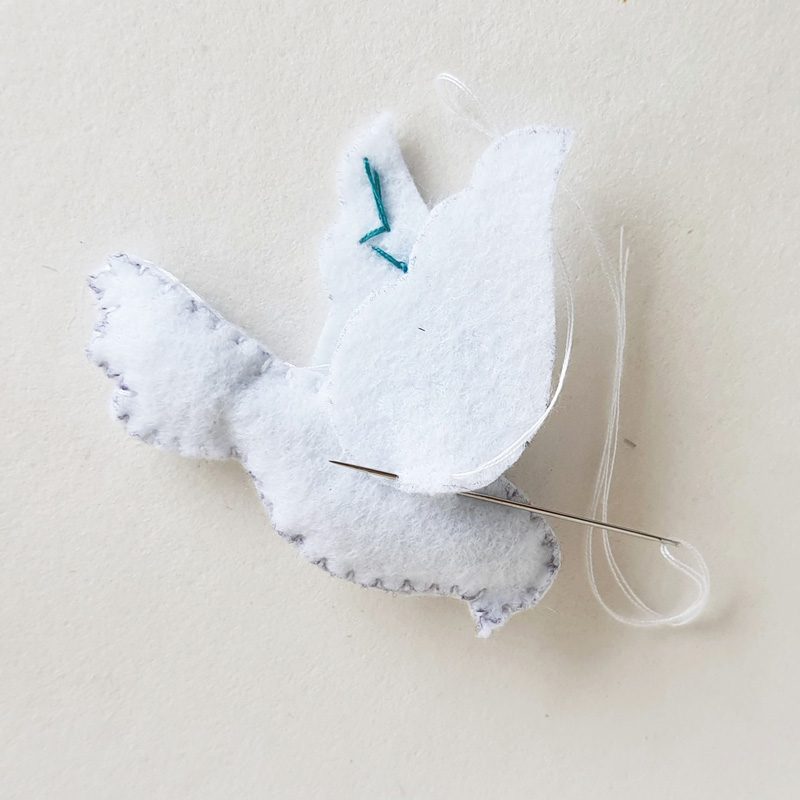 12. Stitch the olive branch to the beak.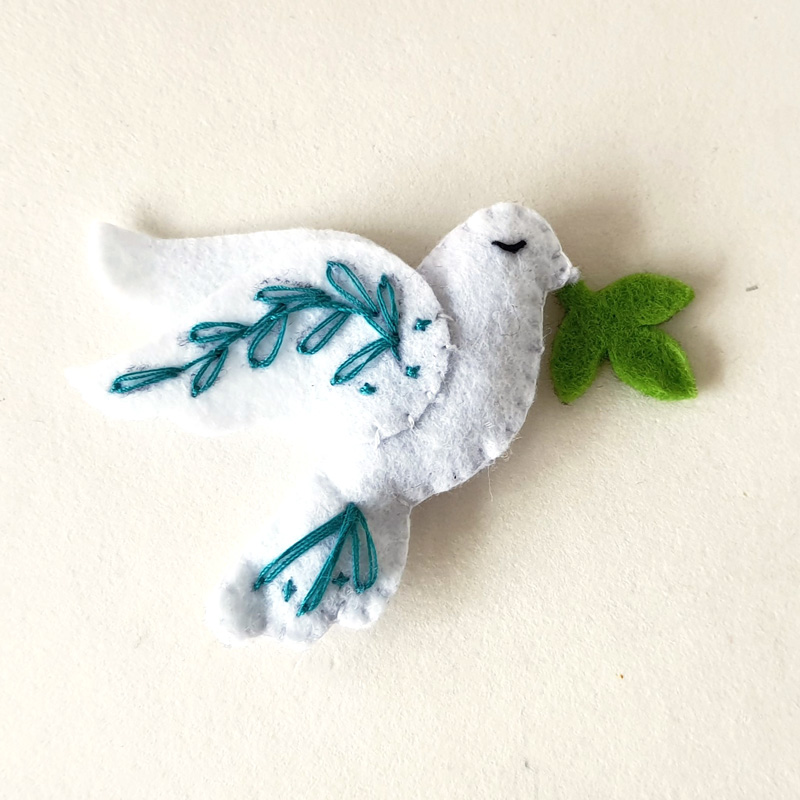 13. Attach the bird to a round base and then attach a ribbon loop on the back of the base to complete the felt dove ornament.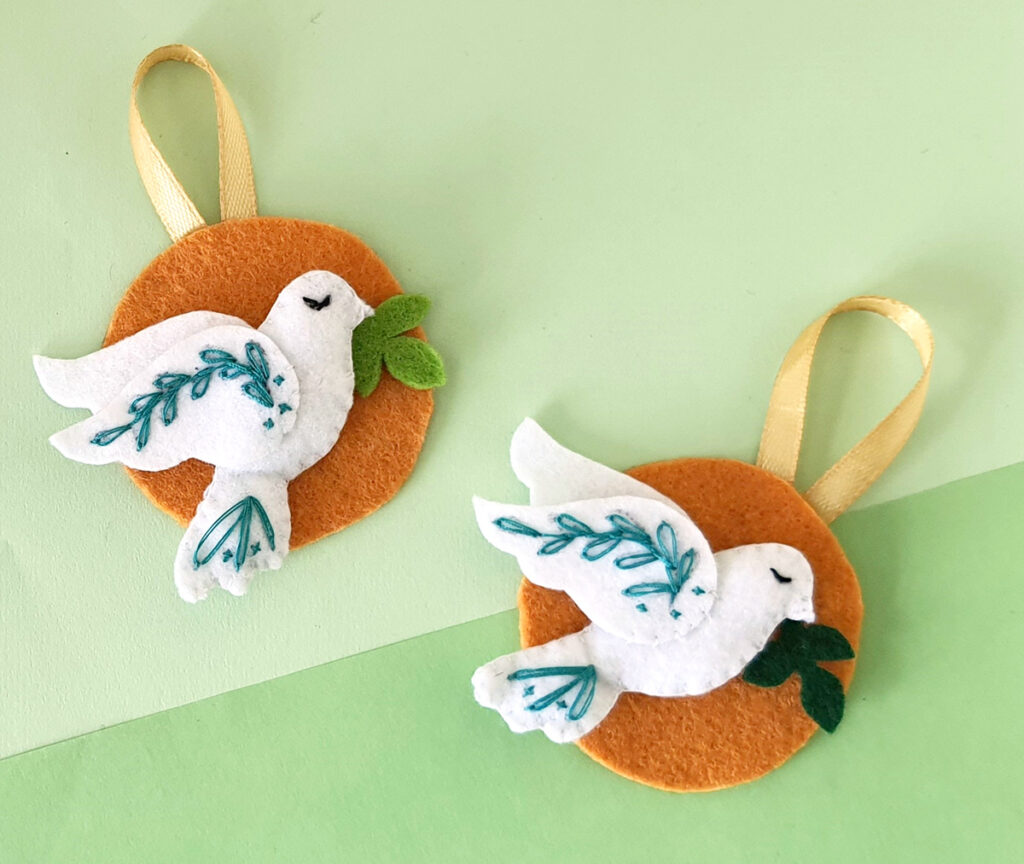 Your felt dove ornament is complete! Do you plan to gift or keep yours? Comment below!