Add a personal touch to your holiday decor using these Christmas ornament DIY ideas! This post contains affiliate links.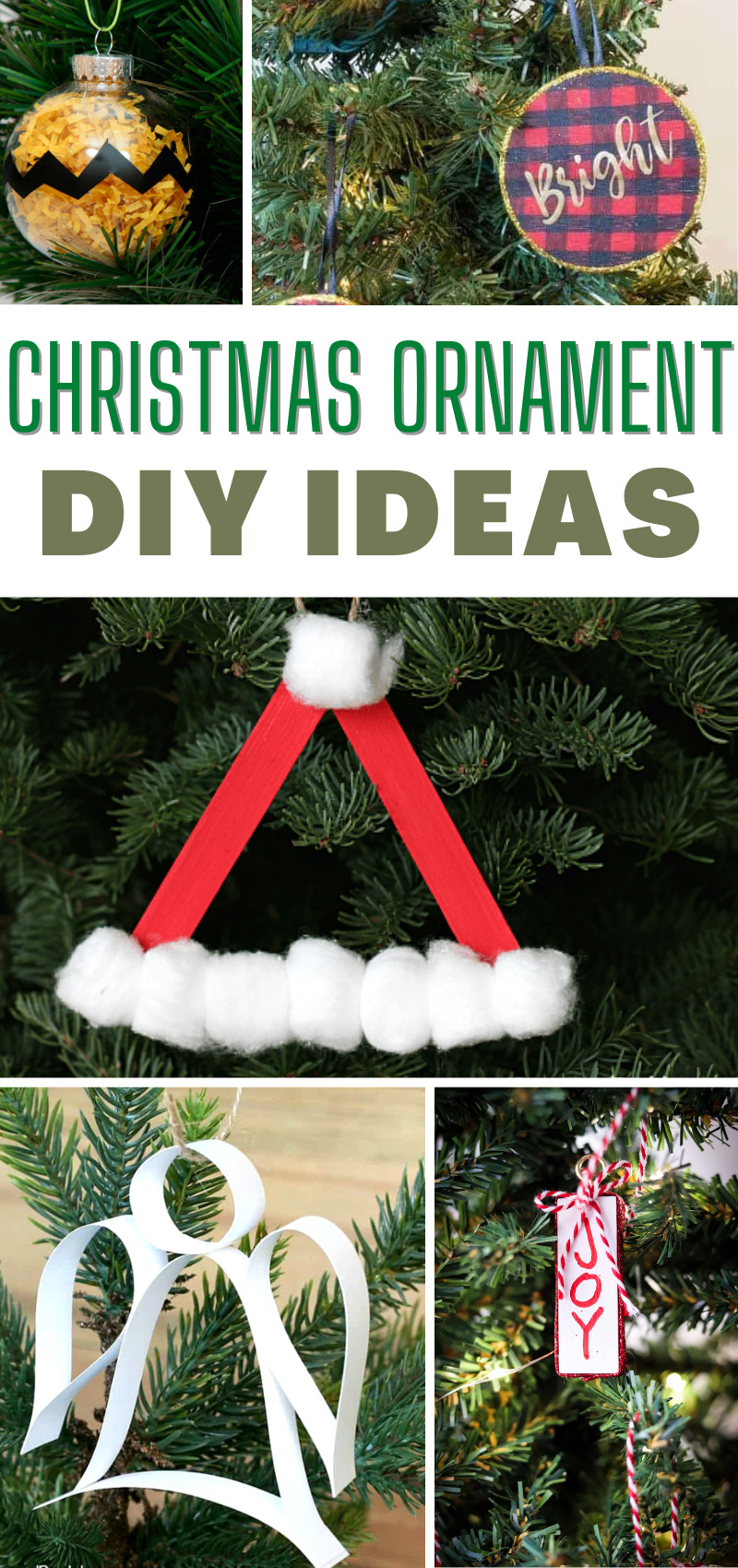 Does your Christmas tree look a little bare this year? Perhaps you're tired of the same old bulb-style ornaments, or you want to create some new ones with your family this year. Whatever the reason, there are so many great DIY ornament ideas you can make for your tree.
These will not only spruce up your Christmas tree, but they can make a fun and meaningful craft that you and your family will cherish forever! Ornaments are keepsakes and worth investing more effort and sentiment into.
Plus, these are fun DIYs that everyone from your Grandma down to your toddlers can make! They are giftable – and make the most fabulous, personal gifts.
You can host an ornament exchange with these Christmas ornament DIY ideas, gift them to family members, or make it a tradition that each year's gifts include one personalized, sentimental DIY ornament.
Here are the best Christmas ornament DIY ideas to make this year.
Paper Christmas Ornament DIY Ideas
Paper might seem like the peasant of all craft materials, but indeed it is the king. It's affordable, it looks fabulous, and its possibilities are endless. And you don't need to have an extensive craft space to use it!
I recommend using paper for ornaments that you're using as quick swaps, to involve the kids, or that you're making for fun. Archival quality scrapbook paper will hold up better from year to year than printer or construction paper, but it'll still be somewhat challenging to store.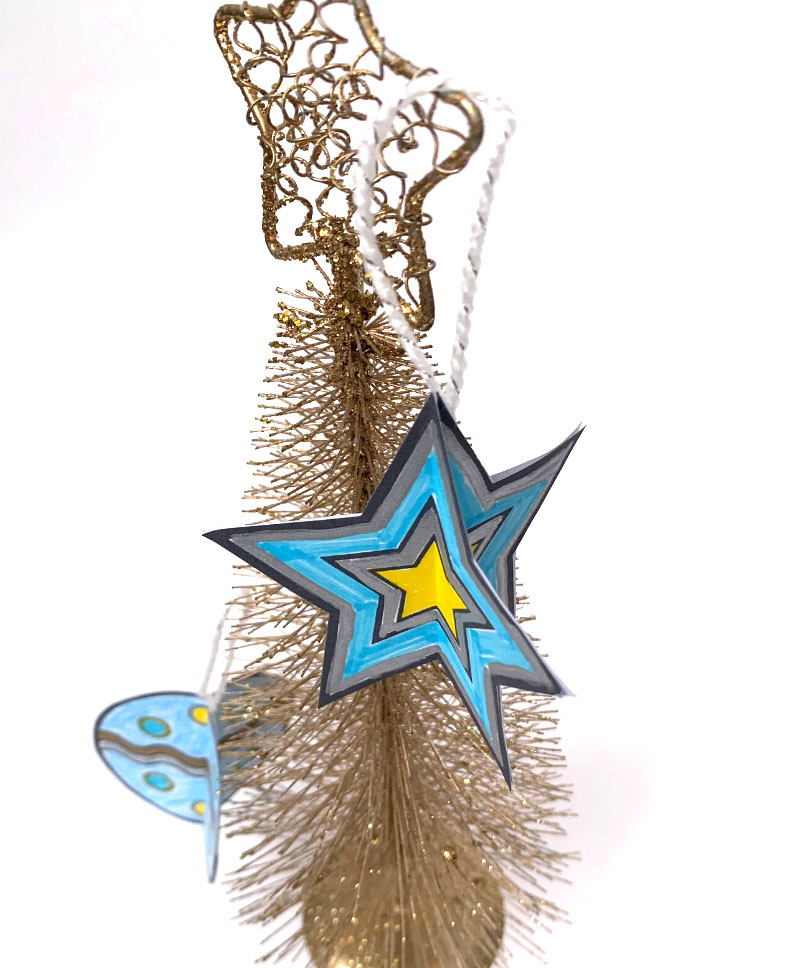 Crafts that kids color and then assemble are my favorite. If you want to avoid these cluttering the tree, simply stick to a single color palette. Provide coloring supplies in those shades. My favorite are OOLY Chunkies or Kwik Stix paint sticks.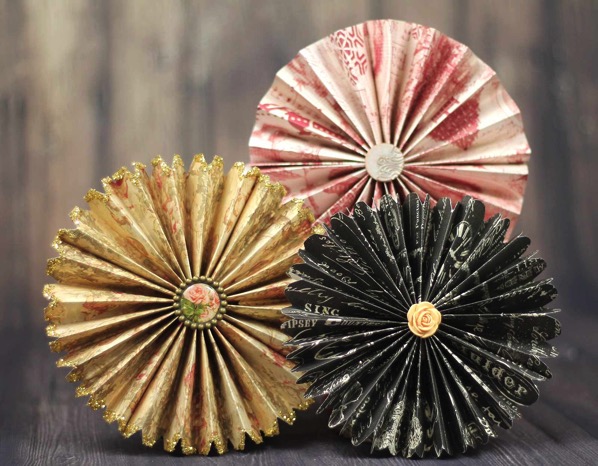 Want to see paper look upscale? This is what I mean when I say paper is king! Make medallion ornaments using archival quality materials to save them from year to year (stack them neatly in a box nestled in tissue paper to protect them.) Or craft them for one year only to fit with a theme, as the author did, and recycle them when you're done.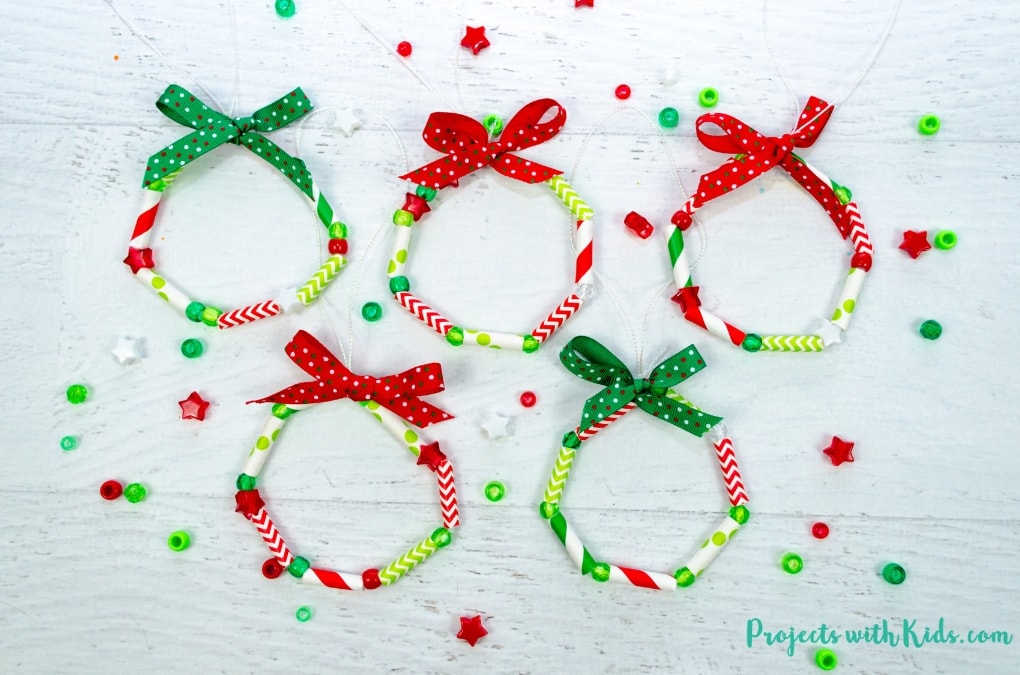 Paper straws are a really cool material to use in Christmas ornament DIY ideas because much like their benefactor, paper, they are inexpensive. They are easy to cut to size. And they will decompose eventually. These easy kid-made wreath ornaments include some fine motor practice and by keeping the color palette simple, they look fab too.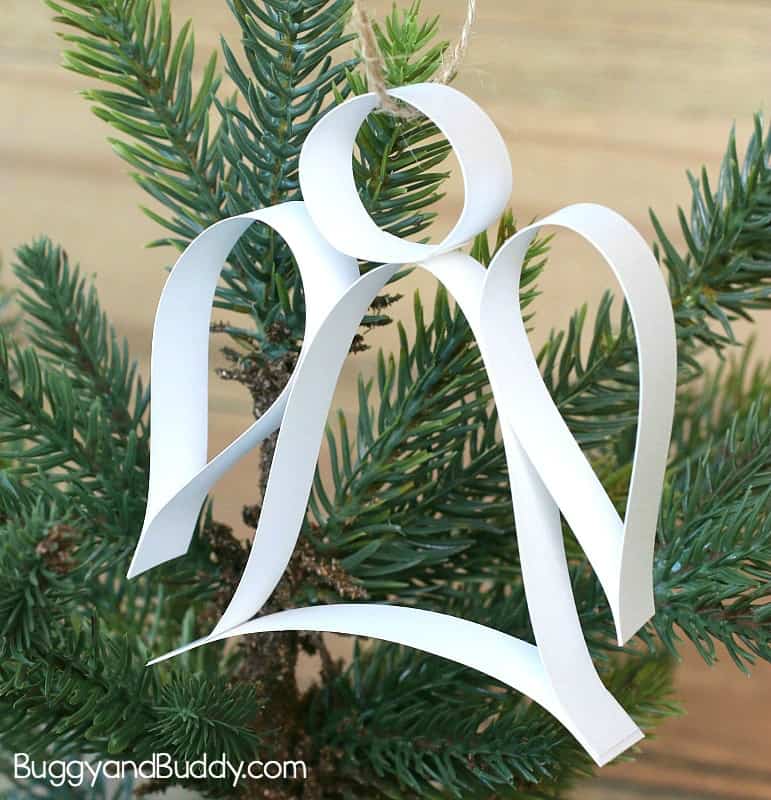 This minimalist paper strip "angel" is so simple. It just shows how simple shapes come together to form an image and uses a paper crafting process that you'll want to try with other shapes too. And using white paper stands out against the evergreen branches!
Christmas Ornament DIY Ideas using Craft Sticks
Craft sticks are a fabulous starting point for both kid-made ornaments and adult ones from wood. I do have a dedicated section for wood ideas, but some of these will be a score for you too.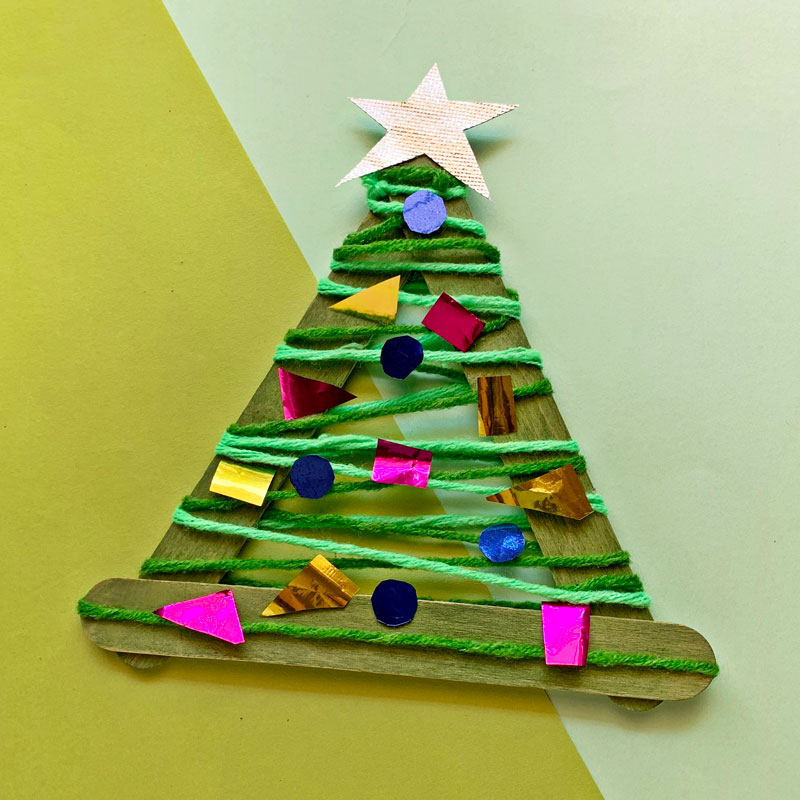 A simple string-wrapped craft stick ornament can be made by kids and adults. You can make it more grown up by using neutrals. You can also use sequins to decorate it, or buttons for a more shabby chic look.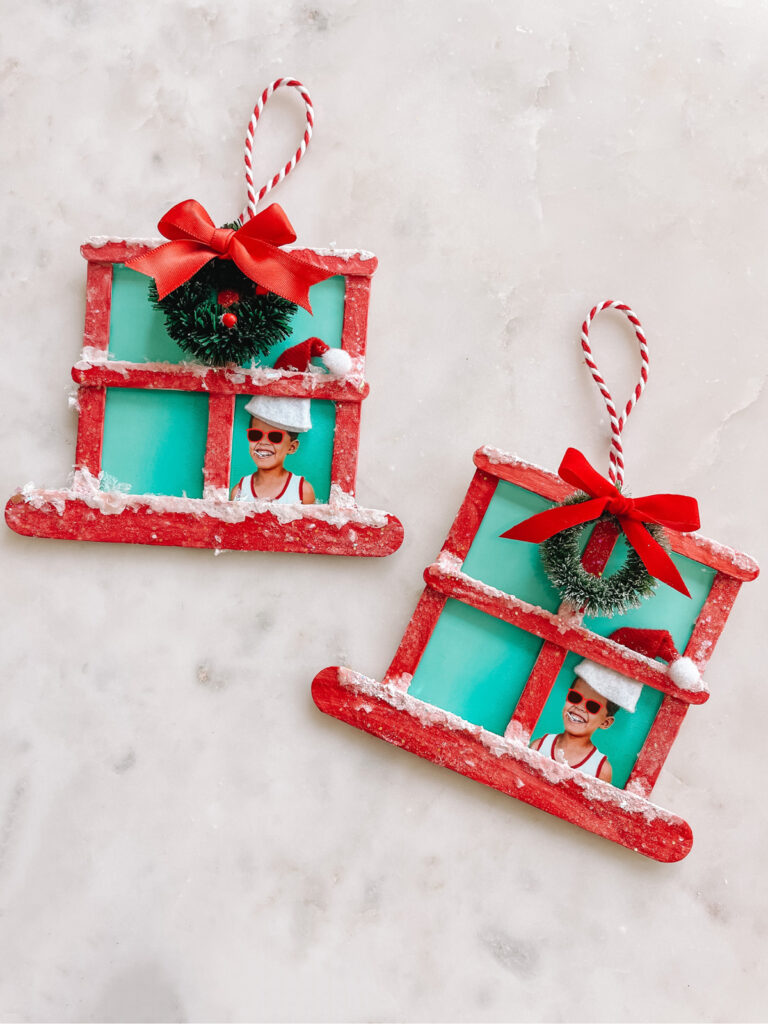 I love a quirky keepsake, and this one is just that! Make a Christmas window with a photo as a keepsake that's just full of charm.
A fun little craft, this gingerbread man ornament can be made by kids and adults alike! It'll be a friendly little face hanging from your tree…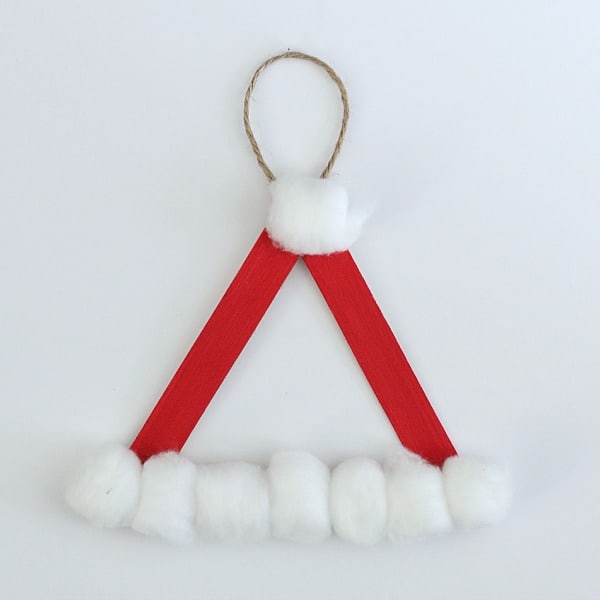 Fabulous for toddler through tween to craft, these santa hat ornaments have a touch of cozy added to them! Your littlest ones will love the multi-textured element to crafting these.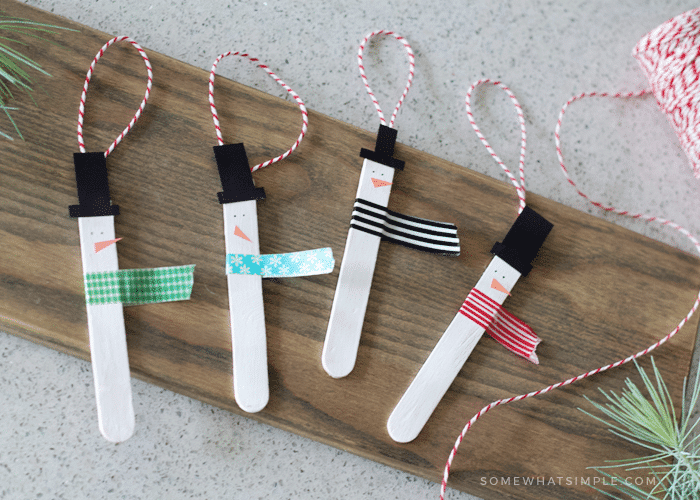 Go really simple by dressing up popsicle sticks as snowmen and turning them into ornaments. Kids can get creative styling the ornaments as they please.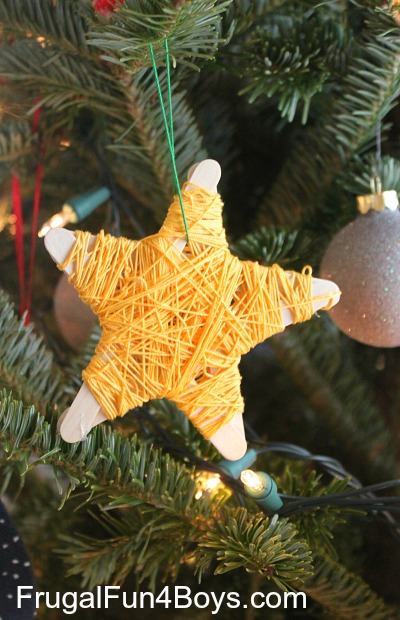 Whole family crafts are always winners. Yarn wrapped star ornaments are definitely that! The craft process and concept are simple enough for young kids to do. Even preschoolers can make these with some assistance. But it's polished and sophisticated enough for teens and adults to enjoy as well.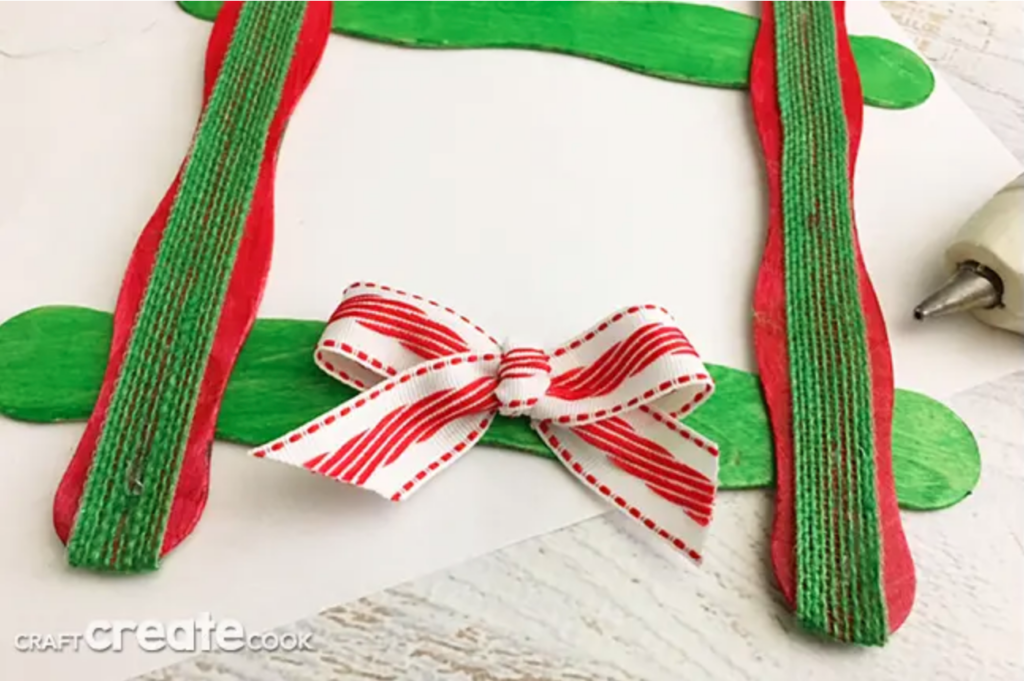 And finally, these simple craft stick frame ornaments were made to say "Merry Christmas". But you can also add personalized or themed messages, and of course, you can add photos for a personal touch or a keepsake craft.
Wooden Christmas Ornament DIY Ideas
Wood is a classic, keepsake quality material. But for those of us casual crafters who don't have the skills or equipment to cut and saw actual wood, these ideas are no biggie! Start by browsing the Dollar Tree aisles. Search your home for wooden components that are recyclable. And of course, wood slices are always a winner.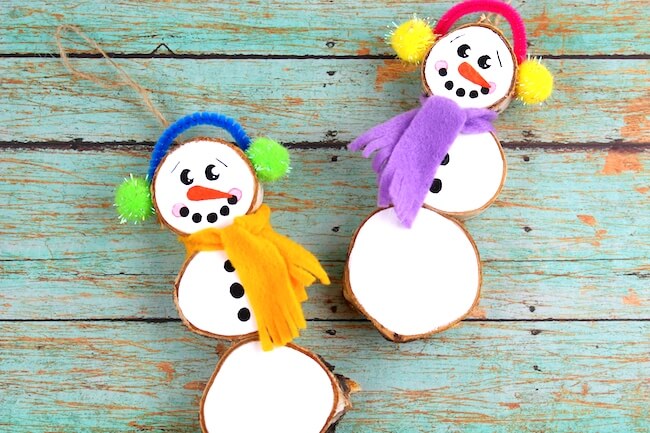 Wood slices make such classic ornaments. Why not take them into the cute zone? Since they're round, they're the perfect candidate for snowmen. Just make sure to get the sizing right!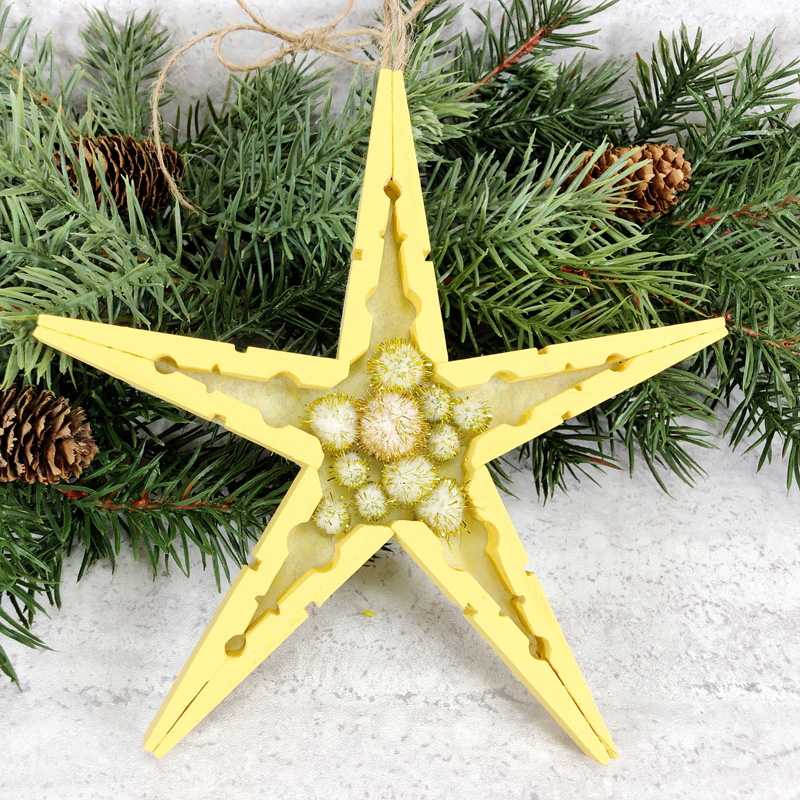 Isn't it fabulous how deconstructed clothespins come together into stars? You'll be addicted to making these! You can make them bright or shiny by painting them with gold paint and adding tinsel pom poms. Or stick to a farmhouse feel by staining them or painting them white and backing them with canvas or buffalo plaid fabric.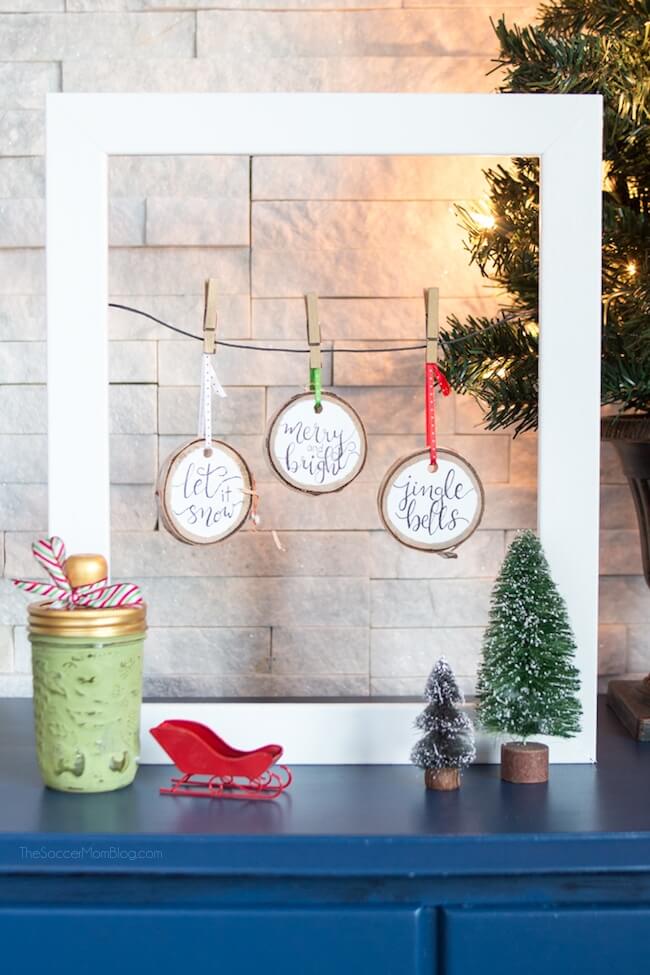 Add a hand lettered touch to simple wooden slice ornaments. These christmas ornament DIY ideas are so customizable and adaptable: write names, cool messages, or go with a theme.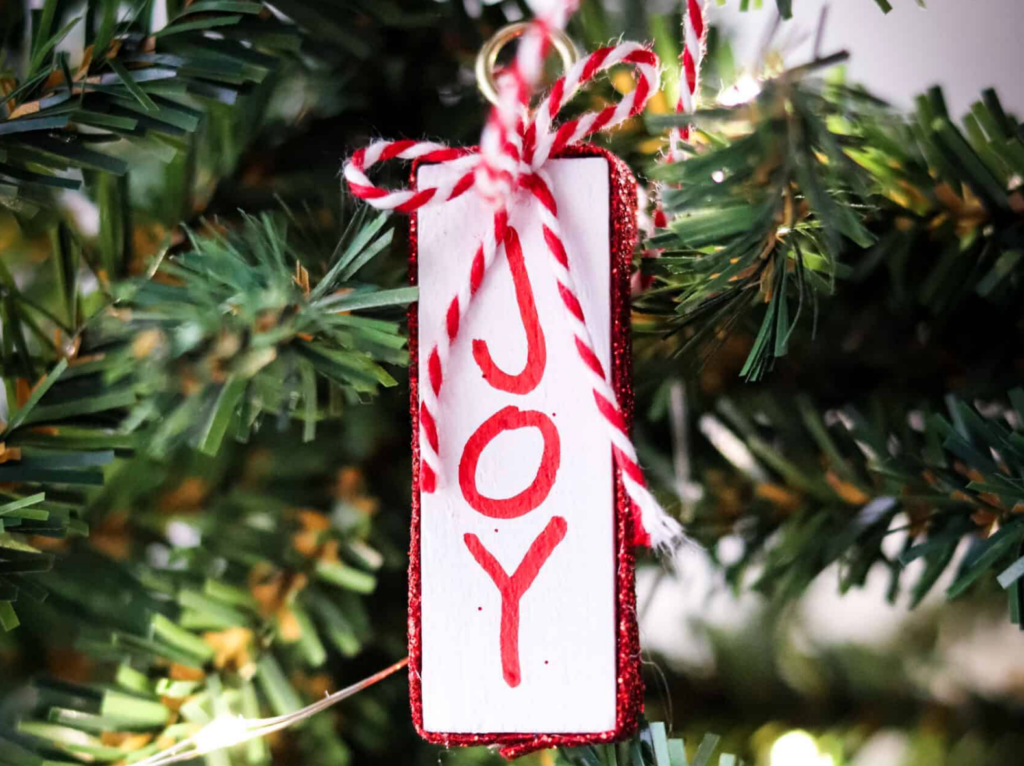 Jenga blocks make fabulous craft supplies and are a craft room staple for me! Turn them into ornaments that are once again so easy to customize and personalize to how you like them.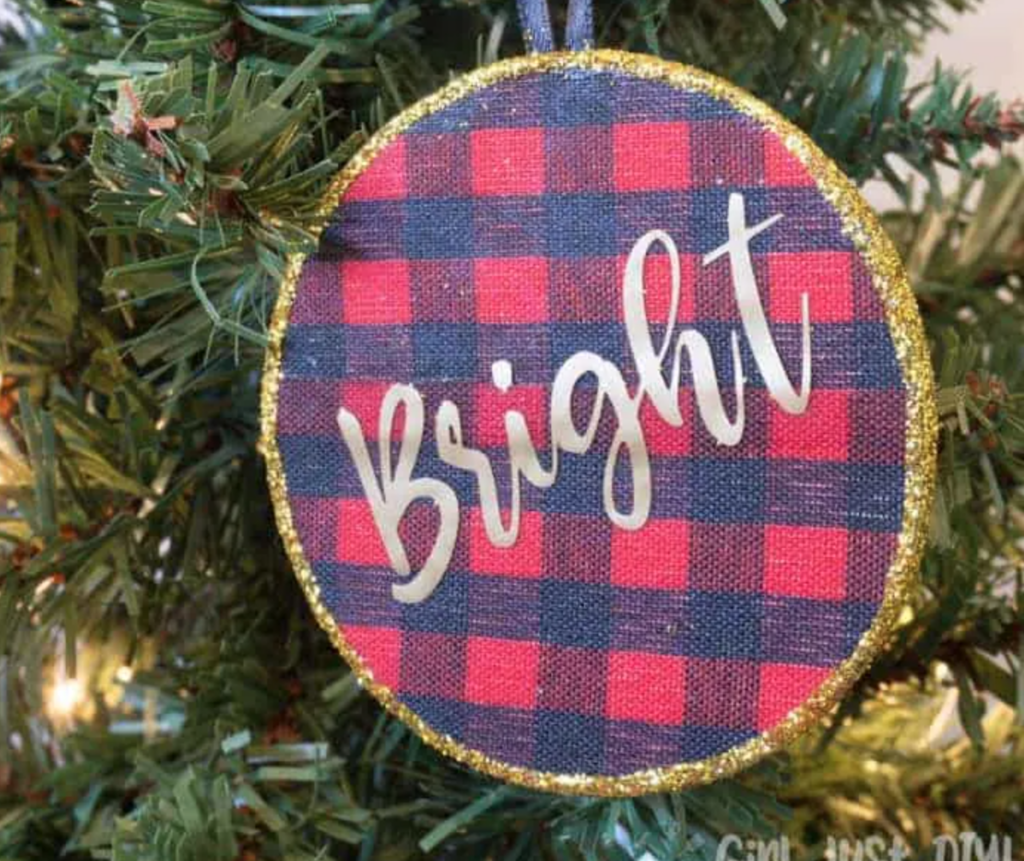 Why shouldn't all ornaments be reversible? Swap designs from year to year, or just turn it over mid-way through the holiday to refresh things! Check out this cool idea for reversible Buffalo Plaid ornaments.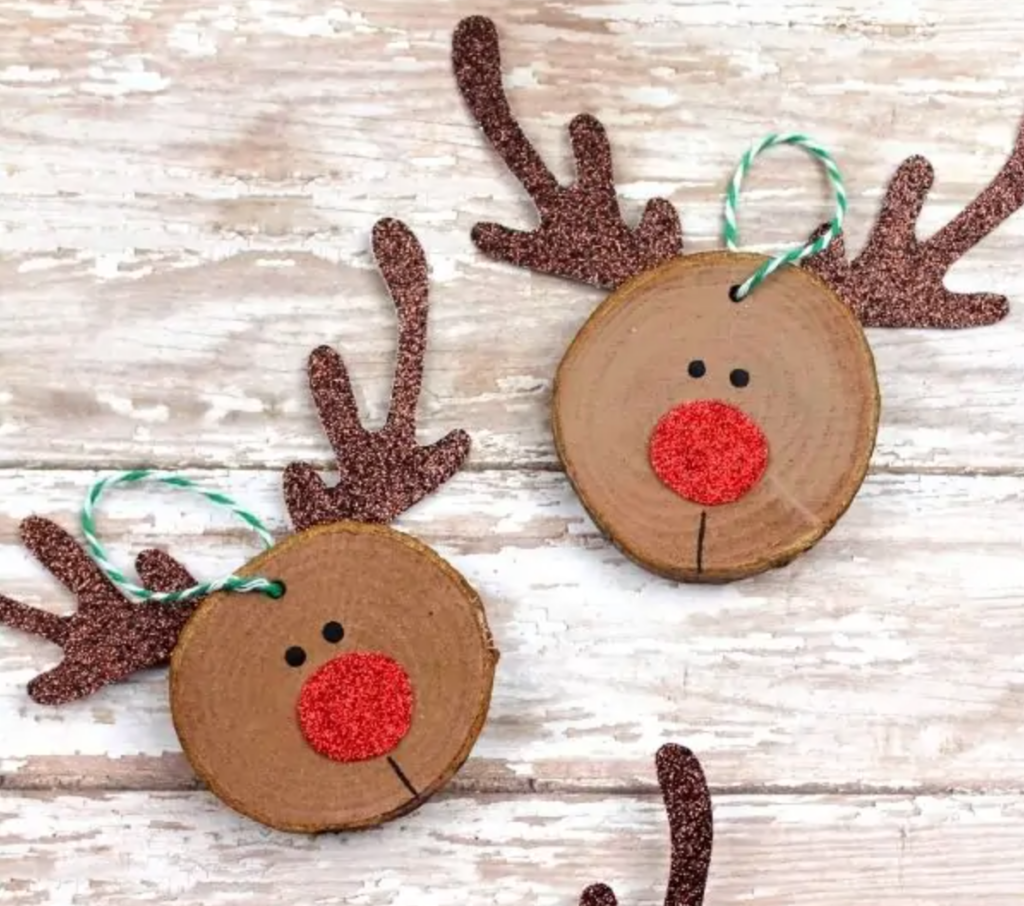 And finally, there's good old Rudolph, who's begging to be turned into a wood slice ornament. This is a kid-friendly craft that can also be made by adults and will look fab and friendly on your tree.
More Christmas Ornament DIY Ideas
These ideas are just so incredible, you won't know which to choose. Ornament making is just such a world of its own within crafting, and the possibilities are endless, as these next few ideas will demonstrate.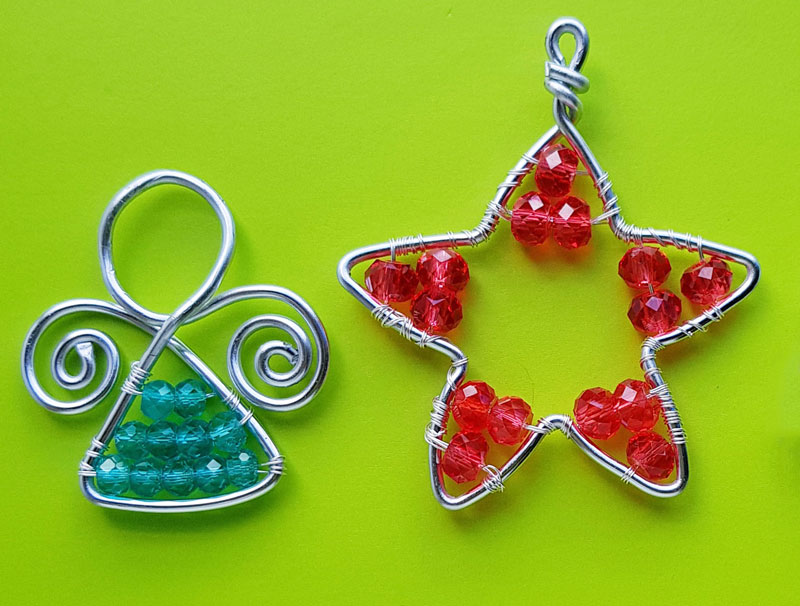 Make high end ornaments using wire and glass beads with this simple tutorial for beginners. Wire wrapping is a skills that is valuable. The materials aren't super expensive – but the result is! These are fabulously giftable and keepsake quality – a true labor of love.
Beach Ornament by Where the Smiles Have Been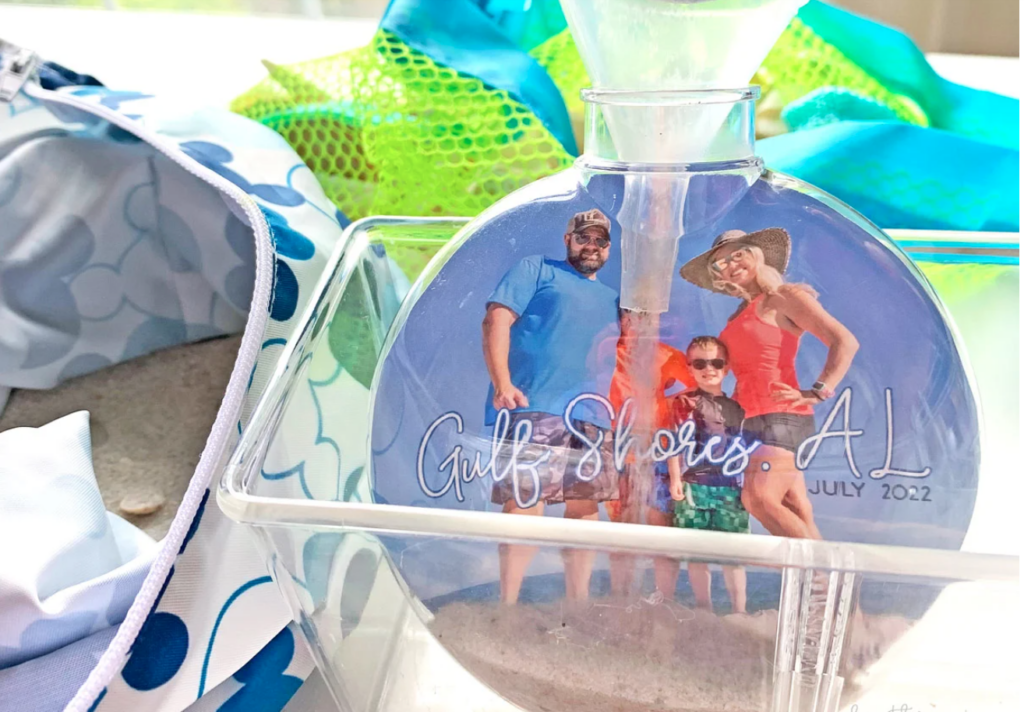 Hang some of your favorite memories from your tree with this beach ornament tutorial. And it doesn't just have to be the beach! Use this to make a keepsake ornament in any shape or form for the memories and for the keepsake.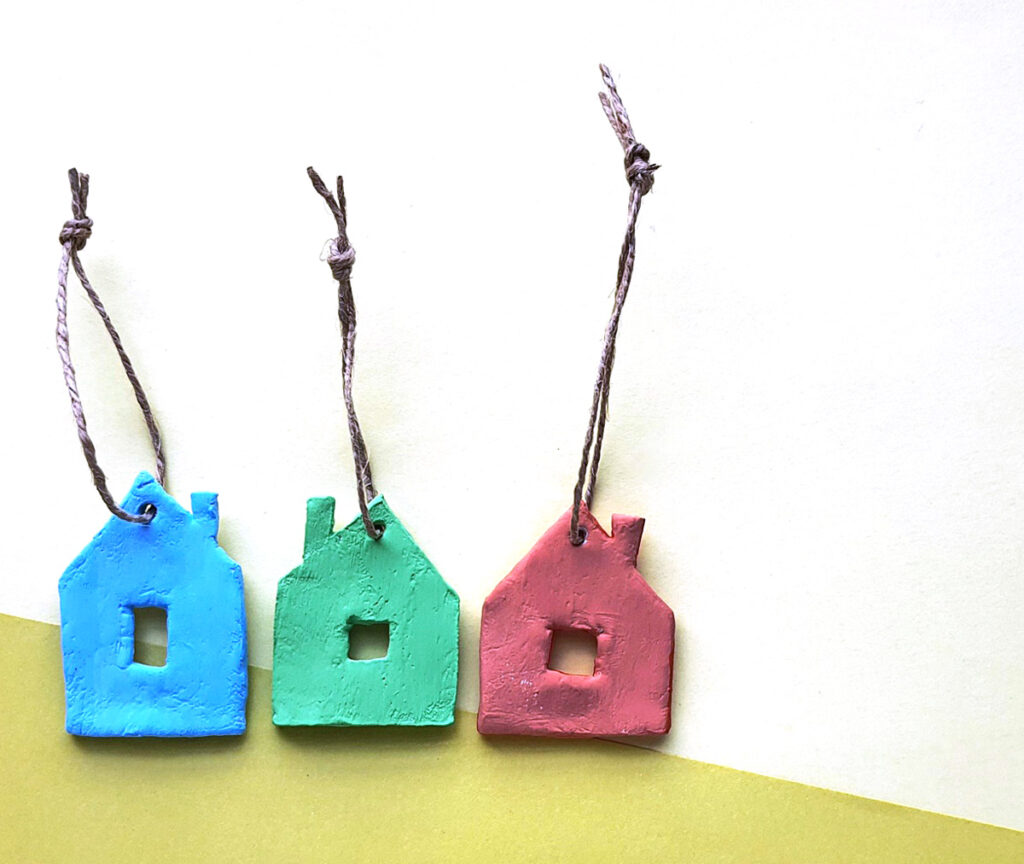 Use air dry clay to craft some nostalgic houses and then paint it with your favorite colors of acrylics. This open-ended craft comes with a free template, but you can take it further with your own styles. It's a gorgeous minimalist Scandinavian-inspired project that can be made by toddlers, adults, and everyone in between. Toddlers and preschoolers will do best with this if you give them a cookie cutter to use instead of a template. Kids should use a plastic or kids' knife to cut out the shape.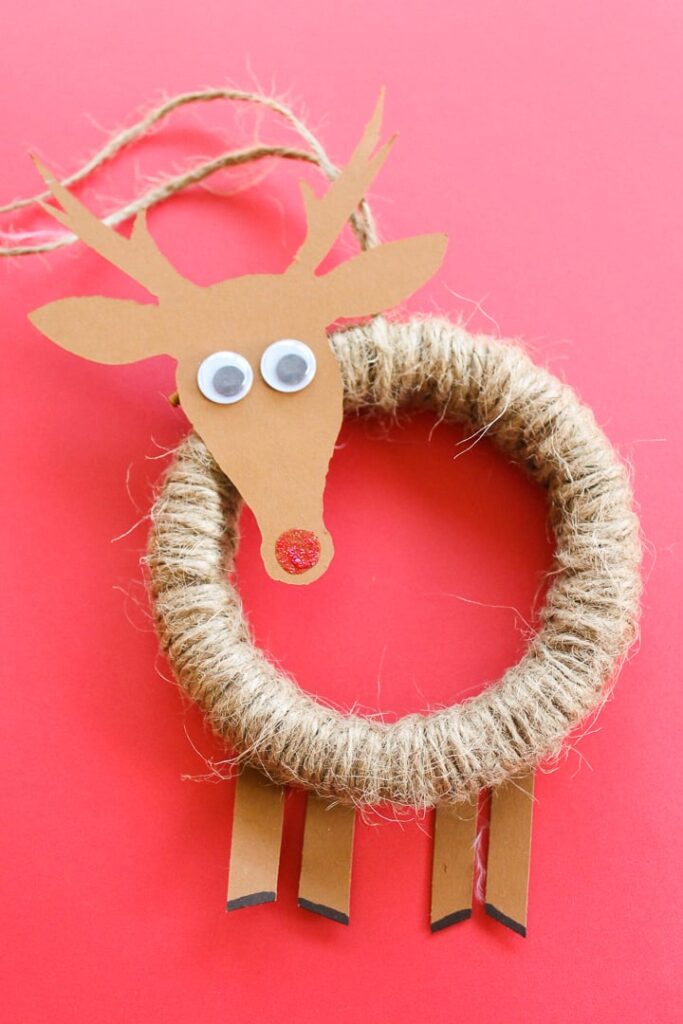 Cricut + embroidery hoop = Rudolph! Did no one tell you that formula? Well, the Country Chic Cottage is about to if you click through to the tutorial!
Why cook it if you can craft it? Use dollar store supplies to make adorable little Terra Cotta gingerbread houses that are so nostalgic. This is fun for kids of all ages, but mostly those who enjoy generating a little bit of the creativity themselves.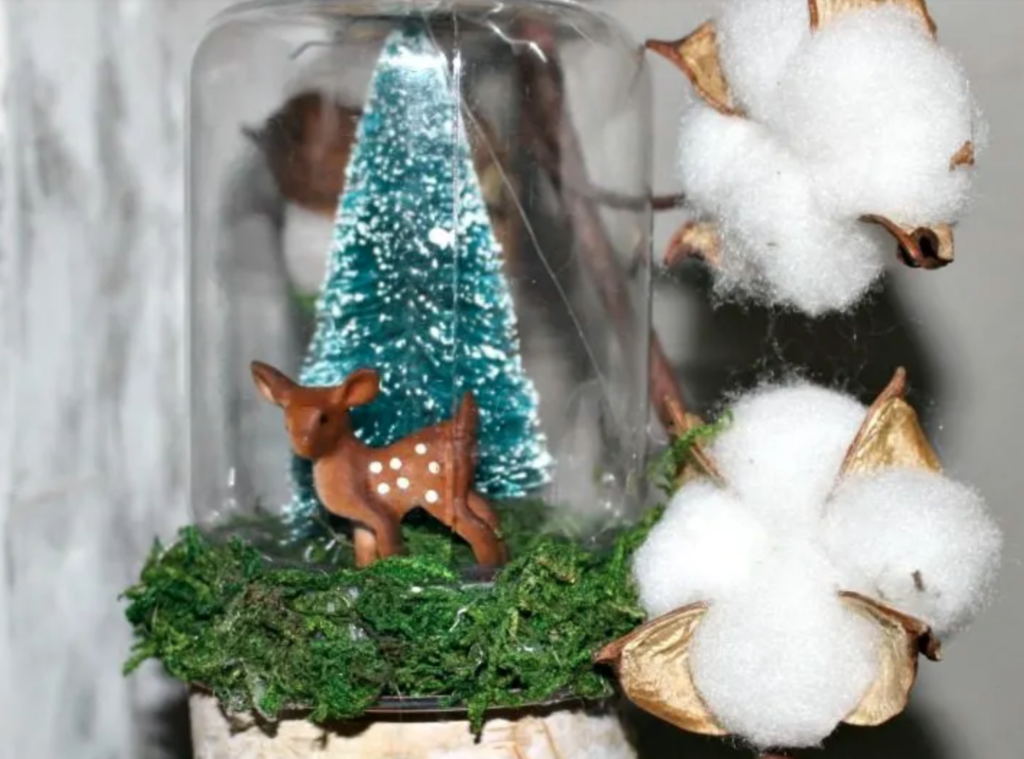 Run run run to the Dollar Store to grab the materials to make this adorable snow globe ornament! While dollar store supplies can be seasonal (meaning, they might not have this year what they had last), you can also use this as inspiration to come up with your own. Even better: turn it into a day trip with the kids, challenging them to each choose one thing to add to the ornament!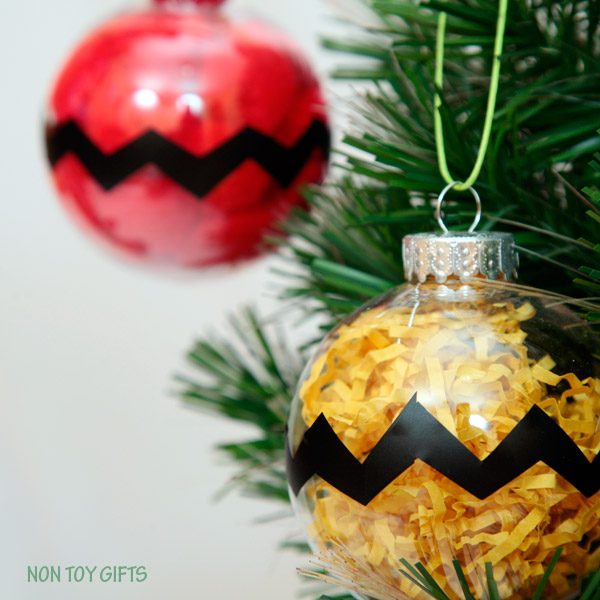 And finally, if the thought of Charlie Brown makes you all nostalgic, this simple idea will be a score. It's still pretty to hang on your tree, but no mistaking it – it is Charlie Brown!
Got any Christmas ornament DIY ideas to add to the list? Comment below!