Every once in a when I compliment someone on a project or idea, she'll tell me "why don't you blog about it?" That's what happened with this fun flower arranging kids' activity.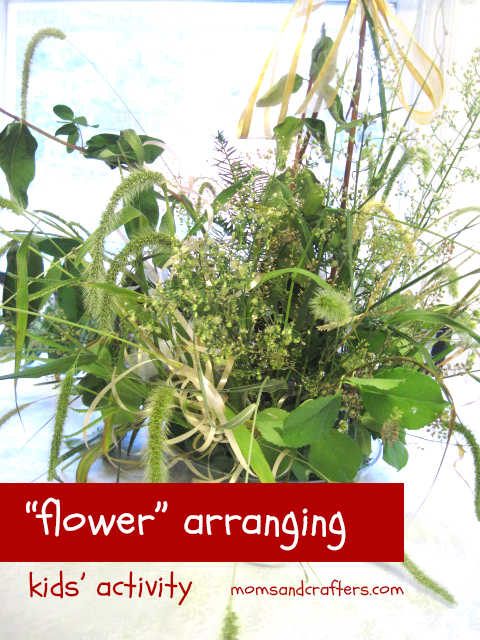 When I went to visit my parents at the end of the summer, my younger brothers (ages eleven and six) were very purposefully occupied for a change. They had taken the foam block from a long-gone bouquet, and were recycling it.
This project is a doubly entertaining one, as it includes a nature walk to collect the flowers a.k.a. weeds for the arrangement. It poses the challenge of logistics for young minds, as they figure out how to best arrange it so that it's spaced evenly, and the taller ones don't overshadow the shorter ones. It's also a great project to do as a team.
My eleven year old brother helped the six year old, so it made for a great activity for both. You can reuse a floral block as my siblings did, or you can use a new one, and reuse that one when the current one dies. This is definitely something the children will want to do again!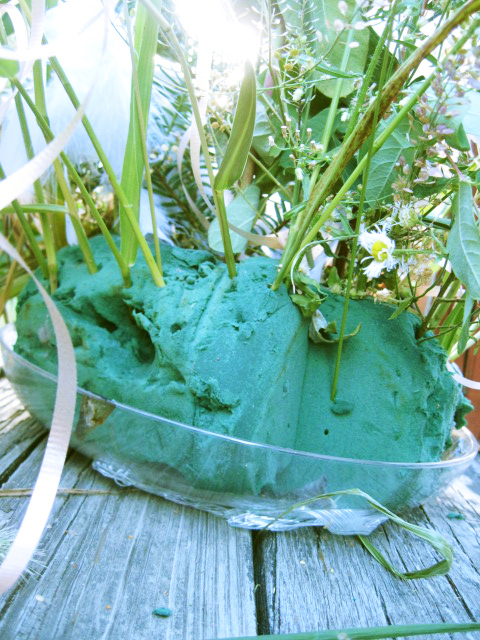 This unique take on weed "flower" bouquets is perfect for this time of year. The children can incorporate stems with colored leaves on them in addition to the wildflowers, weeds and long grasses that my brothers used. It's a great way to get children to go outdoors when it's a bit too chilly to run around, but the weather is still mild enough for outdoors time.
You need:
A floral foam brick
A bowl to put it into
A bag for collecting "flowers"
How to do it:
Go for a nature walk in an area where you may pick anything. Encourage the children to gather a variety of textures, colors (if available), and sizes.
Place the foam block in the center of the dish. T

ape the it into place in the dish by wrapping a large length of tape over the block and down to the underside of the bowl. Repeat with another piece going perpendicular to the first.

Start putting the plants into it. Begin with the larger ones, focusing on the center. Continue with the smaller ones. Focus on getting a good scattered variety.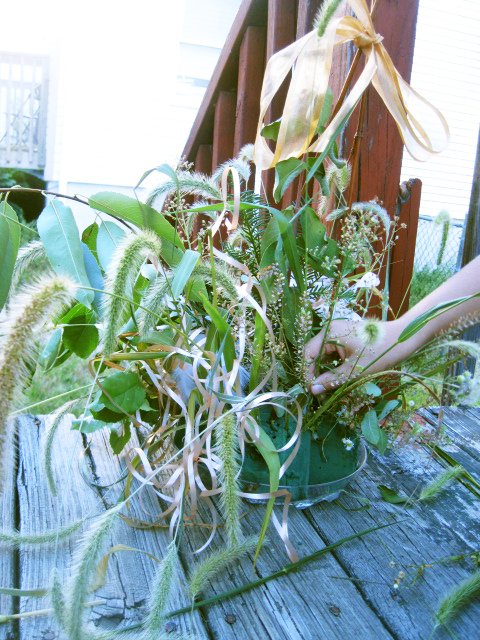 This craft is great for allowing children to have freedom of expression! Ask them if there is anything else that they would like to add. My brother added a few ribbons. Don't worry that the arrangement isn't perfect or professional.
Display it with pride!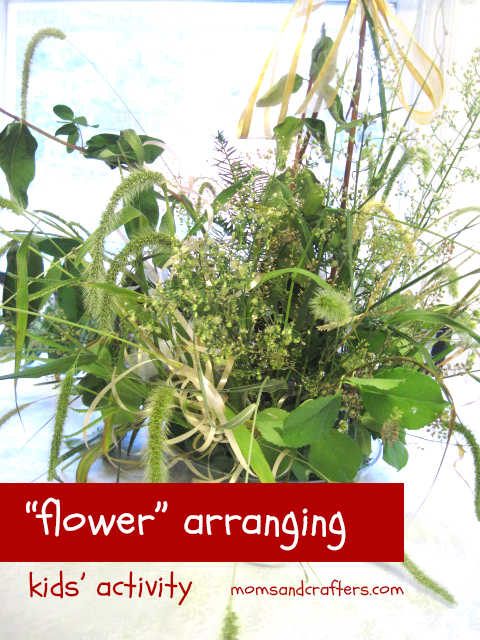 The cool thing about this flower arranging kids activity is that it can be done by children as young as six years old with very little help. It's truly a creative activity, with very little adult guidance needed. And if it comes out as beautiful as my brother's, you might even want to keep it in the center of that table!