Looking for some fabulous second birthday gift ideas? These are tried and tested by a two year old girl but are fabulous for any toddler! This post contains affiliate links. Some products in this list were sent by the creators free of charge for potential inclusion. Some were sourced in my own playroom.
---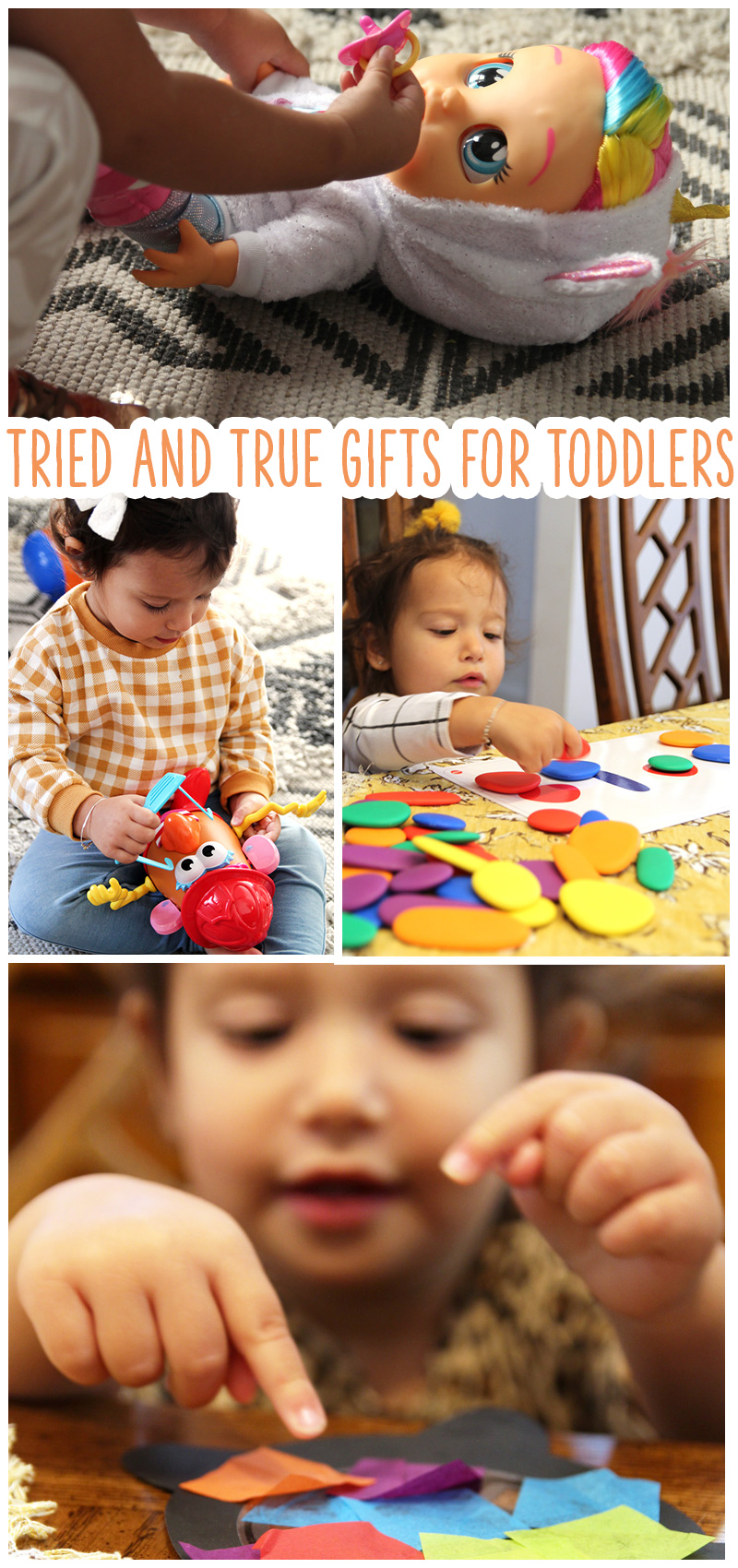 As the first holiday-season gift guide for 2022, I'm excited to share with you gift ideas for a two year old girl. And true to what I always do for my guides, this is a great list for second birthday gift ideas too, as everything here is curates for a two year old and non-seasonal!
Everything here is tried and tested and experienced by one or more of my children.
I also recommend that you not treat this as a gender-specific gift list. I include a gender on most of my guides for two reasons:
The main reason is so that people can find me 🙂 I do research to find what people are using to look and base my titles on that.
These were tried and tested by a two year old girl. So while a three year old boy may love most of these too, depending on personality, I name my guides after the tester.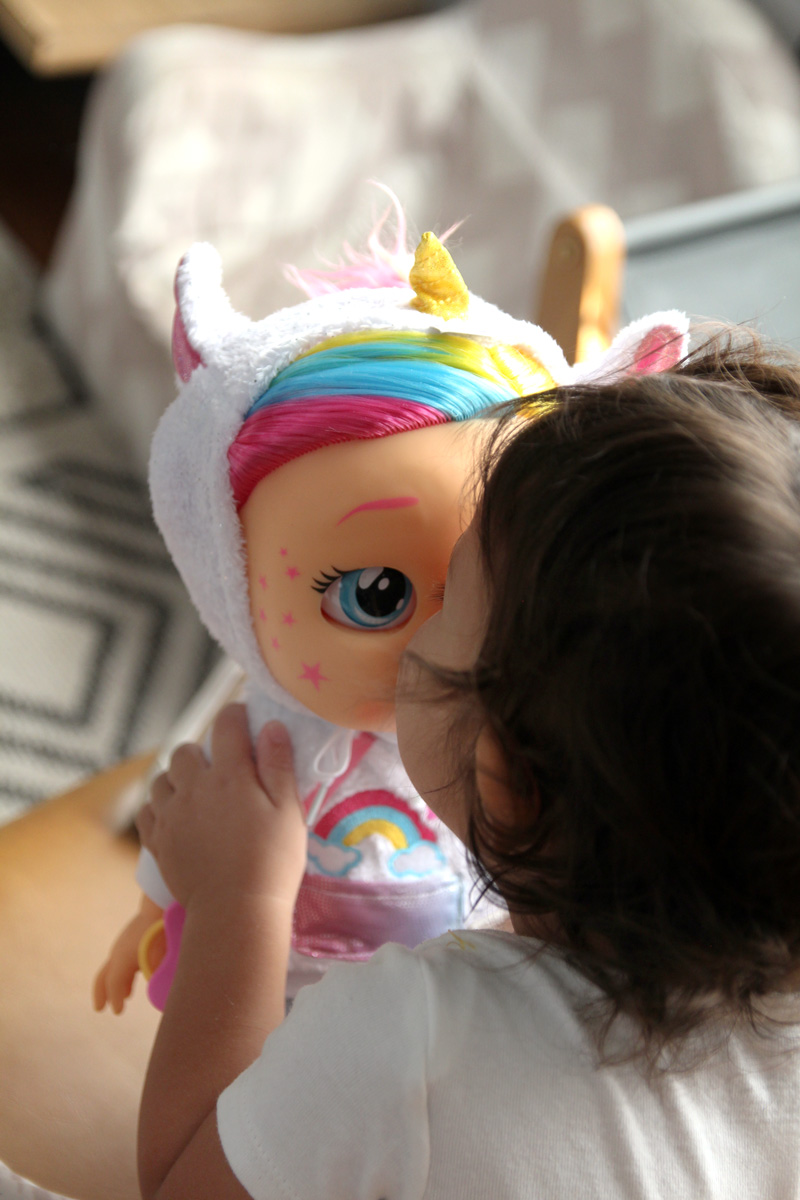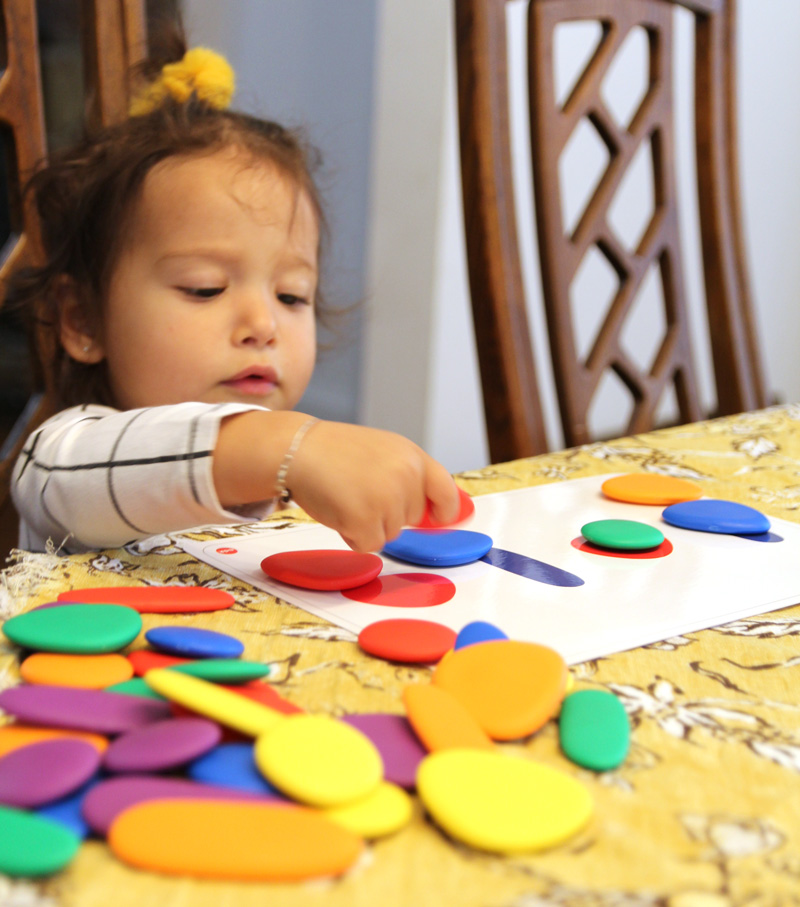 In fact, my big boys enjoyed playing with many of these too – which only makes me want to include those ideas more! Because a gift that has universal, long-term appeal is part of what makes for fabulous second birthday gift ideas.
On that note: what makes a good birthday gift for a two year old and why did I choose these particular items to include?
Table of Contents:
What is a good birthday gift for a 2 year old?
While older kids enjoy more hype, bright lights, and "shiny" appeal, at this age, my main goal is to encourage age-appropriate skill development through the best means possible: play!
I also enjoy giving non-toy gifts at this age, as they're not yet old enough to eyeroll and complain "What? Pajamas again?"
Some of my favorite second birthday gift ideas for a two year old girl are:
Highly engaging: I look at how long my energetic child will play with it.
Skill-building: Whether it's language skills, fine motor and hand-eye coordination, gross motor, social skills, or even color and number recognition, this is an age of incredible learning. And the best way to learn is through play.
Grows with the child: and helps them grow! I love timeless toys, and part of what I consider is, would my six year old have played with it last year? And it's even a bigger score if he'd play with it now.
Think ahead: You'd be surprised at just how much your two year old can do. I like to think ahead rather than going strictly by their existing abilities. Think forward to things they need to learn, things you can encourage them to learn.
Important: while most of these second birthday gift ideas are non-choking hazards, I have included some that are for kids ages 3+ too. I included these if I felt they are a good fit for a three year old. Please use your discretion with this and only use them with direct supervision.
I like to gift for a stage ahead of where a child is it. Finding a toy that is playable now but will grow with A is a huge bonus for me, which is why I personally choose to allow her to play with larger 3+ toys. She is always supervised closely when playing with those. I also only do this with toys that don't have small parts like marbles. A doesn't typically put these in her mouth regardless.
24 Second Birthday Gift Ideas
Enjoy this list of second birthday gift ideas! These are all reviewed and approved by A, with some endorsements from Team Big Brothers too. And don't forget to drop your favorites in the comments here!
Fine Motor Play & Learning Toys for two year olds
The precursor for virtually everything that's about to come, fine motor play is huge at this age. Kids can discover so much. They will just be beginning to learn color recognition, to name face and body parts, animal sounds, and more. Encourage all of that with these fine motor and educational toys for two year olds.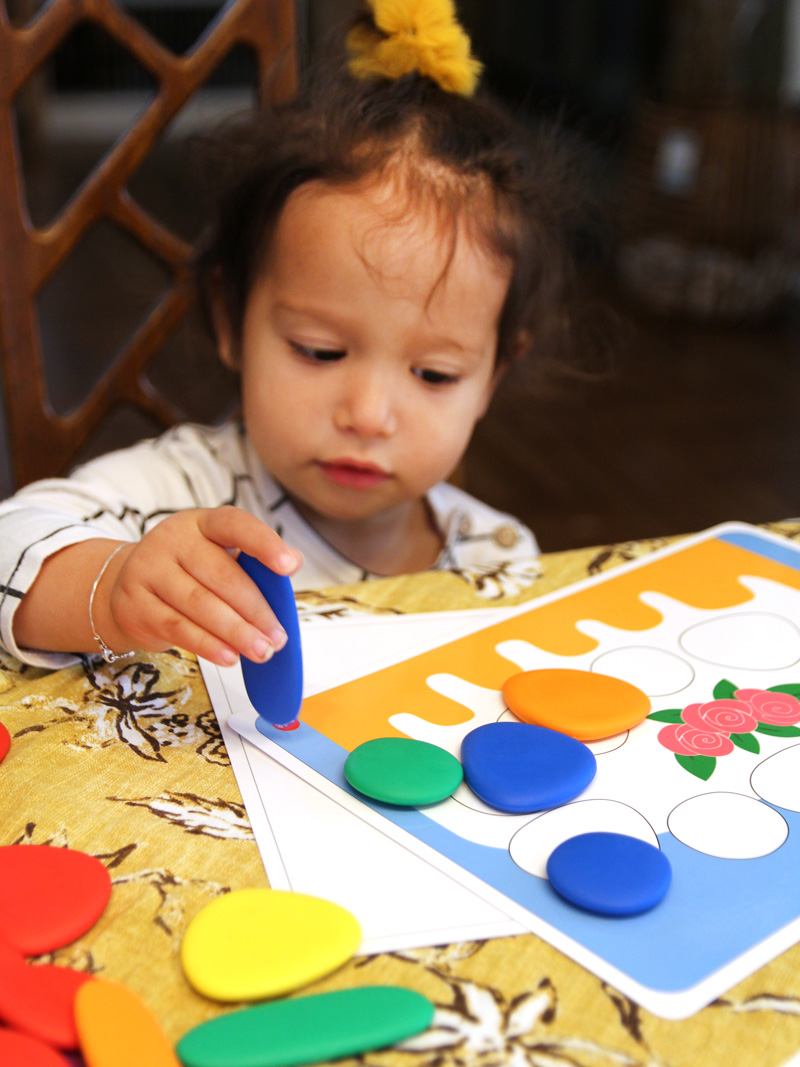 Your toddler is ready to start learning colors and how to match. She might not have the full grasp, but she's ready to learn. A loved playing with "wocks" – rocks that she won't try to swallow. They were easy for her to handle and grasp, the perfect size for those little hands.
She was able to match up some of the colors, and we cheered her on like crazy when she did. She was so proud. I sat down with her and showed her how to match the shapes as well, though that's something she'll get the hang of a little further down the line.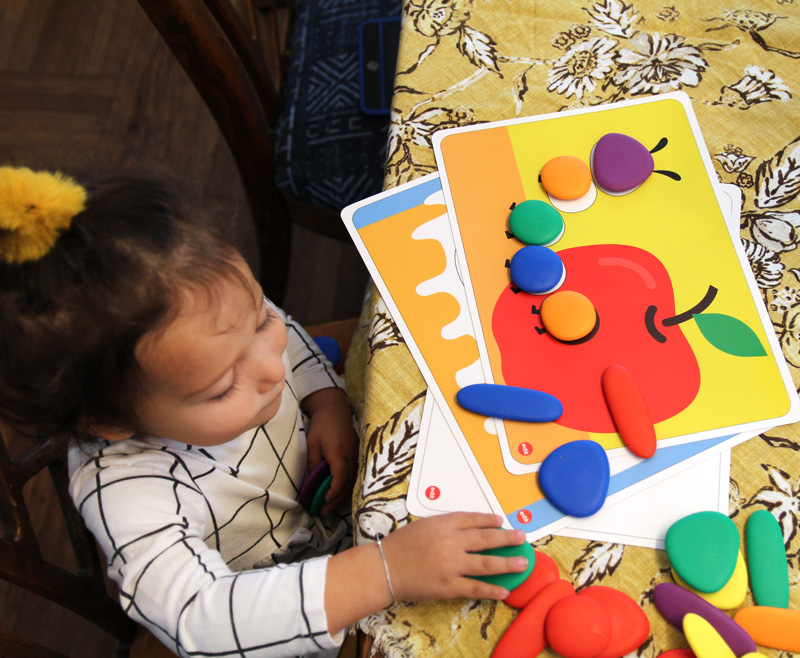 The Rainbow Pebbles activity set comes with 36 soft coated pebbles with a rubbery feel. Eight double sided activity cards are totally optional. Your toddler can sort these by color or shape without the cards, lay them out in "pictures" or stack them.
The set comes in six rainbow colors, the perfect starting point for color-learning for this stage.
Learning Resources Dottie the Fine Motor Cow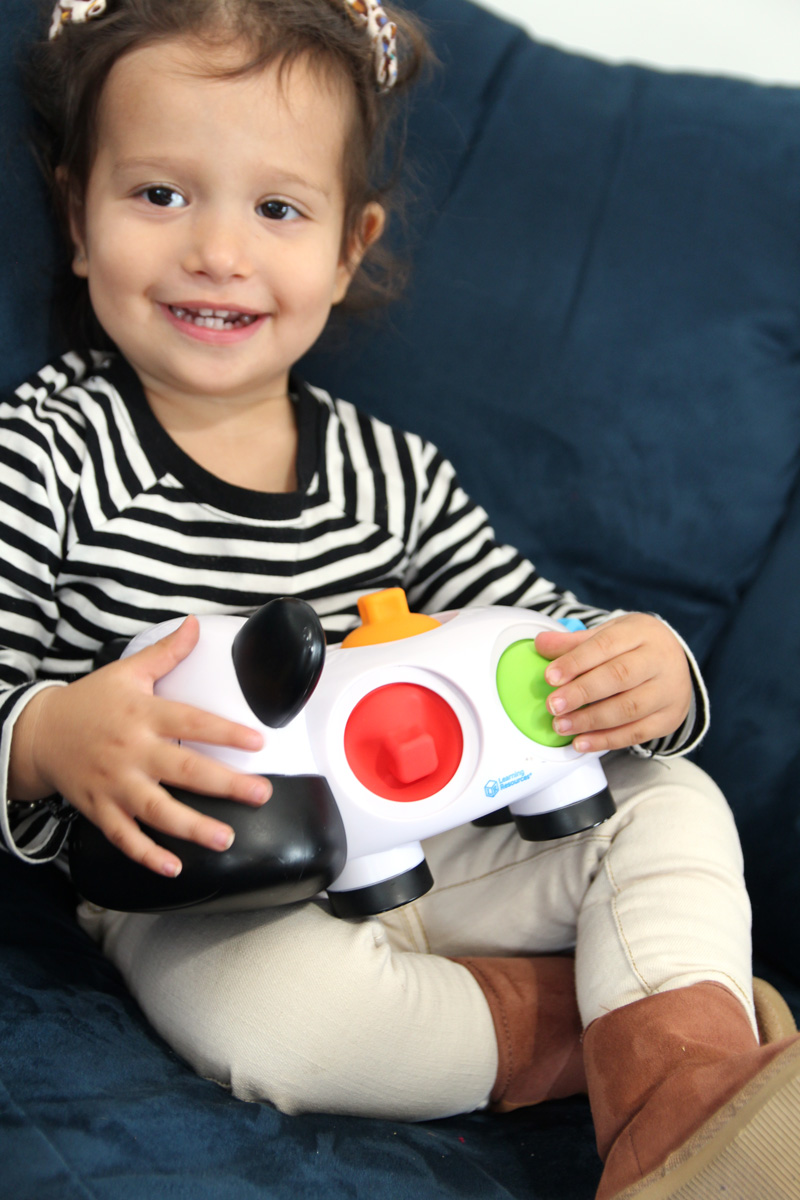 If your little one loves bubble pop fidgets, why not give them one of their own? Dottie is designed for the littlest hands. Toddlers need to put in that extra little bit of effort to pull out and push back in Dottie's spots.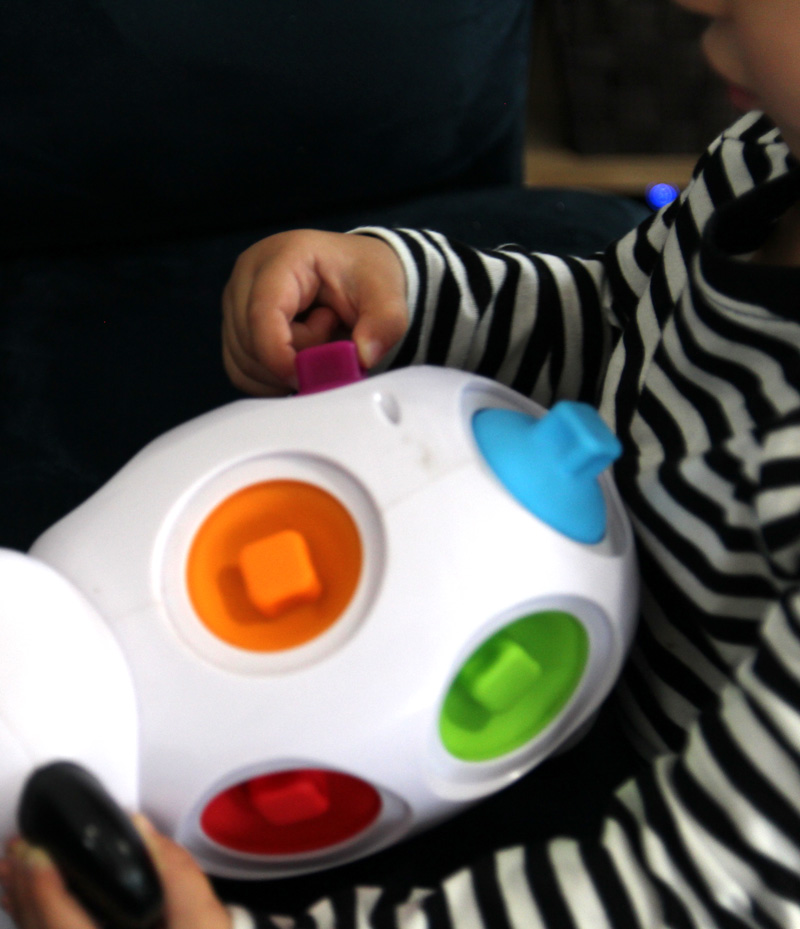 A loves this as it's tactile and easy for her to use. She loves that satisfying pop and it's a great calm-down toy for her.
Learning Resources Poppy the Count and Stack Flower Pot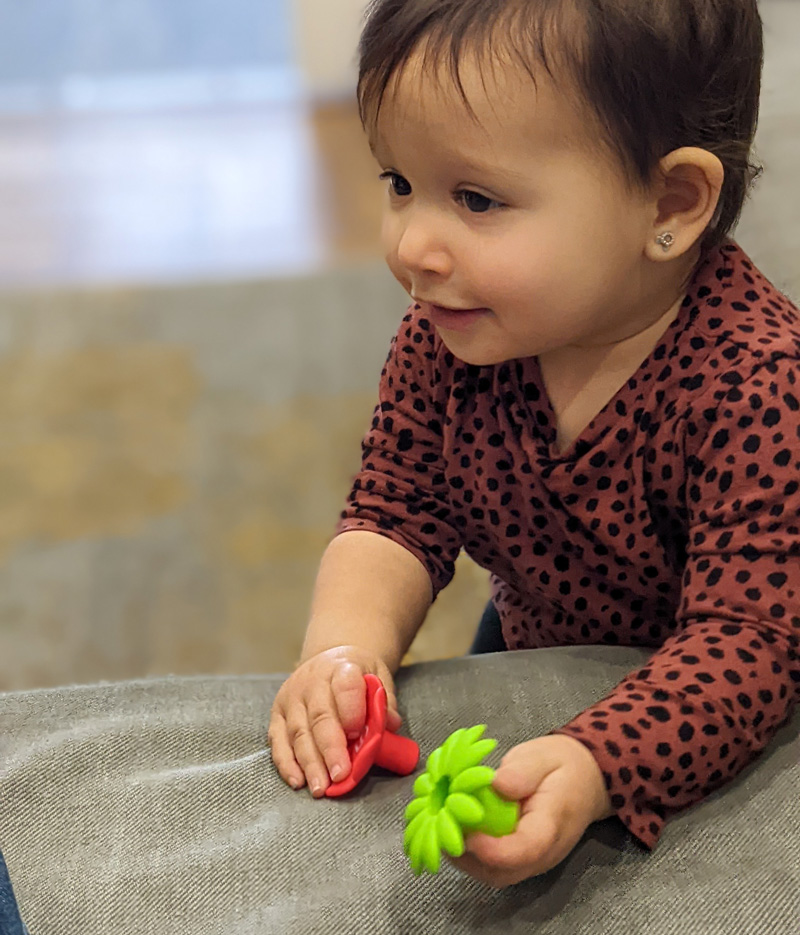 A has been playing with this for a few months already (she's quite younger in these photos) and is now, at age 2, really starting to get to know the toys. The flowers connect to the leafy bases, which can then be placed into the pot.
Eventually kids can learn to recognize the numbers, but we're not there yet.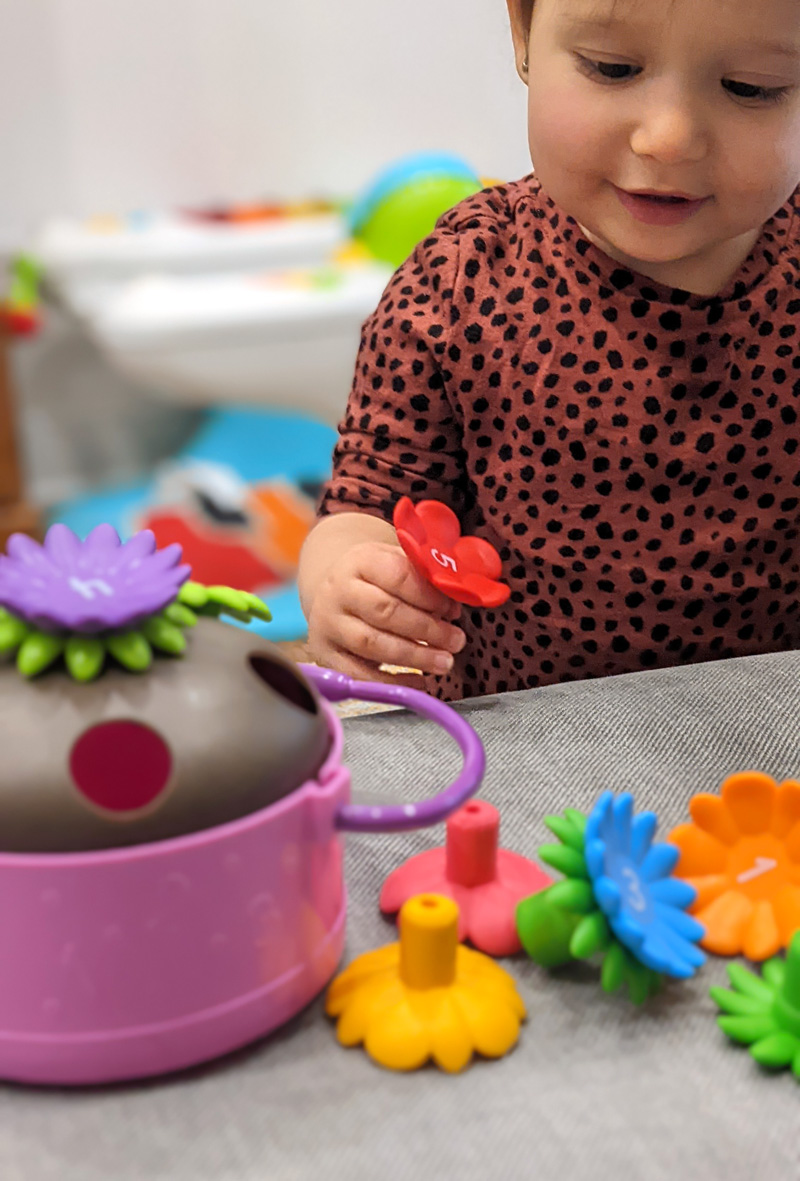 My favorite part? It all stores in the flower pot! I love a self-storing toy that can be stashed and placed on an open shelf or in a toy box without getting lost or needing another container.
And the individual flowers are also fun for toddlers to play with, so I often stash a couple to take on the go.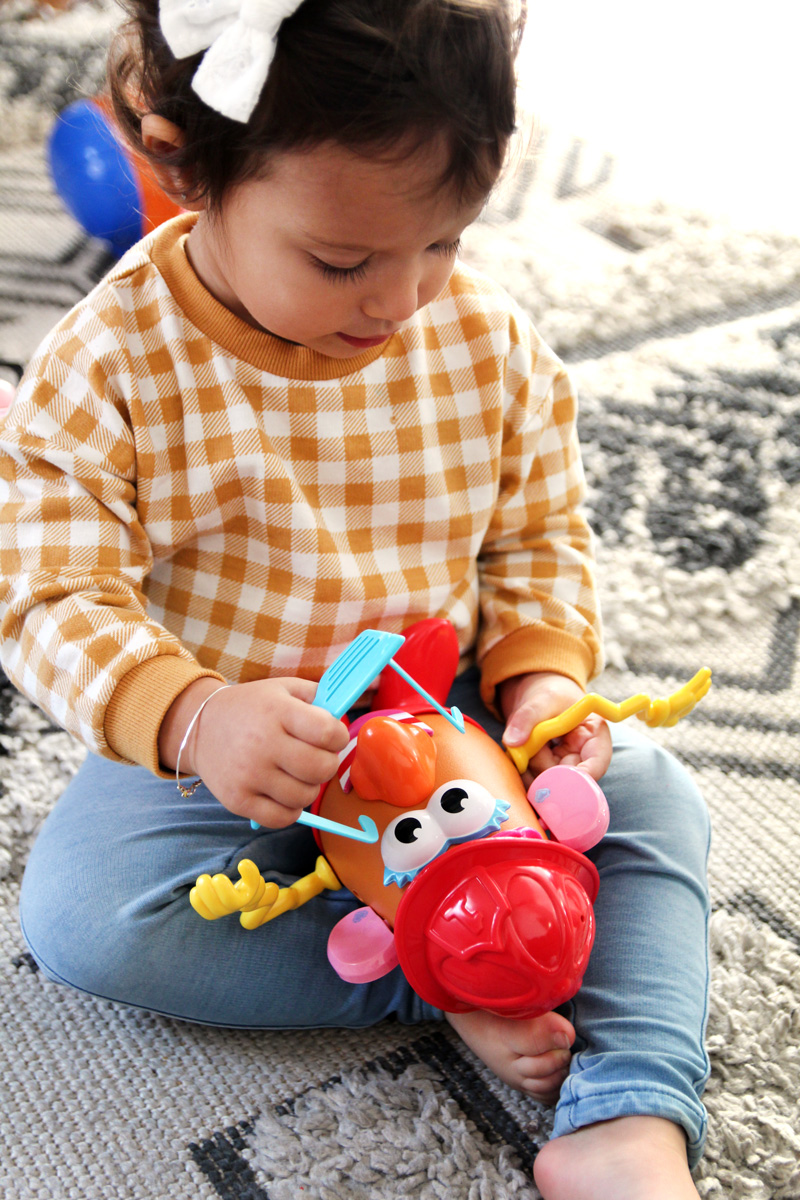 There's nothing like I good old classic. I got a huge set of Potato Heads for the boys when they were young and since they outgrew it, we forgot about it. We recently rediscovered it and pulled it out for A and she's obsessed.
Not only do toddlers build fine motor skills by inserting the body parts into the potato but they also learn a thing or two about body parts. (A's brothers assembled the one that she's playing with – she's not quite there yet.)
And she loves the glasses!
Pretend Play Toys for two year olds
Pretend play is a hallmark of toddlerhood. Kids can build social skills through pretend play. They learn how to express themselves. And one of my favorite skills that they can learn through pretend play is empathy and nurturing.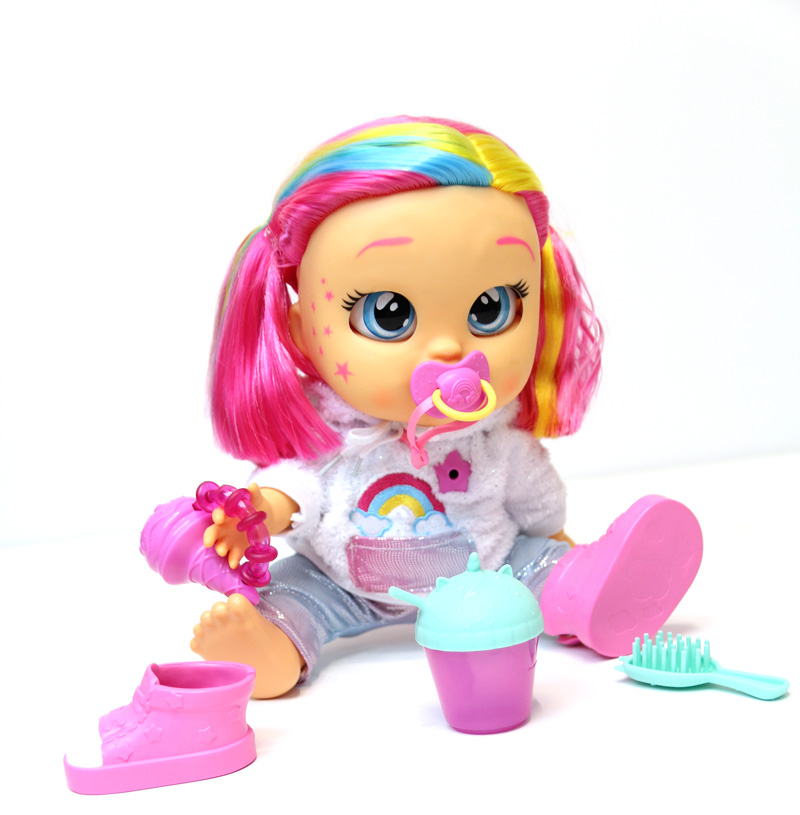 Two is a very social age, which is why I love Cry Babies First Emotions – an interactive, responsive doll for this age. A loves doll play, and this one has everything a two year old is looking for in a doll. It's got a soft, plush outfit, silky hair, lots of sparkle and shine, and relatable accessories.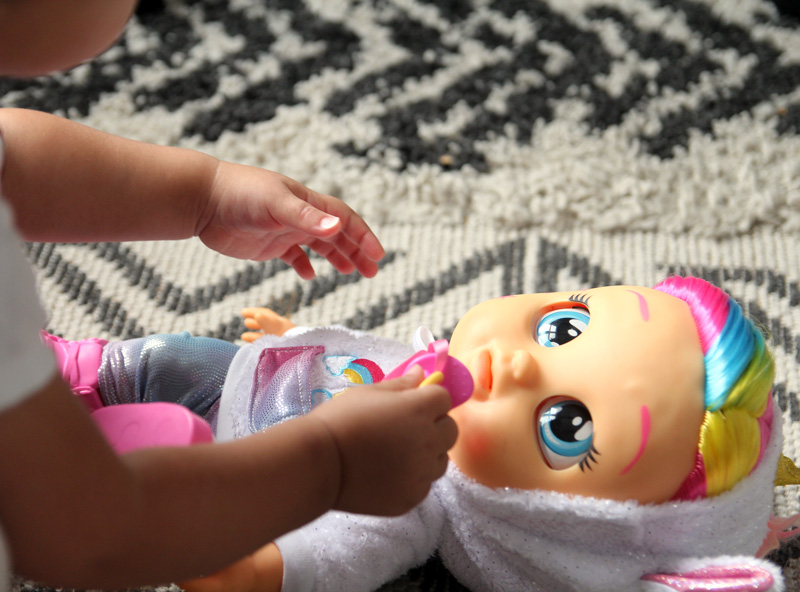 Dreamy comes to life as A nurtures her. She can blink, babble, sleep and play. She giggles if you tickle her, drinks from her sippy cup, and will calm down when given her pacifier.
The outfit is fully removable and she comes with four accessories. She can cry real tears (with water that you add in.)
Cry Babies First Emotions has over 65 responses and is a large doll, making it one of the more engaging, high end interactive toys I've seen. So far, we think it's a winner.
While any doll play teaches nurturing, this one has that added cause and effect element that a toddler can really use.
Bababoo & Friends Tree House Play World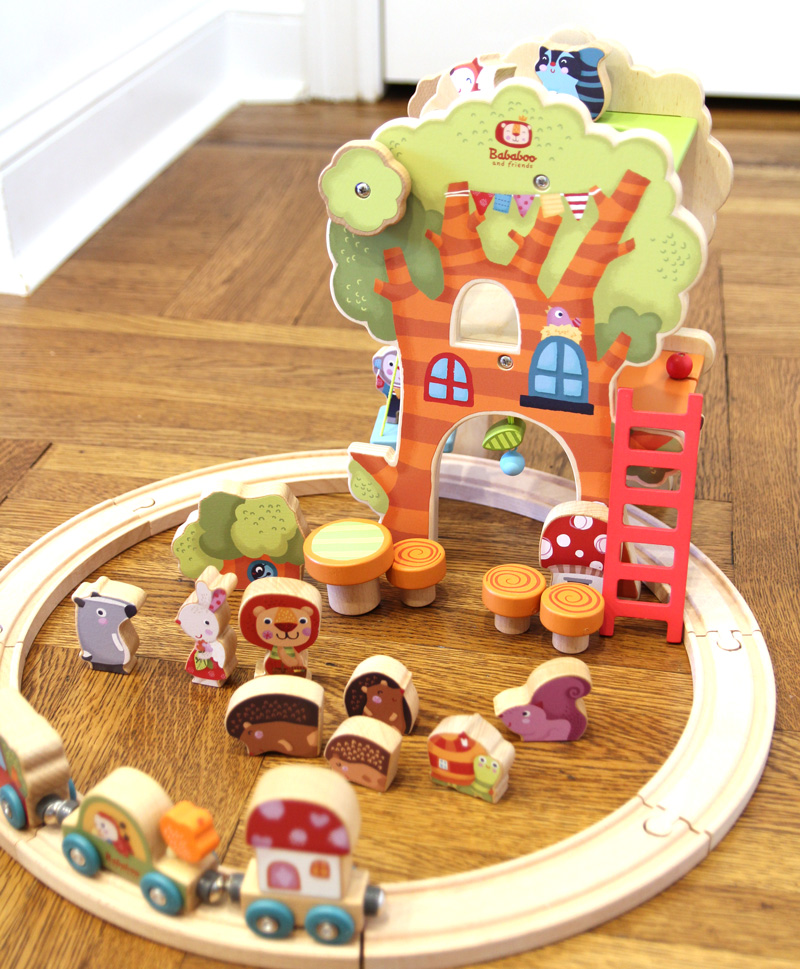 Train play is a timeless classic but is often targeted to older kids. It's a toy I usually recommend for those who want more value and play time out of fewer toys because of how engaging it is. Bababoo and friends is a world of its own, designed for toddlers too. It's the kind of keepsake toy that you'll want to keep even when your kids outgrow it for the grandkids to use.
The Tree House Play world comes with a circular track that's easy to assemble and a tree house. Three detailed cars connect magnetically and ride along the track. It also comes with loads of woodland creatures and accessories for pretend play.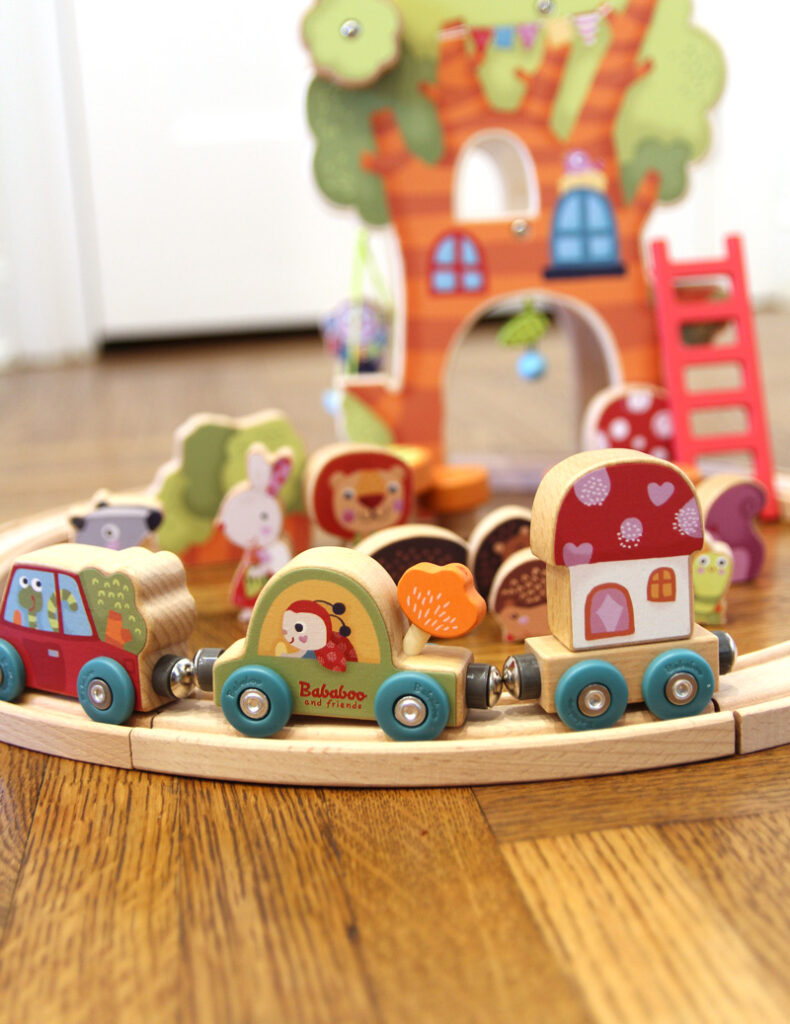 It's kind of magical to watch a child who's just learning new language skills immerse themselves into a world of their own making. And when it's things they love, such as swings, ladders, and the outdoors, it's just that much more charming.
The singular, circular track is simple enough for little hands to assemble. And the tree house itself is so full of whimsical detail, you'll keep on discovering new ones. A small cricket hangs from an acorn reading nook. A platform swing can be rolled up and then let down, making the little ones giggle.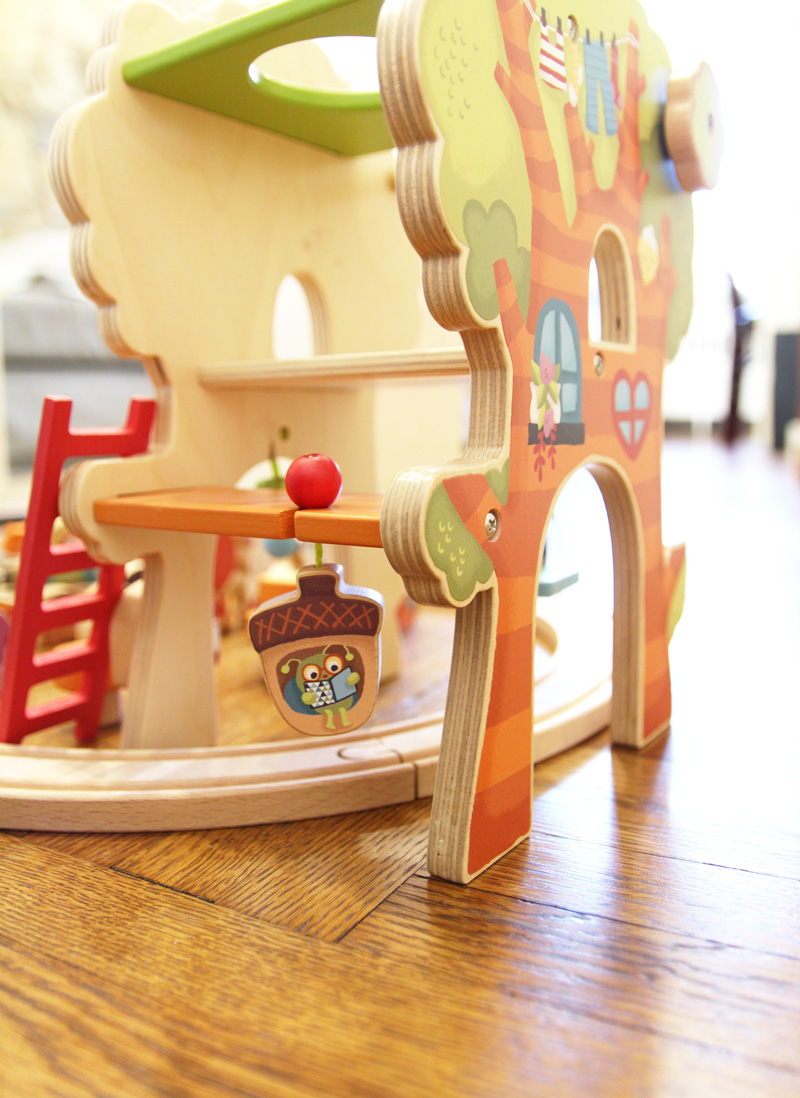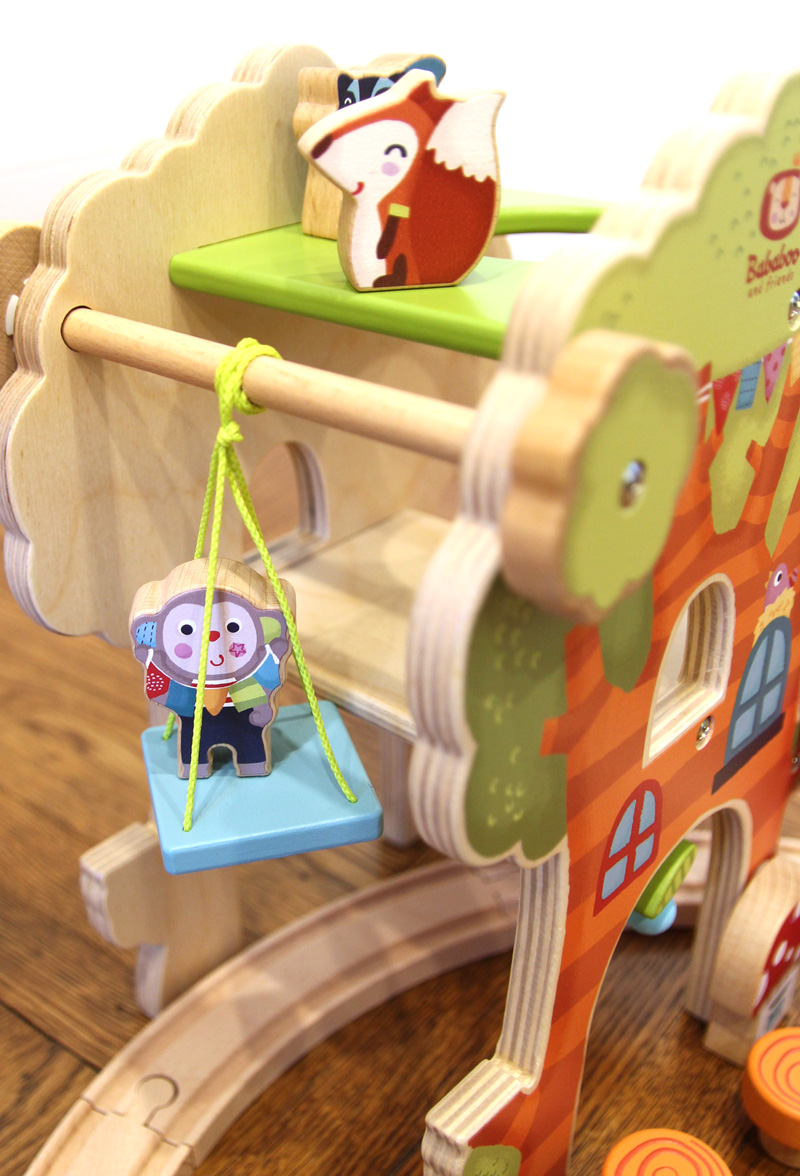 It comes in a gorgeous gift-ready box, with each part carefully wrapped. Ultimately, if you're looking for a keepsake quality toy with hours of play time value, Bababoo & Friends Tree House Play world is on of my favorite second birthday gift ideas!
CoComelon Petting Farm Playset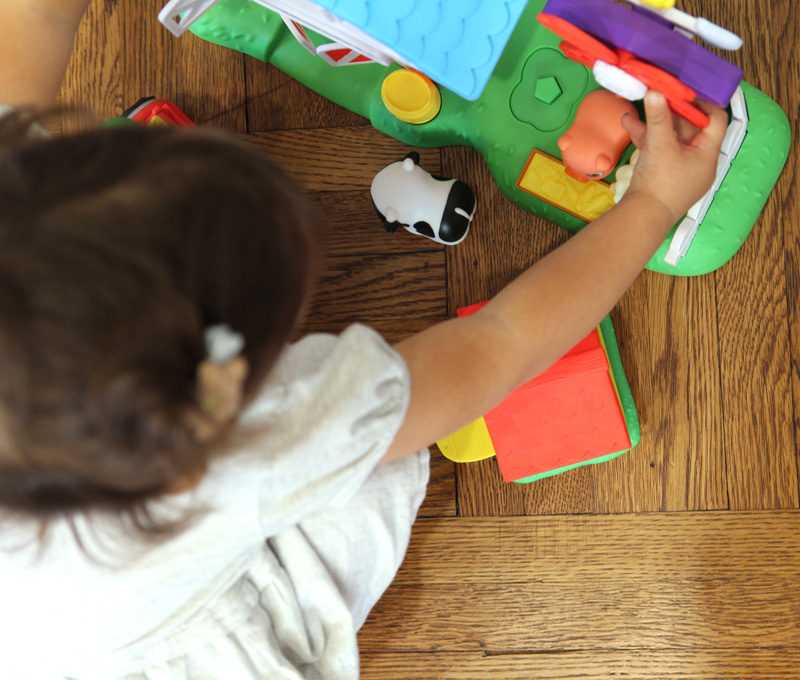 If you're finding yourself drinking hot coffee to the background music of CoComelon these days, you'll definitely want to check out Jazware's toys! A loves the "EIEIO" – what she calls the CoComelon Petting Farm Playset.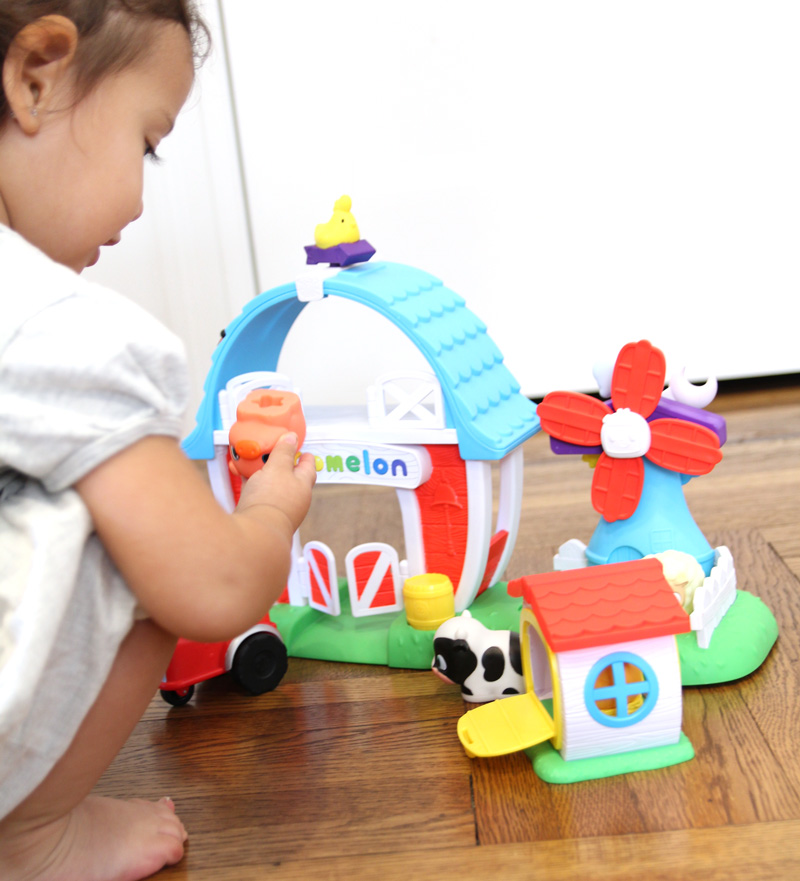 It plays Old Macdonald and has JJ riding a tractor. Three animals get matched by shape to their bases and then make their respective sounds. And A just adores the "chicken soup" (her words, not mine) that lives in the little coup. Find more CoComelon gift ideas here.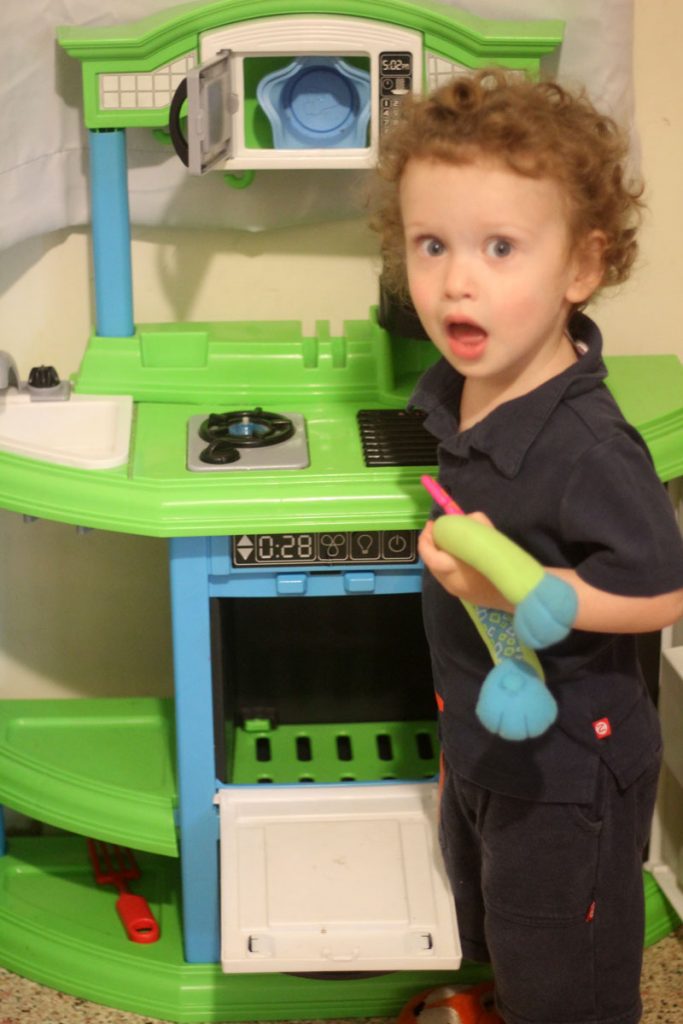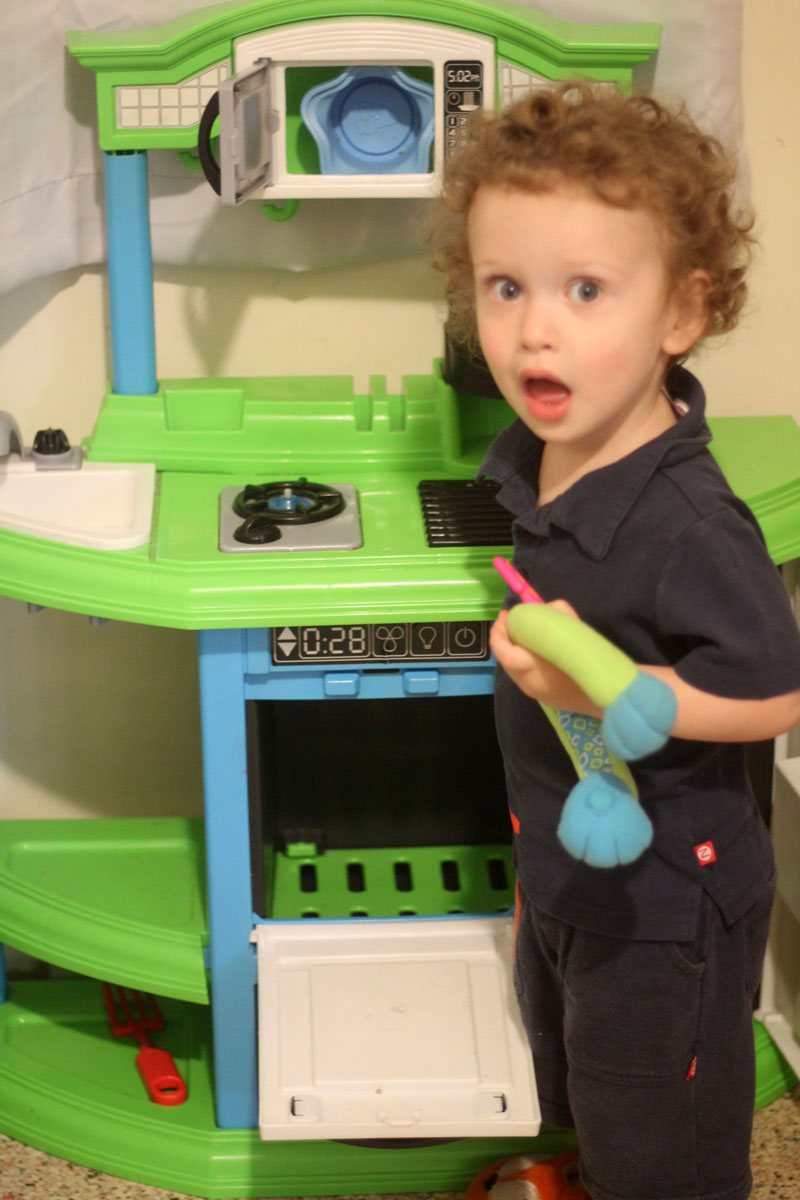 Does your little one think they're ready to help you in the kitchen? A always goes and fetches a stool so that she can grab a knife!! and get to work!
Time to get a play kitchen, or at the very least some kitchen toys. I love the ones that feel "real," and while the kitchen set pictured was loved by my boys until we purged it, our next one is definitely going to be a wooden one!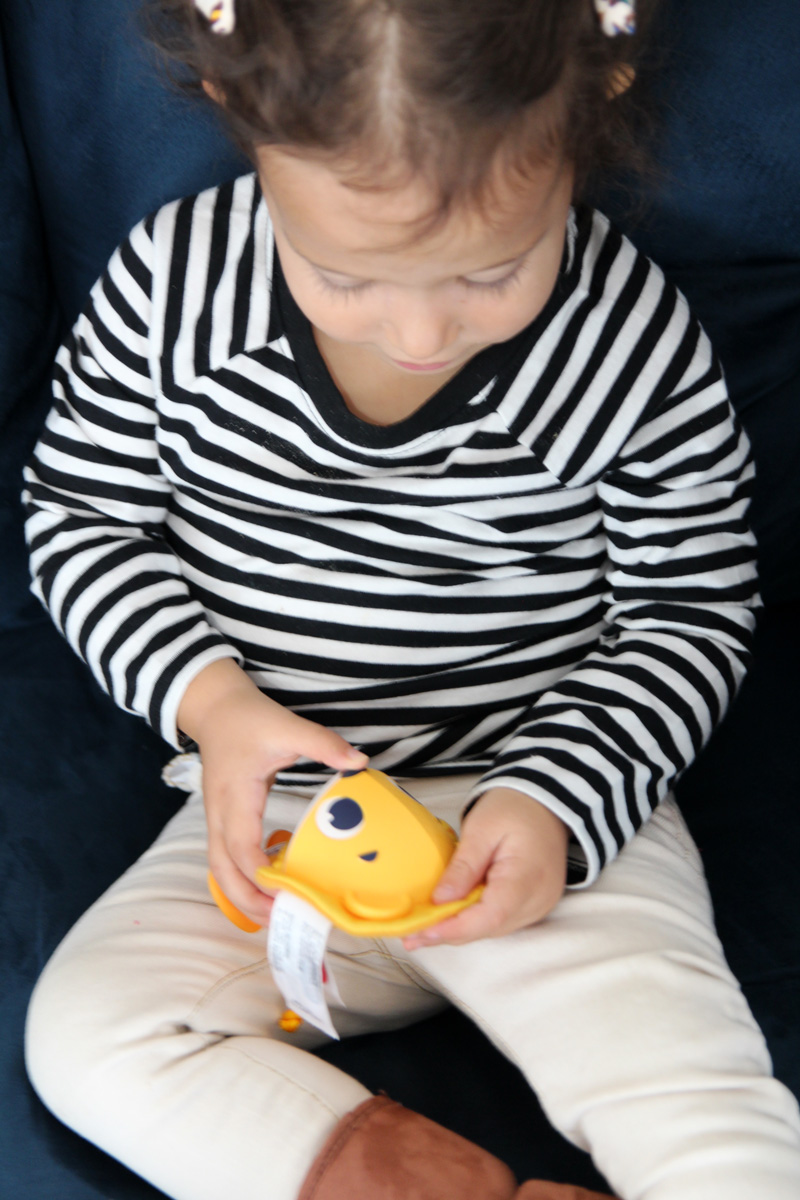 When A first started playing with this (at maybe 16-18 months), I wasn't sure it was really a toddler toy. Now, at almost two, she is obsessed.
Leonardo the Lion helps A learn a lot about cause and effect. He plays peekaboo with the light sensor on the hand. Push the tummy button to "tickle" him and he laughs. Push the nose and he sneezes. Feed him the apple and he munches.
And our favorite part – a feature A has finally mastered – jump him up and down and he goes "boing, boing, boing." It's a fabulous second birthday gift idea as it's right on target for that age. It's small, so it's great for those who are short on space.
Non toy gift ideas for a two year old girl
Why stick to toys when your kids will appreciate non-toy gifts? Some of these are mixed toys with non-toys, some are crafts but some are just fun things that your two year old will appreciate, even though they're not toys.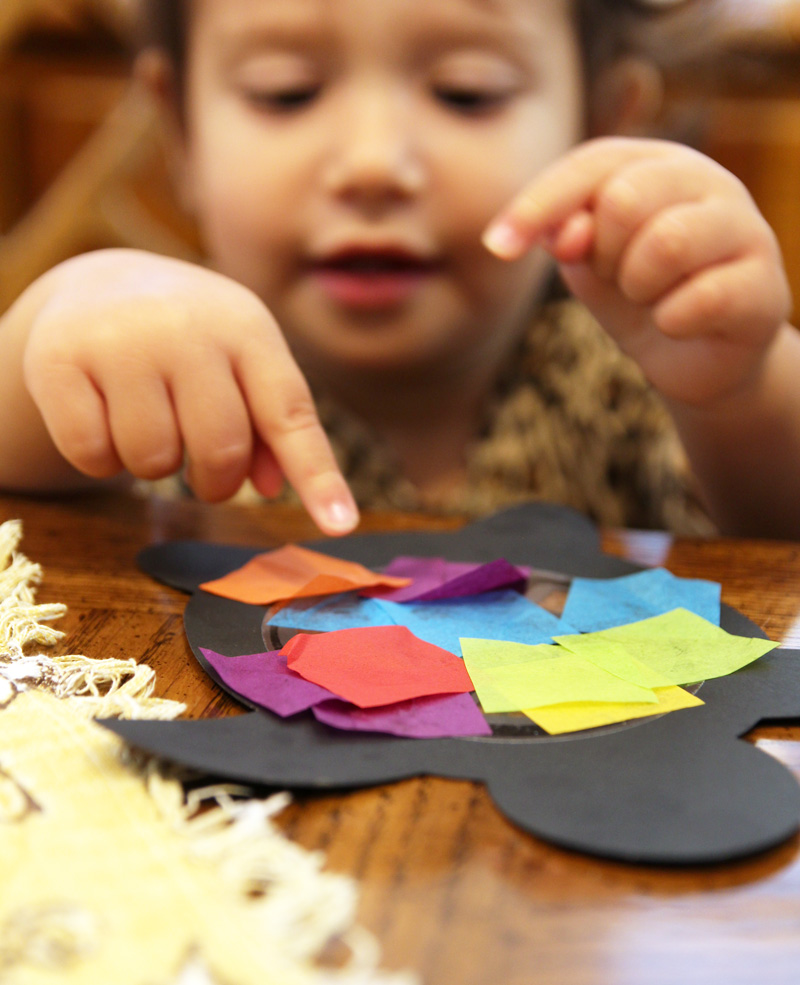 You've read about KiwiCo here before, and I've shared all about the toys in Panda Crate that A loved as a younger toddler. That crate goes up to age 36 months, so it was time to give Koala Crate a go!
Koala Crate is KiwiCo's activity box for preschoolers. It can be purchased as individual boxes, gift subscriptions (non-recurring), or subscriptions (recurring).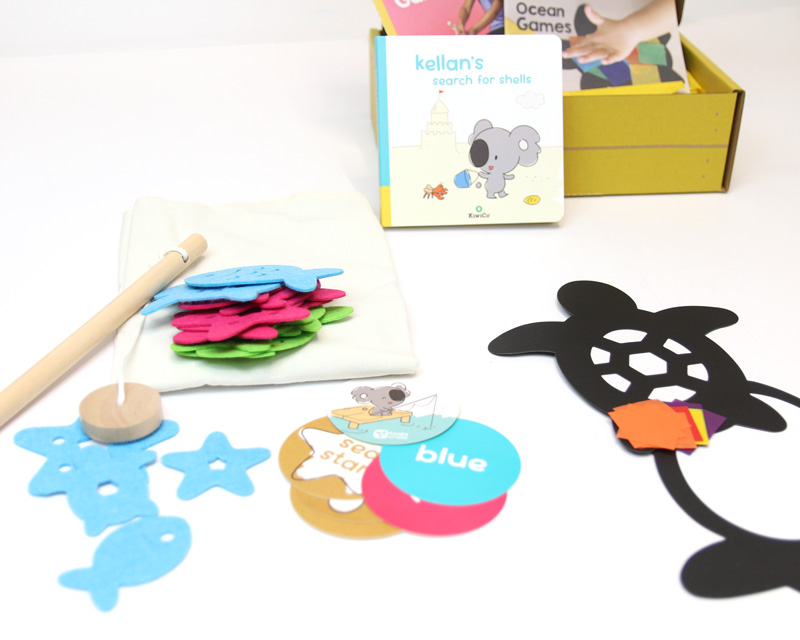 I can be a bit of a skeptic when it comes to "activities for toddlers" – how much of it do they actually do? KiwiCo has set themselves apart as true experts in the area. Not only does their in-house creation of the kits mean that they offer incredibly good value, but each item is highly educational, fun, and totally age appropriate.
The ocean themed box came with a really cool fishing game. Instead of magnets, it uses hook and loop on the quality wooden "rod". This sticks easily to the felt shapes and is much safer than most magnetic toys.
The game comes with cards, so that you can teach your child about sea creatures, shape recognition, and colors as you play together. The best part? The storage bag doubles as a play mat and background for the game!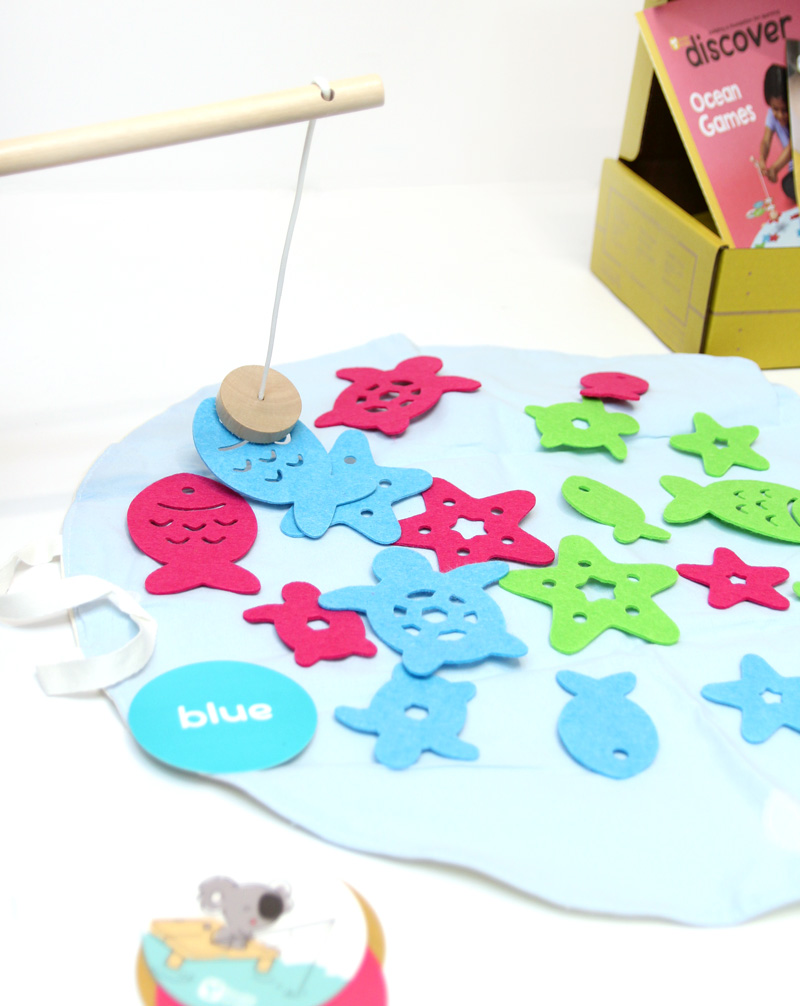 Our favorite item in the box was the craft: tissue paper suncatchers. Just peel off the backing to reveal the adhesive and place the tissue paper squares in place. It was easier for A to do than stickers, since the tissue paper will still stick to the surface if it's folded, and it doesn't require a specific direction. A was so incredibly proud of her creation!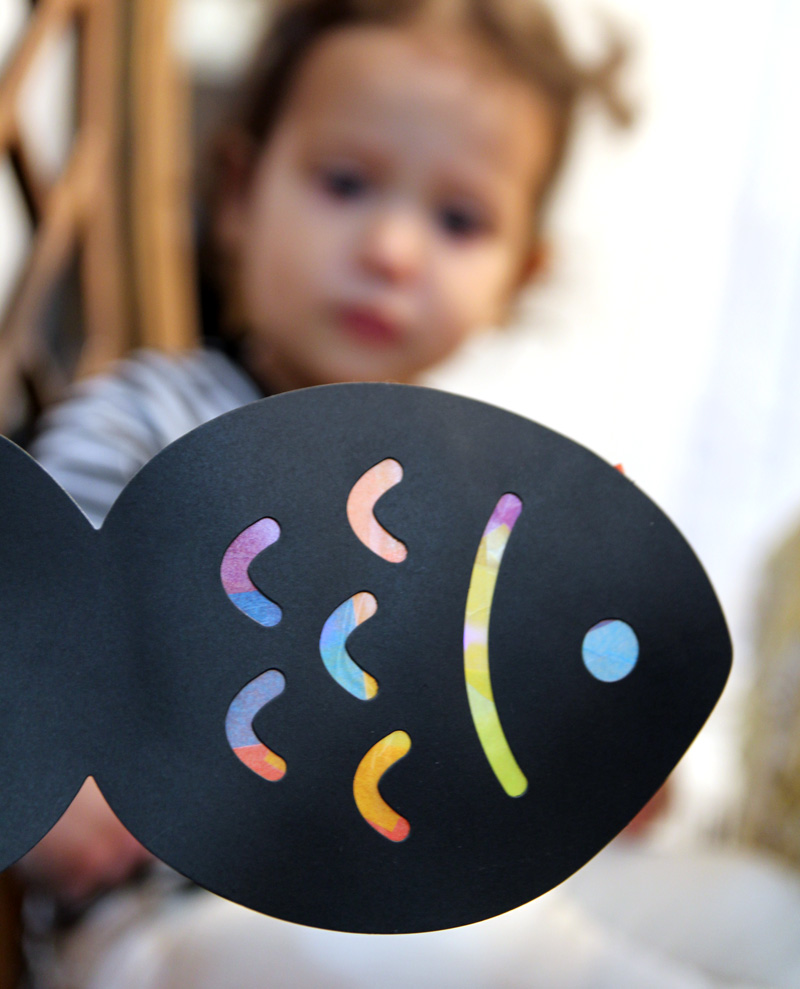 Finally, just like Panda Crate, Koala Crate comes with a board book and parental guidance.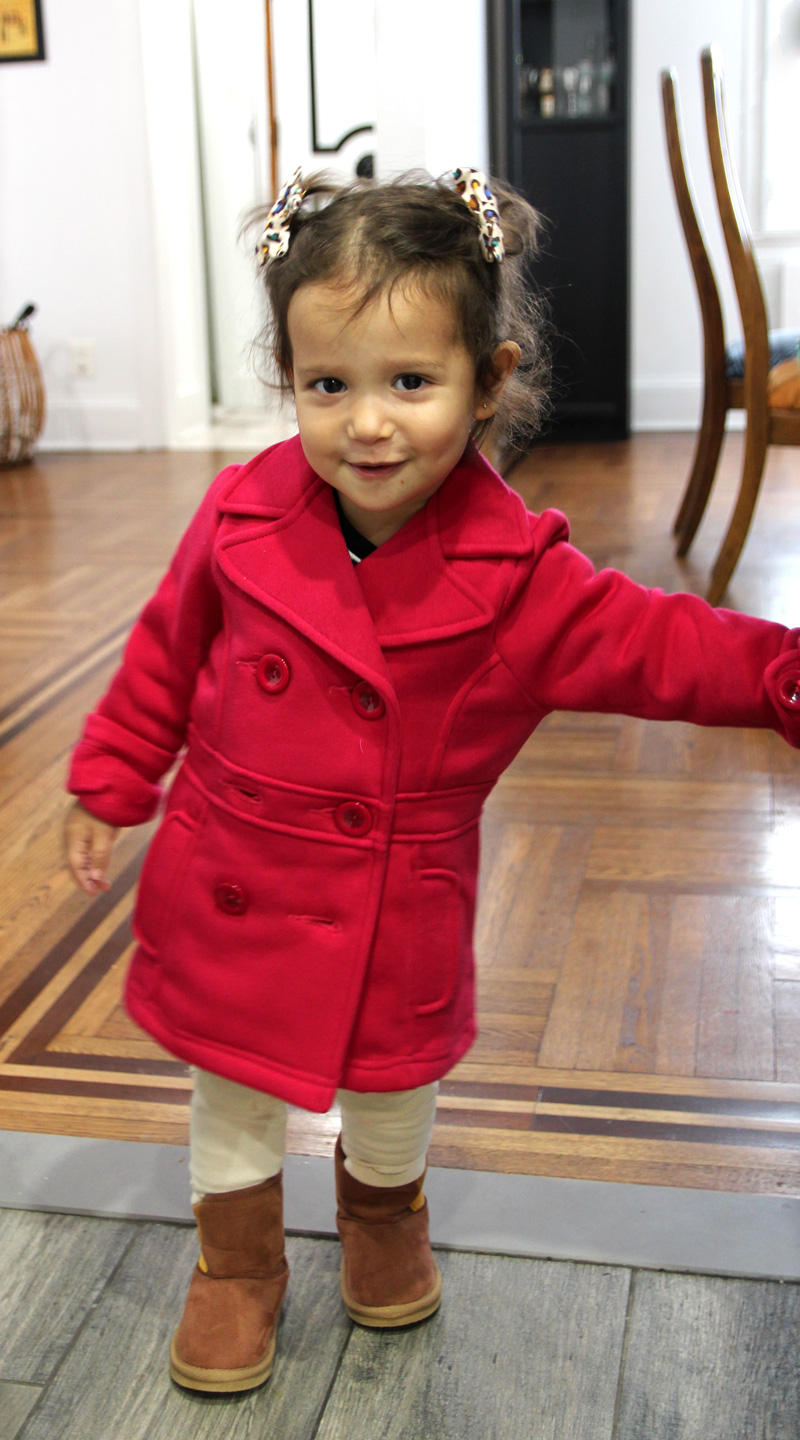 Every one of my kids had to own a pea coat. It started with me just loving little babies who dress like men. Then it turned into a practical solution for the car, where puffer coats are a no-no and fleece or lined pea coats are just a better option than (or layerable with) hoodies.
Either way, a pea coat is an adorable little piece of clothing. Toddlers love anything cozy, so to make it appeal to them look for fluffy bits – either a fleece one like I got for A, or one with a fur collar.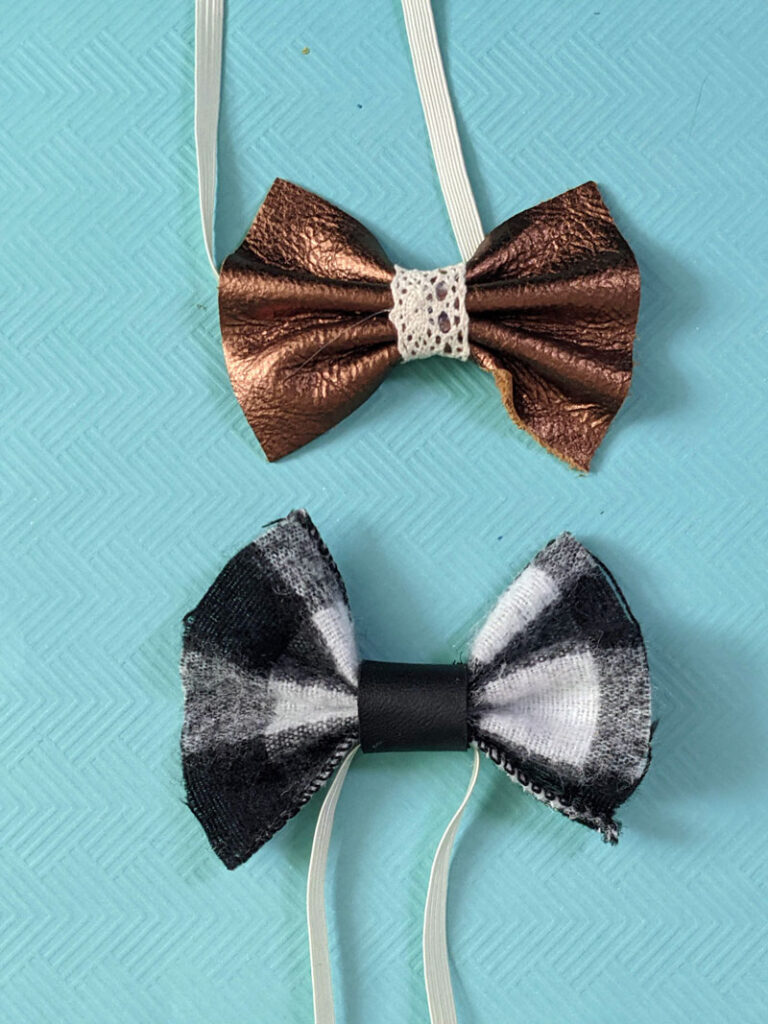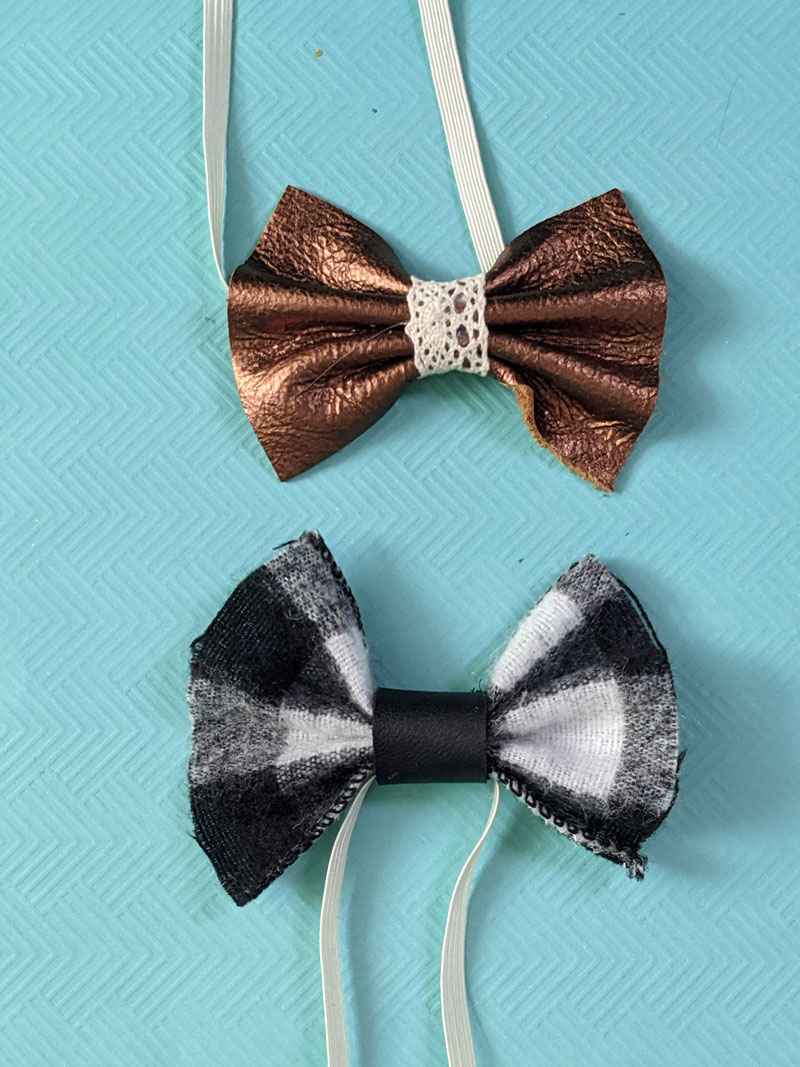 Can a princess ever have too many hair bows? I say no. Gift them in sets to make grander.
This might seem a bit random, but A just adores her snack cup! She uses it three times a day on average. She eats cereal out of it in the morning. She eats her sandwich and her snack out of it. Chips, fruit, cookies, and more, all go through the snack cup first.
A toddler does not simply sit in a high chair. She feels trapped that way! She just loves her snack cup.
Art Easel + Any toddler-freindly art supplies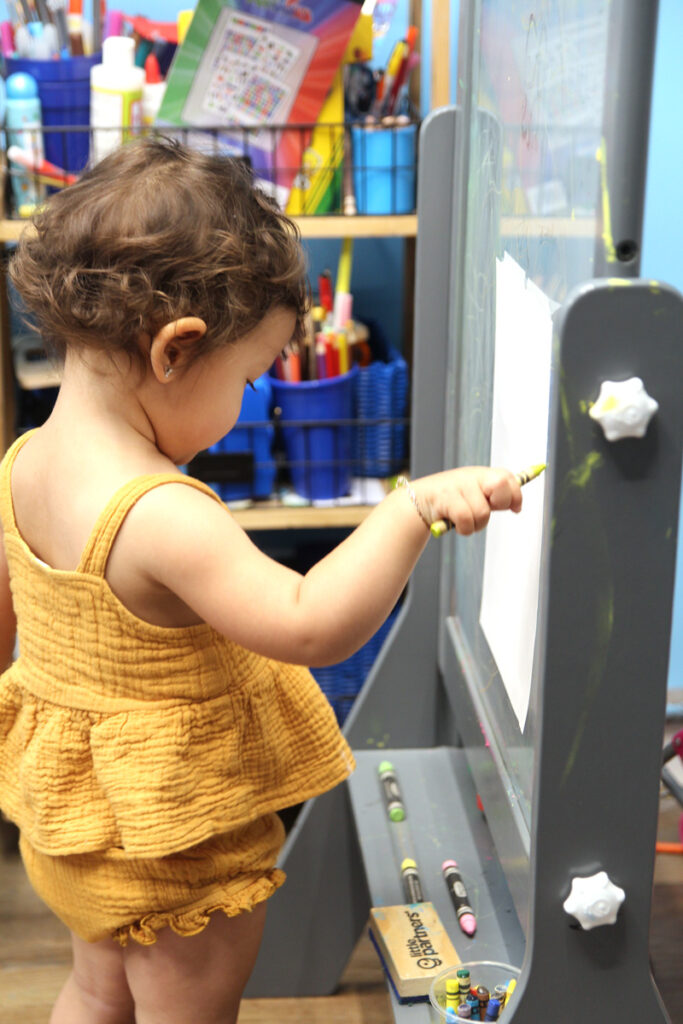 Kids are just beginning to explore their artistic side and to do some "colowing" around their second birthday. We love this plexiglass easel from Little Partners. It's the perfect height for toddlers and you can color using dry erase or window markers too, or tape up a piece of paper.
Making art on a vertical surface is a fabulous core strength builder that can help with future writing skills – and toddlers love it!
Combine that with any art supplies that's toddler friendly – or gift those on their own! Some favorites include: finger paints, coloring books, mess-free coloring, and easier to grip crayons.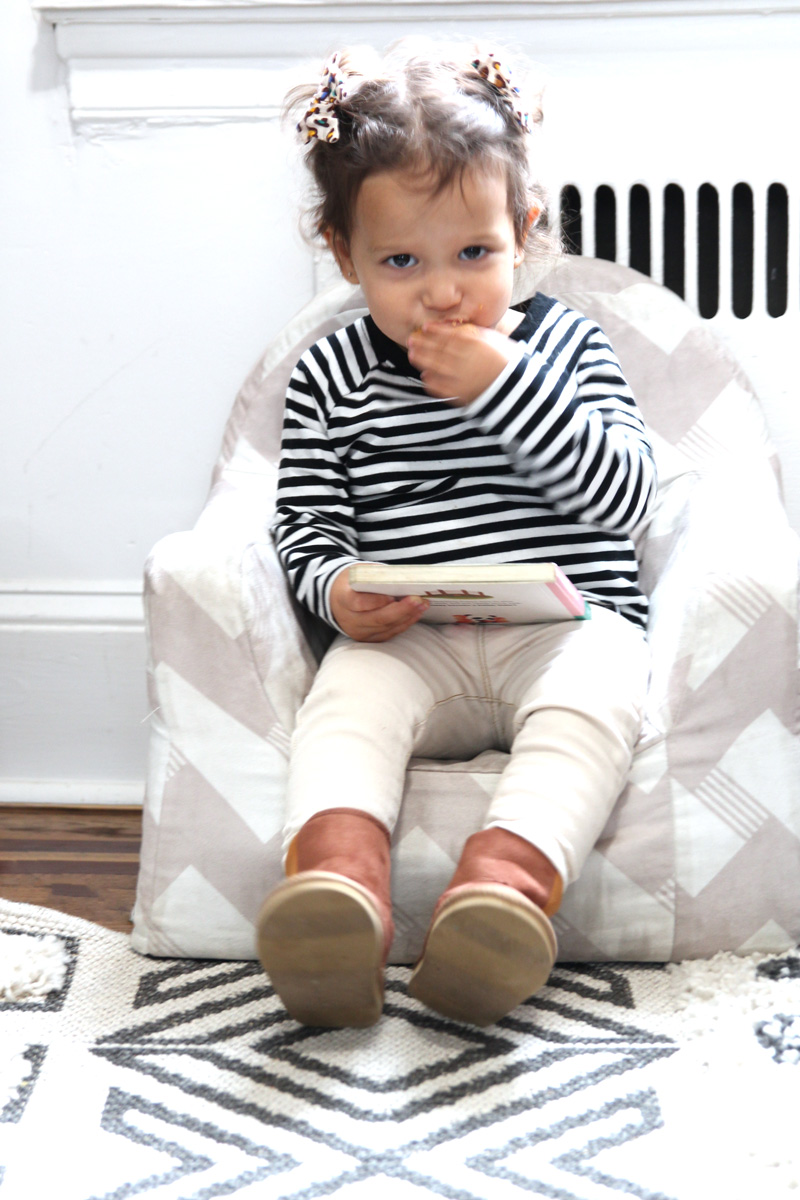 Looking for those second birthday gift ideas that are just big people things in little? A reading chair is a fabulous choice! The one we have actually went through both of my boys first. And now A's loving it.
Favorite books for two year olds
A child can never have too many books!
At this stage, I primarily look for milestone books (such as potty training), books that grow with kids, books with toddler-relatable concepts (such as oops!) and interactive books. Familiar characters are a win. We find rhythmic books (Llama Llama) and silly books (oops) to go over well at this age too.
What are your favorite second birthday gift ideas? Comment below!