These free Encanto coloring sheets feature color by number images of all the main Encanto characters – including Bruno, of course! If you love this, check out my paper doll coloring pages too. This post contains affiliate links.
---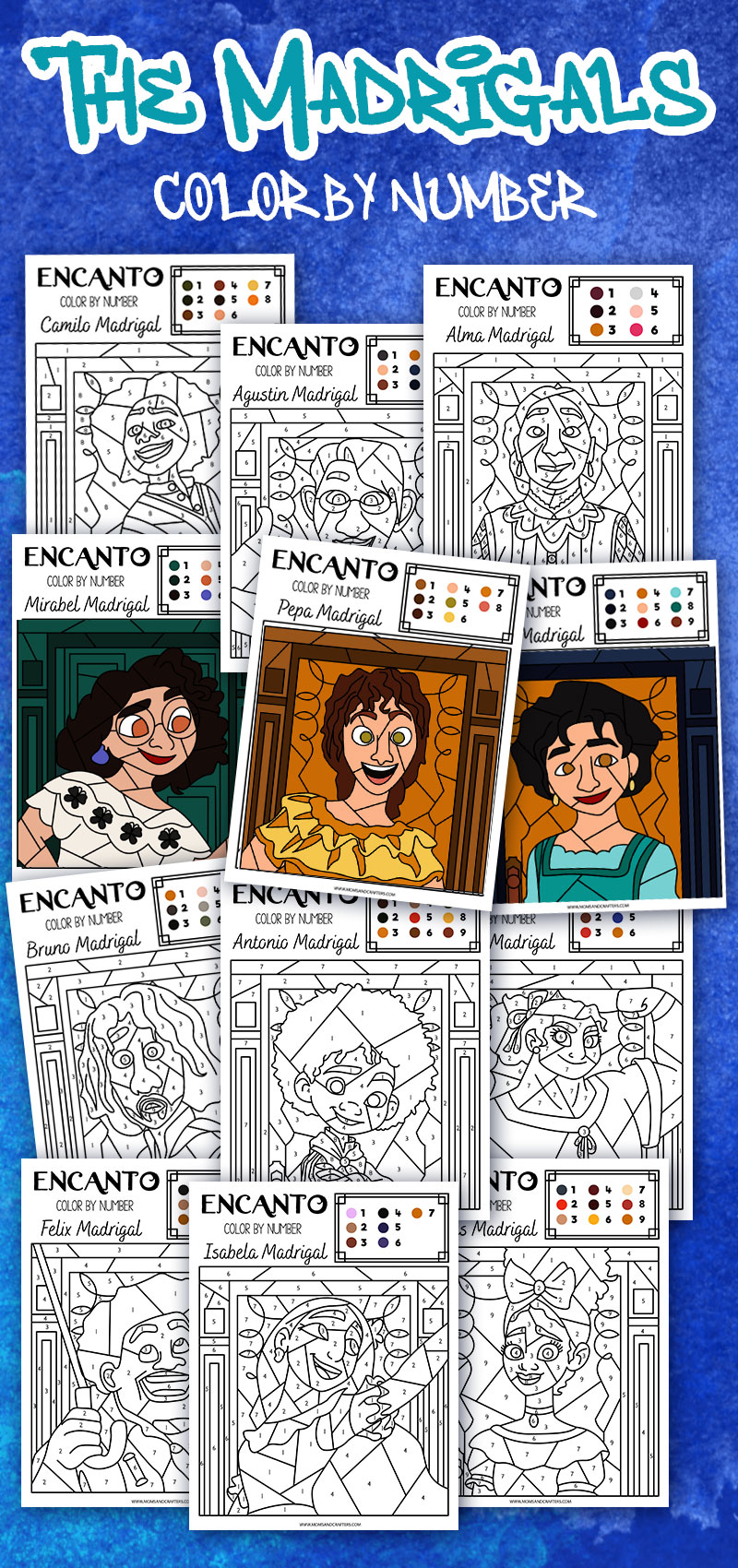 If you're a big fan of the latest kids' movie hit – Encanto, you're in luck. I'm excited to share with you today color by number coloring pages inspired by that film. Please note: these pages are not created by or affiliated with Disney. They were created as fan art and are available as free Encanto coloring sheets for you to enjoy.
This fabulous movie is similar to Frozen, not only because of the fabulous magic involved, but because of the family values it inspires. It inspired acceptance of those who are different. And the song that the kids won't stop singing from this one – "We Don't Talk About Bruno" is a LOT less annoying than Let It Go if you ask me!
Table of contents: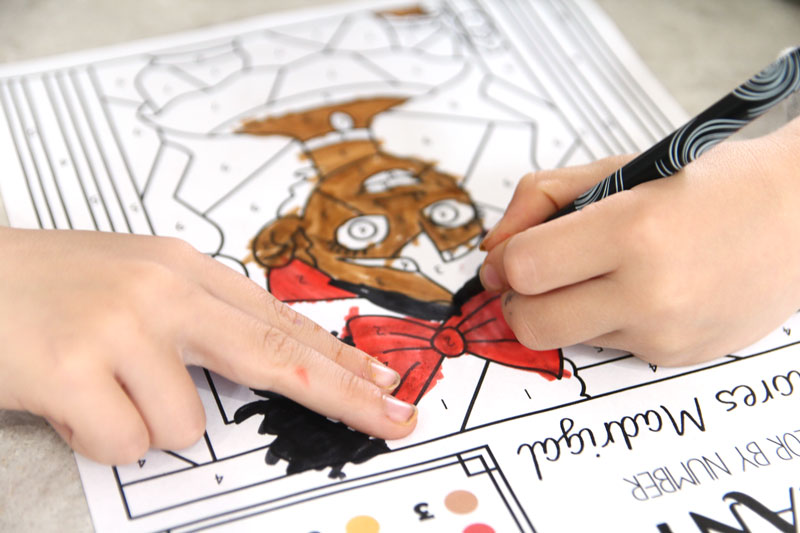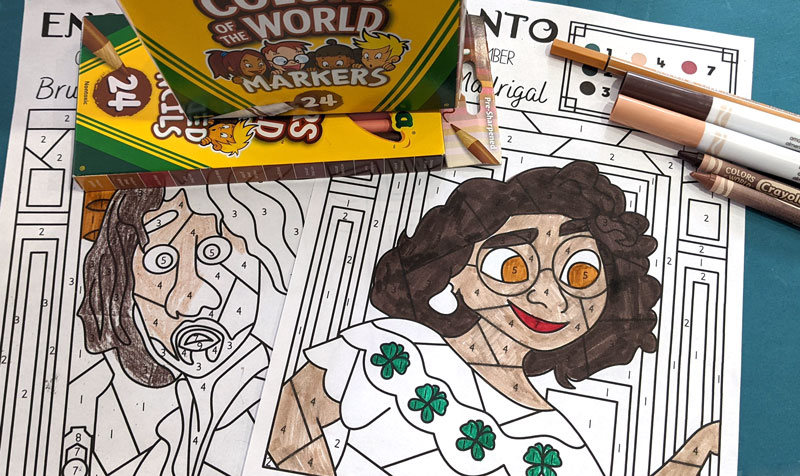 Whether you're making an Encanto themed birthday party or looking for a fun boredom buster for a rainy day, your kids will love coloring in every member of the Madrigal family!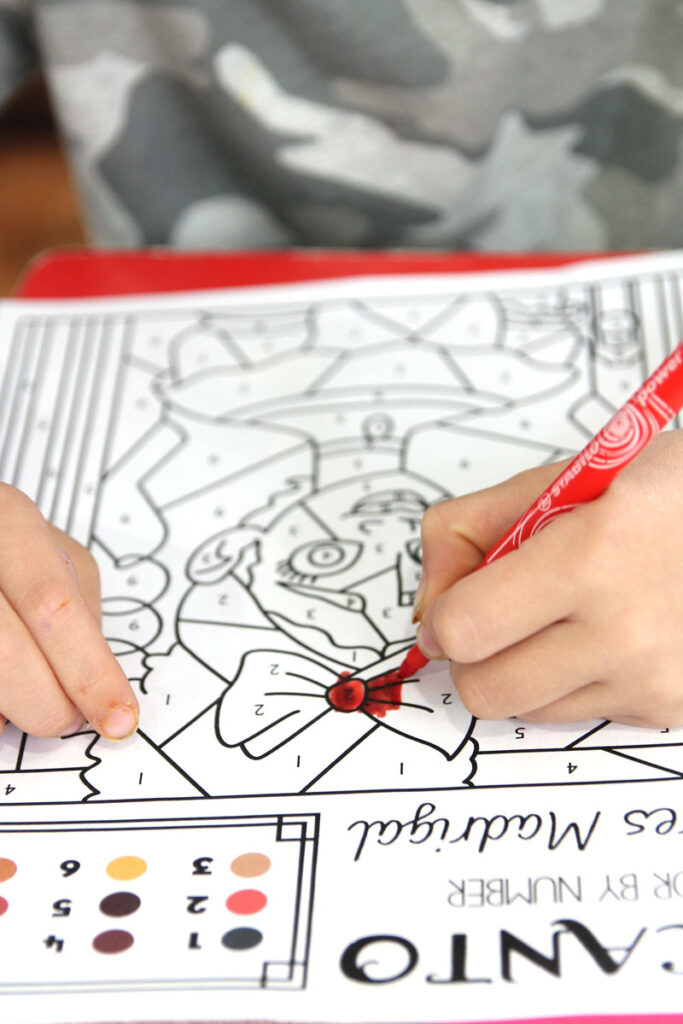 What you get with these free Encanto coloring sheets
You get a 12-page PDF file featuring a color guide as well. These are the characters included in your free Encanto coloring sheets.
Alma
Isabela
Antonio
Camilo
Pepa
Agustin
Luisa
Julieta
Felix
Dolores
Mirabel
Bruno
Download your Color by Number here
To download, fill out the form below. You'll be signed up for our free newsletter – unsubscribe at any time in the footer of the emails. I respect your privacy and the law and won't share your information with anyone.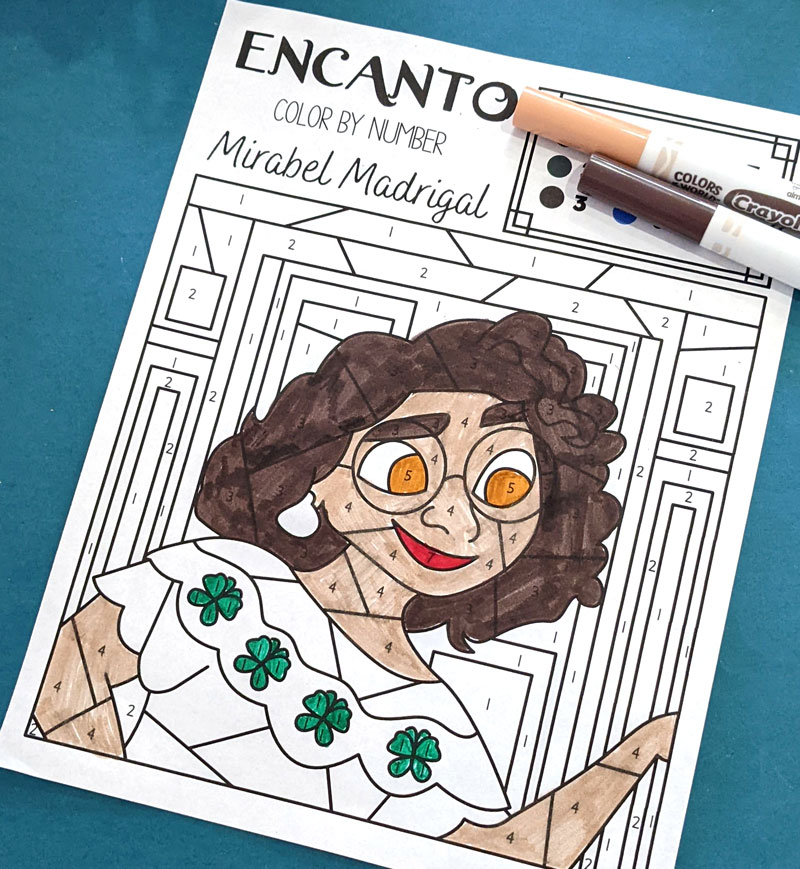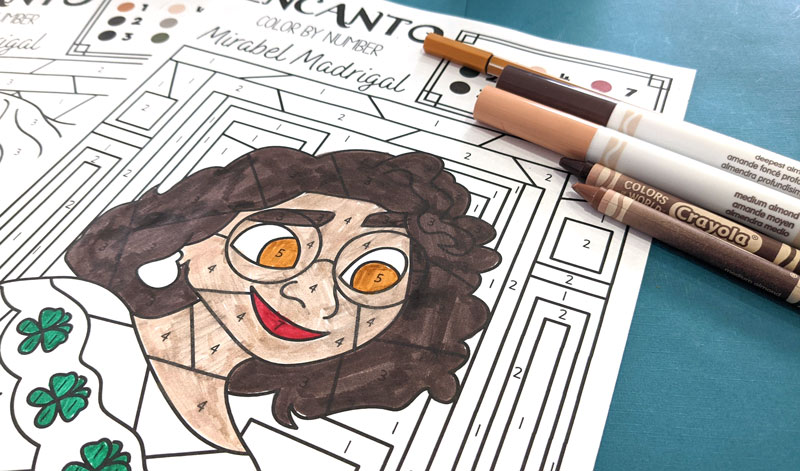 Tips and recommended supplies for coloring in these free Encanto coloring sheets
The Madrigal family is quite diverse. You'll find that the colors recommended here are quite specific, to fit with the movie theme as well as to highlight this diversity.
For this reason, you'll find it much more fun and accurate to color these free Encanto coloring sheets if you have a skin tone assortment. For myself, I use Prismacolor Premier alcohol markers skin tones. For my kids, we prefer Crayola's colors of the world markers, crayons, or colored pencils.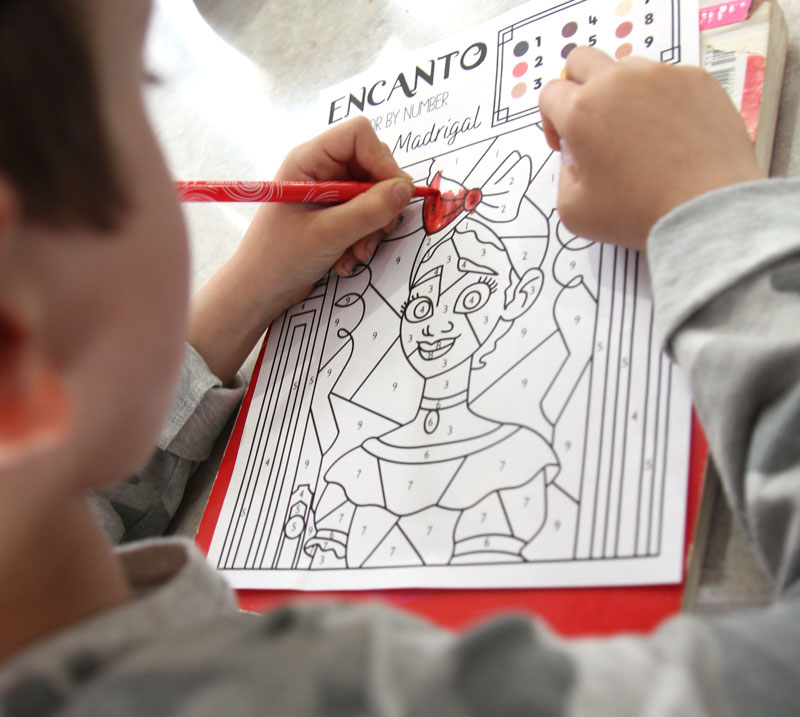 However, if you're doing this with very young kids, I'd recommend whittling it down to make it simpler. Just stick with a tan shade for most of the skin, and offer a brown and black as well. A peach colored crayon can work for some of the lighter skinned family members.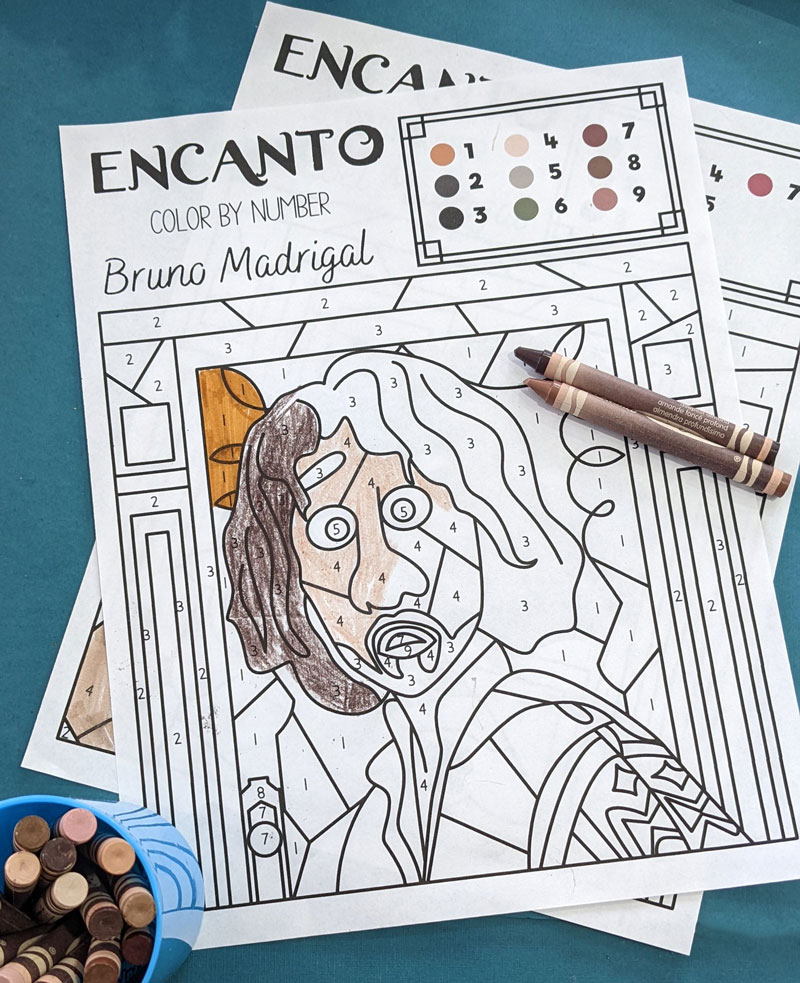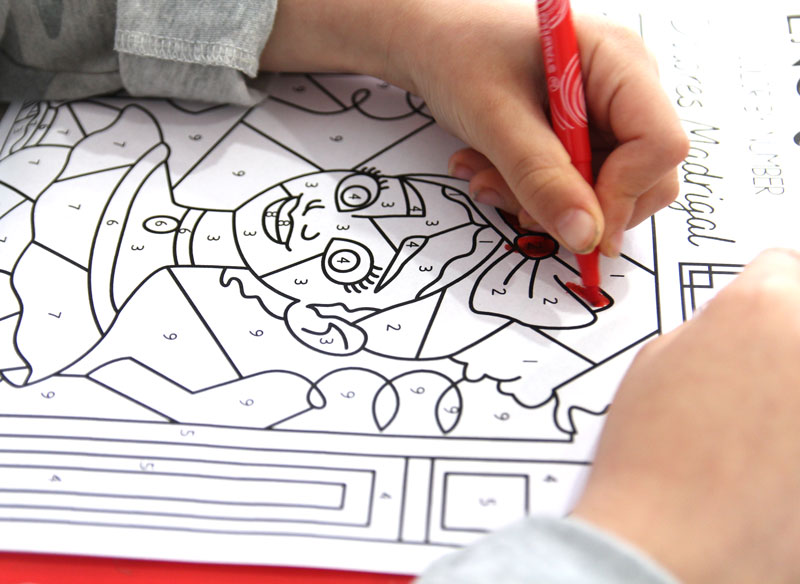 Colors of the World Markers vs. Crayons vs. Colored pencils
This fabulous line from Crayola separates skin tones into three color families – warmer, cooler, and pinker tones. Each one comes in varying shades from light to dark. These are fabulous for coloring in some shades of hair and eyes as well.
I colored Bruno using crayons and Mirabel using markers (Y did Dolores using an assortment of Stabilo markers.)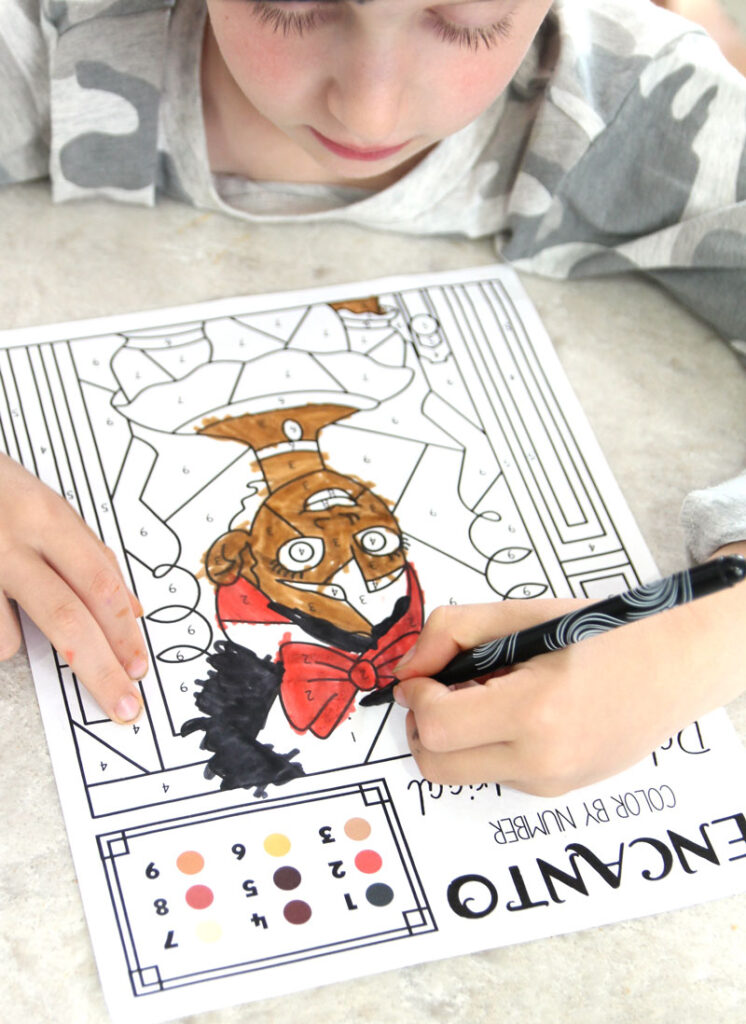 Crayons – these are fabulous for young kids to lay down quick color. You have more variation and can layer a little if you feel like none of them are quite there.
Markers – You'll need to stick to that specific color (no blending), but this is fabulous for slightly older (older preschool-grade school) kids to get exactly the color they want in a solid fill.
Colored Pencils – I recommend these mainly for older kids and adults who would love to layer, play around, shade, and get a more exact tone. Kids might find it frustrating as it doesn't fill the spaces as quickly, and the color isn't as rich as markers.
And my final tip: whichever tool you choose for coloring these free Encanto coloring sheets, having a color swatch handy can help you choose the shade YOU want! To do this, simply jot down the color of each tool using that tool to write it.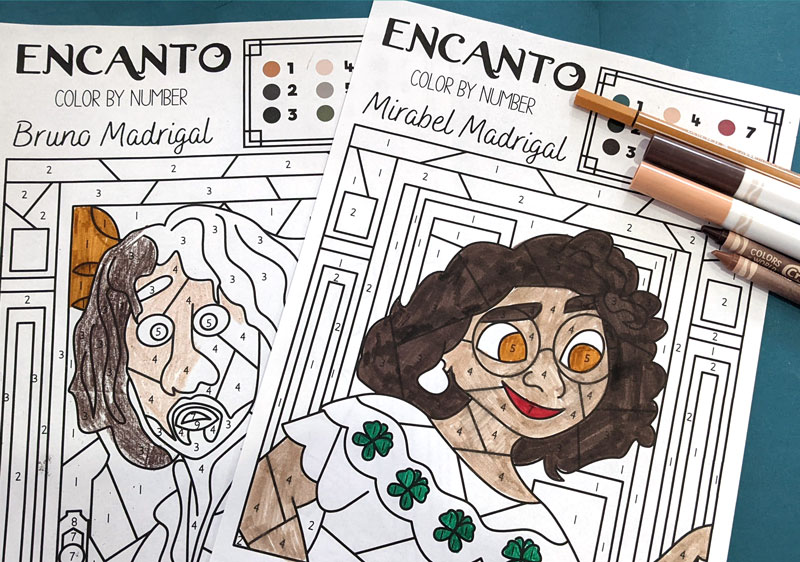 Happy coloring!
I hope you enjoyed these free Encanto coloring sheets! Which is your favorite character? Comment below!