Progress is the goal with these new motivational coloring pages! If you want full quotes, check out my anti-stress coloring pages, or scroll down to explore this new set. This post contains affiliate links.
---
I've always felt like coloring is a fantastic self-help resource, especially when there are actual words involved.
As I color, I drill the messages into my brain, repeat the mantras, and think about the topics the pages talk about.
Skip to the part of the post you want to read: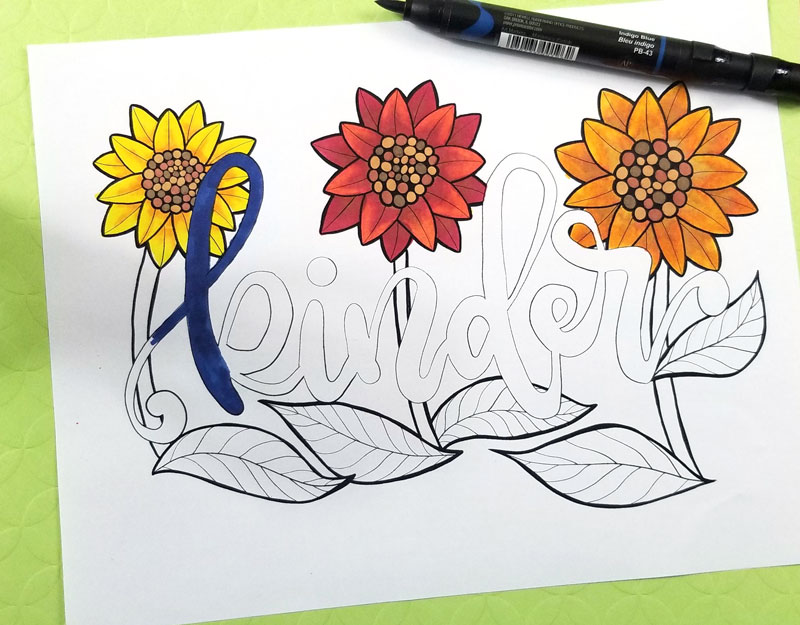 For a while, I wanted to whittle the concept of motivational coloring pages to single words. It's just much more to the point.
But I didn't want to go with the same old "faith, hope, love…"
A friend helped point me in the direction of these coloring pages.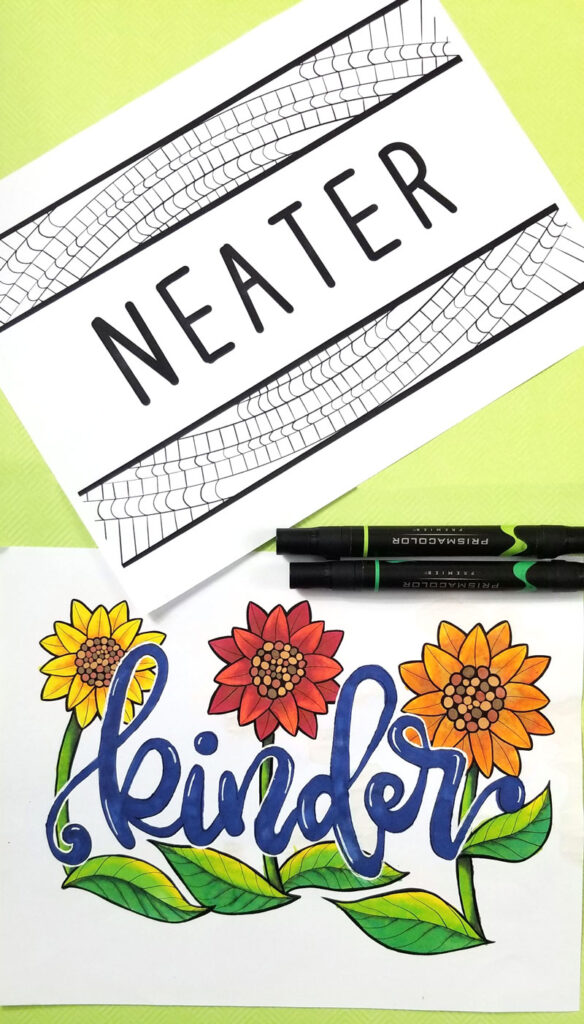 Growth mindset coloring pages
The idea of a single word is that it says it all.
So how do you say what you really want to say with one word?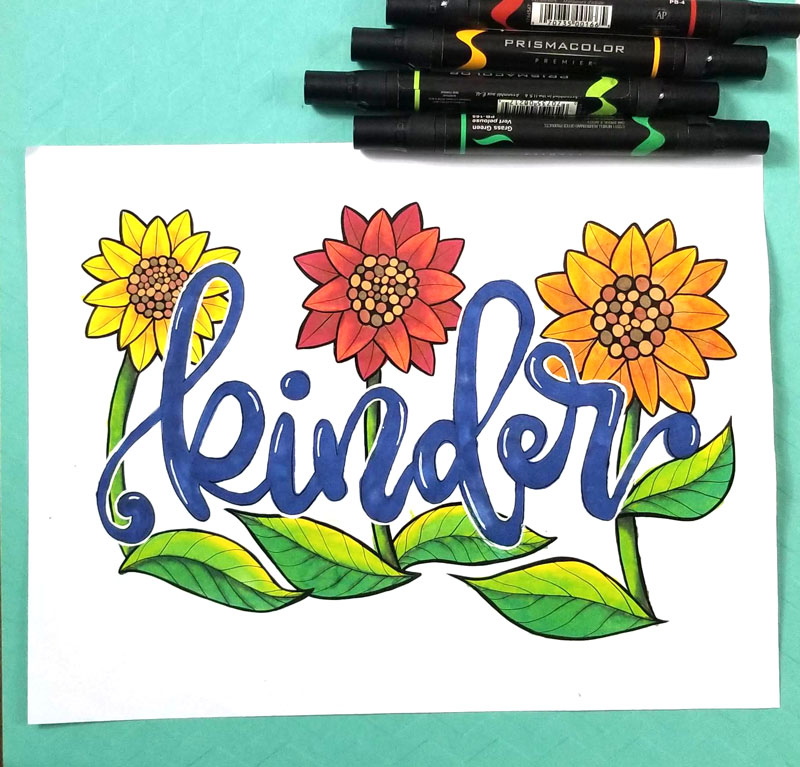 First, I narrowed down my message: Progress, not perfection
We strive to be perfect in our self-betterment, but really, it's the growth mindset that's important.
That's why each of these pages contain the "growth" – more, rather than most – form of the word.
I want to be better. I don't need to be the best.
As long as I'm working on it, I'm improving, I'm in good shape.
We're ditching the perfectionism and aiming for progress.
Words featured on these motivational coloring pages
The list of words was surprisingly hard to pull together but here they are – with my thought process behind each one:
1. Bolder:
Taking the plunge, saying what I think, and being strong in my ideals is a life I want to live.
2. Braver:
Not being afraid to try new things, to step into uncomfortable situations, or to speak my mind.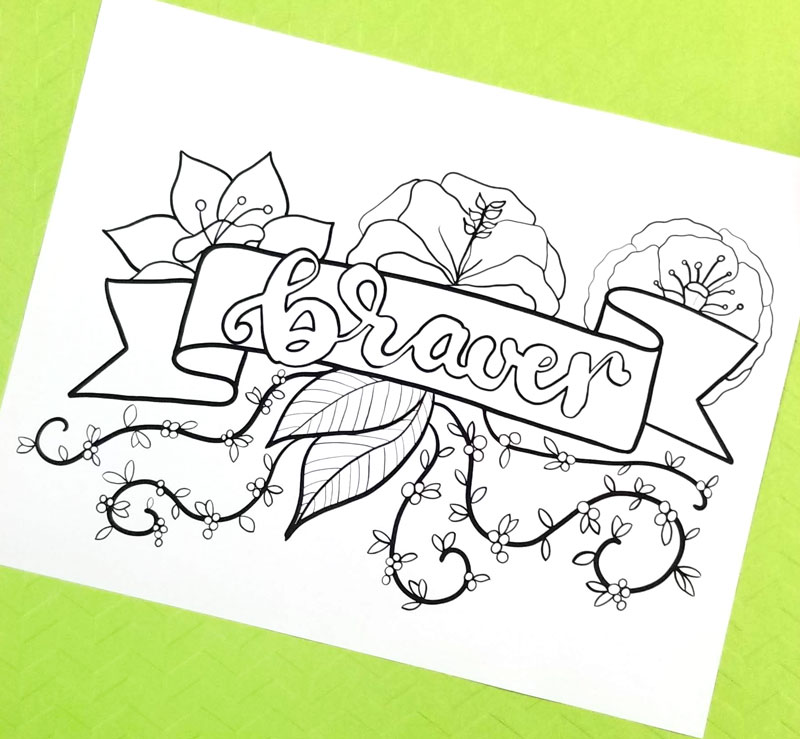 3. Stronger:
Strength comes through willpower, through recovery, and often through hardship. I want to try to let the hard times allow me to grow and be a stronger person.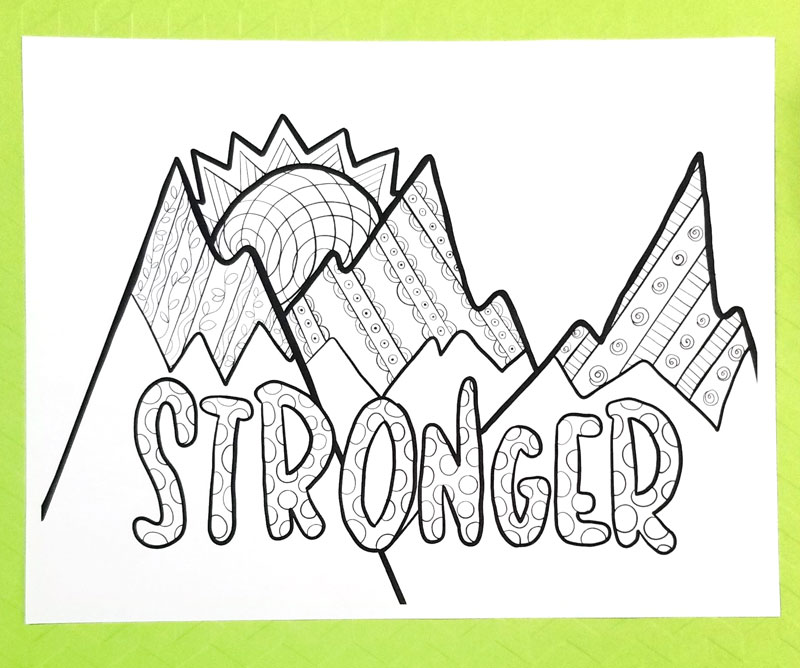 4. Calmer:
How I respond to anxiety, how I respond to my kids, how I respond when things upset me on social media… I want to remember to take those deep breaths..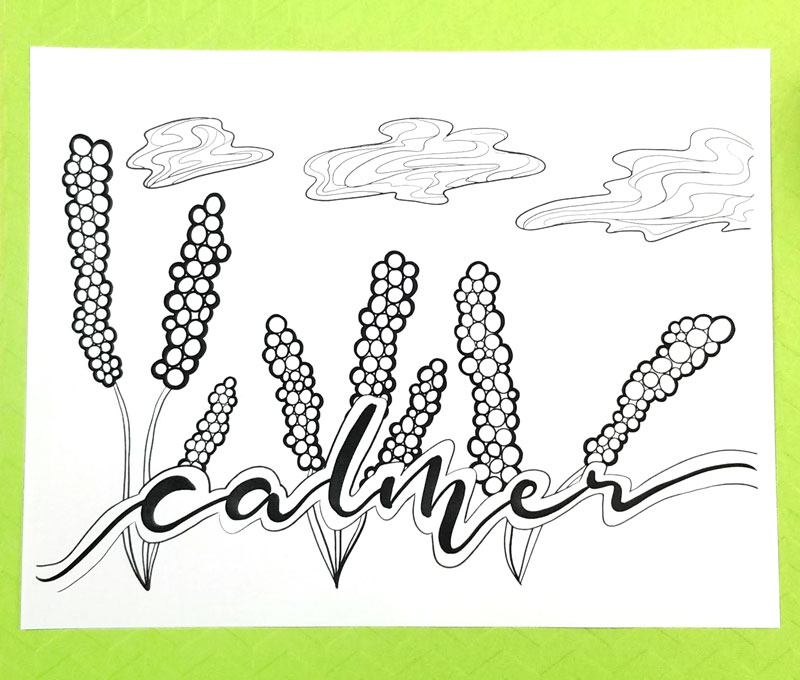 5. Happier:
Happiness might be a state of mind, but it's also a life of working on it. I hope to learn to be happier no matter whether life accommodates me or not.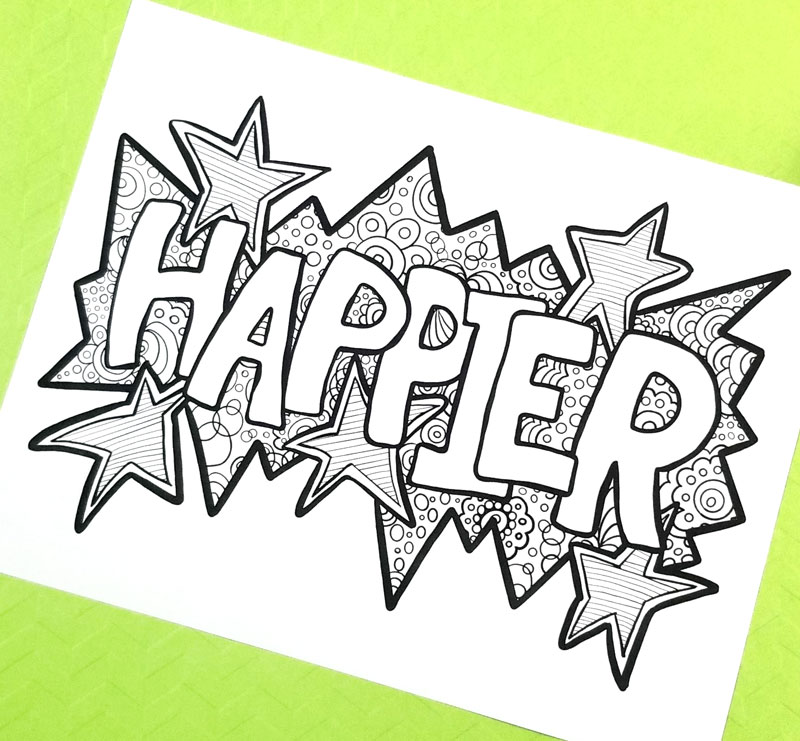 6. Kinder:
Kindness is everything. One action at a time, one word at a time, let's be kinder – it'll solve so many problems!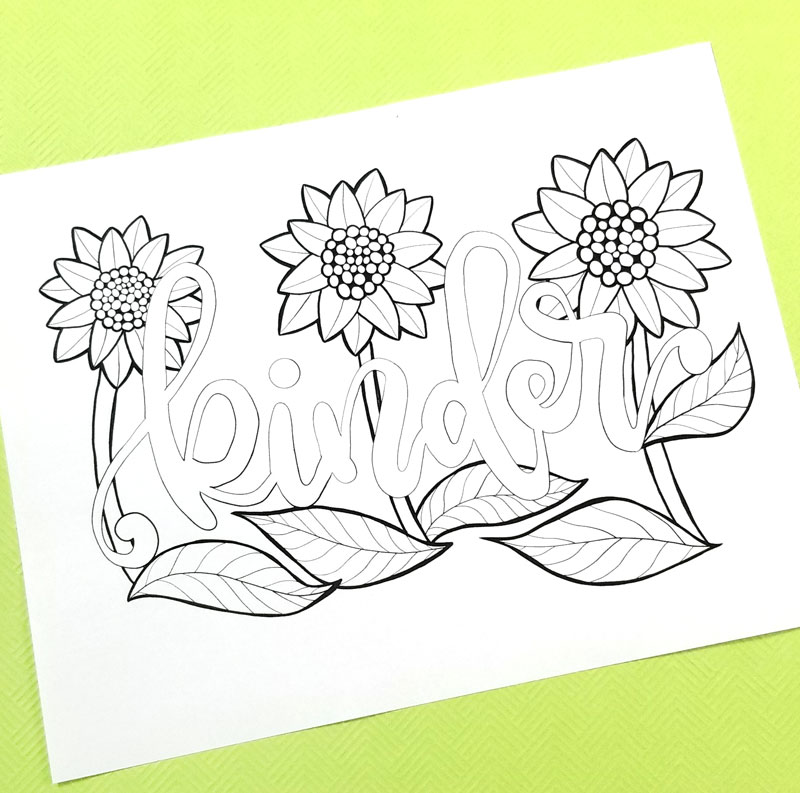 7. Neater:
It might be challenging to keep things neat with kids home with life tossed upside down… but progress is everything.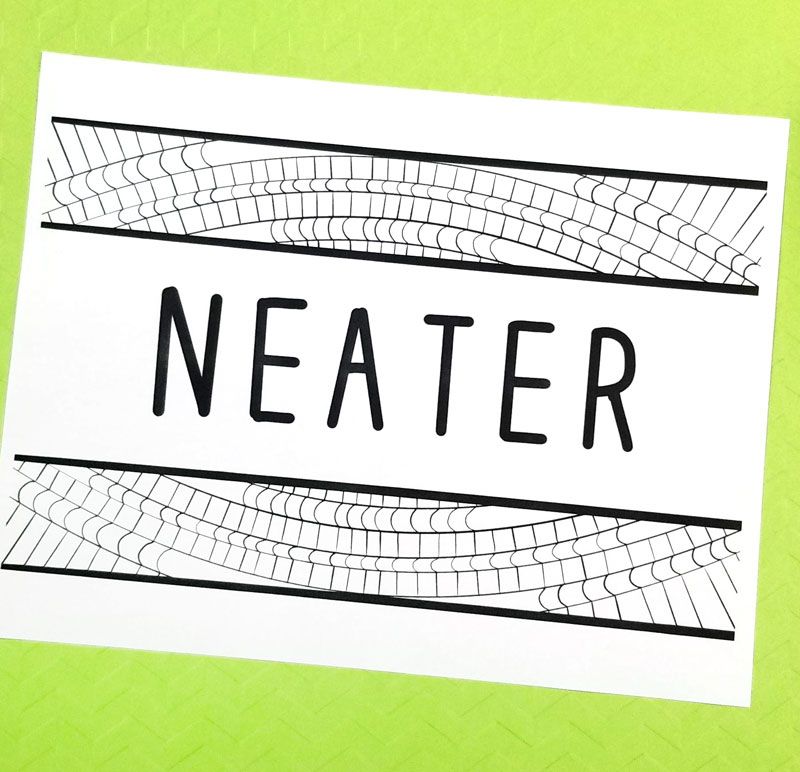 8. Better:
Better at everything on this list – but one thing at a time. Aiming to choose the better path in everything we do. Just focusing on the better option.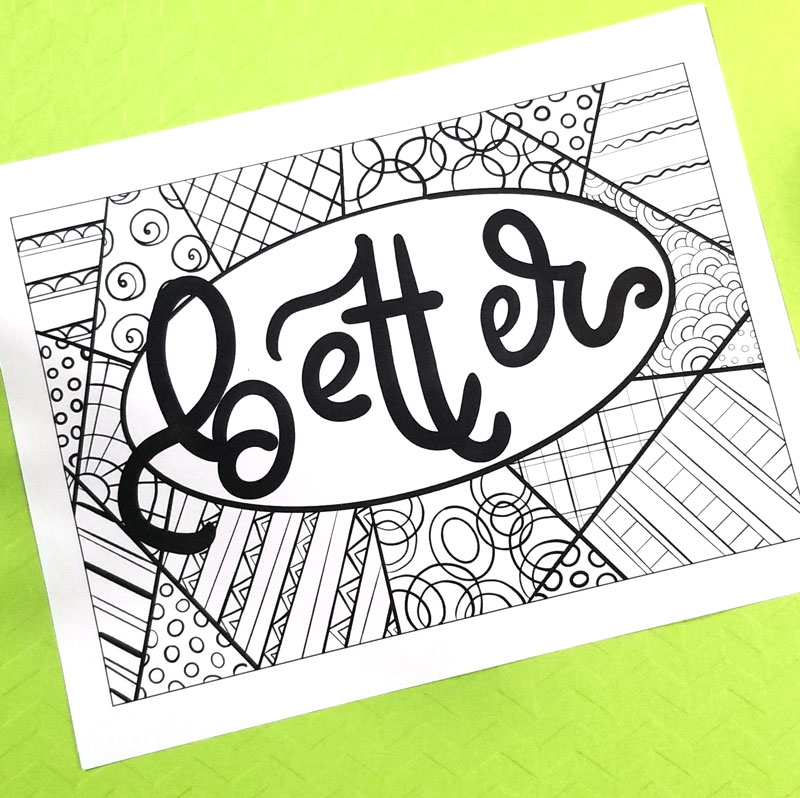 9. Wiser:
We can learn and we can relearn and absorbing life's lessons is what makes us wiser. My commitment is to learn from my experiences so that I am wiser.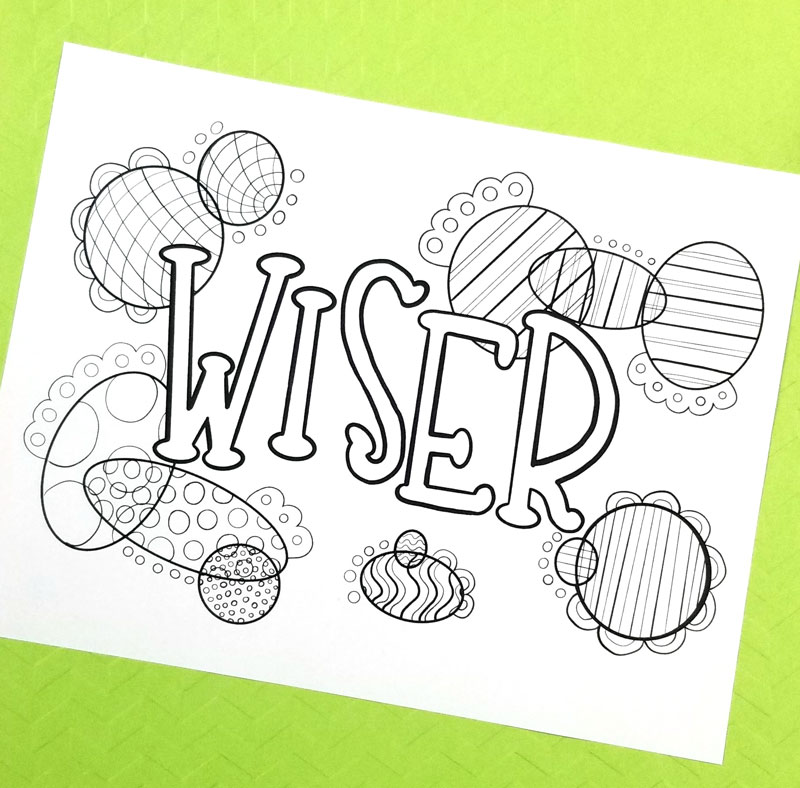 10. Healthier:
While it can be hard to stick to the daily walk or the diet perfectly, sometimes just choosing the healthier choice in the moment can make all the difference.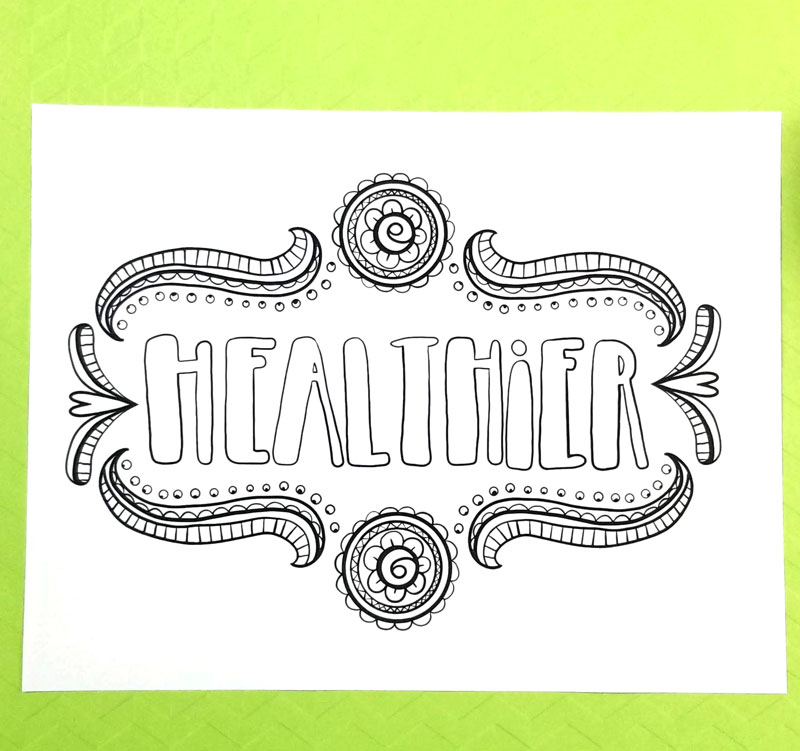 Get the motivational coloring pages
The full ten-page bundle is available through the following sources:
Check out the file preview: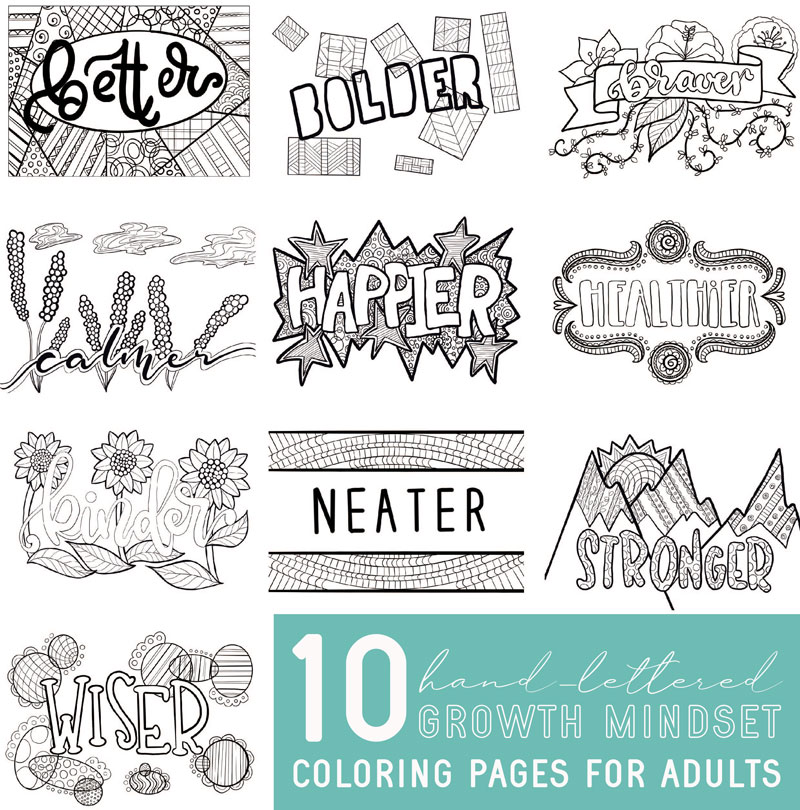 How I illustrated these coloring pages
My motivational coloring pages are digitally drawn using a stylus on my laptop. That means that they are hand-drawn using digital media (and not digitally generated designs or outlined clipart.)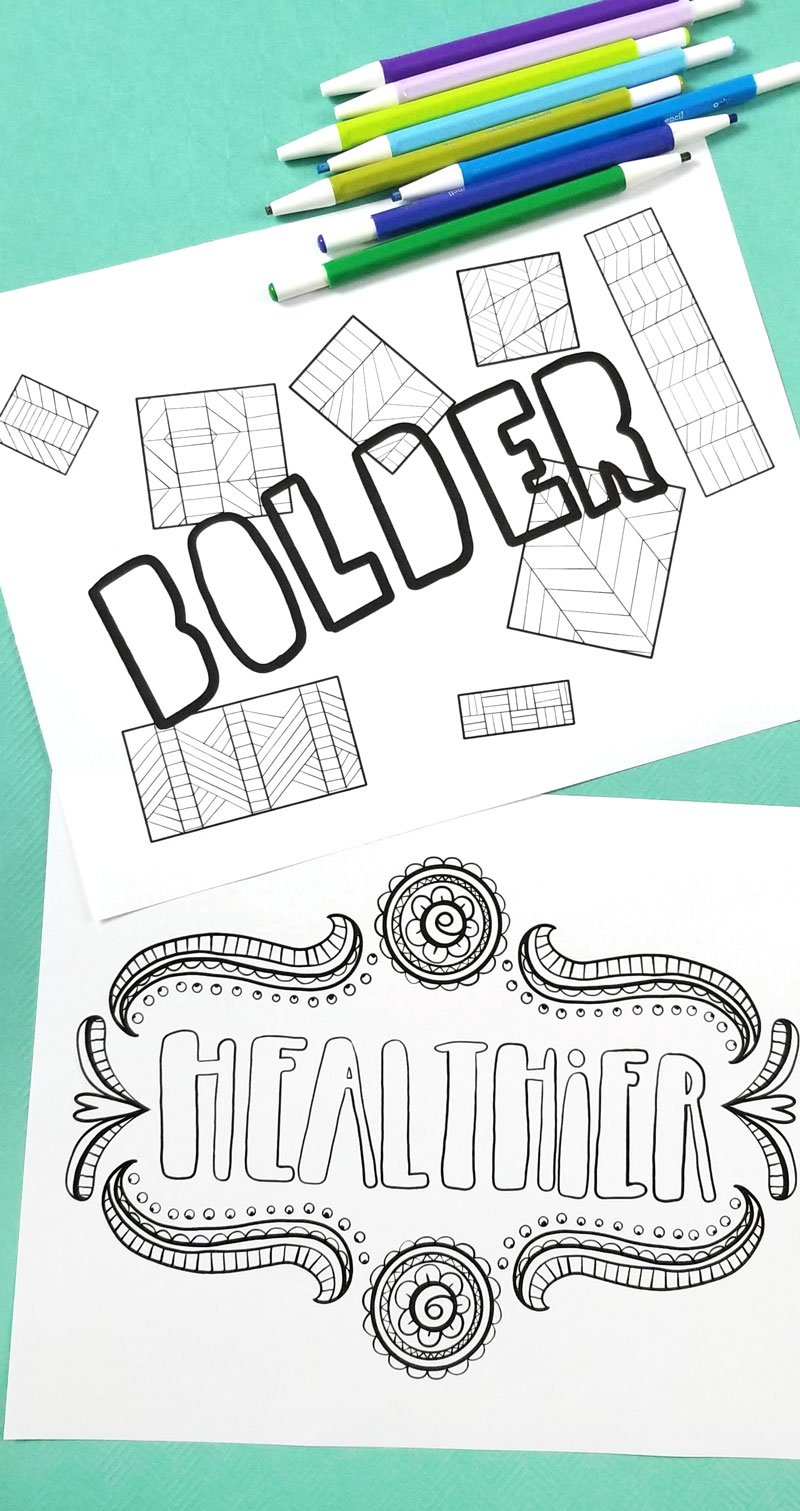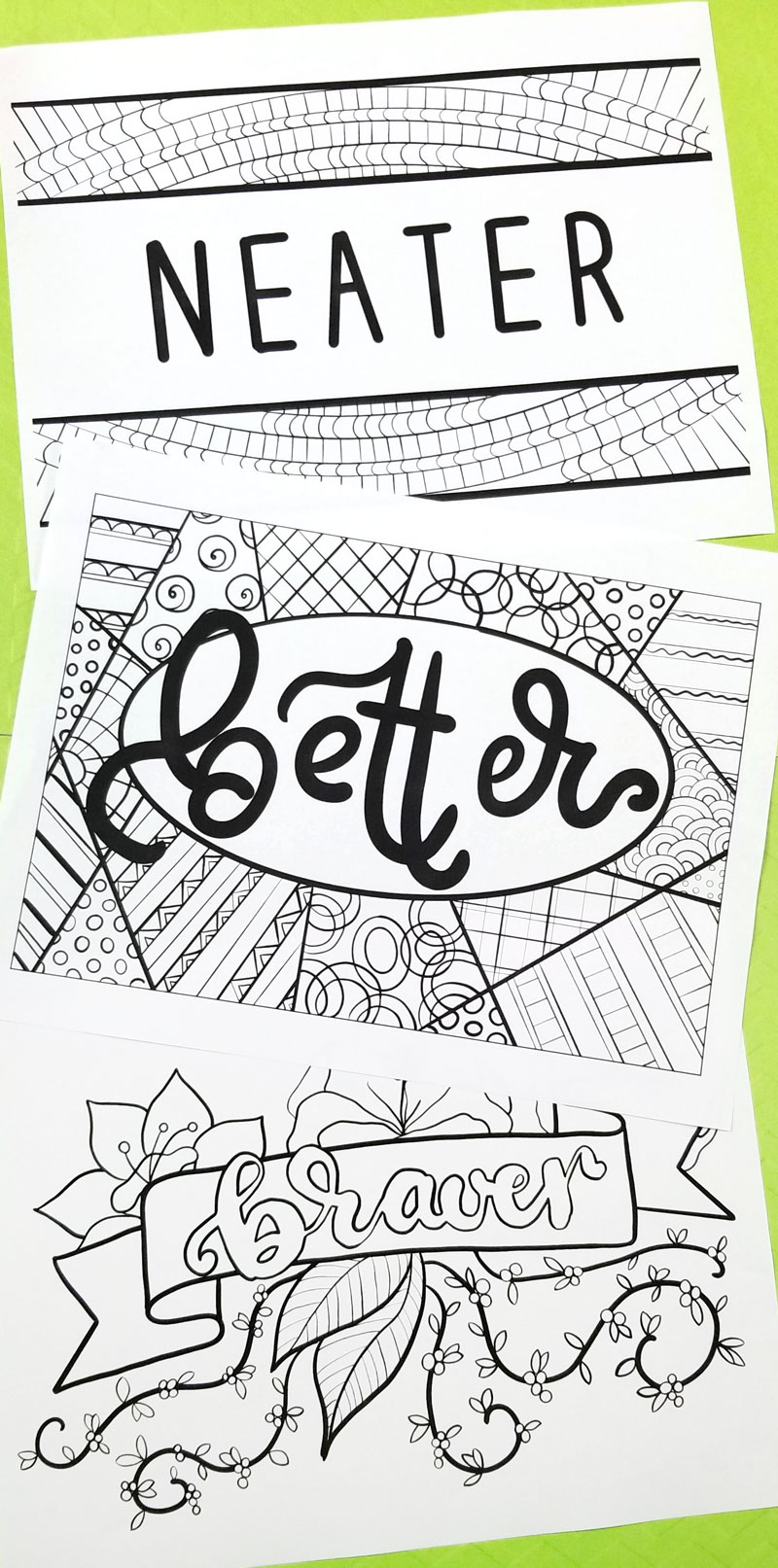 The reason I draw my artwork digitally is to allow me more flexibility in making corrections, creating my designs, and playing around with different options.
All the text was also hand lettered by me – not using fonts. Since I illustrated these growth mindset coloring pages digitally, I was able to add a pre-made grid to follow, and in some cases, I was able to outline my lettering – by hand, using a calligraphic brush – for you to color.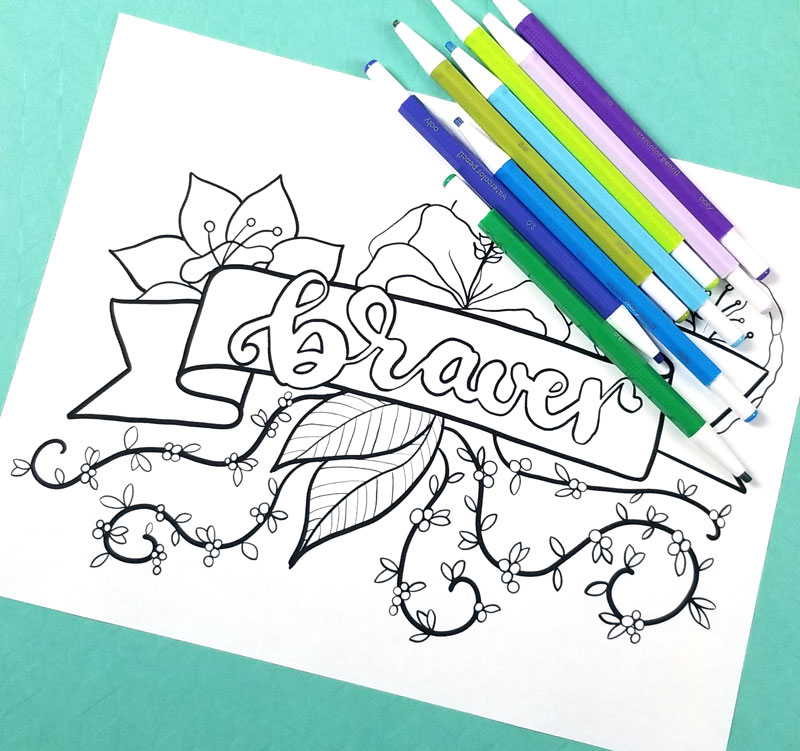 In this way, I can maintain the flexibility of digital art with the organic nature of physical art.
I also don't need to worry about erasing my pencil well enough (I just disable the pencil sketch layer). I skip "vectorizing" my image which sharpens it but often ruins the detail. When I scan a hand-drawn image it needs that to sharpen it, but drawing digitally means the lines are already quite sharp.
I also have the benefit of digital rulers, use of some basic shapes (such as the main squares on the "bolder" page), and occasionally duplicating or mirroring a design that is a bit repetitive (such as the top and bottom on the "neater" page.)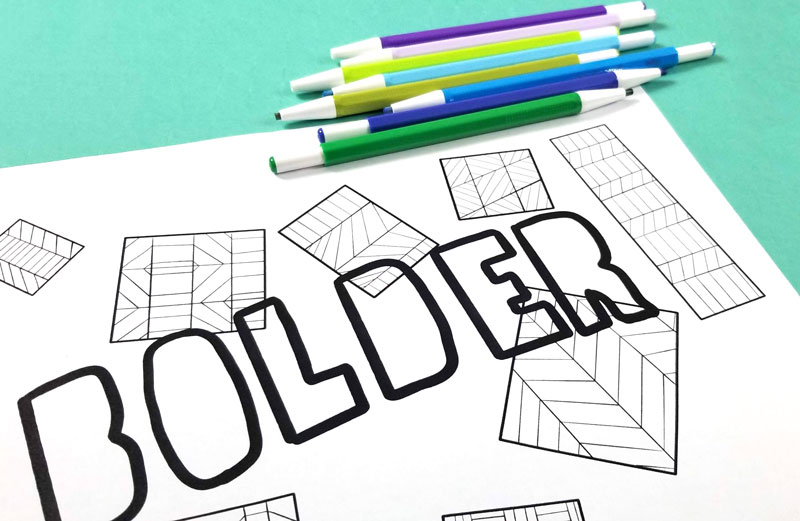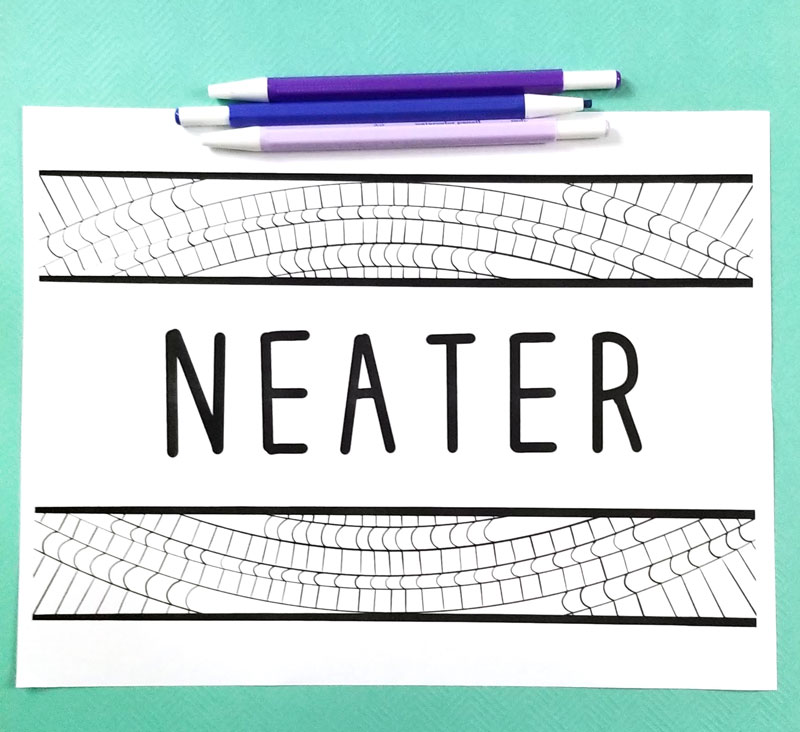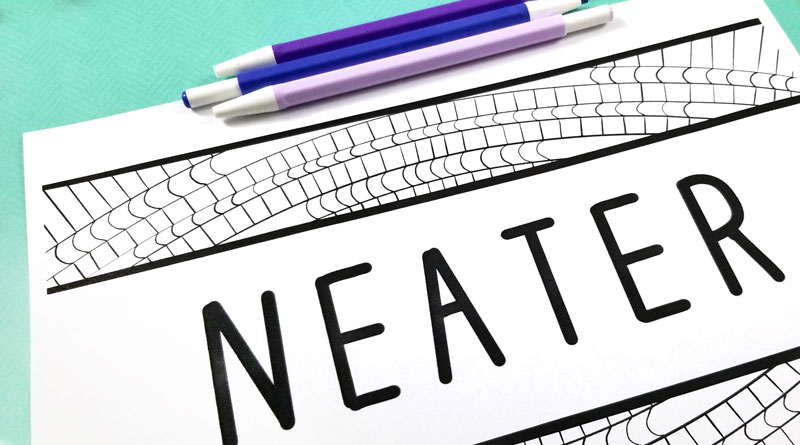 How I colored the "kinder" page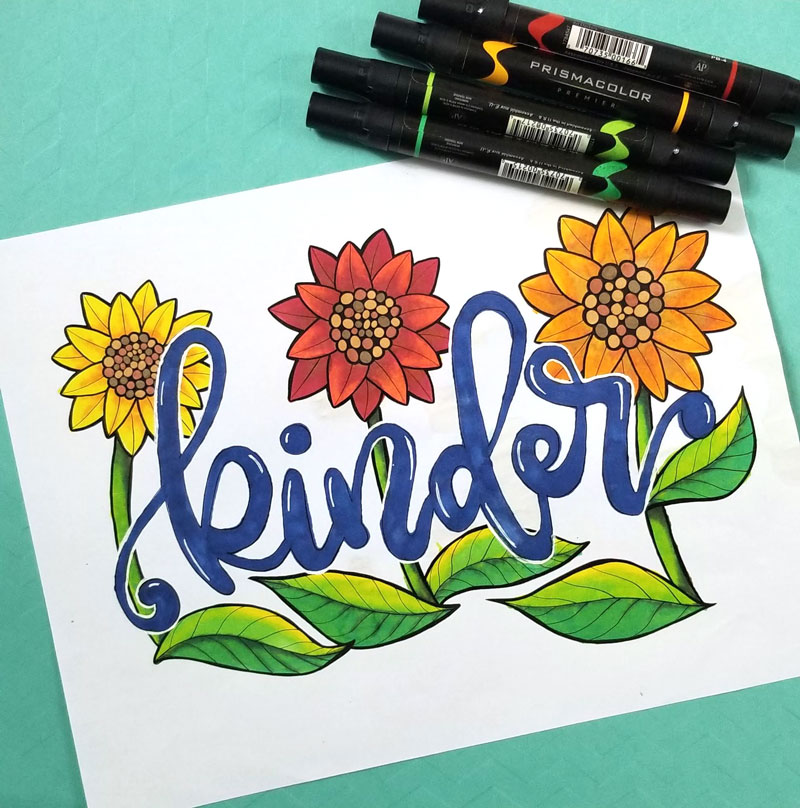 I pulled out my Prismacolor Premier alcohol markers to try on my favorite page – the "kinder" page – which give me the power to blend in rich, bright colors.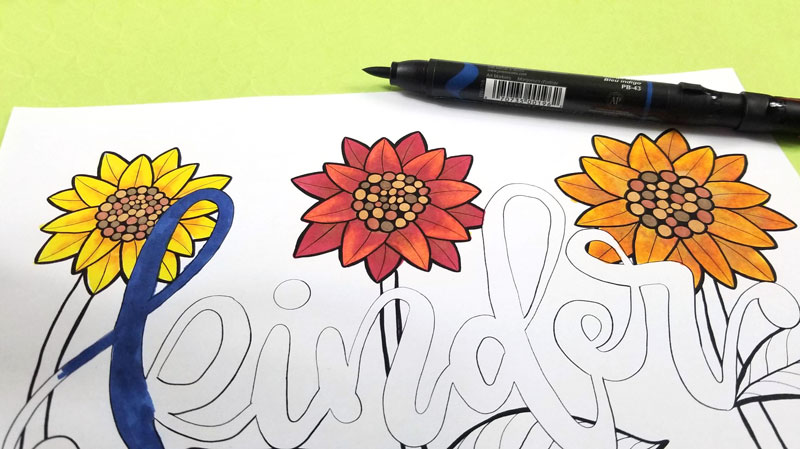 I spent a while coloring it.
And then spilled my last ounce of coffee on it…
I think I did a pretty good save – the colors didn't bleed much. And Photoshop allows me to to share with you something close to what it looks like in real life. My reaction was "calmer" than it could have been since I'm trying to be a "happier" person…
I did cry a little, though.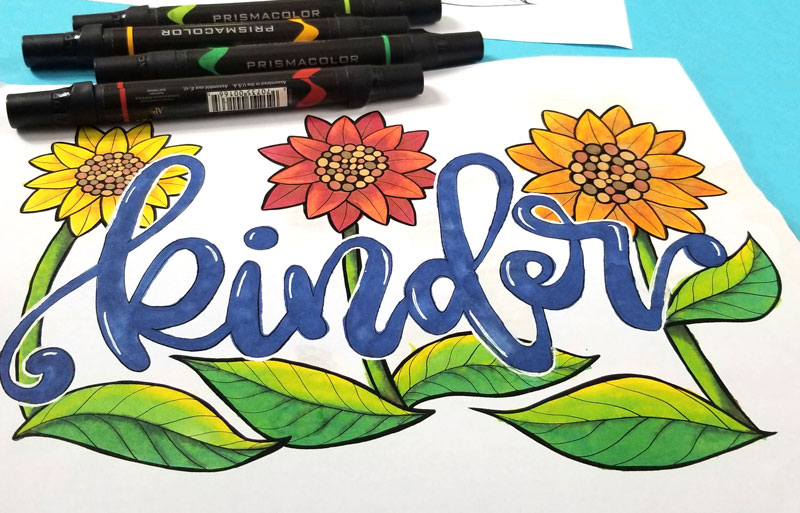 You can see a quick video on how I blended the sunflowers here (along with a preview of all the pages):
First, I started with a yellow-orange to create the depth of the petal.
I blended it out and filled in the rest of the petals with a yellow marker.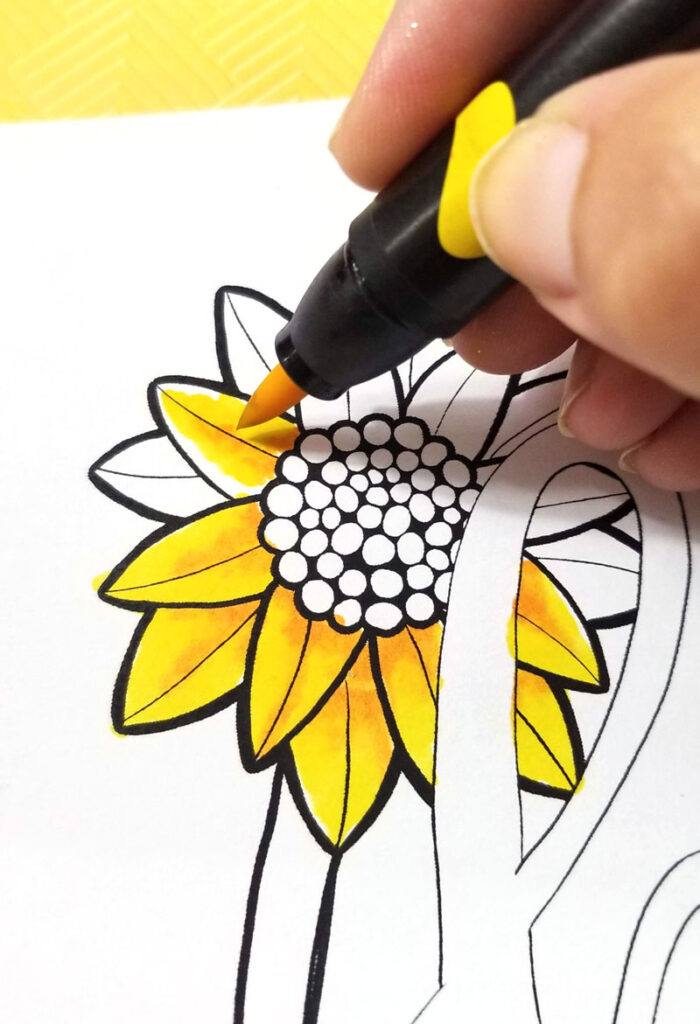 The seeds are different shades of brown in rich tones. The word "kinder" is filled in with a deep blue marker.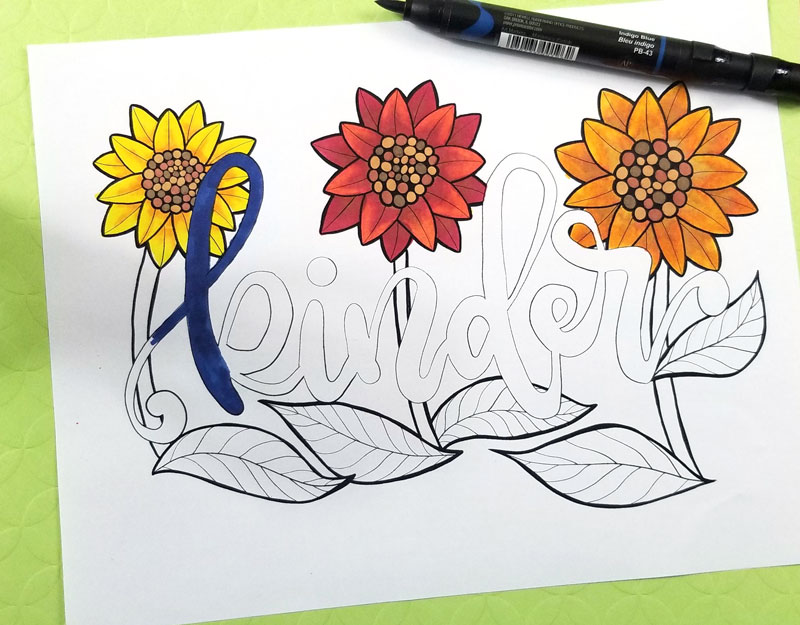 I also outlined the letters and added some detail using a white Sakura gelly roll pen.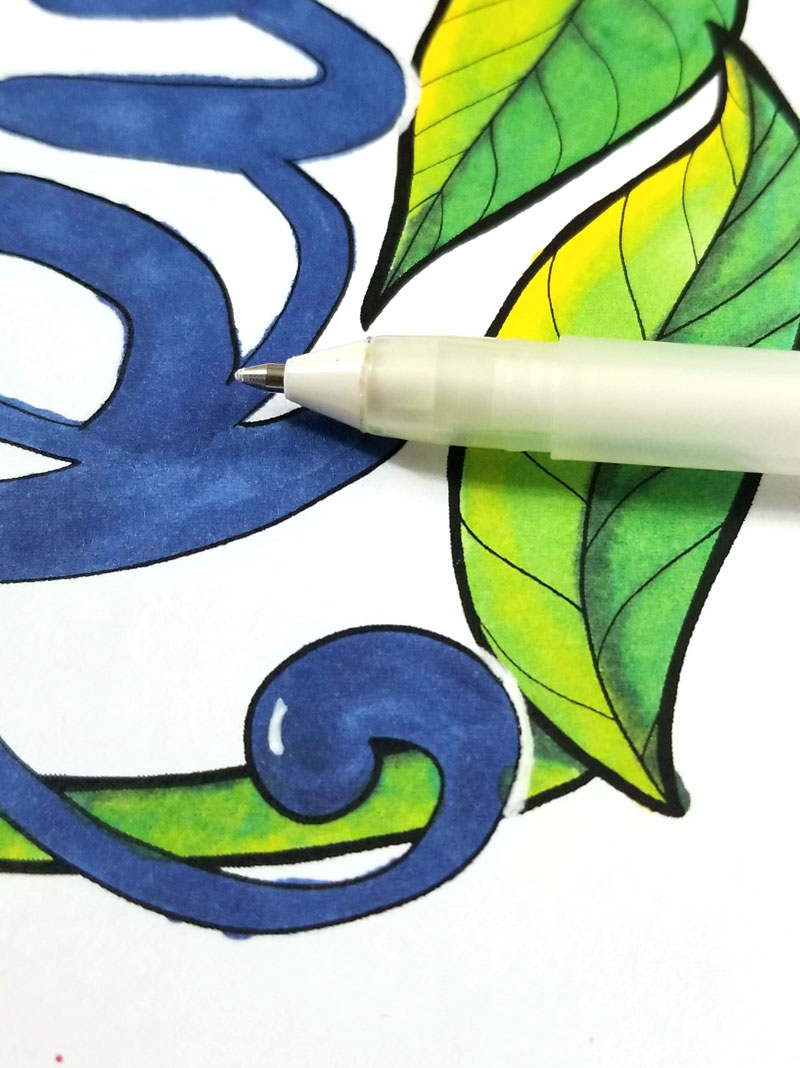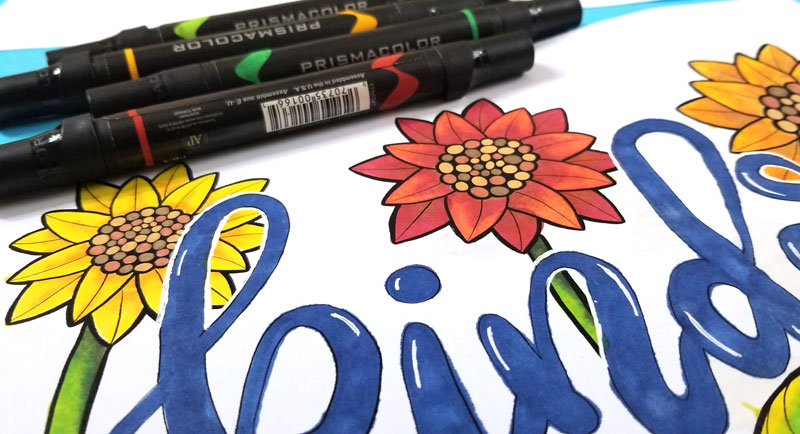 Loved this? Check out these coloring pages and crafts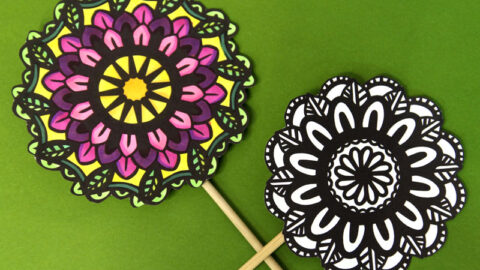 Craft beautiful flower mandalas that you can place in a vase and display! If you love these, you'll want to check out my paper flower …