Welcome to the Baby Play section of my Baby Registry Gift Guide – possibly the most fun… Here you'll find some of the best baby toys and play-based gift ideas, perfect for your baby registry, or that baby shower that you plan to attend!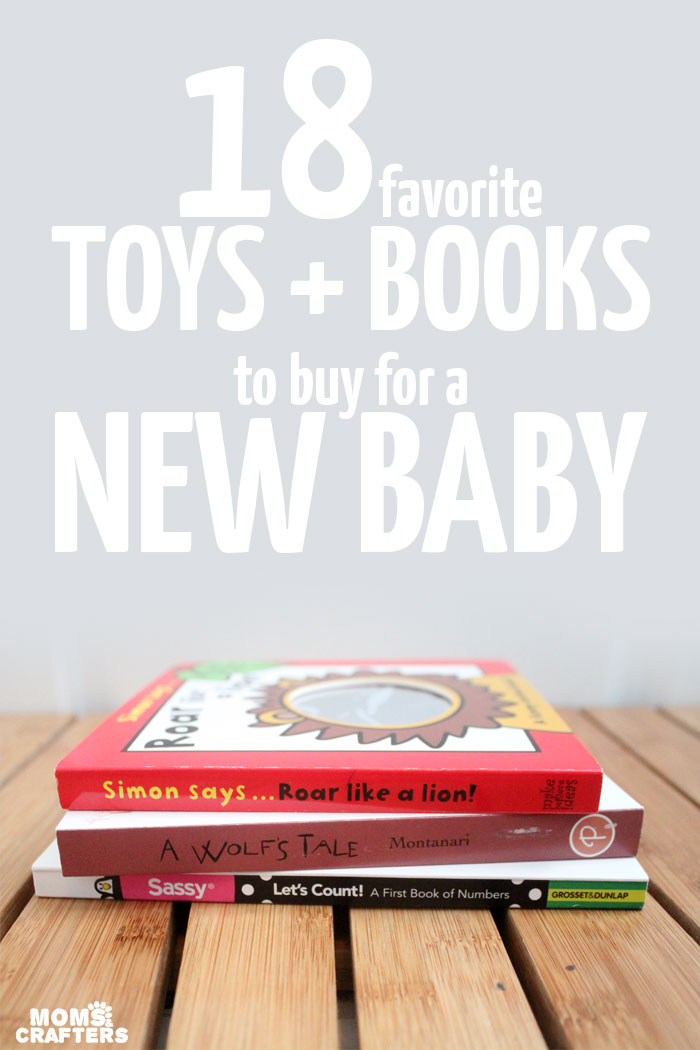 Play is an important part of a child's first few years. It's not a "nice thing for baby to do". It's essential.
Babies learn and discover new things through play. They learn how to roll over, how to sit, how to walk while playing. They learn new words, communication, problem-solving, and all about relationships through play. And later on, they learn colors, shapes, and even the alphabet through play.
Disclosure: I did receive some samples from brands for coverage. Some of the products on this list include those samples which I have tested and enjoyed, and some are products I purchased and received as gifts, love, and chose to feature. In the interest of full transparency, I have marked items that I received from brands with an asterisk.
All of these products are "tried and true" in my experience. Nevertheless, I am not otherwise affiliated with these brands and cannot take responsibility for quality, fulfillment, or anything else that's in their hands.
This post contains affiliate links.
I've divided this baby toy gift guide into a few sections: basic toys (the ones everyone should have on a registry that kind of border on the "gear" category), fun toys that are great to have – especially my son's favorites, and books or book gift ideas.
As usual, I recommend buying for any stage in the first year or soon after when the baby is born. Since there isn't another birthday in between, it's nice to have baby's whole first year covered at the baby shower.
Basic baby toys every baby should have:
Don't get me wrong: if your baby doesn't have it nothing will happen! But these toys make up the groundwork of your baby's collection, and are a great place to start.
Baby Mobile – Babies love having something interesting to look at overhead. Get a musical mobile to add a soothing aspect to it. But even just something bright and simple can work, such as this one that I made. Just make sure not to hang it over the crib unless it's something that's approved and safe to use.
Walker – we did NOT have a walker for M but I sorely missed having it. I can't REALLY blame the fact that we didn't have one for his late start walking, though sometimes I wonder. Look for one that will still be used and fun after baby learns to walk. Go for the kind your baby pushes, NOT the kind that your baby sits in (my sister had an older version of this one and loved it!).
Crawling toy – I think it's great for every child to have a toy that encourages crawling. M was late with this as well (though not as late as walking) and having a little motivation can help.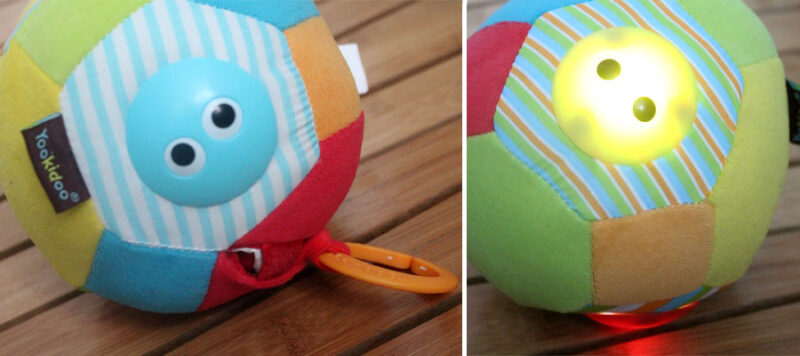 The Yookidoo Lights 'N' Music Fun Ball* is a perfect toy to encourage crawling. It rolls, but because it's cloth, it doesn't roll too far – encouraging your baby to move after it. IT also lights up and plays music when rolled (or shaken) which encourages baby to go for another round. It also has a ring attached for baby to mouth, and the fun print is interesting for little eyes.
Play mat or play gym – my grandmother got us this play gym from Fisher-Price as a baby gift, and it turned out to be an amazing, multi-purpose essential! It can be tough giving little ones tummy time, but having entertainment can help. This toy has fun both overhead and underfoot (under-tummy?) and encourages rolling over. The mobile (and other toys) can be detached and added to strollers, etc. It also turns and plays music, of course.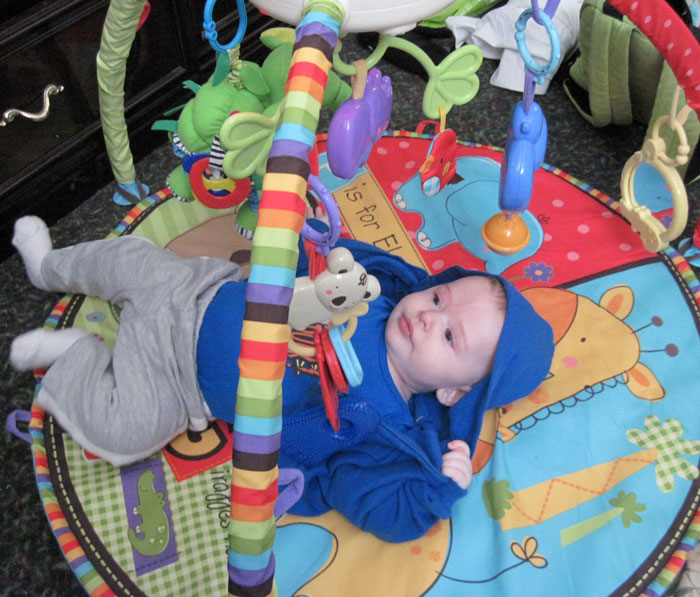 Stacking rings or similar fine motor toys – Simple toys that encourage problem-solving and fine motor skills might not be played with very much before the first birthday, but they're good to have – even just for encouraging creativity. My favorite are wood rings, but you can go for the classics too.
Wrist and sock rattles – this was a personal favorite that helps entertain before baby can grasp! We loved these hand and foot rattles, and M enjoyed kicking and discovering them.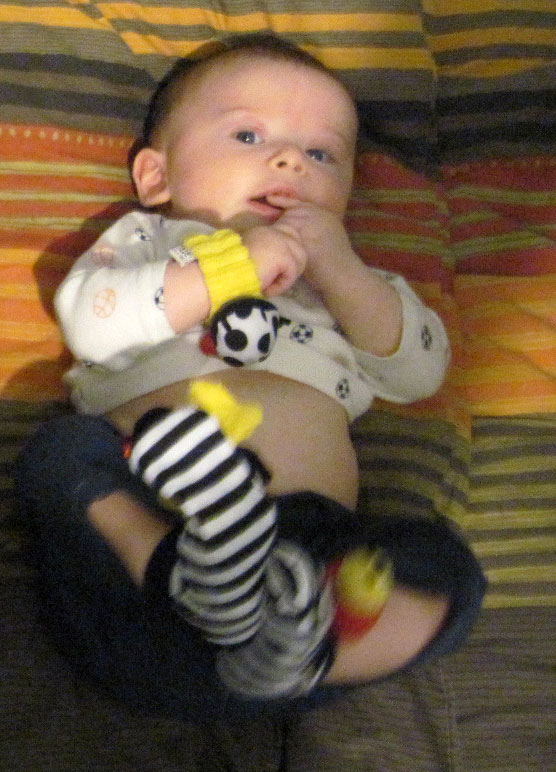 Cool Baby Toys and gift ideas we love:
These toys are favorites that have entertained and delighted M. They are great starter toys for babies. These are the ones you'll likely get years of use out of.
When it comes to building up a stash of toys, you'll find lots of controversy over whether or not electronic toys are right. I am all about moderation: have a mix! I like to look for electronic toys that have another purpose, and that use the electronic aspect to teach something. For example, the Lights 'n Music feature on the Yookidoo ball featured above encourages your child to crawl.
It's good to have a good mix of skill-building, open-ended, and even pretend toys (though your child probably won't do any pretending before toddlerhood).
Bright Starts Hide 'n Spin Monkey- I first featured this toy in my First Birthday Gift Guide and it's still a favorite! It's appropriate from six months, but my almost-three-year-old really loves it still, making it a perfect long-lasting toy. It encourages fine motor skills and now my tot uses it to practice numbers and colors. I confess, M would drop EVERYTHING in the house into it, but if it keeps him busy and happy, hey, who really cares, right?
It's a crawling-sitting-standing toy that even my 2.5 year old enjoys! It features fun spinners, a steering wheel (my tot sits in that section and calls it a "car"), a mirror to peek into, a rattle, and much more. The octopus has a lever that drops the balls into a tunnel, and it emerges on the other end. Naturally, since this is the electronic part, it's my tot's favorite. Another thing I love about this toy is the fact that I can separate it – it's almost like three separate toys. Since we're short on space, I left out only the octopus section, until he's ready to play together with his little sibling.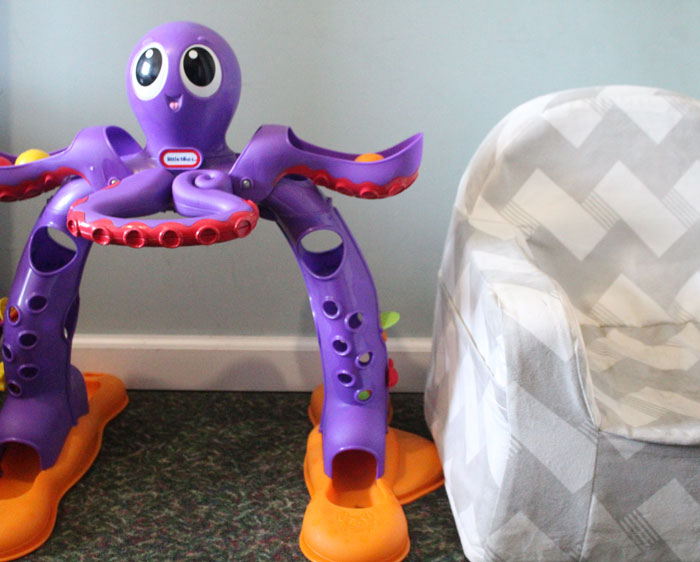 That makes this toy a highly versatile option, and a great gift, especially for a baby with a big sibling.
Munchkin Mozart Magic Cube – when we spent a weekend at my great-aunt, M wouldn't stop playing with this toy! It's going into the registry for our next one as something we'd love to have (and I'm sure M will steal it plenty…)
Hape Push & Pull Zebra – M was a bit late with walking, as I mentioned, but he loved playing with this toy sitting as well. Eventually, when he did learn to walk, he started actually using it as intended. It's a wonderful, healthy, and inexpensive toy to have.
Toy phone – you'll want one down the line, trust me…
Rocking horse – it's one of those things that's "nice to have" but you probably won't prioritize later on… It's also a great thing to match to your nursery setup.
First Baby Books and book-related gift ideas:
Many people don't think of books as something to have from the start – but it most definitely is! From the very beginning, M would enjoy looking at the big, bright photos in books. We stood up a board book during tummy time, and he'd look up at it. Go for board books – especially those with more of a storyline or opportunity for interaction, as those will grow with your child.
I'm a huge believer that your child can never have too many books, and will be registering for plenty the second time around (even though we already have a huge stash.)
Bookroo * – I confess, I'm a HUGE addict of subscriptions, especially book subscriptions. This follows with my mindset of "your child can never have too many books" – and regularly receiving new ones builds an excitement around them, and keeps things fresh.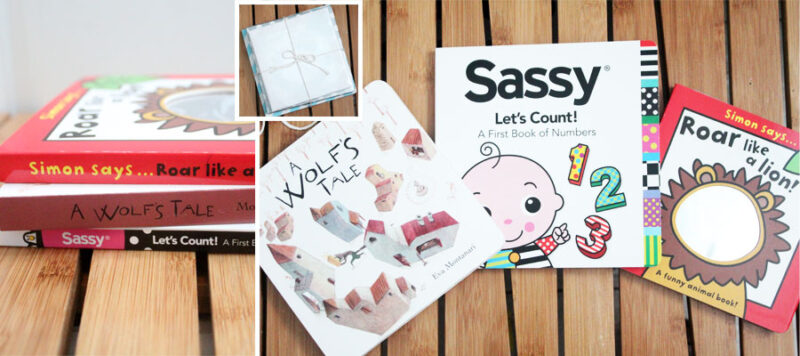 For me, the quality of selection is the key here. I requested a board book bundle from Bookroo, as that's what's best for baby. They included three (beautifully wrapped) books that I had never heard of (a bonus, as we already own many of the classics – see below). A Wolfs Tale is a remake of "The Three Little Pigs" except this wolf is a friendly one. Sassy's "Let's Count" is a bright and bold lift-the-flap book that's surprisingly sturdy. And "Simon Says… Roar like a lion!" has a baby-safe mirror and is fun and interactive. M loved them all, especially the second two, making them perfect for long-term reading. And they are all baby-friendly (especially the later two), with the Sassy book featuring bold patterns, and the mirror and other friendly faces doing it for me on the Simon Says book. The selection on this one was spot-on.
A book subscription is a great way to give a gift that goes on a little longer…
Board Books – we had plenty of board books that we loved from day 1 (or day 60, but it's all the same, isn't it?) I even put together this list a while back with some great first board books for baby.
BabyLit *- BabyLit transforms classics into beautiful and bold board books, perfect for baby.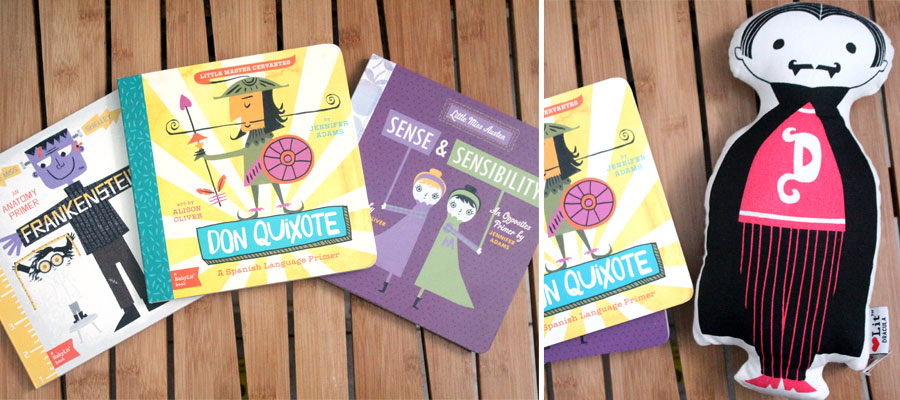 These aren't just books. The bold Illustrations make them perfect for babies, who appreciate simple shapes and high contrast. They also serve as language primers, teaching your little one new words as she grows. Don Quixote teaches various Spanish words, Frankenstein helps practice body parts, and Sense & Sensibility teaches opposites. The books are high quality and very durable too. They also have simple, bold, high-contrast dolls that coordinate with some of the books, or are great on their own. These are perfect even for the newborn stage, due to the high contrast. Check out the full selection here.
A bookcase – you'll need somewhere accessible to store all those books! Don't forget to include that bookcase in your nursery setup.
You can check out some of the products mentioned, along with other suggestions by scrolling through the list below. Click on the product for more details:



Got any questions about any of the products featured? Want to share your favorite baby toys and play-based gift ideas? Comment below!