In this post, I will teach you how to wrap crystals with wire. This is specifically for TOP DRILLED stones. You can learn how to wire wrap an undrilled stone here. This post contains affiliate links.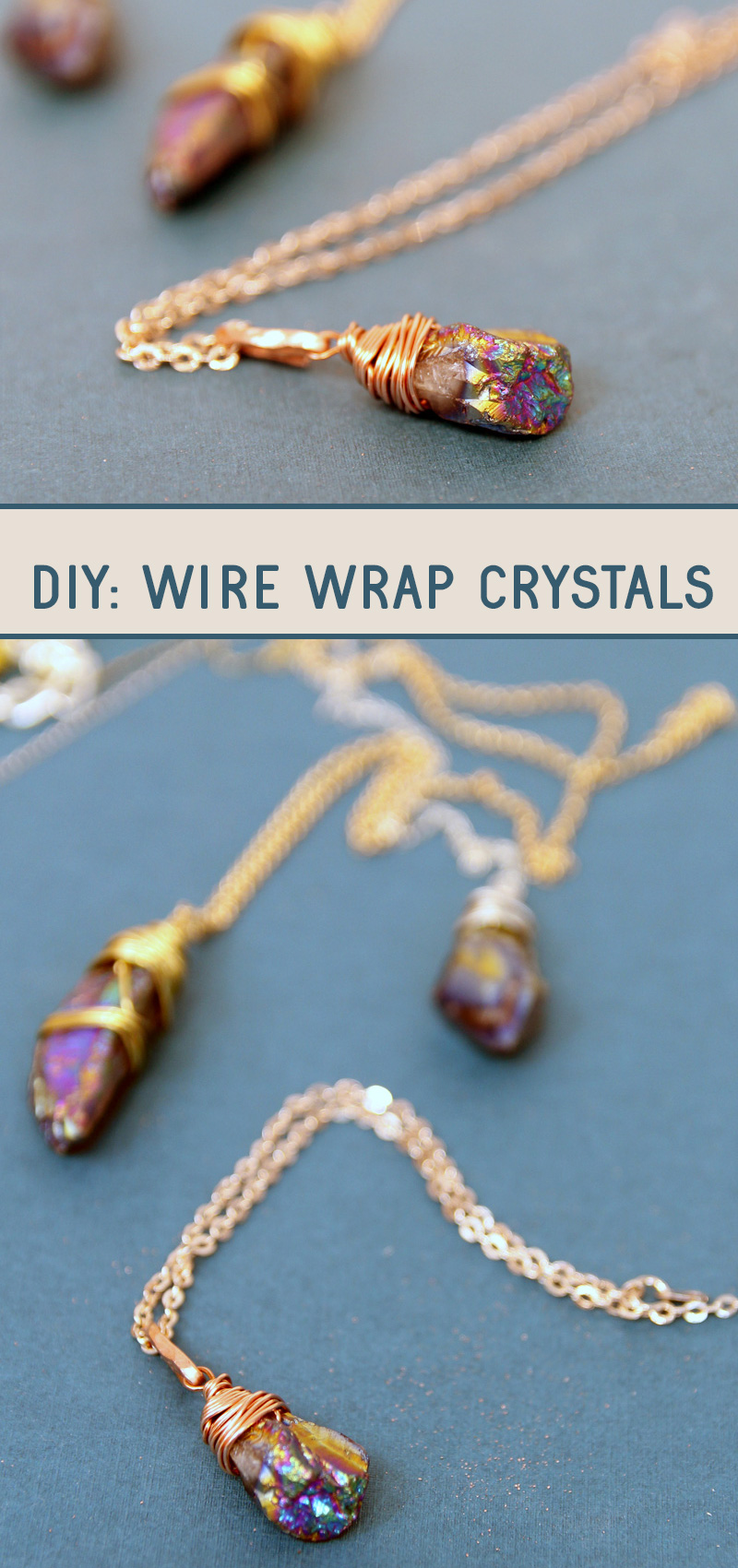 I love the look of top-drilled stones wrapped in copper wire! A while ago, I picked up some beautiful crystals to make myself jewelry. They did not work for what I had planned them for, as they were top drilled.
They are, however, perfect for making wire wrapped crystal pendants, and so today I'm going to teach you how to wrap crystals with wire!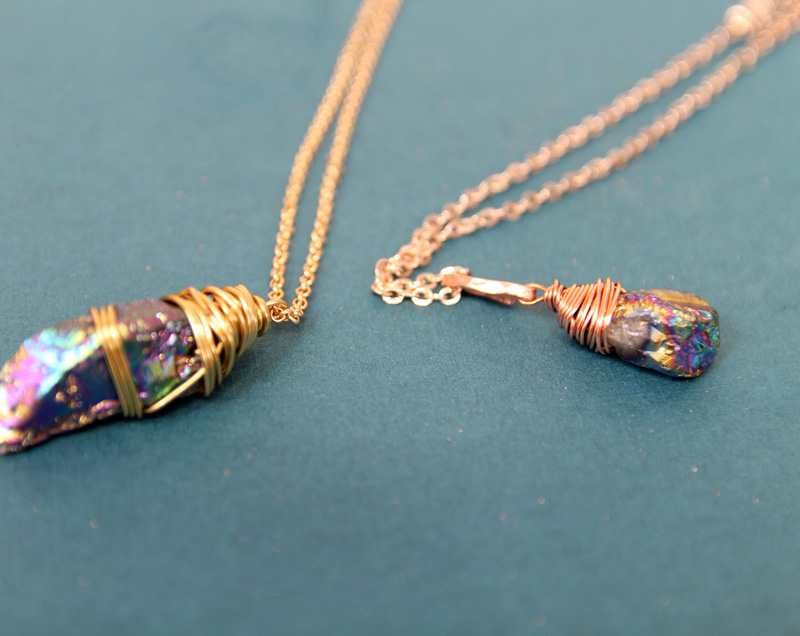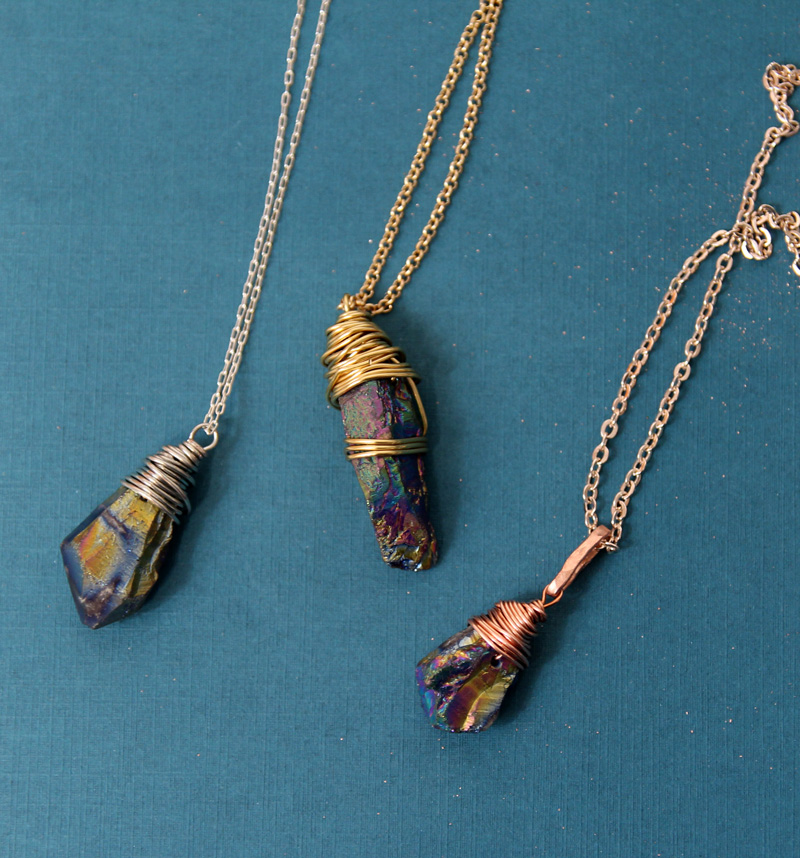 I'm going to show you how to wrap two types of crystals. One is more rugged and durable, and so you can use a thicker wire that holds its shape. I used 22 gauge.
This is a great bead type for learning, for beginners.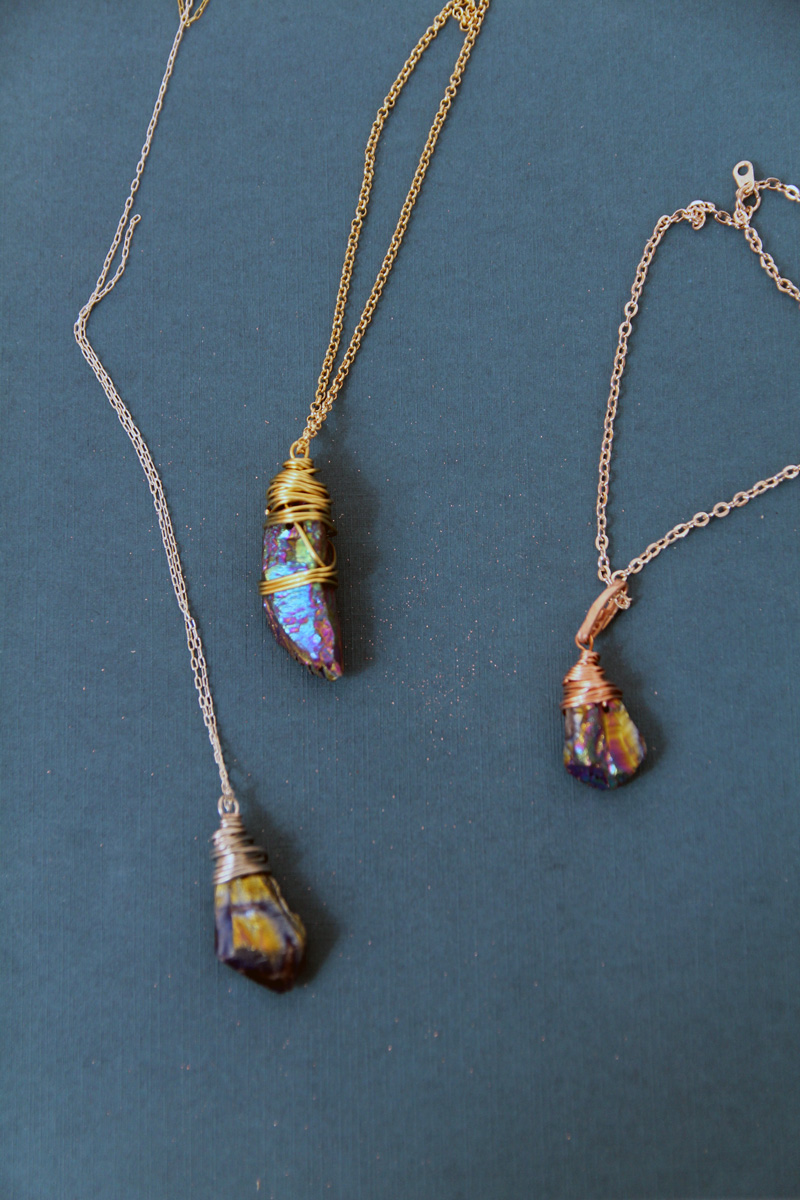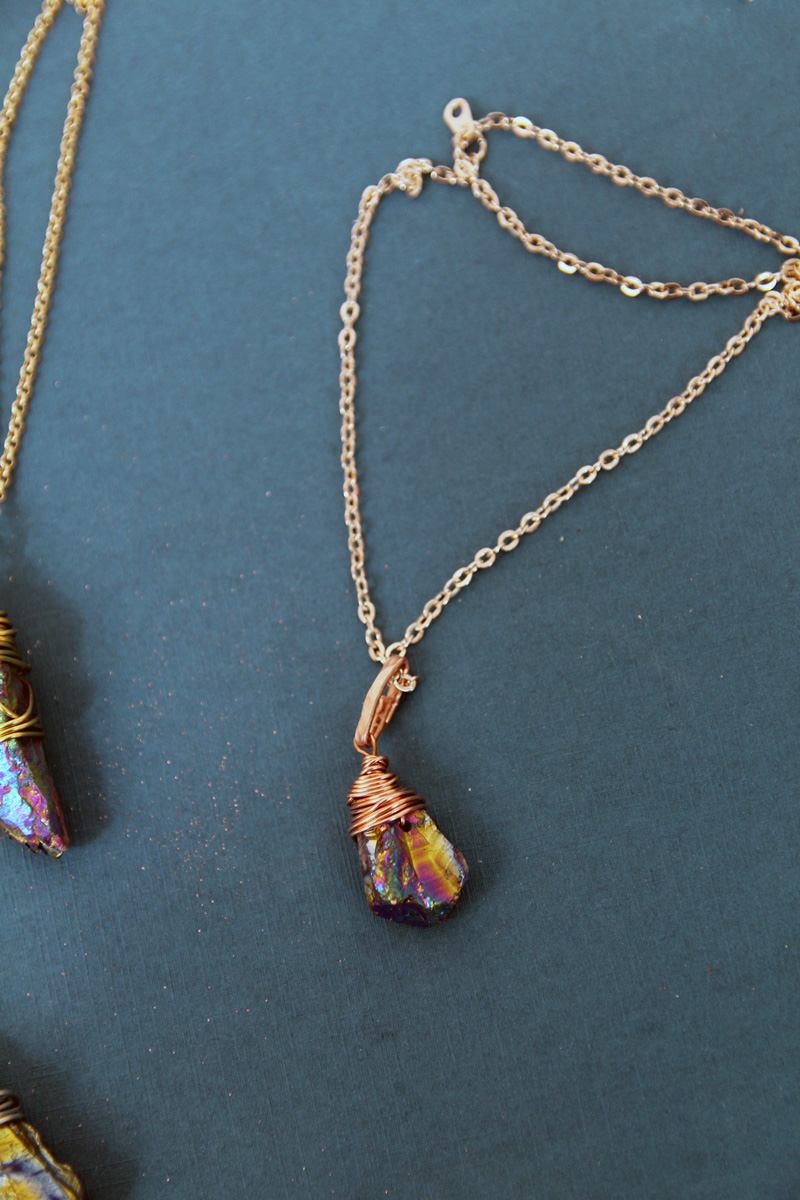 The other is extremely delicate (and cost me an arm and a leg- and sat with my craft supplies for ten years! Can you relate?)
It's a smaller crystal that is good for detailed cluster jewelry or minimalist pieces. For this I used super thin 28 gauge wire. It was maybe a bit too thin, but all the better to show you how to work with it.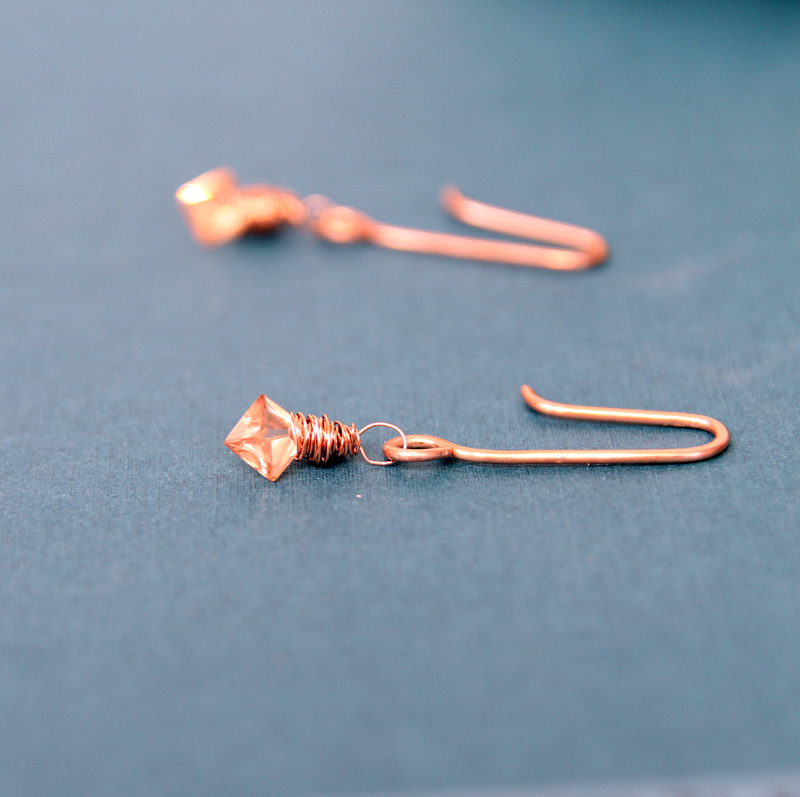 This second method is great for using with top-drilled briolette crystals, however as you can see, the square cut crystals that I used are suited to this method too.
Finish these wire wrapped crystals as pendants, earrings, or whatever you want! It's a great jewelry skill to have in your repertoire.
You can learn more about copper jewelry making if you'd like, or check out my full list of jewelry crafts for every age and stage!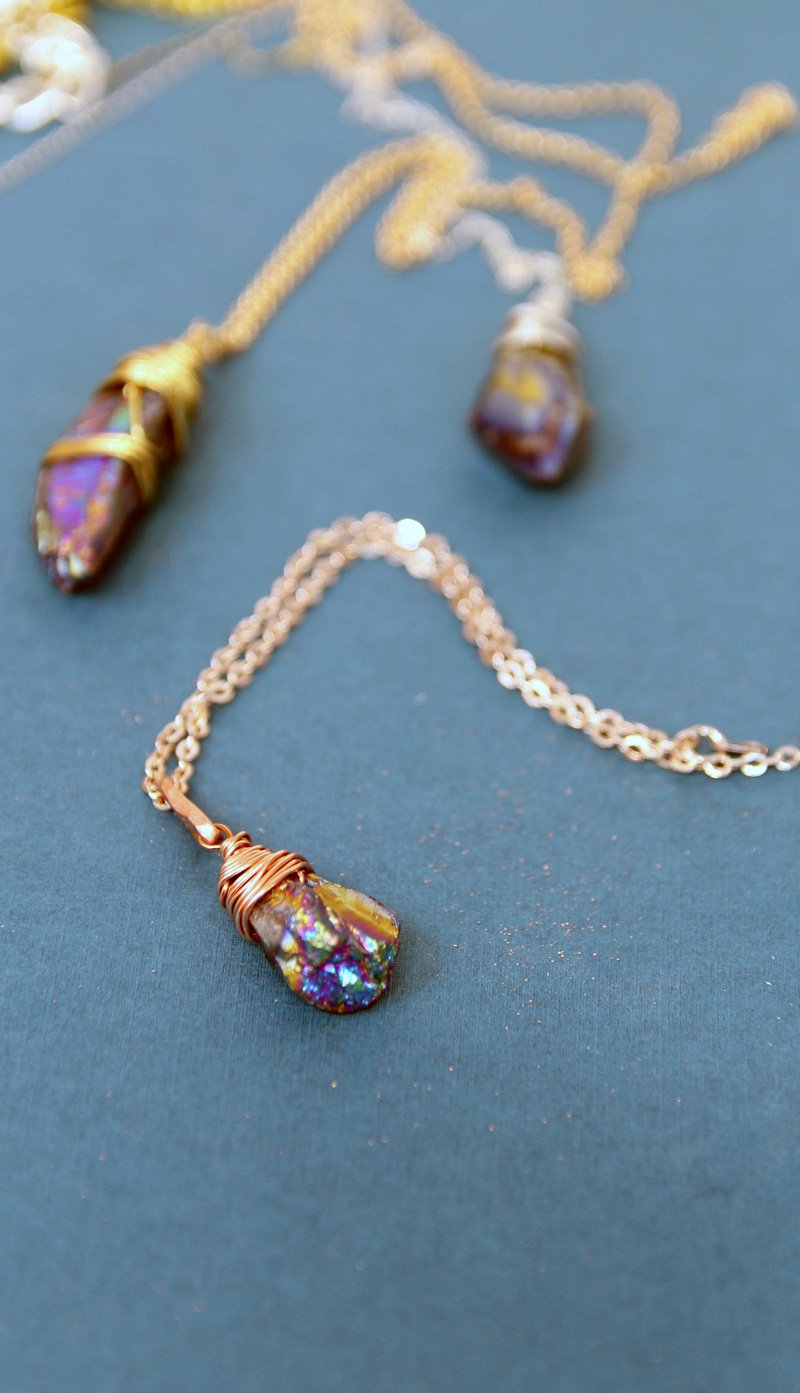 What you need to make wire wrapped crystal pendants
How to wrap crystals with wire
1. Insert the end of your wire into the hole, leaving a couple of inches sticking out.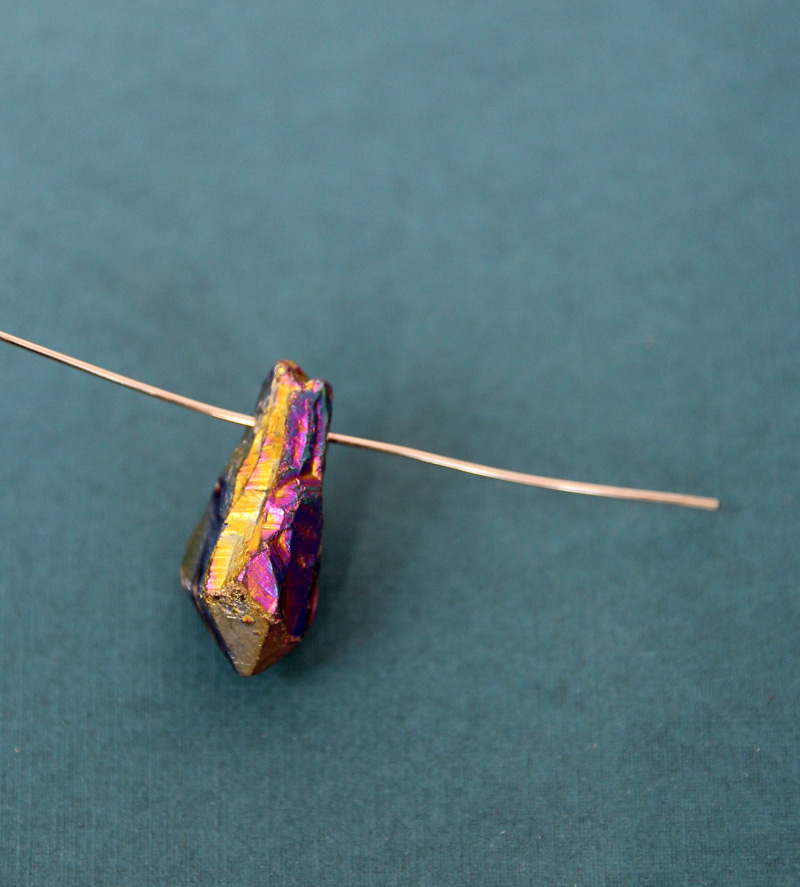 2. Bend the sides up to the top of the bead to form a triangle.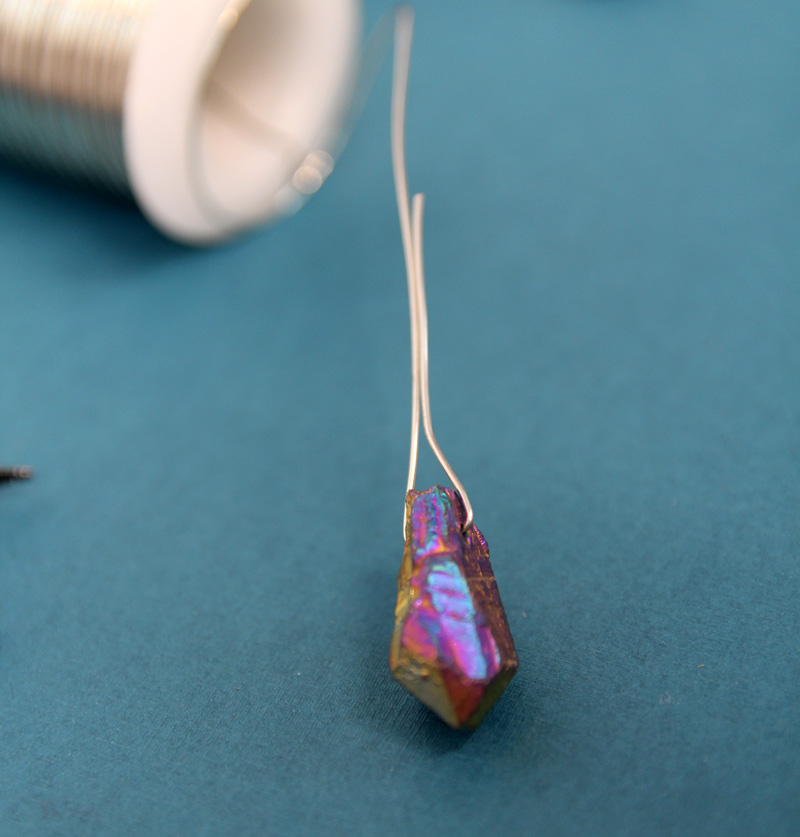 3. Use the round nose pliers to curve the smaller end of wire down so that it crosses over itself right at the top of the bead.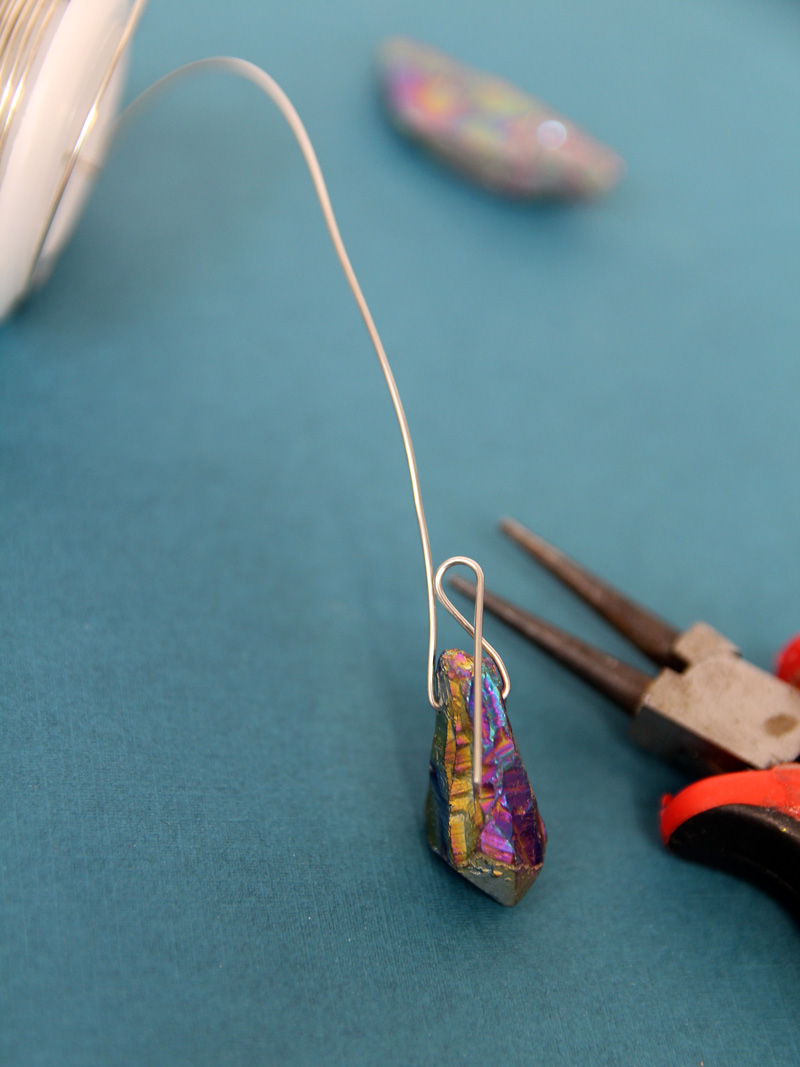 4. Take the longer end of the wire and wrap it a couple of times around that area right above the bead where the smaller end crossed over itself. At this point, you can trim it off the spool to roughly a foot.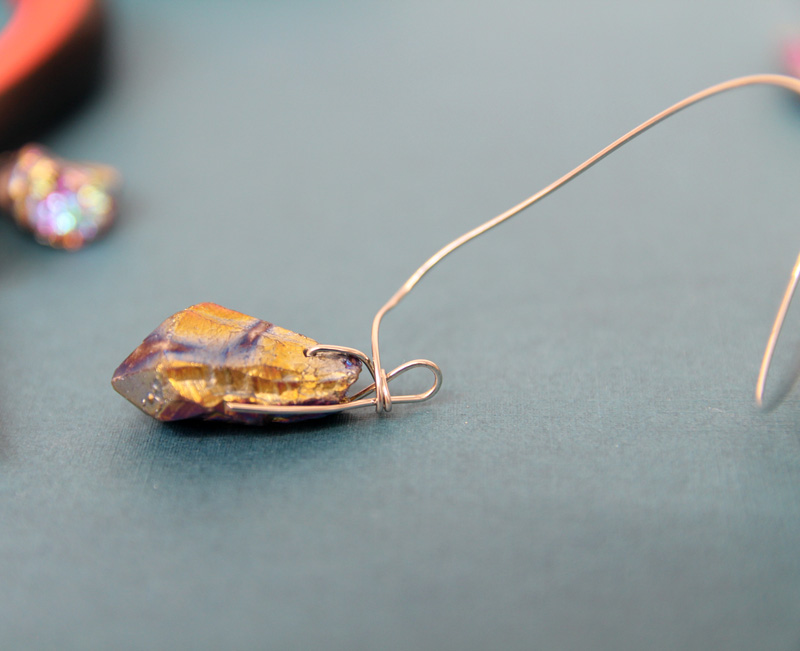 5. Finish up that little piece of wire by wrapping it around that crossed-over point right above the tip of the bead, right below or above the other wire. Tuck the end so that it really sits tight against the wrapped portion.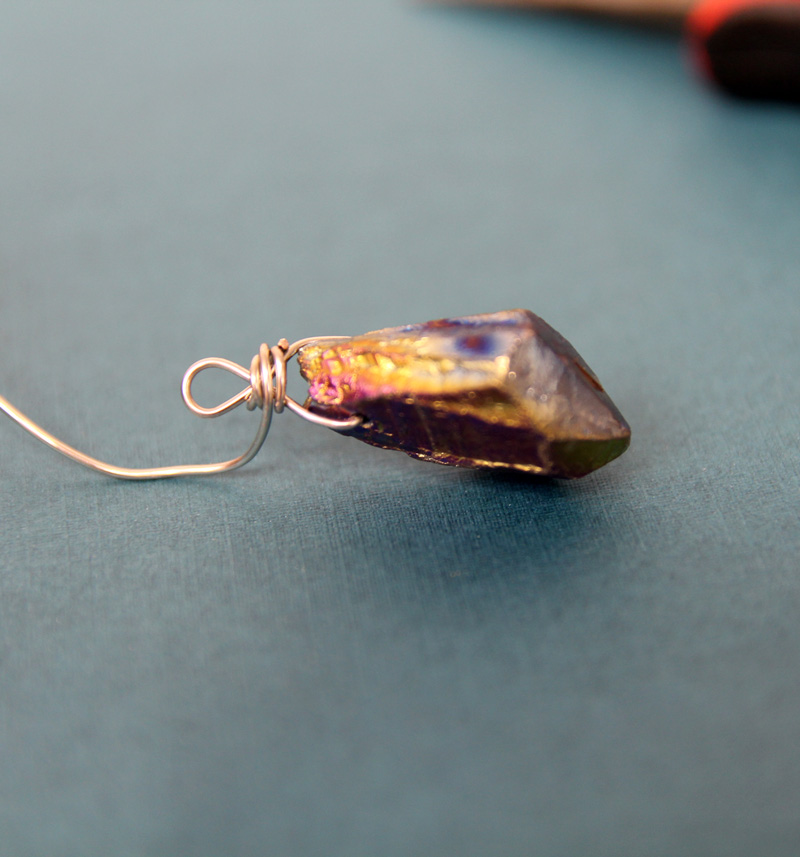 6. There's no real trick (that I know of) to wrapping neatly – besides for practice maybe. So just go for it! Grab that wire with your hand, and just wrap as neatly as you can. I recommend wrapping from the bottom of your loop that you formed, all the way down to the hole in one run. That means covering over the previous spots you wrapped.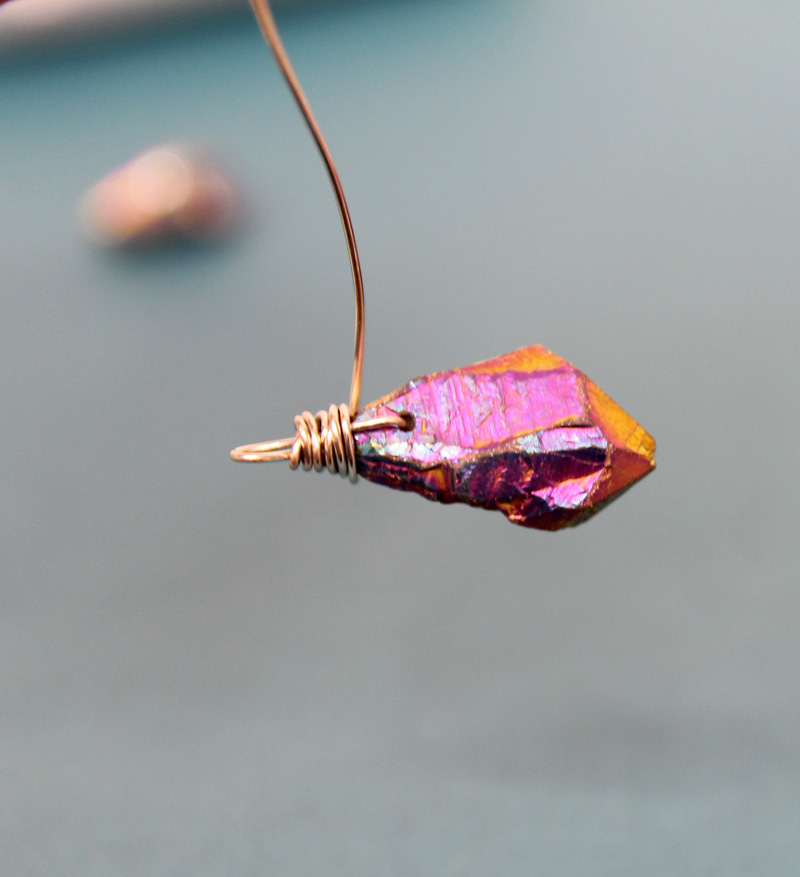 If you feel you need to readjust it, you'll want to use nylon jaw pliers so that you don't mark your wire.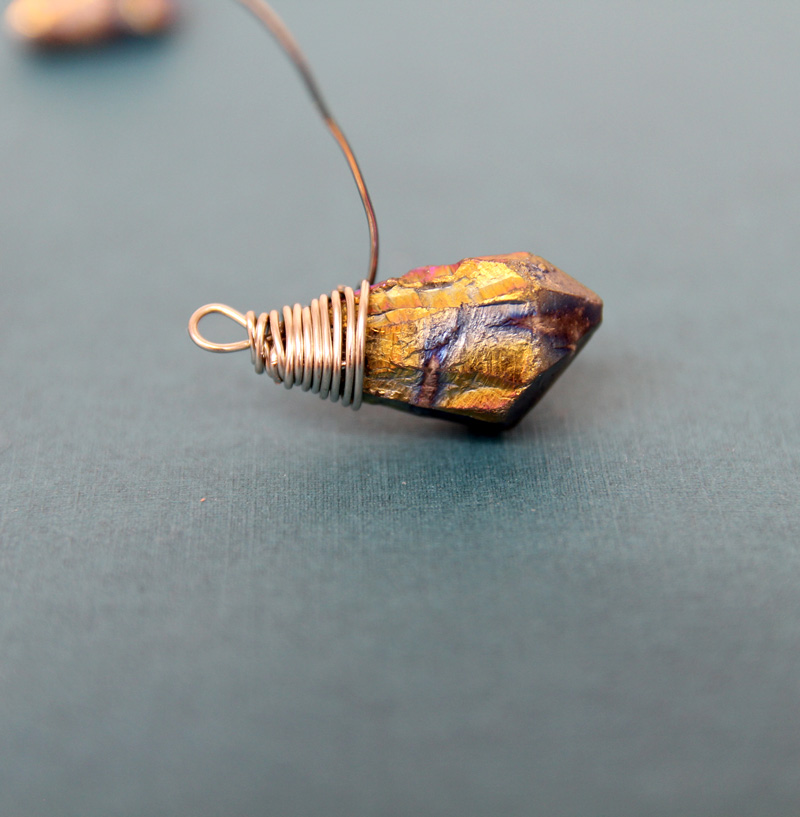 7. When you're done wrapping, just trim the wire (or wrap until the end) and tuck the tip as flush as you can with the whole shebang so that it doesn't poke out and ruin that gorgeous top. As you can see, it's as if there's no hole! You simply can't see it, but your crystal is super secure because there really is a hole.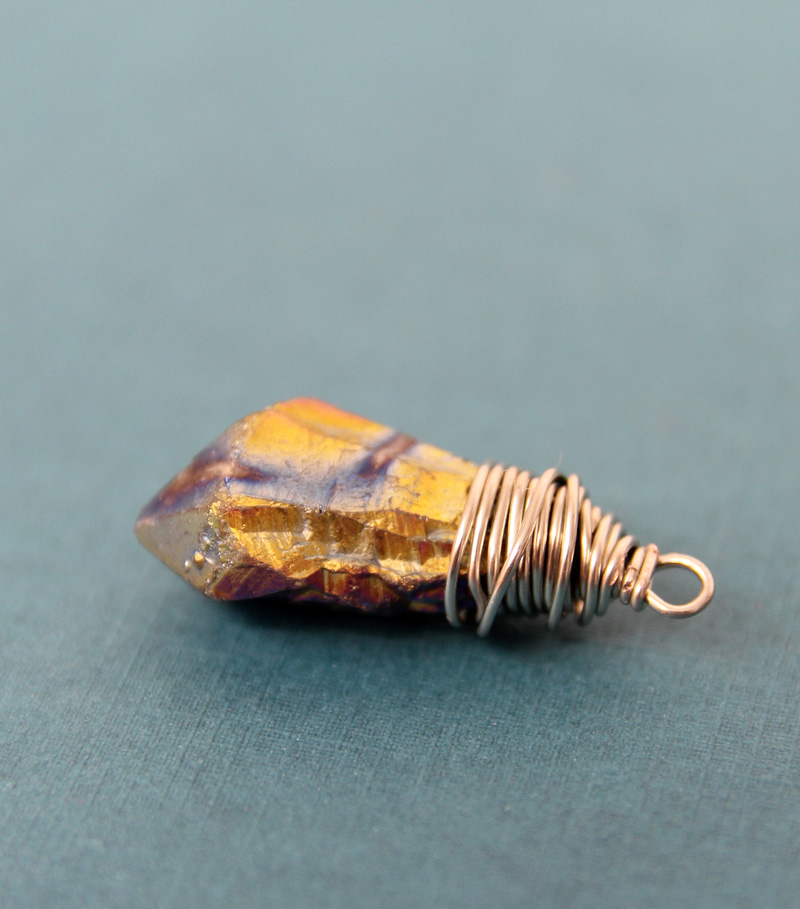 If you'd like to add a little style when you learn how to wrap crystals with wire, you can take a little detour, and wrap the same wire a bit around the center of the bead.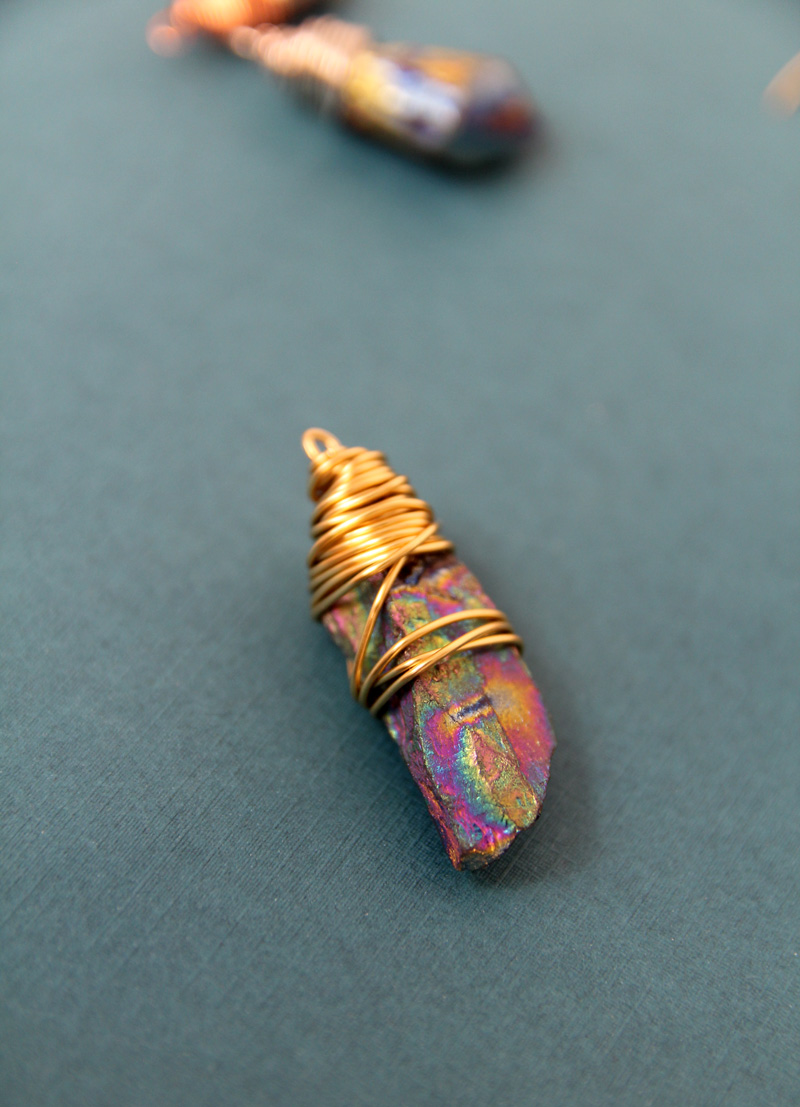 The main change you'll make if you're wrapping a very delicate crystal: form a wrapped loop first, off the bead.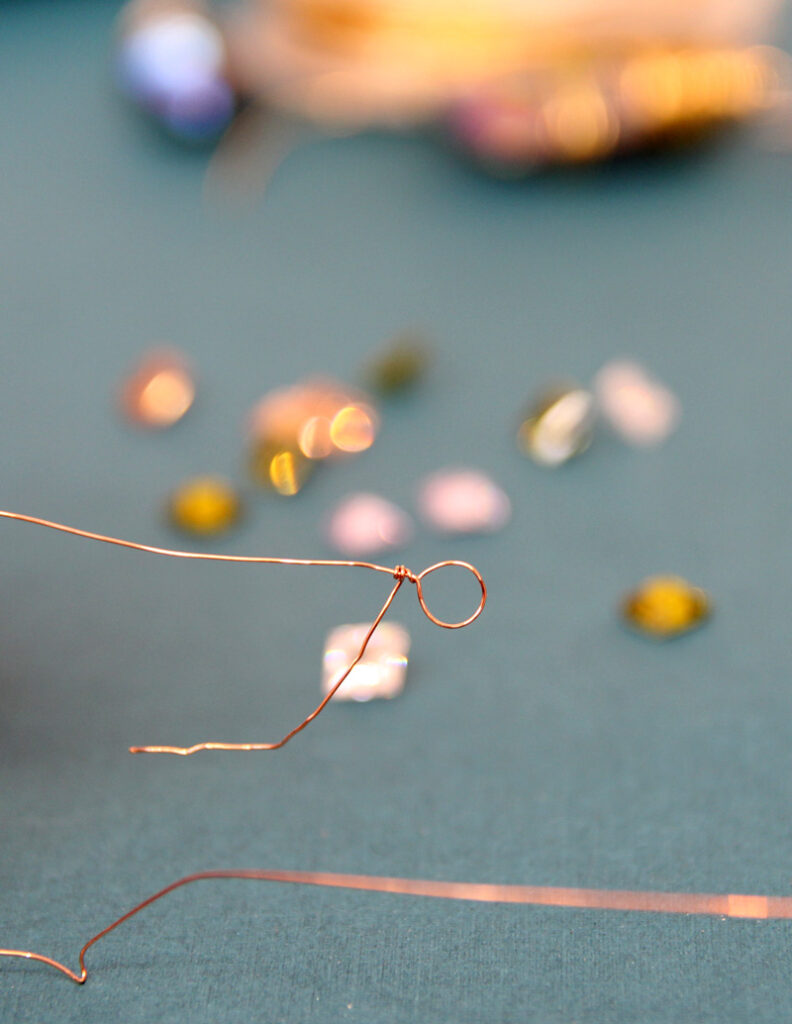 Add the crystal, and bend/groove your wire with your hands so that it sits nicely below the wrapped loop.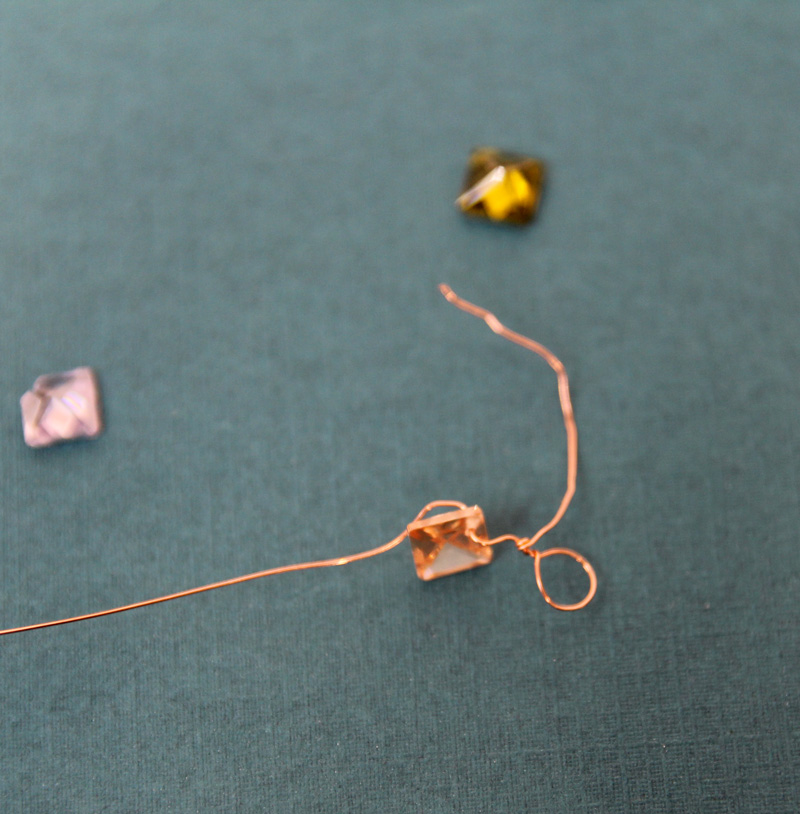 Wrap 'er up the same way you did before! Wrap the long wire a couple of times to hold things down, wrap the tail of the short wire and hide it, and then use the long wire to wrappy till you're happy…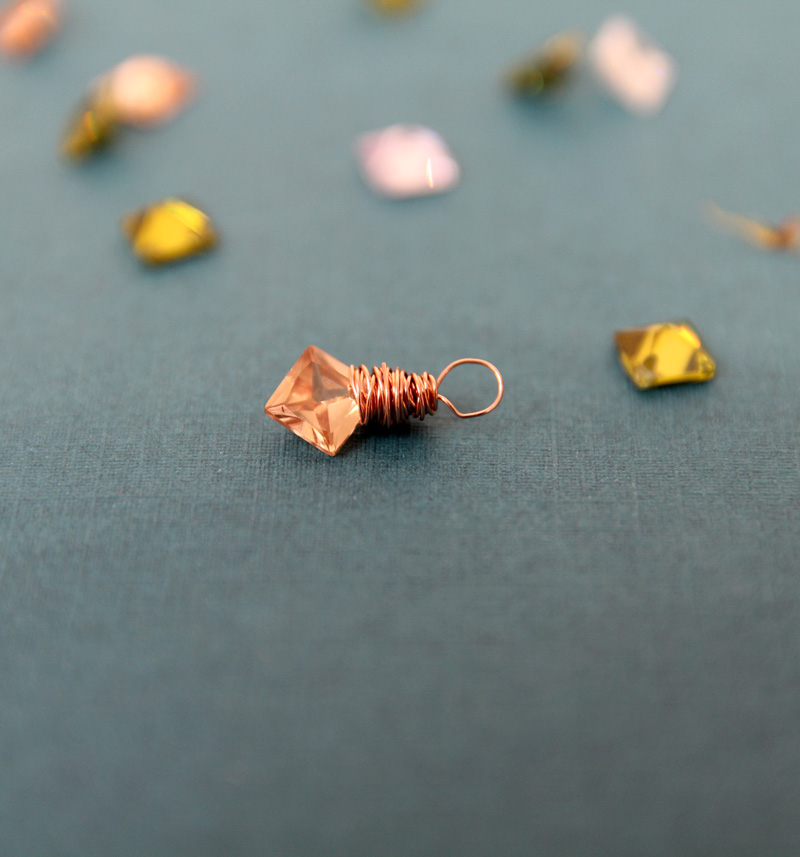 When you're done learning how to wrap crystals with wire, make a dozen, add them to a dozen chains, make half a dozen earrings – the choices are all yours!!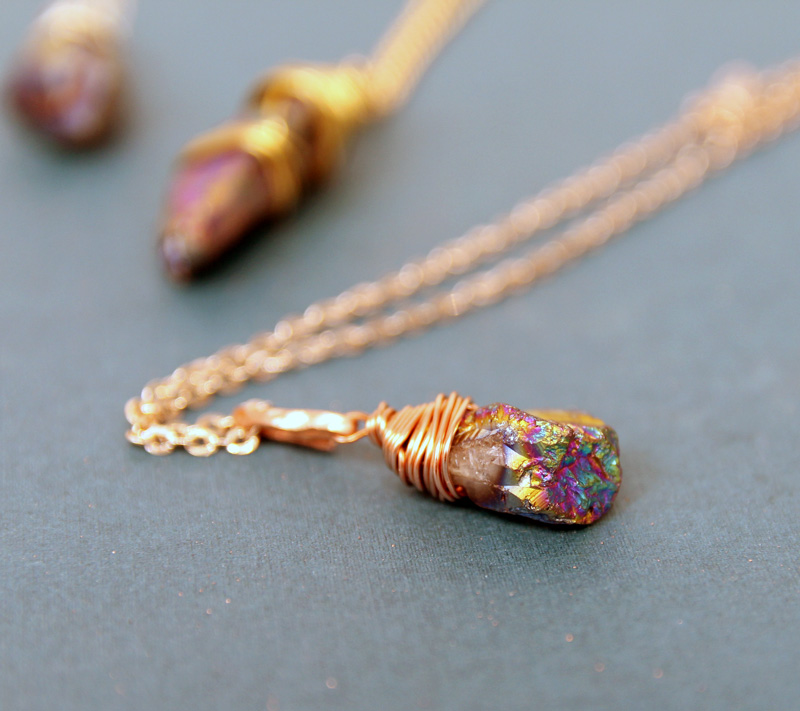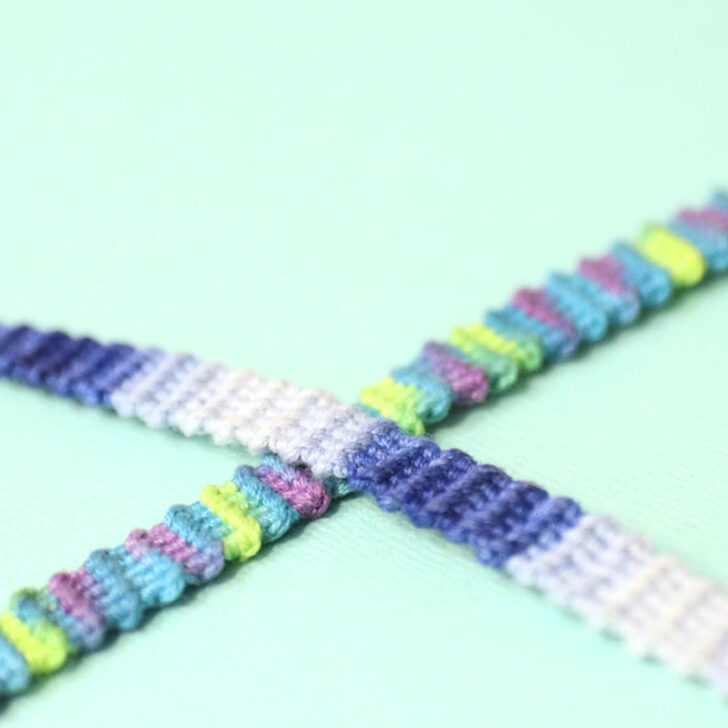 Make these gorgeous, classy horizontal stripe friendship bracelets with a subtle ribbed texture! When you're done, try making a chevron friendship bracelet. This post contains …