This super fun kids' drawing activity teaches under, in, and on. It's a super fun collaborative art prompt just like this seasons activity for preschoolers! This post contains affiliate links.
---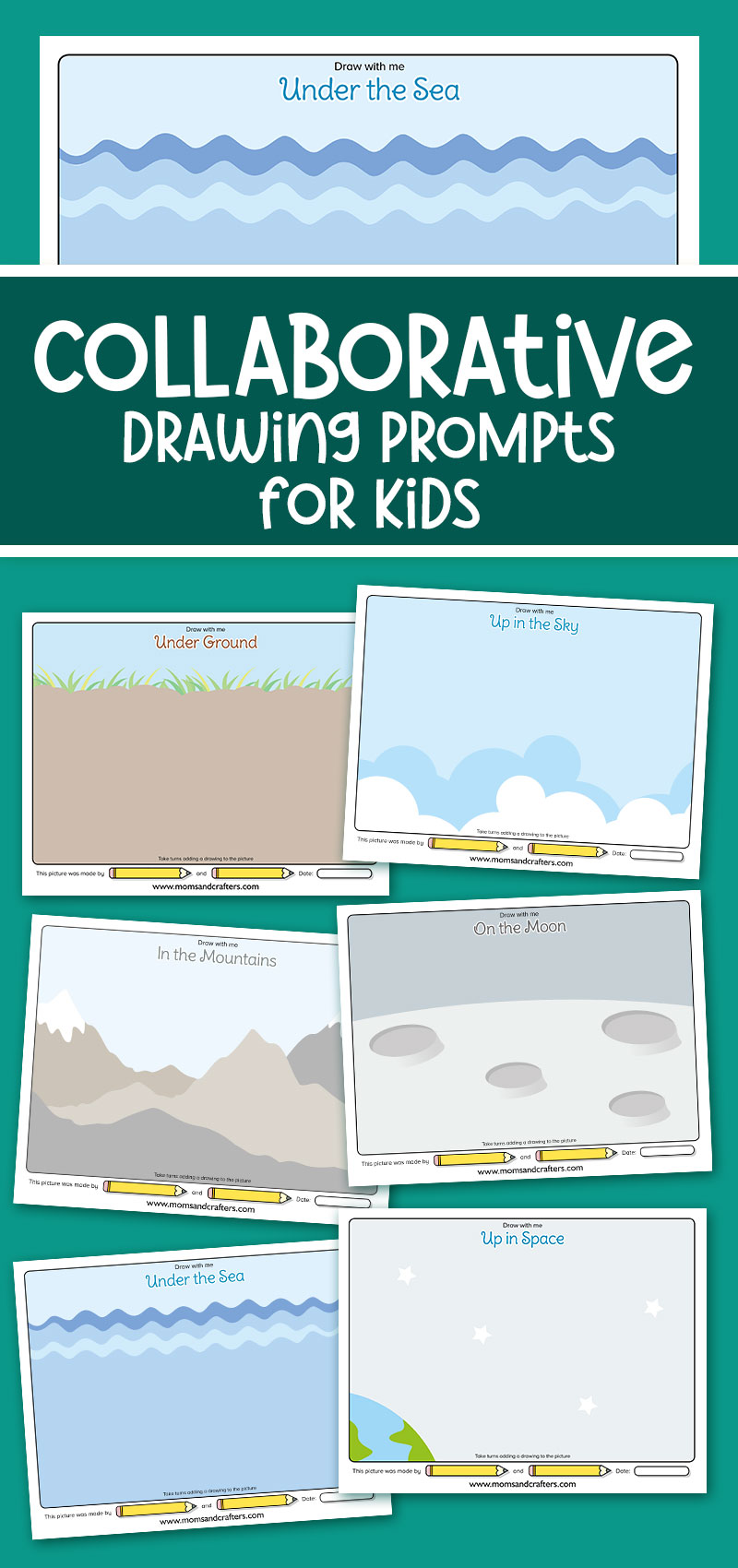 Some kids can be handed a marker and papers and go wild. Some kids just need a little more help.
That's why I love sharing thought starters to get kids who are past the scribble stage making art.
While it might seem counterintuitive to provide too much for simple illustrations, it can really enhance creativity as long as it's open-ended. These free printables are designed to be just that. As a bonus, they'll practice turn-taking and collaborative planning.
Kids can take turns illustrating what they'd like in this easy kids' drawing activity! They can begin to learn position words with a collaborative art project. It's also fabulous for teaching about different environments, what lives where, and what can be found where.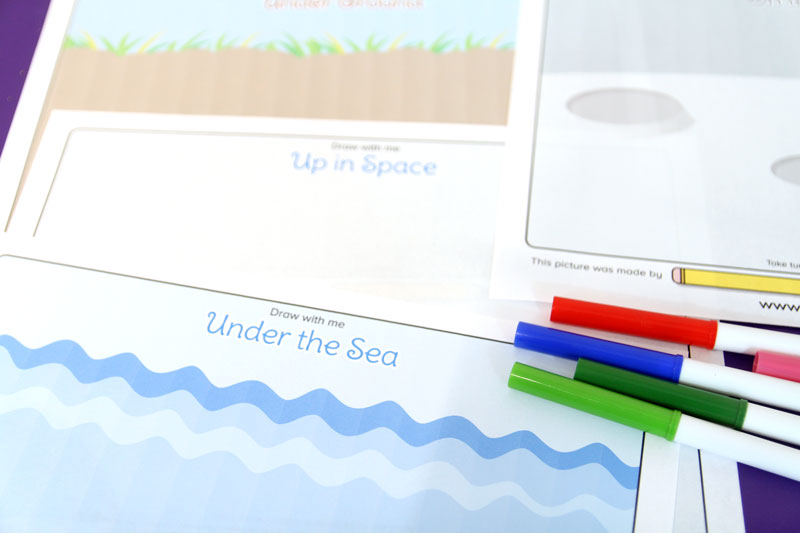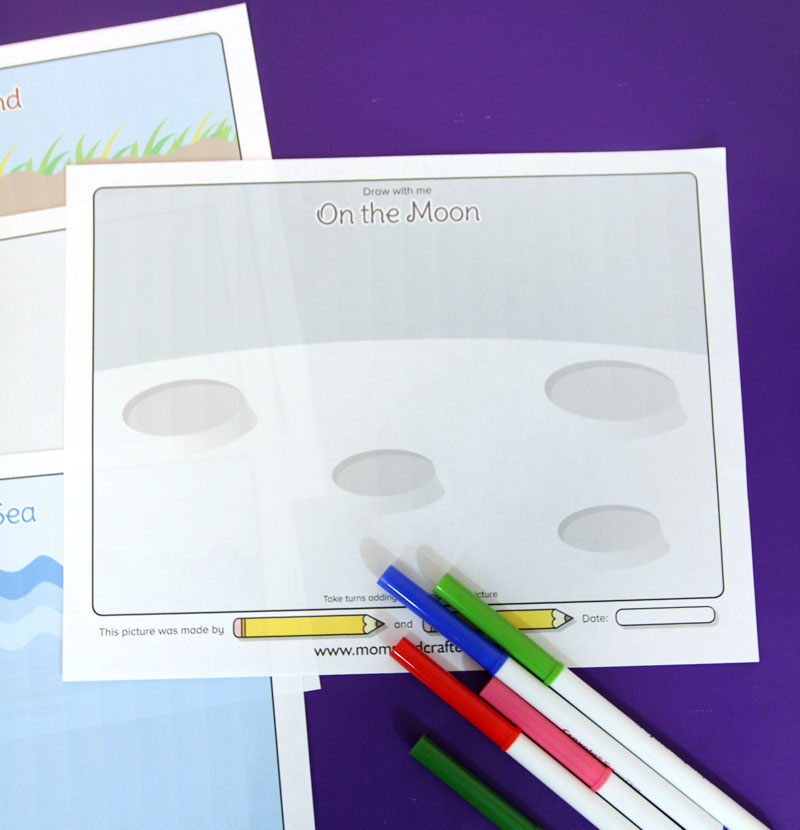 Pages included in this kids drawing activity
This free printable includes the following pages
Under the sea
Up in space
Underground
Up in the sky
In the mountains
On the moon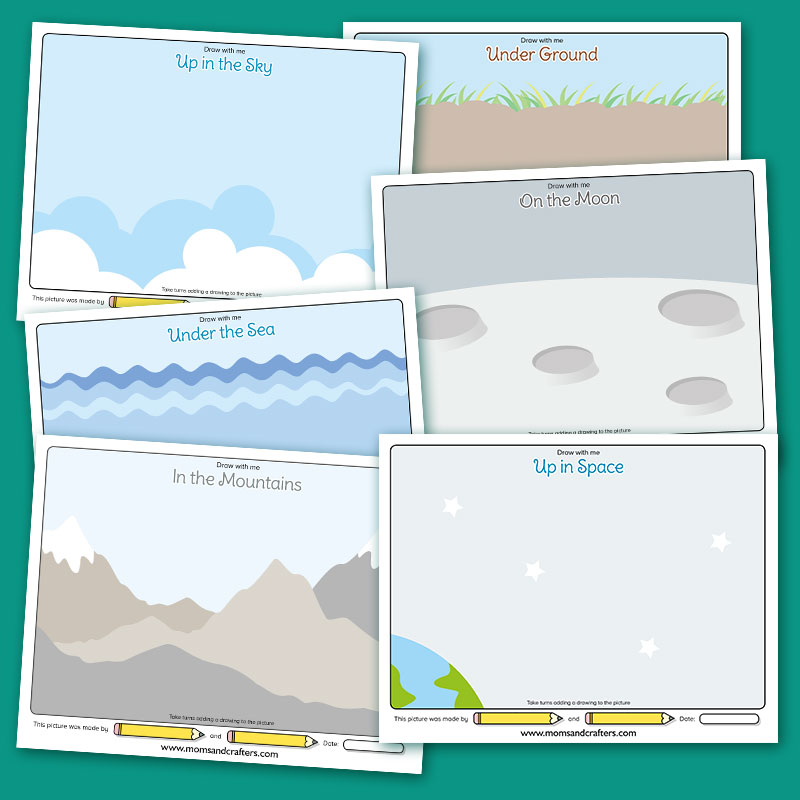 How to do this kids drawing activity
The idea is for kids to take turns with a sibling or a classmate. One child illustrates something that fits in the scene. The next continues.
If you'd like, decide in advance if you want it to be realistic or if a little fantasy or silliness is okay. Or, just let the kids do what they'd like and see how their personalities emerge based on what they choose to do!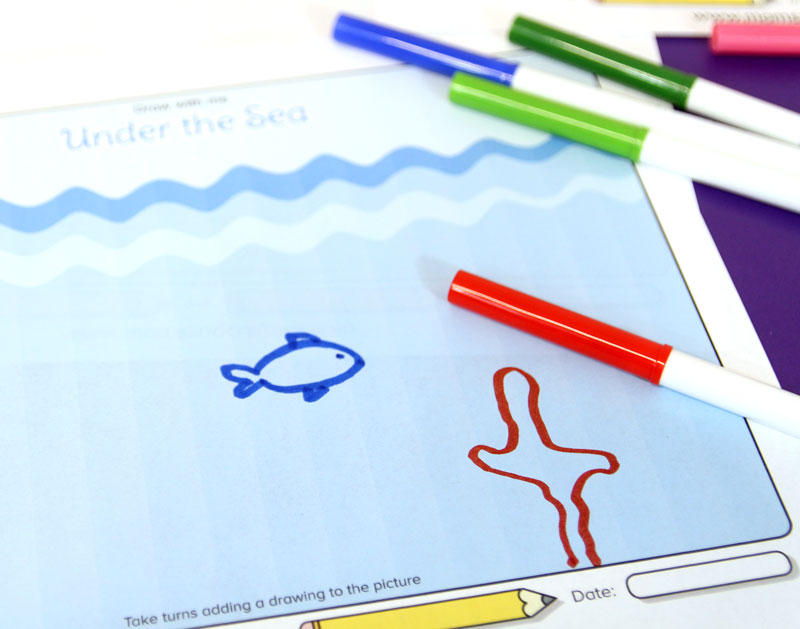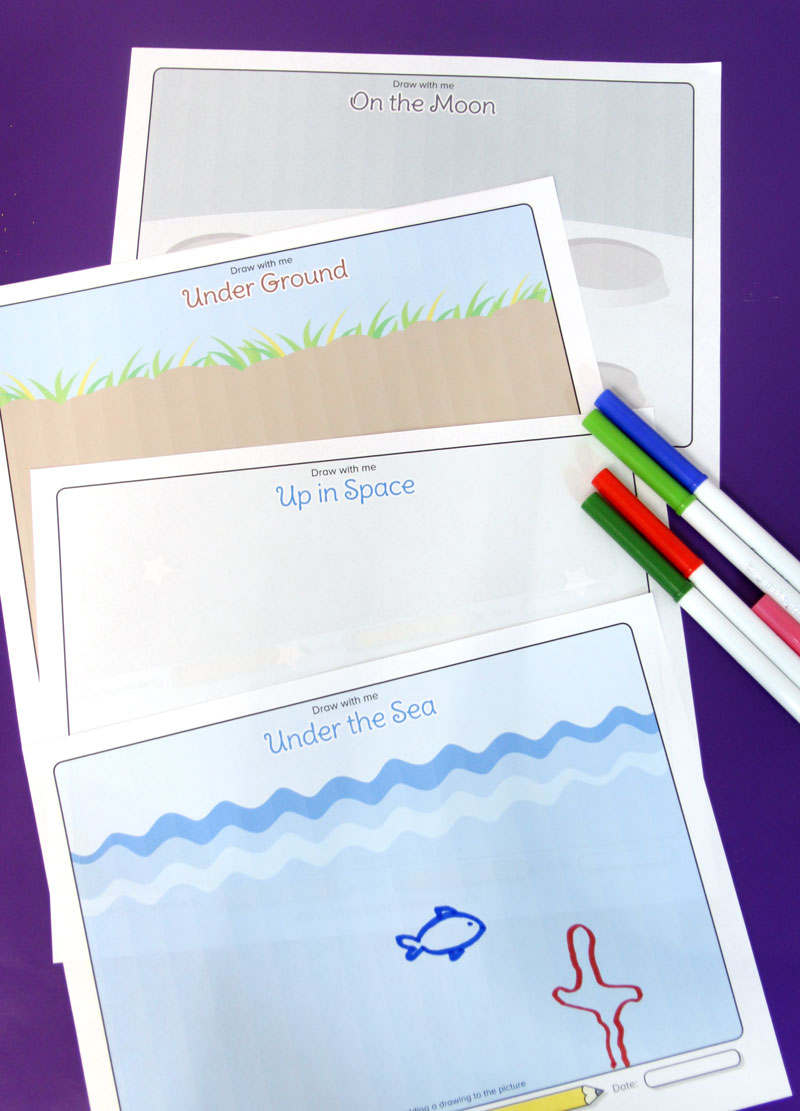 You can also try spinoffs. Each child draws only a single stroke or line of the drawing and they can see what they come up with! But it has to fit the theme too…
I highly recommend Crayola Supertips for drawing activities for young kids like this one. You get a fabulous selection of colors in an affordable package and the size is a perfect in-between.
However, preschool kids might do better with standard Crayola markers. For 2-4 year olds these Stabilo triangular ones are fabulous too. the point goes into the marker so that they can't smash it, and they survive for surprisingly long uncapped.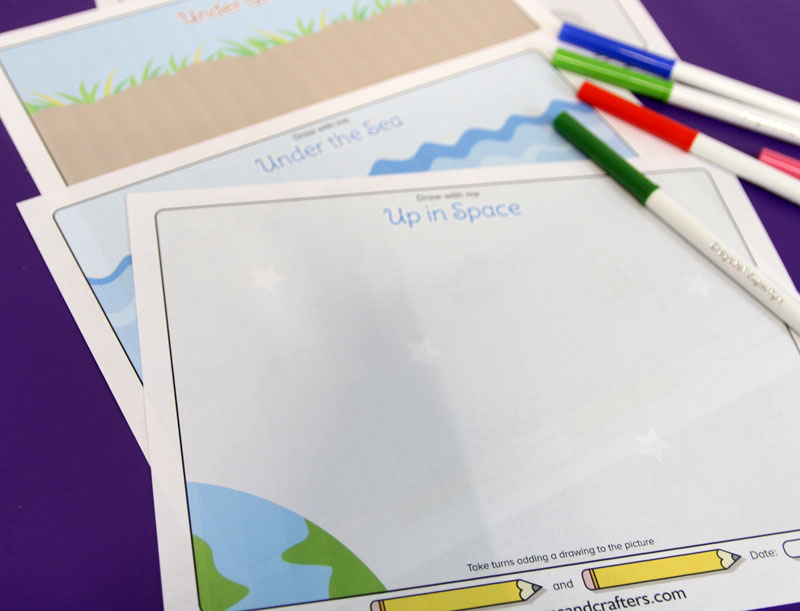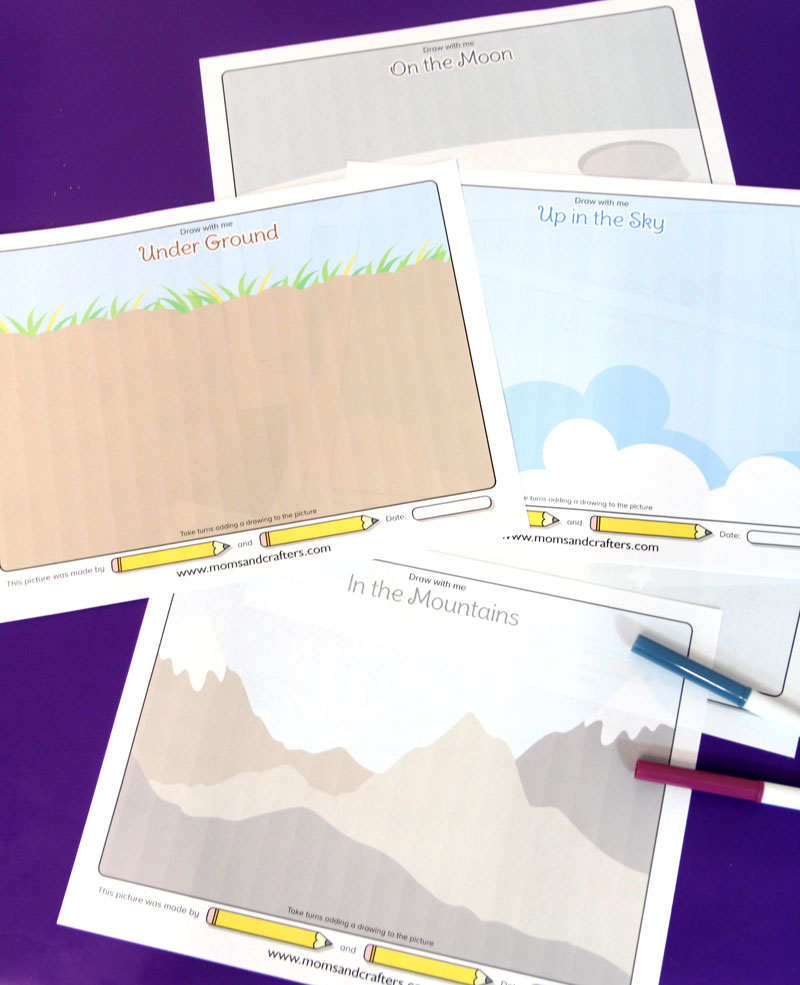 Download your free printable drawing prompt
To download, fill out the form below. You'll be signed up for our free newsletter – unsubscribe at any time in the footer of the emails. I respect your privacy and the law and won't share your information with anyone.
Love this post and want more like it? Hit "Thank the creator" in the sidebar, the beginning, or end of this post, and send over some confetti so I know to create more like this! You can choose from free or paid stickers. Any sticker shows me you loved this. Paid stickers sponsor the coffee to fuel the next post.
More tips for this free printable kids drawing activity
This kids drawing activity can be done individually or all at once. You can make these a classroom display (in half the space, since kids pair up for it). You can use them as you learn about these different settings.
While you can totally use this simply as a coloring page, I prefer to upgrade it – and make it reusable. To do this, print it in beautiful, full color. Laminate it using an inexpensive laminating machine. You now have a super cool dry erase activity!
Not only can it be reused again and again, in a classroom or at home, but even within a session, kids can do it endlessly. Plus, they'll love getting their hands on those whiteboard supplies. Make sure to get washable dry erase markers as standard ones don't necessarily come out easily in the wash.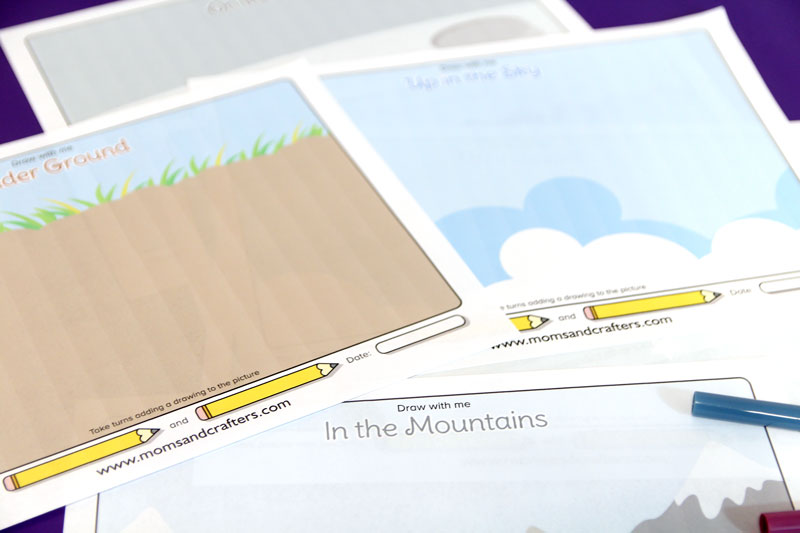 And finally, if you're doing this at home, you can keep these as a reusable activity within an art binder. You'll find that it produces so much less waste – and it's more exciting for the kids! Get smooth glossy sheet protectors to make them dry erase. The sheet protectors I linked have a top seal so kids can't take it out! If yours don't, simply tape it shut.
This kids drawing activity makes a fabulous project for sibling collaboration! I love stocking activities like this by my kids' art desk.
What's YOUR favorite kids' drawing activity? Comment below!