With the holidays coming real fast, I decided to give my readers a little gift. I'm sure you're all looking for ways to save, and so I've created some printable holiday gift wrap you can download and print for free.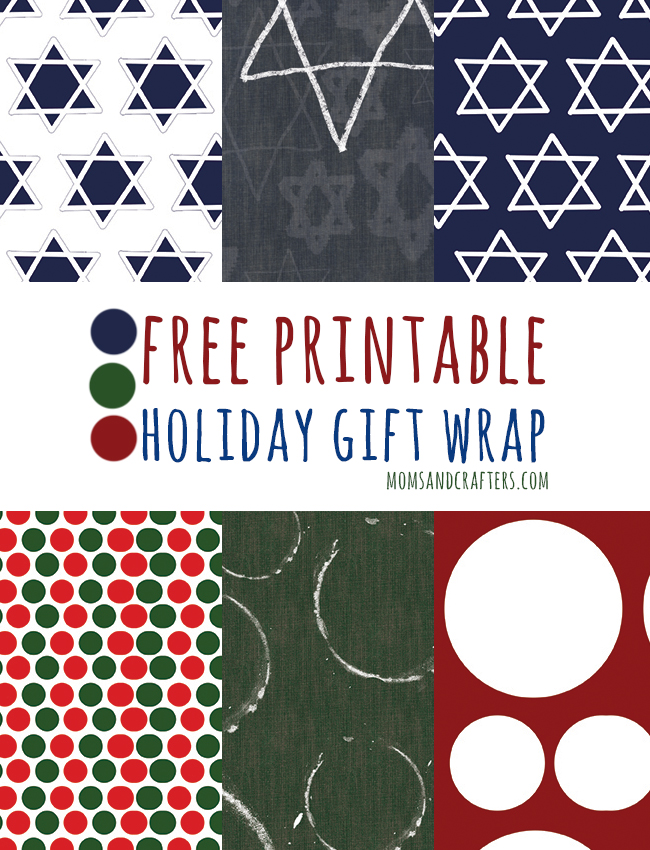 Since I celebrate Chanukah (Hannukah) I made three designs special for that. I also made three Christmas prints for those of you who celebrate that. I hope you enjoy, and I hope this helps you save on another small holiday expense, as all the pennies add up!
These are tabloid size – 11×17 inch – prints (you can print them that size or smaller). Print them on regular paper, or try it on Kraft paper for a cool effect.
Click on each of the images below to link to that print. You'll get a nice size sheet that's good for wrapping small-medium size gifts. Print on regular letter size paper for wrapping smaller gifts. If you can't print large and you have something bigger to wrap, you can connect a few sheets. To make it look nice, overlap it so that the design continues seamlessly.
Printable Holiday Gift Wrap for Hannukah
Printable Holiday Gift Wrap for Christmas
You can also use these as scrapbook papers for card making, photo frames, or for decoupage projects. Try decoupaging a paper towel roll with them and creating a party centerpiece with that! Enjoy!
More Printables You Can Download:
If you loved these, you'll want to check out these other free printables on Moms and Crafters:
Free Printable Pillow Box Downloads – These are great for gift giving as well! Perfect for very small gifts and jewelry, and includes a holiday pattern as well.
Free Printable First Birthday Invitations – If you or someone you know is making a first birthday soon, you'll want to check out these adorable and classy invitations that you can print for free!
Free Printable July 4th Scrapbook Pages – Still got those Independence day photos hanging around? Check out these printable pages and get 'em organized!
Did you enjoy? Spread the love using the share links to the left of the post!!
New! Get the Hanukkah coloring page packet! You can find it in my Etsy shop, or on Gumroad, or purchase it here: