If you can't go to the beach, why not color it? If you can go to the beach, why not gain inspiration from it? The Postcards coloring book for adults goes further than the beach, and takes me beyond my wildest imagination… well, maybe not. Since I illustrated it, I suppose it takes me about as far as my imagination will go… Disclosure: this post contains affiliate links.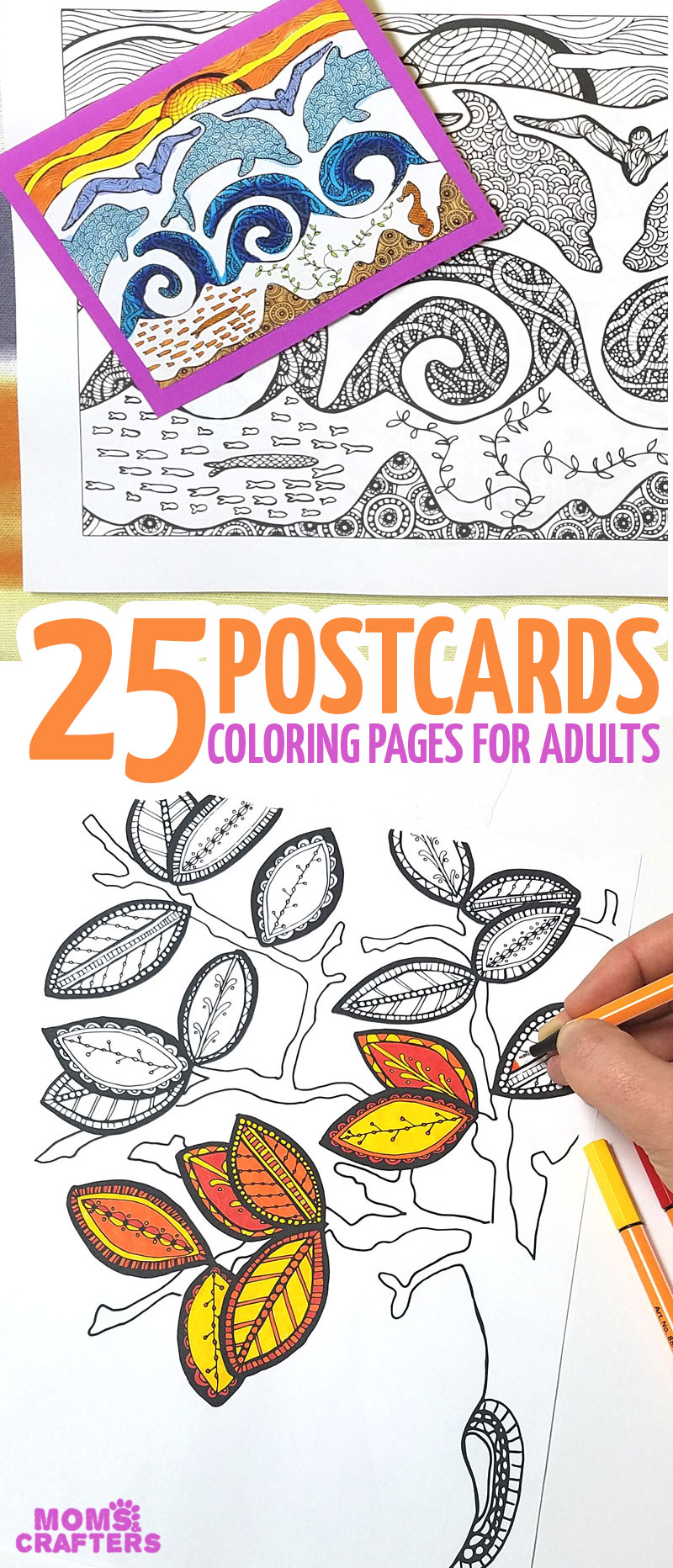 I wanted to create a coloring book that combined all sorts of pretty things – my favorite things -found in nature, around the globe, in culture, or even imagined scenes that are inspired by nature…
I was struggling with how to combine them into a single topic or theme, when it struck me: Postcards.
I used to collect postcards for the beautiful scenes they'd feature. Places we wished we were. Beautiful art and drawings. Cultural experiences.
I hope you love what you'll find in Postcards: Coloring Book for Creative Adults – it has been a joy to create it and share it with you. It features some favorite hits from the blog, some brand new pages, exclusive to this book, and some from my Etsy shop.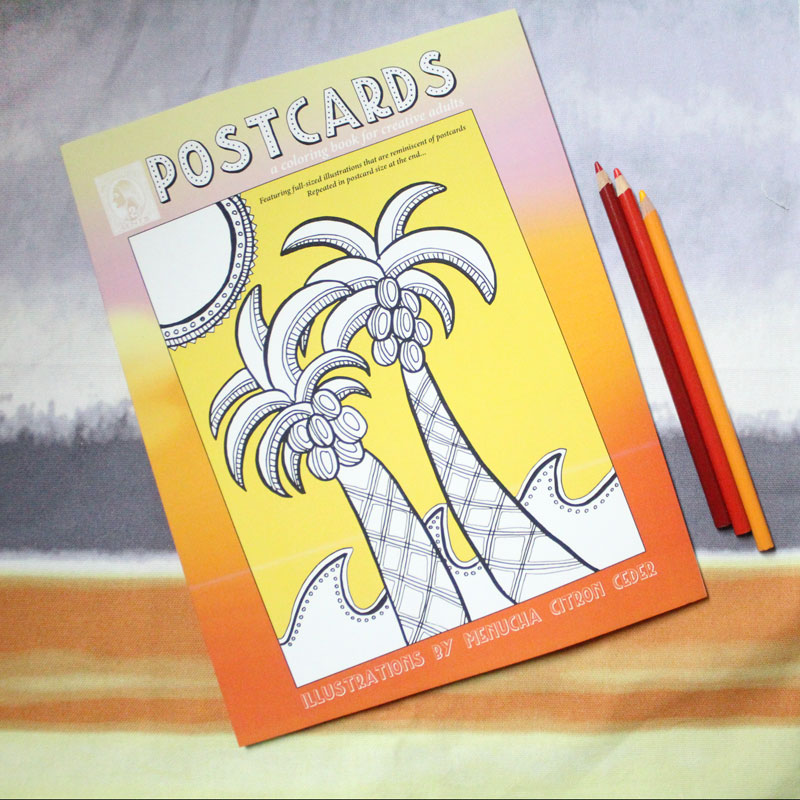 Features of Postcards Coloring Book for Adults:
So, are these postcards or is this a traditional book?
The answer is… both. Kind of.
Since I'm an independent artist, and self-publishing, there's no way I'd be able to present you with actual postcards and still keep it affordable. So I did the following:
I featured each image on its own full (8.5×11 inch) page, with a blank back.
I repeated all the images a the end of the book, 4 to a page, so that its' about postcard size. You can color them, cut them, paste them on cardstock, and mail them out. Or, with the printable version, just print on cardstock to begin with.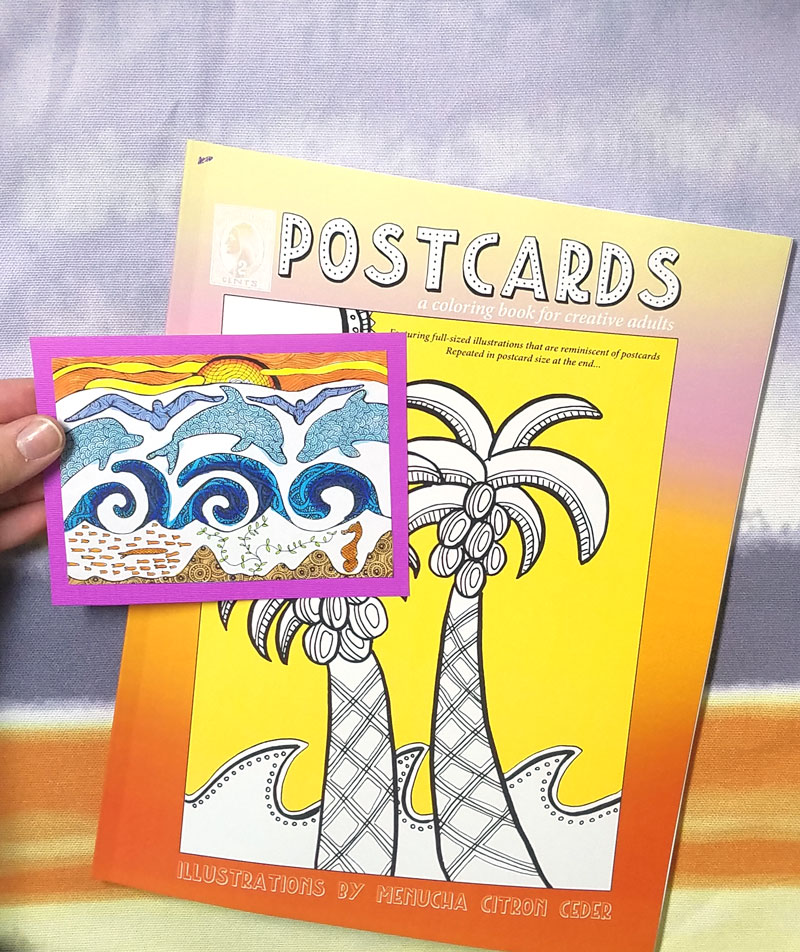 You can preview all the images here: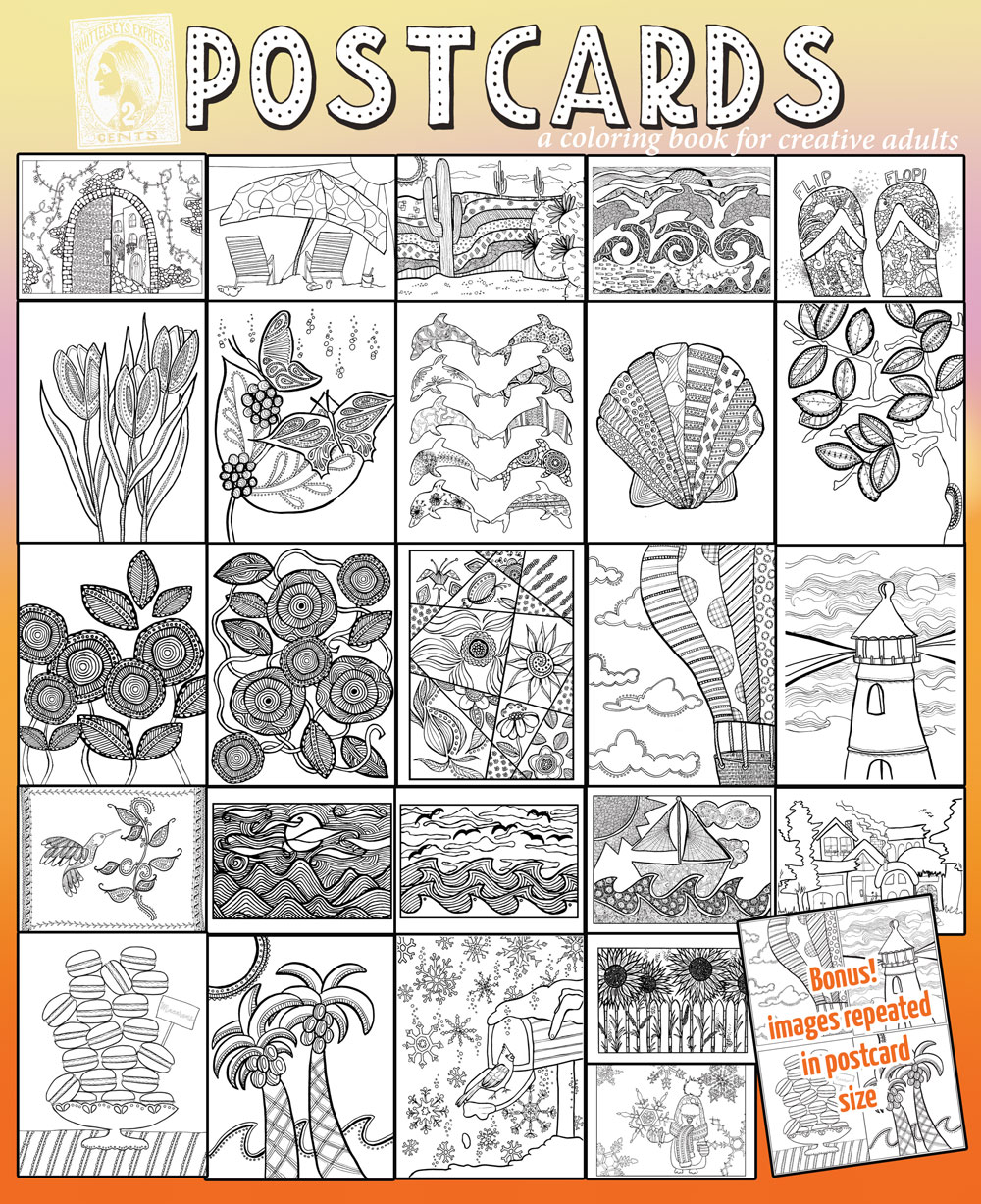 And view a flip-through of the book here:
More about Postcards: Coloring Book for Creative Adults:
25 unique hand-drawn images repeated in full and postcard size
Blank backs
Extra page at the end you can pull out to prevent bleed between pages.
Hand-drawn illustrations
Scenes are diverse: you get beach scenes, a penguin in a scarf, and a plate of macarons (among others)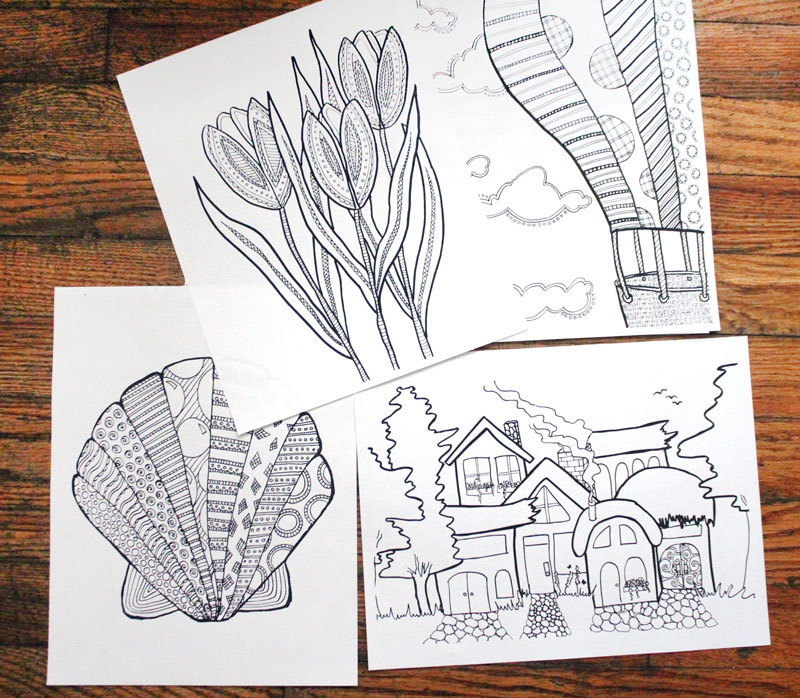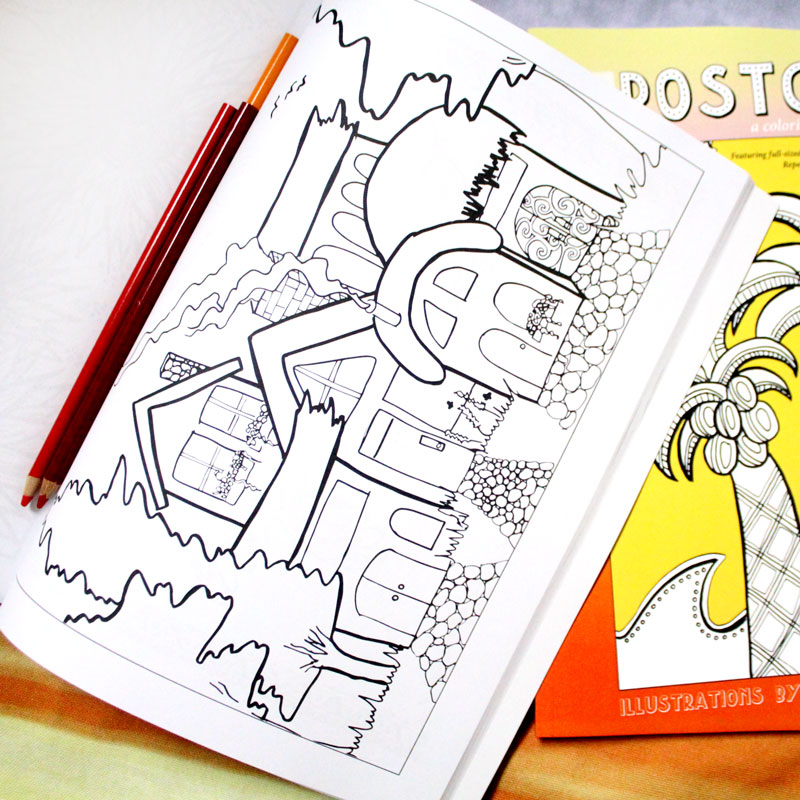 Where to Buy the Postcards Coloring Book for Adults
Postcards is available in both print and digital PDF versions – so that you can get it in the format that works best for you!
Postcards in print:
Purchase the book on Createspace.
Postcards – Digital (eBook) format:
Purchase on Etsy (split into two PDF files).
Purchase on Gumroad here or below:
How I colored the Autumn leaves page from the Postcards coloring book for adults:
I'm not done yet, but… I hope to actually finish this page, and share it on my Facebook page when I do.
I've been working it in monochrome using STABILO .88 markers – using only three colors!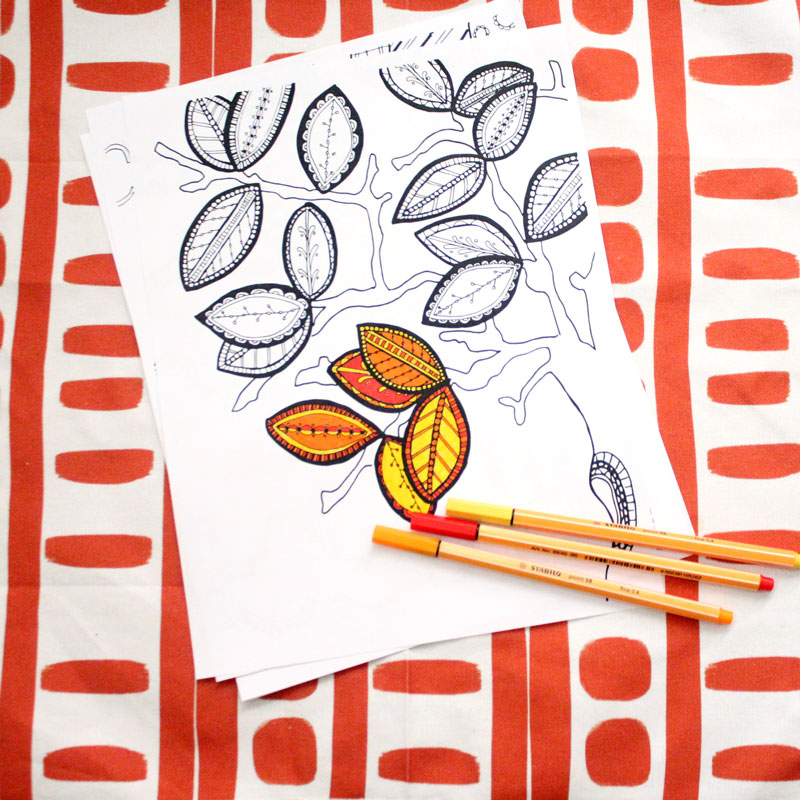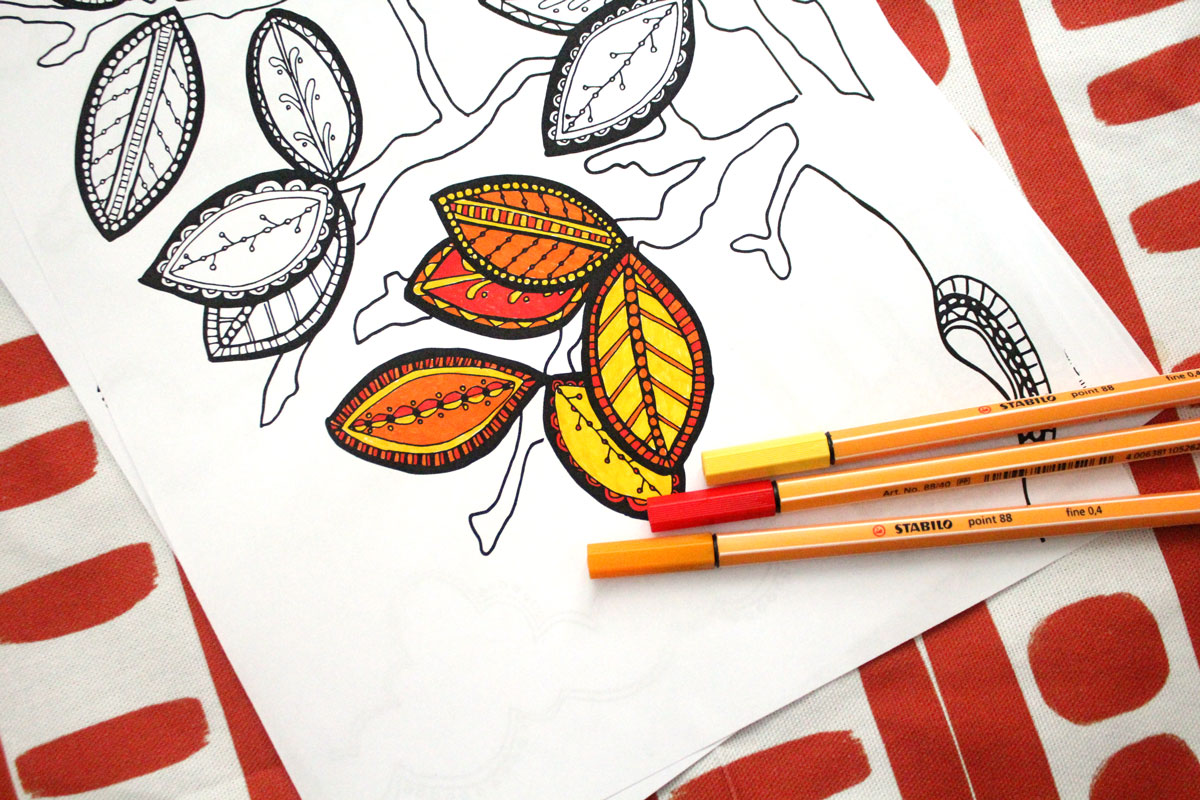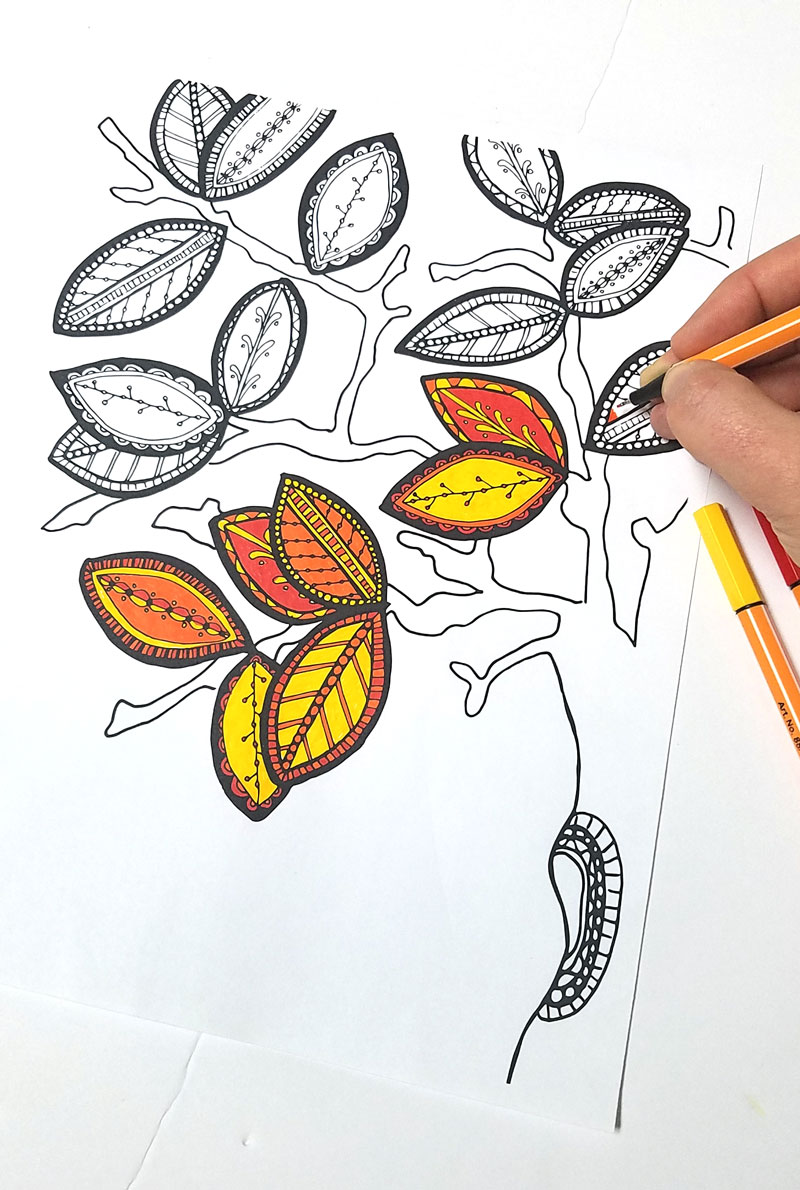 The postcard that I DID actually finish (surprise, surprise!) was colored rather quickly using Prismacolor Premier markers. As you can see, I focused on the broader area, since the finer detail is very fine and challenging to color. I cut it out and glued it onto brightly colored card stock using glue strips.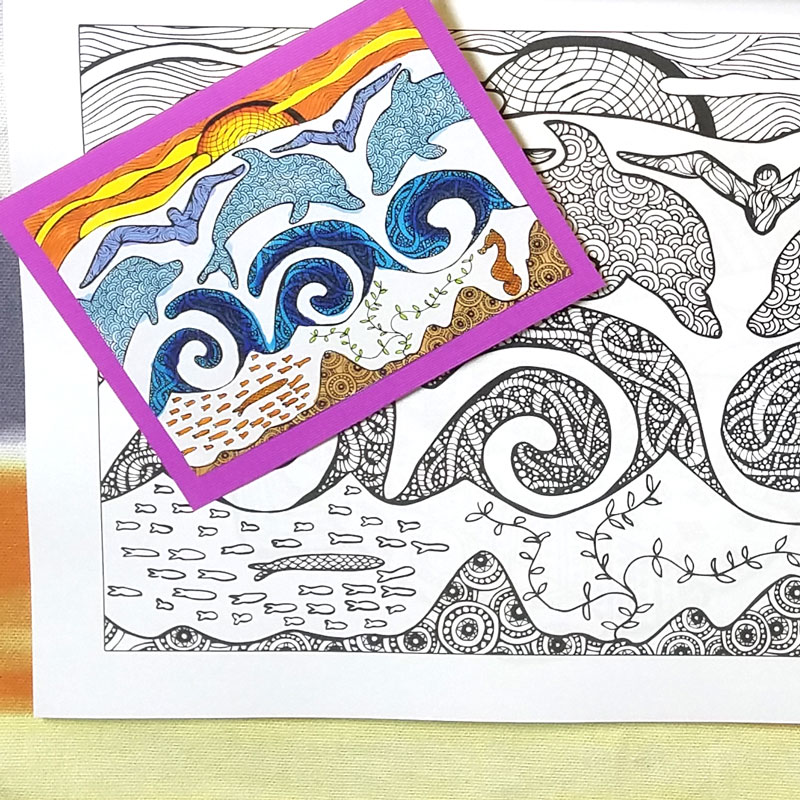 You can then add address information, along with a message, and a stamp, on the back.
I hope you enjoy the Postcards coloring book for adults! Comment below with our feedback, questions or requests.