Pregnancy is a time of ups, downs, challenges, and joyous moments. These pregnancy must haves include things to make life more pleasant, things you'll absolutely need along the way, and some luxuries – because you deserve it!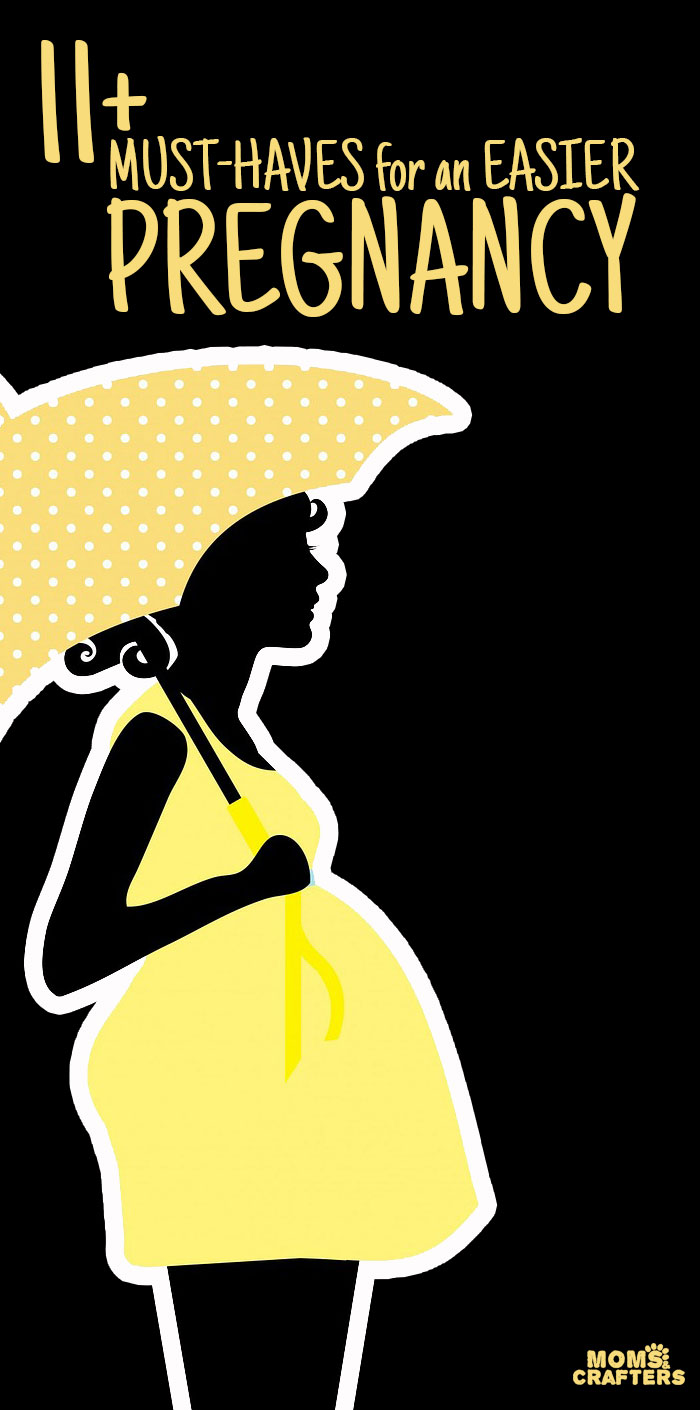 Whether you're looking for a gift for a pregnant mom, something to pamper someone on bed rest, or whether you are searching for better options for yourself, I hope this list of pregnancy must haves helps you out!
Disclosure: I did receive some samples from brands for coverage. Some of the products on this list include those samples which I have tested and enjoyed, and some are products I purchased and received as gifts, love, and chose to feature. In the interest of full transparency, I have marked items that I received from brands with an asterisk.
All of these products are "tried and true" in my experience. Nevertheless, I am not otherwise affiliated with these brands, and cannot take responsibility for quality, fulfillment, or anything else that's in their hands.
This post contains affiliate links.
Maternity Clothing Must Haves:
Every mom-to-be needs a good maternity wardrobe. But where do you start?
I highly recommend having a few pairs of pants or skirts – at least one comfortable one and one better casual.
Five to ten comfortable tops (according to your lifestyle), including a few that will work for at home, and, if you work, enough to take you from load to load that will be suitable for work.
For the first few months, you can "stretch" the use of your bottoms using products such as the belly band or pants extender described in more detail below.
For pajamas, pants with fold-over tops, sweatpants that can sit below the belly, and oversized sweatshirts work perfectly.
I also find that most elastic waist, fold-over top, and maxi skirts will carry me through though it does sometimes stretch out a little.
It's also worth having a few dressier picks handy in case that occasion does come up. This depends on your lifestyle, of course.
Now, for some top maternity picks:
1. Maternity tee with radiation protection by Belly Armor*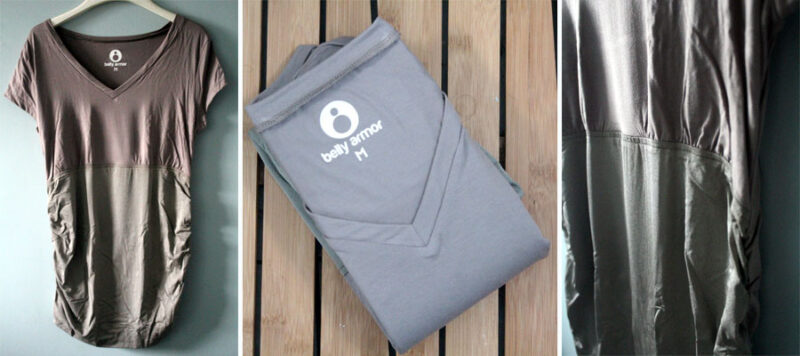 A great way to ensure my baby has the best start is by being aware of my surroundings. Belly Armor's maternity tees offer an amazing feature: RadiaShield® Fabric below the bust, to protect my baby from up to 99.9% of radiation. I always gave "the guilts" when I'm on the phone, but this stylish, comfortable tee really helps with that!
2. Belly band (You can get a free sample too!)
As mentioned above, a belly band is amazing for the first and second trimesters, when your pants might still fit when open with a little something to hold them up. A good belly band will offer some support too. For me this was essential and really saved me a pretty penny. Two to four of them should have you covered, depending on how often you use it.
You can get two here for free (just pay shipping – calculate to see if it's worth it for you) with the code ENBABY (up to $40 value). Or you can purchase a top rated brand here.
3. Maternity + nursing wear by Boob *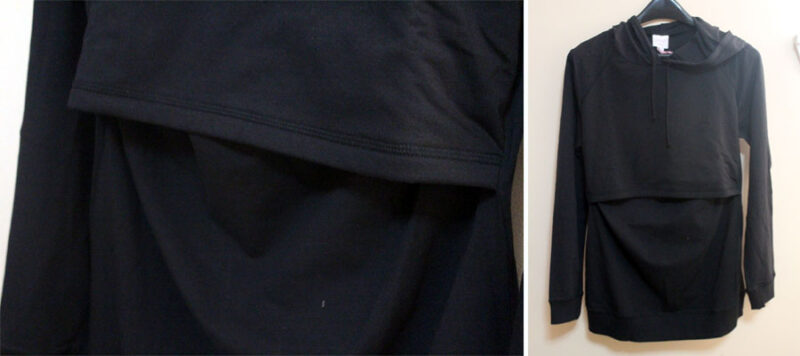 Boob offers a practical solution for breastfeeding moms: maternity tops that double as nursing wear. When I tried to breastfeed M, public places presented a huge challenge, but after investing in a maternity wardrobe, I was hesitant to go out and get an additional one for nursing. Getting tops that double as both is a strategy I am looking at with this pregnancy. I've also been having a hard time finding winter maternity tops, which Boob has a lovely selection of.
As I've mentioned, a pants extender can grow you a size during the bloated first trimester, before you really have much belly. It's an inexpensive fix that can save you the need to get "in between" clothing.
5. Maternity Outerwear:
If you are pregnant in the winter, don't forget a coat! Your pregnancy is likely to overlap with Spring or Fall, so you'll probably want something light for then too. If you want something that will not be exclusive for pregnancy, a large poncho can be a perfect solution.
Some more favorite places to get my maternity must haves: I have found great cheap items at Burlington, some reduced brand names on Amazon, and Zulily tends to have great flash sales on new brands that are fun to discover. A Pea in the Pod/ Motherhood Maternity, Kohl's, Gap, and Old Navy are some more favorite spots for maternity wear.
You might need to go up a cup size or two during pregnancy. You'll also find that your rib cage expands, and you'll need a larger size as well. Bra extenders are an essential for me, and helped me use my old lingerie past pregnancy, when my rib cage did NOT return to its original size. You might also want to invest in a soft bra or two for sleeping in, both for pregnancy to help with sensitivity, and if you plan to breastfeed and need to wear pads at night to stay dry.
Pregnancy Must Haves for Health and Hygiene:
Health needs do change when you're growing another one. Here are some top essentials on my list.
7. Prenatal vitamins from Everyday Happy*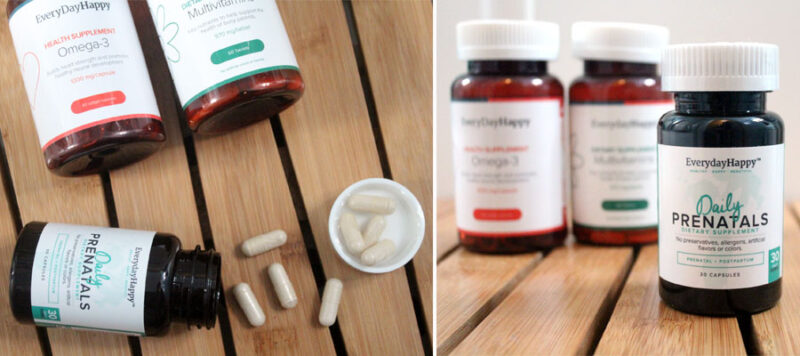 Proper prenatal care and nutrition is a great way to ensure your little one has the healthiest start possible. I love Everyday Happy's line of healthier vitamins because I know I'm really giving my baby the best possible start. Their prenatal and postpartum supplements are made without nuts, gluten, eggs, milk or dairy, soy, yeast, wheat, shellfish, artificial flavor or color, lead, mercury, or arsenic.
Hydration is so important during pregnancy, so having a good water bottle with me at all times is a must. Go for the largest size you can comfortably carry around.
9. 360 Sensitive Toothbrush for Expectant Moms by Baby Buddy*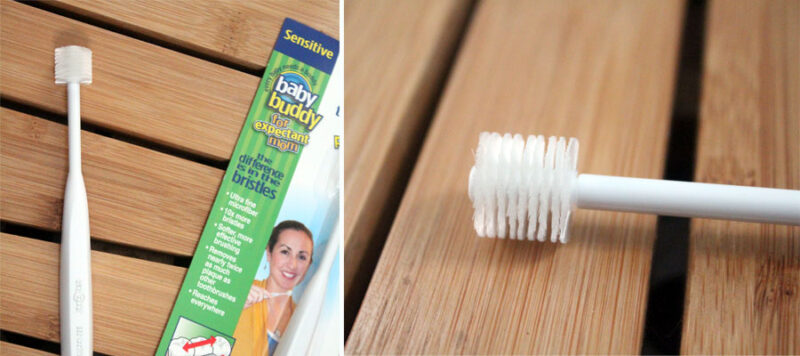 I have sensitive gums all the time, but during pregnancy, as is the case with many moms-to-be, it gets much worse. Baby Buddy has always been a favorite brand of mine for early oral care, but now they offer solutions for expectant moms as well! The 360 toothbrush features bristles all around, which help reach more places. It's sensitive and soft so it doesn't irritate my gums. It's also designed with the materials and features that help it stay cleaner and more hygienic.
Pregnancy must haves for better sleep and relaxation:
Whether a pregnant woman is on bedrest, or she's just trying to get a better night's sleep, these simple fixes can help.
10. Body pillow
During pregnancy, it's best to sleep on the side, and even better to stick to the left side. A body pillow has helped me enormously! I did not have one when I was pregnant with M and I spent hours shifting around for the right position, with stacks of pillows all around me. This time around I do have one, and it's such a relief!
This is another convenience that I have now that helps me sleep better, that I did not have the first time around. If you have a choice between the body pillow or side sleeper, go for the body, as not everyone takes well to a side sleeper pillow. I personally love it.
A must have for any woman on bedrest, a bedrest is also perfect for any pregnant woman who spends a little extra time relaxing or reading in bed. It would also have been a lifesaver had I had it when I was recovering from giving birth to M, but then I only dreamt of one. Now, during pregnancy, I have already used it multiple times.
13. Lap Desk
Also a must for women on bedrest, and a convenience for those who aren't, a lap desk is a great way to get that extra work done when you're exhausted. I used mine a lot during my first trimester when I was just desperate to put my head down, but needed to get things done.
Pregnancy Must Haves that make fun gifts:
Some things are great to have "just for fun", and therefore make great splurges and gifts. Here are a few of my favorites.
14. Pregnancy Milestone Cards by Milestone Cards *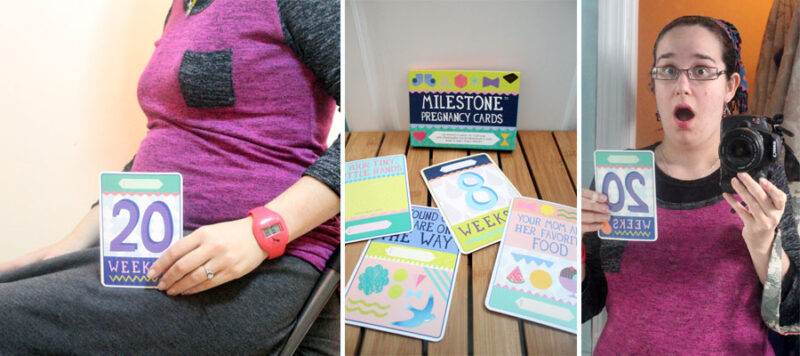 One of my big regrets with M was not taking good "memory shots". Milestone cards has fun photo promps that serve both as a reminder to capture that moment and as a photo prop. the Pregnancy version records key moments in pregnancy (Today we found out you're a…) that can also serve as fun updates for friends and families. They also feature cards for recording key newborn moments (such as those tiny hand and footprints, the first day, homecoming day…)
15. Isabelle Grace Jewelry Bloom Flower Necklace*: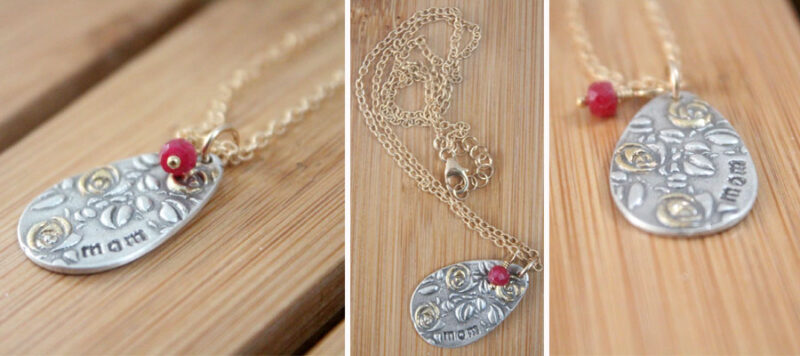 "A Mother's love is the seed that makes us "bloom" just like water is to a flower."
That is the message of this beautiful rose necklace from Isabelle Grace Jewelry. It even has "You make me bloom" etched into the back! This magnificent necklace is made of sterling silver, with 22kt gold. It has "mom" etched into it, and is a wonderful way to treat a mom-to-be. The little hanging ruby adds the perfect touch. My face lit up when I first saw this, and if you gift this to a future mom, I know her face will light up too. With everything about the baby, the gear, and just getting through it all, why not add in a little treat?
What are your favorite pregnancy must haves?
Sharing is caring! Share this post using the buttons to the left, or hover over the first image on this post to pin it!