I am thrilled to be partnering with Fiskars on this fun school bus discovery bottle that is not only fun to play with, but also incorporates many critical kindergarten-readiness skills.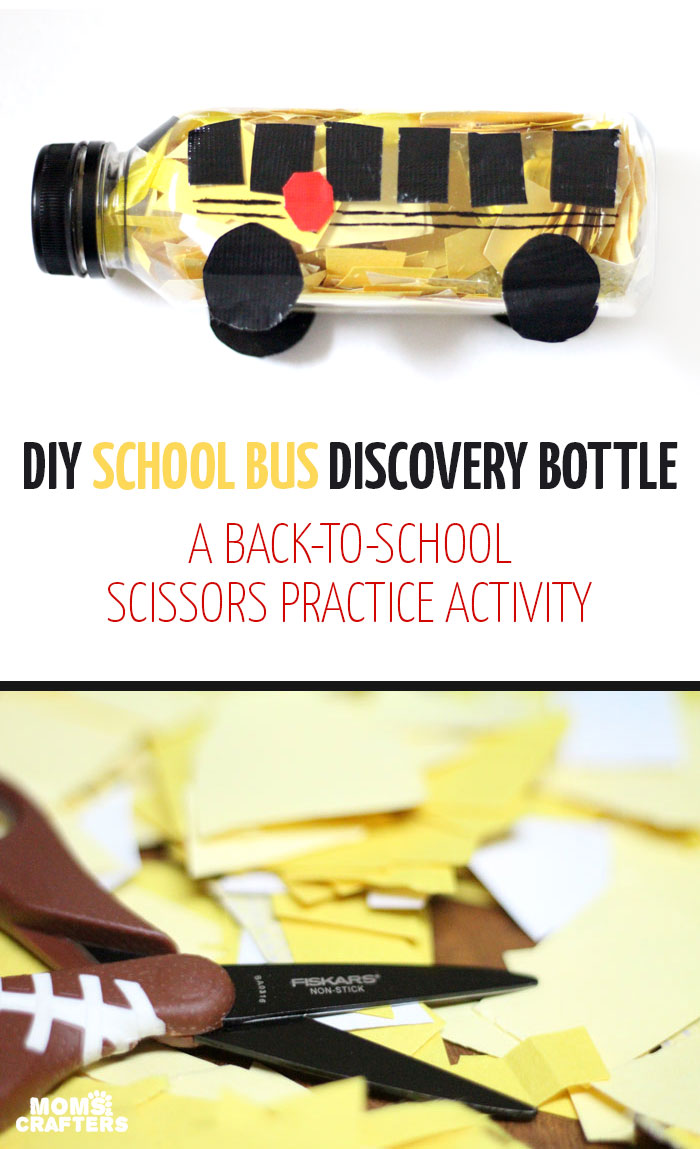 M's childhood is simply flying by, and he is going to start school come September… I simply can't believe it. To celebrate, I made this DIY school bus discovery bottle with him. It also helped us master some school-skills to help him be more ready: scissor skills, some color practice, alphabet recognition, following instructions, counting, and more. This was a very closely supervised activity that was done together the entire time, but I did still allow him freedom throughout.
Just the other day, we had M evaluated, and one thing that was pointed out to us was that he is a little bit behind with scissor skills. We were encouraged to try and sit together and practice at home. So my main goal with this school bus discovery bottle was to work on that.
Mastering kindergarten skills with this school bus discovery bottle:
Scissor skills: While this was supervised and I drew lines for him to follow, I also allowed him to cut however he wanted. He was very excited to get his hands on the new Fiskars Kids Scissors – especially the baseball inspired pair from the new MVP line for 2016 and the classic blue pair. He was especially excited about the blue pair, and was able to practice following along a line, and positioning the scissors correctly. As he cut, he learned to adjust the scissors so that they are comfortable for him and how to do the opening and closing motion. At first, his mouth followed along with the scissors movement. As he mastered it, he started doing that less.

Following instructions: Another problem he had was following instructions. With this activity, I drew some lines and asked him to cut them. He needed some extra guidance, but did just that. In addition, this school bus discovery bottle really required him to follow instructions, as any collaborative project would.

Colors, letters, counting: I decided to add in a few such activities seamlessly into the creation of the school bus discovery bottle. I let him choose the yellow papers from a few different packs (construction paper, colored card stock, and scrapbook paper.) I drew some letters on some of the papers (he chose which…) We also counted together while putting the papers into the bottle.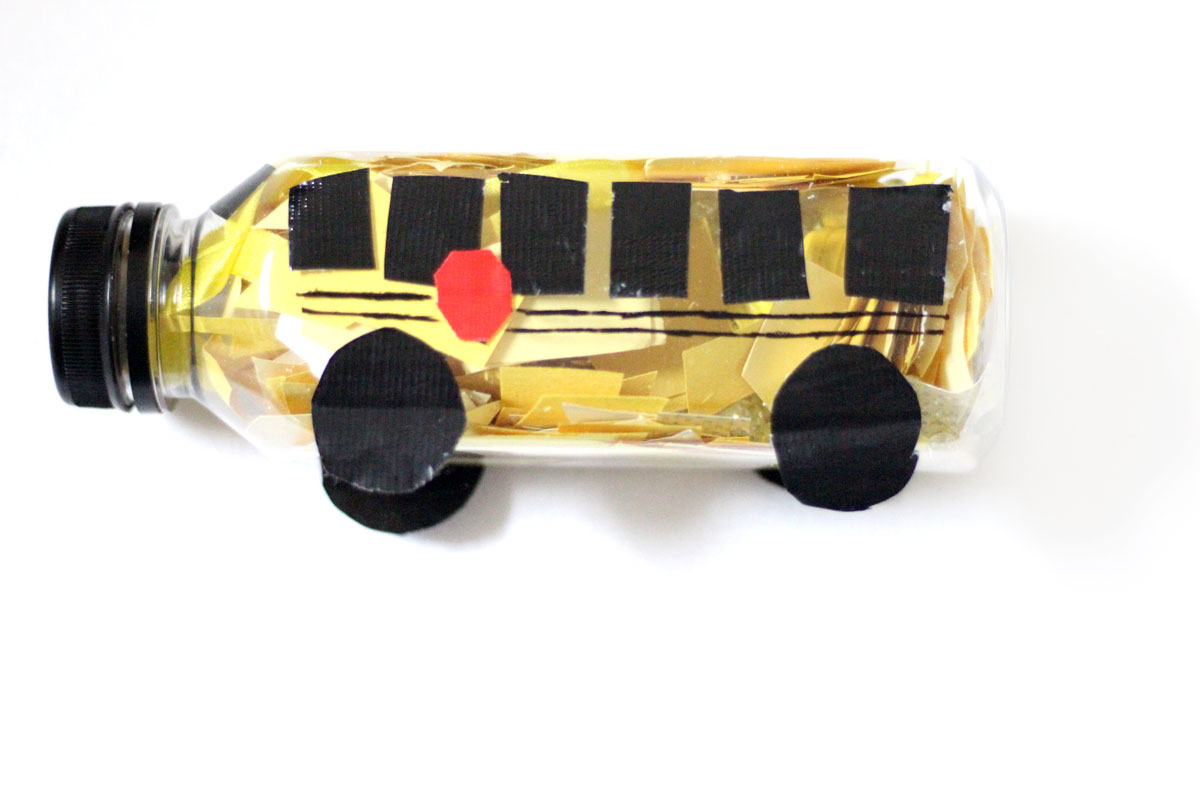 As you can see, this project had plenty of child-led parts, mixed with some guided parts, for a good mix of instruction. Since we kept changing around what we were doing (coloring the papers with dot markers, cutting, counting, etc.) he was able to sit through it.
And the best part: when we were done, M had a fun new school-themed toy to play with! And he loves yellow school buses, so this was perfect.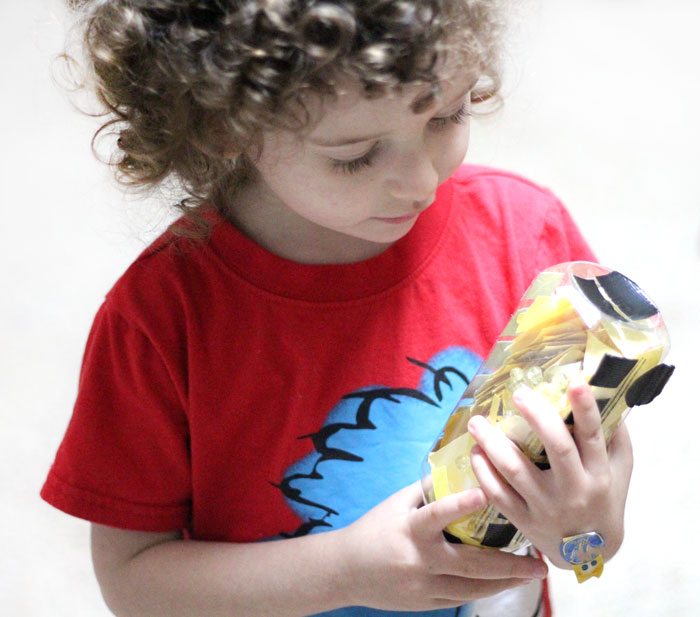 What you need to make a school bus discovery bottle:
Bottles – upcycled bottles would work great. I found clear plastic juice bottles online.
Yellow papers
Coloring supplies if you want (in yellow, of course.)
A permanent marker
Black and red duct tape
A glue gun
Assorted yellow items
How to make a school bus discovery bottle:
1. Have your child cut up small pieces of paper using Fiskars Kids Scissors. You can draw some lines for them to follow, but don't worry about particular shapes and sizes.
2. Add your cut pieces of paper to your bottle. You can add in other fun yellow finds such as beads, sequins, and anything else your child wants to throw in.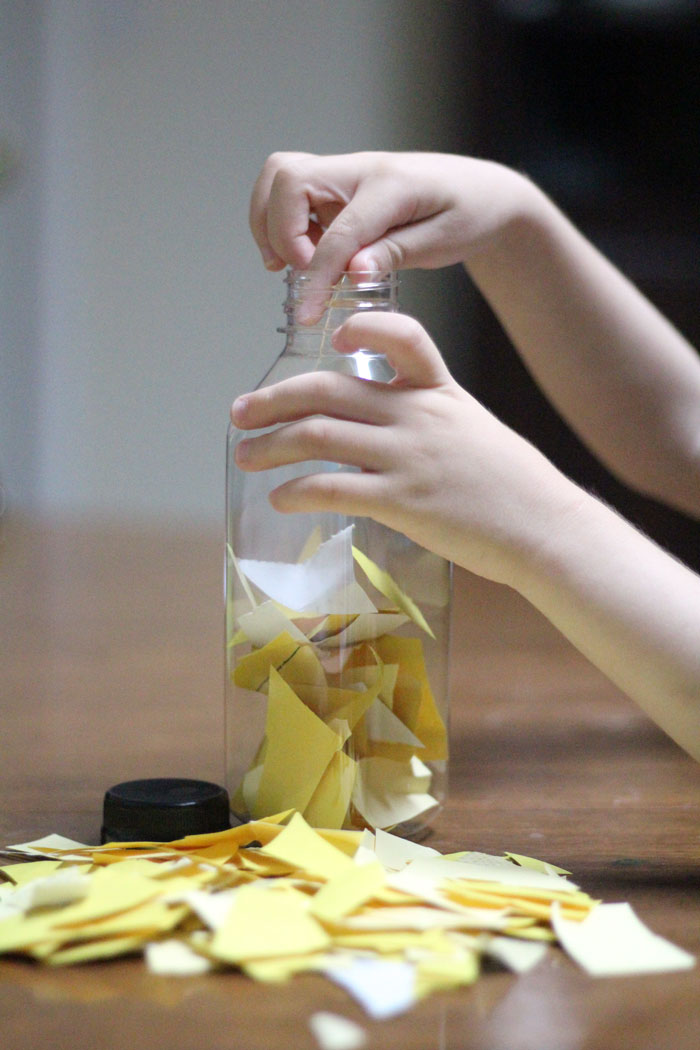 3. Glue gun your lid shut.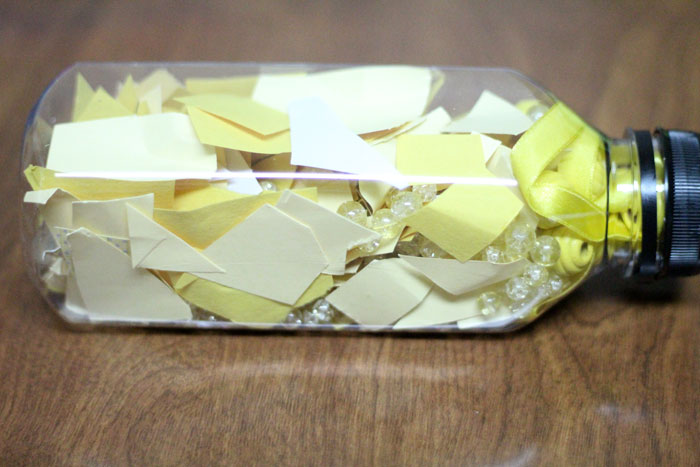 4. Cut out pieces of black duct tape as windows and wheels using the scissors. Add a red duct tape stop sign. Fiskars Kid Scissors are great because they feature a non-stick blade coating, which makes it easy to cut cleanly through materials with sticky adhesives like the duct tape used in this project.
5. Draw on some lines to make it look more like a bus.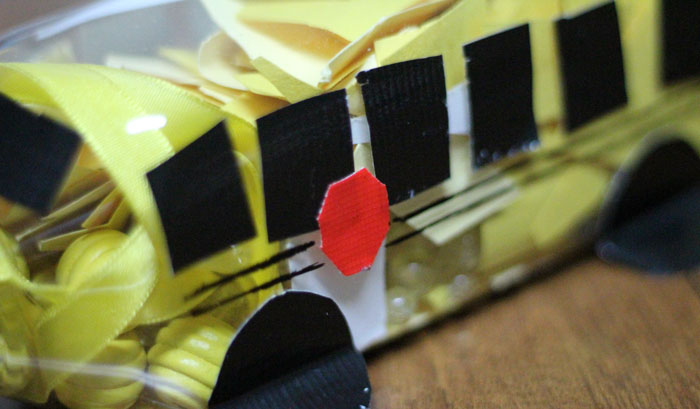 Play and discover! Find the alphabet, name the objects that were put inside. And talk about what a fun school year it's going to be.
Fiskars, the #1 teacher-recommended brand, has some new fun styles for 2016!
Pick your favorite sport from the new MVP line, or choose one of the classic colors. The five inch blades come in blunt or pointed tips (pictured in this post are the pointed tip scissors) and cut through all classroom materials. That way you have just the one your child's teacher wants.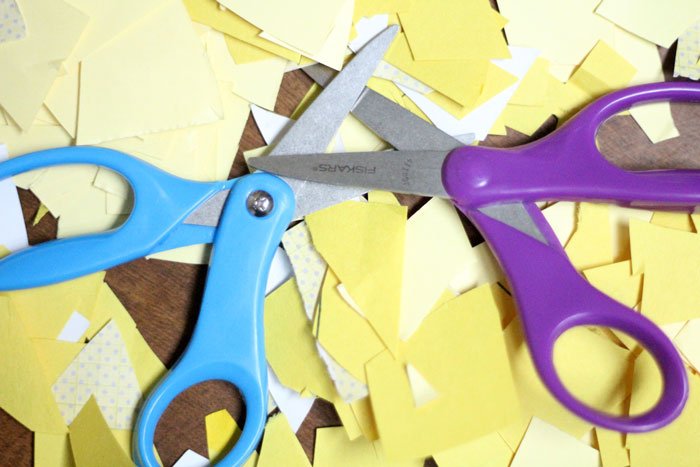 Learn more about Fiskars 2016 Back-to-School offerings at Fiskars.com and be sure to visit them on Facebook, Twitter, Instagram, and Pinterest for more ideas and inspiration.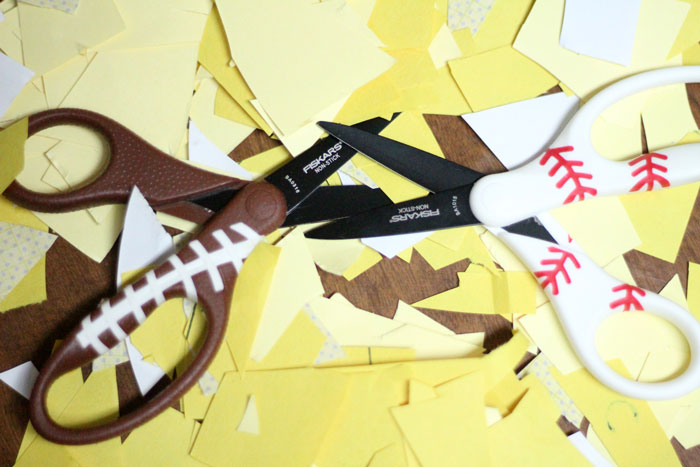 I hope you and your child enjoyed this fun school bus discovery bottle activity! What do you do to get your child ready for school?