If you have a TMNT fan who's having a birthday, or is on your holiday gift list, these 22 Teenage Mutant Ninja Turtle gift ideas are about to make your gift hunt a whole lot easier!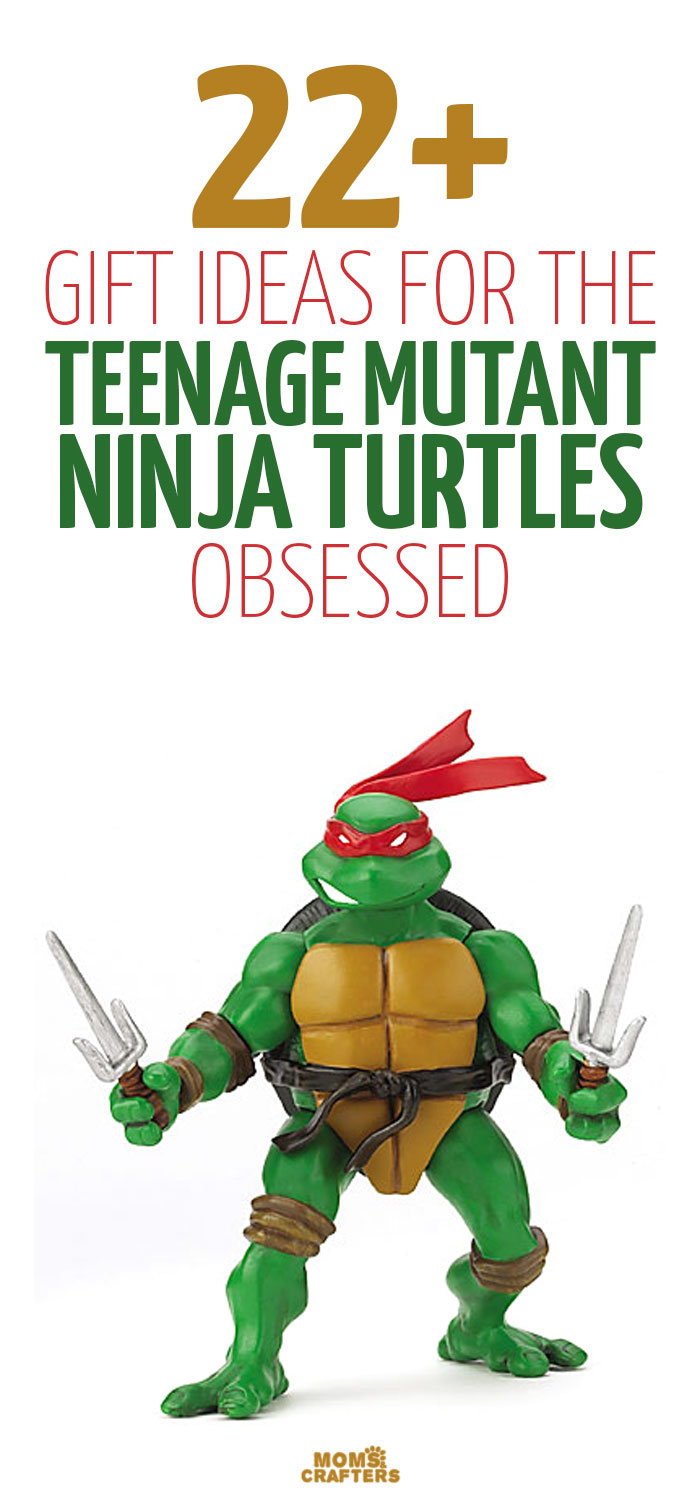 Disclosure: this post contains affiliate links.
One of my favorite ways to find a foolproof gift is to find out what the recipient's favorite character is and to gift accordingly. M's used to be Elmo, now it's Curious George and I suppose one day it might be Teenage Mutant Ninja Turtles.
Regardless, we know lots of TMNT fans, so I decided to share with you this list of Teenage Mutant Ninja Turtles gift ideas to get you started…

Toys and Games Teenage Mutant Ninja Turtles Gift Ideas
If you're looking for general fun and entertainment, these fun toys are based on the TMNT movies. Bring fun vehicles and other elements into toys and playsets, and you have lots of turtle fun!
Pre-cool Half Shell Heroes Sewer Lair Playset with Michelangelo and Splinter Figures
What Kids Want TMNT Licensed Bowling Set
Collectibles Teenage Mutant Ninja Turtles Gift Ideas
If you want these gifts to last past the "playing with toys" stage in life, collectibles are the way to go! Here are a few winners:
Teenage Mutant Ninja Turtle Movie 2 "Out of the Shadows" Michelangelo Basic Figure
Out of the Shadows Mutant Melee Exclusive 4 Action Figure 6 Pack (including Bebop, Donatello, Michelangelo, Raphael, Leonardo, Rocksteady)
Teenage Mutant Ninja Turtles Shellraiser
TMNT Movie 2 Out of the Shadows Garbage Truck Vehicle
Ninja AT3 Vehicle with Leo Figure
Gear, decor and other cool TMNT Gift Ideas
Go a little more practical (or at least some of these are practical) with fun gear and decor based on your favorite turtles.
Teenage Mutant Ninja Turtles Shell Walkie Talkie
Nickelodeon Kids' Teenage Mutant Ninja Turtles Watch
Mutagen Ooze With Mini Turtle Figure
Teenage Mutant Ninja Turtles Peel and Stick Wall Decals
Ninja Turtles Green Trifold Wallet
TMNT Fold N Go Chair
First and last images are a derivative of this image.
Got any other awesome Teenage Mutant Ninja Turtles gift ideas to add to the list? Comment below!