You'll love these activities for a one year old at home and how easy they are to assemble with household items. In this post, I also reveal the contents of the Panda Crate we received and share some tips for helping your young toddler play and explore. This post contains affiliate links and is sponsored by KiwiCo.
---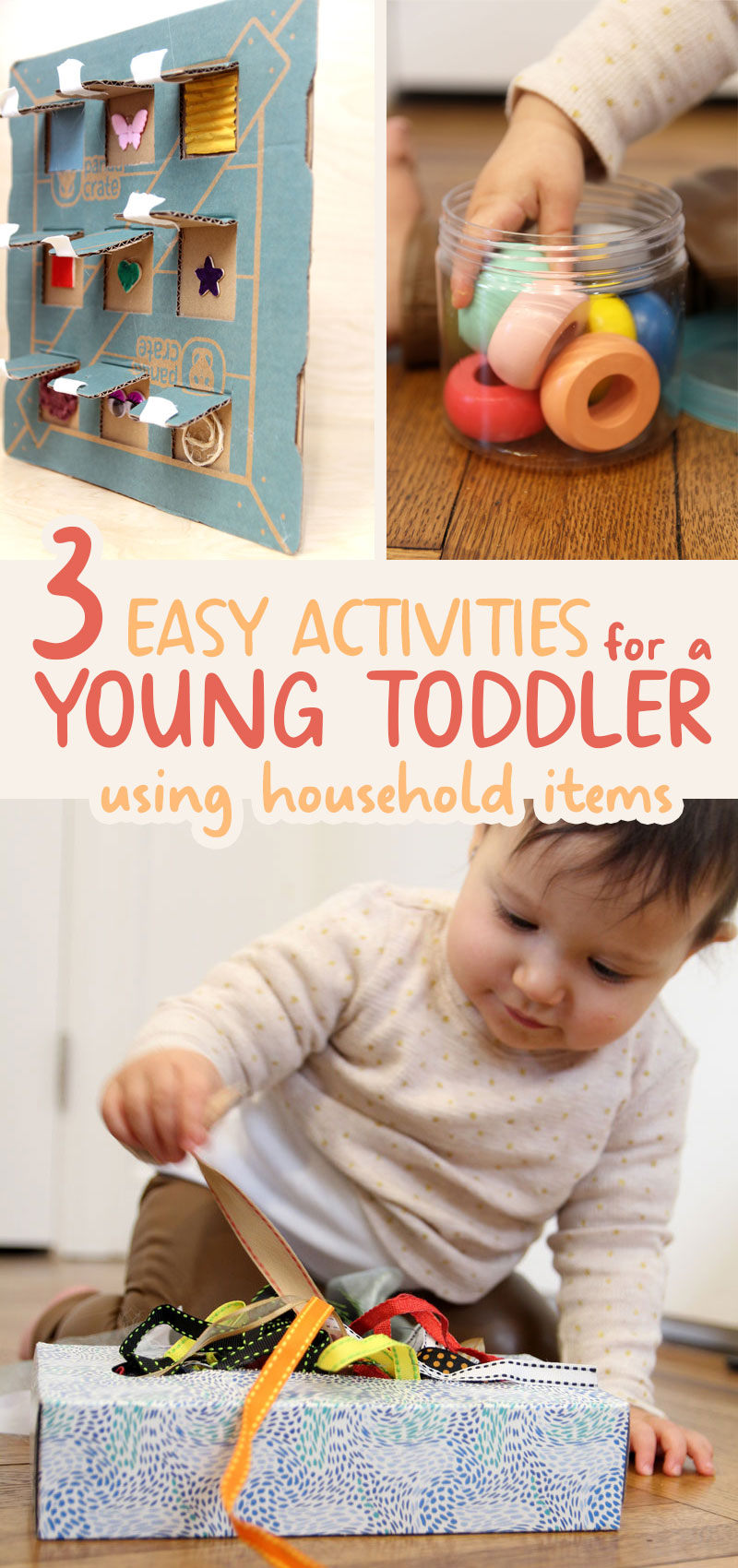 Princess A has reached a magical milestone: the big ONE. Isn't that when they officially become toddlers? With it comes a new concept: boredom.
Yes, it starts that young!
Babies mostly explore the world around them freely, but eventually they want to interact and to play.
A. does well with unstructured play most of the day but she needs spots of structured play too. An indicator that she's ready to be entertained: tissue "snow" starts falling all over the living room. She's exploring and that's okay. But I prefer to have her explore my way.
Table of Contents: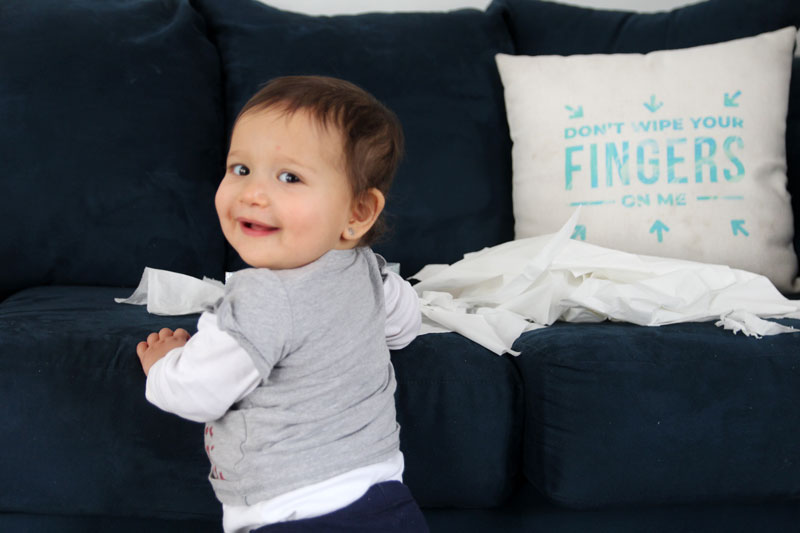 Five minutes of interactive time spent on a simple activity or a new toy – played together the first time – keeps her stimulated for follow-up independent play. And, according to Wonder magazine, found in the Panda Crate, kids discover more playing themselves than being shown how to do things!
Self-directed play is a hallmark of early discoveries but babies at this age can use a little boost. Kind of like training wheels.
And if you're a work-at-home-with-baby mother like me, you totally get the value of keeping your young toddler happily engaged! Super simple activities for a one year old at home can be a sanity saver.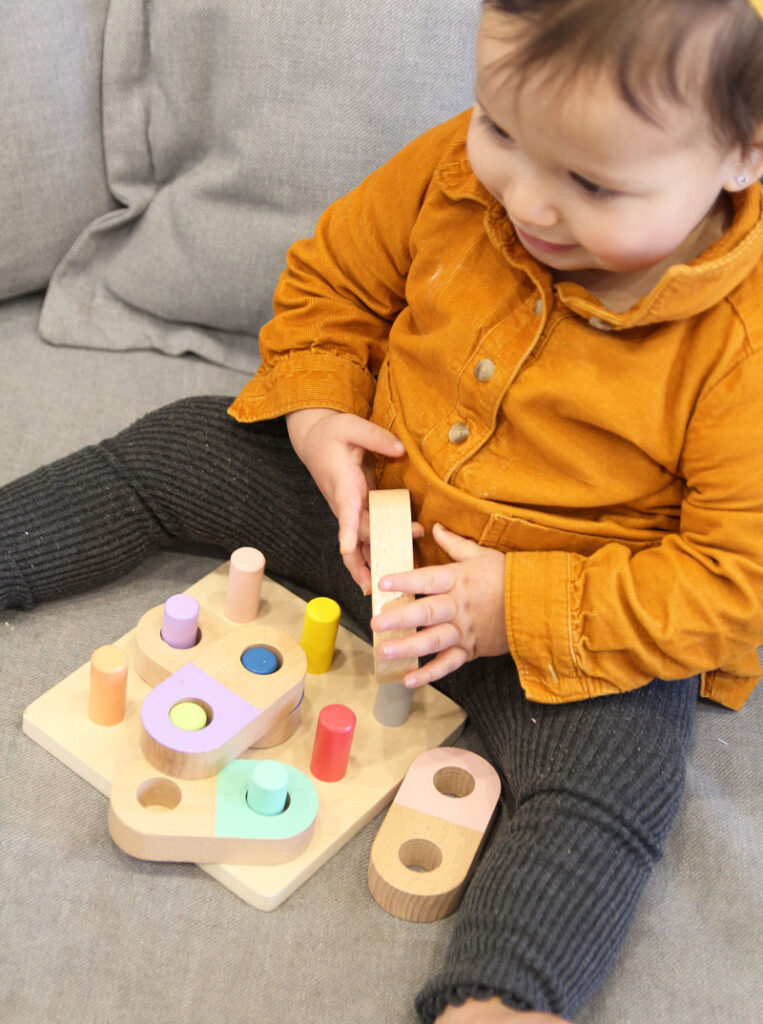 Today, I'm sharing three fun baby activities for young toddlers. These are inspired by the contents and activities of KiwiCo's Play With Me themed Panda Crate, geared toward ages 11-18 months. They use items that can be found around the house so that you can replicate them today, as you wait for your Panda Crate to arrive!
KiwiCo provides monthly crates that fully explore a specific theme, and are designed by experts and tested by kids. They are defining the future of play by making it engaging, enriching and seriously fun!
Their super cool projects, experiments, and products expose kids to age-appropriate STEAM concepts. KiwiCo have established themselves as the go-to source for these kinds of activities with 9 subscription lines. These cater to specific age groups, with options ranging from babies & toddlers to teens and even adults! Each box comes with the tools, materials, and inspiration to explore that box's subject. The instructions are kid-friendly, and each box includes a magazine with ideas to expand on that topic well beyond the crate. My boys have enjoyed many of their boxes over the years.
Just a few years ago, KiwiCo added a baby crate to the line! I was so curious about what Panda Crate could offer. KiwiCo typically goes beyond the hype of colorful, shiny toys. They produce high quality crates at an incredible value (starting at $17.50 a month) , and have always taught in a unique, hands-on way, through creativity, discovery, and STEM activities.
To take this concept to the baby level, KiwiCo works with Seattle Children's Hospital to create developmentally appropriate toys that teach babies ages 0-36 months through exploration, as they do best. The boxes arrive every other month so you're equipped for two months at a time.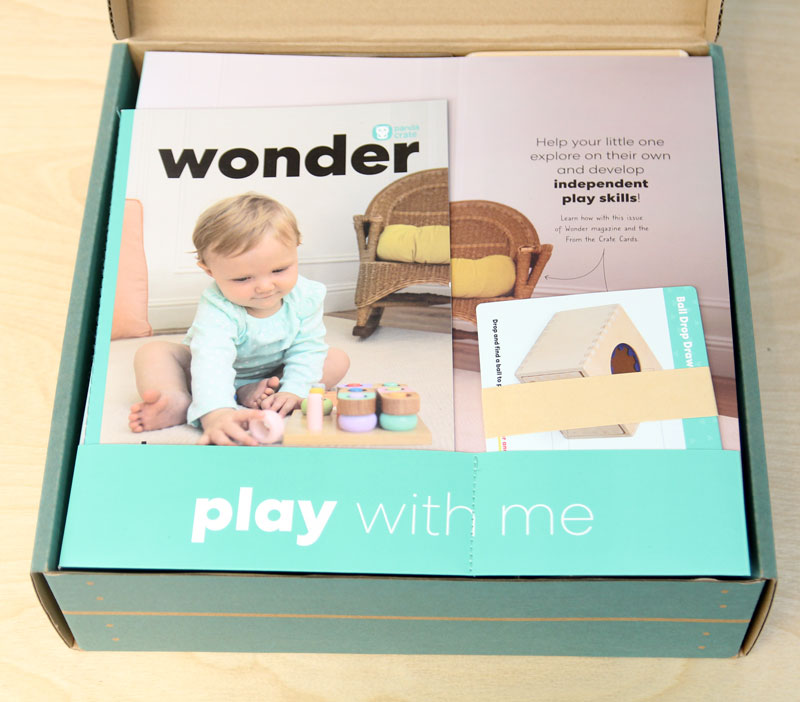 Each toy is well planned and designed for the baby or young toddler's stage. We absolutely love the quality of the toys too, featuring eco-friendly wood, soft colors, and details like curved corners.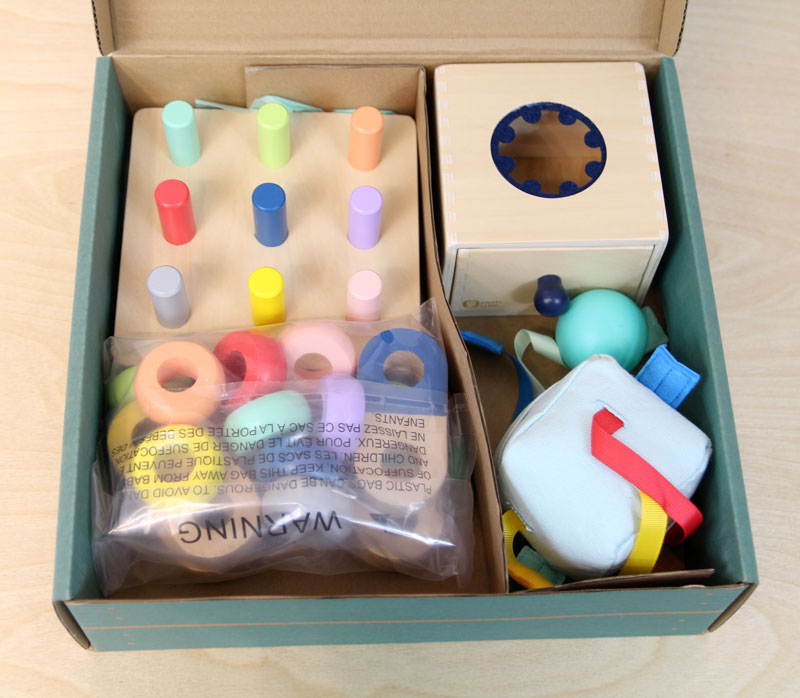 Each Panda Crate comes with additional activities, play direction and variations for the specific toys, and a magazine for parents. The magazine is straight to the point: it summarizes the skills that box explores and even has further play tips. The activity cards are open-ended enough that we get a few activity ideas for each! I'm going to share with you how we adapted the discovery jars with a tissue box and ribbons.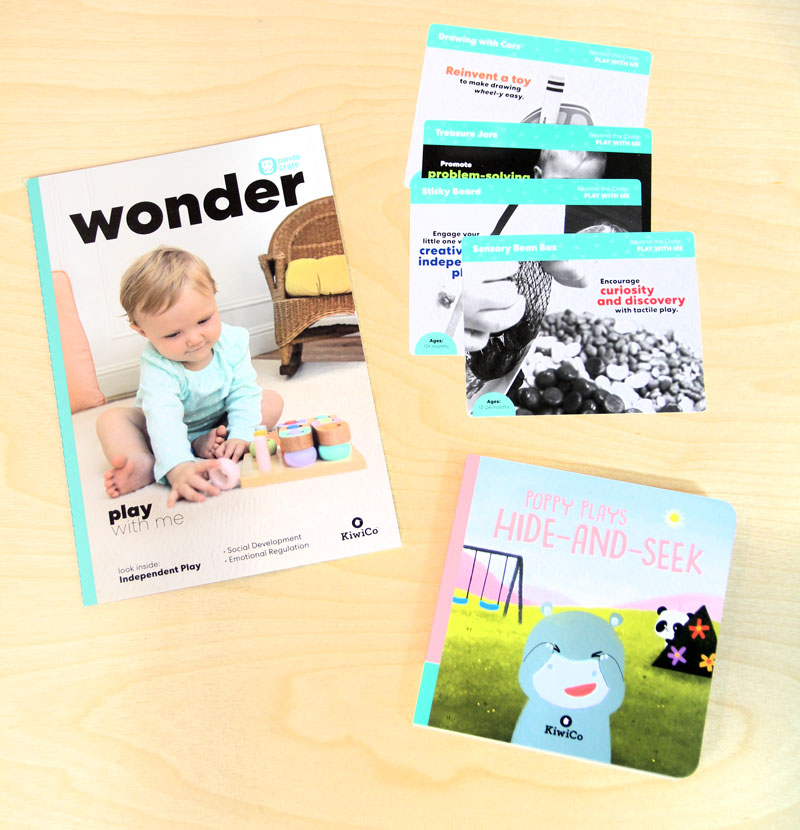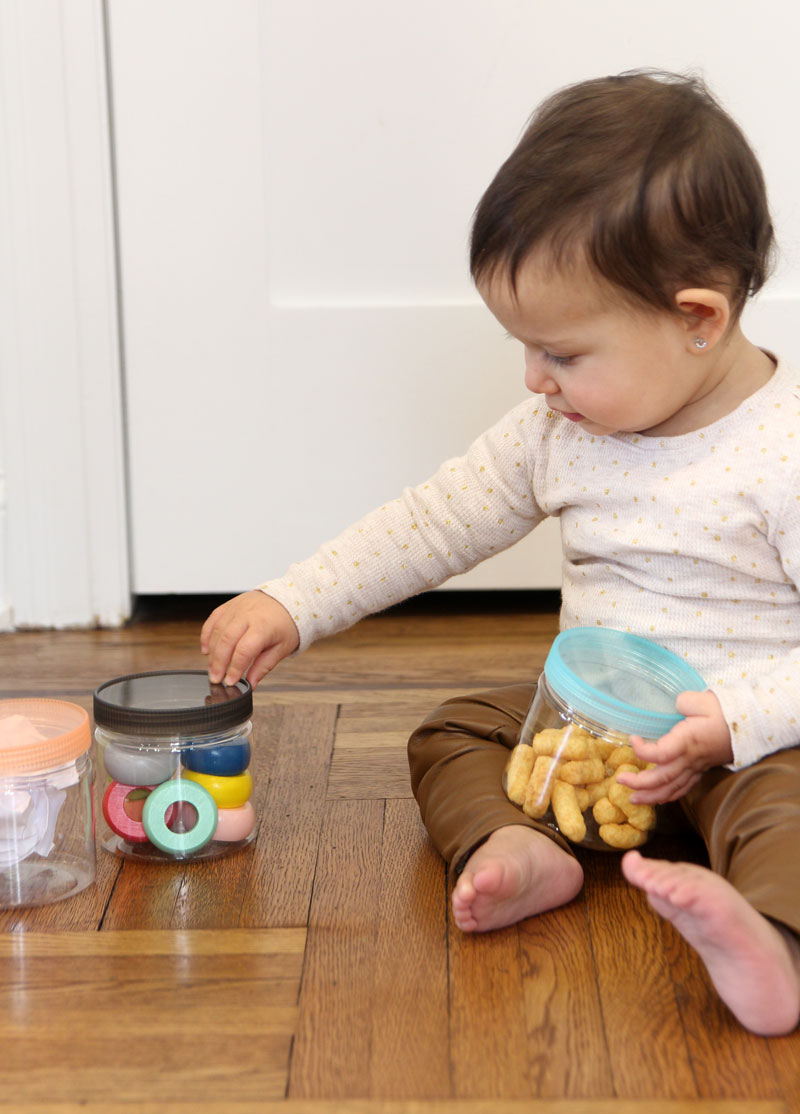 The interesting thing about baby milestones is that we tend to focus on the obvious ones, while there's a whole range that we don't even know exist. A is currently receiving physical therapy, and I didn't even realize she never learned to cross mid-line!
Panda Crate's toys encourage skills like bilateral coordination, spatial awareness, and other essential milestones so that we can enjoy celebrating those first steps and attempted words.
What's inside our Panda Crate + Age-Appropriate Play Skills to Encourage
Panda Crate's toy cards explain the play value in each one, and share how to further it. I've included some of these points here.
The biggest hit in our Panda Crate was hands down the ball drop drawer. Push a lightweight ball through a felt-lined hole and then see where it went! It took A a few tries to figure out that its' in the drawer. And she repeated after me "ball!" Score one for new words!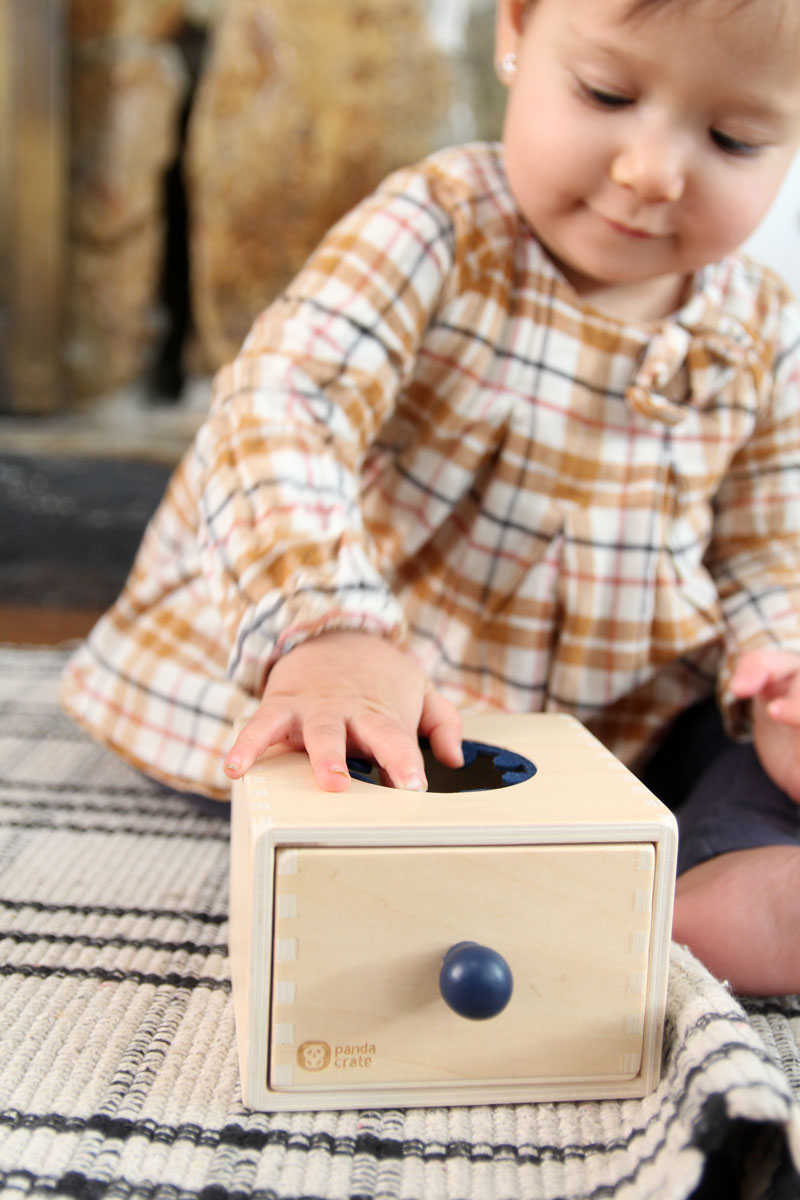 We explored even more words, such as in and out. And it teaches babies objective performance – that it's there even if you don't see it. It's perfect for the "peekaboo" stage!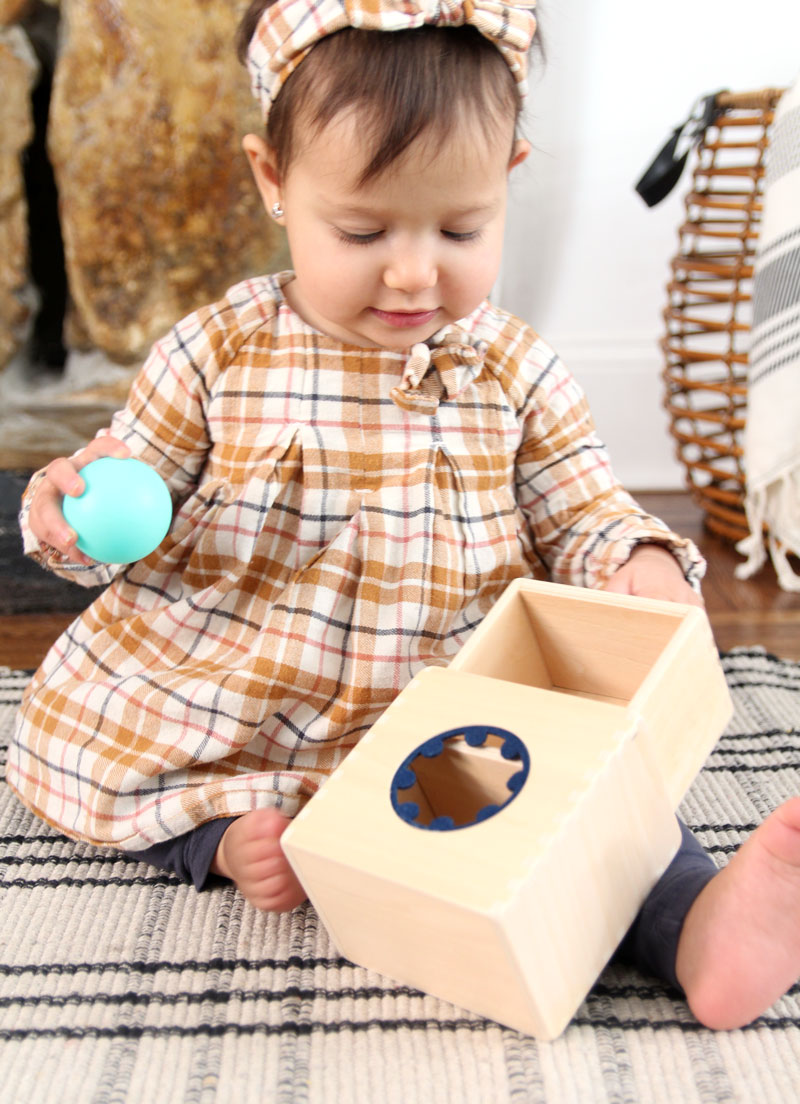 The ribbon cube is a plush cube featuring ribbons that can be pulled back and forth. They have sensory-friendly tabs at the end that A loves to put in her mouth.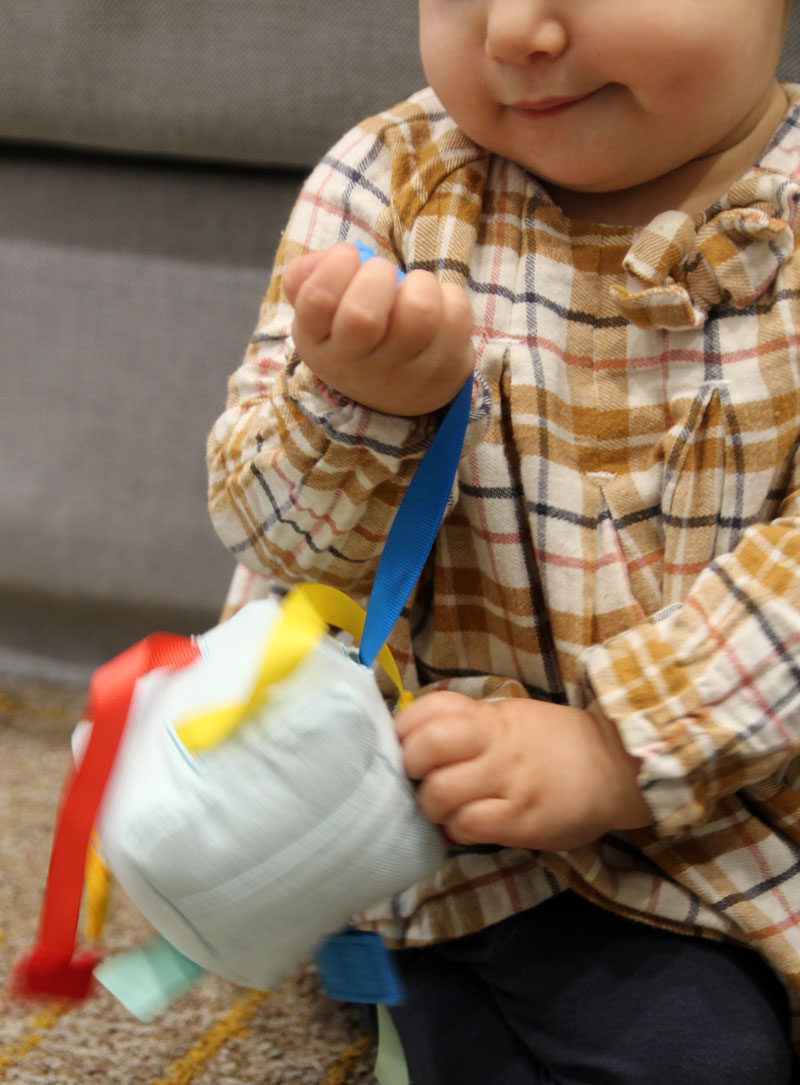 Some of the valuable skills learned include bilateral coordination, colors (name them as you play together), and cause and effect. Take turns pulling/pushing to teach about turn taking too!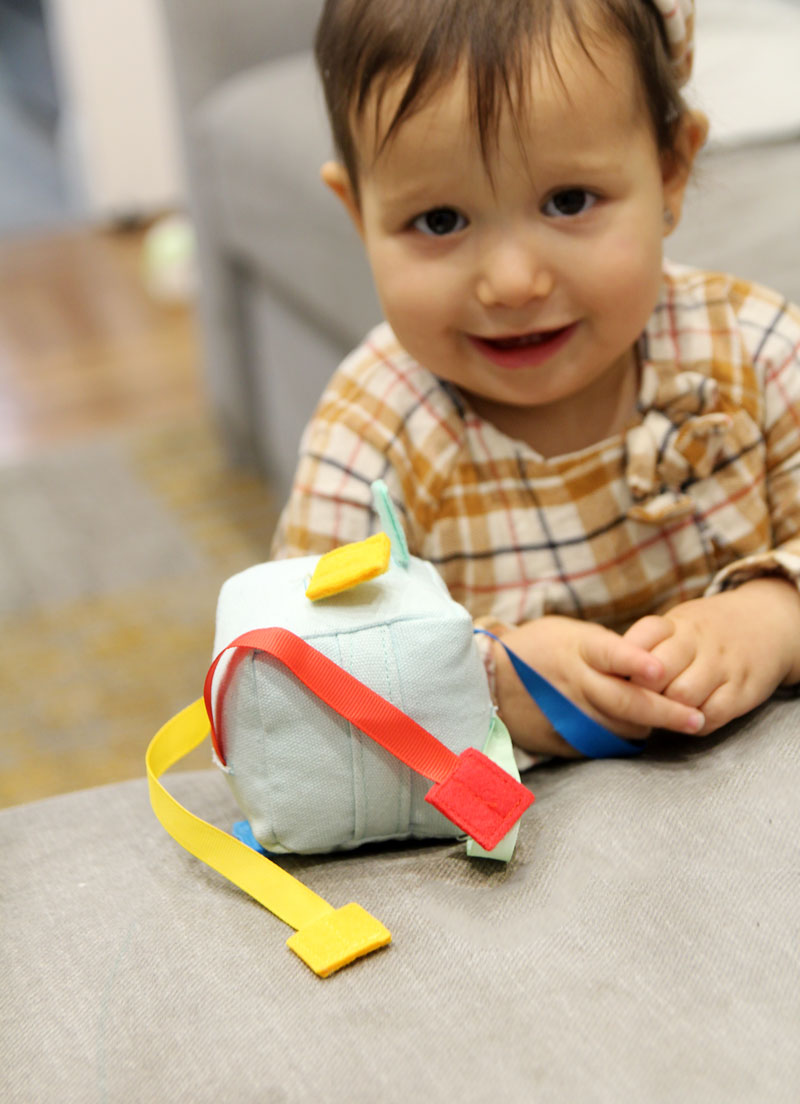 The bead board and bar board is a two-in-one. You can use it with only beads or bars or combine the two.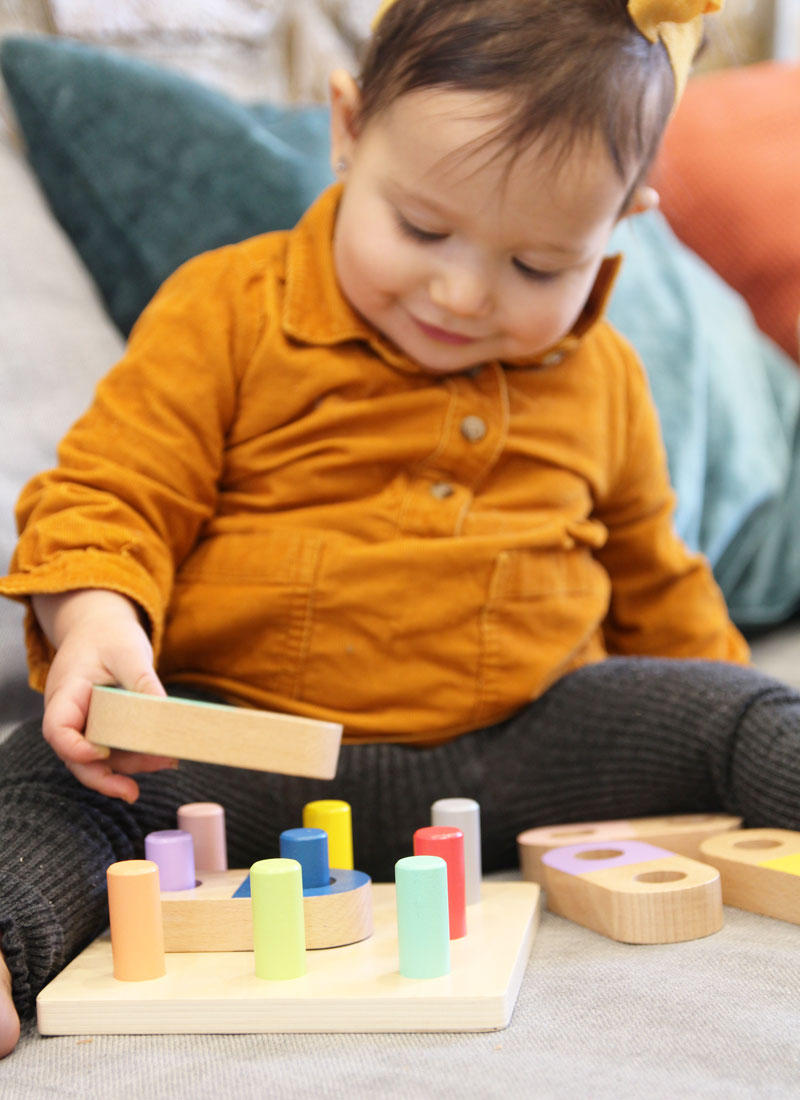 The bars help build spatial awareness and both help build coordination. I'm starting A out with the beads and we'll pull out the bars eventually. I love how this is a "grow into me" toy! It's a big skill to learn how to place them on properly. Color matching will come at a later date.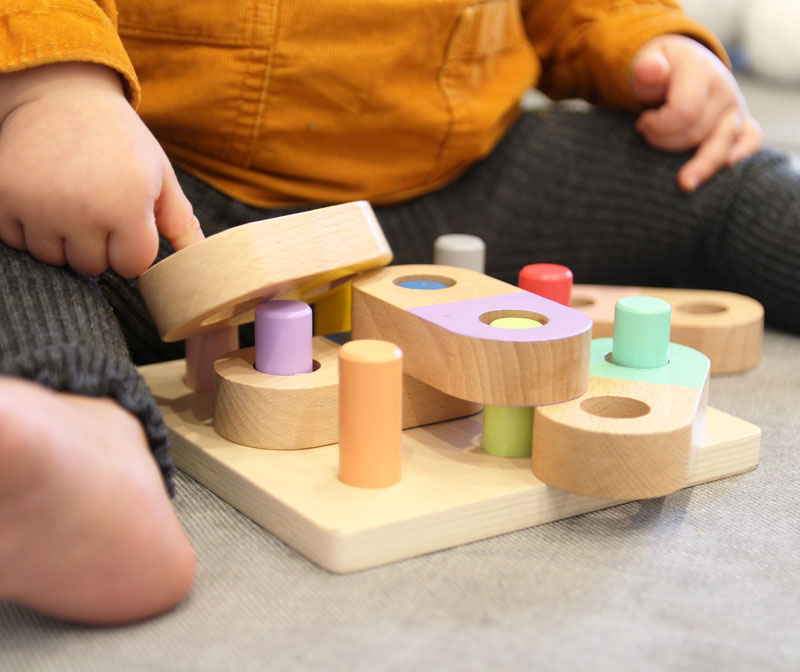 It's worthwhile to start with something even if they can't explore all the concepts – it'll grow on its own (kind of like your baby). But for now, look at those incredible stacking skills!!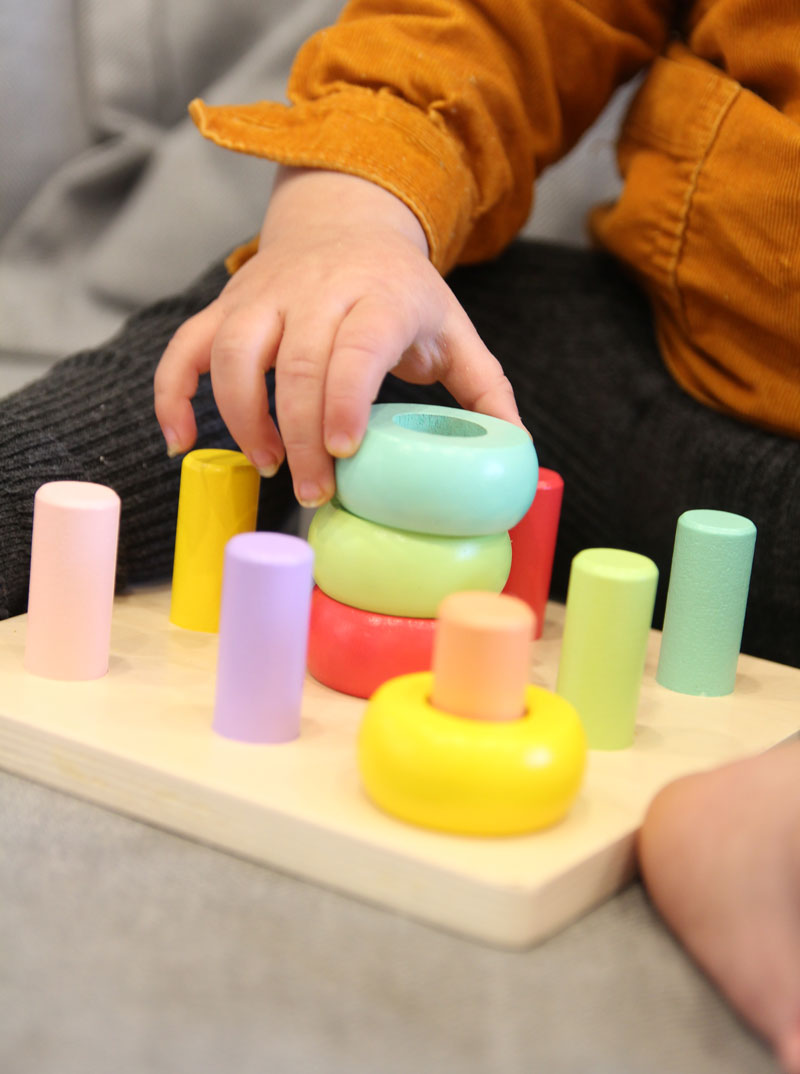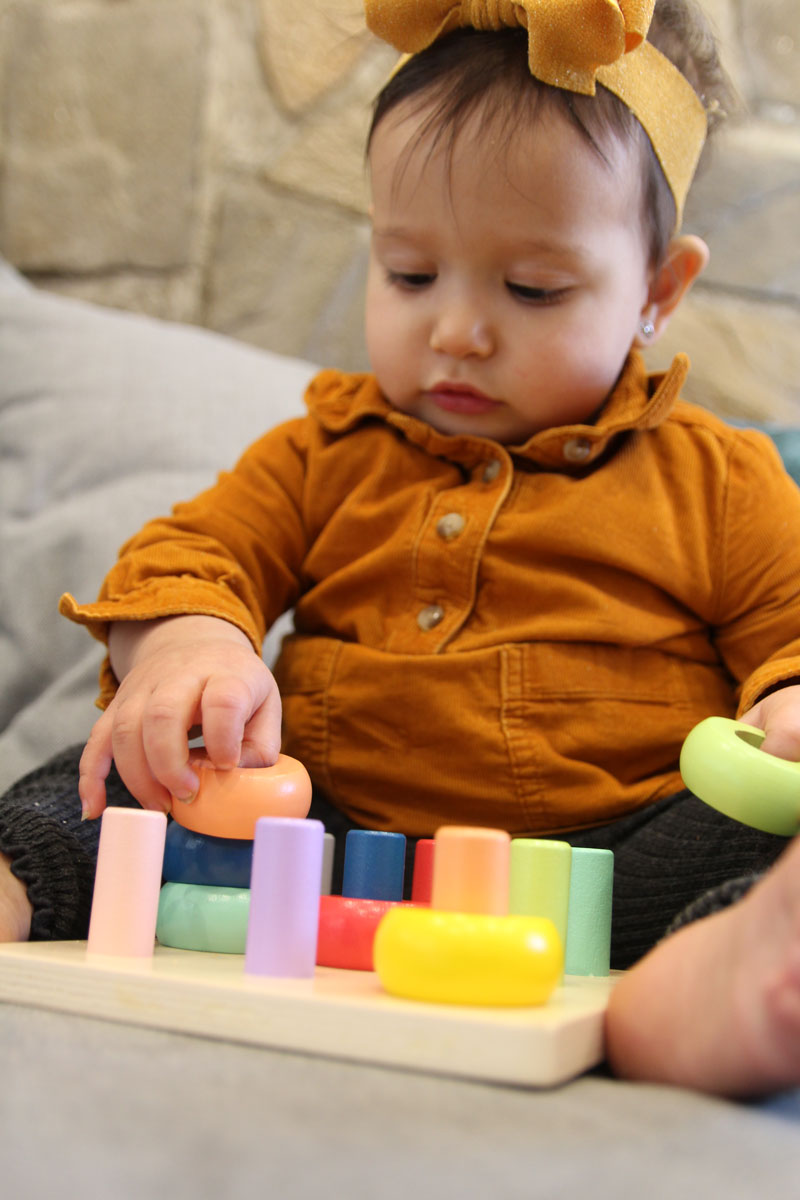 Each Panda Create comes with a tailored-for-that-stage book, featuring the panda mascot Poppy. I love how easy that name is for babies! A calls all her Panda Crate toys "Poppy".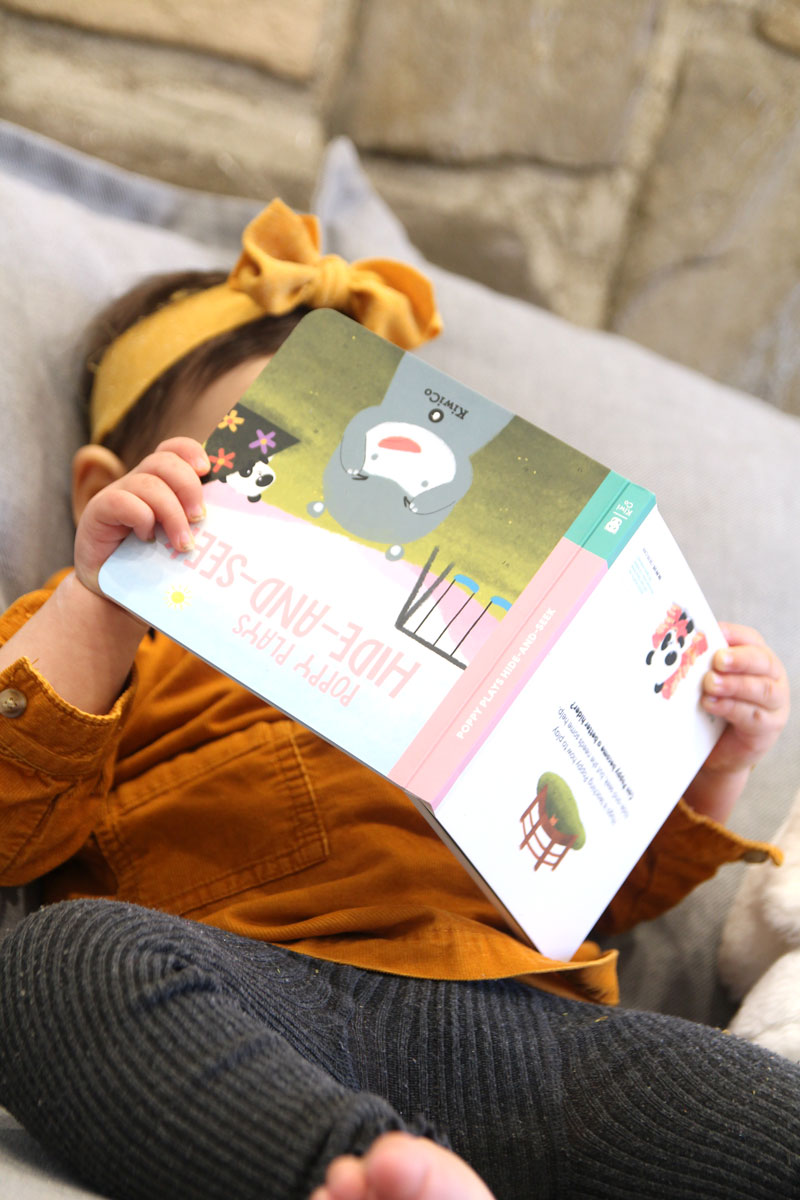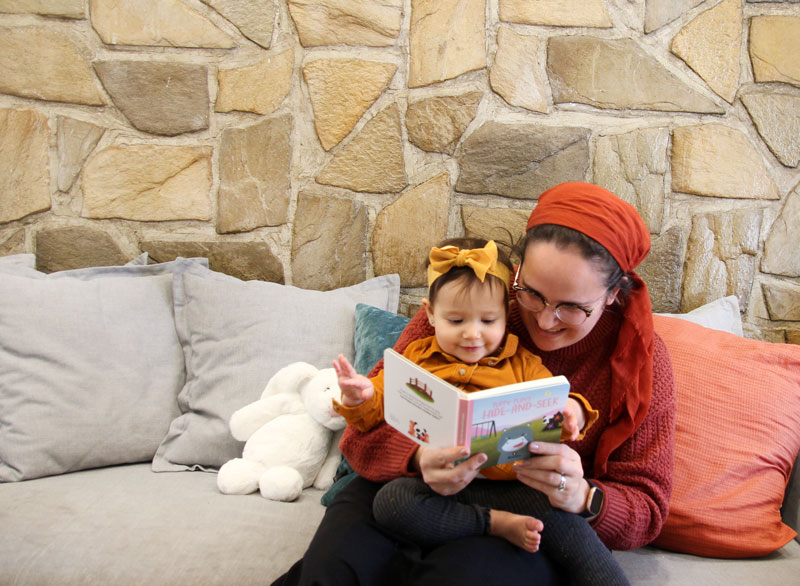 There's also the Wonder magazine which is a quick, easy, and to the point read, designed to make navigating this stage more understandable. The one in our crate is all about solo play, how to ease into it, as well ideas to get them started. It even has a song to sing together!
3 activities for a one year old at home
Each Panda Crate comes with additional activities to try. So far, we gave one a go, and then I came up with two more inspired activities for a one year old at home.
These play ideas are so valuable. They also train me, the parent, the direction to be thinking in when trying to come up with your own activities for a one year old at home, helping me maximize the play.
You can take these on the go too, if you need a distraction while eating out!
Note: all of these activities should only be done with close supervision. Your child can still enjoy independent play with you right there!
Discovery bottles that are meant to be opened
We recreated the "treasure jars" activity card with a puffed snack, crumpled paper, and the beads that came in our box. We "hid" in plain sight different treasures in plastic jars.
To do this, you'll need the following:
Plastic jars We used food storage jars, but cleaned out pasta sauce jars, spice jars, or anything plastic with a screw top works.
Snacks, small toys, or anything that will fascinate your baby and fit in the jar.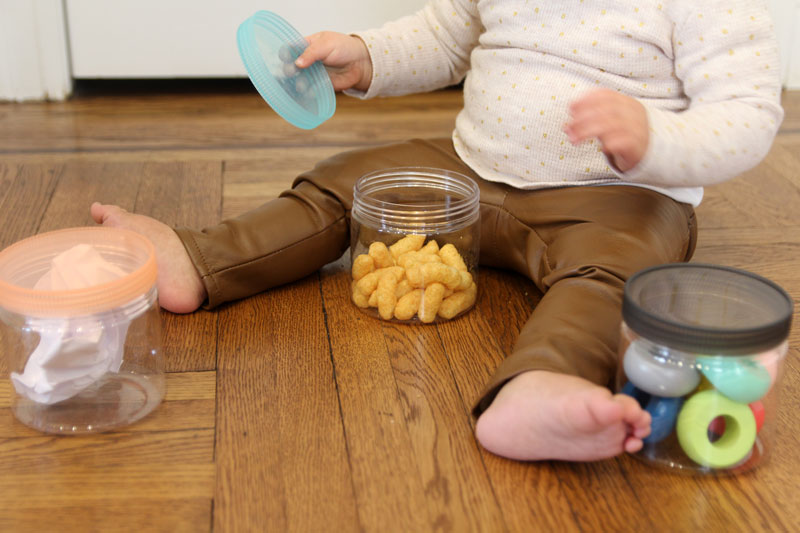 Simply place something you know your little one will enjoy in the jars and place the lid on – but keep it loose. Allow your child to explore for that treasure! Unless you're doing this in a high chair, I recommend sticking to one cracker, as the card advises.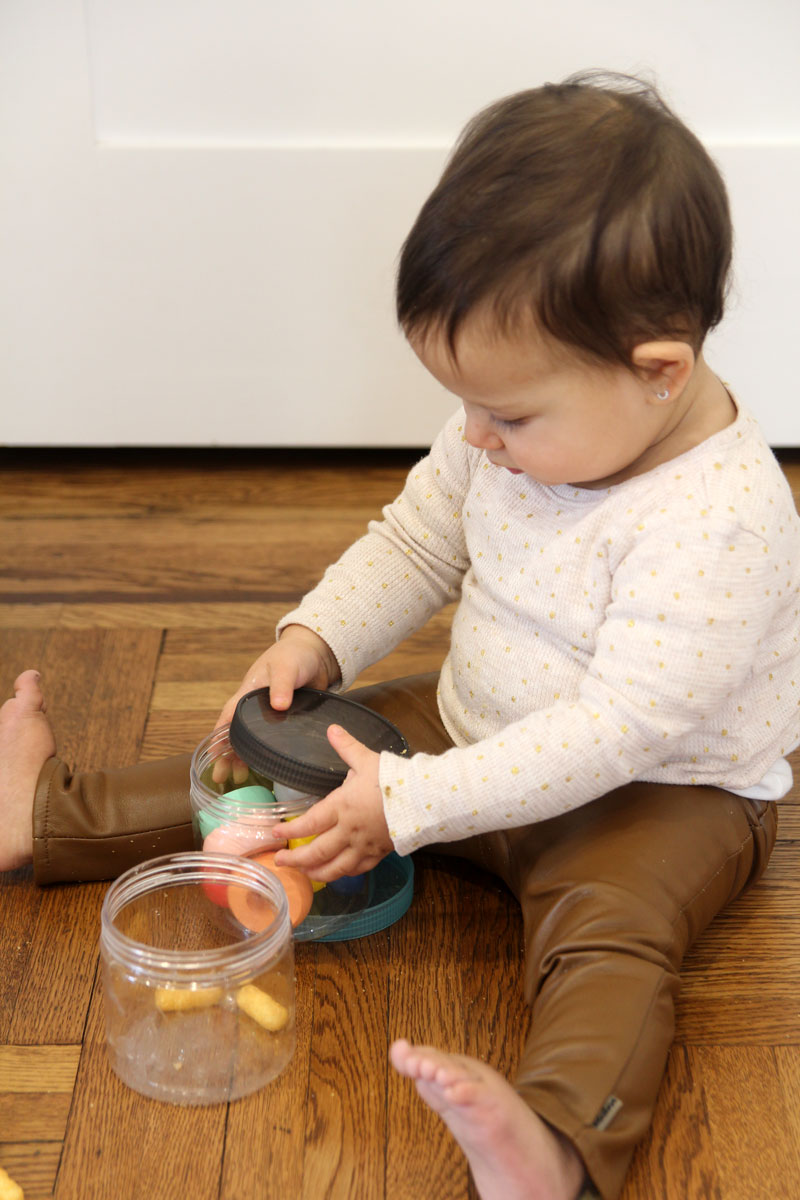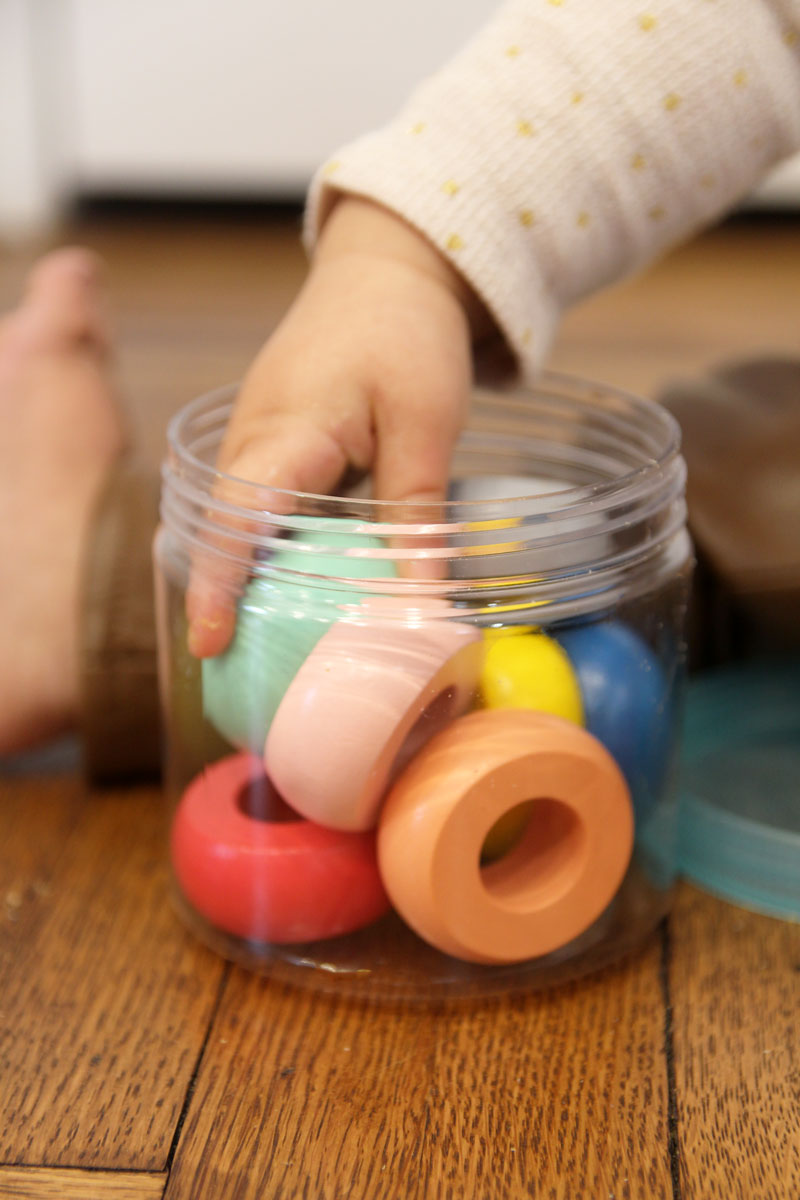 Ribbon Tissues that don't shred
Remember that tissue box above? I decided to repurpose it. I removed the plastic around the opening and stuffed it with scrap ribbons. Leftovers from holiday gifts are perfect for this!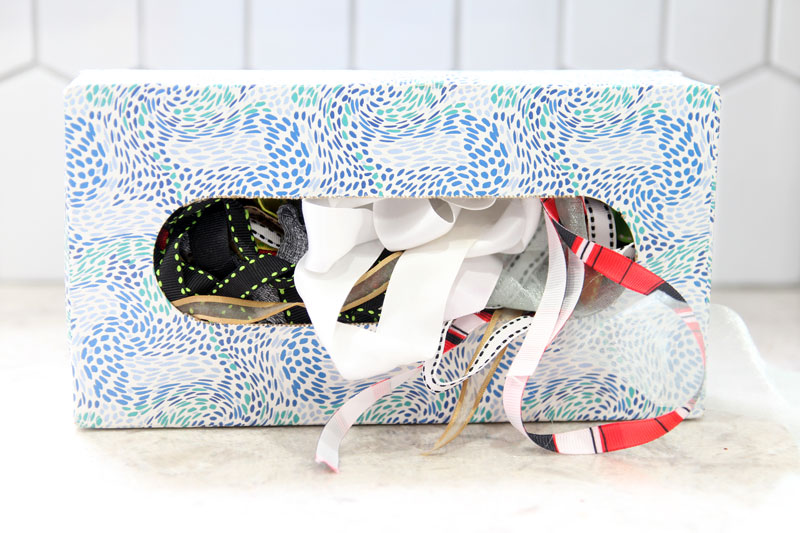 To do this, fill any box or container with a narrower opening with ribbons. You can include some shorter ones and some longer ones to change it up. Sanitizing wipes containers are great for this too.
Ribbons might not "snow" but if your box is full enough you get just enough of a challenge to satisfy baby. And they are MUCH easier to clean up.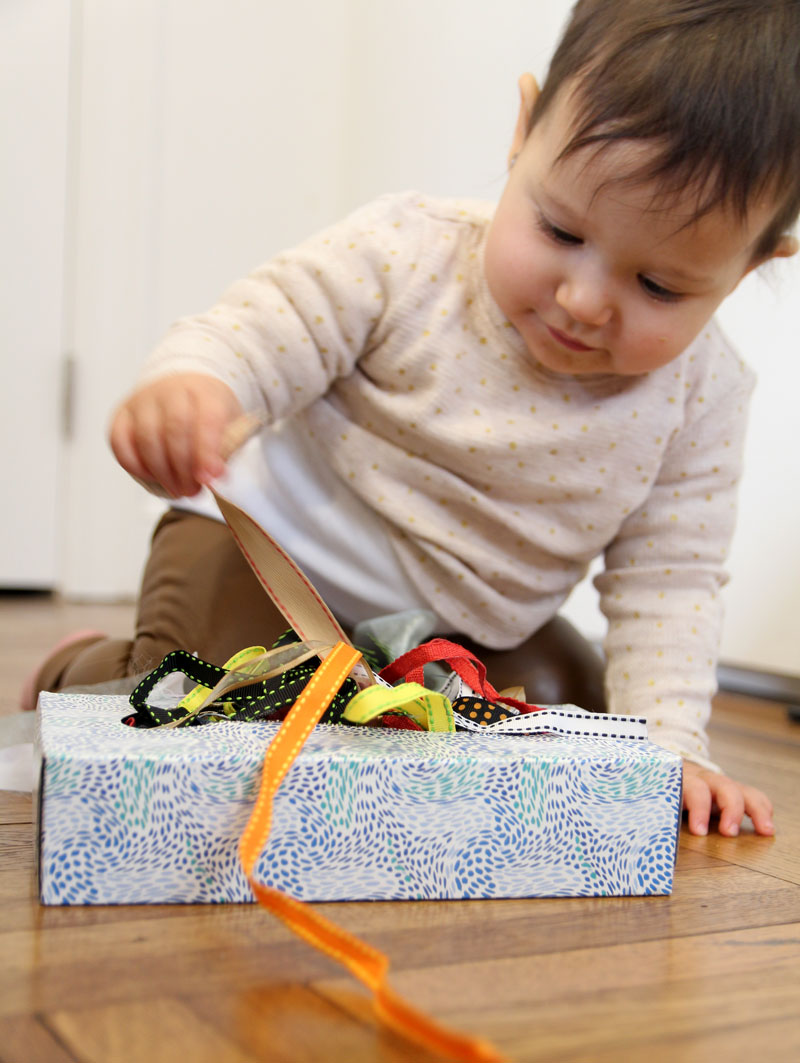 Surprise Peekaboo Sensory Board
Babies tend to break lift the flap books, but love the discovering aspect of it. So why not make your own that's meant to be broken?
I repurposed our Panda Crate box to make ours. To make your own, you'll need:
Your Panda Crate box – or any cardboard
One inch scraps of ribbon
A craft or utility knife
Hot glue gun
Scissors
Different textured items and shapes. You can search for these around the house, among your craft supplies, etc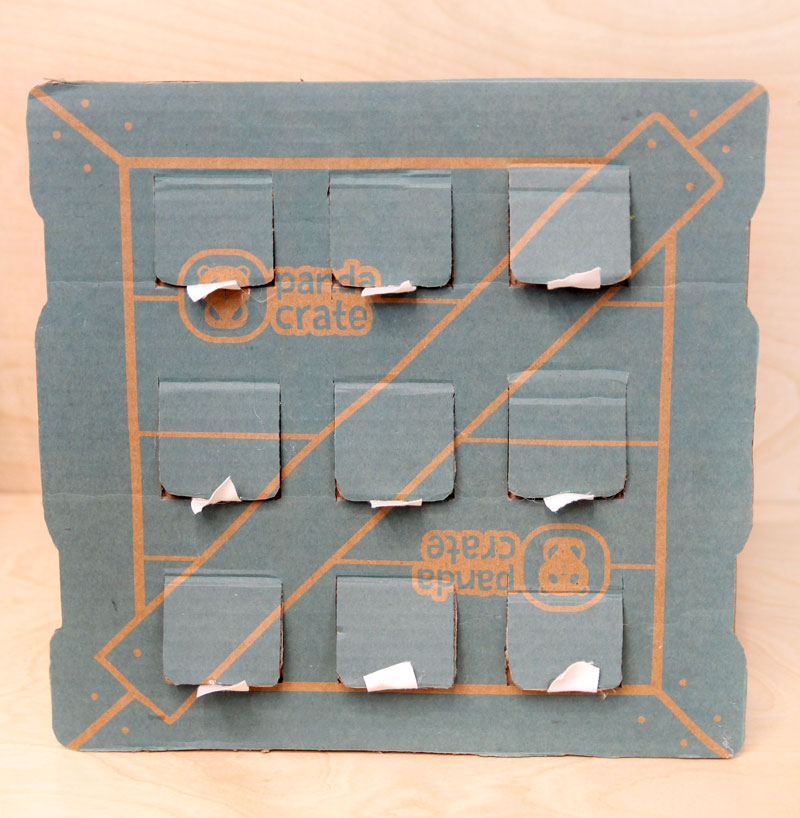 To make this:
Cut off the top and bottom of the box and round off the edges.
Cut nine flaps in the bottom portion of the box using a utility knife. Round off the edges a bit.
Hot glue small bits of ribbon to the flaps to make them easier to open.
Glue the bottom of the box to the top, leaving the flaps unglued. Note: if you want your flaps to fully close with a thicker item underneath, make sure you leave a little spacer between the two layers of box. You can accomplish this by placing a cardboard strip between the front and back around the perimeter.
Glue a cool texture, shape, or anything to explore under each flap.
Our peekaboo board features, from left to right starting from the top:
Glitter cardstock
A felt butterfly
Corrugated cardboard – actually, a scrap of the box with the top layer peeled off.
The middle row is all wood shapes, painted different colors.
A coil of cozy yarn
Two wiggle eyes
A coil of rough twine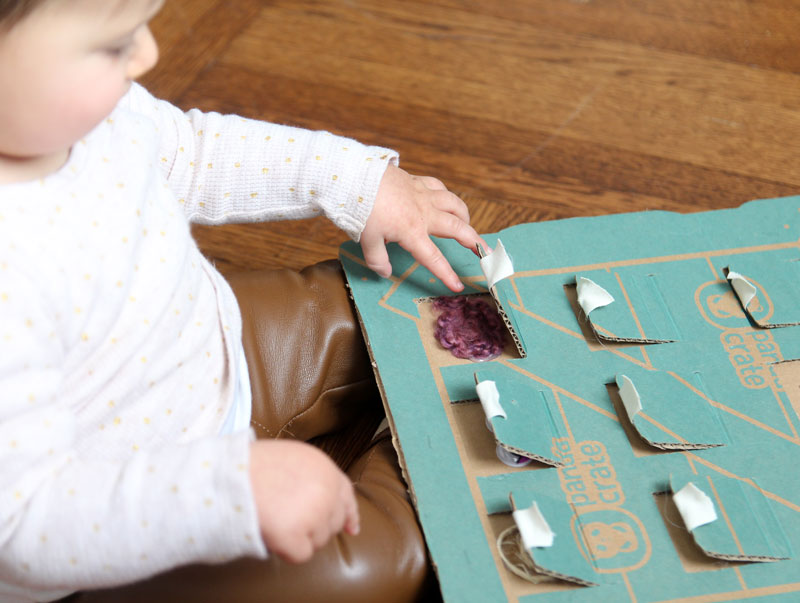 Can you guess which was A's favorite? She tried snuggling with the cozy yarn!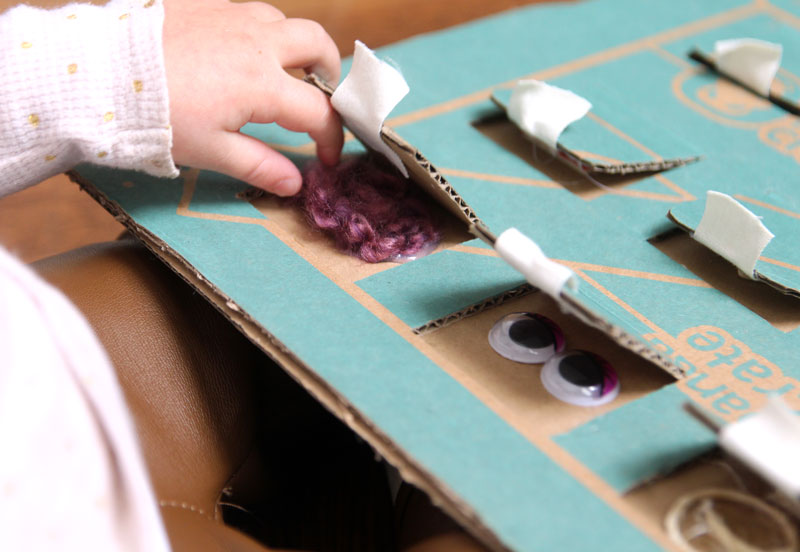 That's all for our activities for a one year old at home for now! Which was your favorite? Comment below! And if you're ready for hours of enriching experiences, check out Panda Crate, and get 30% off your first month with code LEARN30!
Before we go, I wanted to show you what was in our last Panda Crate! A is still playing with it, especially the barn!