This is a sponsored post written by me on behalf of Fujifilm Wonder Photo Shop. All opinions are 100% mine.
Grab these free printable color-in photo props for a fun party activity for teens and adults! Add some DIY to your occasion and give your attendees a souvenir to take home.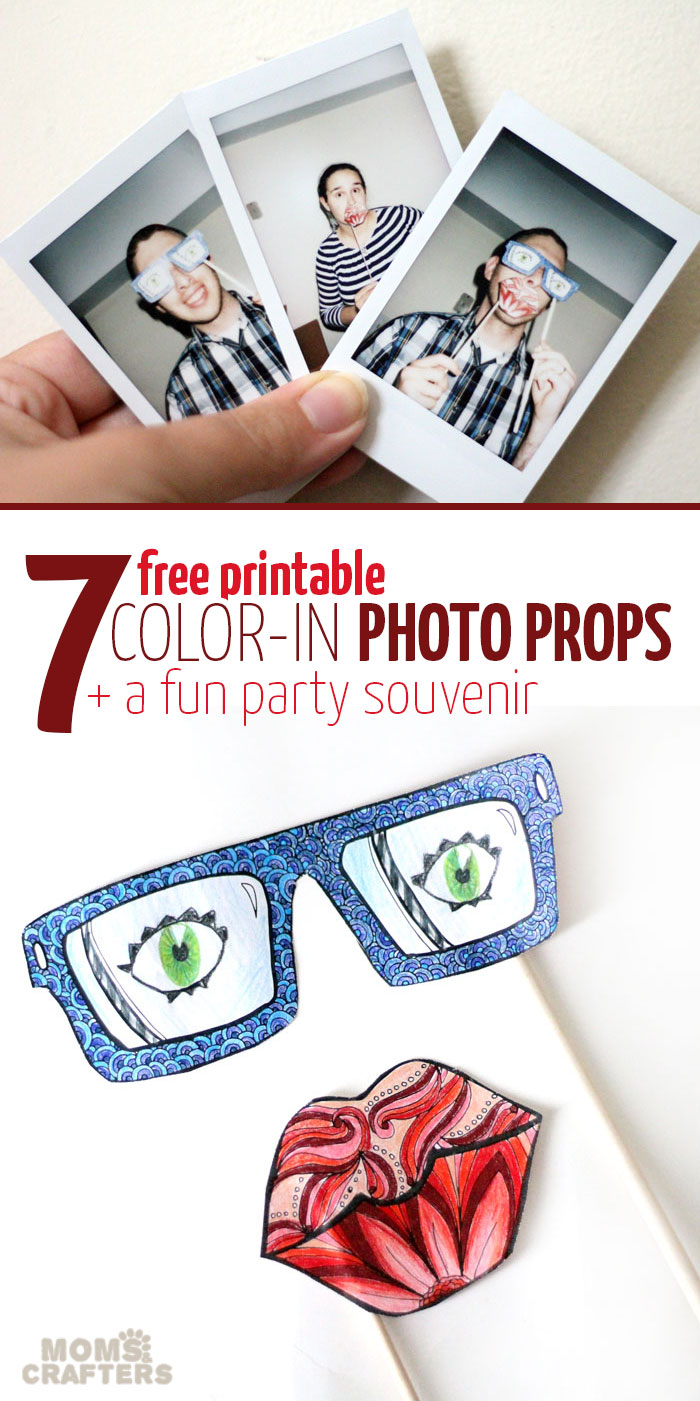 Adult coloring is a craze for a good reason – it's that awesome. Since I published my first coffee coloring pages, I've been getting countless requests from people to print them in slightly larger quantities than the norm to color at parties.
Normally I do allow this, but that did give me a brilliant idea – why not create something that can fit into the entire atmosphere of the party?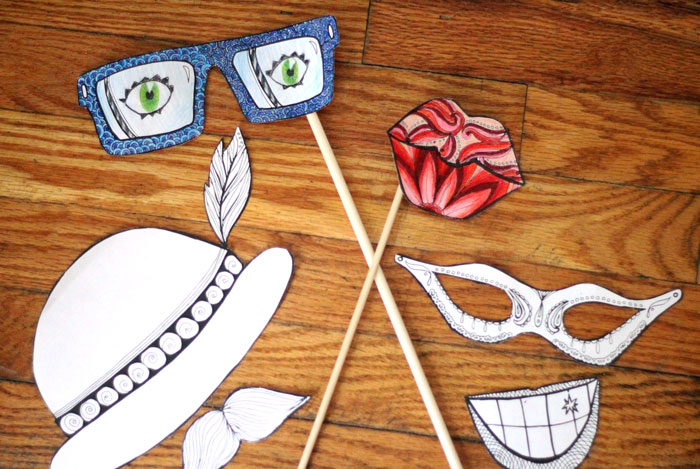 If you recall, last week I shared some fun photo gift ideas, inspired by the new Fujifilm Wonder Photo Shop in New York City. This week, I decided to share with you a new idea inspired by the offerings of the shop.
At the Wonder Photo Shop, you can print your photos from your phone, browse fun photo gifts, and shop. But, even cooler, you can sit down, relax and craft with some of their DIY materials they have handy. So I thought it would be cute to do some DIY photo activities at parties too.
And so, these free printable color-in photo props were born.
Here's the plan:
Color 'em in.
Turn them into photo props.
Have fun snapping away.
Use a Fujifilm instax® camera to create instant take-home photos.
If you want you can even extend the fun by offering magnet strips that participants can tack to the back to stick it right onto the fridge.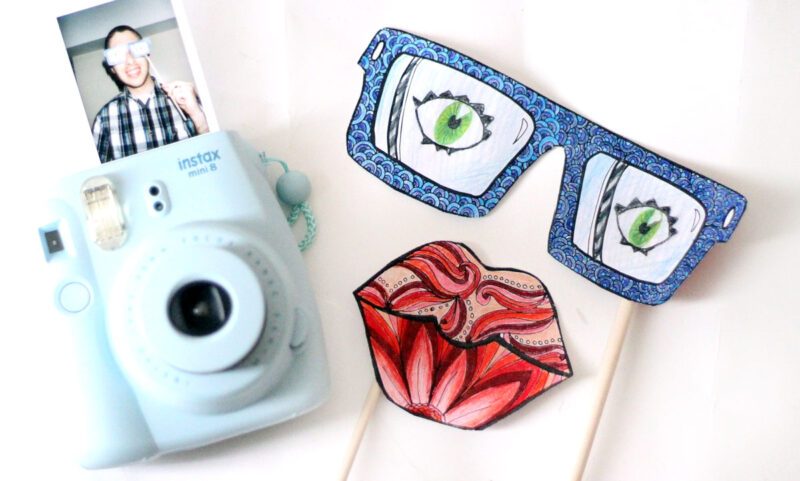 It's that easy to set up an instant photo booth at your next party!
Participants can have a blast coloring them, then acting silly, and then have a perfect souvenir of the fun times.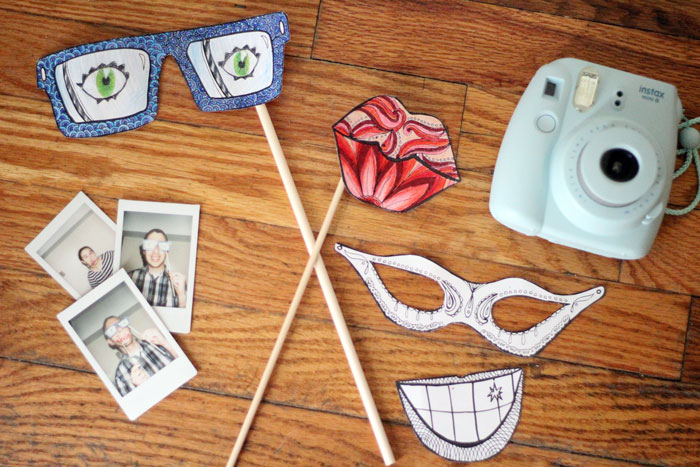 What you need for the color-in photo props:
Choose which photo props you'd like and print them here. I highly recommend printing on card stock so that it's stiffer.
A nice assortment of coloring supplies: colored pencils, gel pens, extra fine-point markers, and chalk pastels are all perfect options.
Scissors
Tape
12 inch wooden dowels and/or fun paper straws
A Fujifilm instax® camera and plenty of film to keep the fun going
A sense of humor
Magnets if you want to do that part.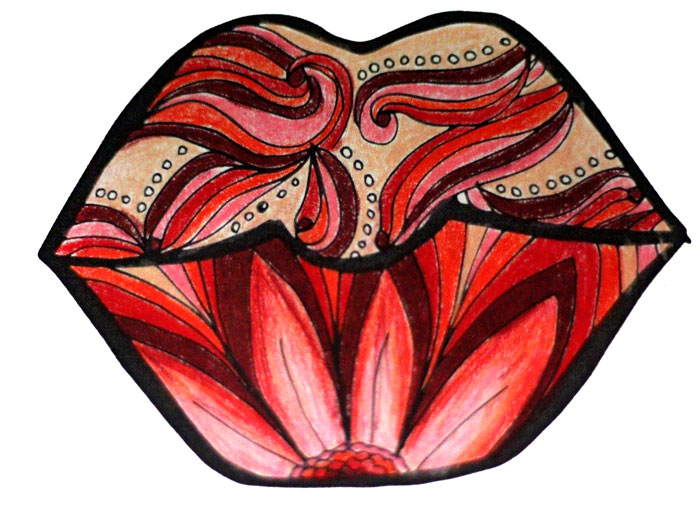 And the fun begins… how to use these free printable photo props:
Lay out a nice assortment of color-in photo props. Cut them apart so that people can choose from the selection of eye wear, mouths and hat.
Give a nice choice of coloring tools as well. Have people color them in.
Tape a dowel to the back of the prop.
Have fun taking photos with Fujifilm instax® cameras – so that your guests can take them home.
My husband and I had lots of fun testing these out. We didn't have a party to use them by yet, but stay tuned… I have grand plans for son's third birthday! It may or may not come with some more free printable photo props (probably sometime in October) because we plan to have our guests going home with cool instax® photos to remember it.
CONNECT WITH THE SPONSOR TO LEARN MORE:
Fujifilm Wonder Photo Shop | Wonder Photo Shop NYC on Facebook
Which fun ideas do you have for photo props to help make fun instax® party souvenirs? Comment below!