Make this easy and friendly pom pom Thanksgiving turkey craft to celebrate! Your kids will have so much fun with this simple craft.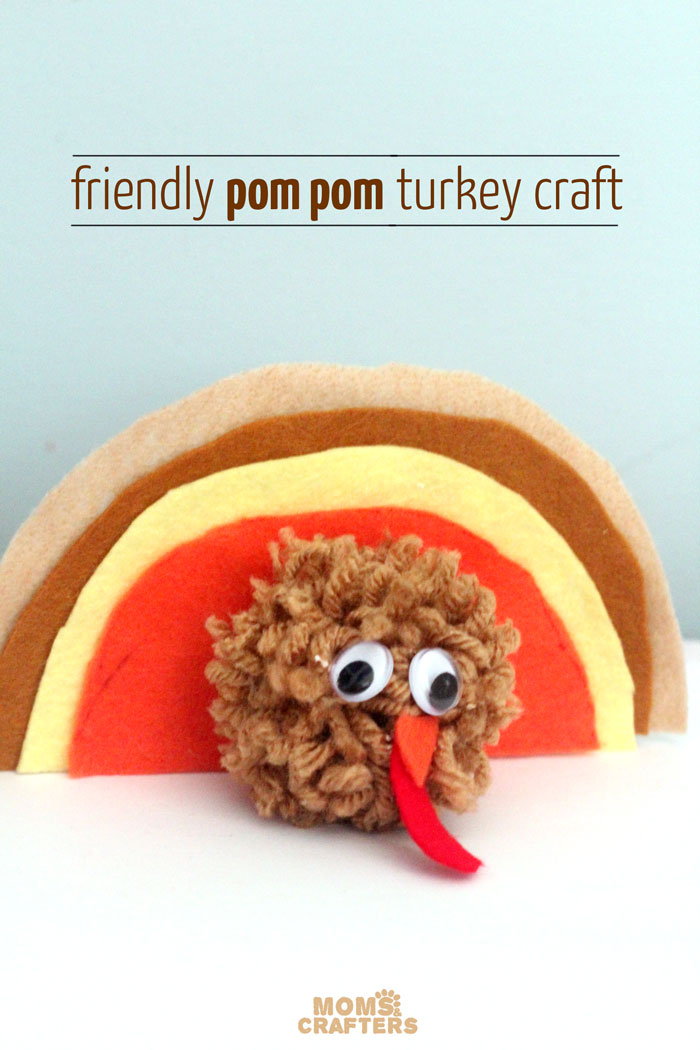 M has a way of generalizing, as many toddlers do. Any man is "Daddy". Anything red is "Elmo". And apparently anything with a beak is "Beebo" a.k.a. Big Bird. Yup, he's obsessed.
Anyway, right after I made this Thanksgiving turkey craft M kidnapped it and claimed it his own. So I never really had a chance to make it "functional". Which might be a good thing, as I couldn't really decided what I wanted to do with it. So M decided, and it seems like I should be calling it a DIY turkey toy.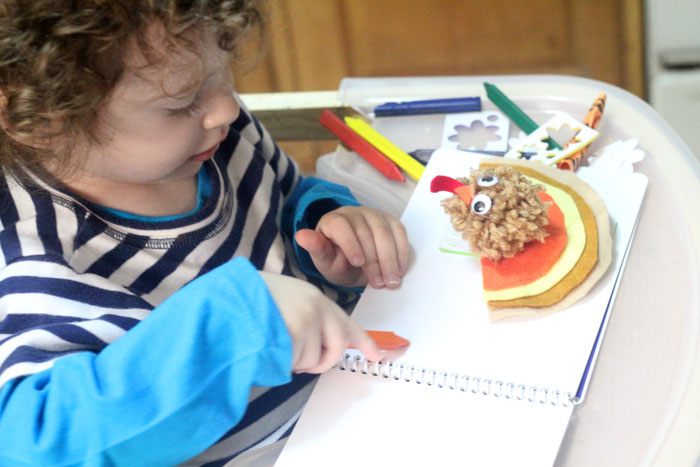 Disclaimer: This post contains affiliate links.
In any case, here are some things you can try once you've completed this pom pom turkey craft:
Wrap it around the base of a tin can to make a cutlery holder.
Similarly, wrap it around the base of an empty wine bottle, and add some wheat stalks to make a pretty Thanksgiving centerpiece.
Attach a few magnets to the back and slap it on the fridge.
Make a bunch, attach a ring of felt to the back (a strip with both ends glued to either side of the turkey) for elaborate napkin rings.
Play with it, poke its eyes, and call it "Beebo." (That works if you're a toddler.)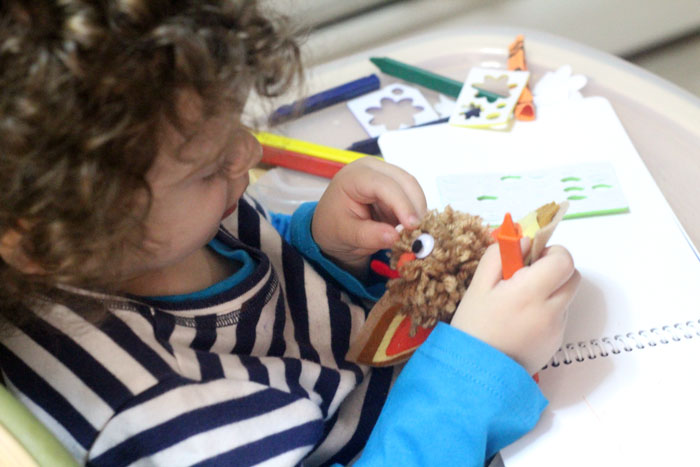 I didn't have any "kid testers" (other than my tot) for this one, so I'd have to guesstimate age level, according to my brothers' abilities. If your kid can make a pompom, your kid can probably make this Thanksgiving turkey craft. Most grade school kids should be able to handle this one… Basically, because it's a very easy, simple craft, it can go in any direction.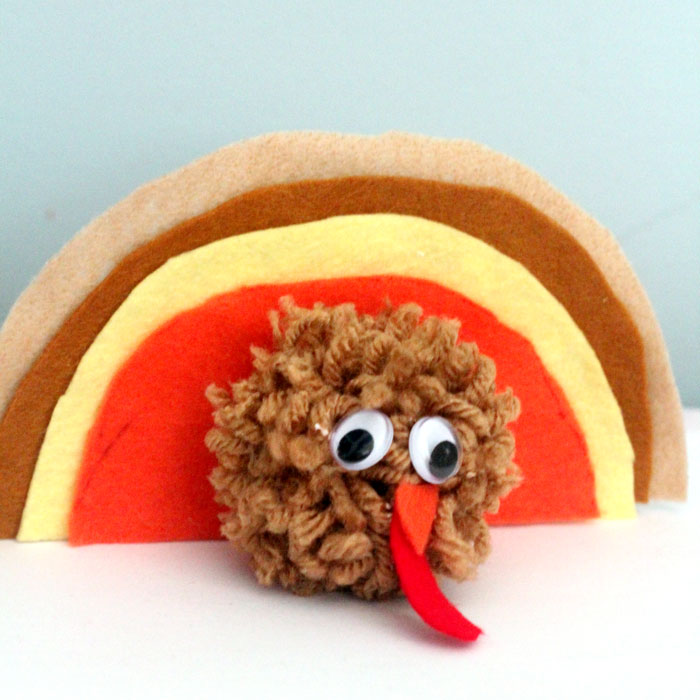 I used tacky glue since it's kid-friendly, but if you're actually giving it to a kid to play with you might want to reinforce it. I stole it back from M temporarily enough to re-glue it using E6000 and allow that to dry.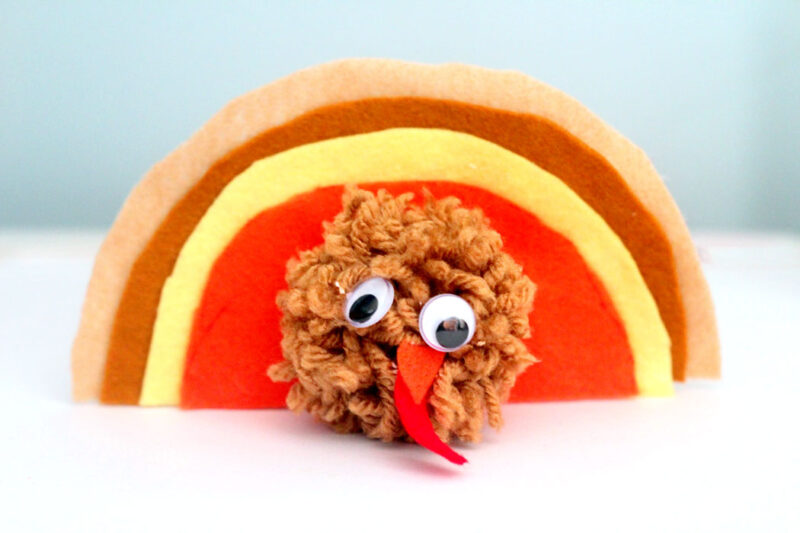 Right, now, enough chit chat. Here's how to make this friendly turkey.
What you need for the pompom Thanksgiving turkey craft:
Felt in turkey-ish colors (sampler packs are perfect for this craft)
Red and orange scraps (like really small scraps) of felt
Tacky glue, or E6000 for adults
A felt tip pen for marking
How to make a friendly pompom Thanksgiving turkey craft:
1. Start with your pompom, of course. Cut a piece of string and hold it between two fingers.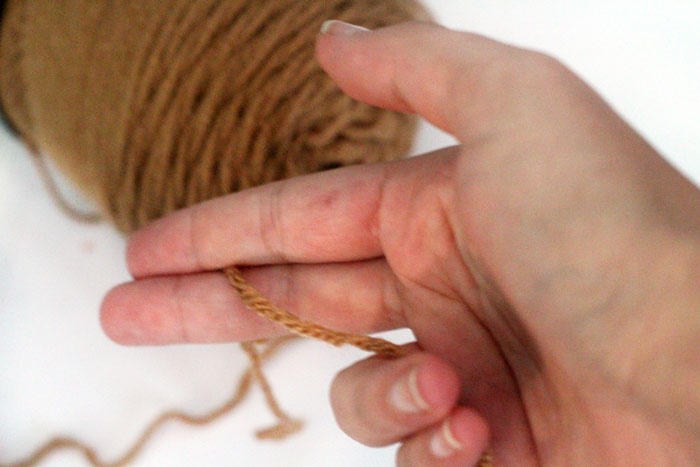 2. Now start wrapping a new string around a few fingers (don't pull too tight.) Keep that first bit of string horizontally between your fingers while wrapping your string vertically around a few. I did three fingers, but honestly two is probably enough.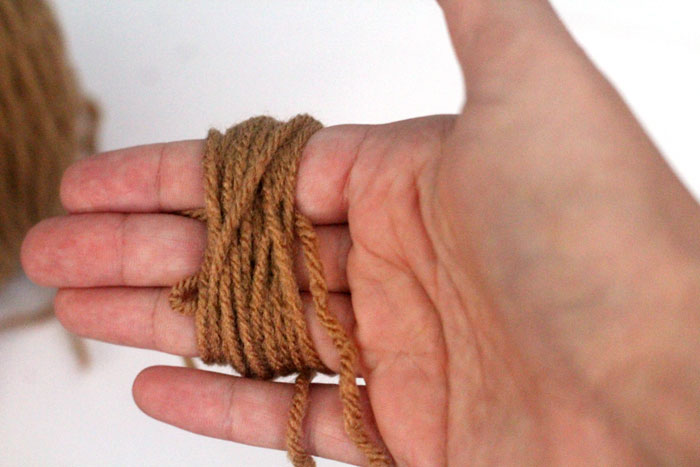 3. Continue wrapping until you have a nice, robust ball of yarn. Trim.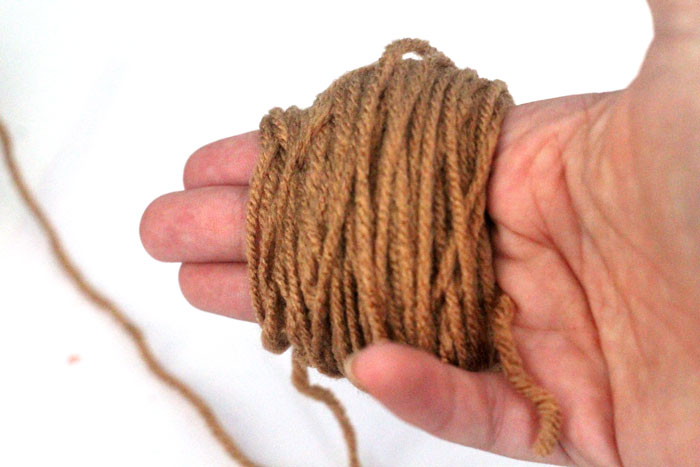 4. Slip it off your fingers, ensuring that the first strip of string remains in the center.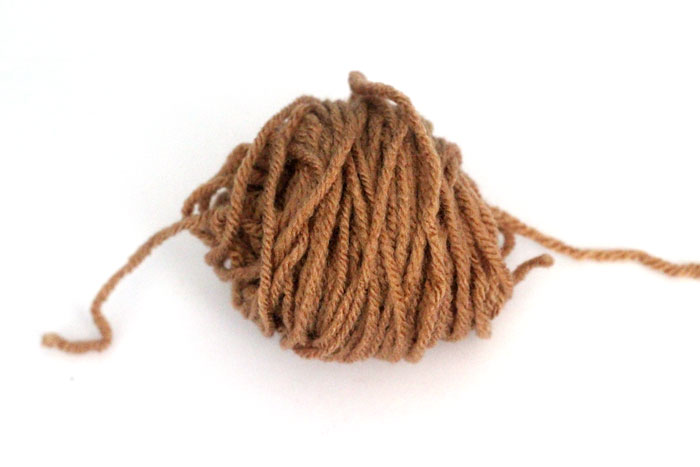 5. Tie that string in a tight double knot.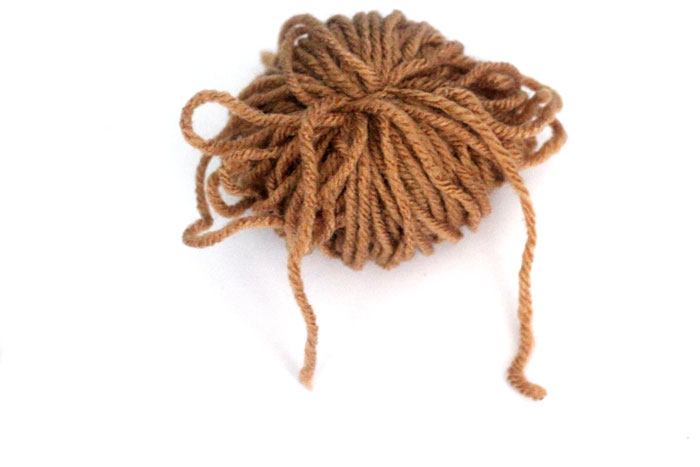 6. Cut through the loops and then trim your pom pom. I gave it a nice hair cut as I didn't need it quite as big as I'd made it.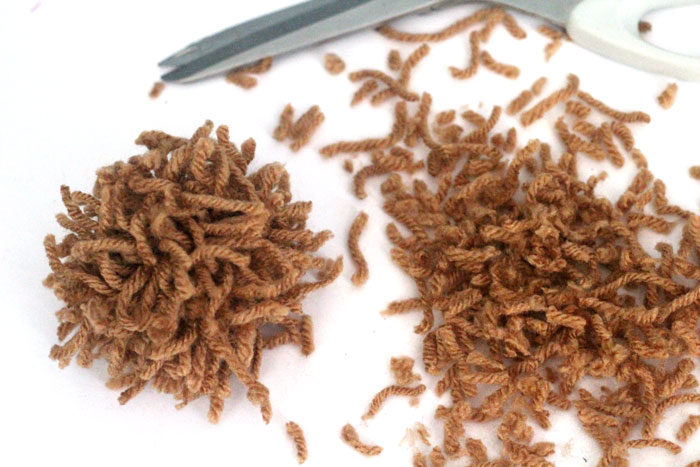 7. Now, place your pom pom on a bit of felt, and trace the size you'd like your smallest feather arch to be.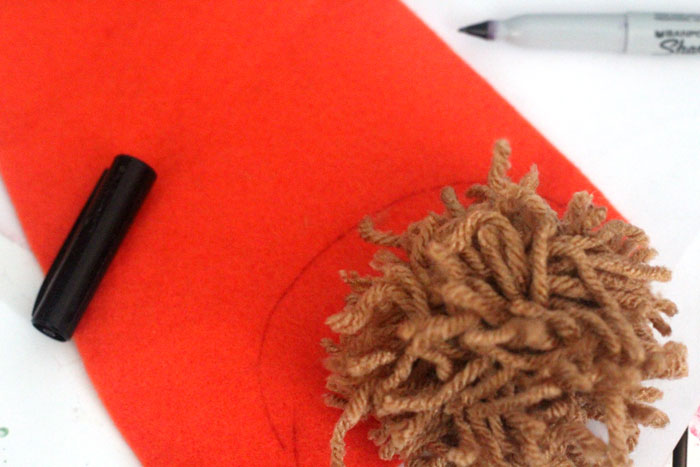 8. Cut it out, and use that as a guide to make a few larger arches. the flat bottom should align, but the curve should graduate in size.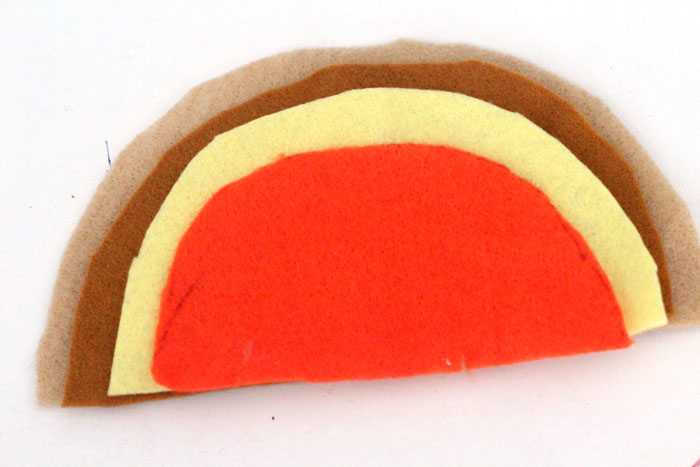 9. Glue your layers together, with your pompom in the middle.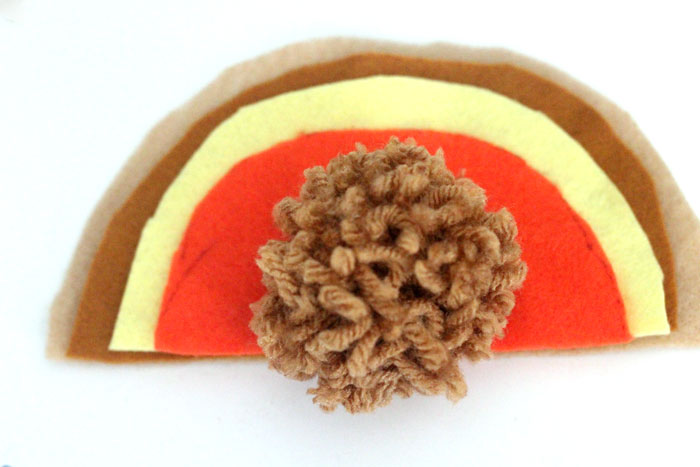 10. Make your turkey face! Glue on two googly eyes (I used larger-than-life ones to make my turkey look really friendly), an orange triangle beak, and of course a long hanging red wattle.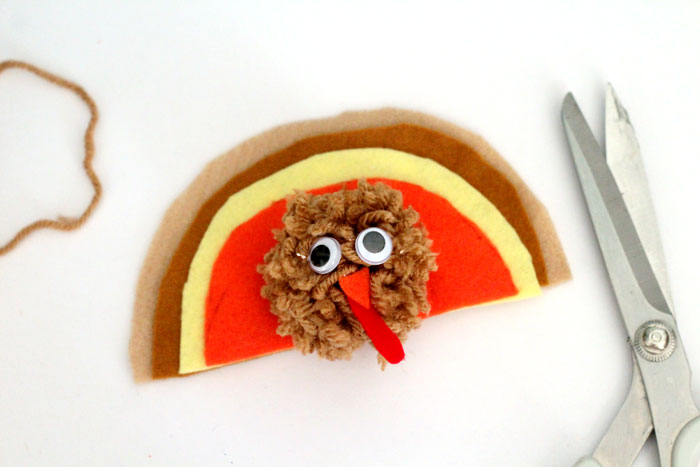 Enjoy seeing this friendly face this Thanksgiving!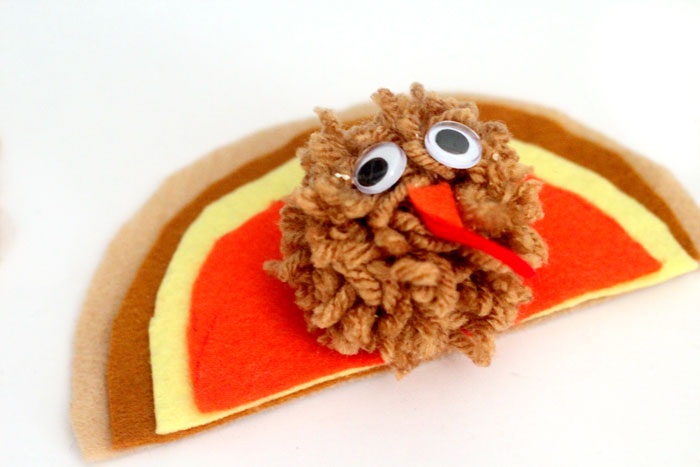 Make sure to share with me what you made with it on my Facebook page – including your photos.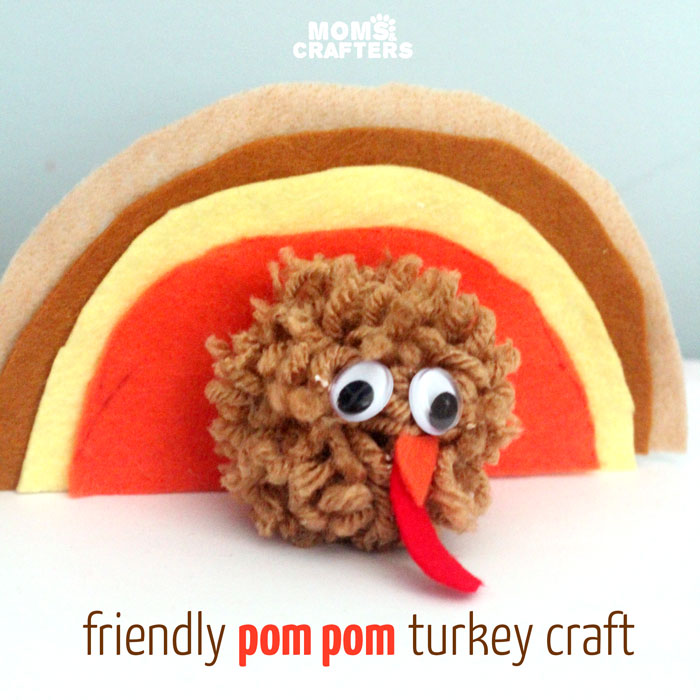 And if you want to see a steady stream of cute craft ideas like this one, make sure to follow my Kids Crafts board on Pinterest, where I share adorable crafts for kids from around the blogging world.
Follow Menucha @ Moms and Crafters's board Kids Crafts on Pinterest.