This is a sponsored conversation written by me on behalf of Cricut. The opinions and text are all mine.
Learn how to make a tshirt with Cricut machines and the EasyPress 2. These crafty shirts are fun to make but even more fun to wear! If you're still learning about your machine, you might want to read my Cricut Explore Air 2 review first as it'll teach you everything you need to know about your machine and how to use it! This contains commissioned links.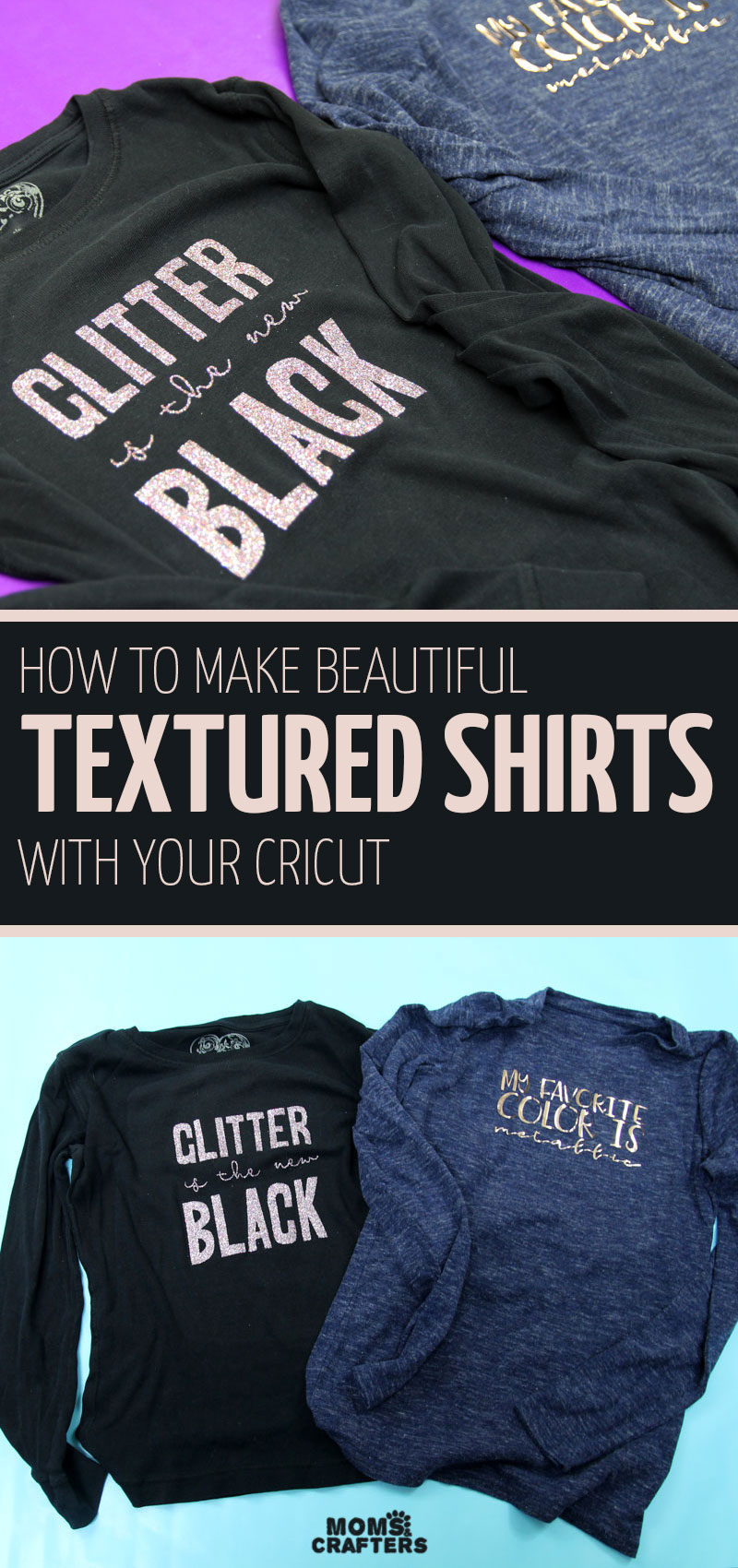 A while ago, I designed a shirt to sell via a print-on-demand service. It said on it "Glitter is the new black".
I designed it at a time when everyone was being all negative about glitter and the mess it makes. I really didn't need that kind of negativity in my life, so I designed a shirt to help me overcome this.
There was a big flaw with the shirt. It wasn't glitter.
Okay, I did design it using an image with a glitter texture, so that it was sort of glitter… but it just wasn't the real thing.
It wasn't cool.
It was just okay.
I knew I had to make one with actual glitter – and Cricut had the answer.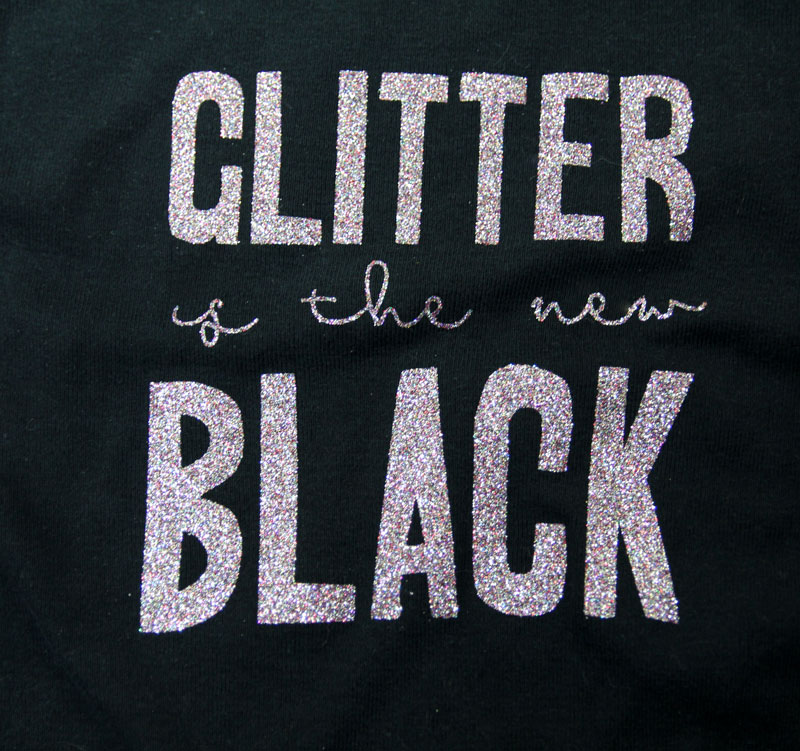 Their glitter iron-on was obviously the perfect solution, their machines cut it, and the EasyPress 2 makes it super easy to transfer to the shirt that I choose.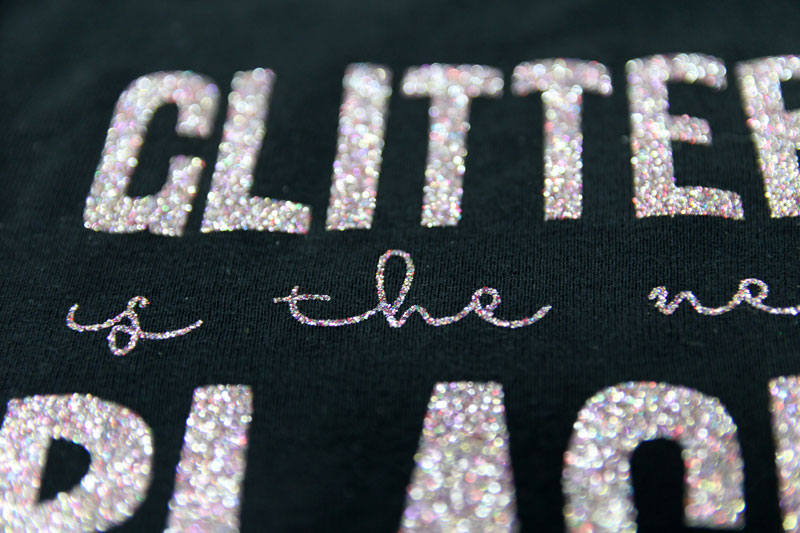 I am a big fan of texture over color, and so I wanted shirts that speak to that. I created two shirts using my Cricut machine combo: one that says "Glitter is the new Black" and another that says "My favorite color is Metallic". I am wearing the second one as we speak.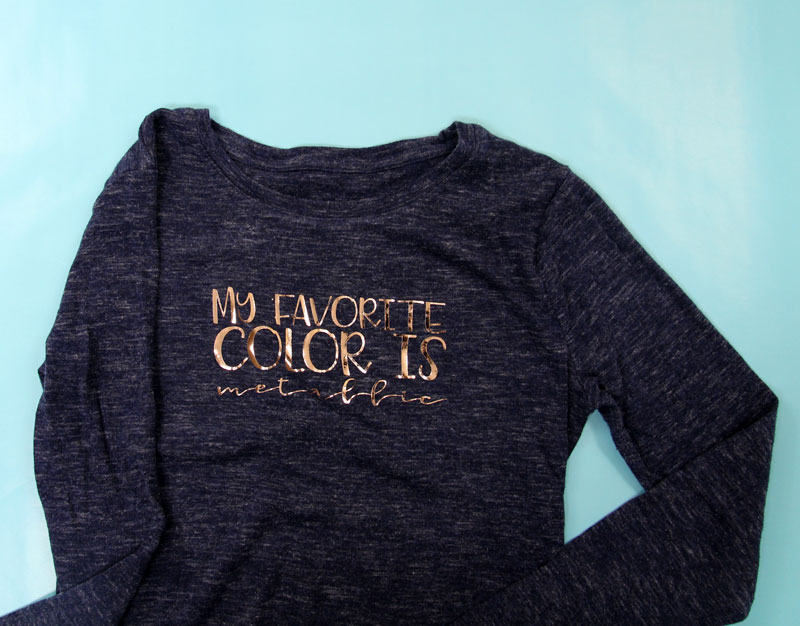 I'm so excited to share with you how to make a tshirt with Cricut using the Cricut Explore Air 2 with the Cricut EasyPress 2.
I'll also share with you my mat so that you can create your own. You will need Cricut Access for the fonts, or you can purchase them individually. The shared design is free, and I'll also share with you the design process, cuz I'm cool like that 😉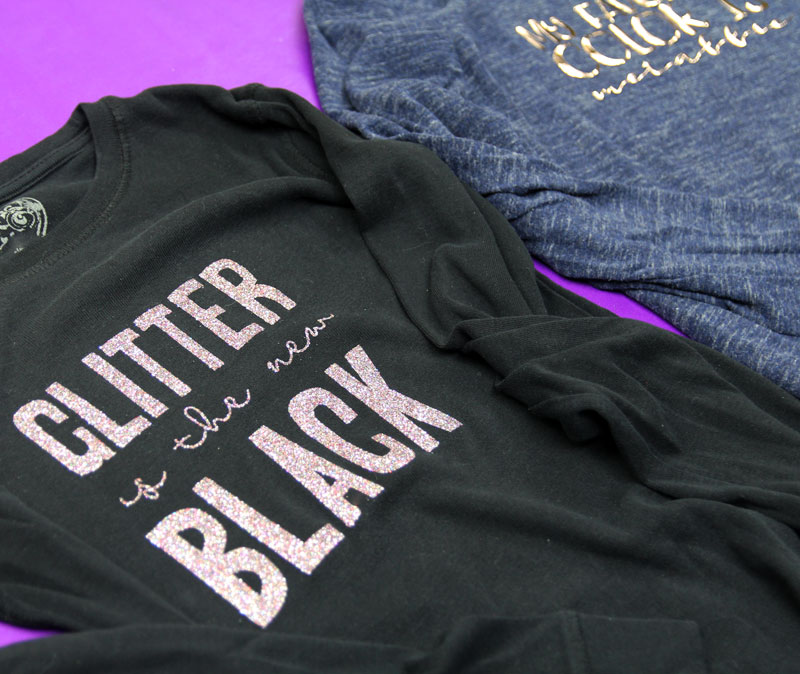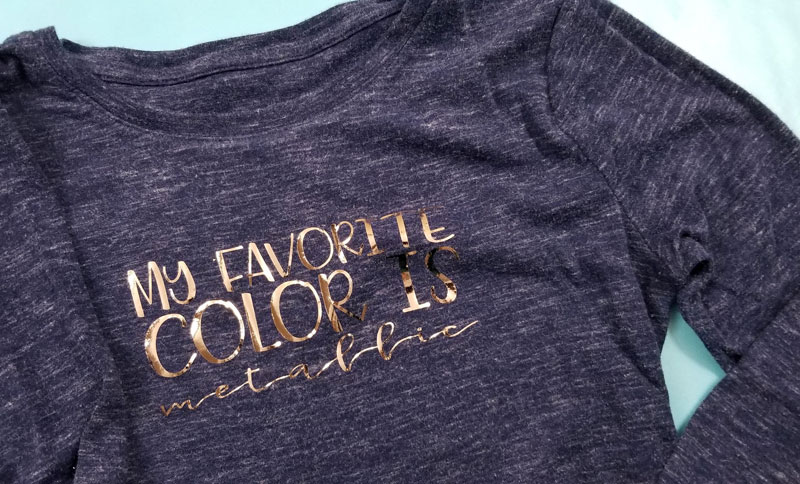 If you're making shirts, you'll want this.
It is such a game-changer and so much better than an iron.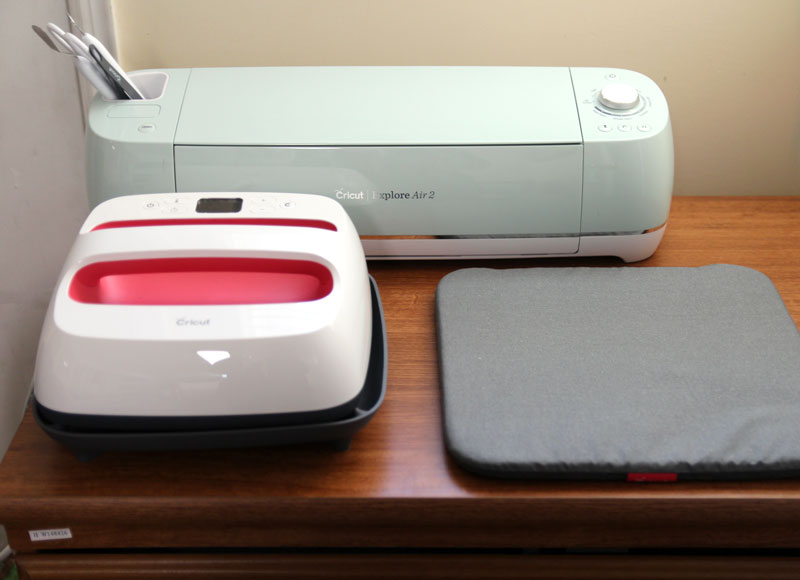 First of all, there's no guesswork. If you want the perfect results, being able to set the exact temperature, set a timer on your device, know when it's fully heated – all of these features make a huge difference in getting good results.
Good results mean cool shirts.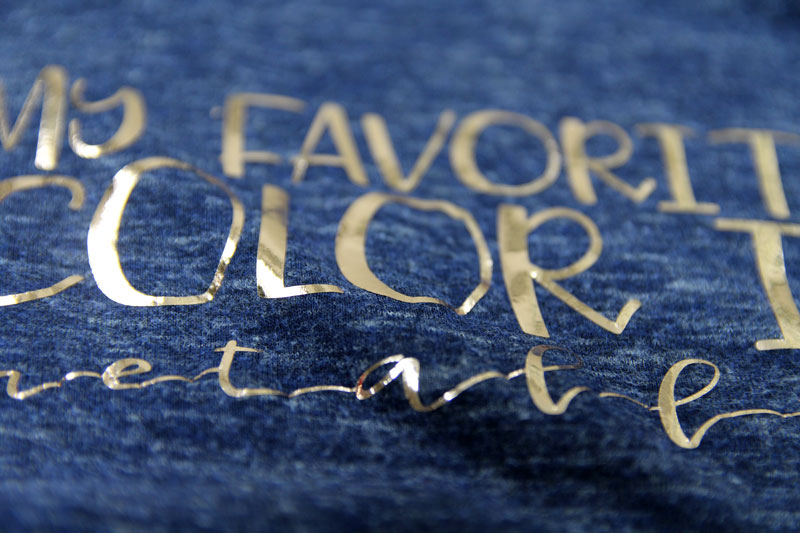 And good results mean fewer wasted material and supplies . So if you ask me? It's a worthwhile investment – especially if you plan to use these to save money on gifts or to sell your shirts.
Another thing that makes all the difference is the weight. You get lots of pressure, without the bulk, and with all the custom settings.
I'm going to teach you specifics of the workings of the Cricut EasyPress 2 along with the tutorial on how to make a tshirt with Cricut below.
To make these shirts, I used two materials that seem similar but are very different in nature.
Cricut Foil Iron-on vs. Glitter Iron-on:
All Cricut iron-on materials come with transfer tape attached. That means that you're cutting your images in the reverse, because the material has a backing that holds it all together until you iron your piece on.
When you cut, you place it with the transfer tape face down on the mat.
When you remove your piece from your mat, you flip it over and place it on your project, with the transfer tape up.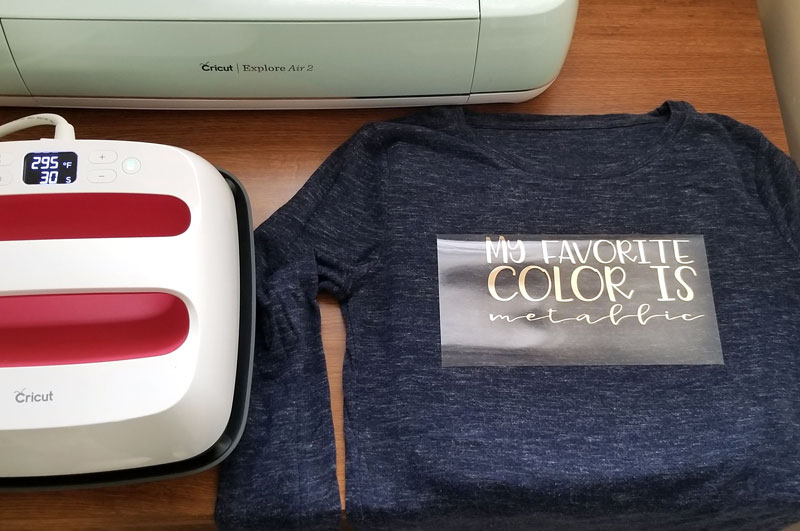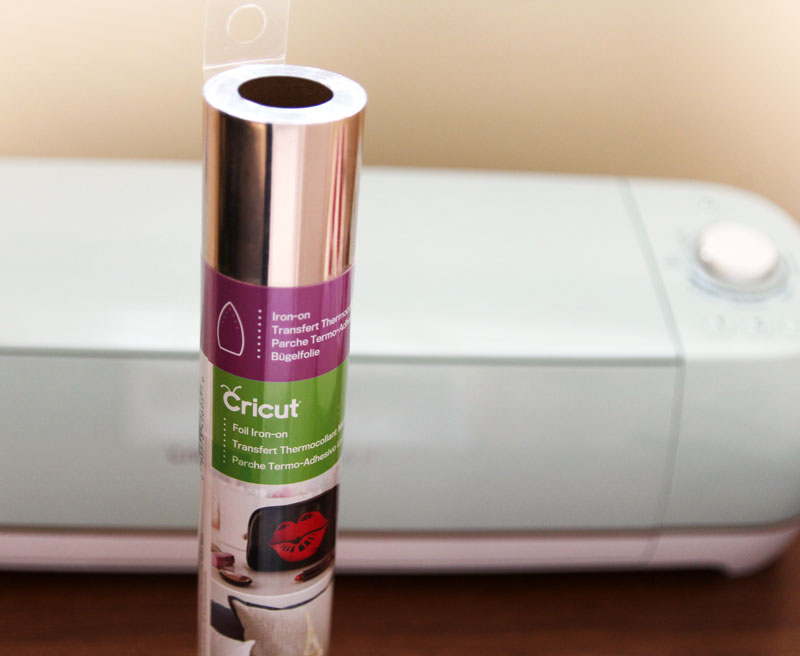 Foil Iron-on is a very thin material with a mirror finish. It's more delicate but I found it to be much easier to work with. While "weeding" my text (that refers to the process of getting rid of the garbage) everything went smooth as butter.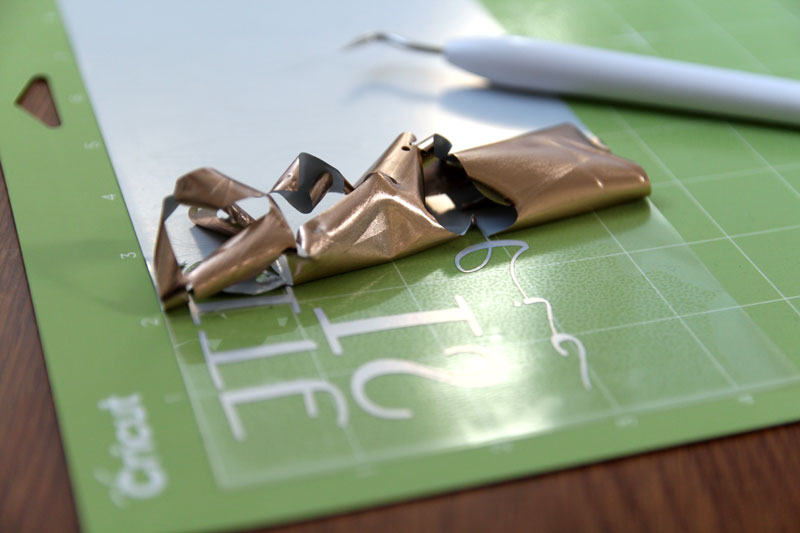 You can get it in a hug spectrum of metallic colors. I used rose gold. It's a very thin material and it's a "cold peel" – you remove the backing after its cooled. I found it a bit harder to adhere to my shirts – it took longer than the instructions specified on the packaging.
I'd recommend choosing this if you're a Cricut beginner.
You can also replace this with Everyday Iron-on Metallics for a matte finish.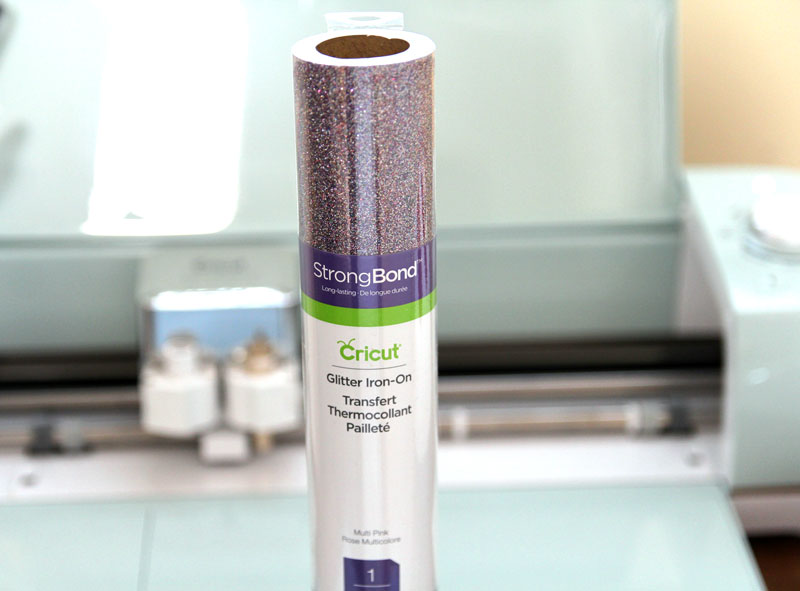 This is a gorgeous, textured material. However, it's definitely harder to work with, as it's hard to see your cut to weed it. You may need to work a little harder to get your pieces out.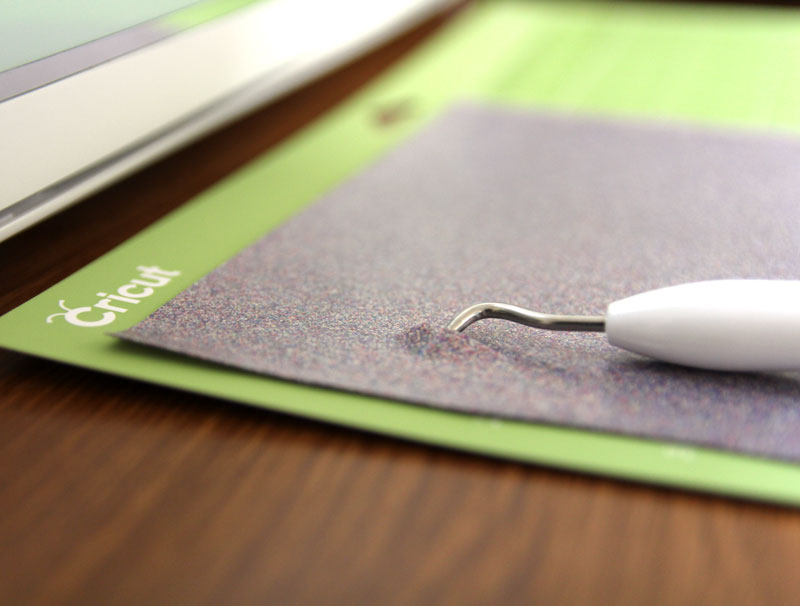 The iron-on process went really smoothly following package instructions, and it's a warm peel, which I find so satisfying! And the result is absolutely stunning. It looks like the material is embedded into the fabric and hey, it's glitter!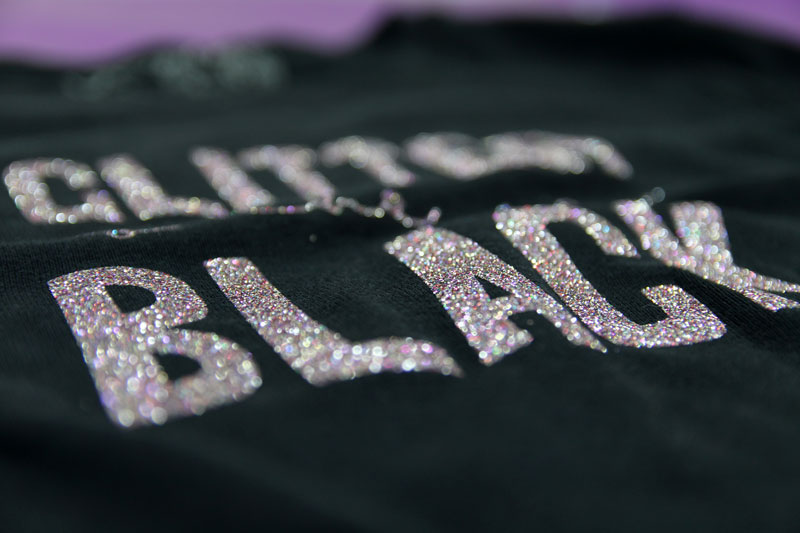 I recommend choosing this if you're already good at cutting and weeding, but new to using the EasyPress 2.
You can also replace this with Holographic iron-on, which is easier to weed.
Once you learn how to make a tshirt with Cricut, you can try your own designs with different iron-on designs along these themes:
Materials needed to make these DIY shirts using the EasyPress 2:
How to design the shirt in Design Space:
Tip: you can remake this project without redesigning it!
One of my favorite things about text based shirts – with just limited knowlege of typography, you can make them up in minutes in Design Space – that's the software you get access to with your ownership of a Cricut device.
These shirts were created 100% in Design Space.
It's good to have a general idea of how you want your shirts to look before you start. You can sketch it out on paper. I decided which text I want on each line, the type of font I'd like (playful sans serif, loose script, block, stretched script, etc) and how I want it stacked.
First, create a new project. Save it and don't forget to keep saving as you go along. Note: in the screenshots below, you'll see a few designs I worked with, including one I rejected. Don't let it confuse you – the instructions are the same!
You'll be creating a separate text for each line in your project. Click on the Text icon in your left toolbar. Type in your first line of text in the box that pops up.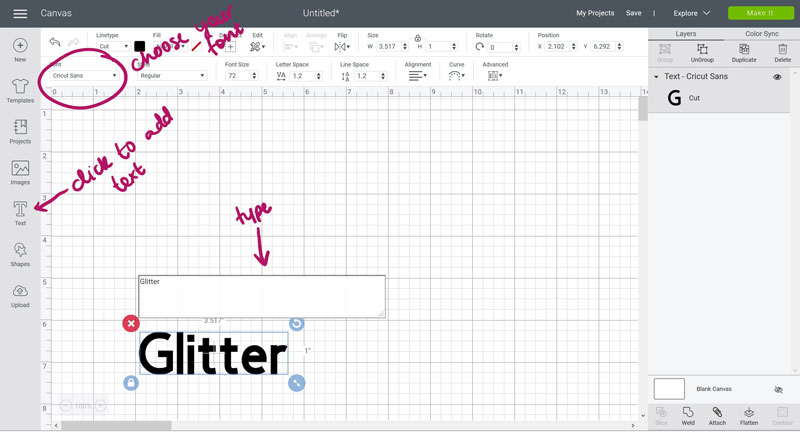 On top, you should have the text options. Click on the font and choose your preferred font. You can easily filter by "system" for fonts you have on your computer, or "Cricut" for Cricut fonts available through Access or for a few bucks. You can also search for a specific font.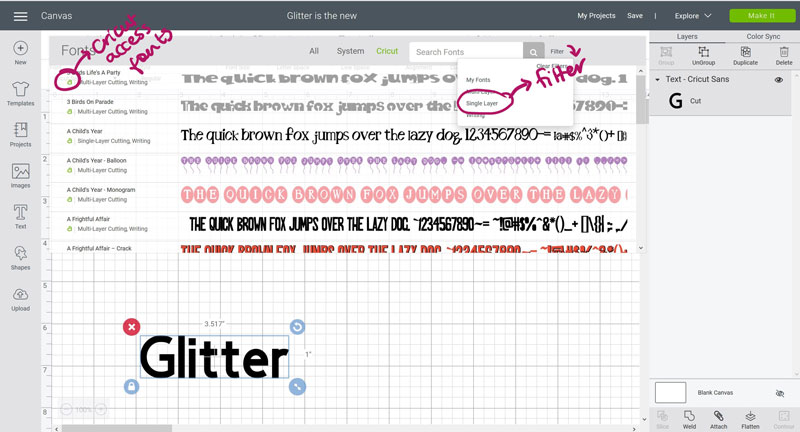 I used the following fonts:
Glitter is the new black: A Frightful Affair + Loop-di-loo (you may want to replace Loop-di-loo for something thicker if you're using glitter vinyl as it's hard to weed).
My favorite color is Metallic: Sketchbook + Felix
You'll see as you choose that Design Space specifies what kind of font that is. For these purposes, go with one that is for single-layer cutting.
For script fonts, you'll want to adjust the spacing. You can do this in the text toolbar by lowering the "letter space". I like to do this manually.
To do this, right click on your text and choose "ungroup". You can also do this in your "layers" panel.
You can now move letters where you want them to be. Make sure to be consistent with your base line. Script letters should overlap very slightly.
For script fonts, you'll want to turn your word into one single piece. To do this, select all of the letters and click "weld" at the bottom of your layers panel or by right clicking.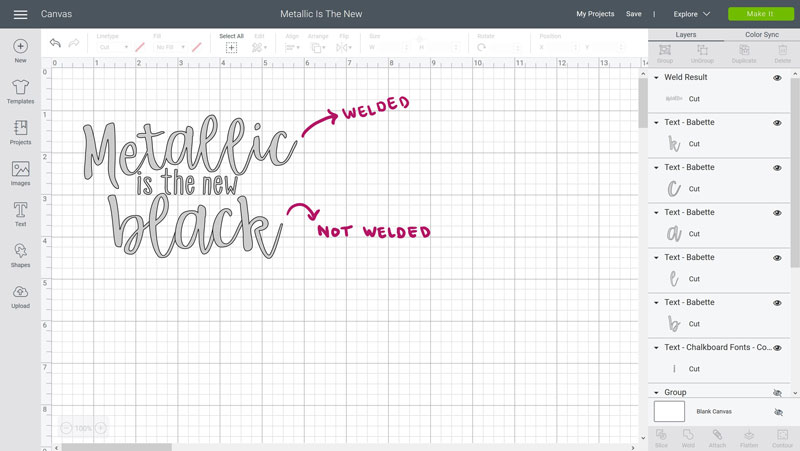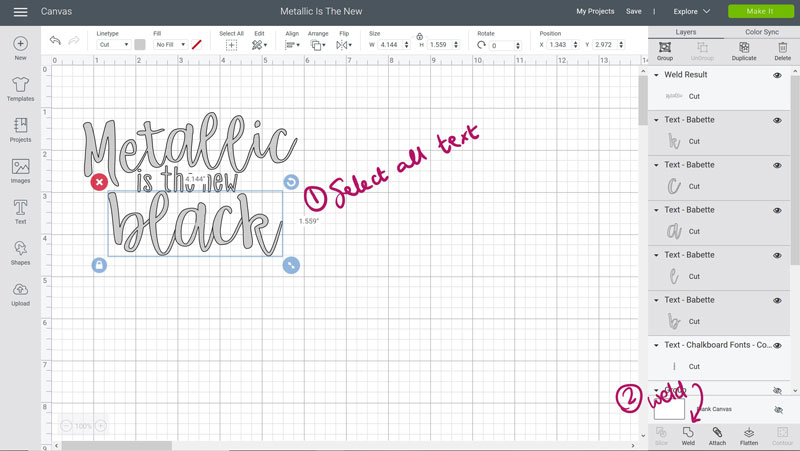 When you're done arranging your shirt design how you want it, don't forget one critical step: attach. This tells Design Space that the exact layout is important!
By default Design Space lays out your cuts however it thinks is best. When you choose Attach, it keeps your layout. I made this mistake the first time, before I really knew how to make a tshirt with Cricut the right way! If you forget to attach, you can cut out your parts and lay them out manually, but it's harder to be exact and keep everything straight.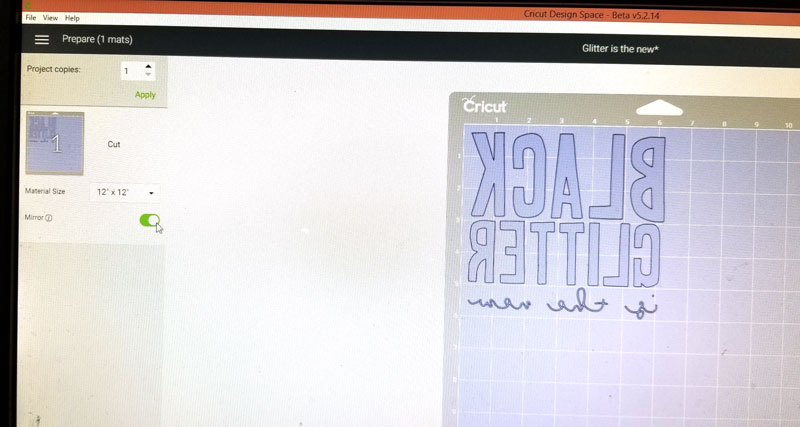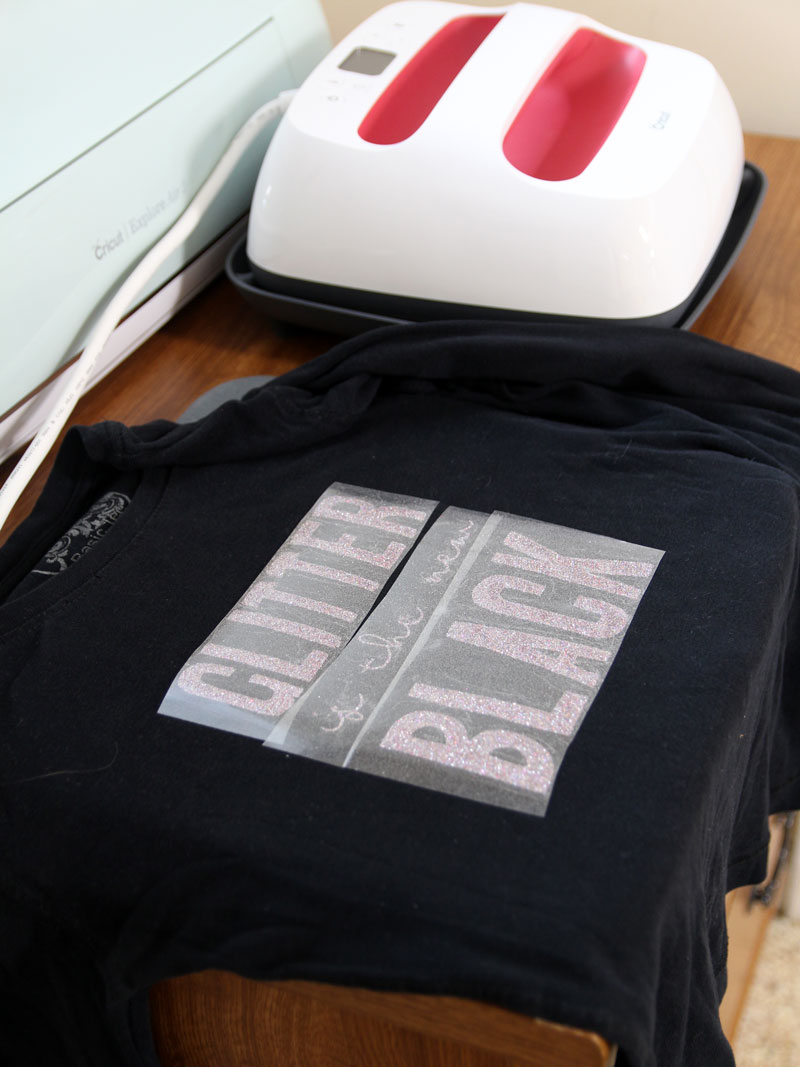 If you're using my shared projects, this has already been done for you. If you're not sure if you did it, once you click "make it" you'll see a preview of the mat layout and know for sure.
How to Make this Cricut shirt:
Time to learn how to make a tshirt with Cricut EasyPress 2!
1. Open up your – or my – project. Click customize.
2. Measure the area you want it to cover on your shirt and resize my design to fit. Don't make it too big! You can use the templates (on the left toolbar in Design Space) to see how it'll fit. These won't be part of your final design.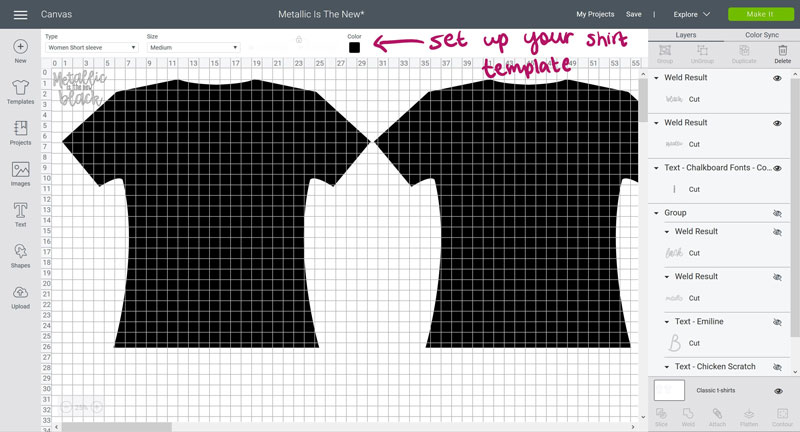 3. Click Make it!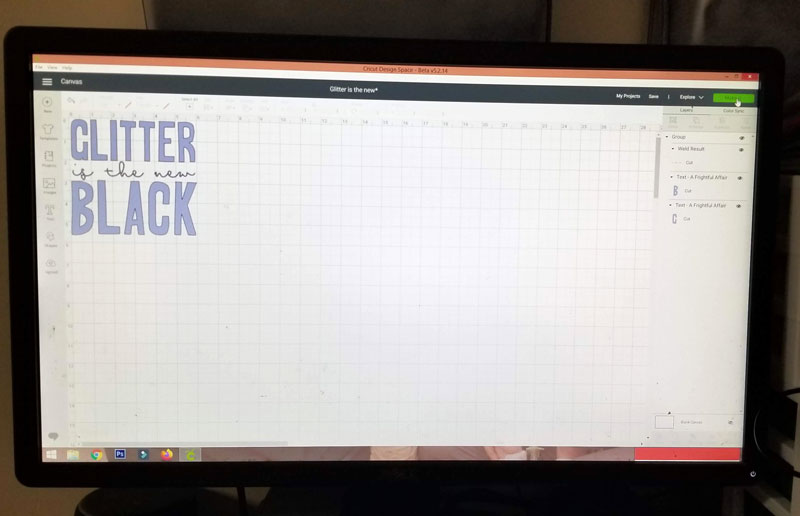 4. Follow the prompts and machine instructions to cut your material. Make sure to place your material with the shiny (transfer) side down! Make sure to select "mirror" in DesignSpace before you cut!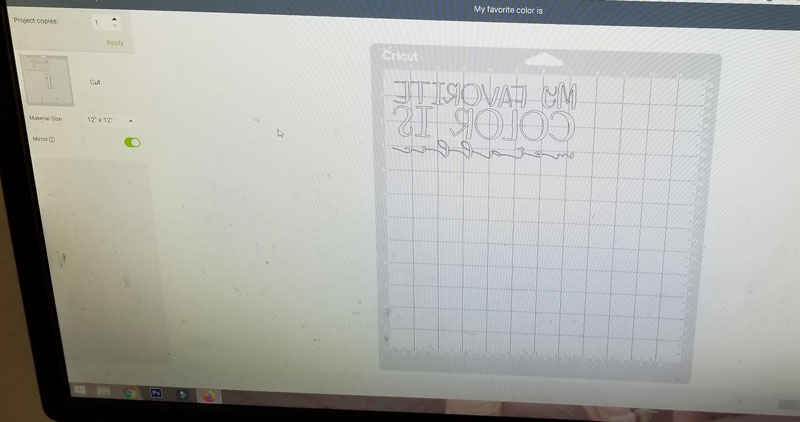 Use the scraper to remove any air bubbles from your material.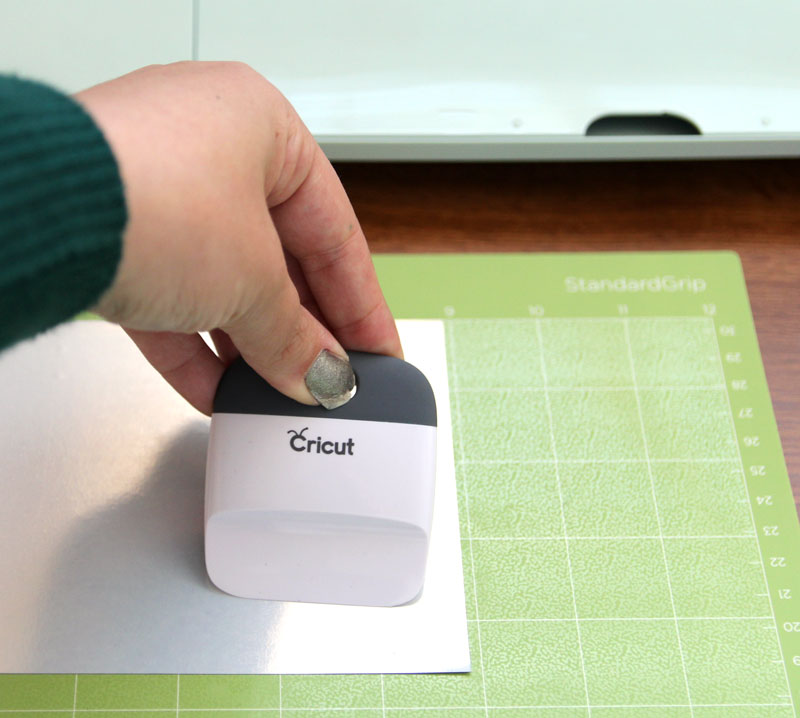 If you're not using a material that's on the machine dial, set the machine dial to "custom" and choose the correct material on the app.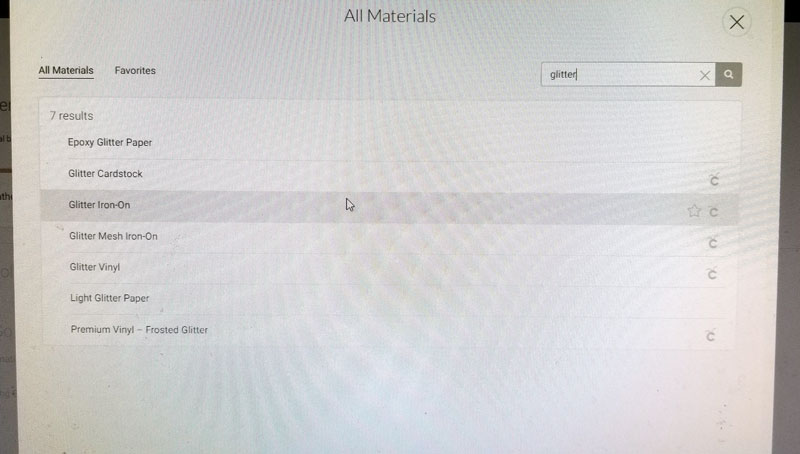 Watch the machine cut!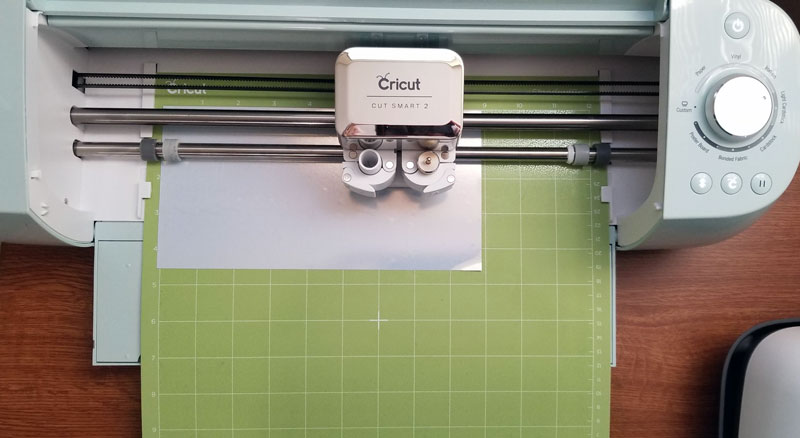 5. Weed your material. Do this slowly and carefully, taking care to get all those centers of loops and letters.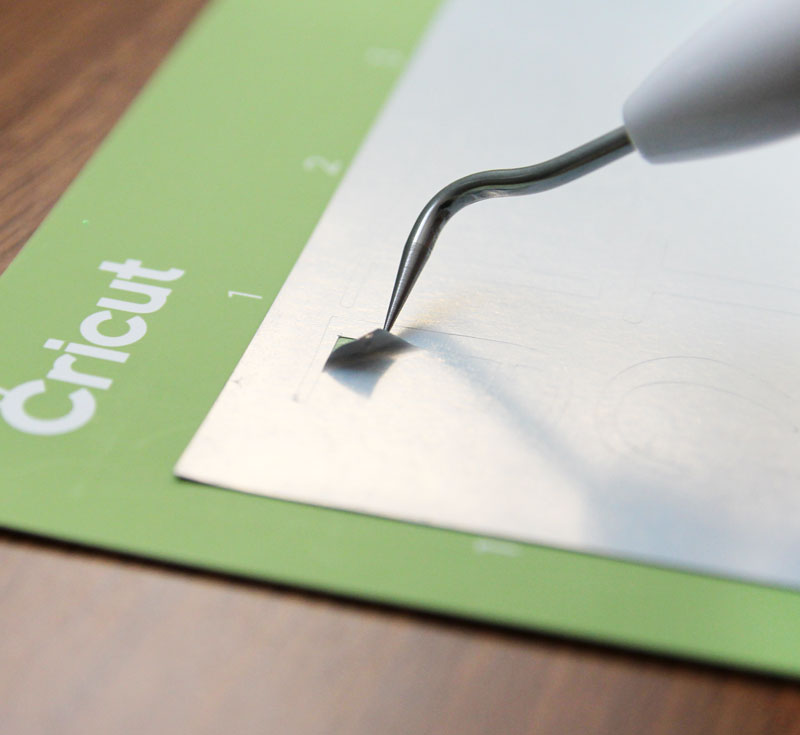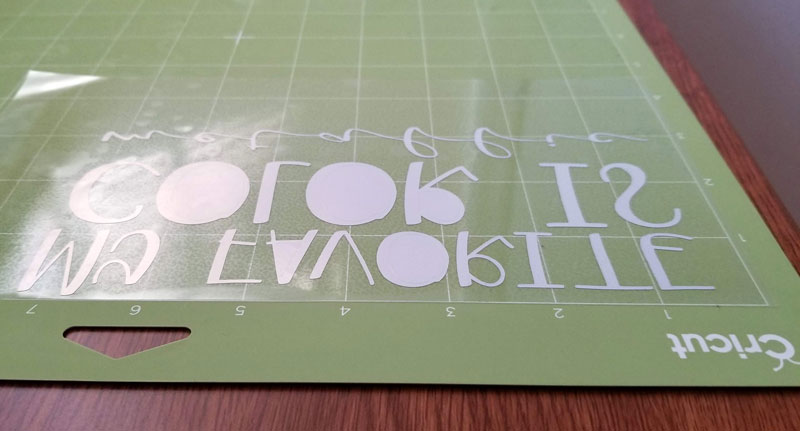 6. Follow the instructions on the package or on the EasyPress Heat Guide for settings. Keeping your EasyPress on the base, set your temperature and time. Wait until the Cricut C lights up green and lets you know it's reached the correct temperature.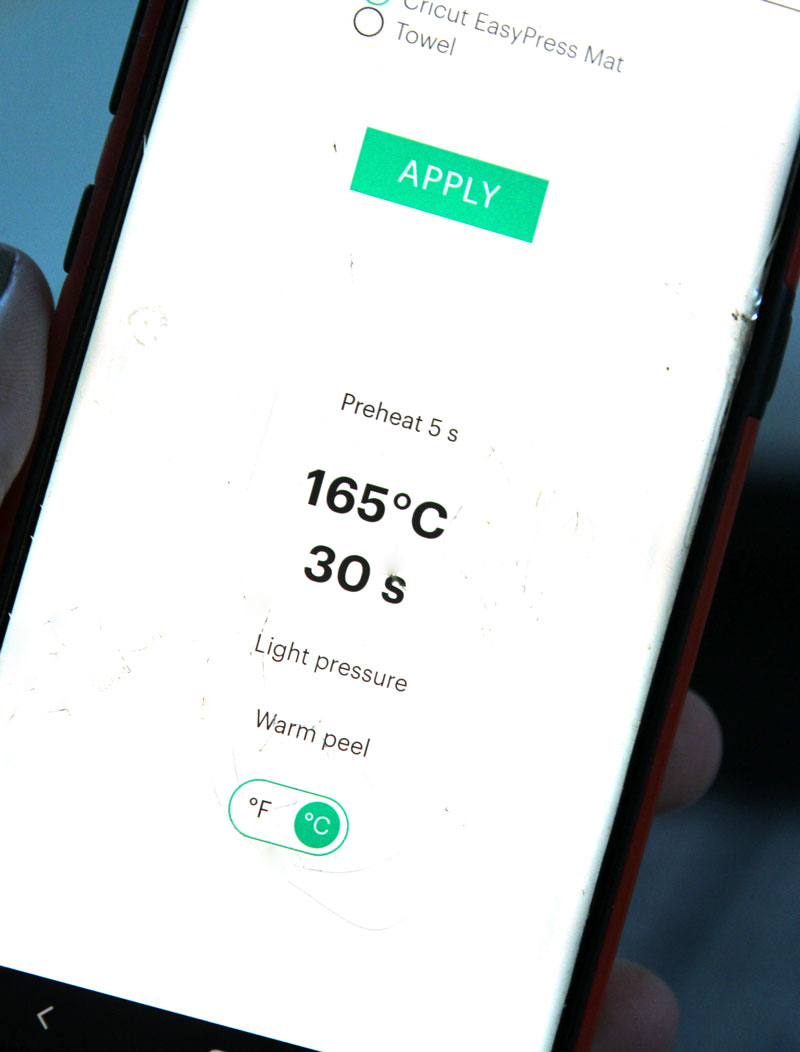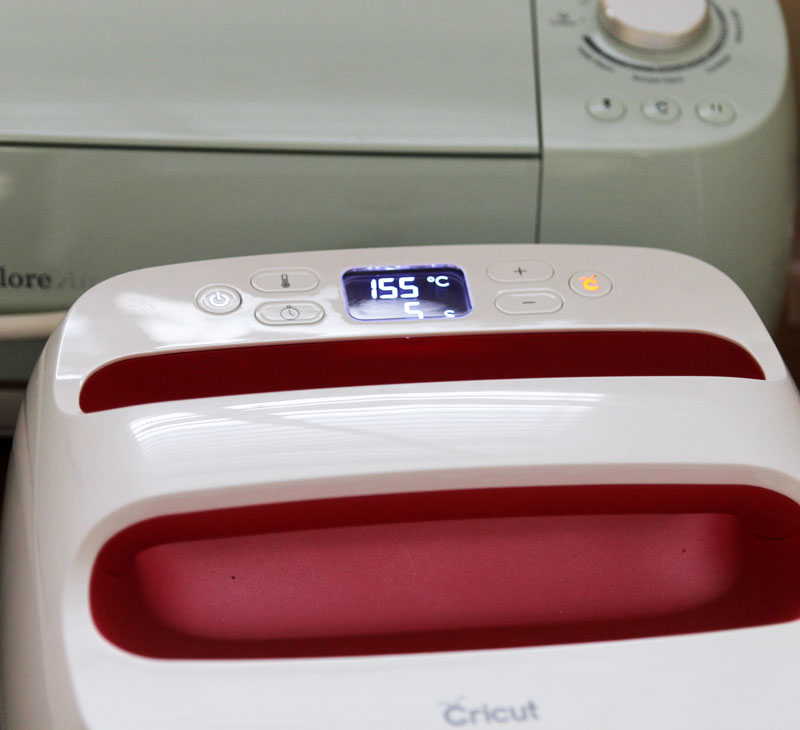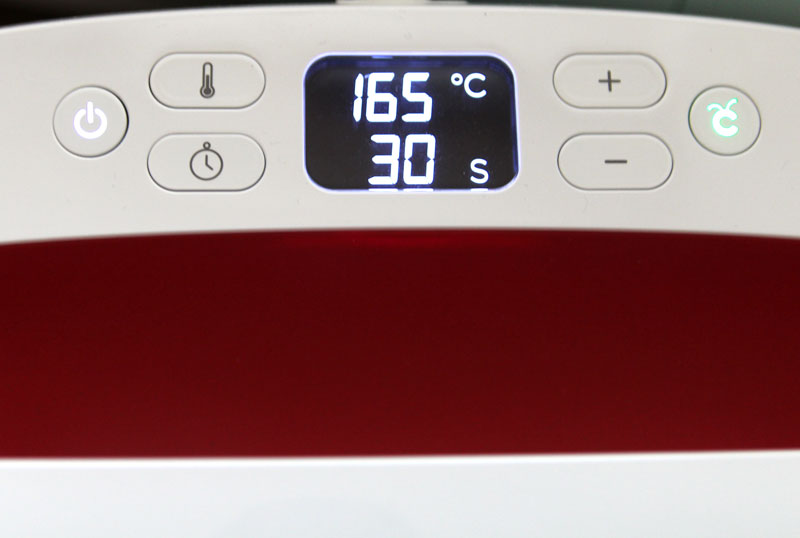 7. You'll likely need to first heat your shirt. Once you've done this, Place your material exactly where you'd like it.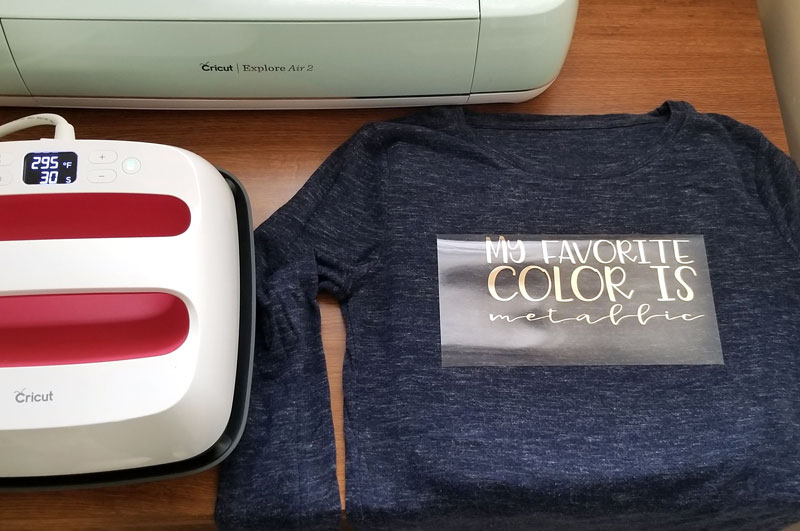 8. Set your EasyPress with the recommended time for ironing on your design to your material. Place it on top and apply some pressure to adhere it to the base surface.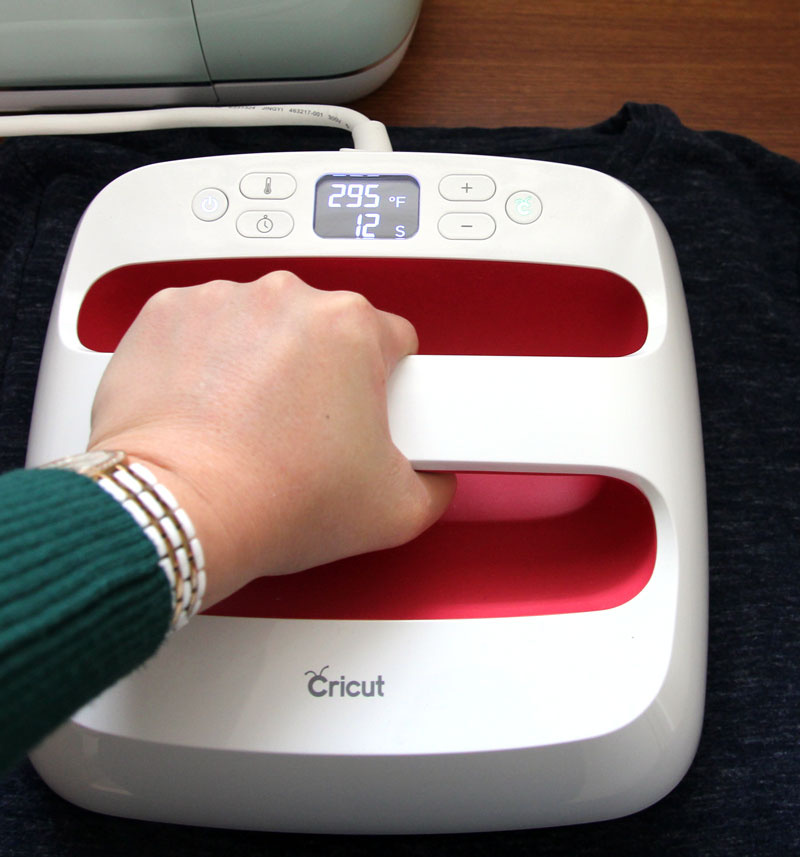 Continue to follow the instructions – pressing it from the back if required, peeling it off cool or warm.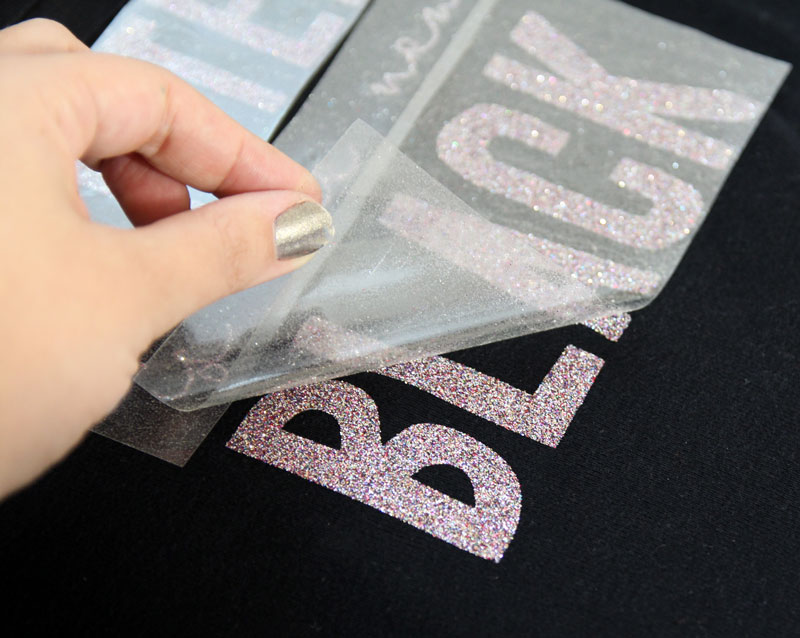 Your shirt is complete!
I hope you enjoyed learning how to make a tshirt with Cricut EasyPress 2! It's a learning process, so if you have any questions please drop them in the comments!