So, how can I possibly claim to have the best potato kugel recipe? Read on if you want to know! (Note: this post contains affiliate links.)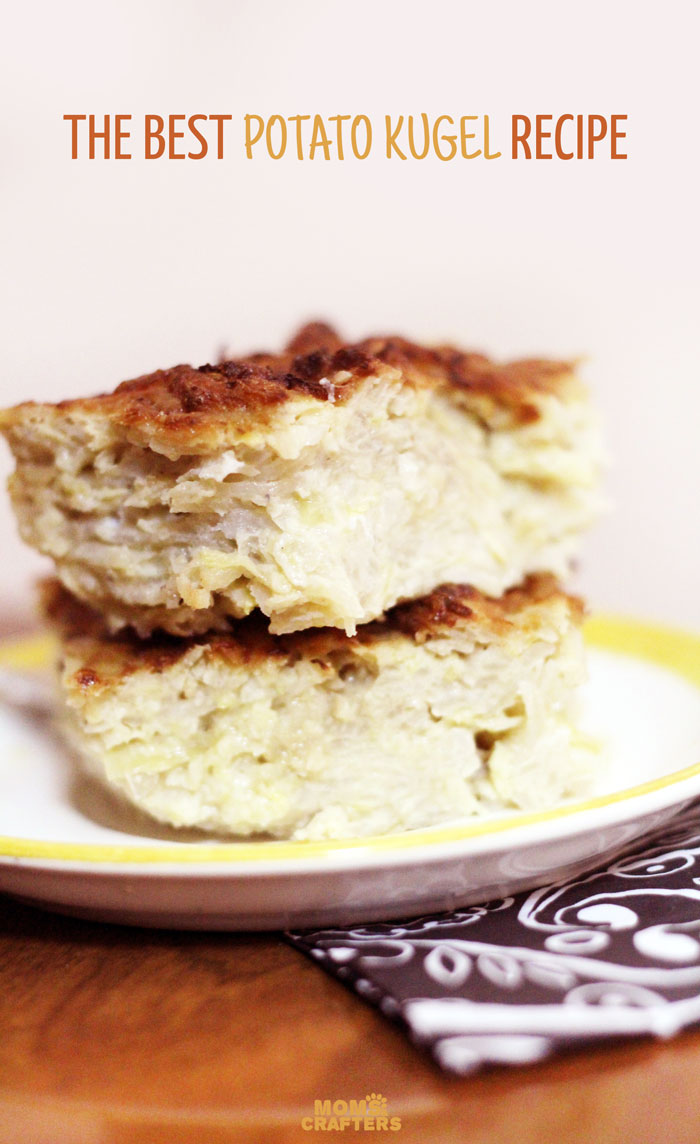 Potato Kugel is a traditional Eastern European Jewish food, and is very popular among Jews today. We like to serve it at our Sabbath and holiday meals, and it's a weekly staple in many homes.
I've eaten at many homes, both strangers and relatives, visited many synagogues that served kugel, and tasted so many different variations of potato kugel. But no potato kugel recipe was ever quite as good as my mom's (you can even ask the neighbors!).
So, I took my mom's recipe, improved on it just a little bit, and now I believe that I have the right to call this the best potato kugel recipe ever!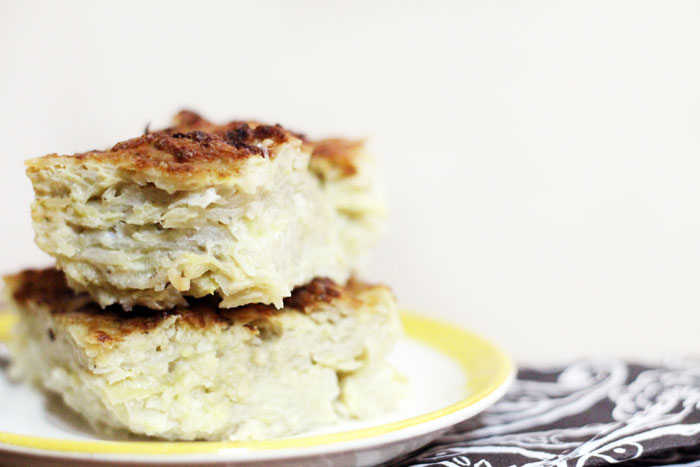 Children love helping to make this dish! From prep to finish, there's something little kids can do. Since it's a bit of a project, my mom always told us that she'll make potato kugel only if we help out. So from a young age, we'd help peel the potatoes, man the food processor (with strict supervision), crack the eggs, and mix up the batter (with our bare hands, of course).
Potato kugel freezes nicely. You just need to make sure it's wrapped well, and that you reheat it in the oven so that you keep a good texture. This recipe makes a 9×13 inch pan plus a loaf pan. We usually eat the loaf pan fresh, and then the big pan is polished off within a few days. It rarely makes it to the freezer…
How to make the best potato kugel recipe ever!
The kugel is made of shredded potatoes, onion and zucchini, together with some other ingredients. The secret of the zucchini: it transforms the texture while sneaking some veggies into a very kid-friendly food! The exact balance of egg and oil is also an art that my husband and I experimented with a lot before we came up with this. You can make it lighter by skipping some of the oil, and it will be almost as good.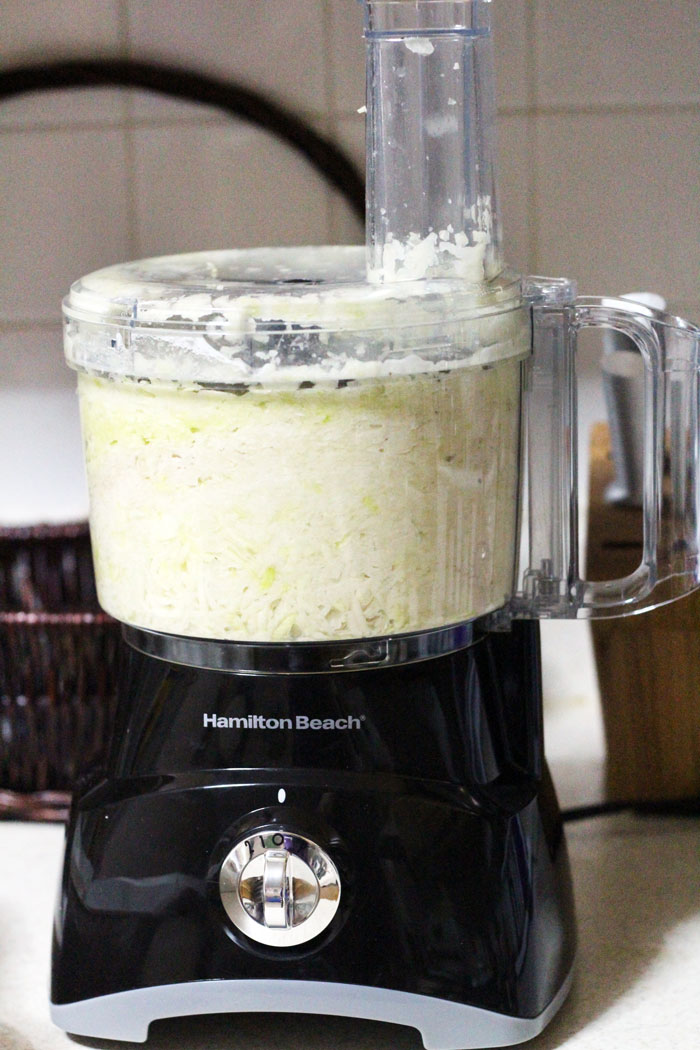 I shredded the vegetables using this food processor (I just bought it from Amazon exclusively for kugel, and love it!), making the job so much easier. Use the shredder (round blade) with the shredding side up (the small blades, not the larger blade.) Children can help feed the vegetables in (while it's off, for safety) and press the button to start it.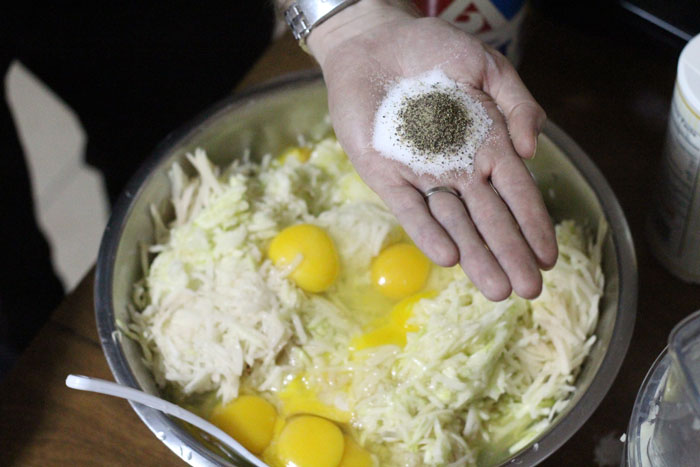 This is a true "mama's recipe" and salt and pepper are NOT actually measured, though I did put measurements in the recipe card below. We usually do a pile the size of the palm for salt, and a small heap for pepper.
[yumprint-recipe id='1′]
Yup, we do mix it by hand! This gives us more control, plus it offers lots of sensory fun for little ones. Just make sure everyone washes hands very well before they start.
When making a batch this size, you WILL need a very large mixing bowl. We sometimes overflow into the pans too, and split up the mixing job. You can do a half or quarter recipe, but why would you want to? This is, after all, the best potato kugel recipe ever!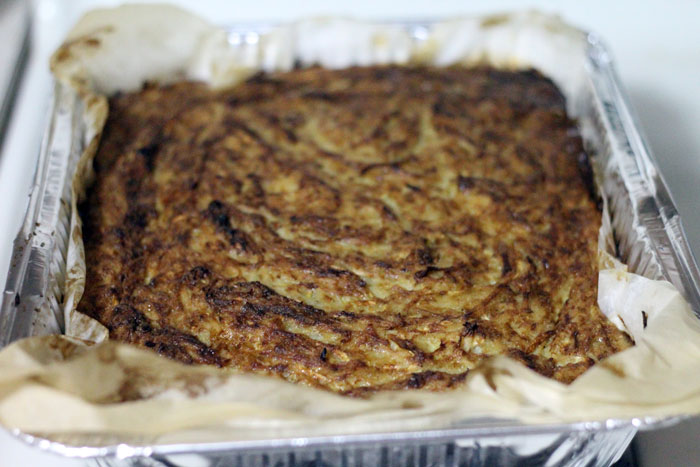 Have you ever had potato kugel? If you gave it a try already, do you agree that this is the best potato kugel recipe?