Are you new to crafting jewelry? As a follow up to my jewelry making supplies for beginners, I have created this guide to beads for beginners, so that you can navigate that complicated world. (Disclaimer: this post contains affiliate links)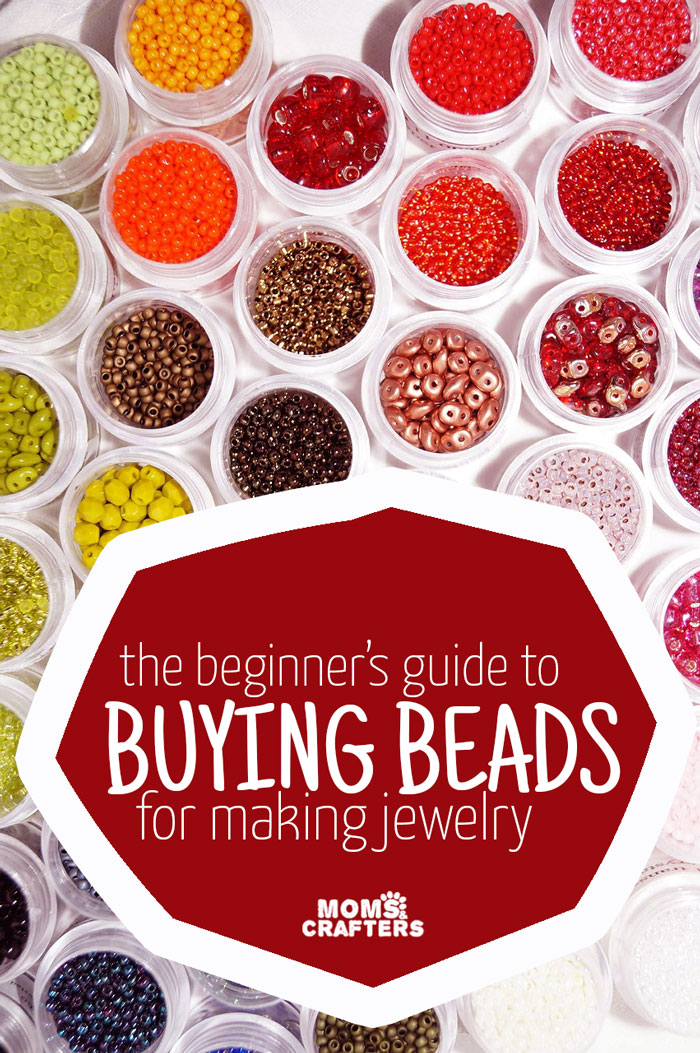 Beads come in a huge variety of shapes, sizes, colors, and most importantly, materials. There are thousands of options to choose from, and it can get very overwhelming.
When you are setting up your jewelry-making stash, you'll probably be tempted to get ever single bead in the store. It's the funnest part of supplies shopping (for me, at least), and knowing what you NEED will help you figure out where to start. Follow this guide to help you learn how to discern between bead types and materials, and find out which beads are great for a beginner!
---
Want to learn how to make jewelry out of anything – not just beads? Get the book!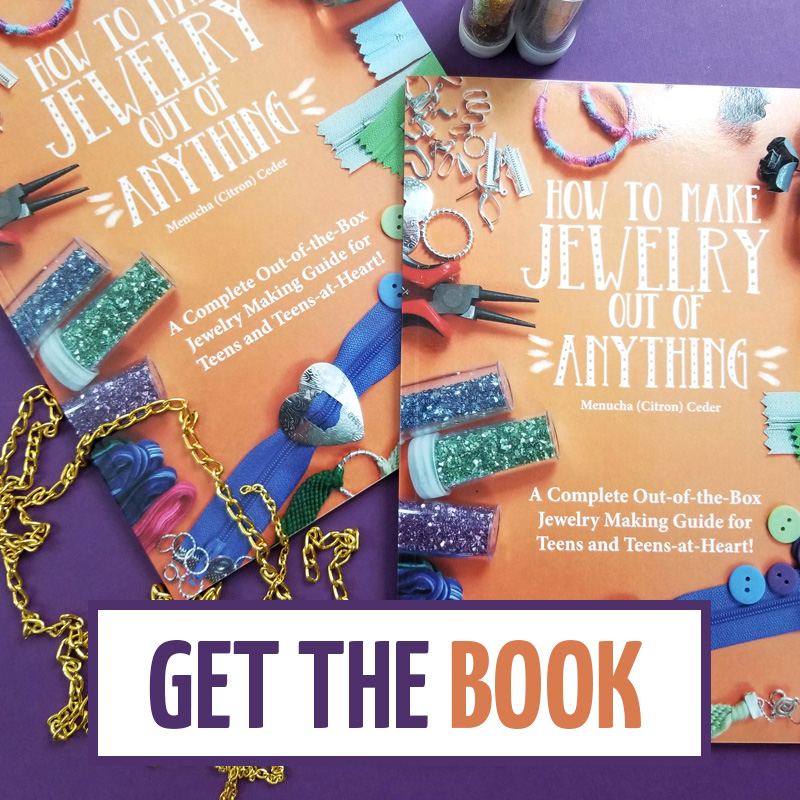 ---
Differentiating between beads for beginners:

Colors – Of course, beads come in the largest variety of colors, tones, patterns, etc. These are often defined by the material, but not always. Even natural beads are often dyed or bleached. I'd recommend starting off with some neutrals, and then purchase colored beads on a per-project (or "what's on sale") basis.
Materials: Beads come in a HUGE variety of materials, which I will outline below.
Different types of beads: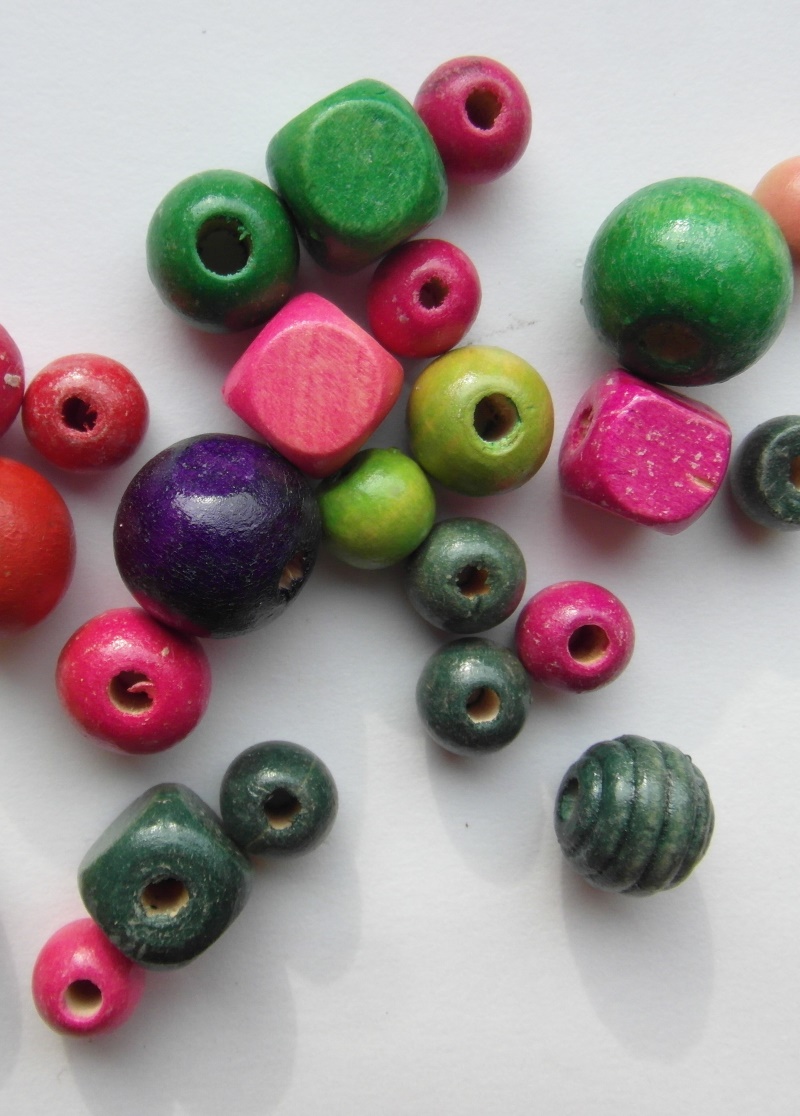 "Types of beads" generally refers to the materials that they are made out of, but are not exclusive to that.
Materials: cheap but quality beads will often come in glass and wood. Glass beads has a huge selection of effects, styles, and more -which there is no use in my going through now (it will just overwhelm you). If you want to learn more, browse a bead catalog, book, scour a website… My favorites are simulated pearls. In my opinion, plastic or "acrylic" beads look like children's play (with a few exceptions.)
You can also get crystals, including Swarovski branded Austrian crystal for more upscale designs. These are a popular choice in higher end costume, and sterling silver jewelry. They simulate the sparkle of a high quality cut gem stone, but without the cost.
I love playing around with inexpensive gemstones and pearls (though you can get high-end stones too.) The variety out there is massive! I tend to bargains hop with these, but you don't really need to, as they have value.
Other materials include horn, shell, rubber, metal, and more.
Cabochons – these are un-drilled with a flat back, and can be glued, wire wrapped, or set.
Seed beads – are those tiny beads that come in a massive rainbow of colors. People literally make huge drawings by weaving seed beads. You'll only need these if you plan to do woven beadwork (I don't).
Focals – These aren't really beads – they are components, but are often sold alongside beads and made of the same materials. They are larger pieces that are meant to be the decorative focal point of your piece.
Spacers: spacer beads come in many forms and sizes, and are generally used to add a little dimension to a strung piece. For me, 3 and 4mm metal balls are standard.
So where should you start with beads for beginners?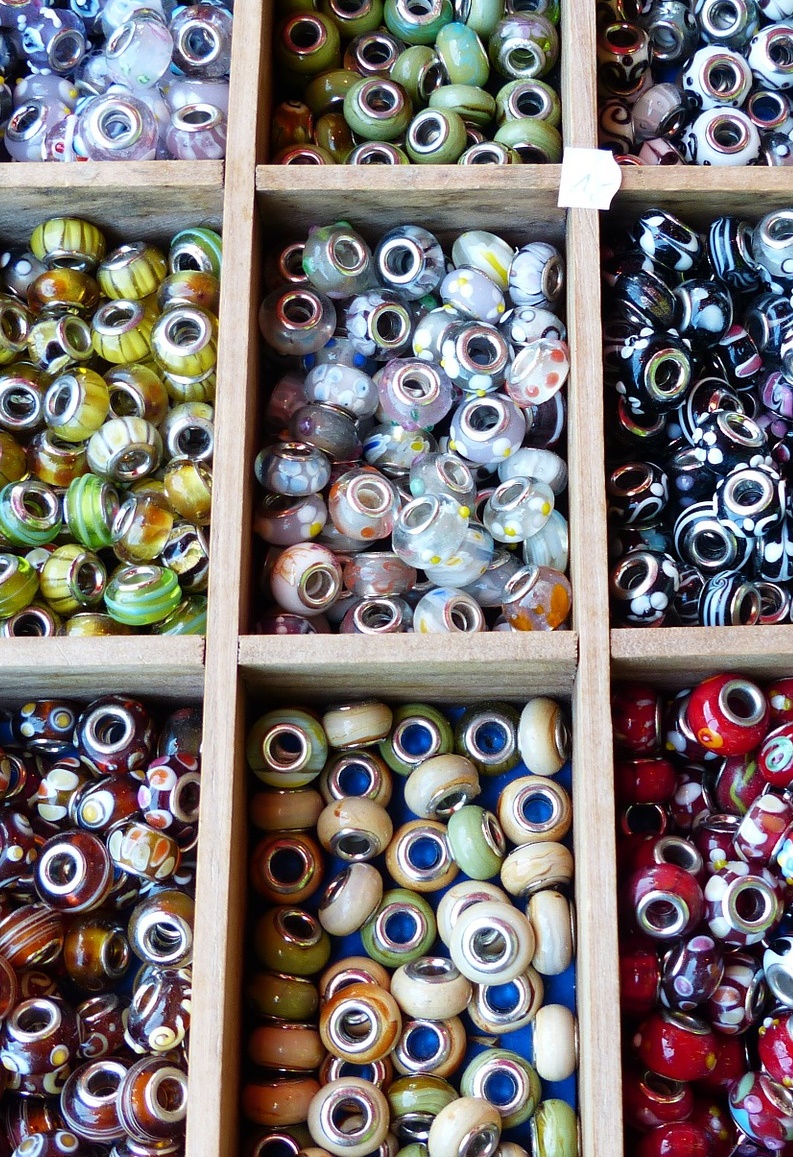 Start off with a few styles in some basic colors, and sizes as listed above. Start with glass bead mixes and pearls, and wood beads, plus the metal balls if you plan to follow along with my crafts. You'll want to buy beads more specifically for each project, but having some basic colors that can coordinate with others is a good place to start.
Look for sales at craft stores, Michaels
, Amazon, eBay, and more! You can find lots for sale on eBay, destash supplies on Etsy, etc.
I'd highly recommend figuring out the style of jewelry you like. Scour Pinterest, and Etsy not to imitate but to see what pulls your eye. Start a small stash based on those beads. And finally, set yourself a budget, and use it smartly. Allot, say $50 (depending on how much you're putting into your initial stash) and find how you can best assign it.
And finally, keep in mind just how many beads you'll be needing. Some pieces are built almost entirely of beads. Some use beads as accents. Don't overdo it, but have a good selection handy.

Want to know where to buy beads? I shared my favorite places, what I like about each, and when I shop where right over here!
Any questions regarding beads for beginners? Feel free to comment below, and I will reply ASAP!
---
Want to learn how to make jewelry out of anything – not just beads? Get the book!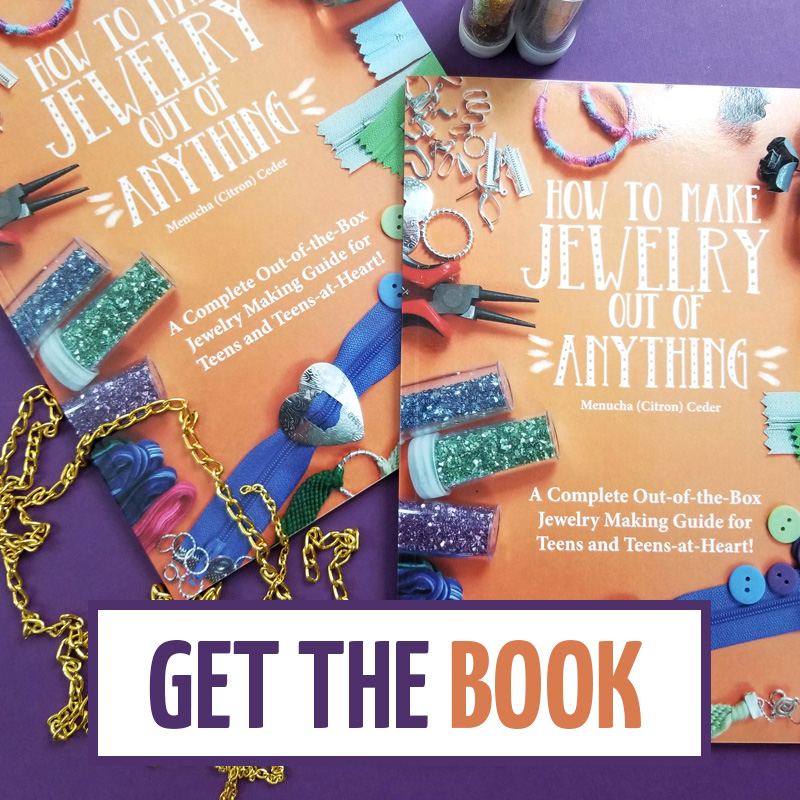 ---