Wire wrapping is such fun – and the possibilities are endless! This wire wrapped bracelet tutorial steps a little outside the box, and brings you something that's so on trend, and easy to customize.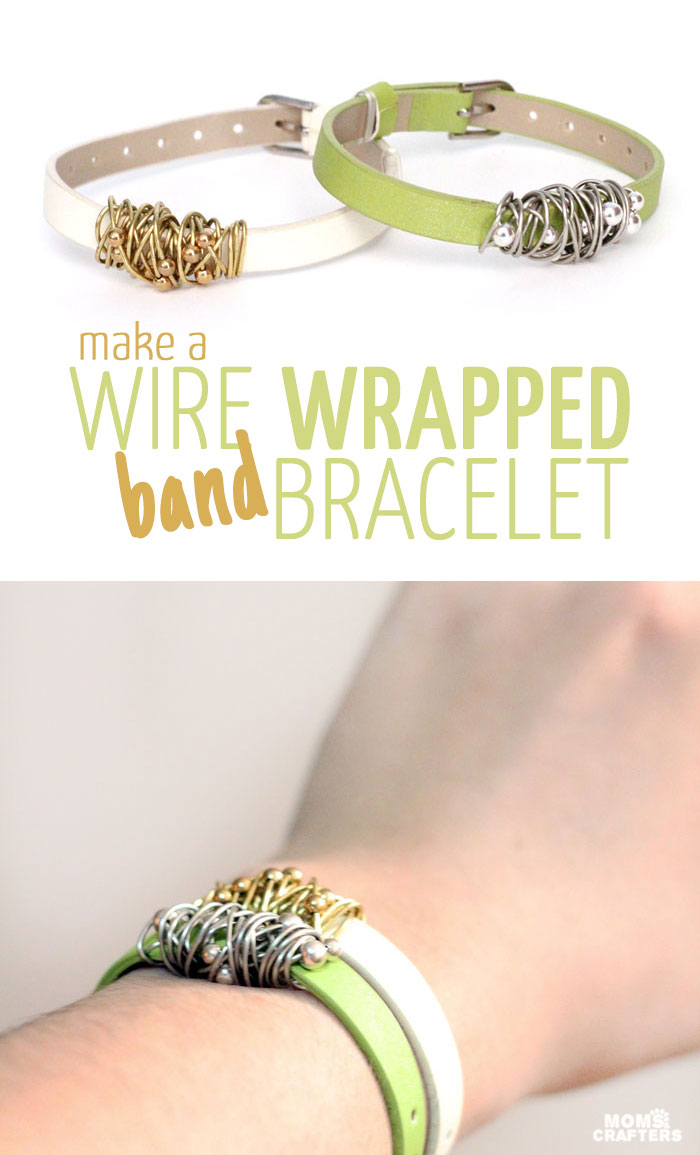 The entire craft took me all of ten minutes (I timed it while videoing…) That means that whether you're a busy mom who needs to do this quickly during nap time, or looking for a quick teen party craft, this wire wrapped leather bracelet is perfect!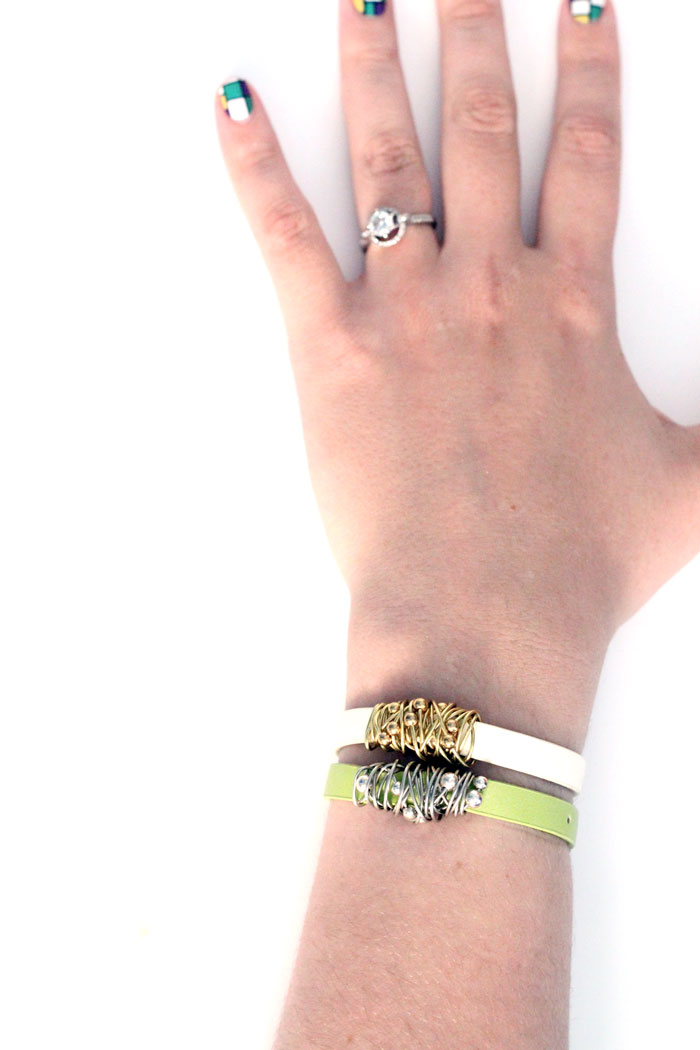 Wire wrapping comes in many forms and skill levels. I personally love those that allow for "free form" wrapping – just do it how you like it!
Choosing materials for this wire wrapped bracelet tutorial: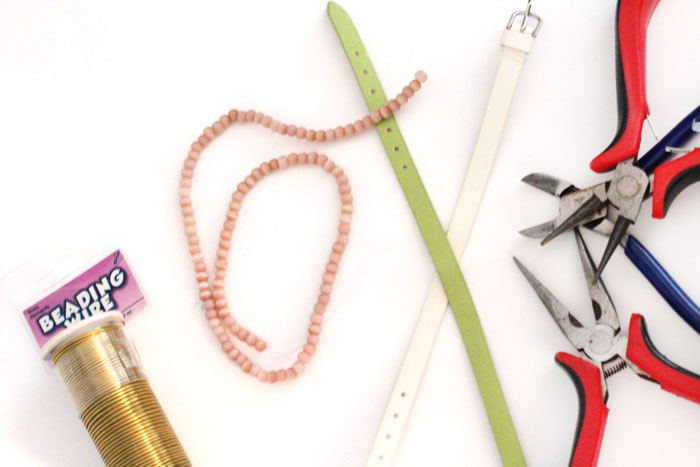 Knowing how to choose your supplies is the first step to making this bracelet really yours! I've included affiliate links for your convenience.
Wire: Wire is measured in gauge (ga). The higher the number, the the thinner the wire. I used 20 gauge wire for this craft. You can use wire as thin as 24 gauge. I usually recommend using thicker wire as it's more durable in such projects. However, if you are a true beginner, you will find that thinner wire is easier to handle and manipulate. Just make sure to tuck in a nice, long piece at the end!
I used a regular craft wire. You can use sterling silver wire if you'd like it to last longer. Sterling silver wire is easier to handle as well, as precious metals tend to be soft. If you'd like to use "real" metals, want the gold color, but don't want to buy straight gold, go for "gold-filled" wire.
Band: The exact bands I used are no longer available (hooray for clearance!). However, you can get very similar slider charm bases for quite cheap. They come in every color under the rainbow. My tip: aim for warmer colors if you're using gold wire, and cooler with silver.
Beads: While the accent beads are totally optional, they add a cool dimension and a lot of interest to the bracelet! This is also the easiest way to customize it. I used silver and gold plated brass beads in a 3mm size, and cat's eye glass in 4mm. (If you're using precious metal wires, you'll want any metal beads to be precious too…)
Whichever beads you choose, they should be between 3-4mm.
Tools: I made sure to have my basic trio of tools handy, though I only used the chain nose pliers and wire cutters. The wire cutters are naturallly for snipping. The pliers are simply to help you manipulate the wire and bend it as you need. There are no "rules" for using it in this craft.
How to make a wire wrapped bracelet:
Watch the video tutorial if you'd like, or scroll down for all the steps!
1. Unwind the wire from the roll (don't trim). String your beads and move them toward the spool. It's okay if you string extra beads – it's just good to have them there just in case.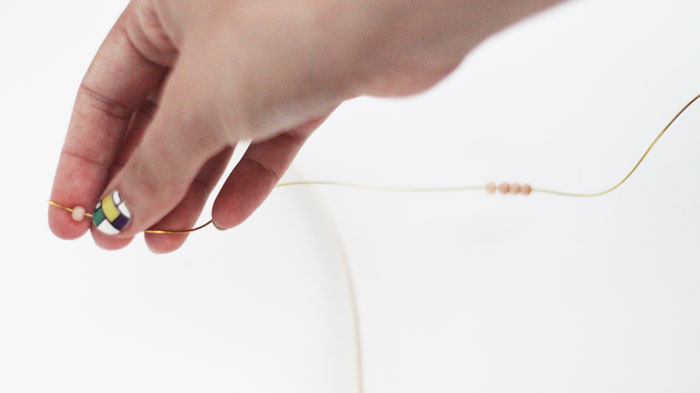 2. Figure out where you'd like the wrapped bit to be. Wrap the end of the wire there to start yourself off.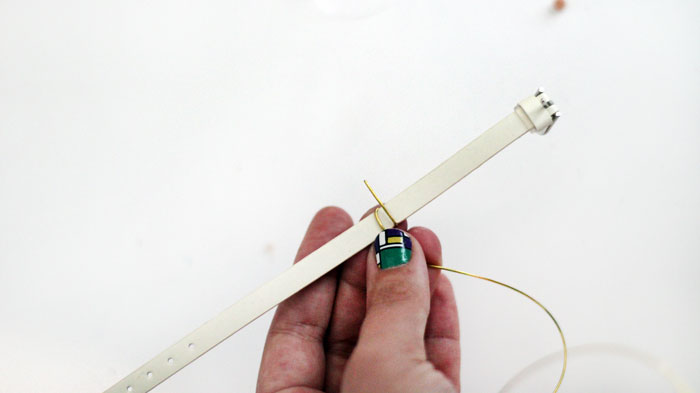 3. Fold the tip into the back. Make sure it's nestled into the band so that it doesn't poke! You'll cover it with all your wire wrapping later on, so don't worry about it much.
4. Start wrapping your wire around the bracelet! Pull it close against the strap, but don't squeeze or re-shape the strap.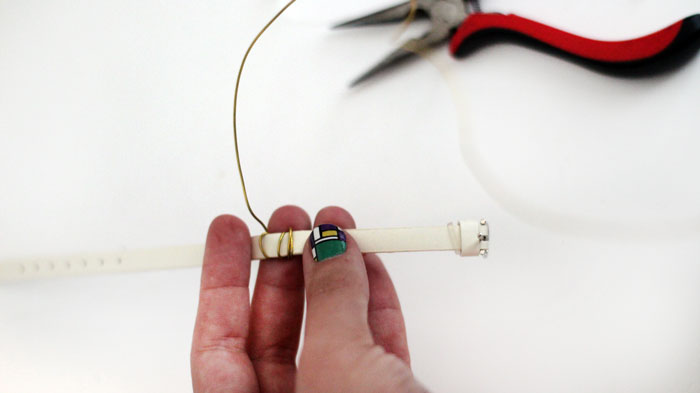 5. As you go along, pull beads forward and place them on the front of the bracelet.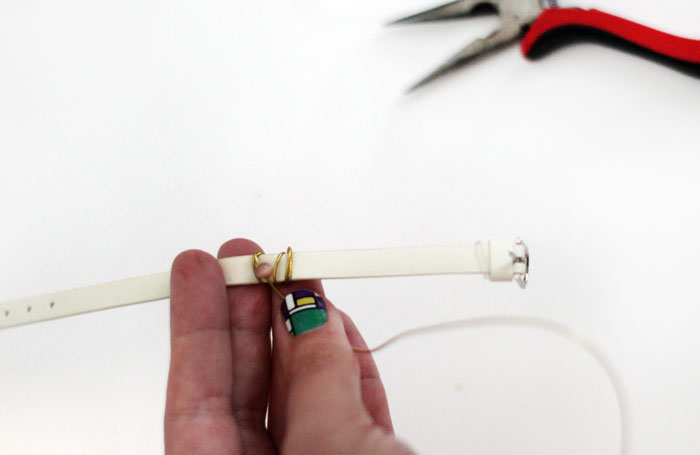 6. Continue wrapping and adding beads as you go along until you are satisfied with the results.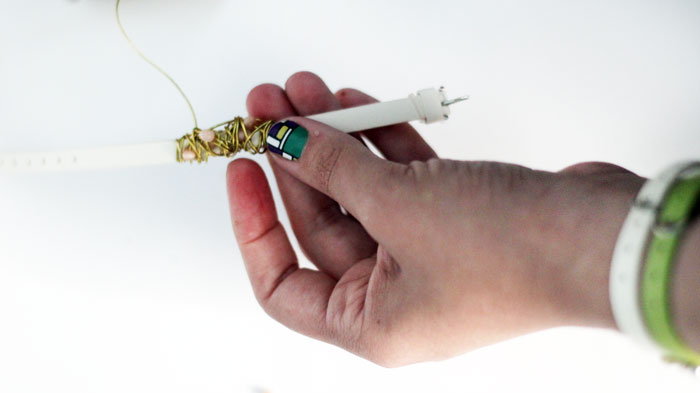 7. When you are finished, trim your wire leaving a quarter-inch (approx) tail. Tuck the tail into your wire wrapped jumble using the pliers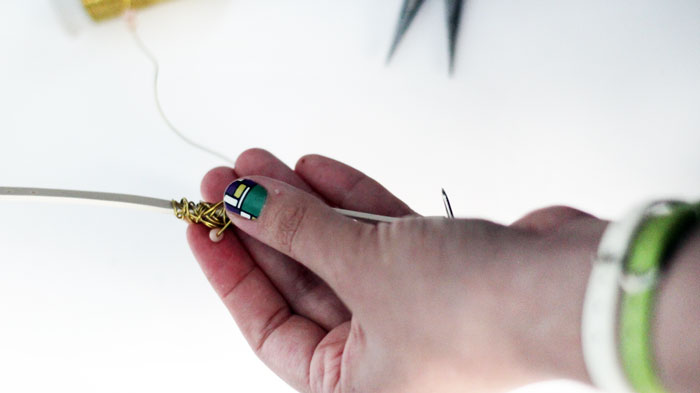 You can wear them individually or in twos. Give them as gifts (they are perfect for that!) or make them all for yourself. If you make one in each color you can have them for different outfits…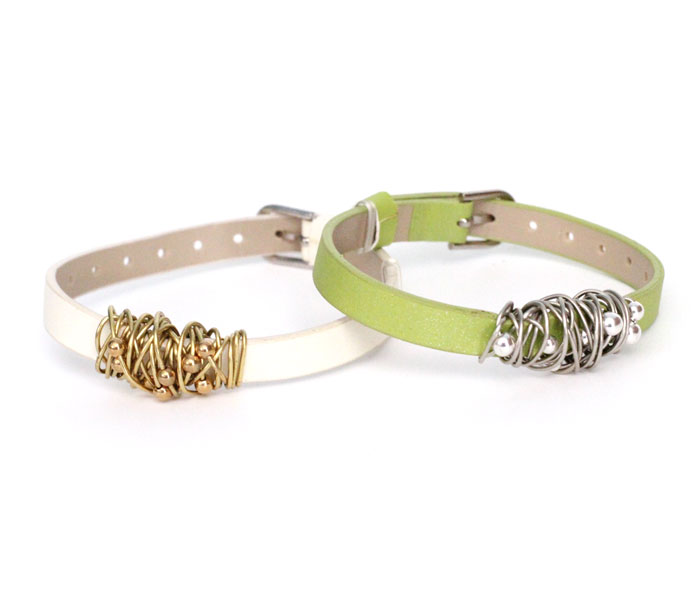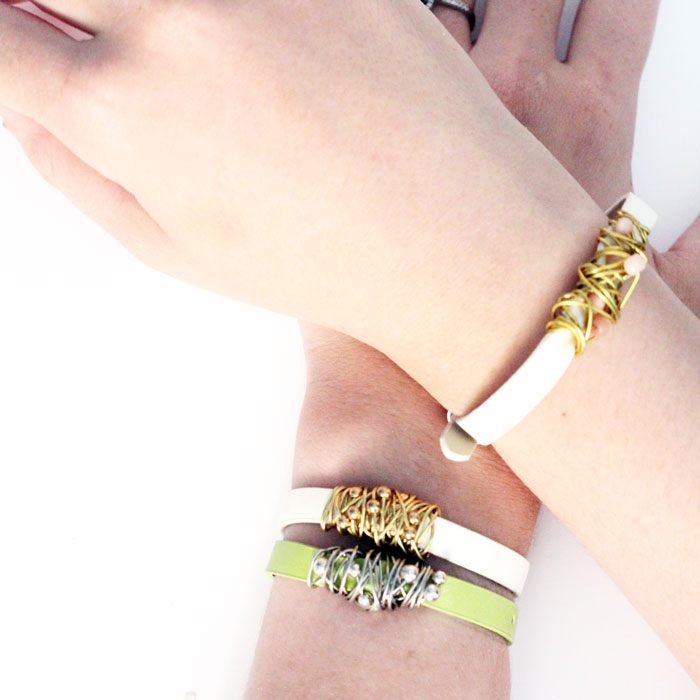 You can see that one of my bracelets has a neater, thicker wrap. The others are slightly messier and wider. You can choose the style you like and follow through! Wear, boast, and enjoy!
Do you love this wire wrapped bracelet tutorial? Follow my beading and jewelry making board on Pinterest for more great jewelry crafts (not just my own!)
Follow Menucha @ Moms and Crafters's board DIY Beading and Jewelry Making on Pinterest.