Make a simple paper hyacinth flower using the free printable template – in PDF for hand-cutting and SVG for cutting with your Cricut! Find my paper roses template here. This post contains affiliate links.
---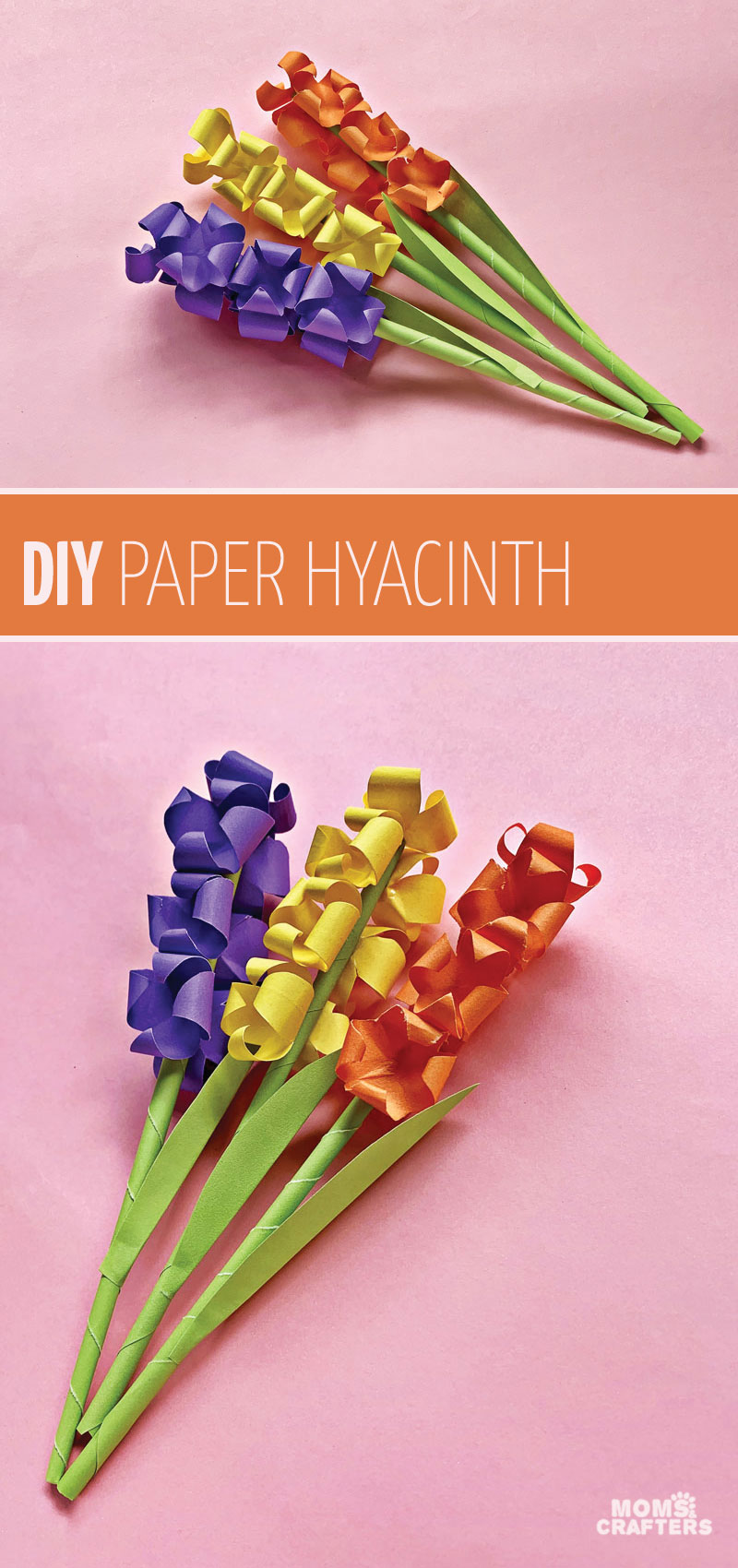 Paper is one of the most versatile, inexpensive craft materials as we all know, and paper flowers show how a little clever planning can get fantastic results.
Table of contents: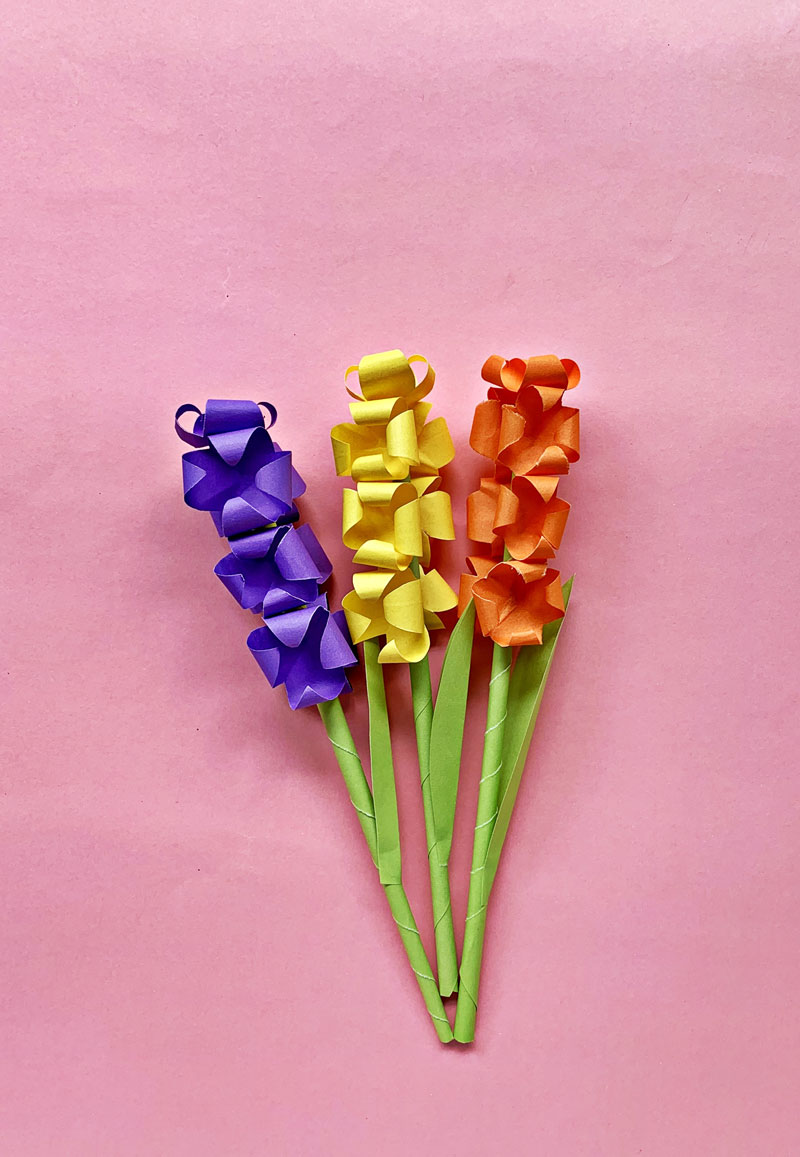 But you don't need to worry about the planning – I have it done for you with these paper hyacinth flowers!
The idea is really simple – you have a small flower that sits in rows at the top of the stem. You can work harder and make yours more robust or make it sparser – whatever suits your fancy!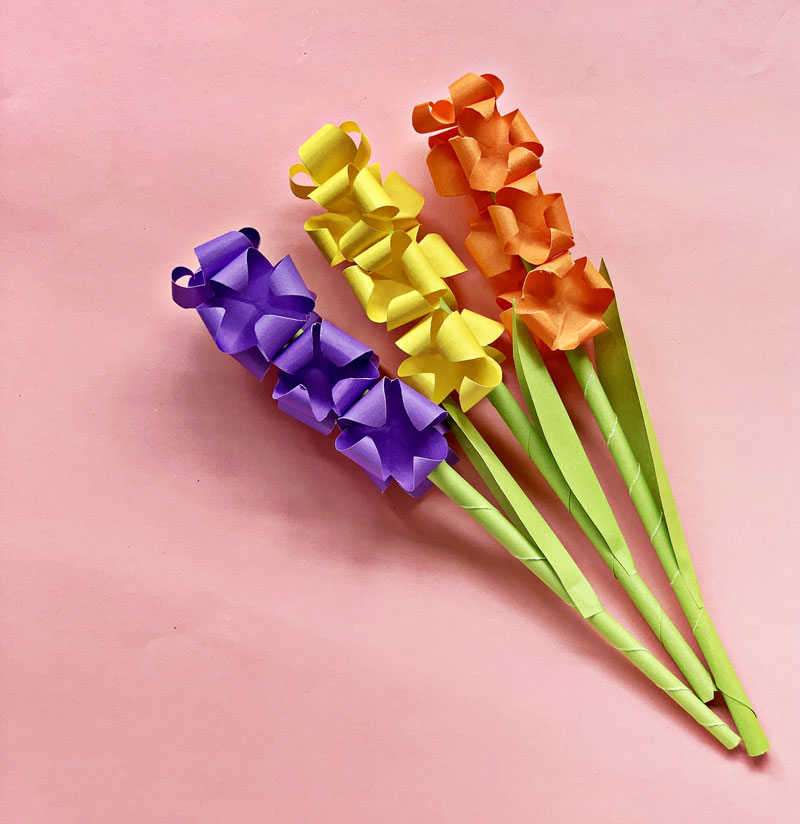 Because of its simplicity, paper hyacinth flowers are perfect paper flowers for big kids and beginners. The shape is quite simple to cut out and a little simple folding and rolling is what gives it its vibrancy and character.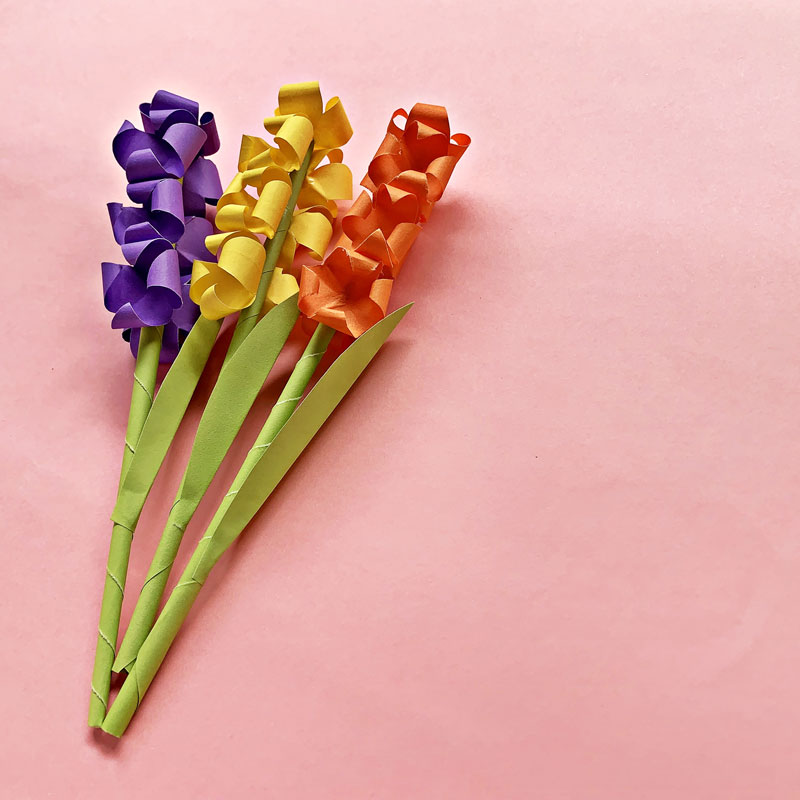 Make these in purples, pinks, whites, blues, yellows, and oranges. Look to nature for inspiration when choosing your colors – or just use your imagination!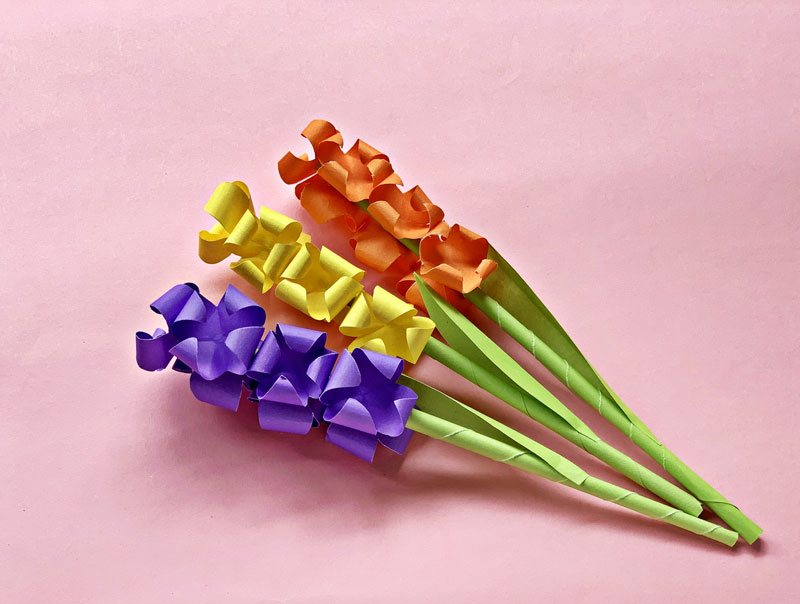 Of course, you can tweak this template to make it how you like it – variegating the sizes more to mimic nature, tinting the ends for a more textured look, clustering more, smaller flowers.
I like to keep my instructions simple to make it doable for everyone, but if you're ready, do take it to the next level!
Download your free paper hyacinth flower templates
You'll receive a ZIP folder with a PDF and an SVG. The SVG is for using with cutting machines (you'll be able to adjust sizing, fix colors, duplicate as many flowers as you'll want). The PDF is ready to print, trace, and cut by hand. If you need help, this article can help you unzip your file (it's really easy once you learn)
Supplies you'll need for this paper flower craft
Scissors
Glue – I like Tacky glue for paper flowers because it's not too "wet" and it holds faster than school glue but it's also cheap and easy to use. It doesn't dry too quickly to correct mistakes.
Pencil
Dowel or other round item
How to make paper hyacinth flowers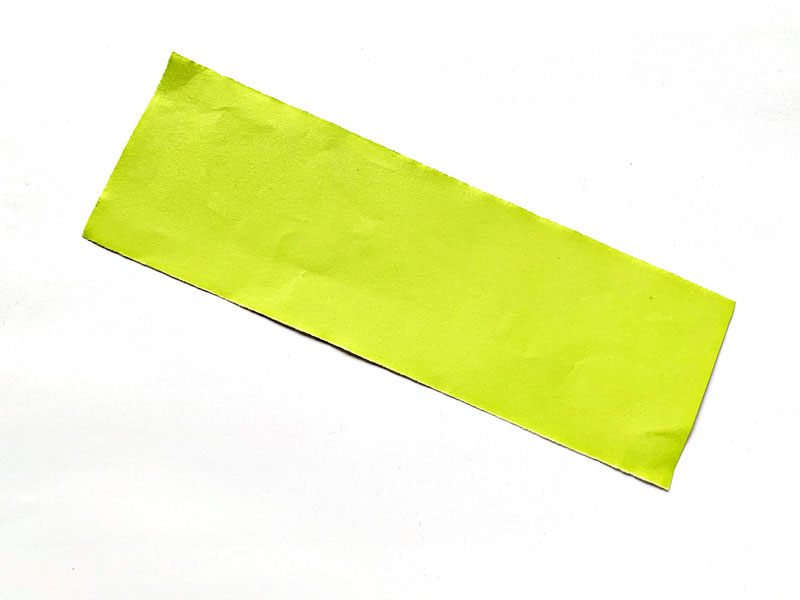 1. Cut your stem
Cut out a green rectangular piece of paper (6-inch x 2.5 inches). You can also use the rectangle on the template to measure your size.
2. Roll your stem
Roll the green paper into a tight stick. Glue it shut to seal it.
3. Cut your flowers
Cut out the flower shape 7-10 times. Fold it horizontally and vertically to create some petal distinction. Unfold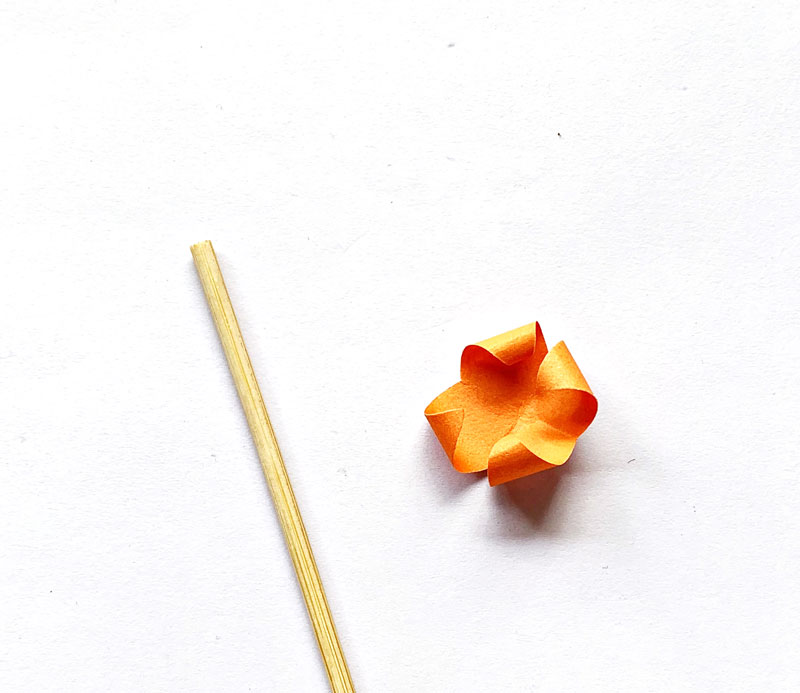 4. Roll your petals
Use a dowel or similar round item to curl your petals inward. Repeat for all of your flowers.
5. Build your flower
Start gluing your flowers around your stem, starting at the top and moving downward, to create your paper hyacinth flowers.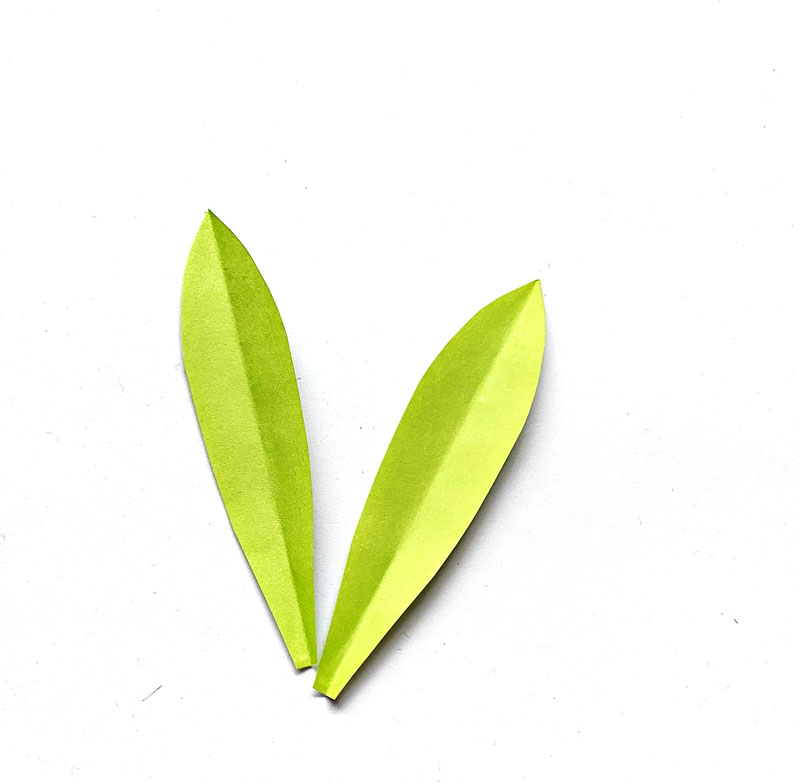 6. Cut your leaves
Cut out and fold your leaves vertically. The fold simply serves as a "vein" running down the center. It also does help it curve inward a little.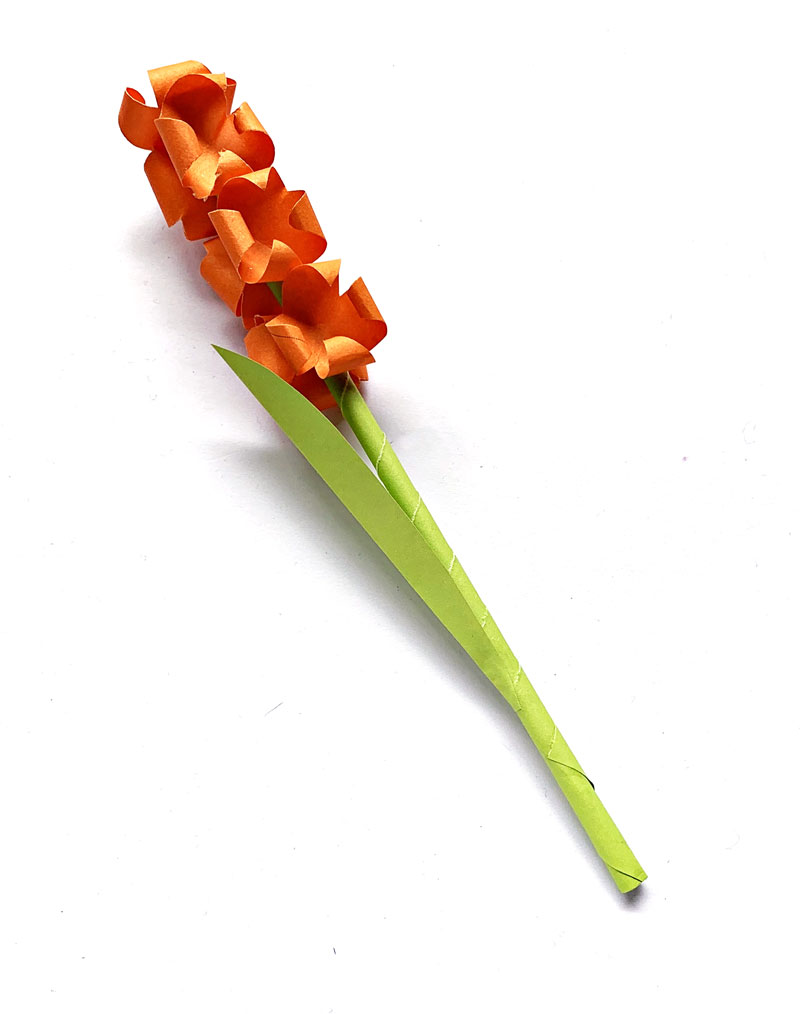 7. Attach your leaves
Attach your leaves to the stem at the base. Repeat, make more paper hyacinth flowers in your favorite colors and gather them in a small jar.
Your paper hyacinth flower is complete! Which are your favorite colors to make these? What are your favorite paper flowers to make? Comment below!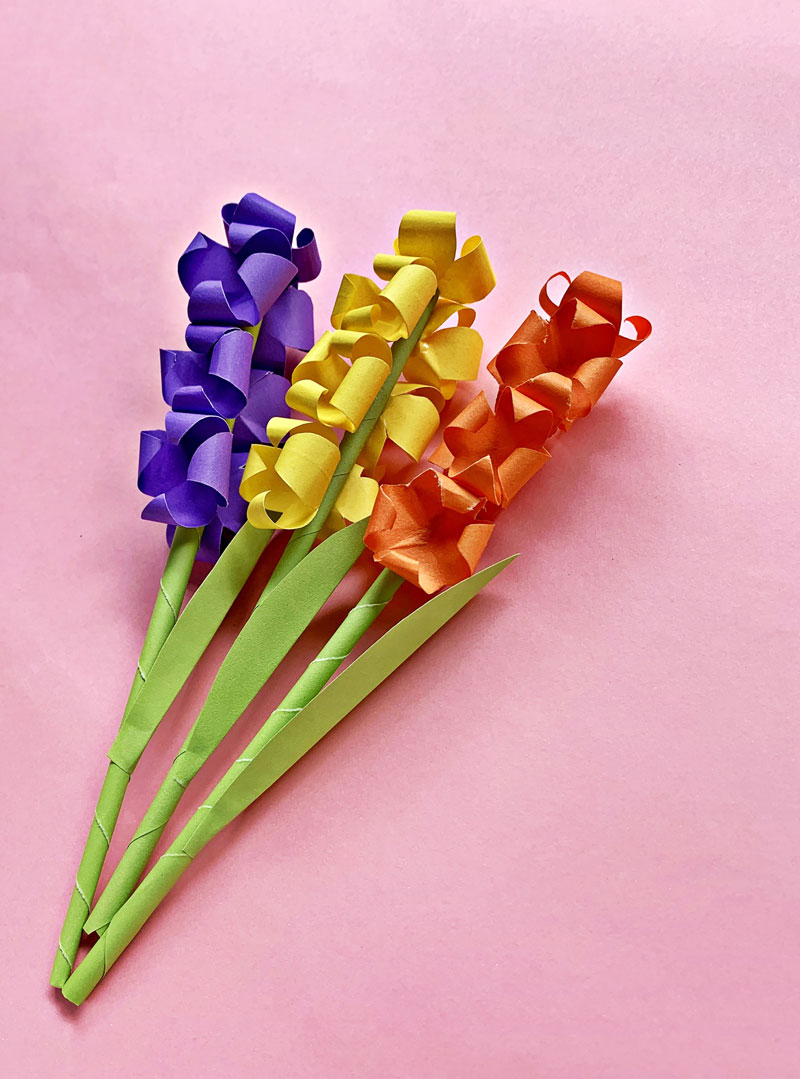 More paper flowers and other cool paper craft ideas
Craft a paper flower card using the free template! This is fabulous for Mother's Day! If you prefer something more kid-friendly, try this mother's day …