With the cold weather heading this way, we're gearing up for some cold prevention and care! I find it my sacred duty to keep my baby as healthy as I can, and this season is no different. Kleenex has kindly sponsored this post of toddler care tips, full of fun ways to keep the winter comfortable cozy, even if the sniffles set in.
A little bit of extra care and some simple tips will help you get through the cold season with happy, healthy tot.
Last year, I shared my best tips for wiping a toddler's nose. If your toddler is anything like M, she probably doesn't like when you mess around with her nose. But it's really not that difficult to make this season about memories of cuddles, fleece blankets, and hot chocolate if you're up to that.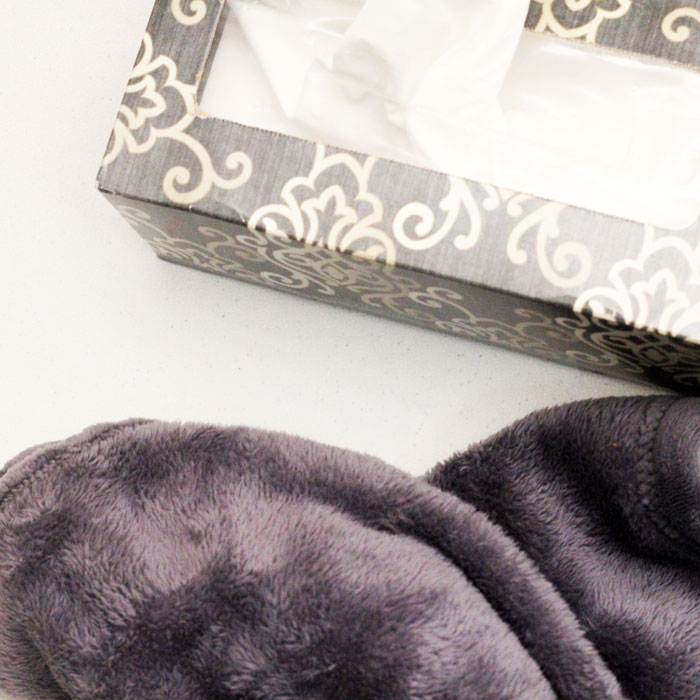 Practical toddler cold tips:
Make sure that your child's room is well-ventilated so that it doesn't become a germ trap. Pair that with warm PJ's and layers. An air purifier can help too.
Be wary of germs. Wash hands often. If your toddler goes to a playgroup or day care, make sure that he doesn't share germs with other children there. The CDC recommends coughing or sneezing into a facial tissue and then throwing it away. Unlike others, Kleenex facial tissues are designed with this in mind.
Wear a scarf outdoors – even on mildly windy days. It will help keep your tot comfortable, plus there's nothing quite as cute as a toddler wearing a scarf!
If your toddler's nose is all stuffy, use saline wipes. If you don't have any handy, spray saline spray onto regular wipes. This helps get your tot's yummy, clean face back, and helps clear passages. Use this occasionally, not for every wipe (you don't want to irritate the skin with too much wet.)
Make "toddler tea". Tea is one of M's favorite drinks! Once you have the go-ahead for honey from your doctor, this is a great way to keep warm, soothe an aching throat, and clear the passages.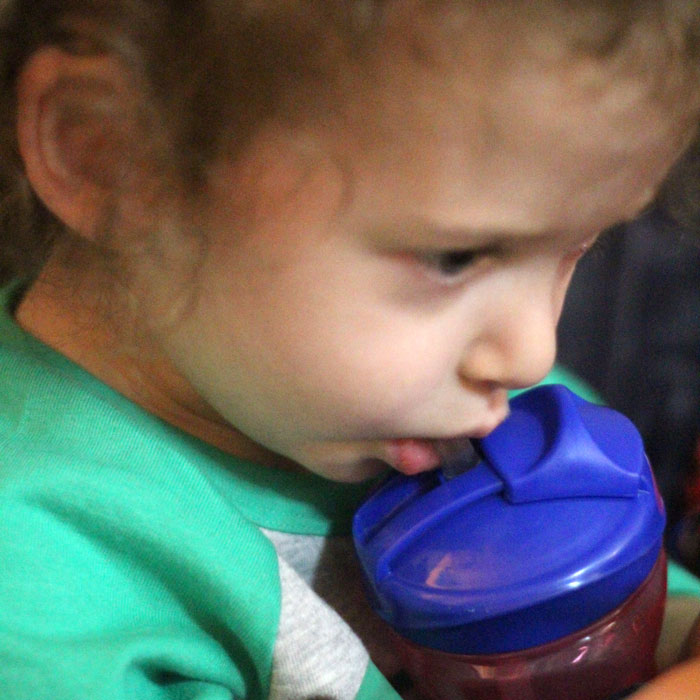 Here's how I make it:
Heat up water in a kettle.
Place a tea bag and half a teaspoon of honey in a straw cup.
Add an ounce or two of hot water.
Cover well, close the straw, and shake gently. If you shake too vigorously, the tea bag will split. Shake it just right and you don't even need to let it steep.
Remove the tea bag and top off with tap water.
Make sure it's lukewarm and not hot before giving it to your tot.
Use a humidifier in your toddler's room. This can help ease dryness in the room (plus, it can help lower your heat bill.)
Raise the head of mattress. I do this by rolling up fleece blankets or similar props and placing it underneath one end of the mattress. I put him to sleep with his head on that end.
Use soft tissues. I do it for myself, so I do it for my toddler! When he just has sniffles, I use Kleenex Ultra Soft facial tissues. When we're using them more often in the day, I use Kleenex facial tissues with lotion to prevent dryness. I let him blow (I do touch-ups) for the most part. We make a game of it, and he blows from the mouth. He then "gets to" throw it out himself! (He is obsessed with the garbage, as many toddlers are…)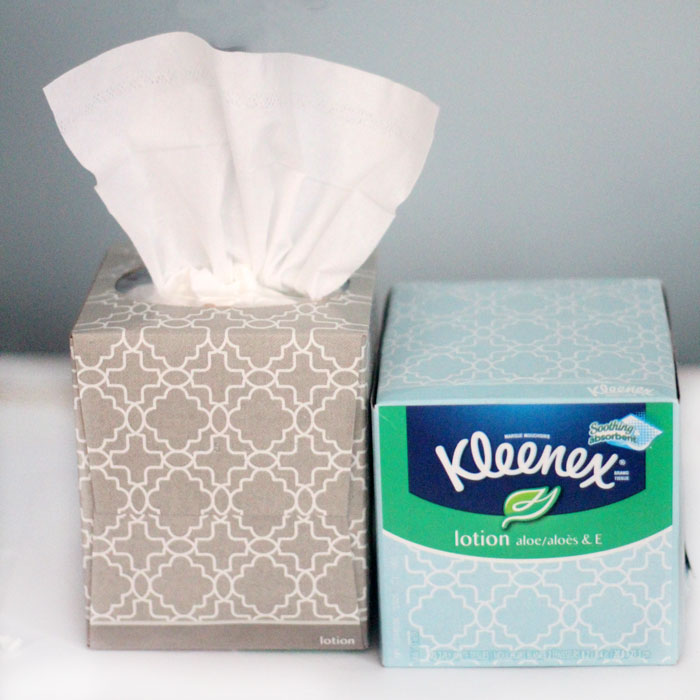 Give lots of hugs! Make positive autumn and winter memories that let the sniffles fall to the side, and the cuddles come to the front!
Life is full of changes to show we care. But so often we miss them! According to a survey conducted by Kleenex Brand, nearly 50 percent of people miss opportunities to show how much they care, especially with everyday circumstances, such as common cold. You can share a message of care with this fun tool – go ahead, give it a try!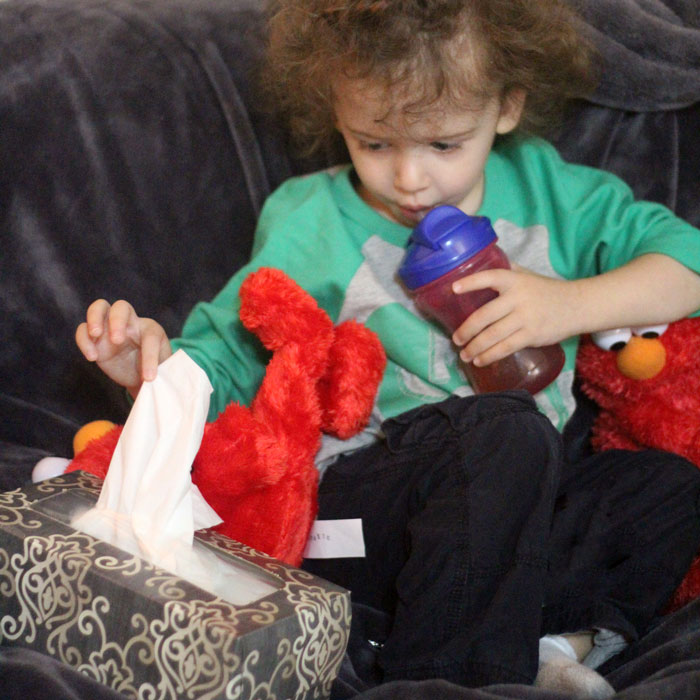 Make this winter the time to really care for your tot, give lots of love, and empathy. Snuggle plenty, keep warm together, and stay healthy together. Make cozy winter memories!
Cozy up with some throws on the couch, and a good movie, with this special offer! With the cold and flu season practically here, head over to the Walmart pharmacy section to stock up on Kleenex facial tissues so that you are prepared! As an extra perk, you'll get a $5 VUDU credit when you purchase either a 4-pack of 75-ct Kleenex Ultra Soft Tissues or Kleenex Tissues with Lotion. Some will be marked and some not, but all Lotion and Ultra Soft four packs are eligible for this offer.
Offer Details: Redeem by purchasing qualifying item and star/check the item(s) and the date of your receipt. Snap a clear photo of the entire receipt with your phone. Text CAREPACKAGE to 811811 for submission instructions. Please allow 48 hours for processing.
So head on over to Walmart, and stock up on Kleenex facial tissues, tea, and some free VUDU credits!
What are your best toddler cold tips? How do you keep warm and cozy in the winter? Comment below!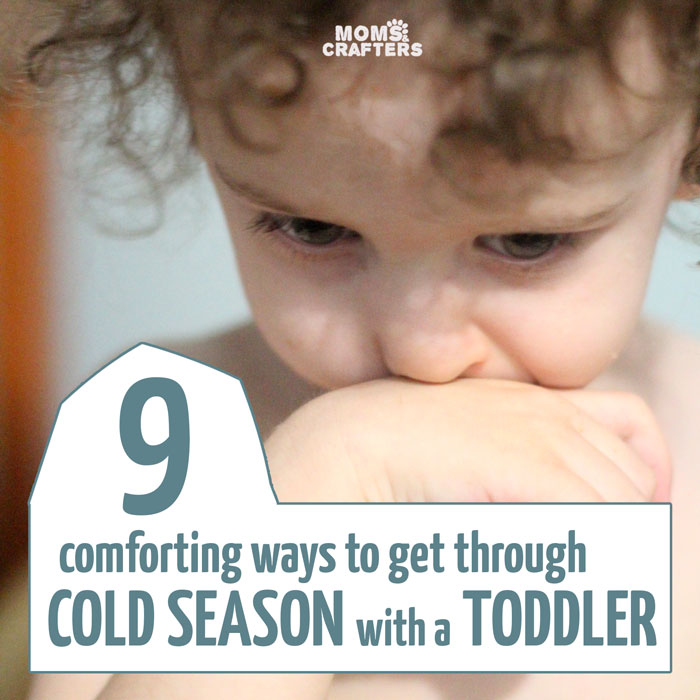 This is a sponsored post written by me on behalf of Kleenex Brand.