This is a sponsored post written by me on behalf of Endust. All opinions are 100% mine.
With Spring cleaning underway, you really want to do a full and thorough job. After all, you're cleaning some places that only get tackled once a year, right? And if they don't get cleaned now, they won't until next year – that is, if you remember them then. Here are some more obscure places that you probably forgot to clean, along with a free printable cleaning checklist for you to have handy!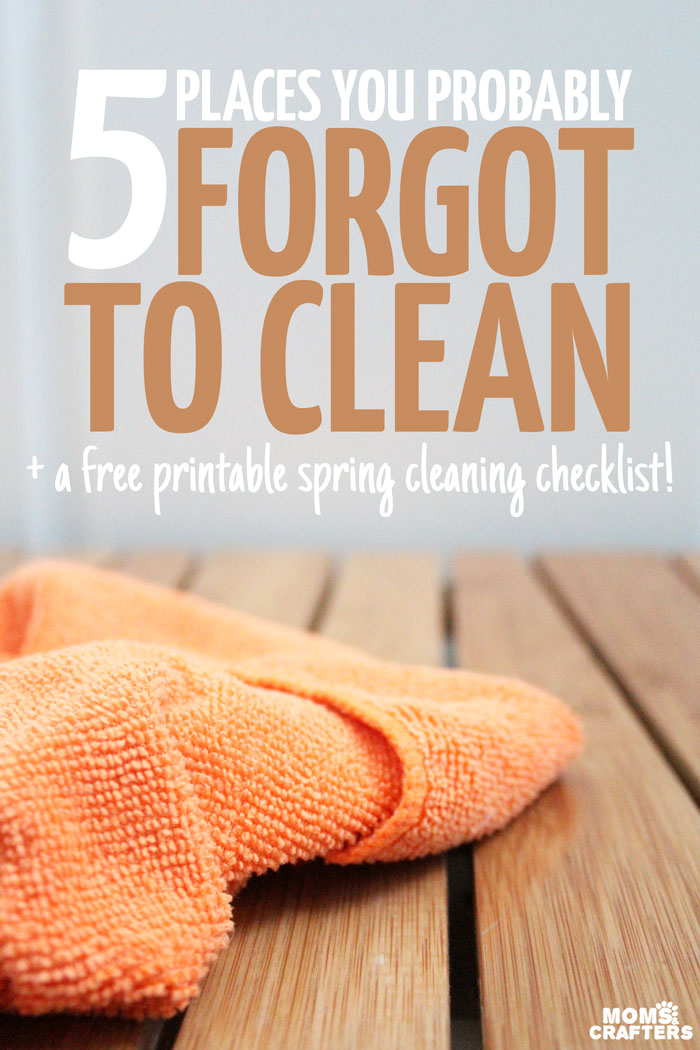 A clean home is essential to a clean mind, and when there's too much clutter, I find that I can't concentrate. Even knowing about the buildup of dust in some places, or the closet that desperately needs to be organized, can distract me and make me feel like the clutter is in my mind too. That's why I look forward to Spring cleaning, when everything feels so… clean!
It's easy to remember to sort through those dresser drawers, purge that closet and even to tackle the mess that happens underneath your bed. But some areas tend to fall to the side and get neglected. This handy list will ensure you don't forget a thing!
My top priority is to ensure that my home is dust-free as we enter the allergy season. Endust Multi-Surface Dusting Spray helps me out by getting rid of dust and allergens more efficiently.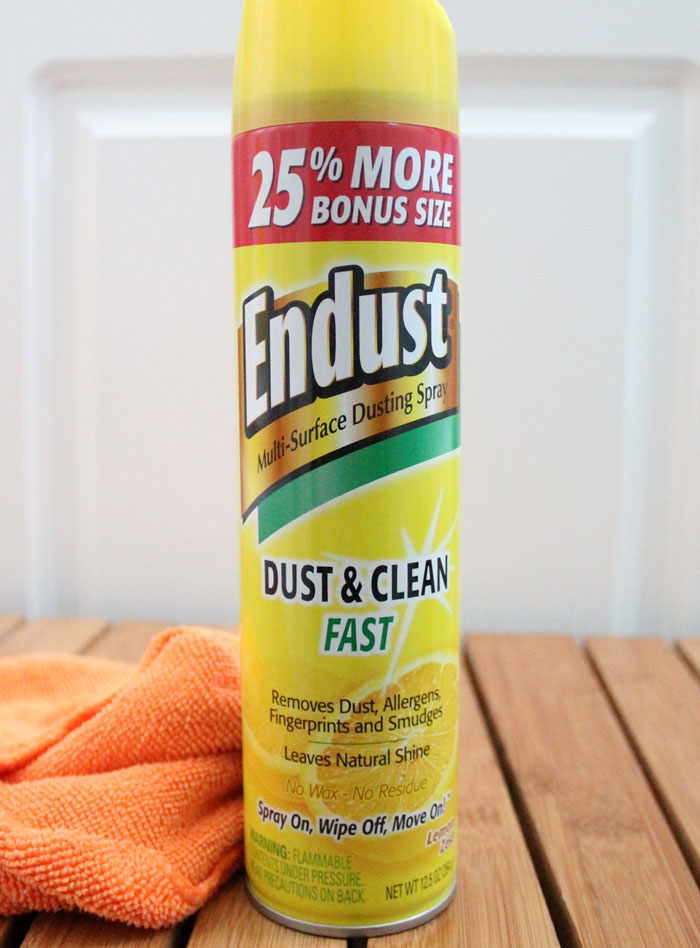 Cleaning checklist: 5 Places you probably forgot to clean:
The high spots: You may have dusted the underside of the ceiling fan – but did you dust the top? You probably want to! And don't forget the tops of your fridge and cabinets too!

The low spots: Big treasures can be found under the baseboard heaters if you have those. Drag a small brush along the length of it to pull things out.
Your decor: Decorative items and wall hangings can gather lots of dust. Make sure to pull a rag along the tops of photos, on those faux plants, and give your vases a quick rinse.

The outdoors: Did you tackle your car? Did you hose down your toddler's riding toys?
Free Printable Cleaning Checklist
I've created for you this fun free printable Spring cleaning checklist that focuses on easy-to-forget places. Download it by clicking on the image below. You will be taken straight to a PDF file which you print, or download for later.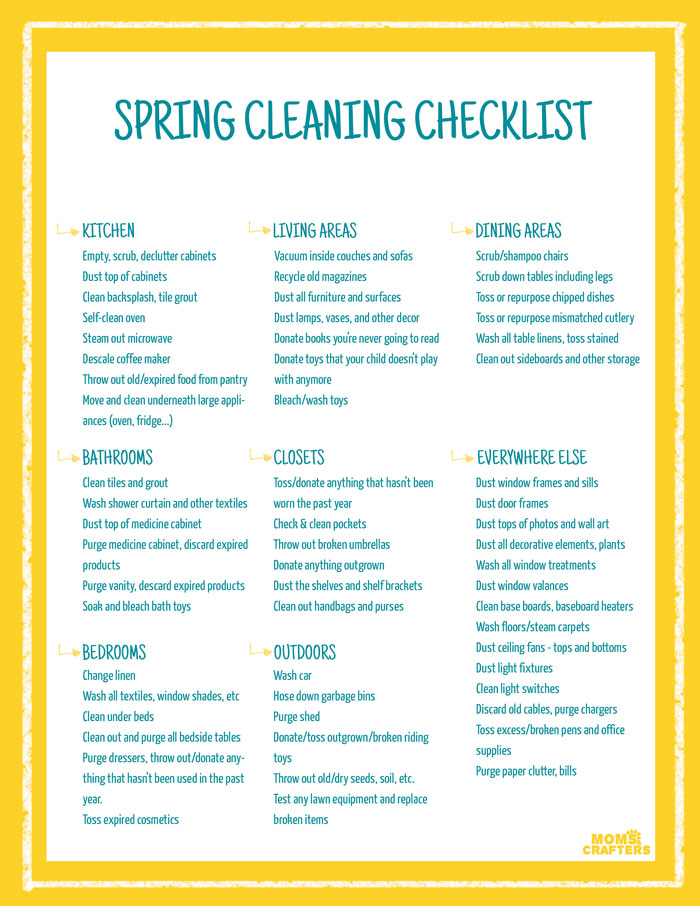 Join the #DustOff Challenge!
Tweet or post a photo on Facebook that shows your home before and after dusting. 5 winners will each receive a spring-cleaning package filled with Endust products along with a $100 Visa gift card. No purchase is necessary, and you do not need to include Endust in your photos. 5 winners will be chosen on May 4th and will be announced on Endust's social channels.
You can see my ceiling fan, which was my nightmare-waiting-to-be-tackled, in these before and after photos. I was dreading the job, but it really only took me minutes (once I figured out how to get up there. Once I was done, it gleamed like new, with the silicone-free formula leaving a shine but no residue.
Endust Multi-Surface Dusting Spray has really been a lifesaver for me, especially when dusting the most difficult spots like the fan. It can be used on most of the surfaces on my home – including the windowsills, my furniture, and more. We picked it up at my local grocery store, but you can get it at most major retailers.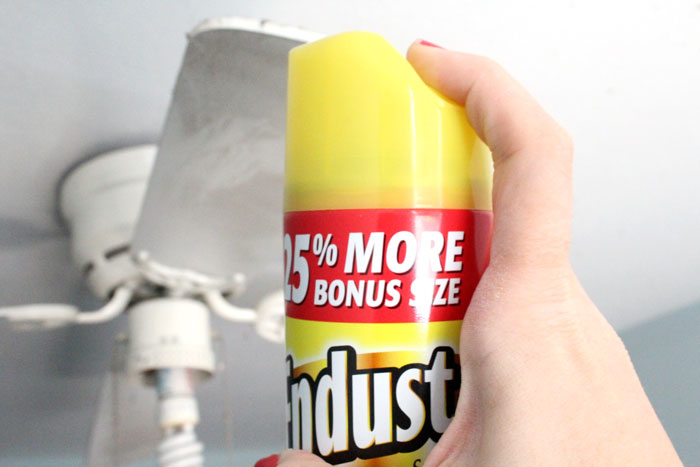 Learn more about Endust Lemon, other Endust Products, or see where to buy these products. You can also download this coupon for $1.25 off one Endust product.
Which places in your home have you forgotten to clean? What would you add to the spring cleaning checklist? Comment below!