Last fall, when M turned 3 and we finally cut off his mop of curls, we threw him a barber shop party – and as is my tendency, we DIYed as much as possible and kept things budget friendly. As I play Baby Y's first birthday, I figured it's time to finally share with your the details of our haircut party so that you can throw one too! Disclosure: this post contains affiliate links.

The birthday party was a big success. We had it at our house (which features a wide open space). It was a long party, with lots of relatives traveling in, so it was bigger than our typical party. Full disclosure: my family members did pitch in with food.
The 3rd birthday is considered a big one for us traditionally. The haircut is a part of our tradition, and so we did it with some closer relatives present. We did warm them in advance that if M is intimidated by the crowds, they'll need to step outdoors for a bit. But with a little help from a tablet + some Curious George, he was fine…
The Photos + the Barber Shop Party Outfit:
Our hair cutting photo shoot was an accident. It was meant to just be a typical "before" photo, but M happened to be in middle of cutting something super critical, when I pulled him away for some photos. So he was holding his scissors in the photo.
I love how it looks (and yes, I chose the "I don't wanna" face one to share with you, but we have plenty with smiles…) So if you want a simple photo shoot setup for a "before" photo, graph a pair of safety scissors and have your child hold it…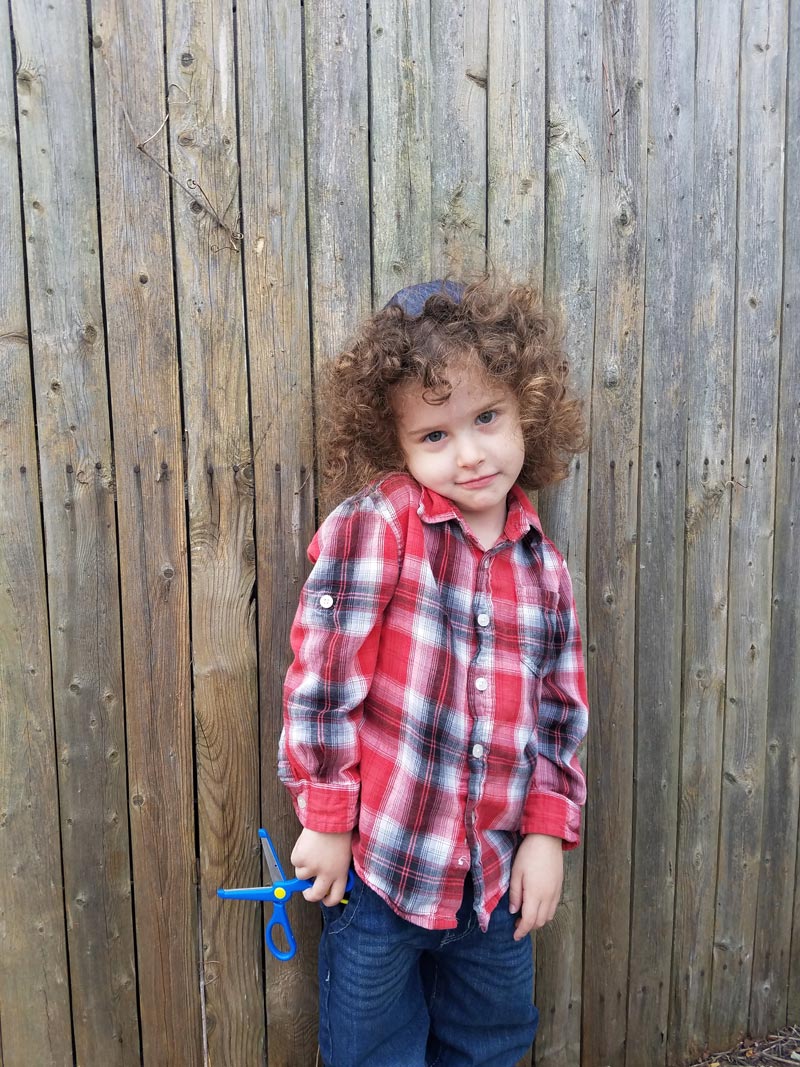 And here's the after. He was a bit too overwhelmed for a big photo shoot then, so I just saved it for another day…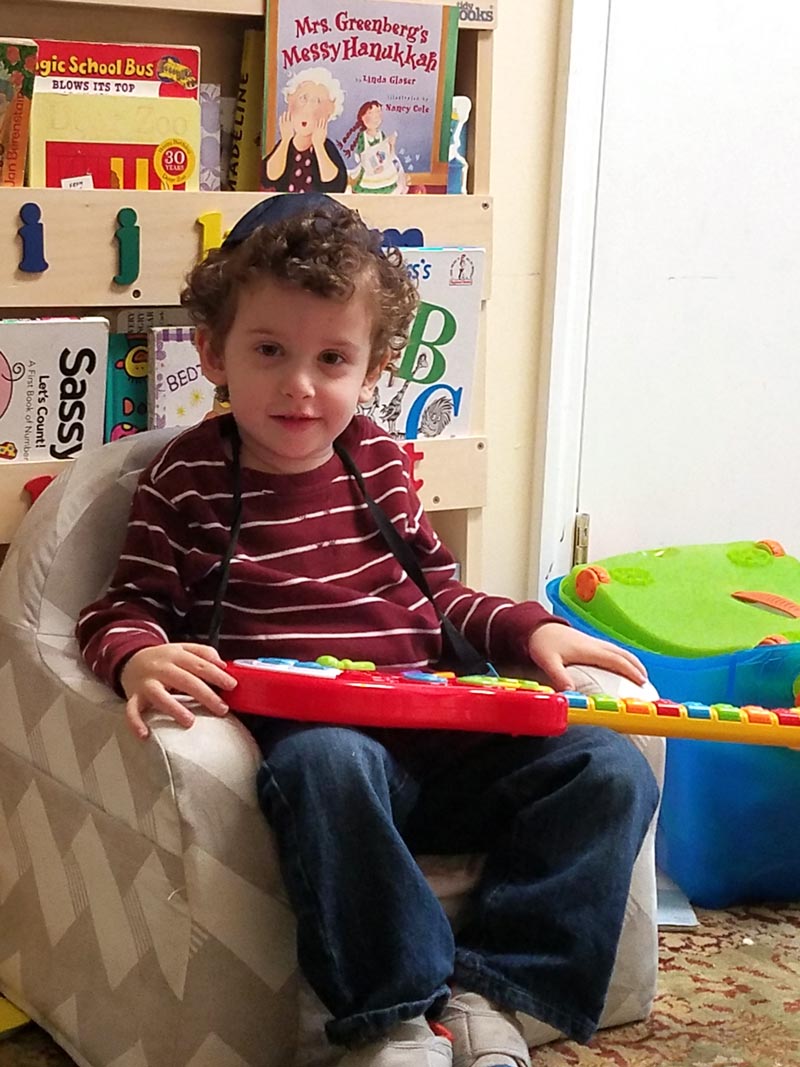 You can see that he changed tops in middle – because, y'know, hair.
Both outfits were chosen to coordinate with the theme, but weren't "matchy-matchy" either.
The Barber Shop Party Food:
Since we had people traveling in, I wanted to focus on real food. Of course, you might want to make fun cookies, etc, but I honestly didn't have the time. I did go a little corny, by choosing to serve spaghetti salad (hair…) But other than that, it was the typical corn, quinoa, and lettuce salads, along with bagels and spreads.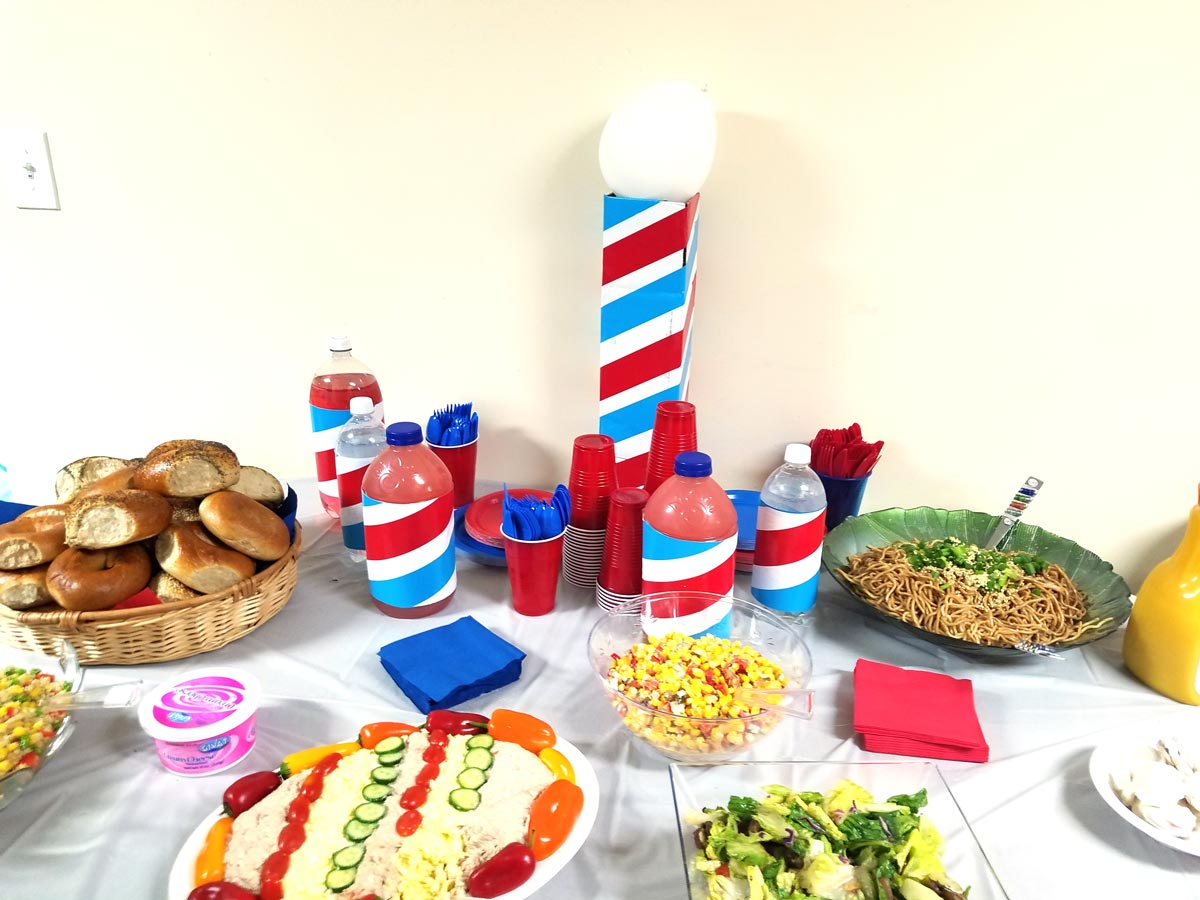 The sweet table had Pull 'n Peel Twizzlers to give it a corny edge, but other than that, nothing themed.
My mother made an adorable "curly hair" cake which half flopped, but it was still really cute. Again, we kept things really simple – no fancy setup, just a strong focus on having plenty of food available for guests who traveled in.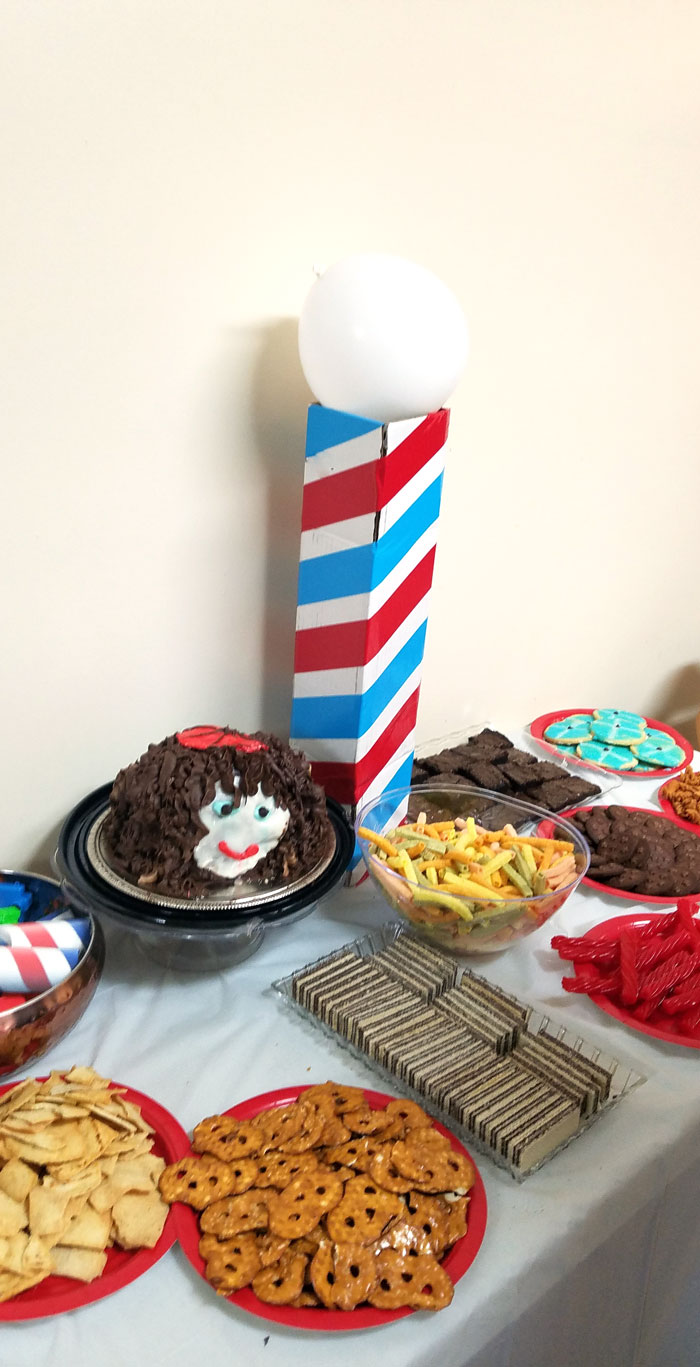 For the drinks, I chose primarily red options, and had fun decorating them as barber poles.
First, I prepared regular paper with diagonal strips of red and aqua duct tape.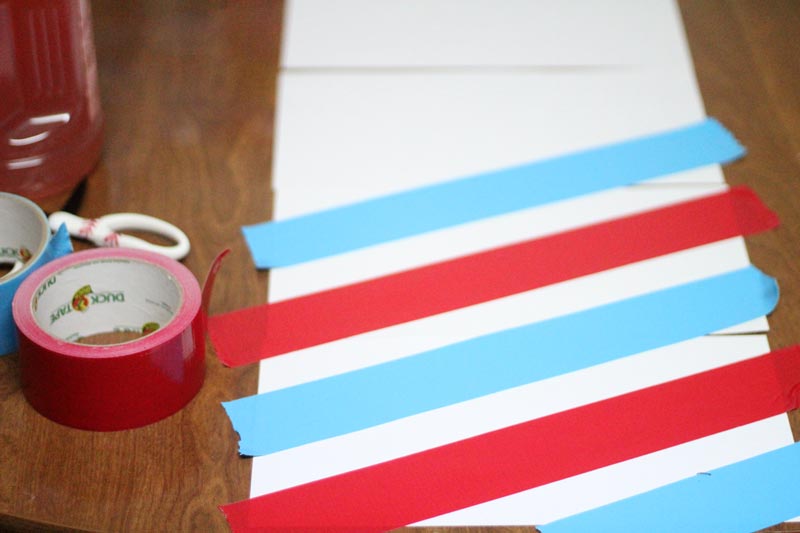 I used non-stick scissors to trim it down to the edge of the paper.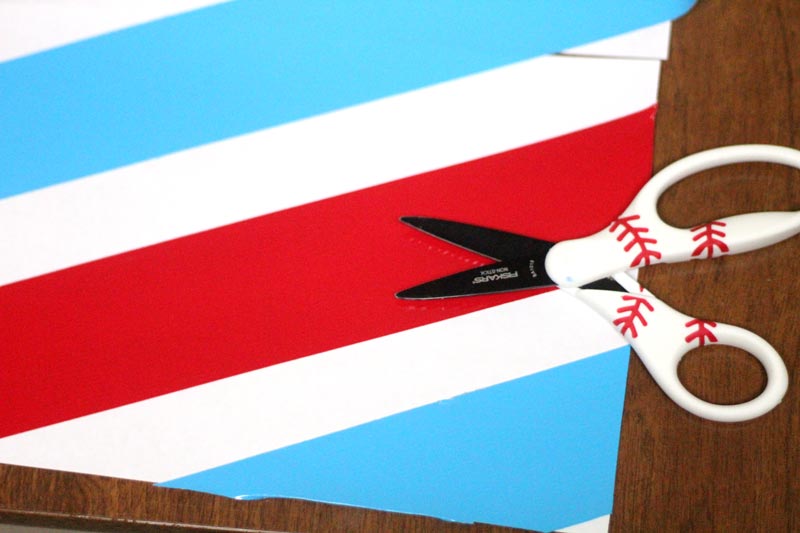 And then I wrapped it around bottles of red ginger ale, Snapple, and seltzer.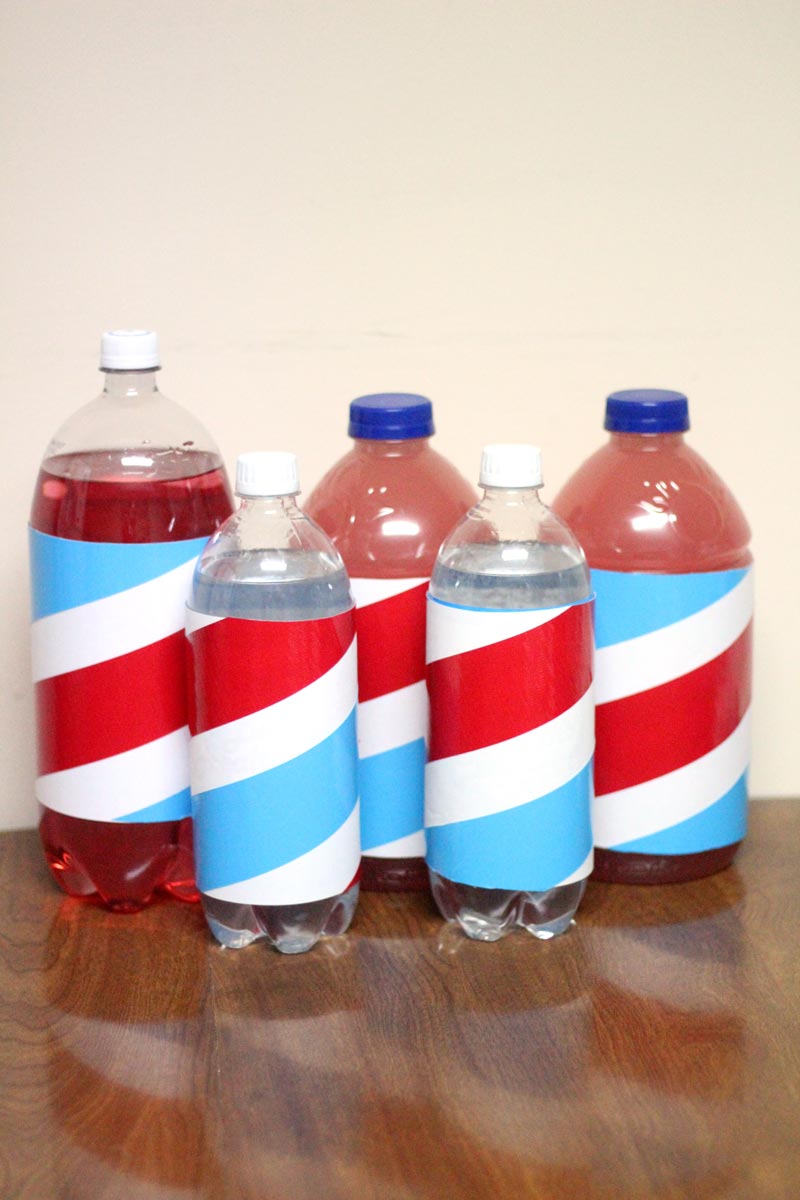 Sweet, no?

Our Barber Shop Party Favors:
I created these pillow boxes for the party (you can download them for free).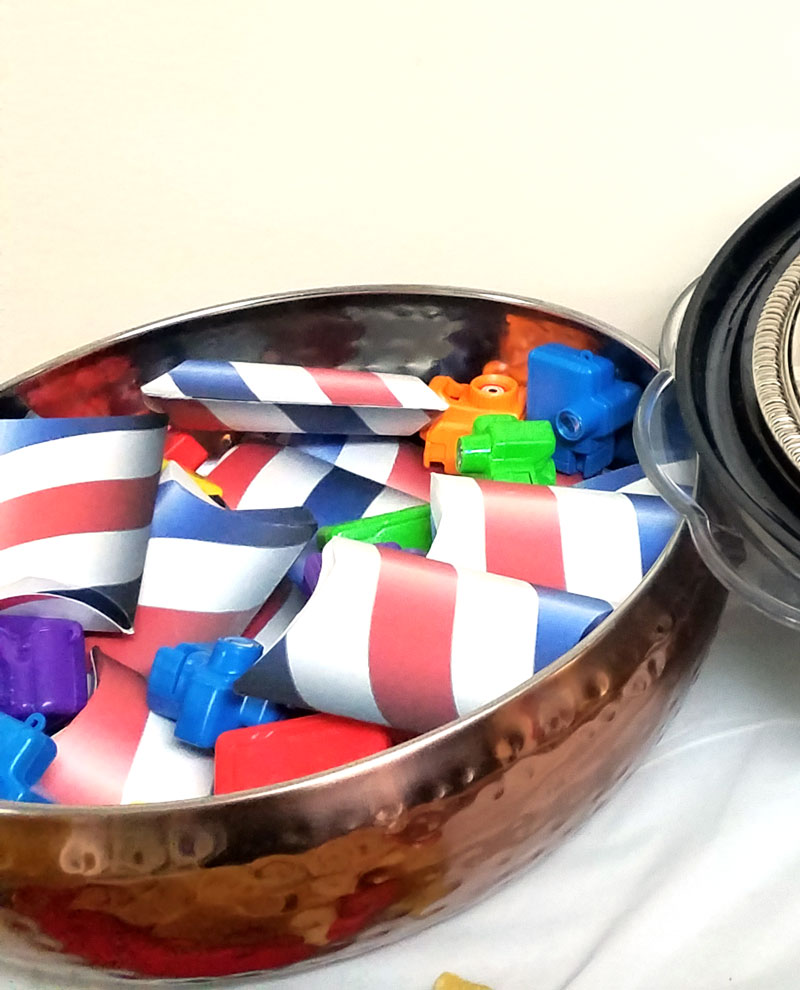 I got finger lights as a cheap, small (but fun) party favor that fits inside. I also got mini click cameras to go with the theme, but they didn't fit. So I just tossed them with the favor boxes into a bowl, and filled the boxes with strawberry candies I had handy.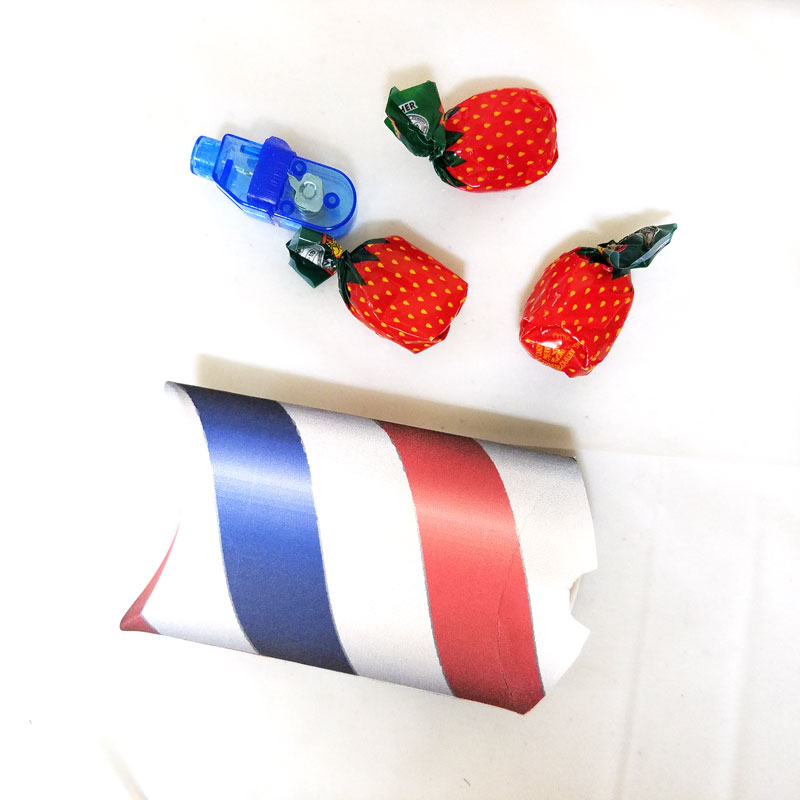 Get the free printable pillow boxes here, print on card stock, and fill!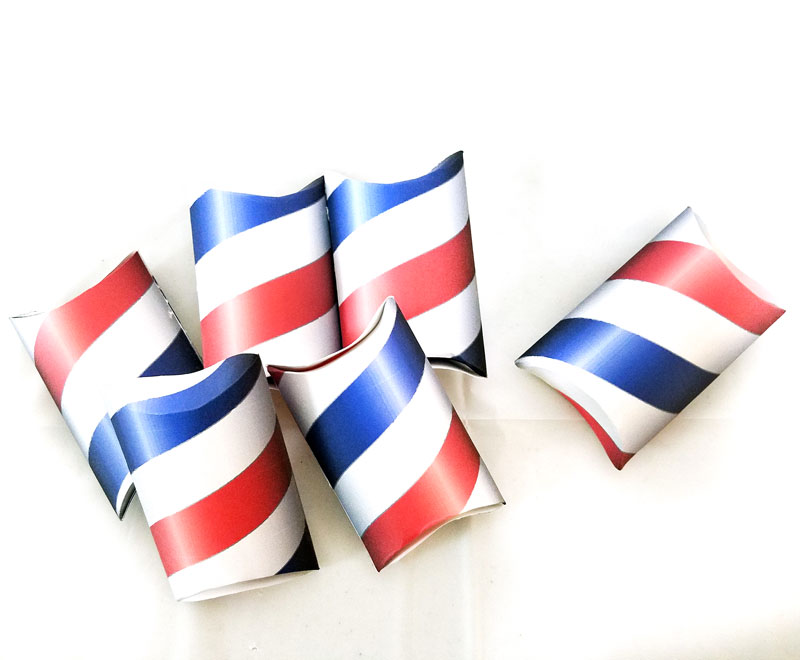 Some Barber Shop Party Decor
We simply stuck to red white and blue paper goods to keep things simple.
I made these centerpieces using cardboard boxes, white balloons, and some more duct tape.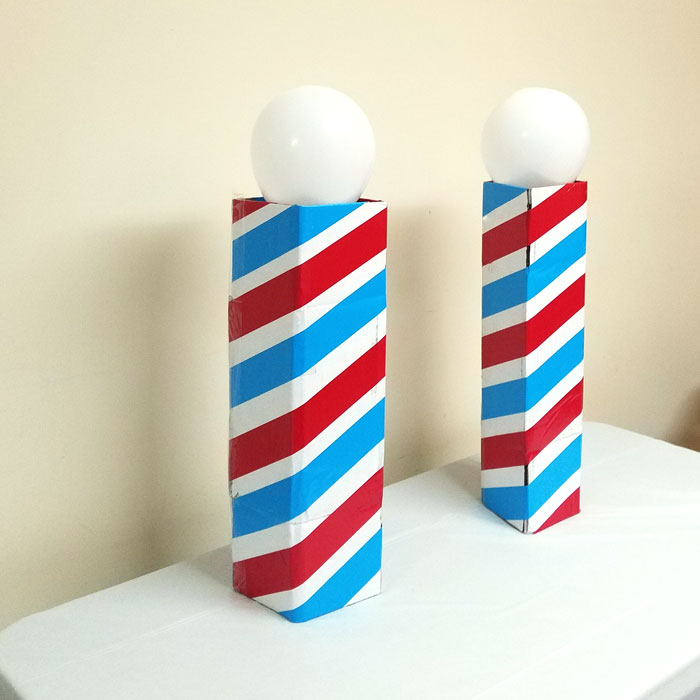 Considering that I didn't really put out themed food, and had little other decor, these large centerpieces really set the tone. Full tutorial here.

Barber Shop Party Activities
I apologize for the lack of photos, I kind of skipped that detail… But I did have available, spread out on a kiddie picnic table, supplies to make paper bag puppets:
The kids had lots of fun with it, and it was the perfect independent, take-home project. I really just laid it out, and allowed the parents to supervise younger kids. It was simple enough for the slightly older kids to do on their own.
We also had an instant photo booth, using these big hair photo props that I created. I used my Fujifilm Instax camera to take photos of anyone who was interested with a fun "hair style".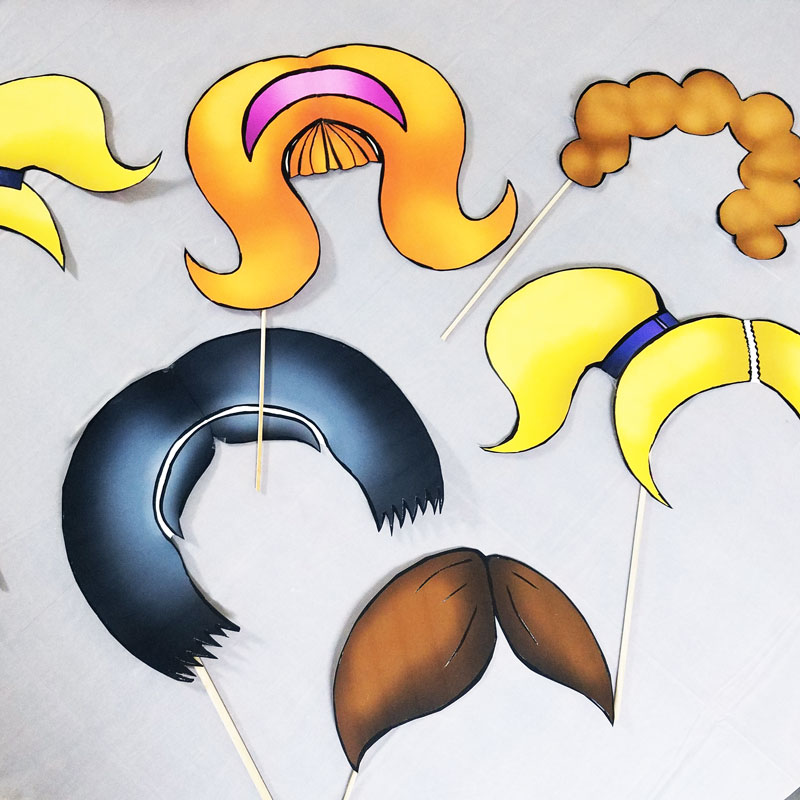 The key to success with such an activity is to be the one in charge of the camera, and to start with one photo per person.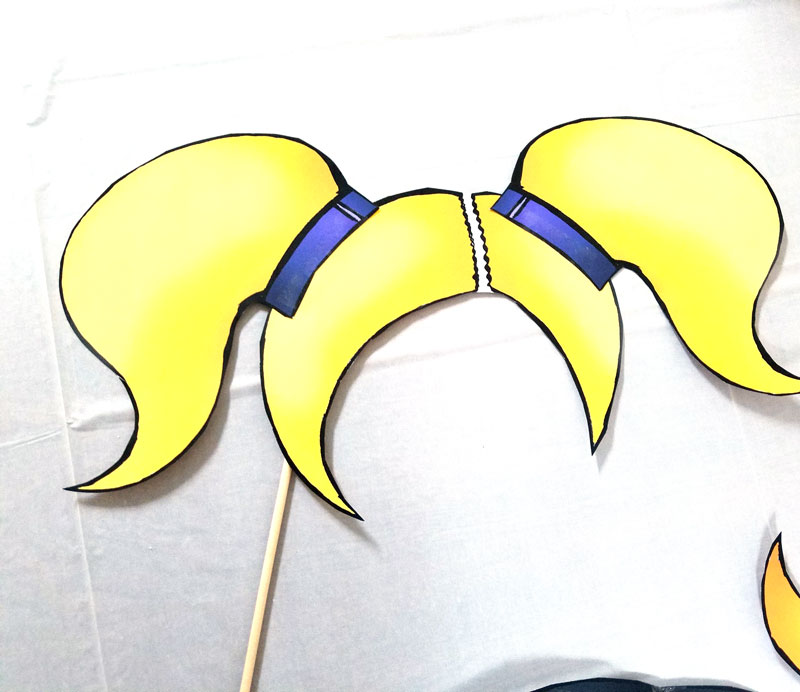 While this might not have been the prettiest setup (it came soon after a hectic summer, where I had a baby, my husband's family came in to the country and stayed by us for a while) it was a huge hit. M still has great memories from it, and it was lots of fun.
The prep took an evening plus the morning of the party, with help, and not including advance shopping and designing the printables. We must have spent under $100 on the whole shebang (not including the camera, which I already have and plan to reuse at many parties.) Granted, I did have a lot of help…
In short, if you're looking to throw a barber shop party in a short time, and on a dime, it's possible! If you want to go all-out, have a perfectly planned and designed party, you can pick up some of our ideas and add them to your plan.
Are you throwing a barber shop party? Got any ideas to throw into the mix? Comment below!