Download my free printable 2015 calendar complete with parenting goals!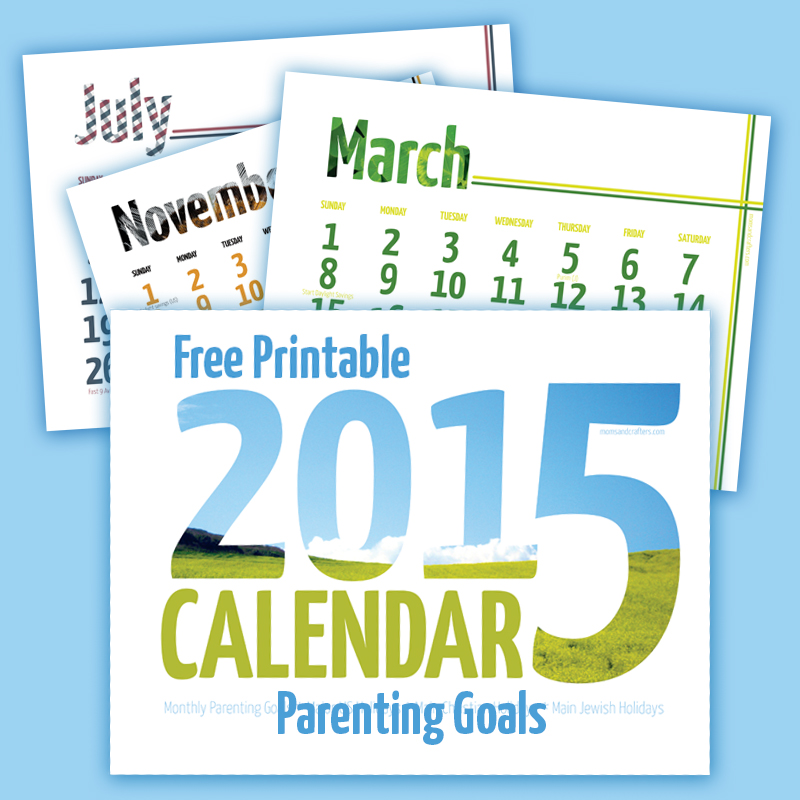 Features of the free printable 2015 calendar:
White background means it's cheaper to print as it requires less ink
White background means you can jot down important reminders near the appropriate dates.
Small monthly parenting goals (optional) provide a little monthly inspiration to help you be a better parent.
Includes main national (US), Christian, and Jewish holidays.
Clean, modern designs.
Fun colors and images make each month interesting.
Print instructions for the free printable 2015 calendar:
The calendar is ready to print. You can print it in full color or grayscale. Print size is 8.5×11 inch (or letter size). The closest size for international paper is A4. If you'd like to print one month at a time, you can do that in your printer settings. Just select which page you would like to print instead of "printing all". Page 1 is the cover, and then months follow consecutively, starting with January on Page 2.
This calendar has taken me literally days of hard work to put together. And yes, it's 100% free – no sign ups required, no fine print.
YOU MAY: Print it for yourself, to use in your home, office, or home office.
YOU MAY NOT: Redistribute it in any way, digitally or in print, for free or for charge. If you'd like to share it, just send your friend a link to this page.
The calendar has a small discreet watermark off to the right of each page. If you'd like to "buy me a coffee" and help keep this blog going, you can buy a watermark free version via instant download here.
The below image features small snippets of the calendar. You can share this calendar with your friends by hovering the below image. Click on the "Pinterest" icon to pin it to one of your boards. The download link is at the end of this post.

Purchase the 2015 Printable Calendar watermark free here for only $4.99
And of course, I've got more free printables here!
As always, thanks for stopping by! I hope you love my free printable 2015 calendar! If it gets lots of downloads, I'll try and spend the many many many hours again and make one for 2016 as well…
Update: If you're having trouble downloading it, just shoot me an email and I will reply to you with the original PDF file.