When it comes to buying baby clothing, giving exact suggestions gets tough. Therefore, I decided to share with you here the best baby clothing websites, along with a few specific ideas, as the clothing guide segment of my baby registry gift guide.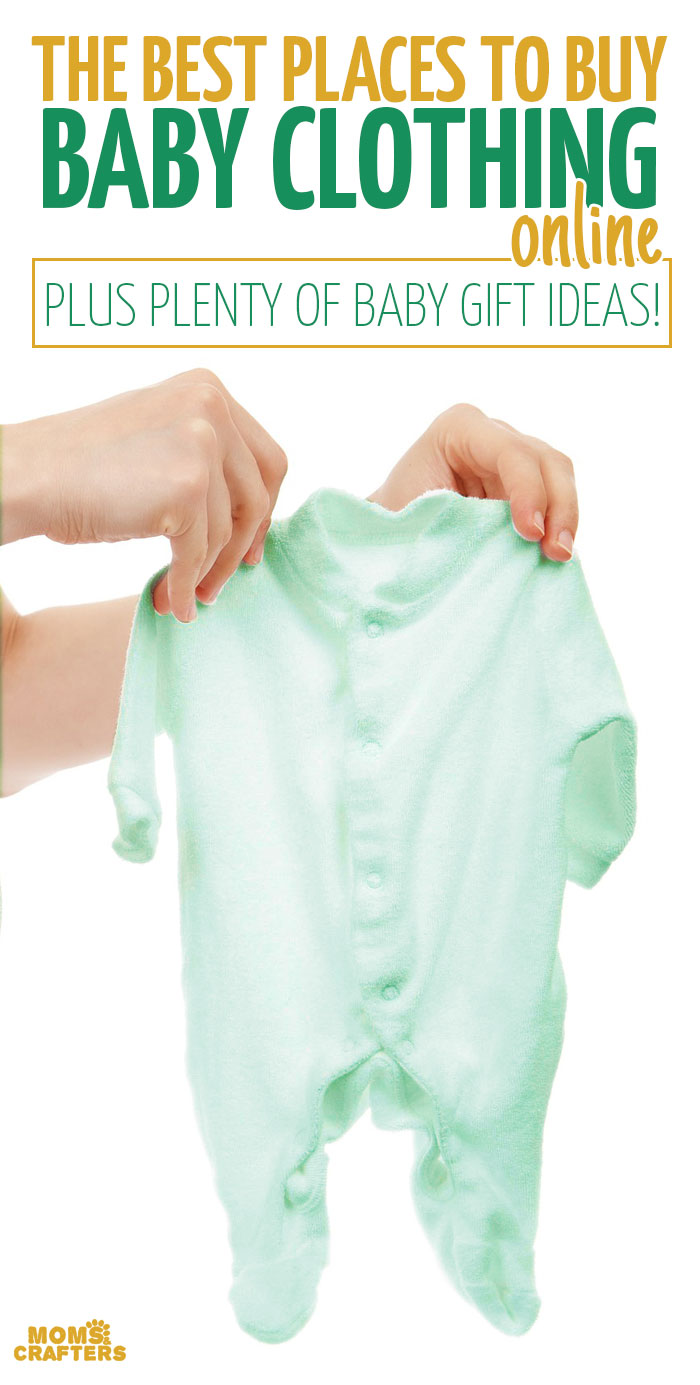 Because clothing is seasonal and very dependent on personal taste, I didn't want to feature exact outfits here. I've focused on the best baby clothing brands, what each one is good for, with some actual suggestions to get you started.
This segment of my baby guide is supposed to help both new moms and those buying for new moms. I've divided it into a few categories, so that I can add notes and tips specific for each category. Most of these shops are great for a few categories, but best for one.
Disclosure: I did receive some samples from brands for coverage. Some of the products on this list include those samples which I have tested and enjoyed, and some are products I purchased and received as gifts, love, and chose to feature. In the interest of full transparency, I have marked items that I received from brands with an asterisk.
All of these products are "tried and true" in my experience. Nevertheless, I am not otherwise affiliated with these brands and cannot take responsibility for quality, fulfillment, or anything else that's in their hands.
This post contains affiliate links.
Best Baby Clothing Brands and Sites for Basic Layette and Outfits:
When buying layette as a gift, you can bundle together a few basics in a pretty basket (that can be repurposed for organization). Focus on cute products that are also practical, or include a few basics with a cute outfit.
Zutano* – My favorite thing about this brand is their bright colors and fun prints. Zutano uses these to create stylish outfits that are still comfortable. These vivid prints also make their layette unique and a fun break from the typical pastels. This fun elephant and stripe coordinate beautifully in both girl and boy prints. The elephant comes in a huge variety of layette options (featured here are the blanket and gown) in pink and blue, and the booties come in pink, blue, and lime stripes to coordinate with either. Solids and coordinating prints in a hat complete a perfect layette/homecoming ensemble that includes some key essentials.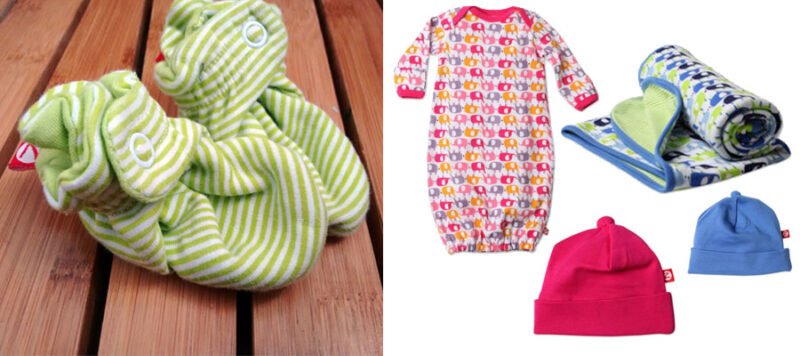 Zulily – Daily sales in a huge variety of categories makes this website unique. You'll find everything from small brands to major, basics to dress wear, and everything in-between. The "family focus" of this sale site makes it perfect for baby clothing – there will always be at least a few baby clothing sales each day to choose from. Their other focuses are maternity, toys, and kids clothing.
Old Navy / Gap – You'll find both unique bodysuits, and fun jeans and shirts on both of these sister brand websites.
Target – Both major brands such as Carters and Gerber and Target's own label Circo are affordable and readily available here. I have found it more worthwhile to purchase the major brands here than on the brand's own sites – both because of shipping practically (low minimum shipping costs, the ability to combine shipping with household essentials, etc) and because their prices are much more competitive. You can even search their baby registry section to see if the recipient has registered for anything there (or register there for your own baby).
Amazon – You'll find a huge selection from major brands, small brands, anonymous brands, and more. You can also register for baby clothing there or search to see if someone else has registered.
Best Baby Clothing Brands for Cute Outfits & Accessories:
When it comes to getting a cute outfit, you simply can't go wrong. You can pair a few accessories, create a mix-n-match bundle, or choose a slightly better brand to turn it into a beautiful gift. If you are registering, go for things that are easy to mix-n-match.
Otium Brands* – Otium Brands has created a unique solution to a common problem: cold toes. Socks tend to fall off, and so they have created pants and leggings for babies with socks built in. The Cozee Pants actually have a full set of footie pants attached and the Cozee Toes have attached socks. So if you're like me and love to dress your babies in jeans and cute accessories, but want them to be comfortable and warm, this is an amazing solution.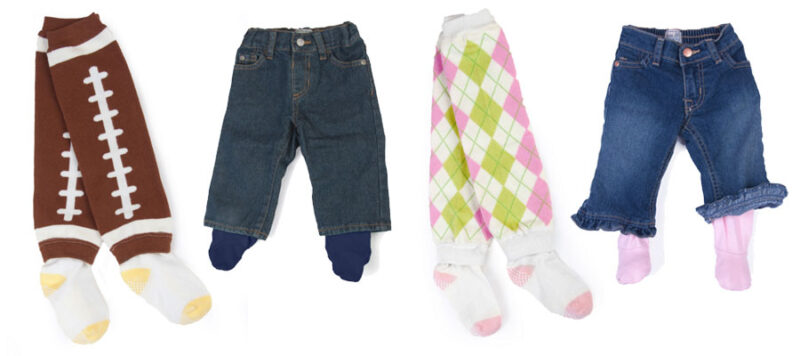 Jojo Maman BeBe – Hailing from the United Kingdom, and now gracing the U.S. with their presence, this brand features cute dress-up solutions for every day. They also have adorable accessories, and their clothing is top quality.
Gymboree /Crazy 8 – I love the style of these two sister brands – fun, playful, and affordable!
Tea Collection – one of my favorite baby clothing brand that's a bit more of a "splurge" for me, Tea Collection features beautiful clothing inspired by places around the globe. The design is amazing, the quality superior, and the variety is awesome. Even their simple rompers are adorable.
Best Baby Clothing Brands and Sites for Luxury and Dresswear
If you want to buy something practical but really nice, better clothing is a great way to go! It's the type of thing a new mom might never allow herself to splurge on, but will still be practical and useful.
Feltman Brothers* If you love a touch of vintage, as I do, Feltman Brothers was created for you! They feature all the little charm that seems to be lost today, including delicate pin tucks, rosettes, and, of course. classy sweaters for both boys and girls. Their designs are timeless and classic, making them perfect for handing down from sibling to sibling, and for special occasions.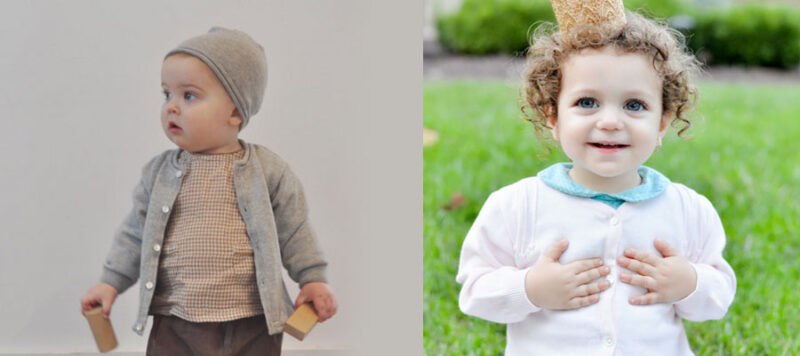 Ralph Lauren – If you love the brand for adult clothing, you'll love them even more for baby clothing! They have beautiful gift baskets, along with essentials, classy knits, and adorable outfits. You'll find more affordable basics alongside luxurious cashmere for variety.
Janie & Jack – Another great source of more upscale dress wear, Janie & Jack features dressed-up, trendy outfits.
buy buy BABY – also has a great selection of dress wear!
What are your best baby clothing brands and sites? Comment below!