I made these chicken sesame noodles as a cold dish, perfect for cooking in advance – with no need to reheat. It's also a great choice for a picnic. Active prep time is short, although you do need to think ahead so you can marinade the chicken properly.
You can serve it with a hot vegetable or a cold salad and you have a complete meal. Or serve as a side dish when you're entertaining. My baby loved slurping this up, and he enjoyed the chicken as well.
Chicken Sesame Noodles: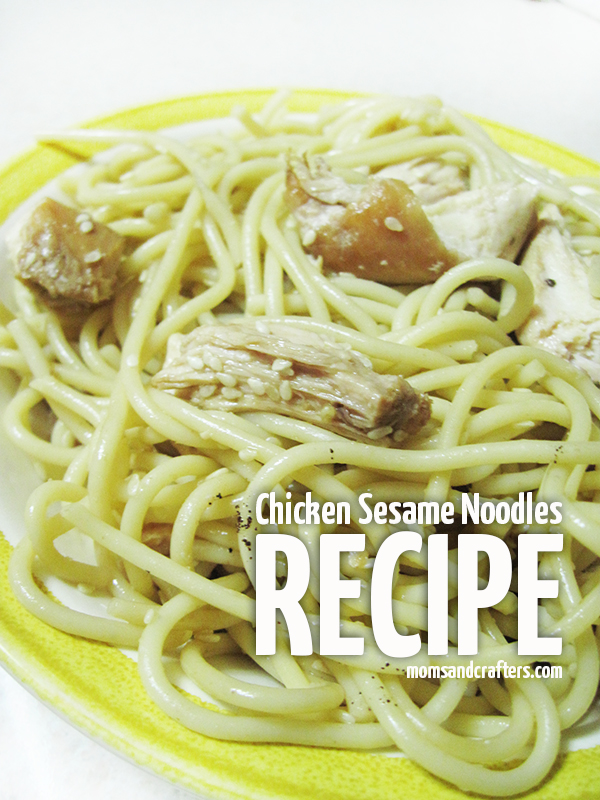 Ingredients:
1 lb boneless skinless chicken breast
1 lb spaghetti, cooked, drained, and rinsed
1/4 cup toasted sesame seeds
Marinade:
1 cup apple juice
1 T. lemon juice
1 T brown sugar
1 T soy sauce
Dressing:
3 T soy sauce
1 T toasted sesame oil
2 T red wine vinegar
1 t garlic powder
1 t hot sauce
1 T sugar
Directions:
Mix together marinade ingredients in a bowl or resealable bag. Poke holes in the raw chicken and allow to marinate overnight.
Grill chicken until slightly charred and cooked through. Alternatively, you can bake chicken on 350 for an hour, or until fully cooked. (This time is a rough estimate and will vary greatly depending on how thick it is.)
Cook spaghetti, drain, and rinse.
Mix together the dressing ingredients.
Tear chicken into bite size pieces.
Mix together chicken pieces, pasta, and dressing. Top with toasted sesame seeds.
Serve cold.
Check out some more delicious recipes here. And don't forget to share if you care!