Yep, it's about time I offer y'all another coffee coloring page to color (Here's the first in case you missed it)… so here you go! Coffee and Tea mandala coloring pages for adults – because some of you did complain that you're tea drinkers and would love a tea page.
These mandala coloring pages come as part of the monthly coloring page challenge from my favorite group of artists – the Coloring Tribe! You can join in to the colorist group here to share your group and chat about anything adult coloring related. You'll also find links for the other four pages that are part of this challenge at the end of this post. This month we all did mandala coloring pages, so I was able to play with the exact theme.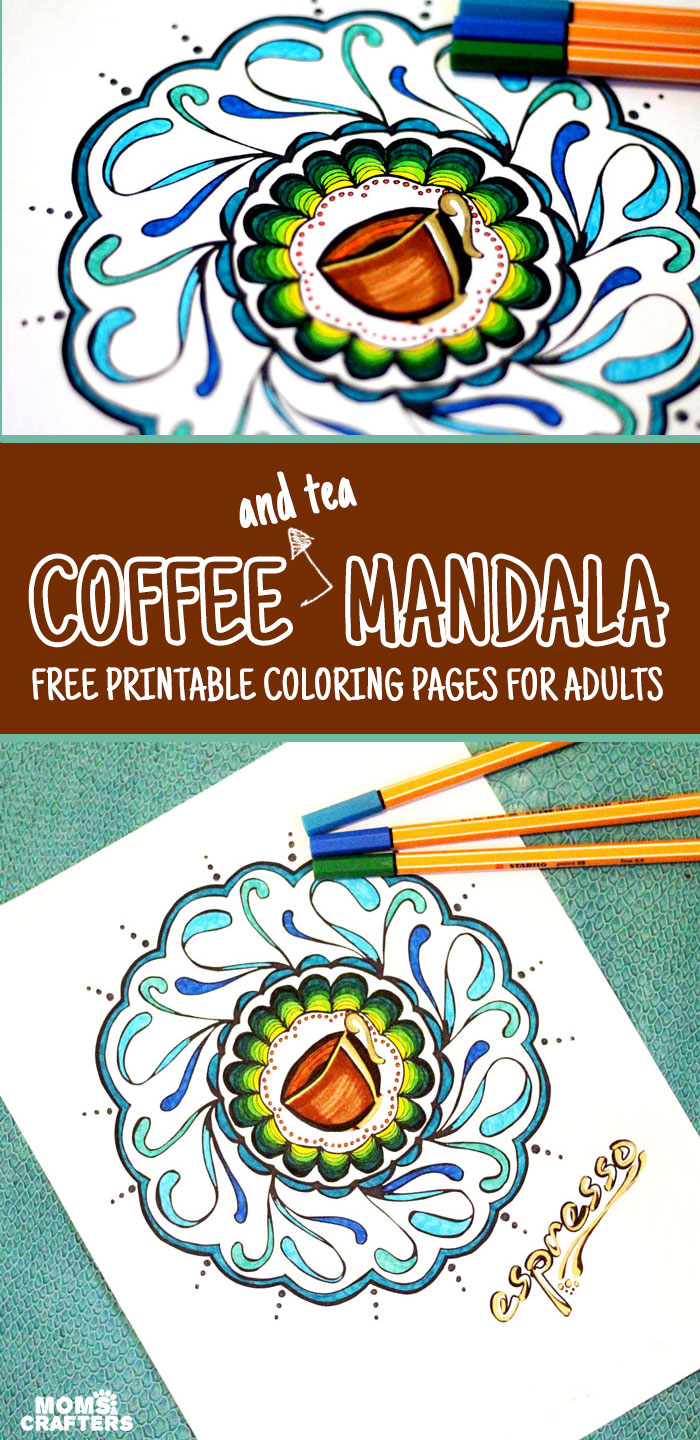 Disclosure: this post contains affiliate links.
As you can see, after I created the Mandala, I realized it was missing something. While the entire mandala is 100% hand-drawn and then vectorized to get a crisp line, I did add the text using good old Photoshop. But when I colored it, I had lots of fun (more on how I colored it below.)
[convertkit form=5124942]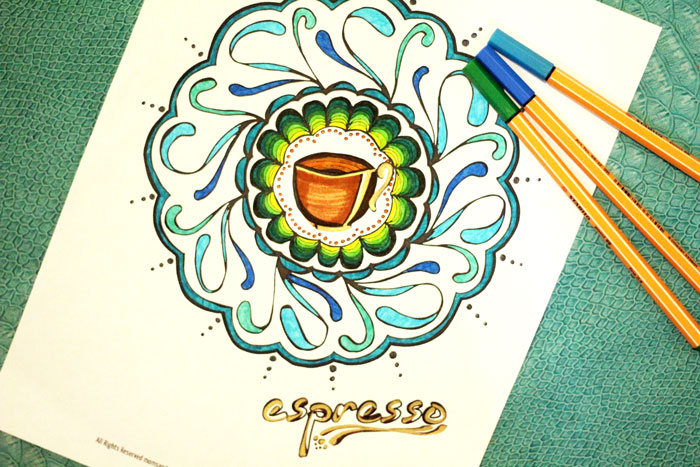 This is actually not my first coffee mandala – I did offer you some time ago another one as part of a cheap add-on package. That's still available in my shop or on Etsy, along with four more coffee themed coloring pages. Because we all need a good coffee fix occasionally – well, a double dose.
So grab a cup of coffee and color away!
Stay tuned – I hope to have my mandala add-on packet ready for you in a few weeks (one thing at a time… 😉 )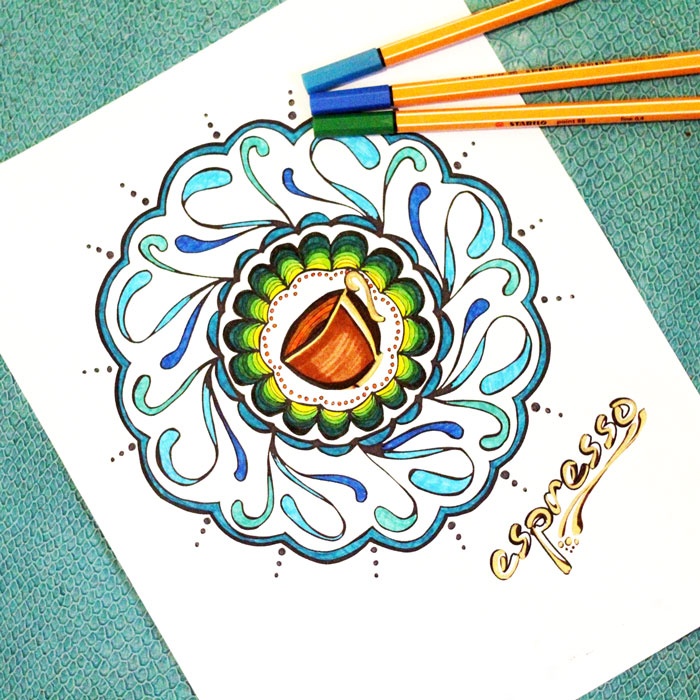 How I colored the coffee mandala coloring pages for adults:
In case you missed it, here's where you can download these free pages.
[convertkit form=5124942]
Most of the mandala is quite straightforward. I used Stabilo 88 markers which are appropriate for small spaces like this has. I started with gray, and continued to blues, slowly graduating to greens and warming up to the yellows, oranges and warm browns in the coffee center.
My favorite feature: I used a gold paint marker for much of the highlights (the rest are just white space) on the cup and the text. It's really fun to color with paint marker, especially when adding your own detail.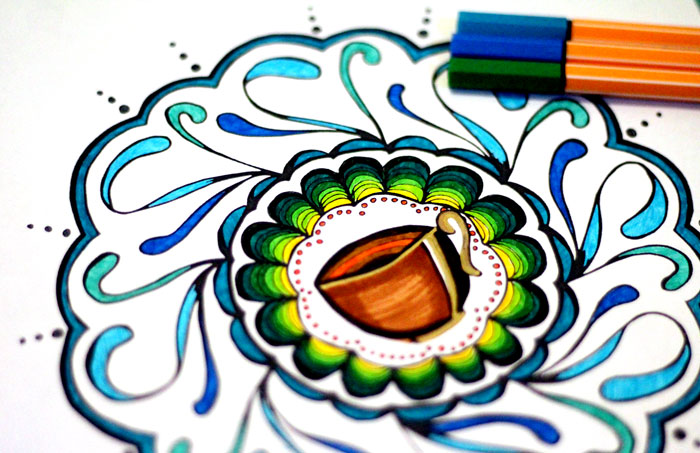 I'm still debating if to leave so much white background, or to color it in with eye shadow or chalk pastels. My next step, as I set up my new home, is to set up a little breakfast nook with a coffee maker. I want to frame these, and possibly the other coffee pages, and create a gallery wall.
[convertkit form=5124942]
Shop the post:

I'd love to see how you color these mandala coloring pages! Make sure you stop by the coloring tribe or my Facebook page and post your pic!
Get the book! By purchasing Moms & Crafters publications, you are supporting my blog and enabling me to keep on providing you with free printables like this one. Coloring for Coffee Lovers is my most popular coloring book, but you can find all of my printed and digital coloring books here.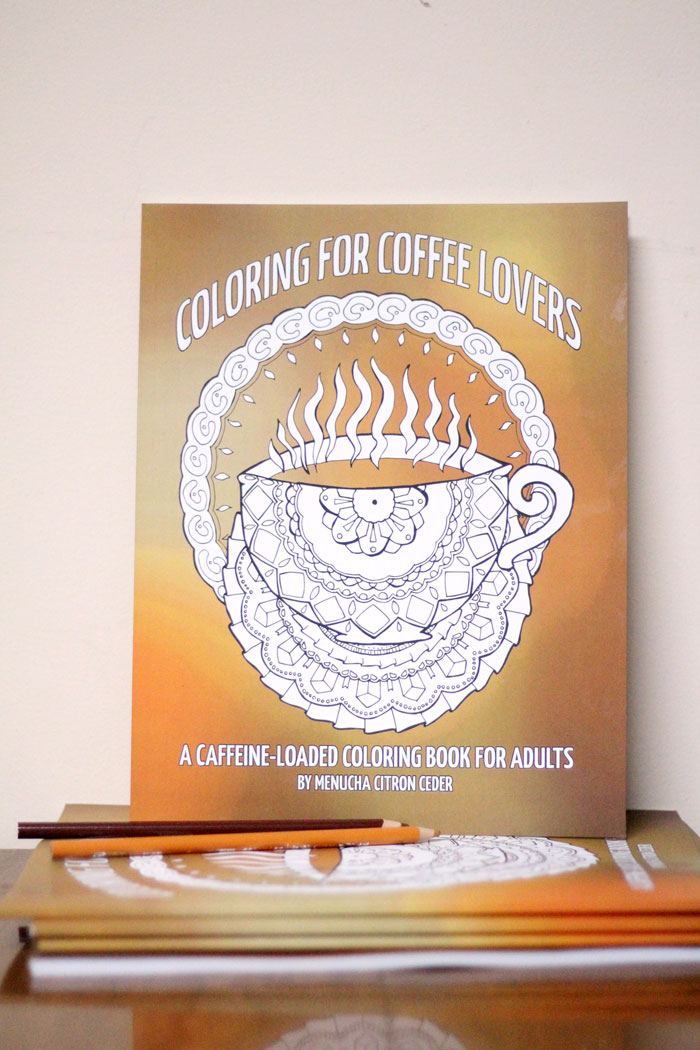 And if you're more of a tea person, check out the new tea coloring page packet below!

And of course, there's more. Below you'll find links to the free mandalas from the other four artists of the Coloring Tribe:
Honey Bee Hive Mandala by Arts & Crackers
Mandala Coloring Page by Easy Peasy and Fun
Coffee Mandala by Moms and Crafters (you're here!)
Mandala coloring page by Trail of Colors
Make sure you follow along so you don't miss the following month's pages!