Back when we made M his science birthday party, I was looking for some science party favors that would really be useful, but also budget-friendly. I think we scored. This post contains affiliate links.
---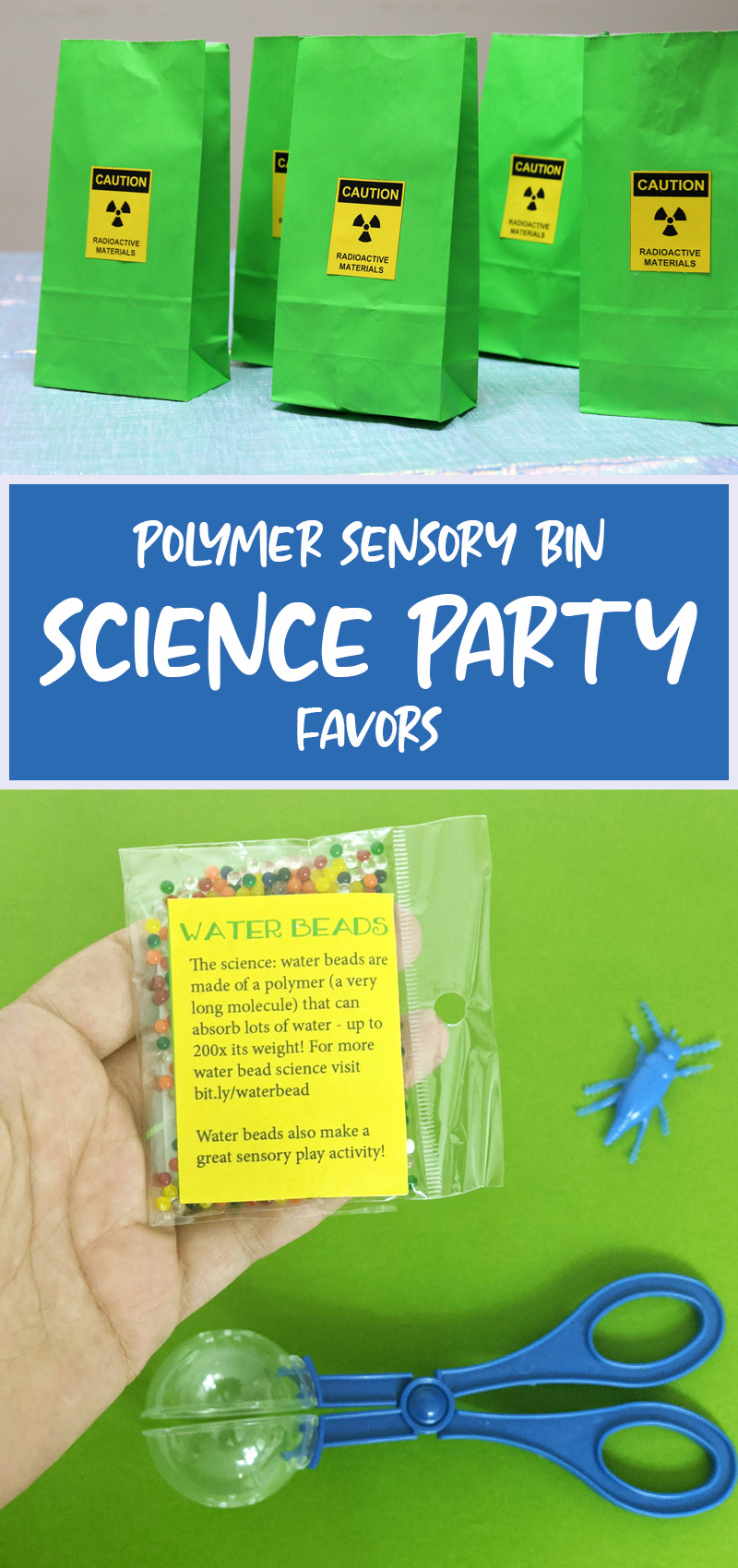 I have a "thing" that I don't like giving candy as party favors. Although I've done it, I try to avoid it. But I also don't like giving cheap toys that just end up breaking when you step on them after a day. So I was looking for something for M's science birthday party that would hit home on these points:
Affordable
Useful
Not candy
And yes, you can get a 10/10 on all those as we proved with these science party favors: a "to go" sensory bin!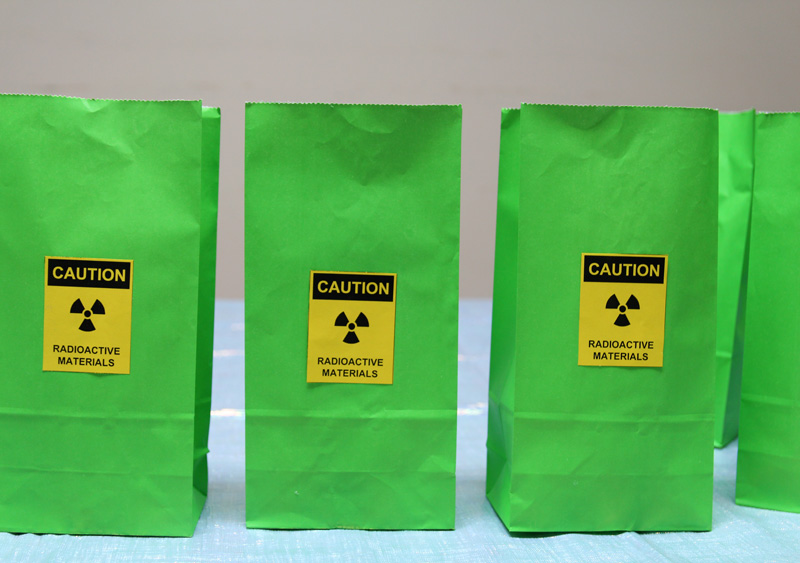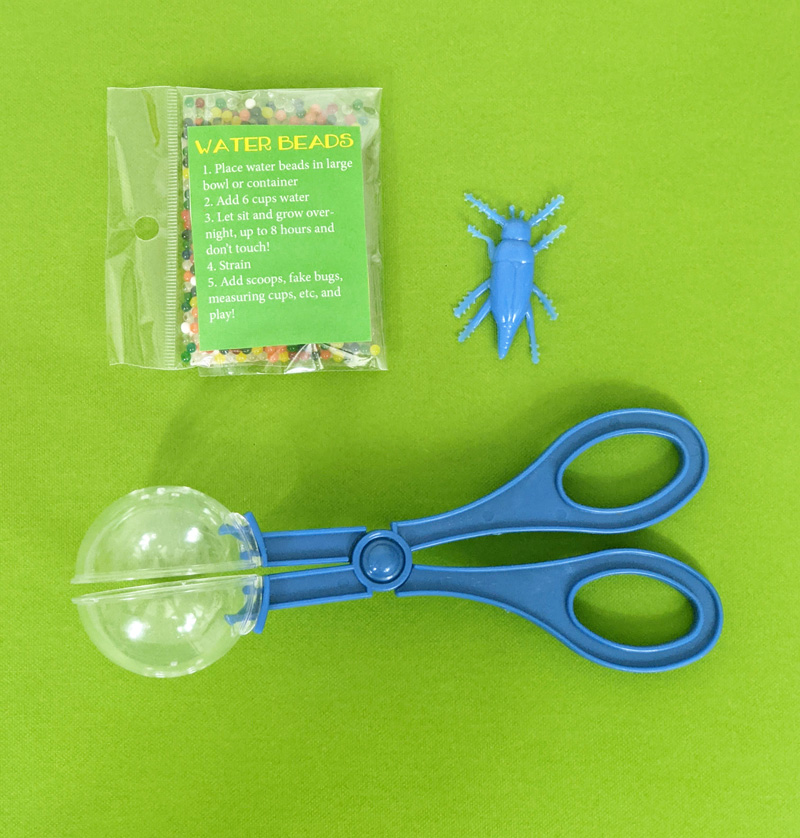 The coolest thing about these science party favors: they also make fantastic small, non-themed handout gifts! Whether you're a science teacher, or just have young charges, anyone who would love a sensory bin would enjoy this as a gift.
First of all, as we highlighted in our science party activities, sensory bin fillers that are polymers make a great fun science experiment. So we started with a winner: water beads. We build a sensory bin around those, including plastic bugs, because, science!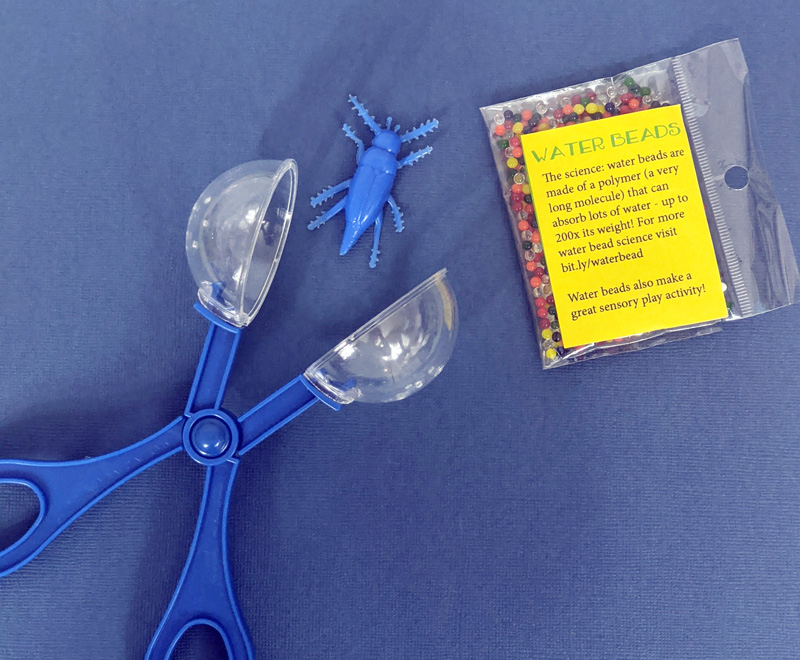 I want to recap and share that one of our party activities was decorating goggles to wear at our science experiments. Not only didn't we need a take-home besides, but we also could have included those in the bags. So, I did leave extra space so that kids can place their goggles into the bags once they were tired of wearing them.
Alright, here's the full rundown of our science party favors:
What was inside
I started with little packets of water beads.
The cool thing about water beads is that you can buy it in bulk and repackage it because a little goes a long way! I created a printable label (which I offer to you as a freebie at the end of this post) with instructions as well as the gist of the science of it. I repackaged the water beads in small plastic packets.
A little goes a long way: I included just a little bit, but enough to make a lot of water beads. We had so much extra that two years later we still have a stash from what we bought then!
They were such a winner!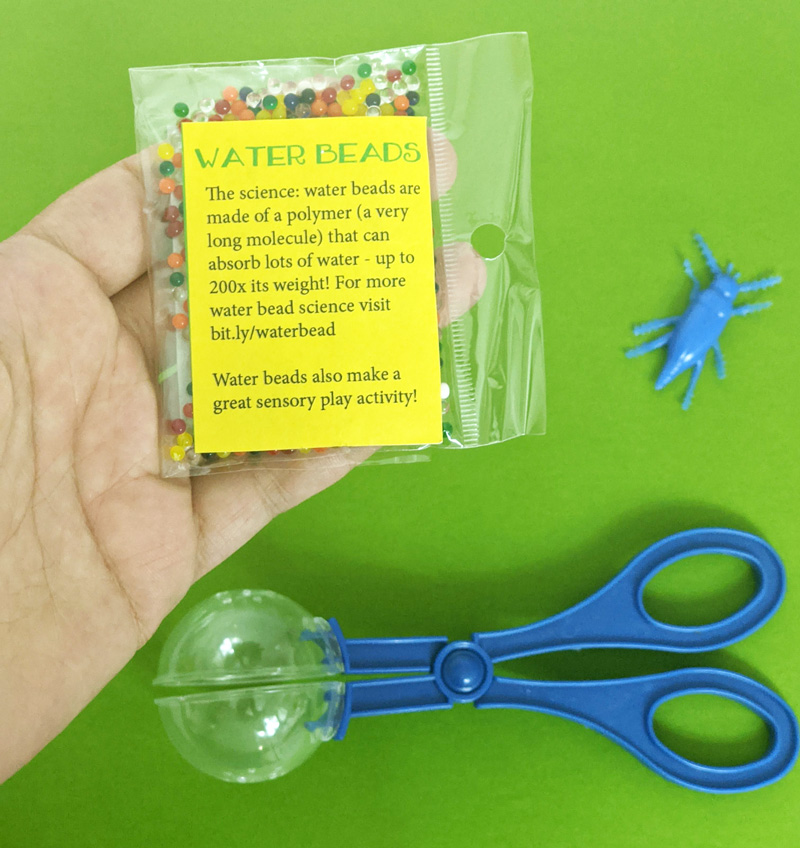 I then included plastic bugs and scoopers that can be used in a sensory bin. Kids can use the scoopers to "inspect their specimens".
The label includes suggestions for other household items (such as measuring cups) to use in the bin, so that they really have everything they need for a scientific sensory experience at home.
You can use whatever you find that fits your budget and the science theme, and makes sense for sensory bins.
More ideas of what you can put into this sensory bin themed science party favor:
Important: Keep in mind the age of the kids! Ours were between 5-7 years old, so as long as we kept it mature enough they loved it. For younger kids, be wary of choking hazards. This is not appropriate for kids under age 3, kids who might think it's candy, kids who might try putting it in their ears…. It should be used with supervision.
The packaging of our science party favors
To make these, I started with a radioactive green paper bag. You can use lunch bags like I did, or get better bags with handles.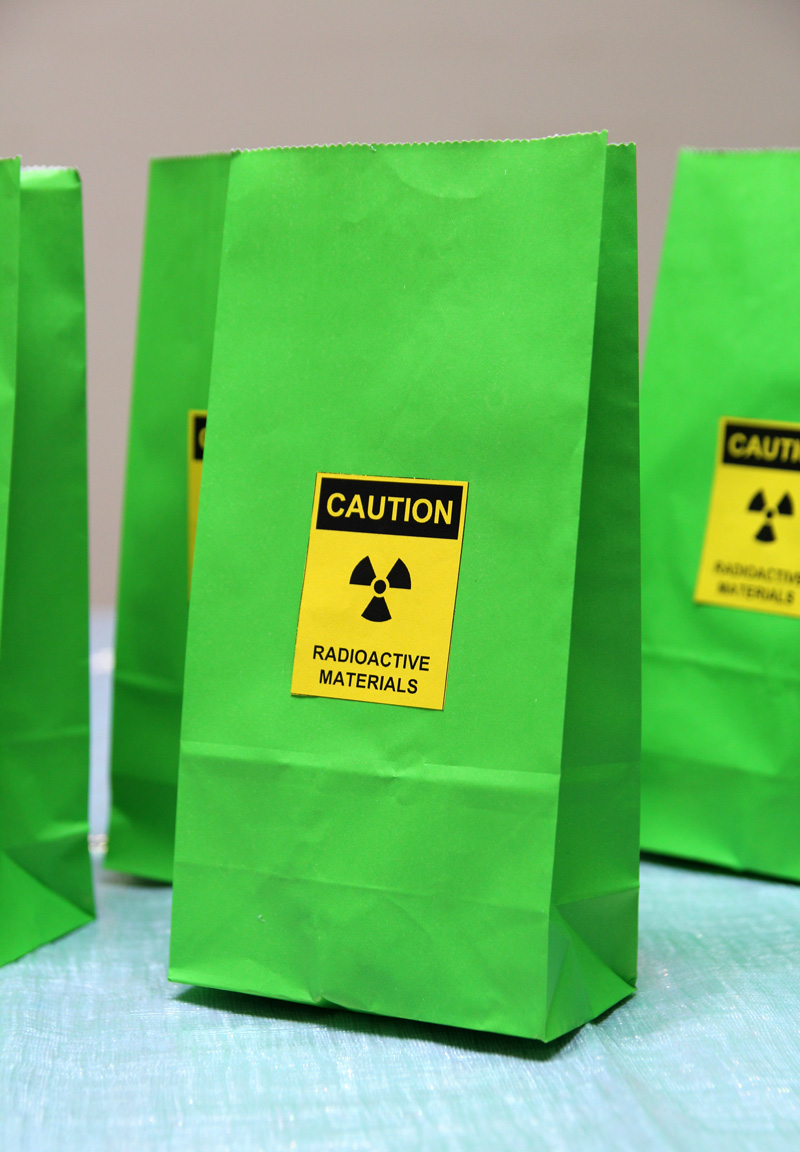 I then found these printable radioactive materials labels, which I went ahead and printed on yellow paper for a truly acidic, hard-to-look-at effect. I used glue dots to attach them in minutes. I found these online and I cannot for the life of me find where I downloaded them from!! So if any readers find the source, please let me know so that I can link it!! Etsy does have loads of printable resources for labels.
The water beads were repackaged in simple self-sealing bags which I attached labels to. I printed the instructions in full color on sticker paper to make it easier to adhere.
Ultimately, I got fantastic feedback for these science party favors. The party guests had a great follow-up activity for a rainy day, and water beads are a huge hit among multiple age groups.
Buying bulk packages and repackaging them made it affordable, and I anyway was ready to replace our stash. Of course, you can use the extras as an activity at the party, but we preferred to keep them for ourselves. They guests might as well have something fresh to do at home!
Make sure to follow along for the rest of our science birthday party! I'll be sharing more ideas that we did as I can and will try to link to them here as I do.
The free printable science party favors water beads instructions
Since I already put in the work to make the labels for the water beads in these science party favors, I decided to offer it as a free download, below.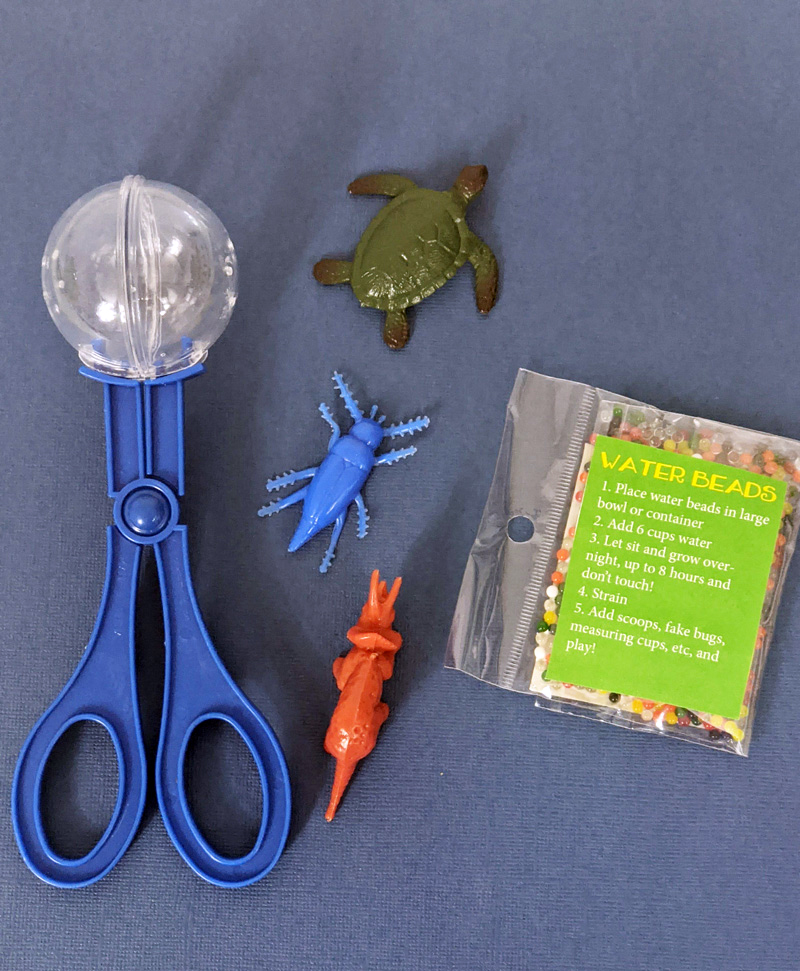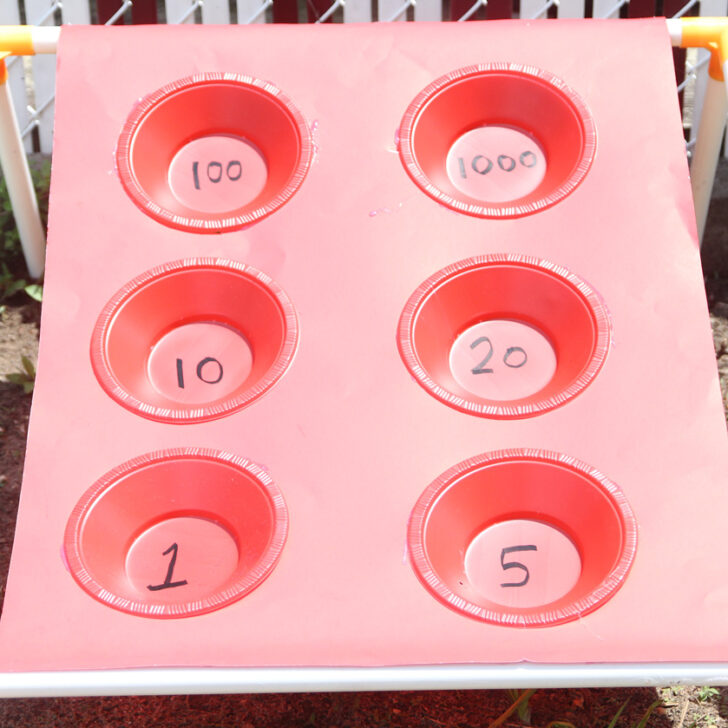 This LEGO party game is a cornhole inspired themed activity, perfect for your next party! Find more LEGO birthday party ideas and then check this …