Thousands of you have downloaded my last batch of free printable coloring pages for adults, so I decided to create a new set – this one in a coffee theme! Disclosure: this post contains affiliate links.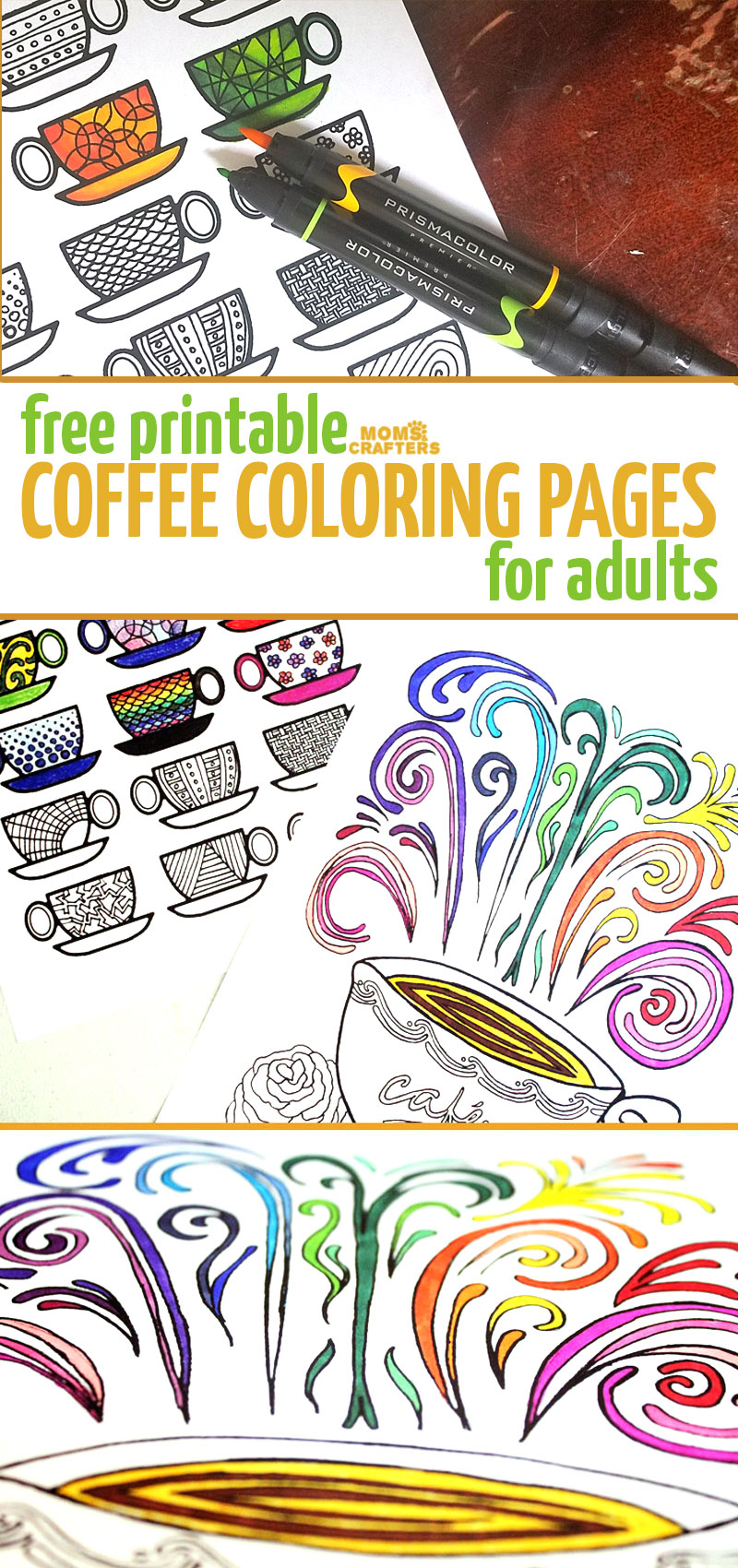 You can also find a full list of free printable winter coloring pages for adults here.
Who doesn't love coffee? I know I do! I simply can't get the day started without it! These espresso cups are fun to print and then to spend some relaxing moments coloring.
Complex coloring can be truly therapeutic. There is a reason this trend has taken off as it has, and I am a huge fan of it.
While my last batch was provided by a publisher of adult coloring books, I wanted to give illustration a try. I used to draw and doodle a lot, until tendinitis and motherhood set it… Now, I rarely do, and can use some polishing up. My hand will never be a steady as it once was, but the passion is there so why not create something fun for my dear readers?
I have a lot to learn, so this batch of free printable coloring pages for adults is still not totally polished. You might see some small mistakes and inconsistencies, but the final result is just as fun to color.
Download your free printable coffee cups coloring pages for adults below: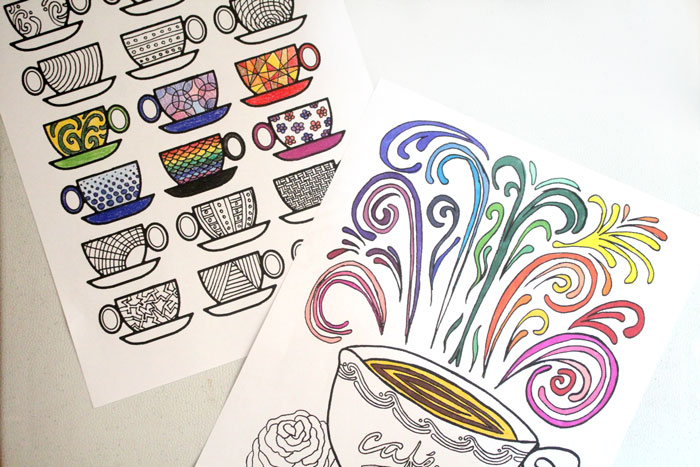 Once it's finished, you'll find that the hand-drawn effect (I mean, it's really hand-drawn) looks much more like a real piece of art that you can frame and hang.
Meanwhile, I'd love any feedback on these free printable coloring pages for adults, so that I can improve for next time! Were there any mistakes you saw? Anything you'd like me to improve? Any themes you'd like to see? Please comment below so that I can bring you better!
Update 2/14/2017:
I've since drawn many more free coloring pages for adults which you can find here. I've also published the book "Coloring for Coffee Lovers" available in digital and on Amazon AND I've used a diverse variety of media to color it.
Free Printable Coloring Pages for Adults: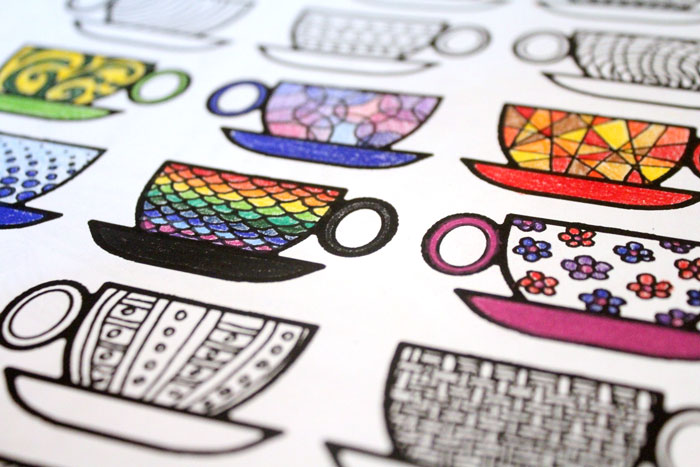 The page with many small cups was the most fun to color. It's broken up into small tidbits, so that the challenge is divided. It's perfect for those of us who can get overwhelmed by huge spaces. It's also now my go-to for experimenting with new media. I loved practicing blending techniques with my new Prismacolor Premier markers – the double sided tips are awesome and they blend so smoothly!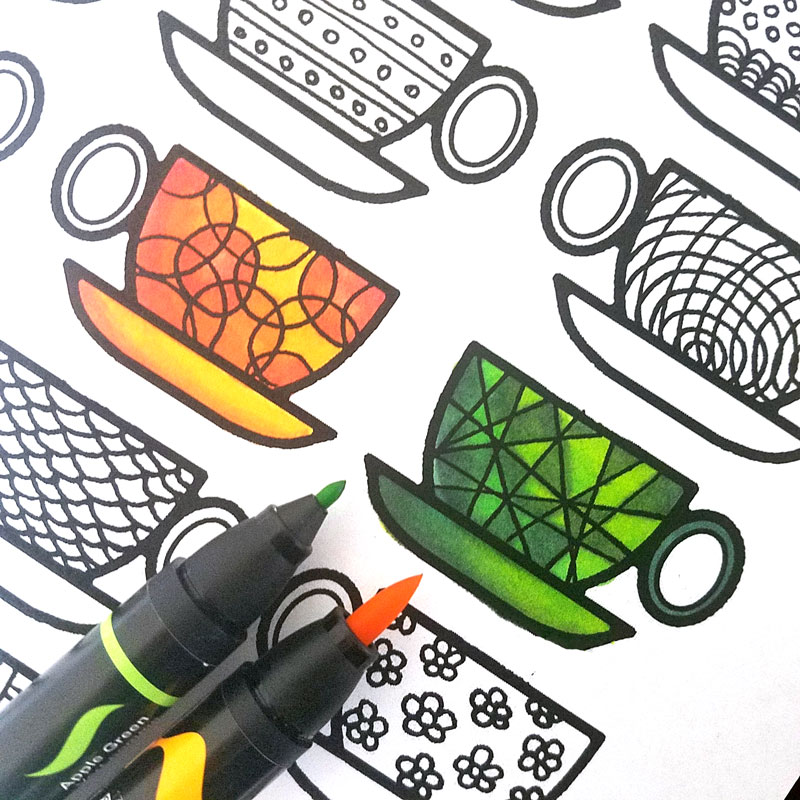 I colored it using Prismacolor colored pencils. They are soft pencils, giving you more flexibility. That means that it's easier to "layer" and blend colors, and you can go heavy for a solid fill too (as I did in some of the cup bases.)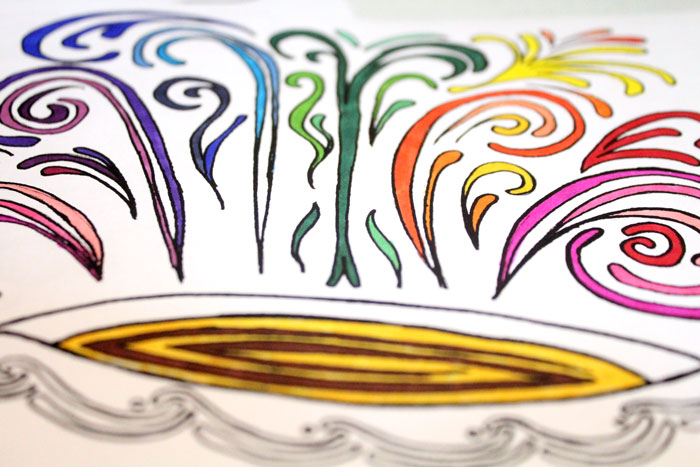 The other page – with the swirly steam – is 100% hand-drawn. I did refine it a bit in Photoshop afterward (I need to get that process down pat) and there's a lot I'd change, but it was fun to color too. I decided that the steam should be rainbow colored – for some silly reason.
I used fine point Sharpies on that one for a bolder color. You can use colored pencils or these shading markers if you want to give it a shading effect from top to bottom. Or, use ultra fine Sharpies for more accuracy, and more detailed work.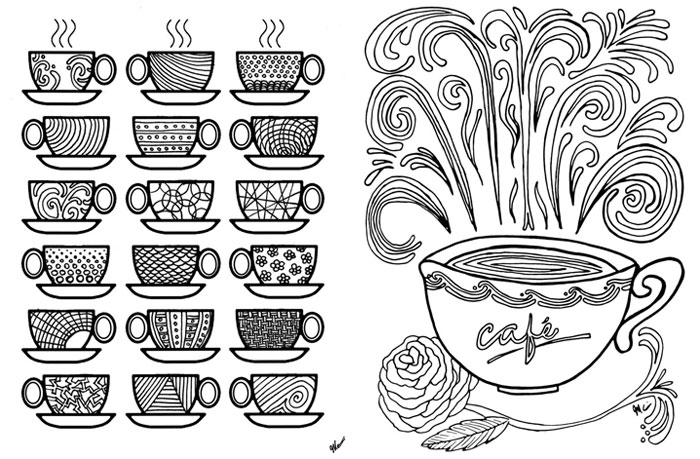 I found these a lot easier to color than the overly complex pages, so I had the satisfaction of actually finishing them. I'm actually debating if I prefer more complex pages, or simpler ones like these. I definitely liked the first one, so we'll see what will go next.
Download more coffee coloring pages!
Update 4/8/2016
Due to the overwhelming popularity of these pages (thank you everyone) I've created an add-on packet. I've priced it super low so that you can get it guilt-free 😉 You can read more about it, see previews, and purchase it here, or just purchase it using the embedded widget below.
How do you like these free printable coloring pages for adults? Do you have any feedback, critiques, or suggestions? Comment below!