I decided to join in with other bloggers with a unique challenge: come up with kid-made Christmas cards. I went with my good old favorite – a free printable – and created these color-in holiday cards for you to enjoy. This post contains affiliate links.
---

I took a break from my typical way of doing things (intricate hand-illustrations) and used adorable stock images I got from the super cheap Christmas bundle on Fontbundles.net. I used two different methods on Photoshop to turn them into fun color-in holiday cards for kids.
Here's the thing: while I so value creating my own designs, as a "creator" and illustrator, they take a very long time. And while I love to give things away for free, sometimes, my determination to do things perfectly can hold me back. (I actually have diagnosed OCD)
There is now way I could have make these color-in holiday cards for kids from scratch, so using stock images saved me that time and allowed me to create this free resource for you!
And a kids craft is the perfect opportunity for doing that. Kids are less picky and all they see is a cute character. It's simple, adorable, and a little kid-friendly humor goes a long way.
This free printable is a fantastic last minute Christmas craft since you can just pull it out, dump crayons on them (oops, I mean, hand them their favorite markers) and let them self-entertain while you go wrap some super secret gifts. It also teaches them the value of giving by involving them hands-on. And they can add their own touch if you allow them to pull out the whole craft stash (excluding the glitter of course. You're WAYYY too busy to deal with that now. If your kids insist on glitter now, you can try this neat alternative).
The cards fold in half with the designs on the front, a blank inside, and a watermark on the back. You can really do what you want with these – they are very simple and easy to work with.
On one of them, I couldn't resist getting a little bit corny. I'm sure the kids will enjoy that humor as well! The one with the cat says "Meow-rry Christmas" and the one with the reindeer says "Happy Holidays".
How to use these color-in holiday cards for kids:
1. Download:
Download your card file by entering your email address in the form below. You will be subscribed to weekly updates from Moms & Crafters (from which you can unsubscribe at any time.)
Look out for the PDF file in your inbox.
Here is a preview of the file you will receive. Both cards are on one sheet of paper: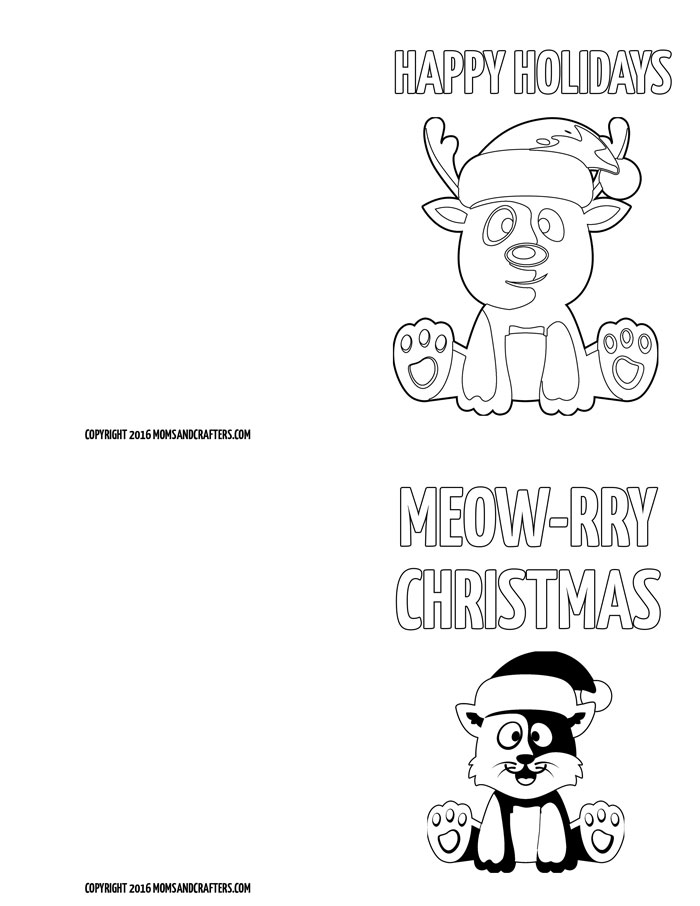 If you prefer more detailed cards and/or Hanukkah themed cards, I've made a set for grown-ups here.
2. Print:
Print it out on cardstock. You can also print it out on plain paper, cut out just the front and glue it onto construction paper or colored cardstock.
3. Cut and fold:
Cut the page in half horizontally (so that the bottom and top are two separate cards.)
Fold it in half so that it opens on the right and the color-in character is on the front.
4. Color:
Bring out the crayons and markers and color away!!
Throw some googly eyes, ribbon bows, and snowflake sequins into the mix if you dare.
The main thing is that the kids enjoy!
I hope you love the color-in holiday cards for kids! How else do you involve your children in holiday prep?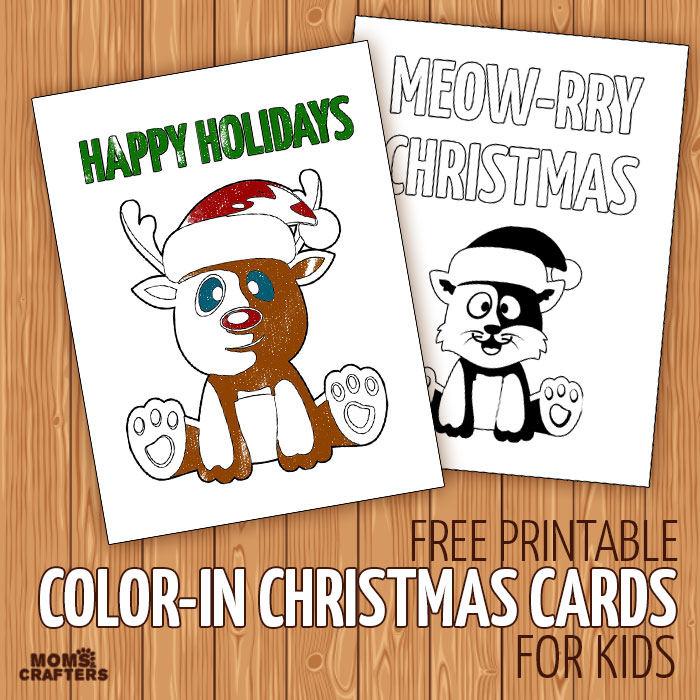 Check out Bubble Wrap Christmas Tree Cards by Crafty Kids At Home